Everything you need to know about travel to Japan in our brand new Japan travel guide.
Japan is an island nation with a tremendous amount of history and culture intertwined with is present fast-paced reputation.
From the epic wilderness of Hokkaido down to the tropical beaches of Okinawa, travelling to Japan is an experience like no other.
Whether you're into food, culture, history or the outdoors Japan has it all. Travel to Japan is on the rise and it's easy to see why.
Of Japan's four main islands Honshu gets the vast majority of visitors. Travellers are in constant awe of the spectrum of Kyoto's temples, taken captive with Nara's deer and consumed by eating everything in sight in Tokyo.
However, the islands of Hokkaido, Kyushu and Shikoku are also home to some of the country's most stunning scenery and are definitely worth a visit.
Whatever you want, you can find it in Japan. Let us help you plan your journey to one of the most awe-inspiring destinations on the planet!
TRAVELLING IN JAPAN: AT A GLANCE
Here are the basics about travel to Japan.
| | |
| --- | --- |
| CAPITAL: Tokyo | OTHER MAIN CITIES: Osaka, Kyoto, Nagasaki, Fukuoka, Sapporo and Nagoya |
| CURRENCY: Yen (See current exchange rates) (1$USD is approximately 108 yen) 1 beer is approximately 500 yen (USD$5) | ELECTRICITY: 100 volts / Type A and B electric sockets (Be sure to get your universal travel adapter before you leave) |
| ENTRY / VISA: Visa requirements for Japan are very straightforward. Most travellers are visa-free and can stay for 15, 30 or 90 days depending on their nationality. For information about which countries are granted visa-free access click here. | SAFETY: Japan is one of the safest countries in the world for both men and women. Petty theft and violent crime are extremely rare. Stories of people leaving wallets, passports and bags on trains and being reunited with them are the norm. However, you should still be sensible and follow the usual travel precautions. |
| LANGUAGE: Japanese is the official language in Japan. And while most of the world speaks a fair amount of English, do not expect Japanese people to speak it. However, in some hostels and hotels, English is spoken. Before travelling to Japan be sure to learn a few key phrases to help you enjoy your travels more and, of course, to show respect for the Japanse way of life. Many signs are in both Japanese and English and announcements at subway and train stations are often in both languages. | TRANSPORTATION: By far the most common way to get between cities in Japan is by using the JR Pass. Within the larger cities, you can very often make your way around using public transportation. Traditional taxis are also available in most cities and suburban regions. And rideshares such as Uber are on the rise as well – though don't count on one of these outside of the main Japanese metropolises. |
DON'T FORGET TO PACK THE MOST IMPORTANT THING: TRAVEL INSURANCE!
TOP 5 TRAVEL EXPERIENCES IN JAPAN
With so much to see and do in Japan, it really is hard to pick the top experiences.
However, we think that to truly appreciate Japan you need to plan to do these 5 activities during your visit.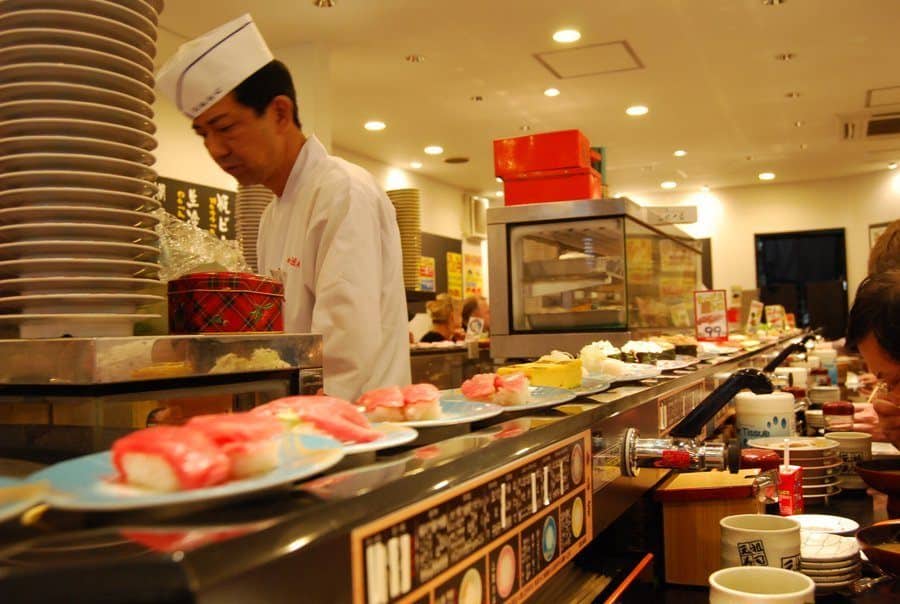 Gorge yourself on sushi.
Japan is known for sushi. You can find it everywhere. For added enjoyment, try your hand at making it!
Book a sushi cooking class here.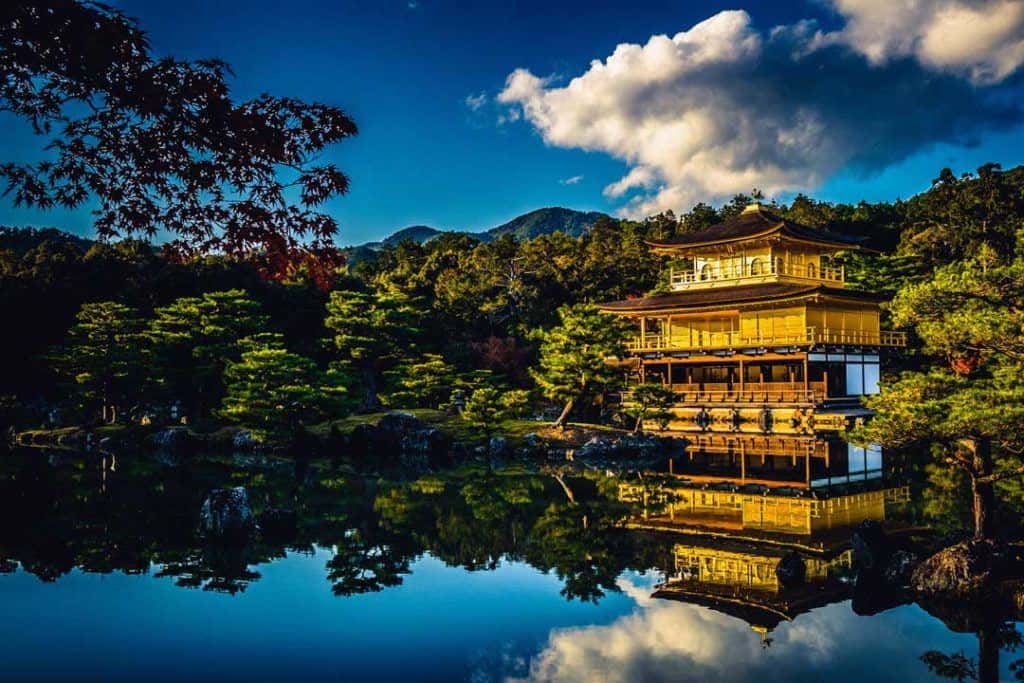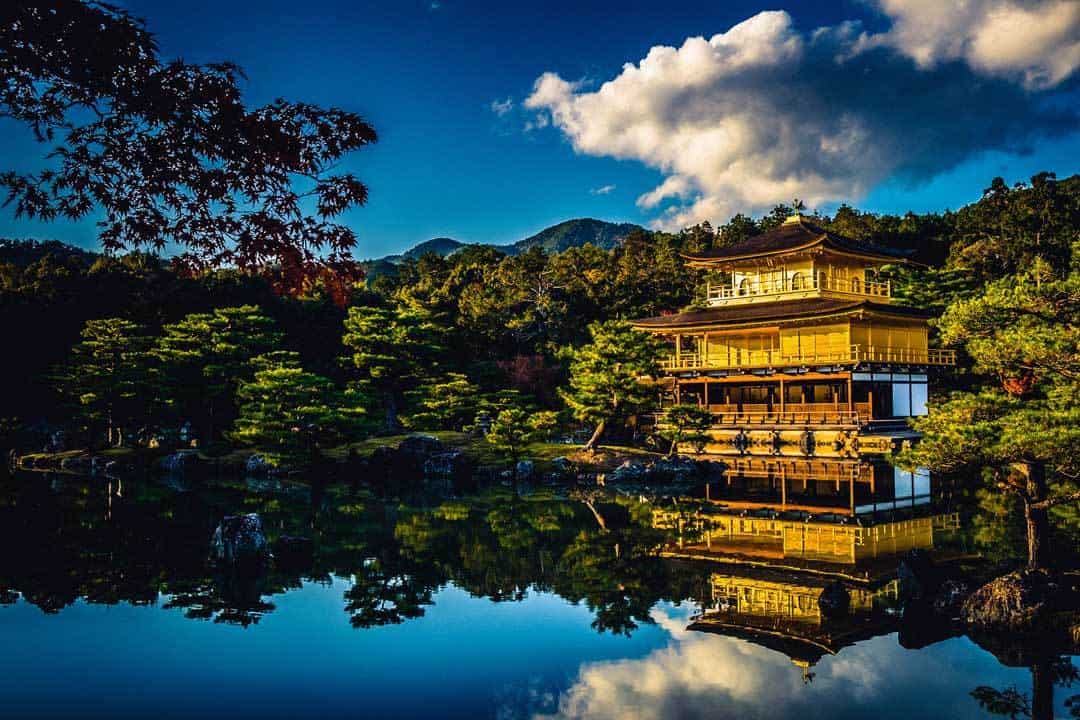 Visit ancient temples in Kyoto
Kyoto is the magical, ancient city of Japan known for being the spiritual centre of the country. Immerse yourself in the beauty and stillness of its many temples.
Check out our 3 days in Kyoto itinerary here.
Spend the night in a Ryokan
Staying in a ryokan is the most authentic way to experience Japan. Splurge on the experience and find yourself turning Japanese after a refreshing stay!
You can stay in a great ryokan in Murakami.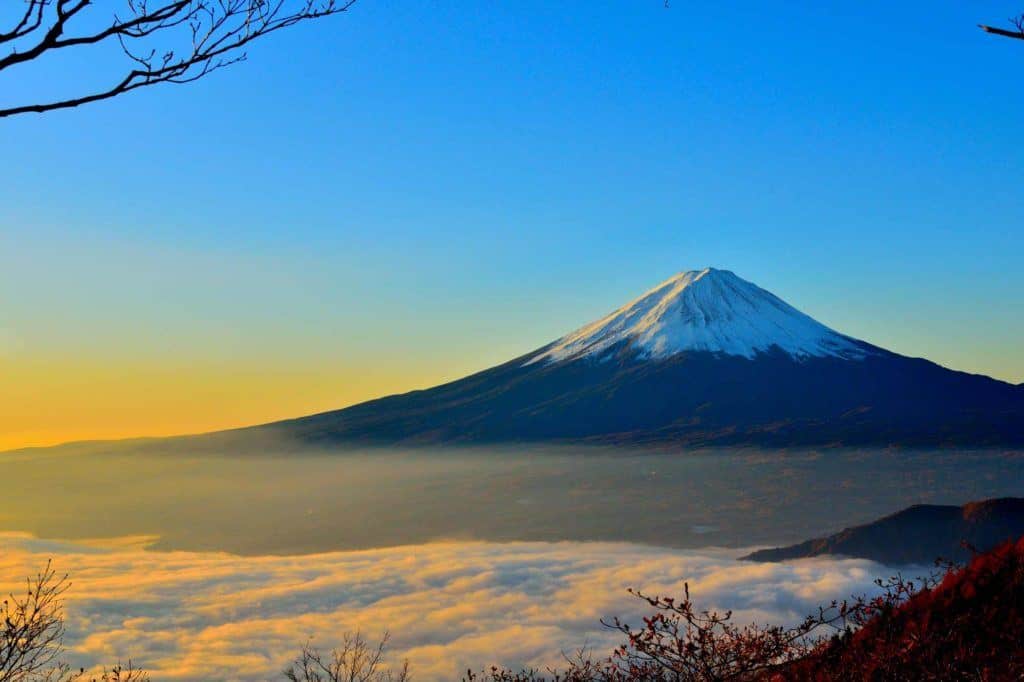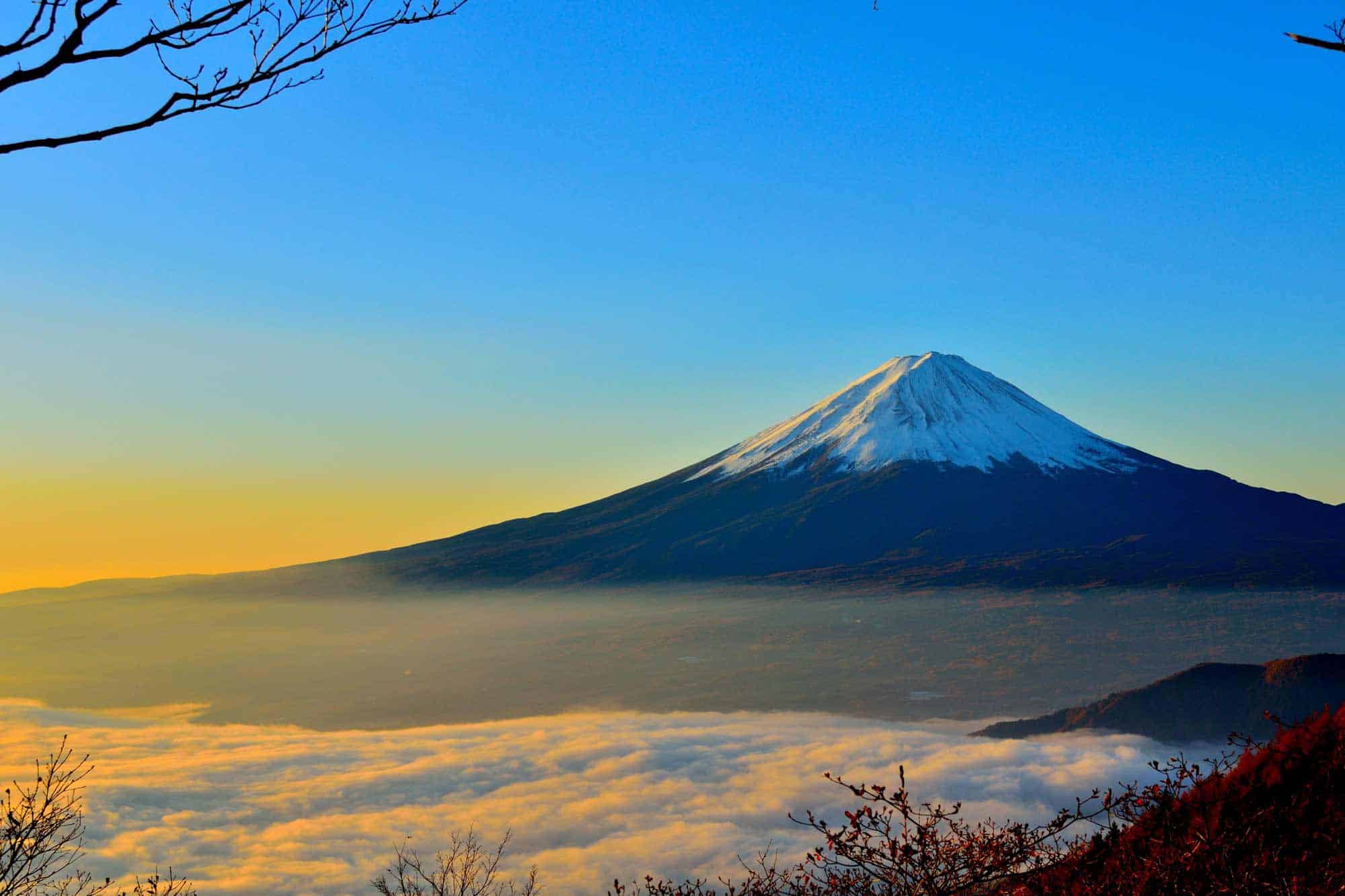 Climb/View Mt. Fuji
One of the most picturesque volcanic mountains in the world is accessible to climb, or simply view, throughout much of the year.
This is the best Mt. Fuji day trip you can find anywhere.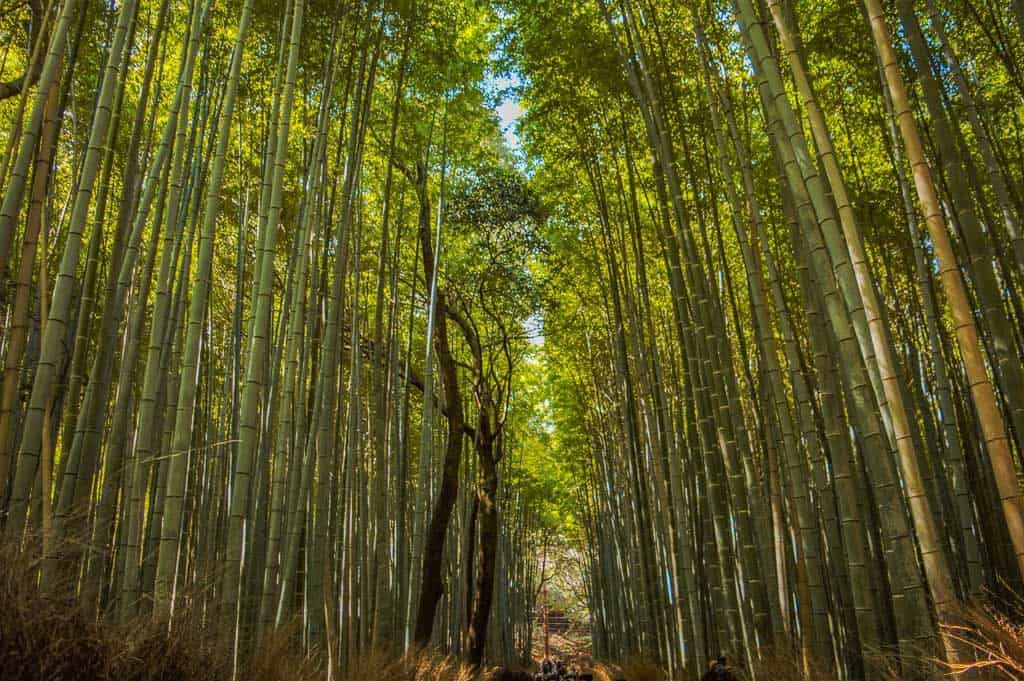 Get lost in a giant bamboo forest
Bamboo that stretches to the sky can be found in Kyoto. Be mesmerized by the sound of the swaying forest.
Other Things to Do in Japan
Party with robots in Tokyo: The 90-minute show is one of the most unique and bizarre must-do activities in Tokyo. It may take you a few minutes to figure out what you're watching (don't miss that video of it). But you'll definitely be glad you went!
Watch a sumo wrestling match. Sure, sushi can be found on every street corner. But eating it at every meal won't give you a chance against world-famous sumo wrestlers. Catch a match and be a part of a long and sacred activity.
Cross the world's busiest pedestrian intersection. Shibuya Crossing in Tokyo will blow your mind with the number of people moving at any given time when the traffic stops to let pedestrians cross. Head to the QFRONT building to watch 2,500 people cross the streets below.
Hang out with deer in Nara. The normally shy creatures are anything but shy as they can be found in abundance in Nara Park. Whether you want to interact with them, or simply view them in nature, the experience is worthwhile!
Spend the night in a capsule hotel. Japan is known for tiny packaging. A Capsule hotel is just as it sounds: a tiny box-like structure intended for one person to spend the night. Warning, this is not for the claustrophobic!
Relax in an onsen. Onsens are hot springs that can be found in natural and man-made settings. You haven't relaxed until you've spent a few hours in an Onsen. Just know sometimes the dress code is your birthday suit! Check out this one in Hokkaido. Just be careful if you have tattoos, because many onsens don't allow them.
Go diving in Okinawa. While the northern Japanese islands have a tendency to be cold, Okinawa is located in a more tropical climate and lends itself to spectacular diving. You'll love the underwater world of these islands!
Go Kart dressed as your favourite cartoon character. If you've ever played Mario Kart and wondered where in the world you could go and ride around a go-kart dressed up like Mario, Yoshi, Princess Peach or your other favourite characters, this is it.
Watch the cherry trees blossom. Japan has cornered the market in cherry tree blossoms. This is so much so that every year thousands of people participate in cherry blossom festivals as the trees unload their dazzling colour across the country. If you visit Japan in spring be sure not to miss out! This particular tour is incredible as a day trip from Tokyo.
Hike with monkeys. If you enjoy hiking AND monkeys then the 30-minute hike outside of Kyoto is for you! But if you just prefer to hike and don't want anything to do with monkeys, there are plenty of other great trails to hike in Japan!
BE SURE TO CHECK OUT THESE OTHER AMAZING THINGS TO DO IN JAPAN
BEST PLACES TO VISIT IN JAPAN
There are plenty of amazing places to visit in Japan. Depending on your interests, trip duration and time of year you will find plenty of things to do during any length of stay.
Tokyo
Japan's capital and a city full of awesome things to do!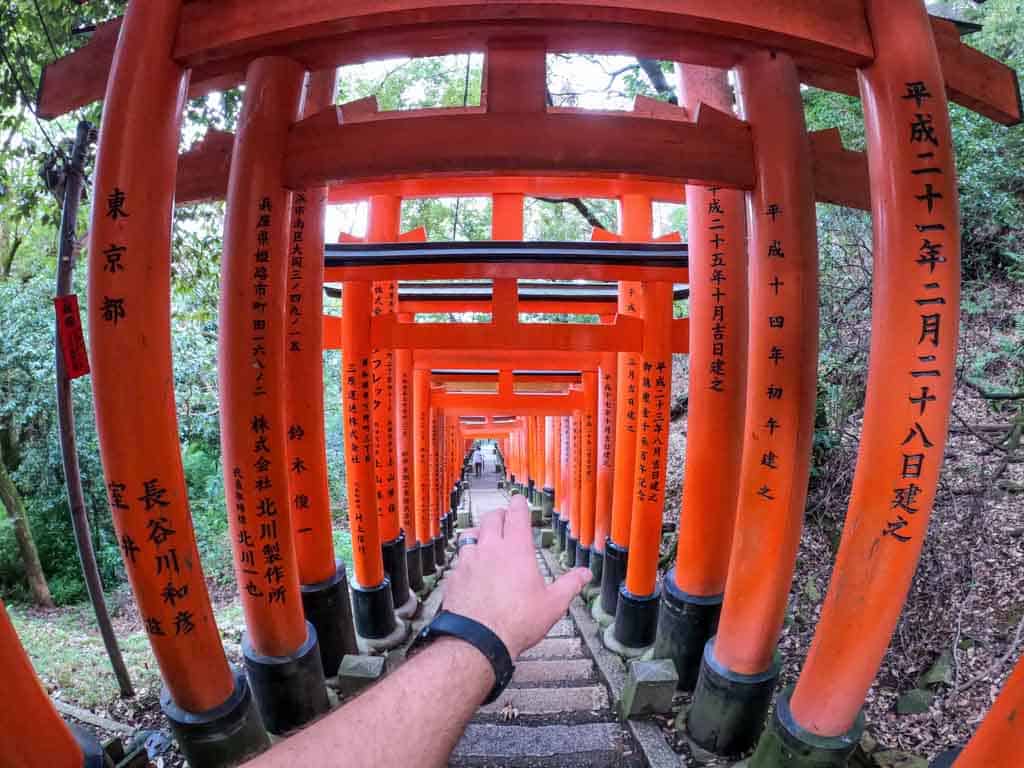 Yokohama
The second-largest Japanese city, home to a massive Chinatown and plenty of activities to keep you busy!
For more information on specific things to do in the top places to visit in Japan, reference our following city travel guides:
BE SURE TO CHECK OUT THESE OTHER AWESOME PLACES TO VISIT IN JAPAN.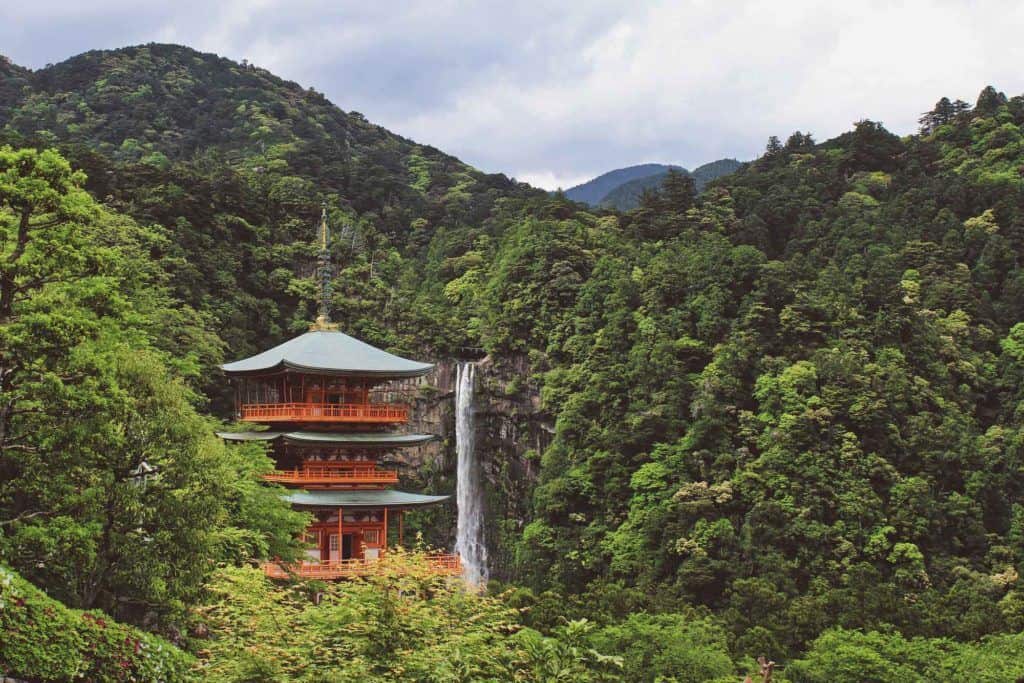 BEST JAPAN TRAVEL ITINERARY
Depending on whether you are starting from scratch or have a general idea of what kind of things you would like to see and do, we've put together a few itineraries that are sure to leave you wanting for nothing at the end of your visit.
There are so many amazing things to do in Japan that planning an itinerary for your travel can be a little overwhelming.
In this section, we'll not only help you plan a 1-, 2-, or 3-week Japan itinerary but also give you an overview of many of the places you might want to consider visiting and things you may want to do.
Of course, no one-size-fits-all plan will suffice. But if we were to head back to Japan these are the top places and things that we would want to do!
KEEP AN EYE OUT FOR AWESOME DAY TRIPS FROM EVERY MAJOR JAPANESE CITY
3-Week Japan Travel Itinerary Highlights
Even with a country that seems as small as Japan, three weeks is hardly enough time to get started in seeing it all!
However, with three weeks you can have a really nice time both spending more time in places many people only glance by as well as visiting some places that most people don't see when they visit Japan.
Here's an overview of how we'd spend 3 weeks in Japan.
| | |
| --- | --- |
| 3 Days | Tokyo |
| 3 Days | Kyoto |
| 1 Day | Nara |
| 2 Days | Osaka |
| 1 Day | Fly to Sapporo |
| 2 Days | Sapporo |
| 5 Days | Hokaido road trip |
| 3 Days | Tohoku |
2-Week Japan Travel Itinerary Highlights
With two weeks to travel to Japan, you are going to have to cut out some of the nicer places you could see with an extra week or two.
But the good news is you are still going to see and do a lot while you are here!
This is an idea of how we'd spend 2 weeks in Japan.
| | |
| --- | --- |
| 3 Days | Tokyo |
| 2 Days | Kyoto |
| 1 Day | Nara |
| 2 Days | Osaka |
| 1 Day | Fly to Sapporo |
| 1 Days | Sapporo |
| 2 Days | Hokkaido road trip |
1-Week Japan Travel Itinerary Highlights
If you only have 1 week to visit Japan, don't worry it is definitely worth your time. Of course, you're going to have to pick and choose where you go and what you do much differently than if you had more time.
And you likely won't want to spend all of your time travelling from one island to the next.
So if we had just 1 week in Japan, this is how we'd spend it.
| | |
| --- | --- |
| 3 Days | Tokyo |
| 2 Days | Kyoto |
| 1 Day | Nara |
| 1 Day | Osaka |
JAPAN TRAVEL PLANNING
You're well on your way to becoming an expert when it comes to travel to Japan! Now we'll fill you in on the rest.
Best Time to Visit Japan
There really is no best or worst time to visit Japan. The timing of your trip all depends on what you want to see and do and how willing you are to share your Japan travel experience with other travellers.
Across the country sakura (cherry blossom) season in Spring is one of the most popular times to visit. But it happens at different times across the country due to the differences in climate from north to south along the island chain.
Another less popular, but no less stunning, time to visit is Autumn as the leaves begin to change colour.
Whilst this doesn't quite bring in the crowds like sakura season does, the sheer array of colours on display is absolutely stunning, particularly on Japan's most northerly island, Hokkaido.
Summer brings sweltering temperatures and typhoons in the south. However, Japan is extremely well prepared for such events. As such is still possible to travel to Japan during this of year.
Winter brings some of the world's best skiing on Hokkaido as snow makes some roads and hiking trails impassable. However, this is also the best time to see the famous ice flows close to the Shiretoko National Park.
And, of course, it's a great time to shred some powder if you're looking for some world-class slopes!


Enjoy
Avoid
Hokkaido
Sakura in late May
Autumn colours in September
Summer heat and typhoons
Honshu
Sakura in April
Autumn colours in October and November
Northern mountains in winterSummer heat and typhoons
Kyushu And Shikoku
Sakura in early April
Autumn colours in November
Mild temperatures year round
Summer rains and typhoons
Okinawa
Sakura in March
Diving in summer
Late spring rains
Late summer typhoons
Japan Travel Budget Guideline
Japan has an unfair reputation for being incredibly expensive. And whilst you could easily empty your bank account in a short time, it is possible to travel in Japan for less money than you think.
| | | | | | |
| --- | --- | --- | --- | --- | --- |
| | Food | Accommodation | Transportation | Attractions | Average Daily Cost |
| Backpacker | $15 – $20 | $20 – $30 | $15 – $20 | $15 – $20 | $50 – $60 |
| Mid-Range | $30 – $50 | $40 – $75 | $15 – $20 | $25 – $50 | $60 – $100+ |
| Luxury | $75+ | $100+ | $25 – $40 | $75+ | $250+ |
Budgeting Tips
To make your money go further here are a few tips:
1. Purchase the rail pass you need. There are a huge number of different types of rail passes available in Japan. This is your one-stop-shop for a variety of rail passes.
2. Take advantage of low-cost internal flights. You can fly affordably between most major cities.
3. Utilise convenience stores for finding cheap and delicious eats.
4. Japan has an extensive and reliable night bus service. Use it to save on travel and hotel fees.
5. Limit your alcohol intake, it's surprisingly expensive. 1 beer = 500-600 yen (USD$5-$6).
6. Check the subway passes available in the city in which you're staying and purchase the rail pass you need.
CHECK OUT OUR JAPAN BUDGETING GUIDE TO HELP MAKE YOUR MONEY GO FURTHER.
But there are a few things you should know about the different budgets at which you can choose to travel.
Note: Budgets shown as Single Traveller / Couples per day.
Budget Traveller ($50-60 Single / $80-110 Couples)
Hostels are the best options for single budget travellers. However, if travelling as a couple it's often cheaper to get a private room.
There are plenty of awesome free things to do all over Japan. You will need to think outside the box and do your research but it is very possible to travel in Japan on a budget like this.
Your meals will likely come from low-cost restaurants and corner stores. And you're likely going to spend a fair amount of time walking and taking public transportation.
Mid-Range Traveller ($60-100 Single / $120-180 Couple)
Whilst you may not get much of an upgrade on the accommodation front, travelling in this budget range will put you in the position to possibly rent a car to explore parts of Japan that are more difficult to reach.
In addition, you may be able to spend more time eating in some funky izakayas and sushi restaurants and participate in a few formal tours.
Luxury Traveller ($250+ Single / $400+ Couple)
Luxury hotels and fancy restaurants are the order of the day here. If money is no object then travelling in Japan can extremely luxurious!
For instance, you can stay in beautiful ryokans instead of hostels or hotels. And you can order a variety of different meals to enjoy while dining at some of the finer restaurants.
Of course, you'll also be able to do more by way of renting a car and/or joining up on a variety of different tour groups to keep your itinerary completely packed.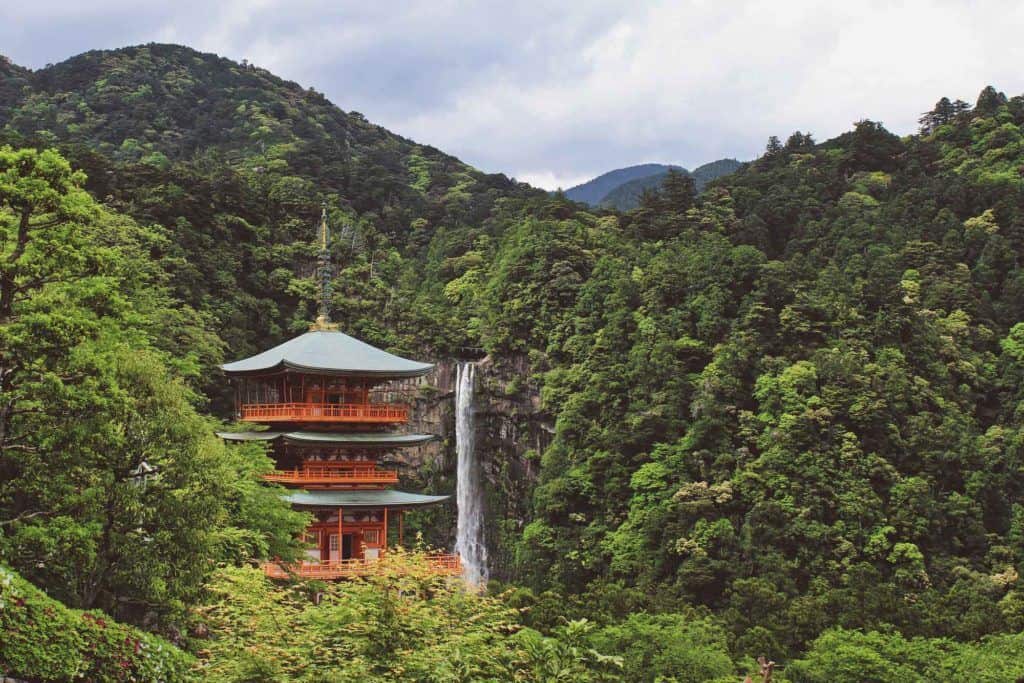 Getting To and Around Japan
Japan is an island nation, thus travelling to Japan is limited to only air or water transportation.
The majority of International Flights will take you to Tokyo's Narita or Haneda Airport's or Osaka International Airport. From there you will connect, as necessary, to other Japanese destinations.
Entry Requirements
Visa requirements for Japan are very straightforward.
Most travellers are visa-free and can stay for 15, 30 or 90 days depending on their nationality. For information about which countries are granted visa-free access click here.
Getting Around Japan
Travelling in Japan is both easy and convenient.
The public transport network is wide-ranging and extremely reliable. And compared to many places in the world, it can also be quite affordable.
Additionally, hiring a car is both easy and safe.
Travelling by Air
Japan has an excellent domestic air travel network. There are two passes run by JAL and ANA that will allow you to take domestic flights for around $100.
The price can sometimes vary depending on where your origin and destinations.
If you plan this effectively with other transport options available it has the potential to make your visit to Japan even more convenient and affordable.
Travelling by Car
Although the country is fairly well connected with both public and private transportation options, hiring a car is an excellent option for travelling in Japan.
The best part is that it is not as difficult as you may imagine.
Driving in Japan is safe and easy. For Hokkaido, Kyushu and Shikoku, a car is the best way to see most of each island's most beautiful sights outside of the city centres.
The best way to get around is to rent a car and explore on your own! We recommend Rental Cars, which has the largest range of vehicles for the best value on the market.
Travelling by Bus
There are a number of bus companies operating in Japan. The biggest of these is Willer Bus Service.
Not only are fares convenient and affordable, but they can also help you consolidate expenses if you travel at night.
Combining overnight bus travel with a JR pass can save you a fortune as the difference in price between regional, 1 week national and 2-week national passes are huge.
Travelling by Boat/Ferry
Often the only way to access some of Japans smaller islands, particularly in the Seto Inland Sea, is by boat or ferry. Japan boasts an excellent maritime transport network.
Generally, ferries are affordable and in some cases, they are covered by a JR pass (the ferry to Miyajima being the most well-known example).
Naturally, the costs increase if you ferry a car or if you are taking a long-distance ferry.
Travelling by Train
Japan's train network is simply incredible as it can take you from the north of Hokkaido to the south of Kyushu.
But it can also be confusing as, like with a lot of things in Japan, there is a myriad of different options available to you.
How to Maximise a JR Pass
Because your travel to Japan will very likely involve transportation on a JR line at some point, we've put together a few tips to help you plan your JR Pass use accordingly.
Download Hyperdia – This amazing app allows to research train times and more importantly prices. Currently, it is free to use for 3 months (after that you will need to pay). You can work out which JR pass is the best financial option. Do note that the seat fare (sometimes two-thirds of the cost) is not optional, you will need to pay it.
You don't need a rail pass for your entire time. Some people may be visiting Japan for 2 weeks and will buy a 2 week nationwide JR pass. You are likely not going to be using the train every day and it's likely you will pay more than you need to.
Activate your JR pass at the right time. To activate you pass you will need to go to the station and inform them of when you want to activate it. Make sure you activate it when you really need it so you can get the most out of it.
Check out the regional passes. There are numerous regional passes available that are much cheaper, but they cover a smaller area and don't last as long. However, they can be a fantastic option. Combining such passes with night bus services can save you plenty of money.
A Practical Example: Travelling Through Japan On A Budget

To give you an idea of how much a bit of research can save you: When I travelled to Japan I purchased a Yamaguchi wide area pass for 13,500 yen. This covered my travel from Hiroshima to Kyoto.From Kyoto I then took a night bus to Tokyo for 6,500 yen. At 20,000 yen this was much cheaper than a 1-week JR pass. Additionally this trip took me 11 days, from when I arrived in Hiroshima to when I arrived in Tokyo.If I had gone with the JR pass option I would have had to purchase a 2-week JR pass, which costs just under 50,000 yen. In this case a bit of research and planning saved me 30,000 yen, roughly USD$275.
Apps and Technology
Japan is definitely well connected when it comes to technology.
When you visit Japan you are likely going to want to remain connected to the outside world as well as take advantage of mobile apps that make travelling through Japan a little easier.
Here are a few we think you should definitely acquaint yourself with prior to your travels:
Hyperdia – Hyperdia is the premiere app for helping you to understand the transportation system in Japan. Find the right rail line, station and even schedules to help navigate what could otherwise be a complicated transportation system.
XE Currency – Transfer, monitor and calculate currency as the need arises. This app may not be totally necessary as you are typically tied into rates the banks charge for services. But it is handy to have around.
Express VPN – This will protect your sensitive information wherever you travel – not just in Japan. Be sure to have this to keep your online information secure as you travel.
GuruNavi – This app will help you to find food options in whatever prefecture you happen to be at the moment. You can search through different types of cuisine as well as to filter your selections for things like English-speaking staff and WiFi availability.
Google Translate – Even if you don't know more than a handful of Japanese words, iTranslate will help you communicate as you travel in Japan.
Best Things to Eat in Japan
Japanese cuisine is justifiably one of the worlds popular. It focuses heavily on high-quality ingredients and as a result portion sizes are smaller than you may expect.
Although fried dishes are common in Japanese cuisine, Japan has the lowest rate of childhood and adult obesity amongst the OECD nations.
This is down to a mixture of smaller portions and a culture that promotes restraint and health.
Yakiniku: Japanese BBQ. These restaurants can be found all over Japan, and it is very rare that they are anything other than delicious. Many offer time based all you can eat/drink deals. Look out for the characters 放题 as they usually don't advertise this in any language other than Japanese.
Katsu Curry: Fried chicken or pork cutlets smothered in Japanese curry. Heaven on a plate.
Kushikatsu: All manner of meat and veg skewered and deep-fried.
Sushi and Sashimi: This can go from cheap to eye-watering expensive. Conveyor belt sushi restaurants offer the cheapest prices. Be brave and try delicacies like sea urchin, horse or chicken sashimi.
Sukiyaki: Meat and vegetables cooked in a hot pot with a small amount of water and soy sauce.
Ramen: The nations most popular noodle dish, often an excellent budget option.
Gyoza: Pan-fried dumplings, often filled with pork.
There is certainly much more available than this, but hopefully this gives you a quick overview.
Convenience Stores: For budget eating options convenience stores like lawsons, family mart and 7-11 are often an excellent option for a cheap and hearty meal!
Izakaya: No mention of eating in Japan would be complete without mentioning Japan's most famous eating places; the Izakaya (居酒屋).
An izakaya is a Japanese pub that is generally a place where friends, colleagues and family members will go to eat, drink and chat.
The huge menus consist of small plates that are shared amongst the group. Expect to find sashimi, yakitori, cold dishes, salads, fried dishes and desserts.
ACCOMMODATION IN JAPAN
Japan has a huge range of accommodation options. The most obvious difference is whether it's a Japanese or western style room.
In Japanese style rooms, you will be sleeping on tatami mats on the floor, which are actually incredibly comfortable.
This option is far more common outside of popular tourist destinations. Western-style rooms have regular beds.
Many single rooms in hostels, guesthouses or hotels will have bunk beds to fit more people. This will usually be stated when booking.
It is not always the most romantic option but it does help you get more bang for your buck.
Types of Accommodations
Hostels
Whilst hostels exist in Japan, they are not as cheap South East Asia. There is a reasonably good hostel network throughout Japan. But hostels are not as common or widespread as in other popular travel destinations.
If travelling in Japan as a couple or pair, a hotel room is often cheaper than 2 beds in a dorm. It's always worth comparing, hostels are not always the cheapest option when there's more than one of you.
Western-Style Hotels
These will be the traditional hotels that you would find in most places in the world.
They include major Japanese and international brands and are more common in larger cities.
You can expect amenities and comfort similar to those you'd find in other destinations.
Capsule Hotels
A unique way to spend a night or two in Japan is in a capsule hotel. As the name suggests, these are small enclosed spaces usually only large enough for a bed.
Sometimes you will have a television and a small storage space. But more often you can expect to have to stash your gear in a locker. You'll also, obviously, be using shared restrooms.
Ryokans
Traditional Japanese Ryokans offer luxurious stays in often gorgeous accommodation and locations. However, they can sometimes be very expensive.
It's not uncommon for Ryokans to have an onsen. But if you want an authentic Japanese overnight experience you won't find anything that surpasses a stay in a Ryokan.
Airbnb
Another good option in recent years is AirBnB, and there are more and more amazing places popping up to stay for very affordable prices every day.
As is typical in many destinations where Airbnb accommodations are popping up, you'll likely find great value and a little more personal space with an Airbnb stay.
If you're looking for an awesome place to stay in Port Stephens, we personally love using Airbnb. If you've never used the platform before, sign up using this link to get USD$35 off your first booking.
Onsen Hotels
Last, but by no means least; Onsen Hotels. In short, these are hotels that have an onsen attached.
They cover a wide variety of budgets but often they are not the cheapest options available.
However, the luxury of being able to have an onsen whenever you want is well worth it.
Just note that with onsens there are some basic rules to follow. These will often clearly displayed, but here they are:
You must be completely naked – no bathing suits. Leave awkward at the door, with your clothes.
Do not put your towel into the onsen water. Most people wrap it around their head.
Shower before you enter the onsen, taking care to splash others with your shower water.
Or, if you'd like to check out a few options on your own here are a few resources to get you started!
JAPAN TRAVEL TIPS
Travelling in Japan can definitely be rewarding. But it can also be a bit of a headache – especially if your knowledge of the Japanese language and culture is limited.
Further, not being prepared for adventure can hamper your optimism as well.
Imagine you're all set for your day of walking around majestic Kyoto and you failed to pack an umbrella or raincoat.
Of course, you have your own reasons for travelling to Japan. So likely you know whether you plan to dive in Okinawa or climb Mt. Fuji.
But for everything else in your journey, let us remind you of a few travel tips for Japan to make your adventure safer, more enjoyable and more affordable.
General Japan Travel Tips
While there are many basic travel tips we suggest you use when travelling to Japan, there are also plenty of Japanese-specific tips that will make your visit the best it can be.
Here are a few we recommend you consider as you plan your trip to visit Japan:
1. Research Cultural Norms and Behaviour
Japan is a country with a very strong national identity and behaviour. Breaking these behavioural norms is most definitely frowned upon.
Here are a few basic Japanese cultural expectations:
Do not talk loudly or answer your phone on the subway, bus or train.
Do not eat on the above.
Walking and eating are sometimes frowned upon.
Stand on the left-hand side of an escalator.
Follow the rules in an onsen.
Do not litter – Japan is immaculately clean.
If you're not sure if something is ok, just ask.
Many Japanese people know that foreigners are unlikely to be aware of Japanese norms and expectations and will be happy to help you.
2. Eat, Eat, Eat.
Japanese food tastes so much better in Japan. Take the opportunity to try things that you are very unlikely to find in your home country.
3. International Drivers Permit
If you plan on renting a car in Japan you MUST have this document.
Without it not only will you be unable to rent a car, but you also will not be given a refund if you have already paid.
4. Take your own chopsticks
Single-use chopsticks are the norm in Japan. Take your own and do a little bit for the planet.
5. Do your research
A bit of planning and research does make a real difference, especially for utilising public transport. Getting a handle on this will leave you in the best place to get the most out of your trip.
6. Show respect and places of worship:
All temples and shrines will have rules and guidelines clearly displayed in English or with pictures, yet some people are still not able to understand them. Don't be one of those travellers that give everyone else a bad name.
7. Remove your shoes
This is common everywhere in Japan. In some cases, you may need to remove them before entering the lobby of a hotel.
However, it is more common that you are expected to leave your shoes in the coves next to the door of your hotel room. This is especially common in more traditional Japanese hotels.
8. Embrace Japanese toilets
The gadgets available in Japanese bathrooms are the stuff of legend. Soft music can be played so no-one can hear you doing your business, seats can be warmed on cold winter mornings and the variety of spray options will leave you feeling as clean as a whistle.
Japan Packing List
We always travel with a core packing list wherever we go. And when it comes to Japan, many factors will affect what else you need to bring along with you.
Check out our travel essentials and be sure to add any of the other additional items listed below.
JAPAN PACKING LIST
It really depends on when you travel to Japan. Bringing wet weather gear is always advisable.

However if you're heading into the mountains it's worth bringing extra warm clothes, even in summer.

General Items
Trousers x3 (thin trousers that dry quickly are best)
Shorts x2 (not needed in winter)
Flip flops (not needed in winter)
Hiking shoes
Sneakers/Trainers
Wet weather jacket
T-shirt x5
Fleece/thick jumper x2

Miscellaneous
Chopsticks (to avoid using disposable ones)
Power packAdaptor
Unlocked phone for a Japanese sim card
International Drivers Permit (if you want to drive a car in Japan)

ALWAYS BE SURE TO PACK TRAVEL INSURANCE!
Staying Safe In Japan
Japan is a relatively safe country in which to travel.
Clearly you should always practice some basic safety guidelines no matter where in the world you travel.
Keep copies of your passport and financial documents in the event they are lost or stolen.
Don't be flashy with expensive items or cash. You're not very likely to be targeted as a tourist in Japan. But this would surely set you apart.
Avoid travelling alone at night. Call a taxi or Uber in advance and wait inside the venue until it arrives.
Be aware of your surroundings, particularly if you've had a night out drinking.
Keep your personal items close. Pickpocketing is about as bad as you can expect in Japan, so make sure your purse, wallet and phone, etc are secure particularly when travelling in crowded public transportation.
We won't bore you with a more extensive list. Unless this is your first trip out of your home country you'll be better off when you travel in Japan than many other places in the world.
If this is your first trip, congratulations!
If you practice many of the same common-sense habits you would at home, then you'll be quite safe and enjoy your time in Japan.
Staying Connected in Japan
Japan is an ultra-modern country, particularly when it comes to technology. Thus staying connected when you travel to Japan will be no issue.
Of course, like any place in the world, the further you go away from metropolitan areas the more you can expect slow to no-service in areas.
For phone and data service, first check with your local cellular carrier to determine if your current plan will cover you when you travel to Japan.
In many cases, carriers have expanded their international coverage to popular places such as Japan.
If not, they will likely have a very expensive option for you to purchase on a daily/weekly basis.
We feel like your money will go a lot further if you consider a few other options.
Purchase a SIM Card
First and foremost is to pick up a local SIM card upon arrival in Japan. You will need to make sure that your device is unlocked before you can switch SIM cards.
However, this will be a reasonably inexpensive and fairly common way to access Japanese cellular networks without paying outrageous international travelling fees through your home carrier.
Rent a Portable WiFi Device
A second option would be to rent a portable WiFi device that will allow you a certain amount of data/service over a set period of time.
These are relatively affordable compared to most cellular plans' international options.
You'll typically have to pick these up from central locations such as the airport or train station. But it's likely you'll be passing through here anyway.
Access Free WiFI
And finally, you could always just ensure that your device is on aeroplane mode and then hop from one WiFi hotspot to another.
Plenty of places in the towns and cities you will visit will offer WiFi.
From restaurants, hotels, railway and train stations and even some public spaces, you'll find many venues that will cater to your need to stay connected.
Be a Responsible Traveller in Japan
Being a responsible traveller in Japan is important on many levels.
First, you represent yourself wherever you travel.
Nobody likes a jerk – especially people minding their own business in their own country.
Taking the time to learn about Japanese customs and culture will help you understand how you can be more responsible when you travel to the country.
Second, you represent your home country and other travellers. If you act or say things that reflect poorly on yourself while travelling in Japan then these actions also reflect poorly on other travellers.
While stereotypes suck – the truth is that most people form opinions based on first experiences. So let's try to make your interactions with others positive while travelling in Japan.
Additionally, the resources of the world are limited.
Even though you might have certain customs or routines back in your home country does not mean you need to extend them when you travel to Japan.
For instance, carrying a reusable water bottle is loads more responsible as a traveller – although you may not think twice about using disposable bottles back home.
READ MORE:
At NOMADasaurus, we believe and promote responsible, sustainable travel wherever you go in the world. If you need more ideas, be sure to check out our comprehensive sustainable tourism guide.
Key Japanese Travel Phrases
You don't have to be fluent in Japanese to have a great time when you travel to Japan. But it does help to know a few key phrases.
This will not only assist you in your travels but it will also show respect to the local Japanese people that you are doing your best to assimilate into their culture.
| | | |
| --- | --- | --- |
| Please / onegaishimasu | Excuse me / sumimasen | Yes / hai |
| Thank you / arigatou gozaimasu | I'm sorry / gomen nasai | No / iie |
| Hello / Konnichiwa | How much is it? / ikura desu ka? | My name is __ / Watashi no namae wa __ desu. |
| Goodbye/ Sayonara | Do you have ______? / ______ wa arimasu ka? | How much / Oikura desu ka? |
| Good morning / Ohayou gozaimasu | What is this? / Kore wa nan desu ka? | What do you recommend / Osusume wa nan desu ka? |
| Good afternoon / Konnichiwa | Can I have a. beer? / Bi-ru o kudasai | Where is the toilet? / Toilet wa doko desu ka? |
| Good evening / Konbanwa | Can you speak English? / eigo o hanasemasu ka? | I don't understand Japanese / nihongo ga wakarimasen |
| Where is _____ ? /______ wa doko desu ka? | I would like __ / __ o kudasai | I want to go to __ / __ ni ikitai. |
Books To Read About Japan
Maybe you already know everything about Japan. Chances are you don't!
But even if you are well-read, here are a few suggestions that might be worth your time while you're on the plane to Japan.
A Geek in Japan. A fascinating read that takes you into the heart of understanding Japanese culture. This is a top pick among most Japan travellers.
Memoirs of a Geisha. Perhaps the. most well-known book in recent times thanks to its popularity as a movie. The historical fiction follows the story of a young woman thrust into the life of a geisha.
Rice Noodle Fish. A creative way of exploring Japan from a culinary standpoint. Tantalizing pictures of delicious food accompanies the personal story and in-depth information about some of Japan's best eats.
Hokkaido Highway Blues. Follow a hilarious and entertaining journey by the author to traverse Japan in stride with the cherry blossoms. Meet a cross-section of Japanese culture through the lens of the author.
BOOKING RESOURCES
I know, I know – we've already mentioned these resources a bunch in this travel guide.
But here's the thing… we know you're going to want and need these resources to help you save money and have a more enjoyable trip!
Read Our Japan Blog Posts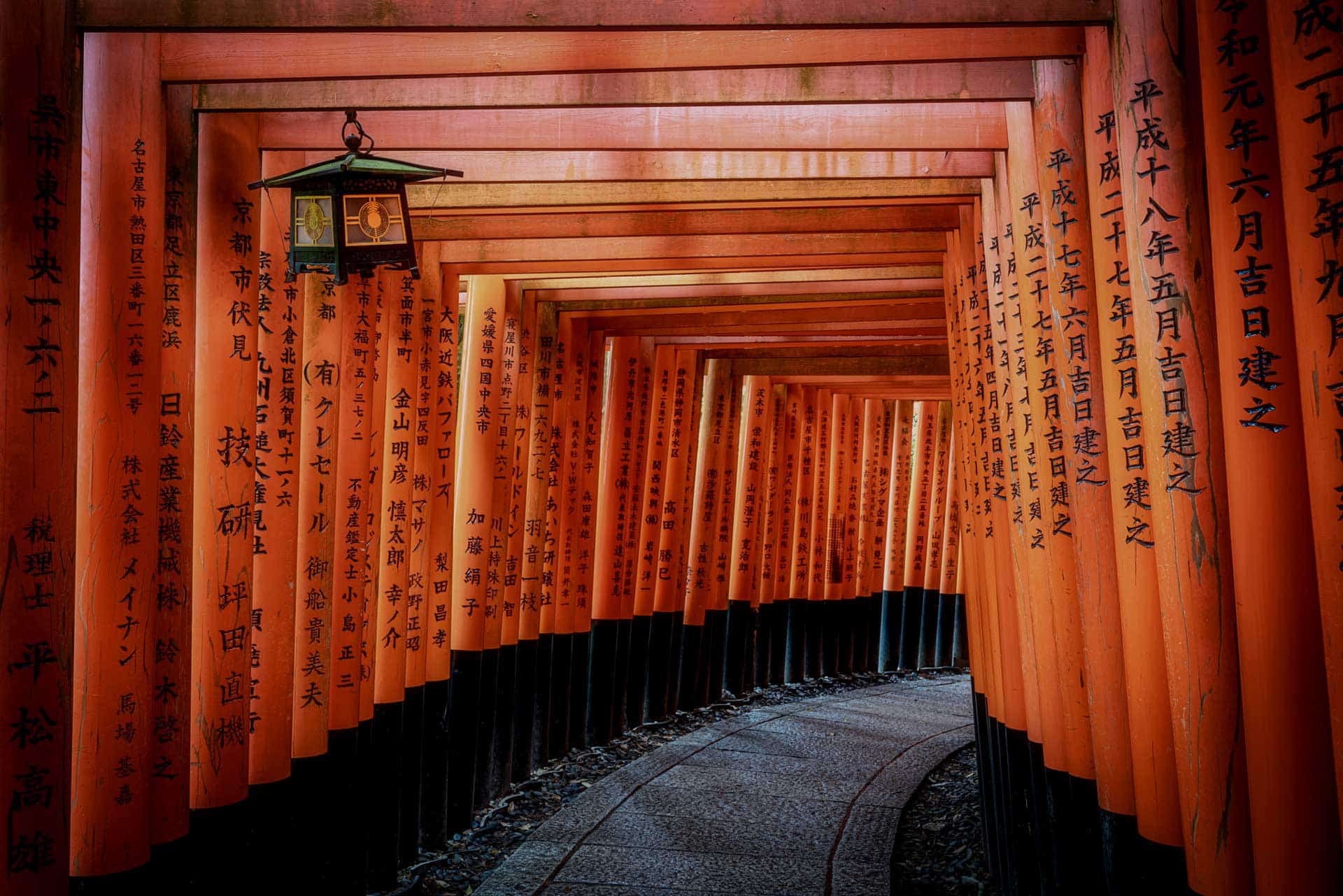 When trying to pick the best things to do in Kyoto, Japan, you can't go past this guide for 2022! Be amazed at what to…
DISCLAIMER: Some of the links in this article are affiliate links, which means if you book accommodation, tours or buy a product, we will receive a small commission at no extra cost to you. These commissions help us keep creating more free travel content to help people plan their holidays and adventures. We only recommend the best accommodations, tours and products that ourselves or our fantastic editorial team have personally experienced, and regularly review these. Thanks for your support, kind friend!