From soaking in natural hot springs to seeing the famous Hakone Open Air Museum or Hakone Shrine, here's a detailed list of the top things to do in Hakone, Japan!
What if I told you there is a magical place in the mountains of Japan where you can relax in a hot spring full of red wine?
It may sound like something out of a dream, but that's exactly what you get in Hakone!
Located just 100 km west of Tokyo, Hakone makes for a great escape from the big city.
With mountains, lakes, and plenty of hot springs, it's no wonder this is a popular weekend getaway.
Thanks to the excellent rail system in Japan, visiting Hakone is a breeze. Hakone Yumoto Station is well connected to lots of other nearby cities.
It only takes a few hours to get from the bustling centre of Tokyo to the peaceful mountain vibe of Hakone.
There are plenty of reasons to visit Hakone during a trip to Japan.
First of all, the town is home to several onsens (hot springs). A hot spring is just what you need after a busy 3 days in Tokyo!
In addition, Hakone also boasts hiking trails, the scenic Lake Ashi, and views of Mt. Fuji.
Oh yeah, and did I mention you can ride a freaking pirate ship here? More on that later…
If that all sounds good to you, then read on for a jam-packed Hakone travel guide. I'll share some of the best things to do in Hakone as well as tips on where to stay and eat.
12 Awesome Things to Do in Hakone
Although you can easily take a Hakone day trip from Tokyo, it's best to spend at least one night here.
With so many excellent ryokan (traditional Japanese inns) here, why wouldn't you stay overnight?
There's enough to see and do in Hakone to keep you busy for a while.
Soak in a hot spring, admire Hakone Shrine, enjoy lakeside views of Mount Fuji, and more.
Spend your days exploring the scenic beauty of the Hakone area, which is easily done via cable car, Hakone ropeway, boat, bus, and train.
Don't forget to buy your JR Pass for the most efficient way to travel Japan!
Speaking of getting around here, your best bet is picking up the Hakone Free Pass.
These are valid for either two or three days.
The Hakone Free Pass includes round-trip train tickets from Shinjuku in Tokyo as well as unlimited rides on all the local transport in Hakone.
You also get discounts at many local attractions, making it a great deal.
Now that you know how to get around, let's dive into our list of the top things to do in Hakone.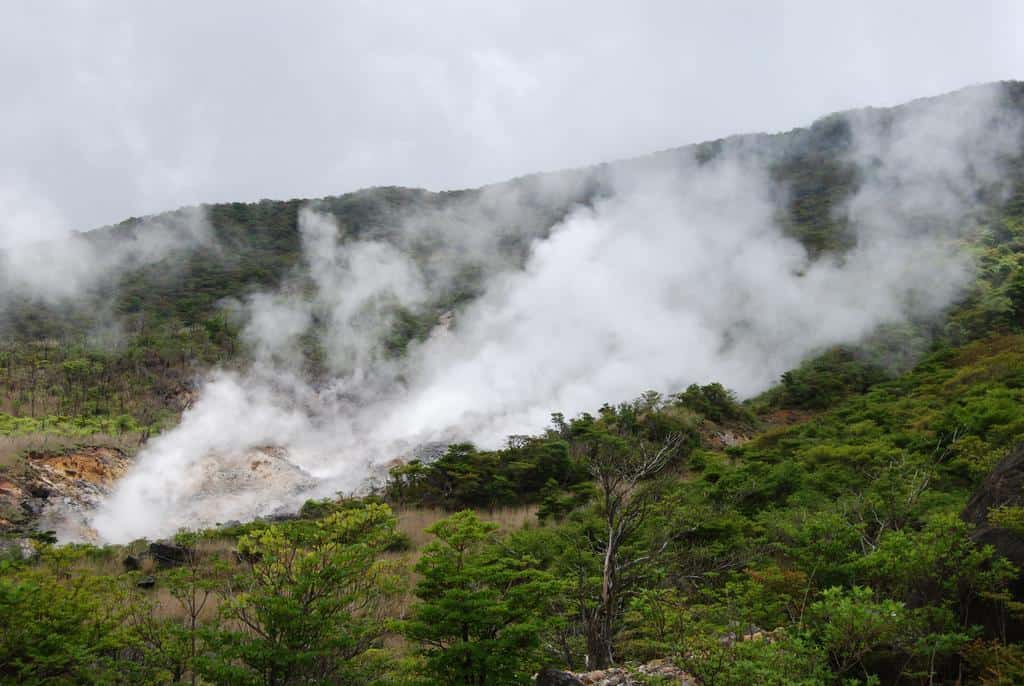 1. Stay in a Ryokan
The best way to truly experience Hakone is by staying in a ryokan.
As I mentioned, a ryokan is a traditional Japanese inn.
These date back to the Edo period and are an important part of Japan's travel culture.
There are several fantastic ryokans to choose from in Hakone. They cost more than your standard hotel, but it's well worth it to splurge a bit.
First of all, staying in a ryokan feels like staying with a local family.
They're kind of like the Japanese equivalent of a B&B. Hosts go out of their way to make sure you're comfortable, even with inevitable language barriers.
Walking into your room in a ryokan, you'll see a tatami mat, tea table, and Japanese robes.
Many ryokans in Hakone also boast mountain views, which is an added bonus.
While the rooms are nice, there's a lot more to love about staying in a ryokan.
First of all, they usually include epic meals for breakfast and dinner. We're talking several courses of mouth-watering Japanese cuisine, folks!
After a big day of exploring and a huge dinner, there's nothing better than kicking back and relaxing in an onsen.
Plenty of ryokans have hot springs on-site, so you don't even need to change out of your robe!
Speaking of onsen, that brings us to our next item on this list of things to do in Hakone…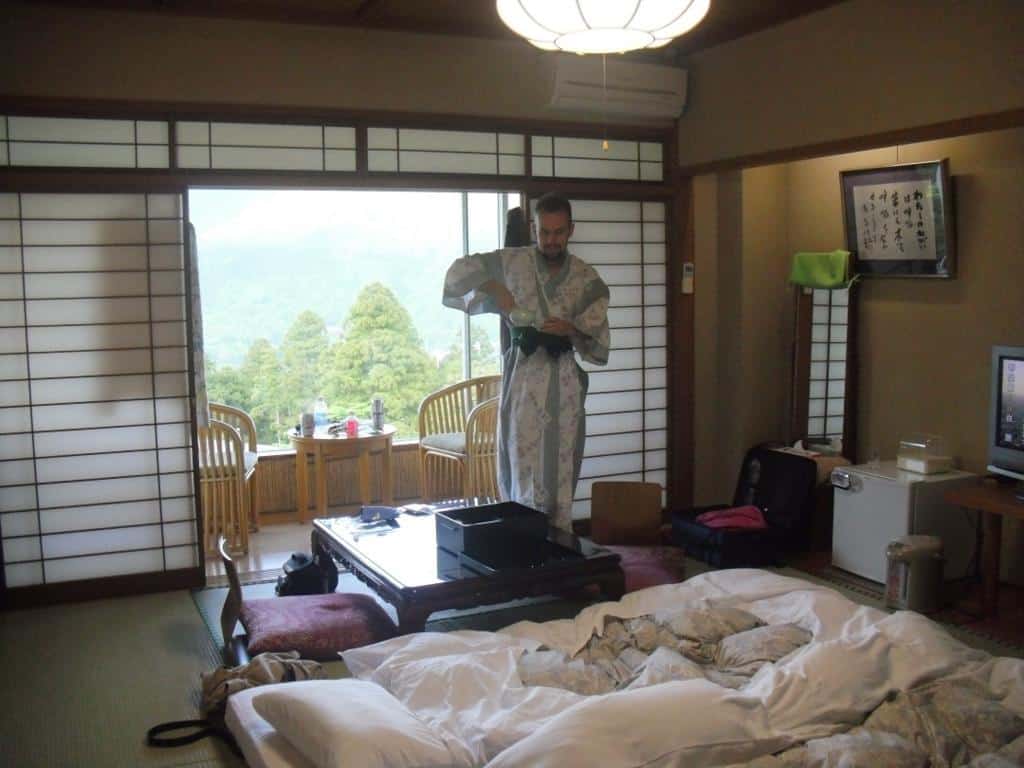 2. Soak in the Hot Springs
Since Japan is such a volcanically active country, hot springs are in abundance.
These are known as onsen in Japanese, and they're a major reason to visit Hakone.
There are onsen of all shapes and sizes scattered around Hakone.
Traditionally, these are public baths that are gender-separated. That's because you usually visit the hot springs in your birthday suit.
These days, there are also modern hot springs that are somewhat like a theme park.
One such place is Yunessun, which is divided into two areas.
One area has a variety of themed pools that are open to all.
Here you can soak in hot springs full of coffee, green tea, red wine, and even sake. I told you this was a magical place!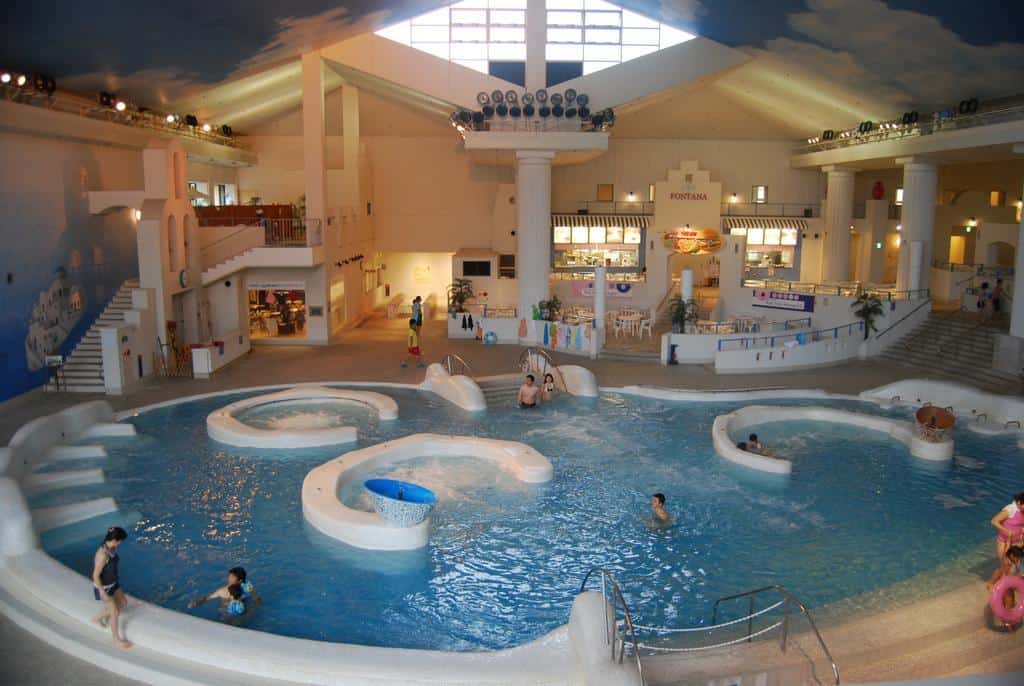 There's a traditional side to Yunessun as well, called Mori No Yu.
After ripping down the hot tub water slide you can kick back and relax in these outdoor baths in the buff.
Admission to Yunesson is 2,500 yen for the theme park side, 1,500 yen for Mori No Yu, or 3,500 yen for a combo ticket.
It's usually open from 9 AM to 7 PM from March-October and stays open a few hours later in August.
There are tons of other options for enjoying hot springs in Hakone.
Many ryokans have their own hot springs, and you can typically access them for 500-2,000 yen even if you aren't staying there.
For more information, check out this guide.
One thing I should mention about visiting the onsen is Japan is that there's a certain etiquette involved.
First of all, people with tattoos will need to cover them up in public onsen. Some may not even let you enter if you've got ink.
As I mentioned, you typically bathe in the nude at an onsen. You can store your clothes and belongings in a locker.
Finally, you should take a quick shower before entering the hot springs.
We had an awesome weekend getaway in Hakone staying in a ryokan and enjoying the onsen.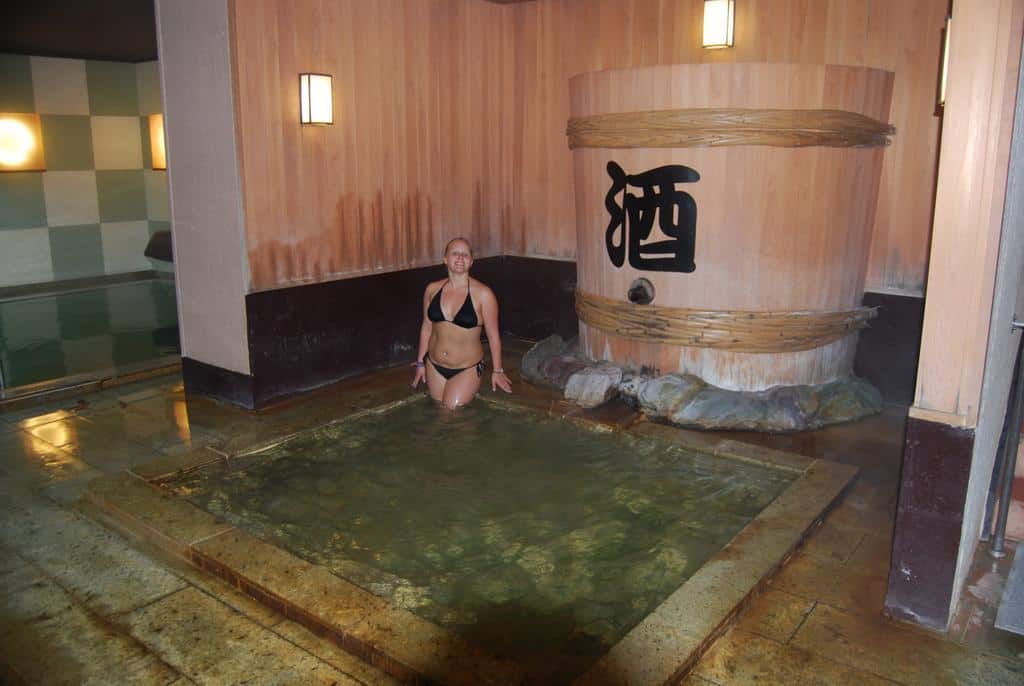 3. Be Mesmerized at Chisuji Falls
After visiting Yunessun, you can take a short walk to Chisuji Falls.
Don't come here expecting Niagara Falls, as it's only 3-meters tall.
While it may not be the most impressive waterfall, it's still a nice place to visit.
The 20-meter long falls stream down moss-covered rocks, making for a very tranquil scene.
It's especially beautiful here in the fall when the maple trees that surround the falls are full of colour.
If you visit in July, try to time your visit around dusk so you can see the fireflies light up the night.
4. Visit Lake Ashinoko (Lake Ashi)
One of the top Hakone attractions is Lake Ashinoko, also called Lake Ashi.
The name means "Lake of Reeds," and it's an incredibly scenic area.
Mount Hakone's last eruption over 3,000 years ago formed this beautiful caldera lake.
On a clear day, you can even enjoy views of Mt. Fuji. As a matter of fact, the town is a part of the Fuji Hakone Izu National Park.
Your best chances of seeing the famed mountain are early in the morning or late in the afternoon.
Don't get your hopes up, though, as it's often shrouded in mist.
The best way to experience Lake Ashi is by taking a boat cruise.
If you pick up the Hakone Free Pass, you can just hop on the pirate ship on Lake Ashi. Otherwise these cost 1,000 yen.
It takes about half an hour to cross Lake Ashi. Even if you can't see Mt. Fuji – which is often the case due to clouds – there's still some pretty epic scenery.
If you do want to go out and visit Mount Fuji, check out this awesome day trip tour.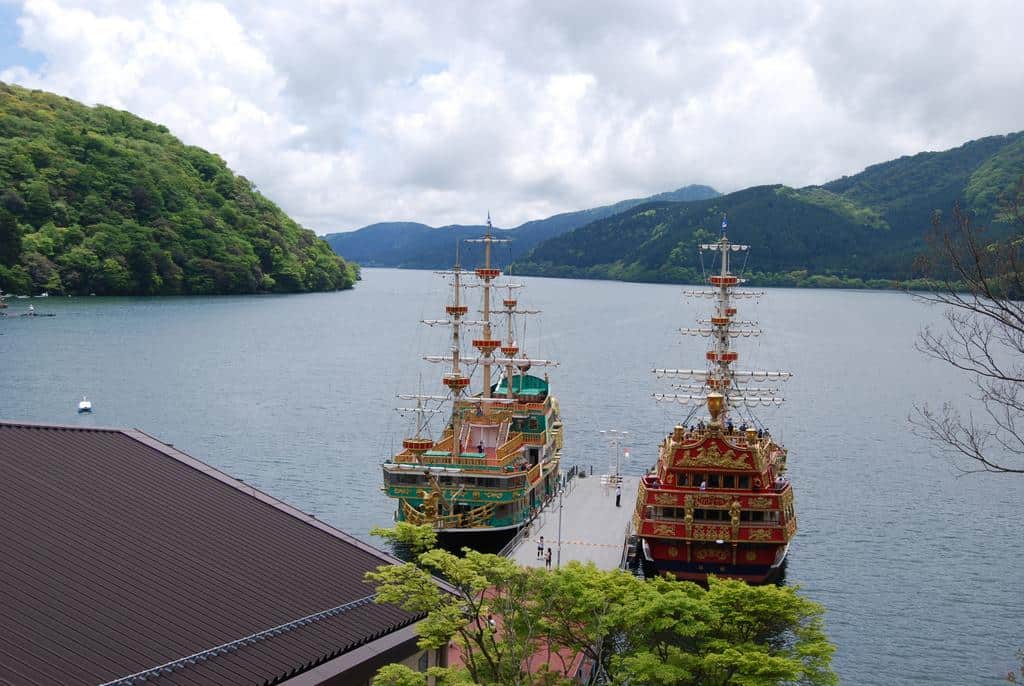 5. Hakone Shrine
While you're over here, you might as well check out the Hakone Shrine as well.
This traditional Shinto shrine is located on the shores of Lake Ashi and it's one of the most famous Hakone attractions.
From Lake Ashi, you can see one of the torii gates that marks the entrance to the Hakone Shrine.
From here you can follow the path through the trees to the main building.
The Hakone Shrine is quite a popular place to visit, so it's best to try and get here bright and early if you want to beat the crowds.
Of course, you can always just walk off into the woods if you want to find some peace and quiet!
But the Hakone Shrine is a must see when exploring the area.
READ MORE: Start planning your trip to Japan using our travel guide!
6. Ride the Hakone Tozan Railway and Hakone Ropeway
In addition to the goofy pirate ships, your Hakone Free Pass also covers the scenic Hakone Tozan Railway.
Fun fact – this was the first mountain railway in all of Japan!
The upper section of Hakone Tozan Railway is where you'll get to enjoy some incredible mountain views en route to Gora station.
Once you get there, you can transfer to the cable car and then finally the Hakone Ropeway.
It's a 30-minute journey in a gondola to access the lake, but there's another stop you should make before getting there.
That brings us to our next point in this guide on what to do in Hakone.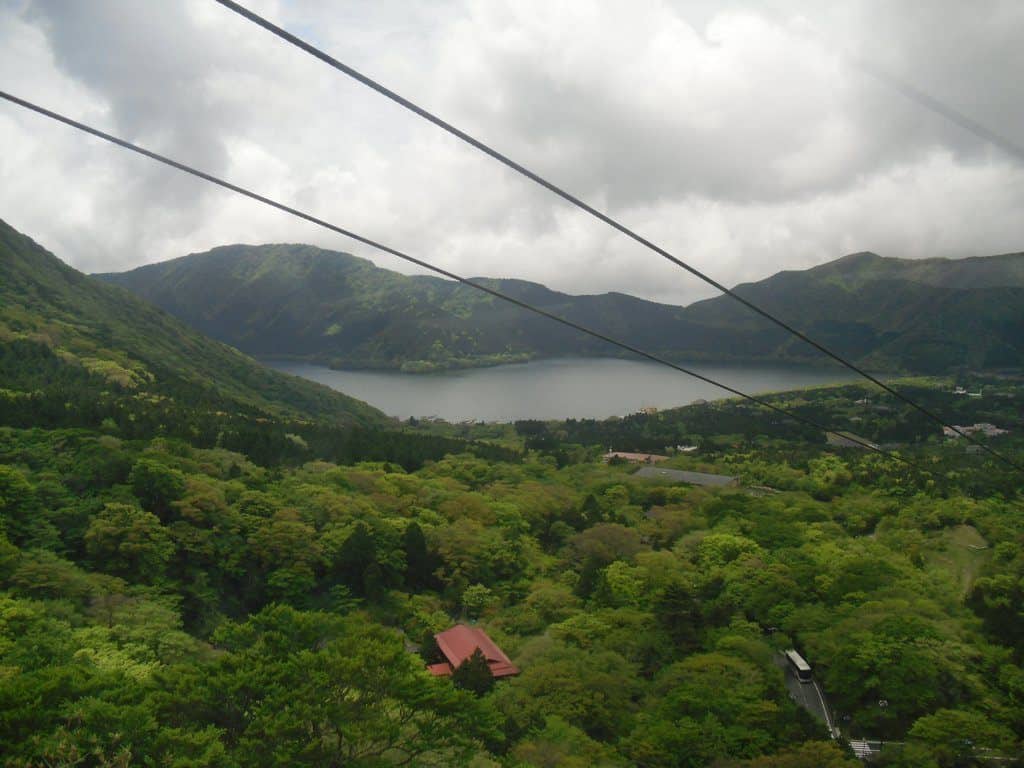 7. The Great Boiling Valley
The first stop on the Hakone Ropeway is Owakudani – the "Great Boiling Valley."
Even though the last eruption was thousands of years ago, this area is still very active.
A short walk will quickly show you why it's also commonly known as "Hell's Valley."
Steam pours out of the ground and there are bubbling pools of sulphuric water all around.
One of the top things to do in Hakone is trying the eggs that are boiled right here in the valley.
The shells turn black from the sulphur and they taste a bit salty.
It's said that eating one of these eggs adds seven years to your life, so eat up!
But don't have more than two and a half of them. Apparently that's bad luck for some reason…
If you're up for an adventure, you can skip out on jumping right back on the Hakone Ropeway.
There are a few hiking trails you can access from here instead. You can even walk all the way down to Lake Ashi if you're keen.
8. Hit the Links
You may be surprised to hear it, but this little mountain town in Japan is actually a huge golfing destination.
There are actually eight golf courses in the area.
A few of these are located on the shore of Lake Ashi, including Hakone-en.
Crushing a drive with Mt. Fuji as your backdrop should definitely be on your list of what to do in Hakone!
No worries if you didn't travel all the way to Japan with your golf clubs, as you can rent a set there.
Not up for an 18-hole round? Just grab a bucket of balls and hit the driving range.
READ MORE: Create a bucket list with 33 epic things to do in Japan!
9. Hakone Open Air Museum
Without a doubt, one of the coolest things to see in Hakone is the Hakone Open Air Museum.
The first museum of its kind in Japan, it's home to over a thousand sculptures and works of art.
The Hakone Open Air Museum isn't any boring old stuffy art museum.
Rather, you get to enjoy being out in nature as you discover the various artworks.
Exploring the Hakone Open Air Museum is a great way to spend a leisurely afternoon.
One of the highlights of the Hakone Open Air Museum is the Symphonic Sculpture.
Head inside this tower and walk up the spiral staircase past the stunning stained glass.
At the top, you're rewarded with some kickass views of the entire Hakone Open Air Museum.
Kids big and small will love the various playground they have here.
We particularly enjoyed running around the Woods of Net, which is basically a huge hammock you can climb and swing on.
I'm sure we broke the rules by playing there. Shh… don't tell anyone!
The Hakone Open Air Museum is open year-round from 9 AM to 5 PM. Admission costs 1,600 yen but you can get a 200 yen discount if you have the Hakone Free Pass.
Yet another reason why you should definitely grab one!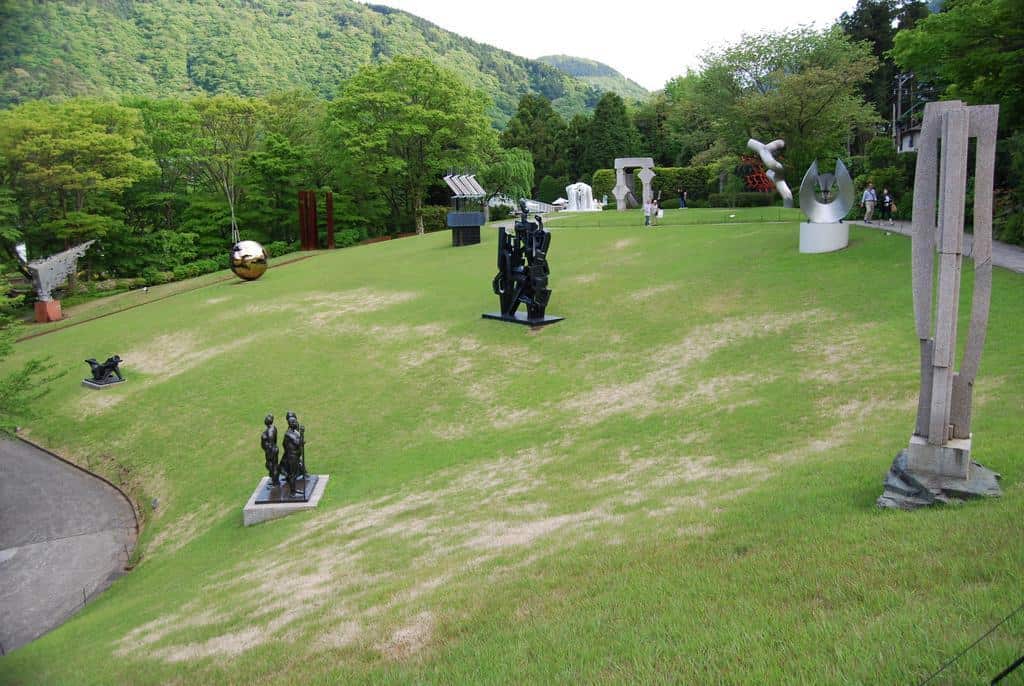 10. Hakone Botanical Garden of Wetlands
Nature lovers will definitely want to include a stop at the botanical gardens on their Hakone itinerary.
This sprawling garden is home to aquatic plants that inhabit the wetlands in Japan.
In total, there are well over a thousand different plants here.
Come in June and you'll see the beautiful daylilies in full bloom.
Exploring the garden is easy with the network of boardwalks.
The botanical gardens are open from March 10 until the end of November.
It's open from 9 AM to 5 PM daily and tickets cost 700 yen.
Once again, you get a cheeky little discount for using the Hakone Free Pass.
READ MORE: Don't miss out on all these awesome places to visit in Japan!
11. Visit the Art Museums
Hakone is home to some incredible art museums.
The first one you should visit is the Hakone Venetian Glass Museum, also known as the "Glass Forest".
The Hakone Venetian Glass Museum is the first museums in Japan to specialize in stunning Venetian Glasses.
Surrounded by gardens and greenery, the Hakone Venetian Glass Museum showcases beautiful, colorful handcrafted glasswares that are so impressive.
Also visit the Hakone Museum of Art. This is the oldest of the art museums in Hakone, opened in 1952.
At the Hakone Museum of Art, you'll find ceramics, gardens, and other works of art from the Edo Period (1603-1868).
Other interesting art museums include the Hakone Museum of Photography, which has rotating exhibitions, and the Little Prince Museum, the world's only museum dedicated to the famous Little Prince storybook.
(Book your ticket online for the Little Prince Museum here!)
12. Hakone Checkpoint
Way back in the Edo Period, a highway called Tokaido linked the capital with Kyoto.
During that time, Hakone was an important checkpoint along the highway.
It was here that travellers were checked to make sure they weren't smuggling weapons into Edo (now Tokyo).
They were also on the look-out for women who were trying to flee the capital.
You see, many of the lords' wives were there against their own will and they wanted to escape.
Concerned that they would incite rebellions back in their hometowns, guards tried to apprehend them here at the checkpoint.
These days, it's a small museum with a nice lookout area where you can enjoy views of Lake Ashi.
There's also an ancient cedar avenue that was part of the old Tokaido.
It's a pretty place for a leisurely stroll after you check out the museum.
The Hakone Checkpoint is open daily year-round from 9 AM to 5 PM.
It costs 500 yen to enter or 400 with your trusty free pass.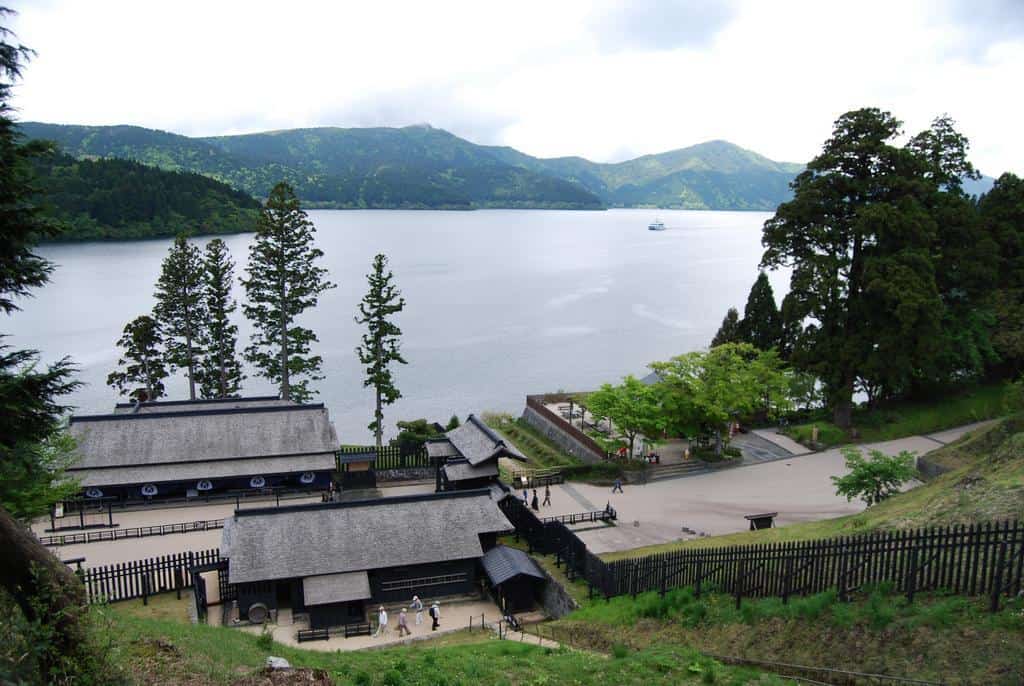 Hakone Travel Guide
From the stunning Hakone Shrine, to the Hakone Open Air Museum and other art museums, to the Hakone Ropeway, the hot springs, and more, you can see there is so much to do here.
Now that you know all the great activities and attractions in Hakone, it's time to discover where to stay and where to eat!
Best Accommodation – Where to Stay in Hakone
When figuring out where to stay in Hakone, you'll want to decide whether or not you want to splurge on a ryokan.
In my humble opinion, it's well worth it.
And there are some ryokans that are easier on the wallet than others, by the way.
Of course, there's nothing wrong with going with a hostel or trying out an Airbnb, either.
As I mentioned earlier, most ryokan will let you access their hot baths for a reasonable fee if you're not a guest.
If possible, try to time your visit to Hakone during the week.
It's a very popular spot with urbanites from Tokyo on weekends and holidays, meaning higher prices for accommodation.
Here are some solid picks for accommodation in Hakone to suit all budgets.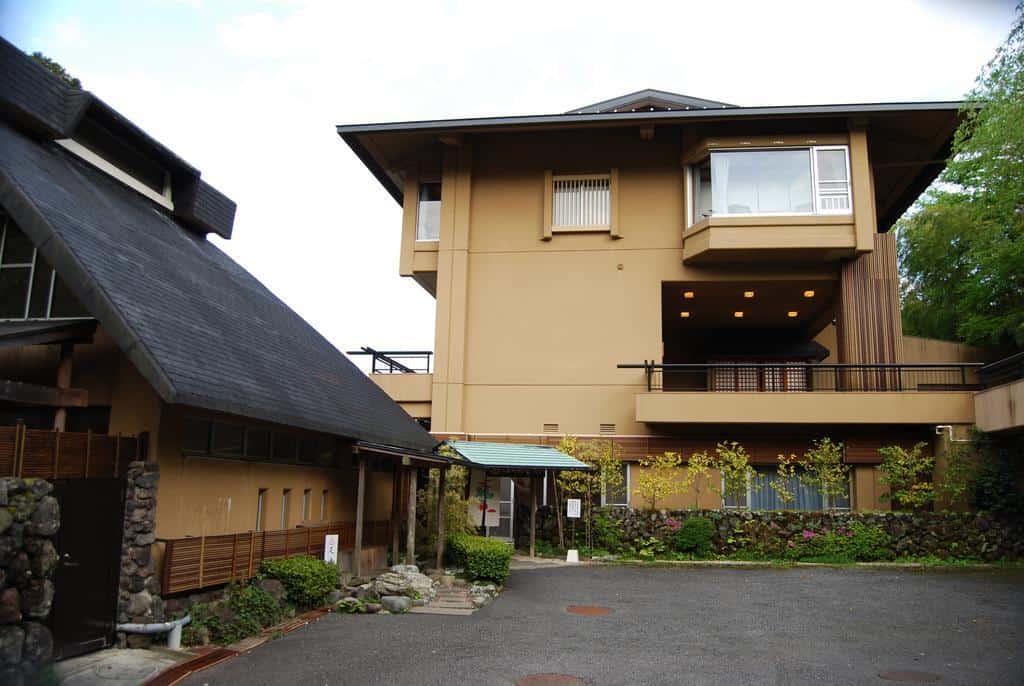 The Best Hostel in Hakone – K's House
When it comes to hostels in Hakone, it's hard to top K's House.
This budget-friendly hostel has dorms for under US$40.
Best of all, it's got its own private onsen that guests are free to enjoy.
K's House has a fully-equipped kitchen and there's a convenience store nearby, so you can save even more yen by cooking a few meals at home.
With spacious and comfy common areas, this is a great place to meet fellow travellers.
Best Budget Accommodation for Couples – Emblem Flow
For couples travelling on a budget, it's hard to beat Emblem Flow.
This hot spring hostel has private rooms for around US$100, so you can enjoy the social hostel atmosphere but have your privacy as well.
In addition to having an on-site onsen, this hostel also has an amazing location.
It's right next to Gora station, meaning you'll have easy access to public transportation.
Best Mid-Range Hotel in Hakone – Art & Music Spa Resort Manatei
If you're hoping to stay in a ryokan when you visit Hakone, this place is a solid choice.
They have a wide range of room options from US$300-500 a night, with the more expensive ones featuring private open-air baths.
While the cost may seem high for a "mid-range" hotel, keep in mind that you are served a huge breakfast and dinner when staying in a ryokan.
Honestly, they'll give you so much food that you can skip lunch or just have a light snack!
Best Luxury Hotel in Hakone – Kowakien Ten-yu
The sky is really the limit when you stay at Kowakien Ten-yu.
These go all the way up to their incredible executive suites that include beef shabu-shabu dinner.
Without a doubt, the highlight this luxurious ryokan is the infinity hot spring looking out over the mountains.
Each room comes with its own private bath as well. Now, this is a good life!
Best Restaurants in Hakone
How much you go out to eat in Hakone depends entirely on whether you stay in a ryokan or not.
Most of them include both breakfast and dinner, with very generous servings at each meal.
If you go the ryokan route, you won't need to venture out very much for food.
Those who opt for a hostel or standard hotel may get a modest breakfast included but will be on their own for lunch and dinner.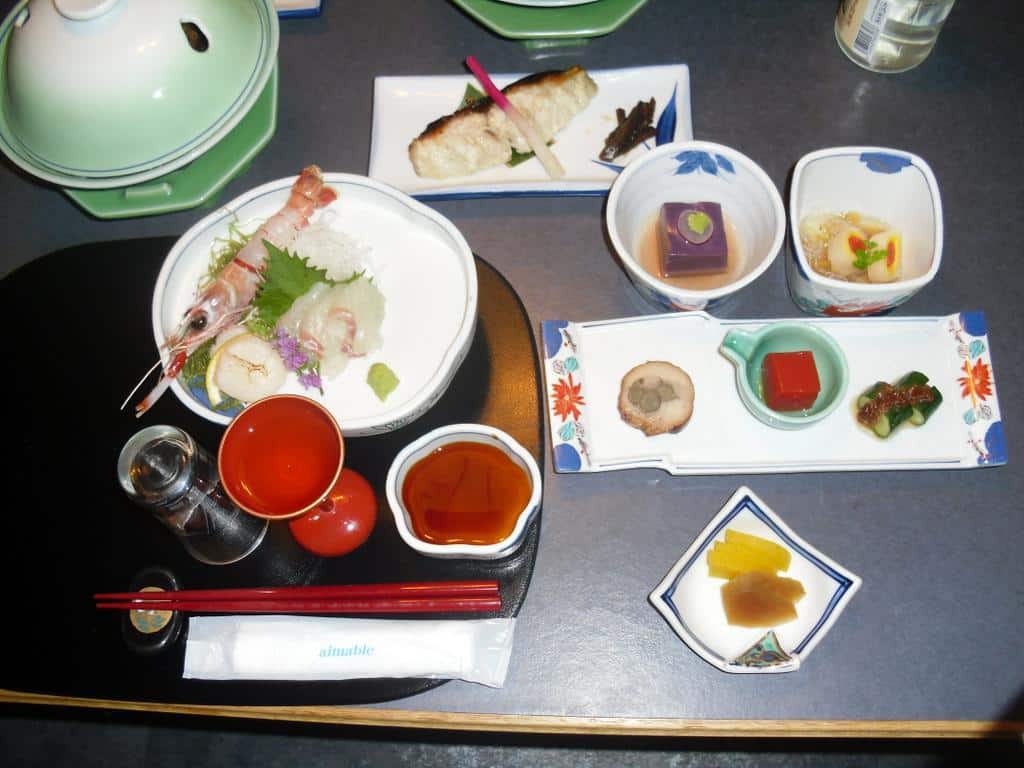 For such a small town, Hakone has some pretty solid options for eating out.
Of course, you can easily find Japanese classics such as sushi, gyoza, and soba noodles.
If you need something a little different, Hakone also has plenty of international fares.
Italian and French seem to be the most popular choices in town.
Here are a few options for places to eat in Hakone, from casual late-night munchies up to swanky multi-course meals including dishes like wagyu beef:
Karuta
For late-night eats and drinks, your best bet is seeking out an izakaya. These are informal Japanese pubs that have snacks and booze.
This spot makes some killer skewers to go with your ice cold beer. Kanpai!
Karaage Karatto
For a delicious meal that won't break the bank, head here to try karaage (Japanese fried chicken).
You can get a set meal for just 1,500 yen here that also includes bread, salad, fruit, and a non-alcoholic drink.
Gora Brewery & Grill
How do wagyu beef gyoza and a local IPA sound? Those are just a few of the offerings at Gora Brewery & Grill!
Don't miss their lunch and happy hour from 1-4 PM when all beers are 500 yen!
Itoh Dining by Nobu
If you're looking to go all out on a meal in Hakone, this is the place to do it.
This place is in collaboration with celebrity chef Nobuyuki Matsuhisa. They serve multi-course lunches and dinners, so be sure to come hungry.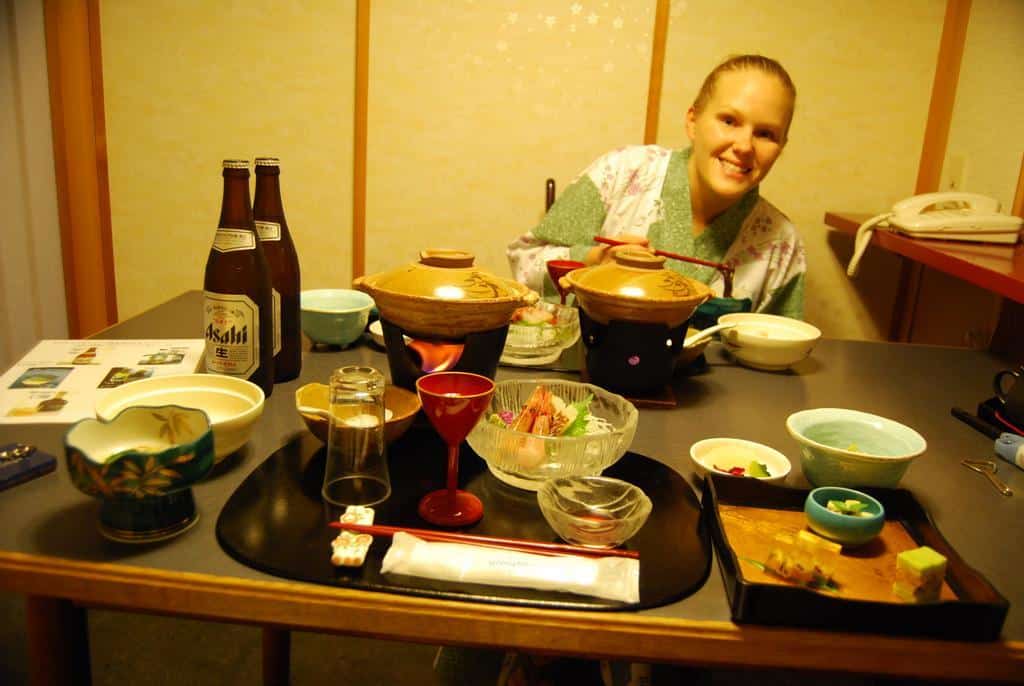 That about does it for this guide on the best things to do in Hakone.
A few days of hiking around the lake, soaking on the onsen, and stuffing your face full of delectable Japanese cuisine in Hakone makes for one amazing getaway.
I know I'm already planning my return for the next time we're in Japan!