From walking underneath the cherry blossoms at Shinjuku Gyoen to catching a show at the Kabuki theatre, here's our list of the best things to do in Tokyo, Japan.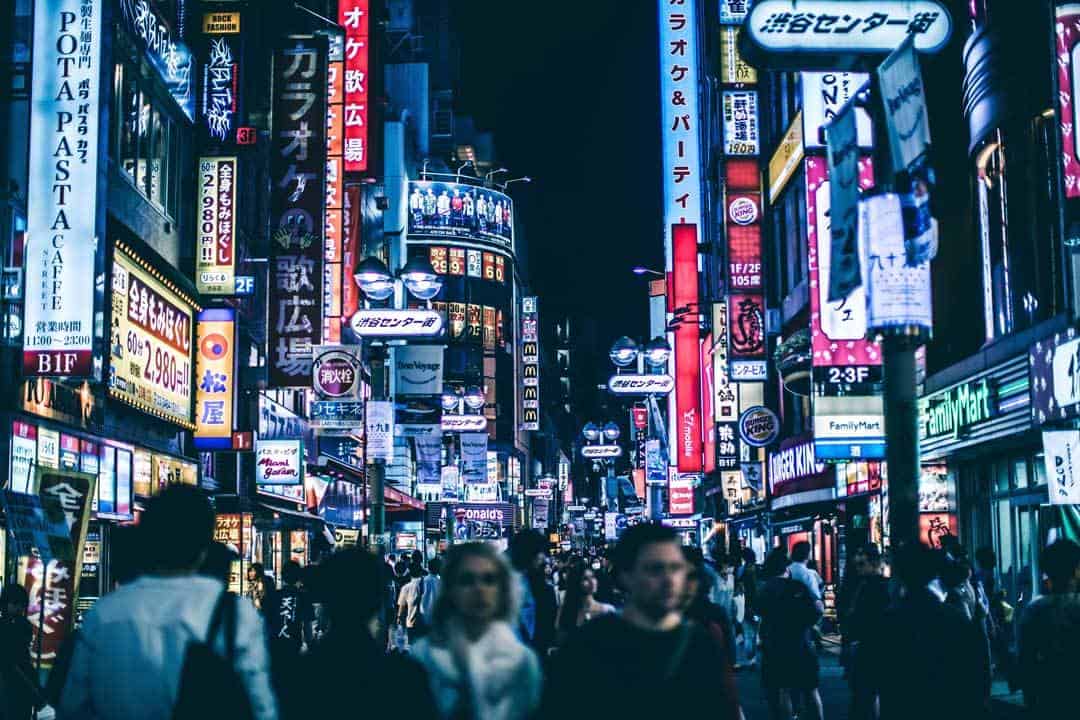 Tokyo is one of the world's most unique cities.
The entire city is packed to the brim with cool and amazing attractions, and there is something fresh and exciting in every corner.
It's a city that's both crowded and relaxed at the same time, because while it's a city of intimidating size, almost every neighbourhood has a homely feel.
Don't Miss These Top Things to Do in Tokyo, Japan
There are a lot of great things to do, and this is a destination where you'll absolutely never be bored or unsure of what to see in Tokyo next.
Make sure to take as much time as you need to explore Tokyo, as it's a city unlike any other in the world.
READ MORE: Planning your trip? Check out our ultimate guide to how to spend the perfect 3 days in Tokyo!
Explore Tokyo's Past At Sensoji Temple
Tokyo itself doesn't have a specific landmark like the Statue of Liberty or the Eiffel Tower to set it apart, but the Sensoji Temple is the next best thing.
This temple is definitely the oldest in the city, and by a large margin.
Although it was constructed in the early 7th century AD and was considered important since then, it was only in the 1600s during the Edo period when it reached a status of absolute importance.
By decree of the emperor at the time, this temple served as a household of sorts for his family, but it mostly was used as a way to protect the entrance into Edo, which was the name of Tokyo at the time.
Nowadays it's an enormous temple, and it's one of Tokyo's most beautiful buildings. It's a place for spiritual healing, first and foremost, but it's also one of the most stunning Tokyo tourist attractions.
We'd recommend you check Sensoji Temple out on this tour, along with several other amazing landmarks such as Imperial Palace Gardens and Meiji Jingu Shrine.
Here you'll find plenty of shops that are older than a century, and very unique sweet treats that you'll rarely be able to find anywhere else in the city.
Location: Asakusa
Opening hours: 6 AM – 5 PM
Price: Free of charge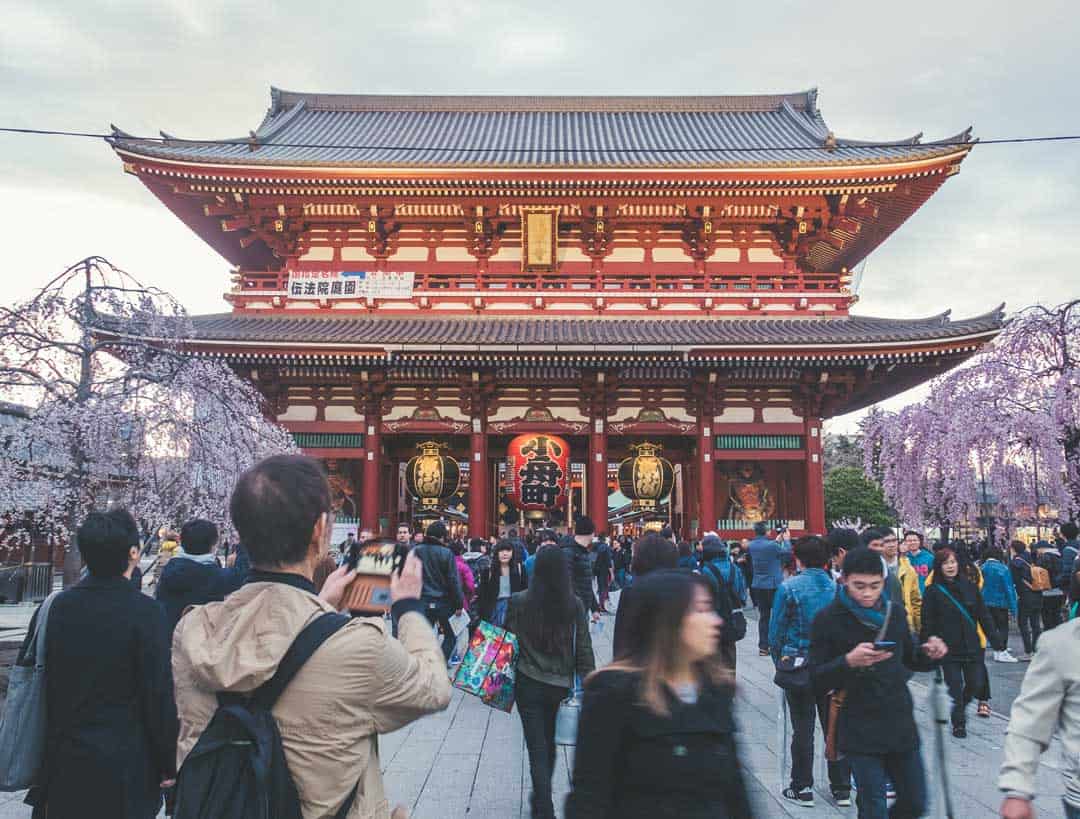 Relax At Shinjuku Gyoen National Garden
There are few other more relaxing spots in Tokyo than Shinjuku Gyoen.
The park's origins can be traced back to the Edo period when it was being used as the private gardens of a local feudal lord, after which it was turned into botanical gardens and then turned over to the government.
During World War II, the park saw extensive damage. Because of which, they had to be closed off until further renovations, until they were fully reopened to the public in 1949.
The National Garden today is one the most popular attractions in Tokyo, both for tourists and locals alike.
It consists of three different types of parks, which are a Japanese landscape garden, a French, and an English garden.
Shinjuku Gyoen is also the home to a very large concentration of cherry blossoms, which give this park a very unique look.
There are also plenty of unique Japanese-style ponds, which are dotted with bridges and islands, each of which are uniquely decorated with shrubs, pavilions, and trees.
Location: Shinjuku
Opening hours: 9 AM – 4 PM
Price: 200 yen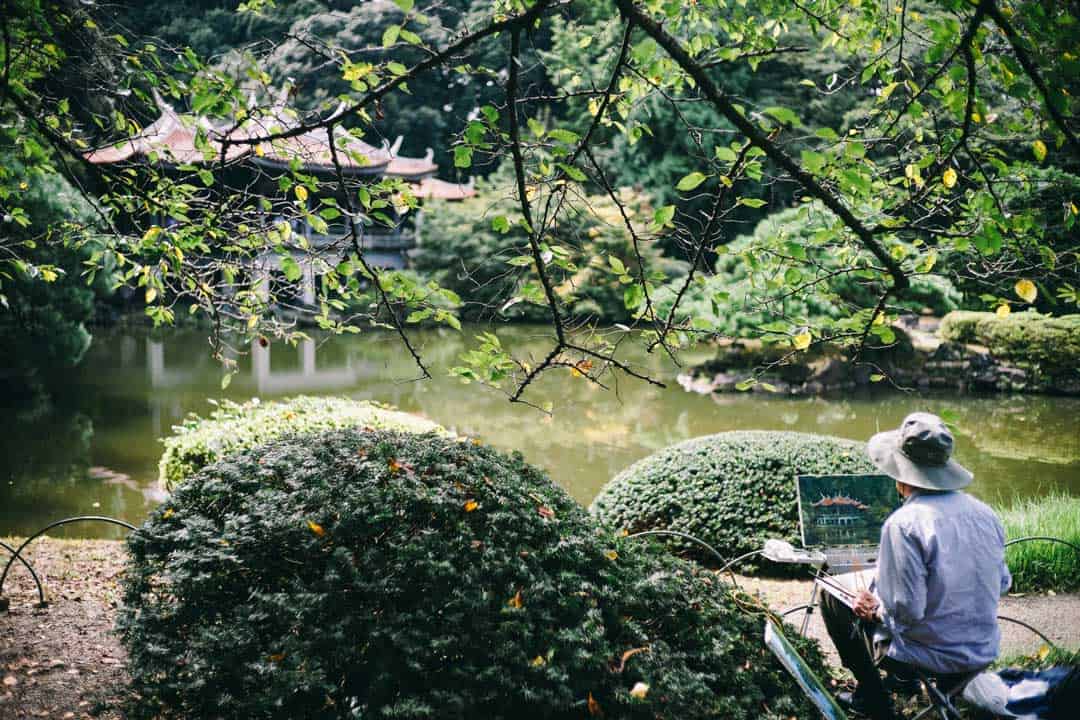 Visit The Majestic Imperial Palace
Located at the site of the former innermost point of defence at Edo Castle, the Imperial Palace is one of the most popular and well-known Tokyo attractions.
It used to be an entire complex of buildings in the past, but after centuries of warfare, most of those buildings have been destroyed and was never rebuilt.
The Imperial Palace was the residence of Japan's Royal Family, and it also used to be be the home of the Tokugawa shogun who ruled Japan in the Edo period.
Today, most of the palace's grounds are open to the public, and there are several guided tours, both in English and Japanese, that explain to visitors the importance of the palace.
Visitors aren't allowed to enter the inner grounds of the palace, except in specific circumstances on January 2nd and December 23rd.
Although the inner grounds are not open to the public, the East Garden is open to the public throughout the whole year, and are practically a full attraction all on its own.
Location: Chiyoda
Opening hours: every day from 9 AM – 11:15 PM and from 1:30 PM – 2:45 PM (closed on Sunday – Monday)
READ MORE: Check out our list of the best places to visit in Japan!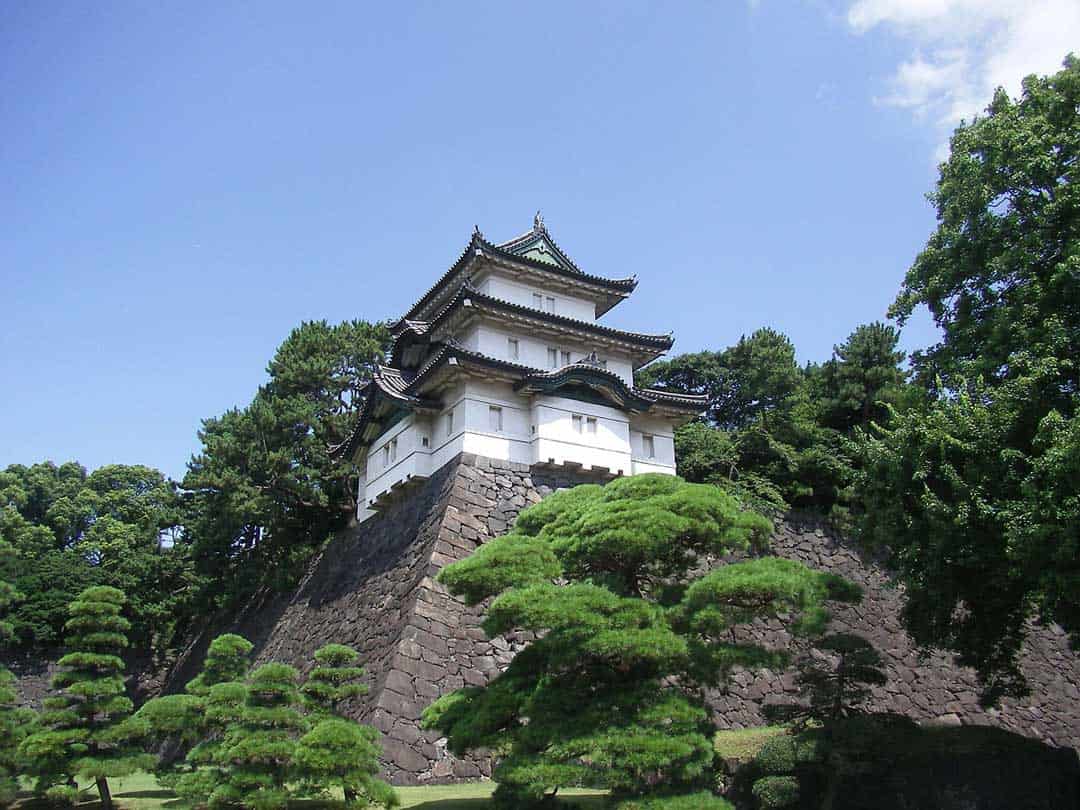 Make A Stop At Meiji Shrine
Emperor Meiji was the first emperor of modern Japan, which is a period that started in 1867 after the feudal Edo period was over.
This shrine is dedicated to both Emperor Meiji and Empress Shoken, who have been revered and are considered vital to the restoration and modernisation of Japan.
The shrine itself was completed in 1920, which was 8 years after the emperor had passed away, and 6 years after the empress.
Meiji shrine, and its adjacent Yoyogi Park, together create an enormous green lung of the city of Tokyo, which makes the shrine an ideal spot for a relaxing walk.
The shrine is considered one of the most peaceful and calm things to see in Tokyo, and it's generally a popular spot throughout the year.
It sees over three million visitors in the first days of the year due to the year's first prayers.
In this shrine, you'll find a Treasury House that holds some of the personal belongings of the emperor, as well as a prayer wall where you can write down your prayers and then tie them up to the wall.
Location: Shibuya
Opening hours: every day from 5 AM – 6 PM
Price: 500 yen
READ MORE: Here's our latest article all about the top day trips from Tokyo!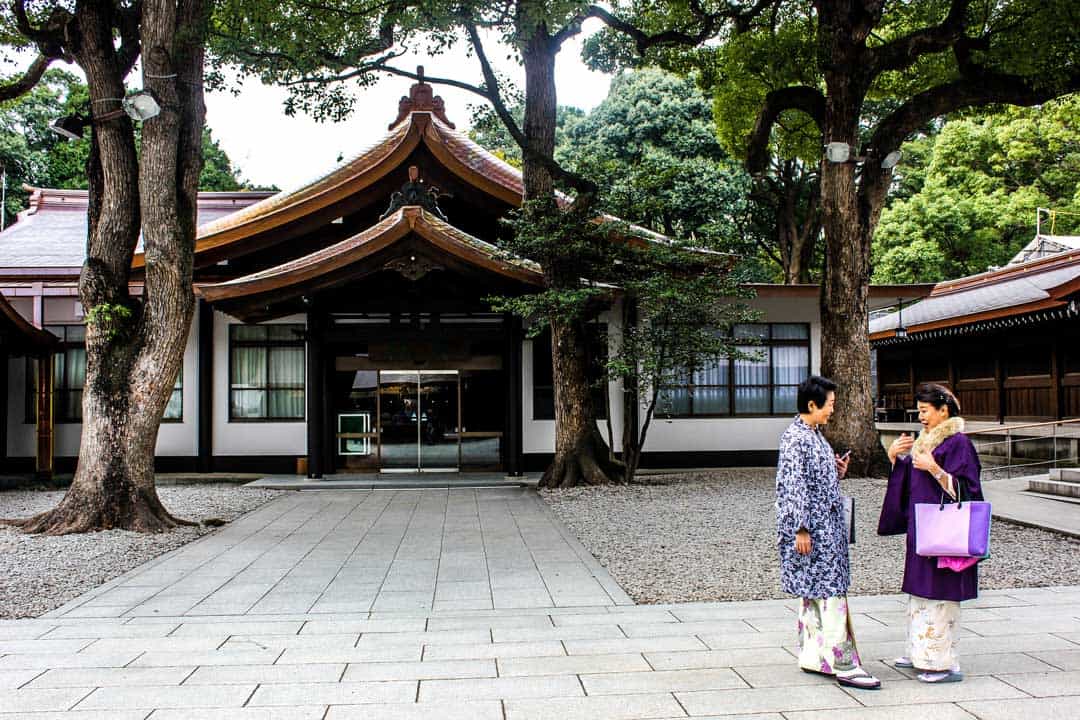 Attend Kabuki Theatre
As one of Japan's most traditional forms of entertainment, Kabuki Theatre is considered a Tokyo must see for any visitor to the country.
It's an old form of theatre, one that uses dramatic physical expressions as the main centrepiece of storytelling.
Today Kabuki Theatre is performed exclusively by men, even though in the past it was performed exclusively by women.
The show itself is not only acted out, but several traditional instruments that lend it an extra air of drama also accompany it.
Kabuki stories tend to be centred around historical characters and events, kind-hearted dramas, love tales, moral conflicts, tragedy, and conspiracy.
When you attend Kabuki Theatre you'll notice that there are people dressed in black that sometimes come on stage and hand the actors props and items, and aren't considered as part of the play.
Those people dressed in black are assistants to the troupe of actors whose job is to make the play feel seamless and fluid.
There is no specific dress code for Kabuki Theatre, though it is recommended to wear nice shoes and decent clothes in general.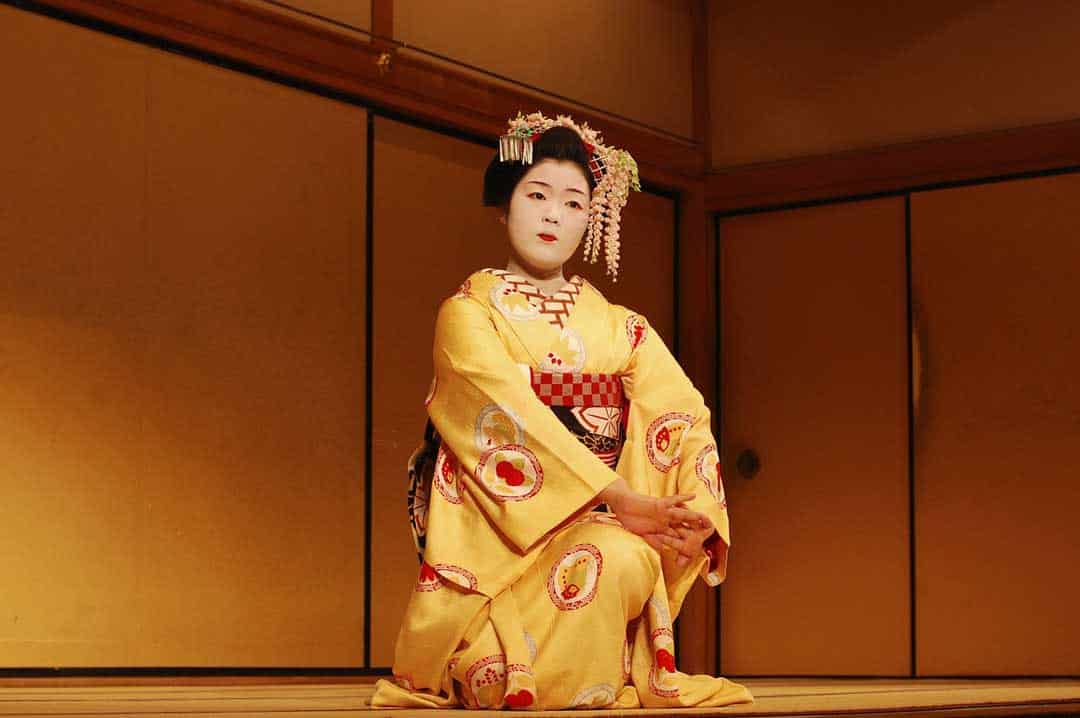 Experience The Unique Edo-Tokyo Museum
Tokyo used to be called Edo up until Japan entered its modern era in 1867.
It was an entirely different city back then, with a very different focus, which is what this museum is striving to preserve.
The building that the Edo-Tokyo Museum is housed in is entirely unique, and is an attraction all on its own.
However, the largest star of the show is definitely the permanent exhibition inside the museum, which completely captures the look and feel of Tokyo before it was actually called Tokyo.
There are plenty of interactive exhibits that completely showcase Edo's architectural, cultural, and political history, its commercial importance, and there are even life-sized figurines and models.
Exploring this museum is definitely one of the best things to do in Tokyo, as it's a completely unforgettable experience.
Location: Ryogoku Station
Opening hours: 9:30 AM – 5:30 PM
Price: 600 yen (approx. $5)
READ MORE: Here's our ultimate Japan travel guide, just for you!
See From Atop the Tokyo Tower
Japan suffered heavy losses in the Second World War, and was generally considered a country in ruin in most places.
What followed after the war were years of accelerated reconstruction and rebirth, which were celebrated with the construction of the Tokyo Tower in 1958.
The Tokyo Tower is similar in form and shape to the Eiffel Tower – it is 333 meters, which makes it 13 meters taller than the Eiffel.
It has two observation decks, one at 150 meters, and another at 250 meters.
On a clear day, you can see as far as the Tokyo Skytree and Mount Fuji, as well as the Zojoji Temple.
At night, it lights up and becomes a testament of Tokyo's beauty, and standing below it is one of the most breathtaking things to do in Tokyo.
You can even find an aquarium, arcades, and a souvenir shop at the lower levels.
Location: Shibakoen, Minako
Opening hours: 9 AM – 11 PM
Price: 900 yen for the main deck, 2800 yen for both viewing decks
Visit the Lucky Cats at Gotokuji Temple
Japan as a culture is fascinated by cats, and this temple is solely dedicated to them.
It's one of the most unique places to visit in Tokyo, in that it's filled with plenty of figures of the famous 'beckoning cats,' which show a cat sitting up with a paw raised in the air.
These types of cats are called maneki-neko, and are considered to bring luck, and even though they can come with either paw rising up, Gotokuji focuses solely on the ones with the right paw in the air.
There's an entire legend behind the temple, too, and it's about a lord who escaped a thunderstorm by a cat that beckoned him to enter the temple.
The temple is very calm and serene, and sells figurines and charms which are very enticing to visitors.
Location: Setagaya
Opening hours: 6 AM – 5 PM
Price: Free of charge
Why not book yourself a custom city tour with a local? It's a great way to explore Tokyo in a unique way!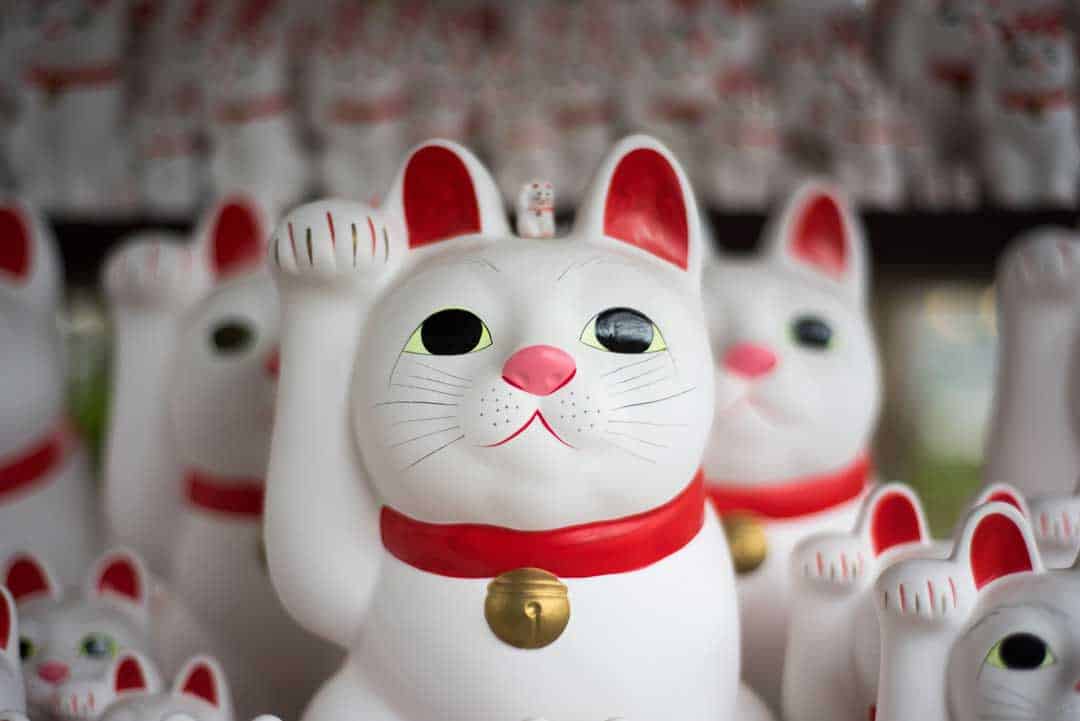 Venerate the Dead at Yasukuni Shrine
Japan has seen its fair share of wars and destruction, which is why this shrine was constructed.
It was founded in 1869 in order to commemorate the souls of the people who gave their lives in the revolution and effort to modernise Japan.
Although this shrine was originally intended only for those that died in the Meiji Restoration, it's since included the dead from the Sino-Japanese Wars, the Russo-Japanese War, both World Wars, and the Manchurian Incident.
There are over 2.5 million spirits enshrined at this location, and it's one of the most venerable locations in the city.
It might not be without its share of controversy, due to several war criminals being enshrined here, visiting the shrine is still one of the most poignant things to do in Tokyo.
Location: Chiyoda
Opening Hours: 6 AM – 6 PM
Price: Free of charge
READ MORE: Here's our list of the top things to do in Kyoto.
Experience Unique Japanese Art
Ukiyo-e is one of Japan's most unique forms of art, in that it's actually something like woodblock prints.
The Ota Memorial Museum of Art is a decently sized art gallery that's considered to be the best spot for experiencing Ukiyo-e.
It has a collection of over 12,000 unique art pieces, some of which are from Japan's most famous artist Katsushika Hokusai.
This gallery doesn't have a permanent exhibit per se, because it cycles through its collection by displaying 70 different art pieces each month.
Sometimes there are even special themed exhibits, which might contain works that are not in the original collection.
On top of that, there is a nearby Japanese-style rock garden that's entirely charming and calm, which is meant to entice visitors to take a rest.
Location: Shibuya
Opening hours: 10:30 AM – 5:30 PM
Price: 700 yen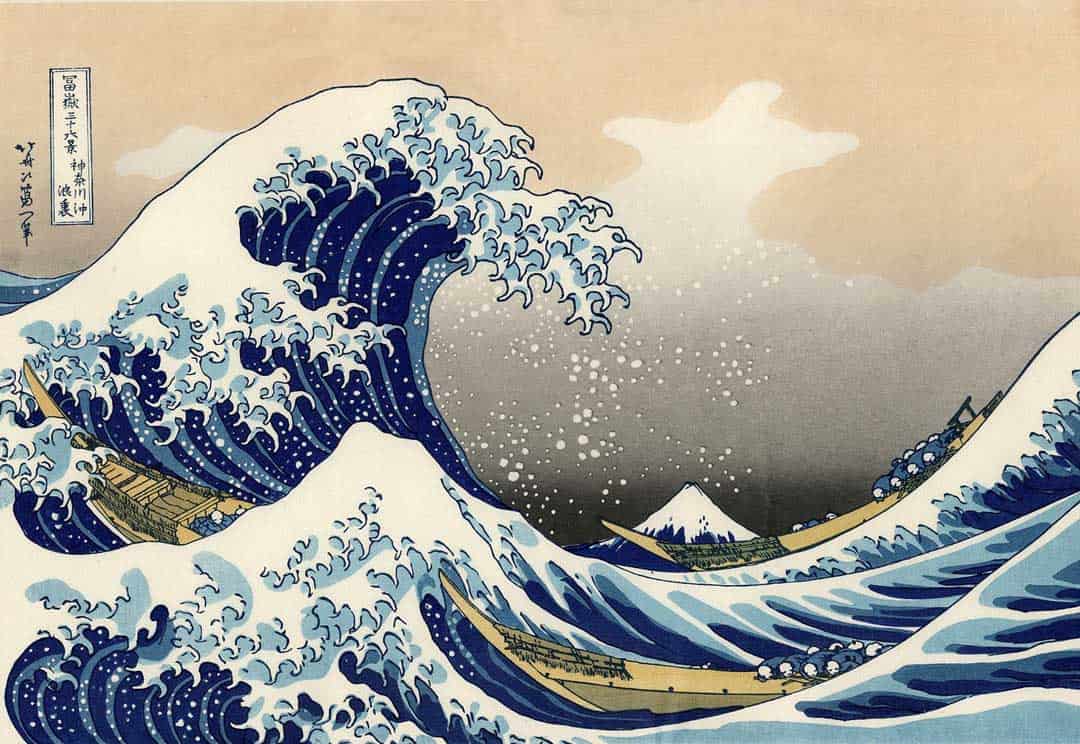 Make a Pilgrimage to Mount Takao
Mount Takao might not be the tallest point near Tokyo, but it's definitely one of the most important religious sites.
It's a great place to visit when you're unsure of what to do in Tokyo and you want to go in search of Old Japan.
It's been a holy site that pilgrims regularly visit for over 1200 years, and even though there are plenty of tourists climbing its slopes, you can still see an ascetic Buddhist ascending the mountain to give an offering.
There are plenty of old, but well-maintained, buildings to see, and Mount Takao offers exquisite views of Mount Fuji and Tokyo.
If you're not feeling up to climbing the mountain on foot, there is a cable car that goes straight to the summit so that you can enjoy the views unhindered.
If you visit in March, you can also happen upon Buddhists performing some unique rites of fire-walking, which is one of the most exciting things that happen here.
Location: Hachioji
Price: Free (550 yen for cable car)
Bike Your Way Through Yoyogi Park
Tokyo as a city is very easy to bike through.
Since it's mostly located on flat terrain, it's a breeze to cycle through the city, but it has just enough hilly neighbourhoods so you won't get bored.
A unique aspect of Tokyo is that its air quality is impeccable, and that even though the city's traffic can clog easily, biking is still very enjoyable.
However, Tokyo is enormous, so don't expect that you'll be able to cycle all the time, since it'd take you months to fully explore the city.
Given that, a local and tourist favourite for biking and cycling is Yoyogi Park, which is an extensive expanse of greenery.
It's a joy to bike through, and there are all-day rentals that are very affordable, and it has a great location too near Meiji Shrine.
Location: Harajuki
Opening hours: Dusk to dawn
Price: The price of renting your bicycle
Take a Walk in Inokashira Park
Considered as the first suburban park in Japan, Inokashira Park is one of the most beautiful spots in Tokyo.
The park is pretty much a real oasis, but only that it regularly sees different displays of art, like from cinema.
In the centre of the park, there's the famous Inokashira Pond, which is significantly large and popular due to the main boats you can hire to ride in the pond.
On top of that, here you'll find plenty of other popular attractions, like the Studio Ghibli Museum, the Inokashira Park Zoo, and the Inokashira Benzaiten Shrine, which was built by a famous military commander.
Since the park is older than one hundred years, it's left virtually unchanged, and all of its natural beauties come from its age.
Due to the proximity of the nearby trendy and fashionable neighbourhood of Kichijoji, the park sees a lot of activity since it's become a sort-of second hub for teenagers who hang out in Kichijoji itself.
Location: Kichijoji
Opening hours: 5:00 – 20:00
Price: Free
Hike Along the Tamagawa Josui Canal
The Tama River, or Tamagawa, is a very important source of freshwater in Tokyo.
Although this canal is no longer in use like it was in the past, it's still one of the most popular spots to take a long hike.
In the past, it was used as the primary source of water, as the saltwater near the city is undrinkable, and most other rivers were polluted enough so they weren't drinkable.
Today, the route along the canal is considered a Green Road, and it runs almost the entire length of the canal.
When outside the central parts of Tokyo, this canal still carries water, although that is more for aesthetic purposes, rather than from necessity.
The water in the canal starts to disappear underground in the Setagaya Ward, but the park's route continues to run straight to Shinjuku.
Trees surround the walkway on both sides, and this area is one of the freshest and most beautiful in the entire city.
READ MORE: Check out our article filled with the best things to do in Hiroshima.
Explore the Gorgeous Limestone Caverns
The Nippara Limestone caverns may be outside of Tokyo but they're absolutely worth the visit.
Few things can actually compare to the awe and natural majesty of these caves that have formed millions of years ago.
Even taking a trip to these caves feels grand, as you'll be passing through gorgeous scenery and mountainous regions, so make sure to keep your eyes open at all times.
One of the best things about these caves is the cool temperature, and because of this they're the ideal respite when you're visiting Tokyo in the hot summer months.
Once you're at the caves, you'll be immediately met with a chilly breeze and a narrow entrance, but after that, they instantly open up and reveal large caverns that are perfect for exploration.
There are maps at the start of the caverns, but unfortunately they're in Japanese only, but getting lost is very difficult since all paths eventually lead back to the entrance.
Exploring Japan's geological history is definitely one of the most unique things to do in Tokyo, and you'll be glad once you've taken the time to explore them.
Location: Tama area
Opening hours: 8 AM – 5 PM
Price: 700 yen
Get Lost in Chichibu-Kama-Tai National Park
As one of the finest places to explore and hike, Chichibu-Kama-Tai National Park is definitely a place everyone should visit.
It's an enormous place, and at 1200 square kilometers, it has plenty of areas that are ideal for hiking.
This national park covers several prefectures, meaning it's very diverse and you'll have access to plenty of smaller towns in the region.
The park stretches out from Tokyo on the west, and it encompasses mountains, valleys, gorges, hiking trails, and so much more.
It's considered one of the finest natural areas in Japan.
Two of the most popular mountains of the region are in this park, and they are Mount Mitake and Mount Mitsumine, which are very well known for their excellent trails, but also for the Shinto shrines located at their peaks.
There is a nearby mountain called Mount Buko, but it's not technically part of the national park, although it has one of the most popular hiking trails in the vicinity of Tokyo.
Location: Tama
Opening hours: 9 AM – 5 PM
Price: Free – 200 yen in cherry bloom season
Have a Picnic at Showa Memorial Park
Although this park is younger than most other parks in Tokyo, it's still very impressive and beautiful nonetheless.
It's a 160-acre park that's just filled with natural beauties – the likes of seasonal flowers, special water features, sports amenities, and even museums.
This park even has dedicated spots for picnics, which is definitely one of the finest things to do in Tokyo.
The park was opened in 1983 in order to commemorate Emperor Showa's 50 years of rule.
After his passing away, a memorial museum was built in his honour, which showcases some of his personal belongings, and even the car that he personally drove.
Cherry blossoms blooming is also a very popular thing to witness here, as it usually happens a few days later than in central Tokyo, and everyone is able to catch up on it.
Other than that, here you can enjoy beautiful Japanese and Western gardens, along with beautiful and perfectly maintained seasonal flowers.
Location: Akishima & Tachikawa
Opening hours: 9:30 AM – 5 PM
Price: 450 Yen
DISCLAIMER: Some of the links in this article are affiliate links, which means if you book accommodation, tours or buy a product, we will receive a small commission at no extra cost to you. These commissions help us keep creating more free travel content to help people plan their holidays and adventures. We only recommend the best accommodations, tours and products, and regularly review these. Thanks for your support, kind friend!