Everything you need to know about travelling in the Czech Republic in our practical destination guide.
From going on a boat cruise down Vltava River to tasting the world's best Pilsner, these are plenty of reasons why you should travel to the Czech Republic.
The Czech Republic (or Czechia, as it is more familiarly called) is a landlocked country in the heart of Central Europe.
But it boasts a variety of geological highlights and outdoor adventures that might surprise some.
From natural wonders that are in the highlands of Bohemia – such as the odd-looking rock formations of Rock City to the awe-inspiring wilderness of the Bohemian Switzerland National Park – this small but geographically diverse country inspires travellers from all over the world!
There are a lot of outdoor activities on offer – which makes it a great spring or summer destination.
For instance, you can your fill of cycling through forests, rock climbing and bouldering in the area of Adrspach-Teplice.
Throughout the course of the year, Czechia hosts some of the largest and of utmost cultural importance festivals in Central and Eastern Europe.
The festivals such as Prague Spring, Prague Fringe Festival or Karlovy Vary International Film Festival are so successful that every year they attract numerous international visitors.
Whether you're interested in Czechia's amazing nature or want to roam through some of its 2000 castles, explore the cobbled streets of Old Town or simply learn more about its rich and complex past, there is no shortage of reasons why you should travel to the Czech Republic.
But let's make sure you know how to plan your trip using our Czech Republic travel guide!
The Czech Republic Travel Guide
To get started, we've prepared some important basic facts that might come in handy.
Make sure you are familiar with the general information about the Czech Republic before you get too deep into your planning!
General Information
Capital: Prague
Other Main Cities: Ostrava, Brno, Plzen
Currency: Czech koruna
Language: Czech
Population: 10.63 million
Area: 78,865 square kilometers
Electricity Voltage: 230V, frequency 50 Hz
Electricity Sockets: type E
Top 5 Places to Visit in the Czech Republic
The Czech Republic is one of the most beautiful countries in Europe and it will be hard to make a list of things to see since you won't manage to do it all.
But here's a couple of places you should try and find time for:
Prague – If you are planning to travel to the Czech Republic, you absolutely must visit its capital. This is a mecca of culture, history and thriving nightlife. Whether you're there to enjoy the eclectic mix of architectural styles, revel in its history or you're set on a quest to try as many as possible Czech's unpasteurized beers, Prague will be the highlight of the Czech Republic but some would argue, even Eastern Europe. Here's our suggestion on what you should do in Prague.
Olomouc – This beautiful baroque city has been for centuries one of the most important cities in Czechia and served as a residence of its monarchy. Like Prague, it also boasts of having an astronomical clock built into its Town Hall. The city has no shortage of history or monuments, most treasured being the UNESCO recognized Holy Trinity Monument.
Bohemian Switzerland National Park – Only a day trip from Prague, this park stretches well into Germany. The German side of the national park is called Saxon Switzerland National Park. There are fantastic hiking tours available, where you could even go on a river cruise through Edmund Gorge and admire the park from the most famous viewpoint, the Pravčická Archway. Become inspired by reading our Hiking Guide for the National Park.
Adršpach Rock City – This is an off-the-beaten-path destination for all of those that crave something different. The so-called Rock City is an area of seventeen square kilometres, made famous for the unusual sandstone formations that dominate the land. All the way back to the 18th century, it was home to many pilgrimage spots.
Kutna Hora – Like the Bohemian Switzerland National Park, Kutna Hora is only a day trip from Prague. This UNESCO World Heritage site is unforgivable to miss out on! The city of silver is also nicknamed as the national treasury since its wealth helped the Czech Kingdom to flourish. Visit the Bone Church (Sedlec Ossuary), a Roman Catholic chapel that used bones of over forty thousand people for decoration purposes.
Top 5 Travel Experiences in the Czech Republic
The Czech Republic is full of potential for memorable experiences.
These are some things that you should go and do on your visit:
Astronomical Clock Strikes the Hour – The clock is one of the symbols of Prague. It's one of the last remaining and fantastically preserved mechanical clocks from the medieval era. At over 600 years old, the clock has shown time to generations of Czech kings and its people. When the clock strikes the hour, even the locals will still look up to witness the show.
Get to the Top of the Towers of Prague – There is no better viewpoint of Prague than from its towers. When you climb to the top and admire the view of Prague's rooftops, you will understand its nickname as the "Golden City Of A Hundred Spires".
Go to a Spa in Karlovy Vary – This one of the most beautiful spa towns in Europe. The best time is to visit in fall during the offseason as the weather is pleasant and the city is calm. This is a perfect time to relax and appreciate the history of the city and its thermal baths. Book a day tour here.
Beer Tasting – Czechs really know their beer. They are known for their pilsner – and you can't get that type and quality of pilsner anywhere else. Pilsner originated in the Czech Republic and Czech people have an impressive history of brewing beer which dates to the 6th century. Don't forget to do a brewery tour!
Hike the Bohemian Paradise – The country's first nature preserve counts over 180 square kilometres. There are many trails that take you to interesting rock formations and stunning natural attractions. You can expect many beautiful viewpoints that overlook the area and they're usually accessible to rock climbers.
Best Time to Visit the Czech Republic
The Czech Republic is so well connected with all of Europe that it's easy to decide on a whim that you just want to hop on a train or a bus and check out this amazing country.
There are things to do and fun events going on throughout the year.
But depending on your interests, you might want to explore the Czech Republic at different times throughout the year.
Czechia has continental European climate with warm and humid summers and cold and snowy winters.
The sunny summer day can quickly be accompanied by rain and thunderstorms.
Likewise, the seemingly unwavering cold winter day can become warmer by the sudden appearance of the sun.
Unlike the Czechs, their weather is very temperamental!
Spring (Mid-March to May)
The snow starts to melt and temperatures start slowly to rise. But the first half of spring brings a lot of rain and wind.
In May is when the weather is pleasant.
Temperatures are on average around +20°C with usually sunny skies and chillier but still enjoyable evenings.
May is not just the best month to travel to the Czech Republic just due to the weather but also it's when many big cultural events are being held.
While visiting during this time of year you can attend events such as Prague Spring, Prague Fringe Festival, Prague Marathon and Czech Beer Festival.
The biggest cultural event of the year in the Czech Republic and one of the most renowned festivals in the world is held annually in May – Prague Spring.
It's a festival of classical music that brings thousands of visitors and world-class musicians to Prague.
The festival organizes beautiful concerts that are held in historic buildings, theatres and churches across all of Prague.
Prague Fringe Festival is based on the model of the Edinburgh Fringe Festival.
It's an art festival that within one wild week showcases an eclectic repertoire of music, comedy, dance, theatre at venues across the famous Mala Strana district of Prague.
There are a lot of programs that are in English so it attracts an international crowd as well.
Make sure to book your tickets beforehand!
Prague Marathon brings over many sports enthusiasts across not only Europe but also the world that want to cross this feat off of their marathon list.
The Czech Beer Festival that is also held in Prague is the most famous beer festival in the Czech Republic.
It is held for seventeen days and features over 120 kinds of beers, 70 of which are Czech brands. The rest hail from all over the world – from Germany to Mexico to the United States.
The seating capacity is up to 10,000 and service is provided by girls and boys sporting traditional Czech ethnic wear.
Summer (June to Mid-September)
Summer is the busiest time of the year to travel to the Czech Republic, with July and August being the peak of the high season.
Summers are very warm and humid with daytime temperatures averaging 25-27ºC and in late summer even reaching 30+ºC.
As the weather likes to keep you on your toes, always carry an umbrella or a raincoat, you never know when you will be surprised with a refreshing rain shower or a thunderstorm.
Luckily the storms don't tend to last very long.
Some of the most popular events during summer are: Karlovy Vary International Film Festival, International Music Festival Český Krumlov, Colors of Ostrava and the annual free concert of the Czech Philharmonic, just to name a few.
Karlovy Vary International Film Festival (June/July) was started back in 1946 and is one of the oldest film festivals in Europe. It is considered one of the most prestigious in all of Central and Eastern Europe.
Every year its place and importance in film history is internationally recognized.
Some of the world's best films get showings there and its leading A-list stars travel from all over the world to embrace the opportunity of being hosted at such an acclaimed festival.
International Music Festival Český Krumlov (July/August) is the longest-running summer festival in Czechia, held annually in Český Krumlov.
Český Krumlov is a picturesque baroque town with architectural influences from Austrian, Bavarian, Northern Italian and Czech lands.
This UNESCO World Heritage Site holds a month-long celebration of folk, jazz and pop music.
The concerts are held all across town but most of them are held inside the castle.
Colors of Ostrava (July), is the biggest international music festival in the country. We had a blast there and know that you will too!
It's a multi-genre music festival that is held in the national heritage of industrial works Dolní Vítkovice Ostrava.
The festival has around sixteen stages but it's not just a music festival.
It also hosts many workshops, film screenings and theatrical performances that raise awareness about important social and world issues.
This feat separates it from other music festivals.
The Czech Philharmonic holds an open-air free concert every year in Prague in June.
Fall (Mid-September to Late October)
This is the best time to travel to the Czech Republic if you wish to relax and avoid big crowds of tourists.
The weather is still pleasant, on average 13-20° C, and rain becomes a rarity.
Karlovy Vary has some of the nicest spas and this time of the year. It's especially beautiful to visit some of the many thermal spas.
What better event would correspond with your spa time than a wine festival?
Znojmo Wine Festival (September) is the biggest wine festival in the region and it's accompanied by a rich program of supported cultural events which include, theater performances, concerts and even jousting tournaments!
Winter (November – March)
If you don't mind the wet and cold weather but also want to bypass tourists, winter is a good time to travel to the Czech Republic.
There is a certain magical feeling present in the air during Christmas time in Prague.
The whole city is decorated with festive lights and Christmas markets are open.
Every winter is different. Usually, it snows before Christmas and later again, in January, February and sometimes March as well.
If you're a fan of winter sports, January is filled with sporting events such as World Snowboard Day, Šediváčkův long dog sled race and Jizerská 50 race.
Food in the Czech Republic
Like many European countries, the Czech Republic has a handful of delicious local meals.
You can't do wrong by enjoying each of these when you visit the Czech Republic.
Česnečka (garlic soup) – These are croutons soaked in garlic soup, often accompanied by pieces of pork, sausage or cheese. Simply delicious!
Moravský vrabec (Moravian sparrow) – This is a heavy dish that is made out of pork and is served with a side of dumplings and sauerkraut. Don't forget to wash it down with a pint of cold pilsner!
Kulajda – A potato cream soup with mushrooms, vinegar, dill and lastly a poached egg on top.
Schnitzel and potato salad – Th Czech version is a different schnitzel than the one made famous by Viennese. Czechs use pork, as opposed to veal in Vienna. Like every Eastern European country, every meat dish must be followed up by a side of potatoes in any given form.
Fruit dumplings – As the name suggests, these are dumplings with fruit filling that are served with melted butter, farmer's cheese or poppy seeds and fruit jam that's inside the dumplings.
Travel Itineraries Suggestions for the Czech Republic
Although you won't see everything there is to see when you first visit the Czech Republic, you should give it a shot!
The Czech Republic is absolutely stunning and you should ensure that your time here is well spent.
This travel itinerary is our idea of an ideal two-week Czechia trip:
Prague (4 days)
Since Prague is the main hub whether you're travelling by bus, train or plane, you are most likely to start your Czech Republic adventure at its capital.
This charming city is an architectural gem, with the district of Old Town that consists of several centuries-old buildings, which hail its architectural styles from Baroque, Gothic and Renaissance.
The district of Old Town is the most visited and most popular one amongst tourists.
As soon as you step into the Old Town be ready to be transported back in time.
Make sure to wander your way through the historic square, Old Town Hall Tower and the 15th-century Astronomical Clock.
Enter the Prague Castle, the current residence and seat of the president of the Czech Republic.
The most impressive part of the castle is the Gothic-style St. Vitus Cathedral.
One of the best things about Prague is its tasty beer.
All over Prague, you can find high-quality Pilsner for a fraction of the price you'd find elsewhere.
One of the popular places among tourists and locals is the Letna Beer Garden.
Sit down to enjoy a refreshing cold beer while admiring the views of Old Town.
If you get tired of the city's centre and Old Town, a metro ride away is the Vyšehrad.
The highlight of Vyšehrad is the Basilica of St. Peter and St. Paul. But that's not the main reason why people come out to Vyšehrad.
Sit down at one traditional Czech taverns and have some delicious grub while enjoying the views of Old Town across the Vltava River.
From learning about the history of the Jewish quarter, paying homage to Franz Kafka at his own museum to roaming through the streets of Mala Strana, Prague will keep you wandering for days.
Český Krumlov (2 days)
Not long ago this quaint town situated in South Bohemia was somewhat unknown.
But the ever-increasingly popular International Music Festival Český Krumlov, held annually in summer – has put Český Krumlov on the map.
This lively town is surrounded by picture-perfect countryside.
The highlight is its 16th-century castle that is also a museum depicting life in the castle.
Even if you're not interested in the historical aspect of the castle, it's worth of visit if anything, to climb to the top and enjoy the rooftop views of the town.
Telč (1 day)
Telč is another UNESCO listed town.
This compact town gained popularity as a day trip destination for its vibrant Baroque and Renaissance historical houses.
If you're lucky to be visiting on a sunny day, take a leisurely stroll through the town center and take in the beautiful sights.
Brno (2 days)
It's the second biggest city in the Czech Republic but shares little with Prague except for its side.
While Prague is a cosmopolitan city, Brno can be categorized as more as residential.
There is a lot of stuff to see in Brno. You could spend days visiting Špilberk Castle and learning more about the city's role in the history of the Czech Republic at the Brno City Museum.
And of course, there are plenty of things to see and do when it comes to experiencing the city's pubs, restaurants, cafes, and nightlife.
Ostrava (2 days)
Ostrava has often been overlooked due to its industrial look.
But it is a big city with plenty of things to experience.
If you're interested in the historical side of the city, visit sites such as Landek Park, Dolni Vitkovice and Michal Mine to learn about its mining history.
This town carries a lot of reminders from the Czech communist past. For anyone into brutalist architecture, this is a good place to visit.
Due to the Colors of Ostrava music festival, this place has seen an increase in visitor numbers.
But if you're visiting outside the festival, it's unlikely you'll see many tourists and will have the city almost entirely to yourself!
Visa Requirements for the Czech Republic
If you are a citizen of one of the EU/EEA countries or a Swiss national, no visa is required for your trip.
Only make sure to have a passport or an ID that is valid for the duration of your stay.
If you are an EU citizen and you're planning to stay in Czechia for over 30 days then you have to register within those 30 days with the police.
This registration should be provided by the hotel or other types of accommodation providers.
For all other nationalities, you must have a passport valid for a minimum of 90 days after the expected length of stay.
There are a handful of countries that don't need to apply for a visa for stay up to 90 days.
If your country of origin is not present in the list then you need to apply for Schengen Visa (short term or long term) if you want to travel to the Czech Republic.
NOTE: You cannot get a visa at the border crossing or at the airport.
Click here to find out more about the application process.
How to Travel to the Czech Republic
The Czech Republic lies in the centre of Central Europe and is surrounded by Slovakia, Austria, Germany and Poland.
Due to its central geographical position, Czechia has always been one of the better-connected countries in the region.
This makes it popular among tourists as a point of entry to the Central and Eastern parts of Europe.
Depending on where you're coming from, as well as your preference, there are various ways to get to the Czech Republic.
Plane
The Czech Republic has five international airports in Ostrava, Karlovy Vary, Brno and Pardubice.
The best-connected one, Vaclav Havel Airport, is in the country's capital – Prague.
The airport is situated just 10 km north of the city and is easy to reach with many direct public transport connections to/from Prague.
The country's largest airport has three terminals, operates direct flights to 114 destinations across 42 countries worldwide and in 2018, has reached a record number of 16 million checked-in passengers.
Whether you want to visit Prague and travel through the rest of Czechia (Prague Railway Station is nearby) or use it as a starting point before visiting neighbouring countries – Vaclav Havel Airport is the best choice.
From Europe
There are many low-cost airlines that fly direct from the majority of Europe's capitals.
The most popular low-cost airlines are:
Ryanair
Vueling
Easy Jet
Wizz Air
Smart Wings (Czech Republic's own airline)
While the ticket fares are compellingly low, oftentimes you will have to deal with delays and hidden charges such as check-in baggage or any service aboard (no snacks or drinks are included in the ticket price).
From the UK
The United Kingdom is the European country with most direct flights (departing from 12 destinations) to Vaclav Havel Airport in Prague.
If you are travelling from the UK you will find most of the larger cities will have direct flights into Prague on the most popular airline carriers.
From the US
There are not that many airlines offering direct flights from the US to the Czech Republic.
Airlines that offer direct flights:
Delta (JFK Airport)
United (Newark Airport)
American Airlines (Philadelphia International Airport)
Travel time is around 8h-9h and airfares are on the expensive side.
There are other airlines that fly out too, but they include one or two stops, with a layover in London or some other European capital.
The difference really stands out when comparing travel time (depending on the layovers, travel time can vary from 8h to even 30h) but usually, the price difference is not worth it.
From Canada
The only direct flight on offer from Canada to the Czech Republic (Prague) departs from Toronto via Air Canada.
Another option would be to fly via Air Transat Toronto-Montreal-Prague.
From New Zealand & Australia
There are no direct flights from New Zealand or Australia to the Czech Republic.
The travel time is usually around +30 hrs and airfares are very expensive, the cheapest ones starting from $1300 USD.
Airlines that operate from New Zealand and Australia are Qatar Airways, Emirates and Qantas.
City departures from New Zealand:
City departures from Australia:
Brisbane
Sydney
Melbourne
Adelaide
Perth
Canberra
Train
If you're planning on doing a tour of several cities scattered throughout Central or Eastern Europe and you're flying into Slovakia, Hungary or Austria – we suggest to travel to the Czech Republic via railway.
Bratislava – Prague (4 hours)
Budapest – Prague (7-8 hours)
Vienna – Prague (4 hours)
The trains are reliable and comfortable and the tickets affordable.
The Czech's impressive railway network that covers almost six thousand miles of track is counted amongst the largest and densest railway systems in Europe.
The railway system is considered to be the backbone of public transport in Czechia.
The main provider is publicly owned, Czech Railways (Ceske Drahy) but there are private lines too, such as LEO Express and RegioJet.
Czech Railways and its private competitors both offer fares based on distance and offer discounts when tickets are bought in groups.
When getting a ticket with Czech Railways you don't get an assigned seat so you might have to come a bit early to try and get a good seat, while the private lines (LEO Express and RegioJet) assign seats.
When it comes to private lines that operate internationally, you can pick between Trilex (TL) and Trilex Express (TLX), operated by Die Länderbahn.
If you're buying tickets at the train station, the ticket sells might not speak English – so it's always best to write down date and time, number of passengers and your end destination to avoid any confusion.
Bus
As the same with air or train travel, the main hub for bus travel is also in Prague.
The Florenc main bus station is where all buses interlink (regional and international departures).
It's located in the centre of the city, right next to the tram and metro station.
There are other bus stations in Prague, but Florenc is the main one.
Second to Prague, Brno likewise plays an important role as a bus hub.
The long-distance, intercity and international routes (unlike local and regional ones) are operated by numerous private bus lines.
As made clear by now, the Czech Republic is very well connected to almost all countries within Europe.
There are direct bus connections to:
Ukraine
UK
Slovenia
France
Netherlands
Germany
Austria
Poland
Slovakia
Switzerland and numerous more.
International routes are mostly handled by big European carriers such as Omio or FlixBus, but some are still handled by Czech bus carriers as well.
The tickets depend on the bus company.
The tickets are generally cheaper than train tickets, whether it's a regional or an international trip in question.
There are low-cost bus companies such as FlixBus that operate national and international routes and offer cheap tickets. A lot of those companies also offer discounts for students, children or retirees.
We always suggest making a reservation as during the weekends it can be quite busy and you don't want to risk not getting a seat.
Tickets are usually bought at the bus station, on the bus (drivers or stewardesses sell tickets, too), offices of bus companies or purchased online (not possible with all bus companies).
Hand luggage is usually free and some companies allow a free suitcase as long as it abides the rules of the predetermined size/weight of allowed luggage.
If you are to be charged for a suitcase, the prices vary according to the company's luggage policy.
Before booking the ticket make sure to read online their luggage policies so to make sure you are not going to get overcharged.
Car
The Czech train system is well organized, reliable and cheap but travelling by car is significantly faster and more convenient as you operate on your own schedule.
Due to the size of Czechia, no trip within the country can extend over five hours.
The highways and smaller roads are easy to navigate and usually, there's not a lot of traffic unless you're in the city at peak rush hour.
The driving map clearly labels Czech's routes as:
D – motorway
R – fast road
S – normal road
If you wish to rent a car you will have to have over 21 years of age and have held your license for at least one year.
If you're from an EU country your driver's permit is recognized through all of EU countries, but if you're a non EU citizen, you will have to get an international driver's permit (IDP).
Always make sure to have all required documents on you at all times, they include:
Driver's license (if from an EU country) or an IDP (if from a non-EU country)
ID card (if from an EU country) or a passport (if from a non-EU country)
Insurance card
Certificate of roadworthiness
Prepaid toll ticket
The traffic regulations in the Czech Republic are very strict and you'd be advised to take them seriously.
They have a zero-tolerance, no exceptions law for driving under the influence. Drivers must have a zero blood alcohol level.
The Czech Republic Travel Tips
One of the most important things when travelling to the Czech Republic is packing adequately.
The weather can change completely within minutes, so you should always wear layers and have something rainproof on.
Also, keep in mind that most streets in Prague are cobblestones, so heels are not an option!
To really get into the Czech spirit, you should eat their food, drink their beer and explore their culture.
Seeing the opera at the National Theater in Prague is not expensive and most of them have English subtitles.
And yes, the Pilsner is nothing short of amazing but don't forget about great Czech wines as well!
When it comes to public transport, know that the metro stops running at midnight.
If you're planning a night out, make sure to write down taxi company numbers.
Speaking of taxis, the taxi drivers here are somewhat notorious for always trying to overcharge foreigners.
Pay attention to the taximeter to make sure it's running and don't get in the car before getting the price from the driver!
Finally, the tram #22 in Prague is an incredible way to see the capital's most important highlights for a tiny price.
Budget for Traveling in the Czech Republic
Before booking your accommodation and deciding how much money you should bring, read our overview of the expenses you're bound to have in the Czech Republic:
Accommodation: $9-$600+
Food: $1.5-$60
Drinks: $1-$18
Domestic/Local Transportation: $1-$45
Tours: $15-$250+
Backpacker
A bed in a mixed dorm can cost you little as $10 USD per night.
A lot of the hostels even include a free breakfast!
The cheapest way to get by is if you eat street food around $1.5-4 USD or if you shop at farmers markets and make your own meal, such as 100 gr of ham with a bread bun for less than a dollar!
Beer from a store costs around $1 USD.
Public transport is very affordable, one ticket is $1.5 USD.
There are free walking tours organized in Prague and Prague Castle and St. Vitus Cathedral you can visit for free.
Flashpacker
There are a lot of mid-range hotels and Airbnb apartments on offer, with prices generally starting from $45 USD per night.
A meal for two at a nice, local restaurant starting from $25 USD.
Taxi's standard fare is $1.50 USD and 1 kilometre is $0.90 USD.
Prague sightseeing card for 2 days is around $70 USD for adults with discounted prices for students and children.
Luxury
When it comes to luxury accommodation, you will find a lot of option in Prague but less as you travel to the Czech Republic's more rural parts.
A double room in a luxury hotel starts from $230 USD per night.
The average price for a meal at some of Prague's more expensive restaurants for a three-course meal is $60 USD per person.
To rent a BMW X5 for 4-7 days is $155 per day.
Prague Sightseeing Card for 3 days is $93 USD, and $145 USD for a private, custom full-day tour.
Transportation In and Around the Czech Republic
One thing you'll probably never have a problem within the Czech Republic is transport.
Everything is organized well, the buses/trains are punctual and clean.
Here are the ways to get around the country:
Air
The Czech Republic has five international airports while the main hub is Vaclav Havel Airport in Prague.
Most flights are international because for domestic travel other modes of transport are more popular.
The majority of the domestic flights is operated by Czech Airlines.
But there are other airlines that also operate domestic flights such as Central Connect Airlines, RyanAir, SmartWings, EasyJet and WizzAir.
Train
The train is one of the most popular modes of travel in the Czech Republic, due to trains being cheap and reliable.
The main provider is Ceske Drahy, but there are private train transport companies too.
The private companies are RegioJet, LEO Express and Arriva Express.
There are couple of different types of train you can take (they differ in speed and comfort):
EC (EuroCity) – it's an international fast, train of the highest quality. It has 1st and 2nd class coaches, comfortable and all facilities you'd expect on a train to find. It stops at only main stations and no mandatory seat reservation.
EuroNight (EN) – long-distance, international night express trains of higher quality and they offer sleeping and couchette coaches with a mandatory seat/bed/couchette reservation.
NightJet (NJ) – same as the EuroNight trains but these use Austrian coaches.
Spesny vlak (SP) – these are regional fast trains that only stop in larger cities.
Expres (Ex) – long-distance, express trains of higher quality. They stop in main cities only and what makes them different than R trains is that they have a restaurant or a bistro coach too.
IC (InterCity) – national long-distance train of the highest quality, 1st and 2nd class coaches, restaurant or bistro and with mandatory seat reservations.
SuperCity (SC) – these are long-distance express trains of the highest quality and have a mandatory seat reservation.
RailJet (RJ) – they are the same as Eurocity trains but also offer 1st plus class.
R (rychlik) – it's the main type of long-distance express train that operates within the domestic network. They are very modernized or new trains with 1st and 2nd class coaches and sleeper services. They usually stop just in bigger cities.
Os (osobni) – these are regional stopping trains. It really depends on your luck, you may end up with an old and slow train or get a modern train with 1st class coach.
The more you head into rural parts, the more likely you are to have to take one of the old trains (osobni).
Bus
Taking the bus is the cheapest mode of transit and it makes accessible even the most rural isolated areas of the Czech Republic.
They range in quality, from old, overheating heaps with no air-conditioning to luxury lines with Wi-Fi and food aboard.
The most popular Czech bus companies that operate domestic routes are Bohemian Lines and Student Agency.
The most popular route is Prague-Brno.
There is also Eurolines, an international bus company, but it operates some domestic routes in the Czech Republic too.
The route most used by tourists to Usti nad Labem which is very close to the Bohemian Switzerland National Park.
There are also state-run public buses that take you to chateaus, lakes, villages and other non-metropolitan places.
Prague City Bus
Ticket fares for metro/buses/trams depend on travel time.
Public transport fares:
Single Ticket for 90 minutes travel: $1.40 USD
Single Ticket for 30 minutes travel: $1.05 USD
1-Day Pass (24 hours): $4.85 USD
3-Day Pass (72 hours): $13.60 USD
1-Month Pass: $29.50 USD
Buses bridge the gap between the suburbs of Prague and some areas where trams and metro do not run.
The buses run day and night, but at night they're less frequent.
Bus #119 connects the Vaclav Havel Airport with Nádraží Veleslavín metro station which is on line A.
Bus #1110 connects the Vaclav Havel Airport with the Zličín station which is on line B.
Click here to look up the schedules and the connections.
Prague Metro
The Prague metro is clean, fast and efficient.
The subway system consists of three lines, which spread over 62 km of tracks and have 61 stations.
The three lines are:
Line A (Green), Depo Hostivař – Nemocnice Motol (East–West), 17 stations
Line B (Yellow), Černý most – Zličín (East–West), 24 stations
Line C (Red), Letňany – Háje (North–South), 20 stations
Three stations in the city centre where two of the lines overlap:
Můstek – lines A and B intersect
Muzeum – lines A and C intersect
Florenc – lines B and C intersect
Trains run from 5am–12 pm.
Tram
Tram tracks are spread around 500 km covering a large area of Prague.
They run night and day.
The daytime trams start at 4.30 am and run till midnights (8-10 minute intervals).
Night trams start from 00.30 am and run till 4.30am (40 minute intervals)
One of the must-dos is to take the tram #22, as it guides you through one of the most scenic routes through Prague, from the National Theater to Belvedere and Prague Castle – it's a tour of Prague's highlights for the price of a single ticket fare.
There's a special NOMADasaurus travel hack for you!
Taxi
Taxis in the Czech Republic are extremely cheap when compared to most of European countries.
The standard starting fare is $1.5 USD and each kilometre is $0.90 USD.
The taxi drivers might try to swindle you when they notice that you're a foreigner.
Best way to avoid that is to tell you destination before getting into the vehicle and ask for a ballpark price.
Make sure that the driver has a taximeter and that it's running.
To avoid any confusions since the taxi driver probably won't be speaking English, write down on a piece of paper what your end destination is.
Rental Car
You can rent a car if you're over the age of 21 and you have had your driver's permit for no less than a year.
Renting a car is always the most convenient method of travelling, as you're able to make changes to your itinerary as you go along and to travel at your own pace.
The car prices vary depending on the carmaker of course, but there are some rentals as low as $8 USD per day (for longer-term rentals).
When you rent a car in the Czech Republic make sure to always have the following with you:
Car insurance
Driver's permit, if you're an EU citizen; if not, you have to have the International Driver's Permit (IDP)
State-issued government ID, if you're an EU citizen; if not, you have to have a valid passport (valid beyond 90 days of your trip's duration)
Certificate of roadworthiness
Prepaid ticket toll
First aid kit
They have zero tolerance for driving under the influence. You have to have zero alcohol blood level when driving.
For car emergency service you should call 1230 (UAMK) or 1240 (ABA) – the automobile and motorcycle club that works 24/hrs.
You should call the company which is included in your insurance policy.
The biggest issue when driving in Prague is the trams and buses.
You always have to give them the right of way.
Trams approach on your left and since they aren't easily seen, oftentimes they ring a bell to alert you of their presence, but they're not obliged to do so.
Sometimes a tram stops at a marked tram stop and you must pay attention to road marking.
At night times at some of the crossroads, you might encounter traffic lights which control junctions turn to a "flashing orange".
That signals that nobody has the right of way and traffic has to sort itself out.
This can be quite dangerous on river roads as traffic on the main road is fast and may not slow down for the junction.
We recommend renting your car from Rental Cars, the largest car rental network with the cheapest and most reliable vehicles.
Rental Motorbike
The Czech Republic has the perfect geography for motorcycle travel.
There are some companies that offer motorcycle rentals so travellers too can experience cruising on two wheels through the beautiful nature of the Czech Republic.
One of the more popular routes is Prague to Duba as it features along the way not only fairy tale castles and luscious greenery but it takes you to Bohemian Paradise.
Rules and precautions to be taken the same way as when renting a car.
Cycling
Czechia is set to become a country with cycling conditions that parry to ones of the Netherlands.
Czechs enjoy their nature and as a nation, they're very orientated towards healthy living and spending times outdoors.
It's no wonder that one of their favourite pastimes is biking forest trails or through the countryside.
Cycling is a part of the Czech culture and drivers are very accepting and courteous of cyclists.
Cycling paths on roads are clearly determined by yellow signs and in the forests, you can spot the coloured stripes on trees, fences or posts.
You don't have to bring your own bike, you can rent everything in the Czech Republic.
From renting a bike, cycling attire to hiring an agency to plan your route for you.
There are many bike trekking travel companies that organize the route for you based on your fitness level, experience and desired length of the trek.
Accommodation In and Around the Czech Republic
Although Prague is among the most expensive European capitals, it's still a European city, so the prices can be high.
Some other places that are popular among tourists, such as Karlovy Vary, can get pricey too, but there are some budget-friendly options as well.
That being said, you can absolutely enjoy the Czech Republic even if you're on a budget, but even more if you have a bit more to spare.
Budget
Camping in the Czech Republic is widely popular and so to accommodate the demand, it has a large network of campsites with tents, cabins or even caravan options.
Facilities are pretty basic but the sites are surrounded by beautiful and serene nature, which makes camping an attractive option.
Campsites are usually open from May – October.
There are many hostels throughout the Czech Republic as they're very common in larger cities and usually are of a high standard.
The hostels are very popular amongst backpackers for its low prices and among solo travellers as it creates opportunities for socializing and partying.
In smaller towns, you might have a limited choice of hostels, but usually, there are some smaller ones that offer a more family-like atmosphere when compared to the livelier way of city-based hostels.
One of the better and also cheaper hostels in Prague is Sophie's Hostel, where you can stay for around $10/night.
Pensions are usually situated in small towns and villages and they are mostly family-run, guesthouses with their very own restaurant for a more immersive cultural experience.
From conversing with the locals, tasting delicious traditional Czech cuisine to enjoying the surrounding nature in peace.
The Pension Village in Karlovy Vary will set you back roughly $16-30 for one day.
Mid-Range
In Prague and Karlovy Vary, there are many nice Airbnbs available from mid-range to luxury.
BONUS – Sign up here to get USD$35 off your first Airbnb stay!
The price depends on the season and area where you book your rental, but it can also sometimes turn out the same price as renting a double room in a mid-range hotel.
The difference is that, with an Airbnb, you get complete privacy and the option to cook your own meals.
There is a wide array of choice when it comes to hostels.
From basic, clean rooms in small budget hotels to boutique and luxury hotels with room service, gyms and swimming pools.
The Rezidence Vysehrad hotel in Prague is a good mid-range hotel where you can stay for around $60-85, depending on the time of year.
Luxury
The luxurious hotels have all the amenities that usual five star hotel anywhere else in Europe is expected to have, and the prices are similar too.
The Alcron Hotel in Prague is one of the most popular luxury hotels in the capital and one night will set you back $200+ a night.
For a real fairytale experience, consider staying at the Chateau Heralec Hotel for $300+.
Since the Czech Republic is famous for having many castles, this is a perfect place to stay!

Safety While Travelling in the Czech Republic
In 2016, Global Peace Index ranked the Czech Republic as 6th safest country in the world.
There are no serious safety threats, but the usual pickpocketing, petty thefts or ATM scams are a possibility, especially since tourists are easy marks.
The risk of pickpocketing is highest in Prague since it's the most visited tourist destination.
Within Prague, spending time in the Prague Castle area carries the most risk of being pickpocketed.
Don't keep all of your money in one place. For example if your wallet gets stolen, you will only lose a small sum, because you will still have money left in other inside pockets of your bag, or the inner pocket of your jacket etc.
Some more well-known scams are,
Scammers posing as police officials (they use fake police IDs) to check the authenticity of your currency or passport;
Taxi drivers don't turn on the taxi metre and then when they drop you off at your end destination, they name a price that is usually 2 to 3 times as the normal fare;
Before exchanging money at the currency exchange office, inquire what are the average rates and fees;
Never exchange money on the street;
Never let the waiter take your credit card on their own, as they can later charge you more than it was on your bill;
Due to high safety, the Czech Republic is a popular destination among solo female travellers.
Even though it is generally a safe destination, always practice common sense.
Avoid events where there is a lot of public drunkenness and going out late in the evening if travelling alone.
If you're staying at a hotel or hostel, make sure to let the reception know of your whereabouts and give them your contact info.
Medical System in the Czech Republic
There are no major health dangers in the Czech Republic that you couldn't find in any other large city.
The quality of medical care is high.
They have several large hospitals with highly trained staff equipped to deal with foreigners.
The best hospital in the Czech Republic is in Prague, Na Homolce Hospital.
It has facilities up to the Western standards and staff that speaks English, French, German and Spanish.
Polyclinic at Národní A, has staff that speaks French, German, English and Russian.
Canadian Medical Care, is expensive but it's a highly professional clinic with English-speaking doctors.
There are a lot of pharmacies throughout the country, where you can also get free health advice from a pharmacist for minor ailments.
In the pharmacy, you can get over-the-counter medication such as aspirin, cough syrup etc.
Most pharmacies work regular business hours but in each district, there's one that works later hours for emergencies.
Before you travel to the Czech Republic, make sure to bring the following items:
General medication for minor ailments (aspirin, cough syrup, ibuprofen etc.)
Another pair of contact lenses or glasses and bring your optical prescription with you
First Aid kit
EU citizens are eligible to free medical care from all EU countries if they have the European Health Insurance Card (EHIC).
Nationals from other countries have to pay upfront in cash for any medical care and later seek reimbursement from their health insurer.
Be careful to save all paperwork given to you by the hospital or facility that provided you with medical treatment, in case your insurance company asks for something to submit with your reimbursement claim.
We always recommend, for a traveller of any nationality, to take out a comprehensive medical insurance policy that includes emergency evacuation.
Here's our guide to travel insurance, and you can get a free online quote with World Nomads below.
Packing List for Travel to Czech Republic
3x Pairs of jeans
2x Pairs of pants
3x Shorts
1x Hiking pants
5x T-Shirts
3x Shirts
2x Blouses
1x Cardigan
1x Rain jacket
1x Cap
1x Pair of comfortable sneakers
1x Pair of dress shoes
1x Pair of flip-flops
Underwear
Socks
Miscellaneous items
Phone (with offline apps such as translating app, currency convertor, offline map, and make sure to have scans of important travel documents passport, id, driver's permit, booking reservations, travel tickets etc.)
SD memory cards for camera
Tripod
Czech phrasebook for travellers (or download Google Translate on your phone)
Map of the Czech Republic
Plug converter
External battery
Umbrella
Read our Czech Republic Travel Blogs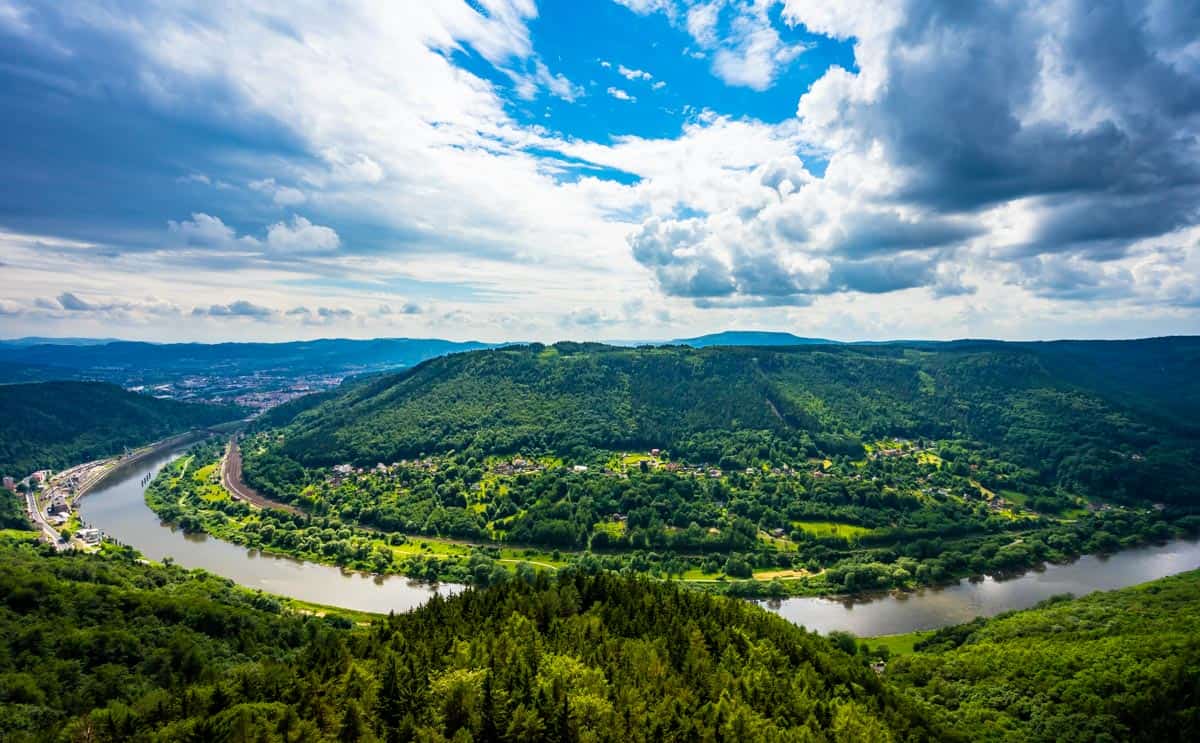 One of the best things to do in Czech Republic is to go hiking in Bohemian Switzerland National Park, in the far north of the…