Here is our complete guide to tell you everything you need to know to travel to Antarctica!
It may just be the number one bucket list adventure for millions of people around the world – travelling to Antarctica!
The remoteness and expense of this incredible destination makes it an unrealised dream for many, but we're here to help you on your journey to experience it for yourself!
The White Continent is a truly unique place. From its phenomenal landscapes to diverse wildlife, nowhere else on the planet comes close to its beauty.
And that's not the only things that make it unique. From a political point of view, did you know that there it is the only continent on earth with no official government and no permanent residents?
That's because in 1959 a couple of countries signed a treaty that over 40 nations follow to this day.
Visiting Antarctica is an experience that everyone should have at least once in their lifetime.
Whether you would love to hang around with emperor penguins or go kayaking in the company of humpback whales, or perhaps even climb one of the world's seven highest summits, there are plenty of reasons to want to pack your bags and travel to Antarctica!
So read carefully and find out why you should stock up on chocolate, what you should bring on your expedition and how to make the most of your trip!
Scroll to the bottom to read all of our blog posts about Antarctica travel.
Antarctica Travel Guide
We've been lucky enough to travel to Antarctica, and we can safely say it was by the far the most incredible place we have ever visited.
That being said, it's not an easy trip to make, and it's especially not a cheap one, so if you're lucky enough to have the opportunity to embark on a voyage, you'll be one of only 40'000 people a year that actually visit!
In order to get the most out of your trip you need to be well prepared, so make sure to read through our detailed and informative Antarctica Travel Guide.
After our very successful tour to Antarctica this season, we are going to be running another exclusive adventure down to the Peninsula in 2025, this time crossing the Antarctic Circle! Check out the tour page if you'd like to learn more.
Planning on exploring other parts of the polar regions? Don't miss our brand new complete guide to help you travel to South Georgia!
General Information
Here is some basic info about Antarctica for you to get familiar with before starting to plan your visit!
Currency: There is no dedicated currency in Antarctica so depending on the area you're visiting they may accept U.S. dollars, Sterling Pound and Euro.
Capital: No official capital.
Language: Russian and English are the most widely spoken languages in Antarctica
Population: 1,106 (non-permanent residents)
Area: 5,400,000 sq. km
How to Get to Antarctica
Due to Antarctica's position at the bottom of the earth, getting there often involves a very long mission
Which part of the continent you wish to visit, and your budget, will influence whether to opt to travel by plane or ship.
Whichever option you decide on – the trip will be worth it!
EXCLUSIVE – We have partnered with the world's top polar tour operator, Quark Expeditions, to offer readers of NOMADasaurus a very special deal on any trip to Antarctica or the Arctic! Contact us ([email protected]) if you'd like to learn more.
By Ship
The most used and economical way to reach Antarctica is via taking an expedition ship, a cruise ship, or even a yacht from the bottom tip of South America, either Ushuaia in Argentina or Punta Arenas in Chile.
Even in this day and age of cheap flights and budget airlines, the majority of travellers decide on sailing to Antarctica as their means of transportation for many reasons.
A number of reputable tour operators run passenger trips to Antarctica, making the adventure more accessible than flying.
It's also one of the most eco-friendly ways of seeing the White Continent, and as there is no infrastructure on land, the ships can visit many destinations easily.
Another benefit of sailing to Antarctica is that there are more departure dates (the season for air travel is mainly from December to February due to weather), and it's less expensive than flying.
This will be one of the most epic journeys of your lifetime. The views and the feeling of being out in the open waters is truly memorable.
Departures from South America
By far the best, quickest, and cheapest way to reach Antarctica by ship is to depart from South America.
That's because over 90% of all Antarctica-bound cruises depart from Ushuaia in Argentina, and the tip of South America is geographically quite close to the tip of the Antarctic Peninsula.
There are very few direct international flights to Ushuaia, so your best bet is to fly to Buenos Aires and then take a connecting domestic flight down to the bottom of the country.
But Ushuaia isn't the only South American departure point for Antarctica trips! There are other ports as well, such as:

Port Stanley in the Falkland Islands
Puta Arenas in Chile
Buenos Aires in Argentina
Santiago in Chile
The journey to Antarctica from Ushuaia is approximately 2 days, and you'll have the chance to cross the Drake Passage, one of the most infamous ocean channels on the planet.
Departures from New Zealand & Australia
Even though there are far fewer opportunities for normal passengers to travel to Antarctica from New Zealand or Australia, it is occasionally possible.
The most popular departure port in New Zealand is Invercargill, and in Australia it is Hobart. But these trips require much more time to complete.
Due to the huge expanse of ocean between the countries and Antarctica, ships often make a lot of stops at remote places such as Auckland and Macquarie Islands.
The advantage of that is the islands have amazing wildlife and beautiful scenery, and once you arrive in Antarctica you'll have the chance to see a part of the continent that almost nobody will ever get to see.
A word of warning though – A journey to Antarctica from New Zealand or Australia goes over some very rough seas.
Can You Fly to Antarctica?
Yes, you can indeed fly to Antarctica!
The most popular route for airlines heading to Antarctica is to fly from Punta Arenas in Chile to King George Island on the northern tip of the peninsula, and on your arrival embarking your ship for further exploration.
One of the major benefits of flying is avoiding the Drake Passage, and this cuts down on your travel time substantially.
Flying is of course faster and more comfortable option than sailing, but bear in mind that the departure dates are much more limited than if you choose to sail.
The limited dates are due to the fact that there is no actual commercial airport at Antarctica, so you're dependent on private air travel. The only way of air travel is if you specially book through a tour operator.
These flights also bring the price up of your expedition by 20%, or more.
The flying season is very short, starting in December and lasting until February.
There are also couple of tour operators based in Cape Town, South Africa, and New Zealand that offer flights down south, but these are even harder to find.
If you have limited time and only want to do a sightseeing tour, or not interested in actually exploring much of Antarctica, then you can always choose to take a tour with Antarctica Flights.
They fly from Australia to Antarctica and offer a one day tour that is guided by licensed expedition leaders. Prices start at $1199 for a 12-hour return flight, and it does not touch down on the continent.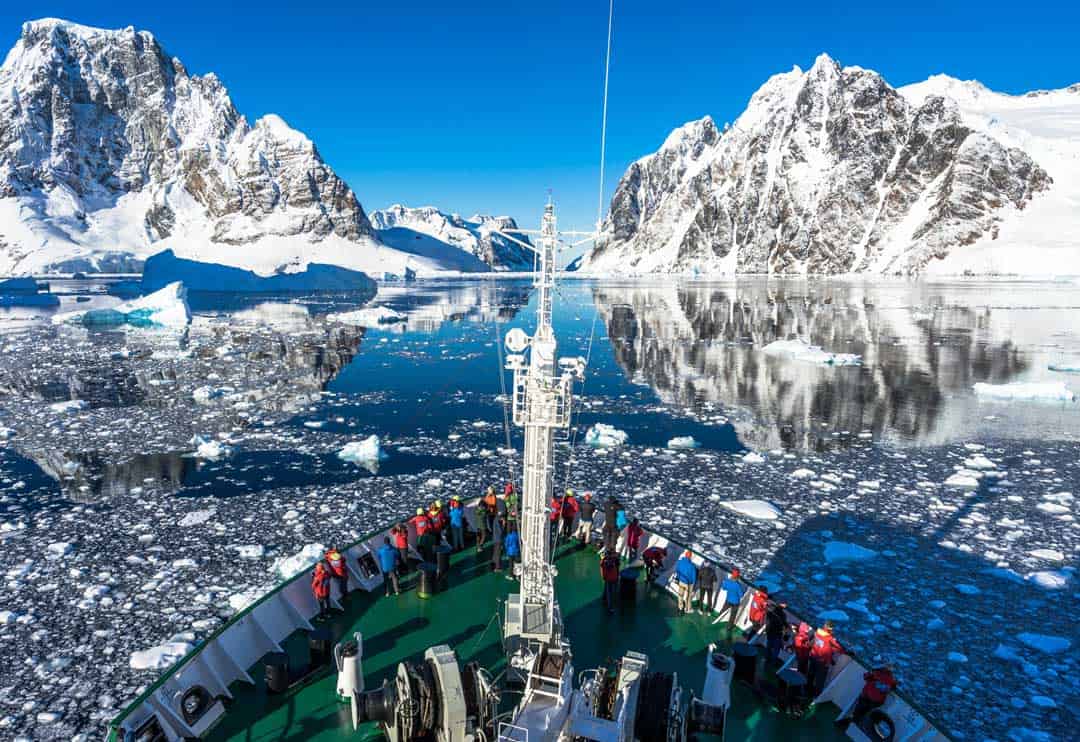 Visa Requirements for Antarctica
Antarctica doesn't belong to any one government or jurisdiction, and for that reason, no visas are required.
That being said though citizens of nations that have signed the Antarctica Treaty's Protocol on Environment Protection (USA, Canada, EU and Australia) are required to get prior permission before visiting.
Don't worry though, as this is organised through your licensed tour operator.
5 Interesting Facts About Antarctica
It's the coldest continent in the world, with the temperatures in wintertime dropping below -73°C (-100°F). The lowest temperature ever recorded on Earth was in Antarctica, and it was a very balmy -89.2°C (-128.6°F).
There are no permanent residents of Antarctica, only transit residents (around 1,000), that are usually scientists or workers living in different research stations spread all over Antarctica
Since Antarctica is situated in the southern hemisphere, winter is from May to October, and summer is from November to April.
Antarctica is actually a desert! That might be surprising to a lot of people, because when we think of deserts we think of hot, dry, large sand surfaces. Since it doesn't rain or snow in Antarctica it's considered a polar desert.
Antarctica holds 90% of the world's fresh water!
Keen to learn more? Check out our full list of our favourite facts about Antarctica!
The Best Time to Travel to Antarctica
Unless you are working for a government organisation, the only time to travel to Antarctica is in the summer.
But what month should you visit in? Well that depends on what you want to see, and what your expectations are.
Read our complete guide on the best time to visit Antarctica, or read on for more information.
November
Some may argue that early season is actually the best time to visit Antarctica, because you can see it in its most undisturbed form.
After the long, cold winter, the landscape is covered in a fresh blanket of snow and ice, leaving everything looking clean and pristine (and quite other-worldy).
In terms of wildlife it's possible to see whales, but not as much as later in the season as the water temperatures are still too cold.
If you visit at this time of year though expect to see lots of penguins, seals and birds.
The main downside to coming in November is that the temperatures are lower and polar ice is still breaking up, which means some areas of the continent are not accessible.
Peak Season – December to February
The peak season coincides with the brief summer, and is by far the most popular time to visit the continent.
Temperatures are at their highest and you get up to 20 hours of sunlight a day!
Whales are starting to visit the waters, baby penguins are plentiful, the birdlife is incredible and you'll have a much better chance at seeing Antarctica with blue skies.
When we say it is the most popular time to visit though, we mean it. While the tour operators are strictly controlled to where and when they can visit certain areas, you may see other ships around and the foot traffic at the popular spots like Deception Island is much higher.
March to Early April
Late summer in Antarctica is the best time for whale spotting, and while a lot of the other animals have started their migration, you'll see huge amounts of humpbacks, whales and minkes frolicking in the waters.
This time of year you will have access to almost all areas as the polar ice would have melted.
But with the temperatures slowly starting to drop as the season transitions to winter, it can be unpredictable, and snow storms are more frequent.
We personally believe travelling in the shoulder season is best!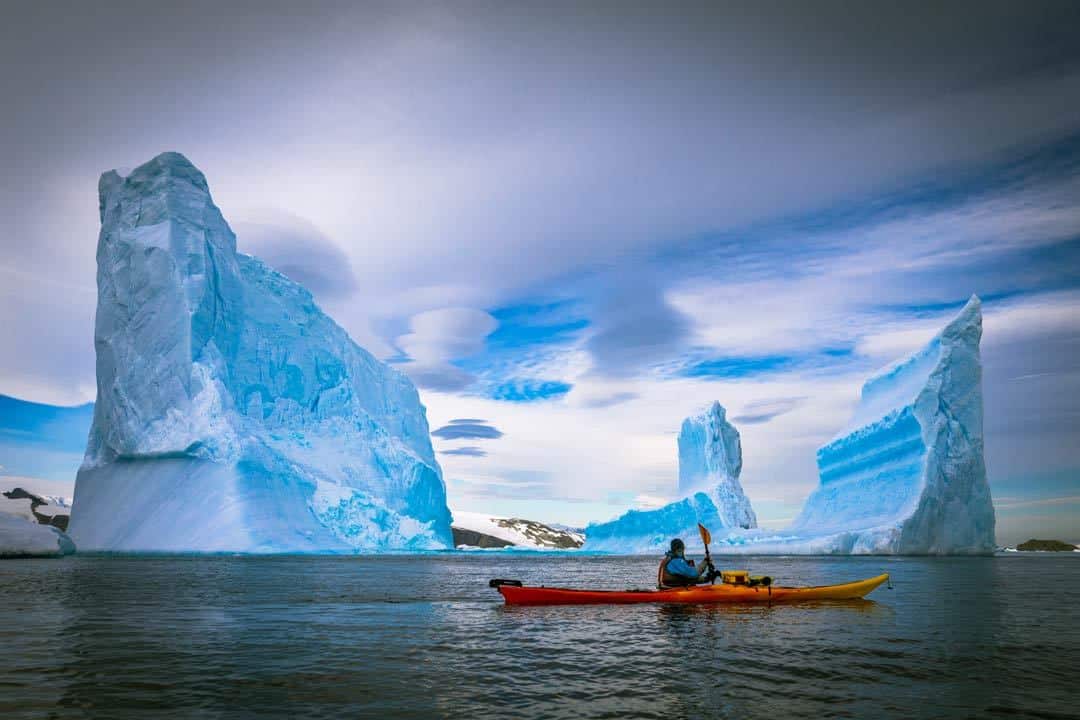 Travel Itineraries Suggestions
When you book your trip to Antarctica your itinerary is more or less determined by whichever journey you sign up for. You can't deviate from this, so it's important to pick an itinerary that encompasses everything you'd like to see and do.
Most standard Antarctica itineraries start and finish in Ushuaia, and go for 10 days. This includes 2 days each way to cross the Drake Passage, and a few days exploring the Antarctic Peninsula.
If you have more time, and would like to see extra places, we recommend looking for a voyage that visits the Falkland Islands and South Georgia as well. These kind of trips usually last for around 17 days.
These archipelagos have tremendous wildlife viewing opportunities, and are filled with fascinating history, such as the story of Sir Ernest Shackleton.
If you want a very in-depth Antarctic Peninsula adventure, you can look at crossing the Antarctic Circle, but only a few select companies do this mission.
Budget for Travelling to Antarctica
We're going to level with you – A tour to Antarctica is not cheap.
But when you compare everything you get to see and do, as well the remote location of the destination and just what is involved on an expedition, it is actually quite fair.
You can expect to spend anywhere from USD$500 per day right up to $2500 per day, and this depends completely on the itinerary, the company and the type of berth you want to sleep in on the ship.
If you're looking to save money on an Antarctica tour, the only way you can do this is to book a ticket last-minute.
Different Styles of Antarctica Tour Packages
When you're doing your research on trips to Antarctica you might be amazed to see a huge difference in price from one company to the next. So why the fluctuation?
This often comes down to two things – the quality of the ship you will be travelling on, and the reputation of the company.
Cheap Antarctica Tours
Not all companies are created equal, and you need to take this into consideration when booking your trip. If a tour company is super cheap, there's probably a reason for that.
The service of leaders and staff might not be as good, the ship might be much older, and you might only get a limited number of days on the actual continent.
We've seen trips for as cheap as USD$5000. Remember though, you get what you pay for.
Our Secret Tip – Want to go with a reputable and responsible company to Antarctica, but aren't ready to pay huge amounts? Book the cheapest cabin on the ship.
You still get the exact same service, same guides, same destinations, same activities, except you're not paying a huge amount for a fancy room. And the truth is you won't be spending much time in your cabin anyway, so save your money and just book a cheap berth with a good company.
Luxury
There are plenty of luxury cruise ships that visit Antarctica, and if this is what you're into, then perfect.
These ships will have all the creature comforts you'd expect to find on a high-end cruise ship, with hot tubs, swimming pools, masseuses, elevators, etc.
Luxury Antarctic cruises might include flight tickets to the Peninsula too, so you can avoid the Drake Passage and add maximum comfort during your trip.
Sometimes that are part of longer South America trips that start in places like Montevideo in Uruguay or Buenos Aires, and finishing up in Valparaiso in Chile.
But these tailor-made experiences comes at a hefty price, which can go up to $25'000 (or more)!
Is this the best way to visit Antarctica? In our opinion, no, as the ships are often quite large and hold a lot of passengers. We'll go into why that's a bad thing further down the guide.
Last Minute Antarctica Cruises
So what about these last minute Antarctica cruises that people talk about? Is it really possible to cruise to Antarctica for less than USD$5000?
Short answer, yes. However last minute means last minute, and you'll often have to travel to Ushuaia and register your interest with a number of tour operators in the town.
If an opening comes up (such as someone cancelling their trip) you'll be on a waiting list to join the tour. But you may only be given a day or two's notice, and you may end up spending a week or more down in Ushuaia waiting to hear.
A family we met managed to score some last-minute Antarctica tickets after waiting more than 3 weeks in Patagonia, and when they got the word that it was happening they had 36 hours to drop everything and get to Ushuaia in time to jump onboard.
If you have the time and funds to stay down in southern Patagonia for a few weeks this can be a viable way to visit Antarctica cheaply.
Can I Work on a Cruise Ship to Antarctica?
Yes, you absolutely can. But the idea that you can literally just show up at the dock and get a job cleaning rooms or working in a kitchen is unfortunately not true.
The employees of these companies have months of training before they are sent on a trip to Antarctica and often have to sign long contracts.
Sorry, to be bearer of bad news, but no you can't show up in Ushuaia and get a one-off job on a cruise to Antarctica.
Insider's Tip – Book A Small Group Expedition
Very few people know this when booking their travels to Antarctica, but if you end up on a ship that has more than 100 passengers onboard, your time on the continent is severely limited!
That's because the law states that no more than 100 people from any one voyage can get off the ship at any one time, so if your tour has more than this, you'll end up spending a lot of time waiting on the ship while the other group is off exploring.
Even worst, if you end up booking a large cruise ship, it might be too big to actually get close to the continent! That means you won't even get the chance to do anything more other than simply look at the landscapes from afar.
And while this is still pretty amazing, in our opinion you're paying all this money to go there – you may as well actually step foot there!
Here's an article to give you some more tips on how to choose a tour.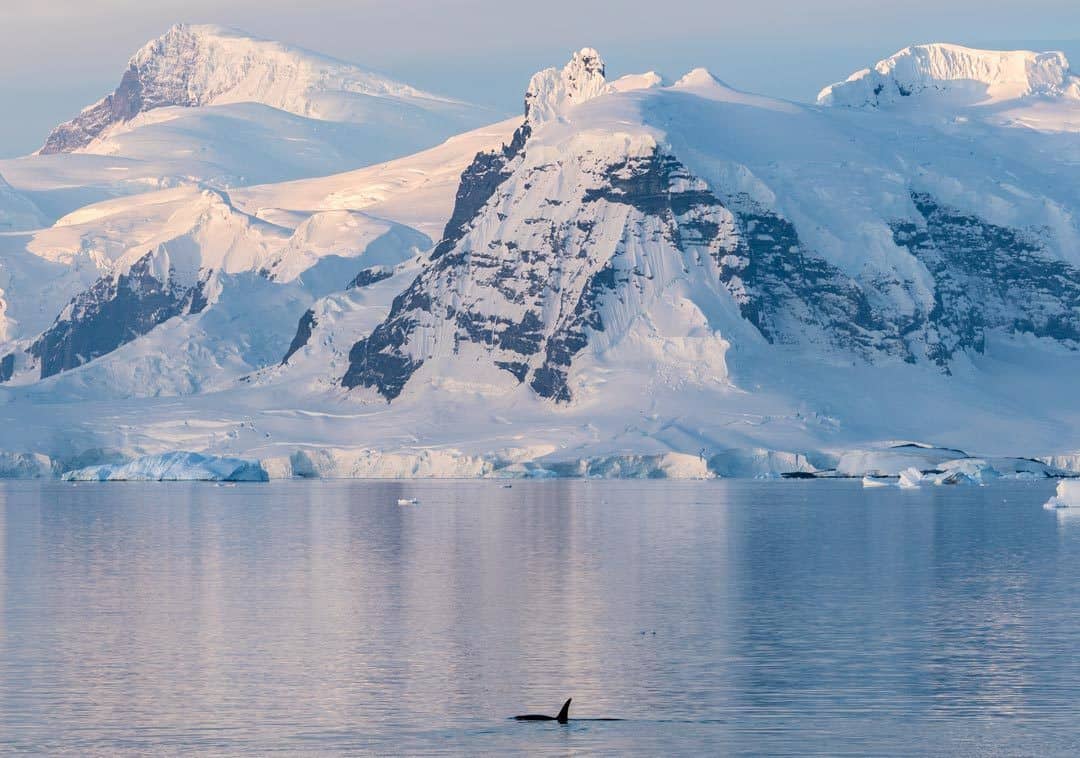 Top 5 Places to Visit in Antarctica
Antarctica is one of the most isolated places in the world and as such it has managed to maintain its pristine nature with minimum human impact (although climate change is reeking havoc down there).
For anyone wishing to enjoy the dramatic landscapes covered in polar ice and beautiful wildlife, make sure your cruise includes our top places to visit in Antarctica!
The Lemaire Channel
The Lemaire Channel is a narrow passage on the Antarctic Peninsula that is stunningly beautiful to navigate. On all sides you'll be surrounded by towering peaks, tumbling glaciers and glistening icebergs.
It's also a dream come true for marine life lovers, as you can spot all kinds of seals and even whales, including humpbacks and orcas!
No matter how cold it gets, we guarantee you won't go below the deck in fear you might miss something!
Deception Island
Deception Island always proves to be a highlight of people's travels to Antarctica as it is incredibly beautiful, and has a human element to it with the old whaling station.
But why the name Deception Island? That's because even though it looks like just an island, it's actually a caldera of an active volcano!
The waters here are a tad warmer than the rest of the seas around, making it a popular spot for people to do the polar plunge.
Vernadsky Research Station
No trip to Antarctica would be complete without spending some time at a functioning science base, and luckily you can do just that at Vernadsky Research Station!
This Ukrainian-run base has a lot of history, and today the scientists working there open their doors to visitors.
It's even home to the southern-most bar in the world! Read all about it in our article about Vernadsky Research Station.
South Shetland Islands
The South Shetland Islands are a small group of islands about 120km north of the Antarctic Peninsula.
Their location makes them one of the most visited places on the peninsula, and they are a great place to visit in Antarctica because of the huge population of elephant seals and penguins.
South Georgia and the Sandwich Islands
While South Georgia and the Sandwich Islands don't actually belong to Antarctica (they are part of the United Kingdom), we couldn't write a list about the top places to visit without mentioning this place.
It has been called the Serengeti of the Southern Ocean due to the abundance of wildlife that congregates there.
You can see hundreds of thousands of king penguins hanging out on beaches, 4-tonne elephant seals battling each other for mates and the largest bird in the world, the Wandering Albatross.
South Georgia can be included on a few Antarctic cruise itineraries, so if you have the time we highly recommend visiting.
Top 5 Travel Experiences in Antarctica
So what exactly is there to do in Antarctica? Plenty!
We wrote this comprehensive guide on the best things to do in Antarctica, but let us break down some of the highlights here.
Camping Under the Stars
Yes it is entirely possible to go camping in Antarctica, but only if you join the right tour operator that provides the right gear.
It might sound risky because of the extreme weather conditions, but that's why you should only do it with a company that takes all safety measures seriously.
You will sleep in winter-grade bivvy sacks with high-quality sleeping bags, and the expedition leaders will monitor the weather systems closely to make sure that it'll be the optimum evening to do so.
The adventure won't seem as challenging once night sets and you get thrown into a daze by views of the open sky and stars, with zero light pollution around to hide the universe.
Laying under the stars and waking up to the sun rising over the vast snowy landscape will be etched into your mind forever.
Take the Polar Plunge
How does swimming in the world's coldest place sound to you? Well you can do just that in Antarctica, and it's an experience that'll give you the ultimate bragging rights.
Whether you're jumping from a boat or do a sprint into the icy waters at the beach on Deception Island, it's going to be frigidly cold. But the pain only lasts a minute, and you'll have expert guides around you to warm you up with blankets and hot chocolate.
Climb Mount Vison
For those that want a serious adventure, and have the skills to go with it, why not consider climbing the tallest mountain in Antarctica, Mount Vison!
The mountain is 4897m high, but of course this isn't for the average traveller to Antarctica, and you won't find a standard cruise ship that goes there.
It's one of the world's seven highest summits, making it a must-do for any mountaineer looking to achieve the Holy Grail.
Kayaking With Whales
Sea kayaking in Antarctica is one of the best adventure activities on the continent, and it's easy to see why.
Surrounded by icebergs, calm waters and huge glaciers, you can spend hours paddling around, being constantly amazed at the scenery.
This is the best way to get closer to Antarctica's rich marine life, and if you're really lucky, you might even have a close encounter with a humpback whale!
Hanging Out With Penguins
Hanging out with penguins is everyone's number one item on their Antarctica bucket list.
There are six types of penguins living in Antarctica and they are one of the few animals on the continent that is pretty much a guarantee to see no matter when you go!
The guideline on interacting with wildlife on Antarctica is that you have to keep your distance, at least 2 meters away from all wildlife, but if they approach you that's no problem!
These friendly birds are very unfamiliar with humans, so chances are they will come right up to you if just hang out and wait.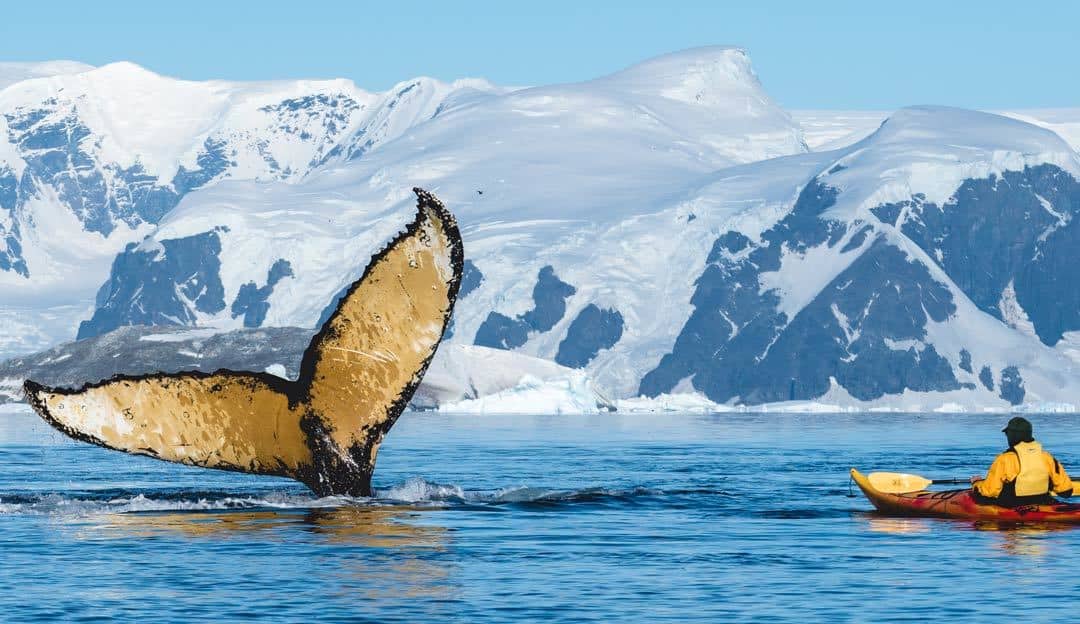 Transport in Antarctica
Unless you're working on a research station, the only form of transport you'll get to experience in Antarctica is the floating kind.
Cruise or Expedition Ships
The main mode of transport in Antarctica is by ship, and you have a couple of different options – A luxury cruise ship, or a research expedition ship.
Cruise ships are comfortable and luxurious, but they might also lack the character and sense of adventure that you'd expect from a place like Antarctica.
We travelled on a polar expedition vessel called the Ultramarine, and it was amazing in that they were conducting real-life science research as we went.
Zodiacs (Inflatable Rubber Boats)
This is the most common, and fun way, to get your way around Antarctica.
They are used for getting from your ship to shore, or for just exploring around the gorgeous seas. They are open-air, which means you're exposed to the elements, so make sure you wear plenty of protective gear.
Kayaks
We've already spoken about kayaks before, but if you have the chance to paddle around the continent you should definitely take it!
Safety in Antarctica
While Antarctica truly delivers on the promise of untouched nature and rich wildlife, one should seriously prepare to be exposed to the harsh climate and one of the most dangerous environments in the world.
But don't stress too much about it – Chances are you'll only be travelling to Antarctica in the summer, where the temperatures are warmer anyway.
Plus all Antarctic tours have qualified and experienced medical staff onboard, so you'll be in safe hands.
Rough Sea Weather
When crossing the Drake Passage, which is a gruelling 48-hour journey, there's a chance that you will encounter some rough sea weather.
Don't worry though, because expedition ships are designed to charge through even the most turbulent of seas, so even though you might feel scared, the boats are absolutely fine.
If you're prone to sea sickness you can take strong medication to help, or if you're absolutely petrified we suggest booking a trip that has a flight to King George Island instead of boarding the cruise ship in Ushuaia or Punta Arenas.
Walking On Ice
The key to crossing the icy sections of the continent are to have good quality boots.
Sometimes the tour operator will supply you with these boots, but make sure you do your research before you show up.
The guide will offer you some practical advice how to walk across icy sections. Usually those instructions consist of keeping a slow pace and short, confident steps where you plant your feet.
Harsh Climate
The main issue travellers to Antarctica will come across is the harsh climate, so make sure you come prepared.
You need to pack all the necessities before you come, because the right clothing is the most important factor in whether you will have a good time or not.
Learn to layer up, because the temperature can change rapidly, and the last thing you want is to have one giant, warm coat on when the sun comes out, meaning all you have underneath is a t-shirt.
The expedition leaders will keep an eye on the weather to help keep you safe in Antarctica.
Cruise Ship Safety
Most incidents that happen to cruise ships in Antarctica involves the pack ice, but this is an extremely rare occurrence in this day and age.
It's important to know that your tour operator evaluates all risks and manages the trip around perceived hazards. Safety is their number one priority.
Today we're able to predict icebergs, pack ice and unexposed hazards with forward-scanning sonar and ice radars, and all cruise ships have them in use.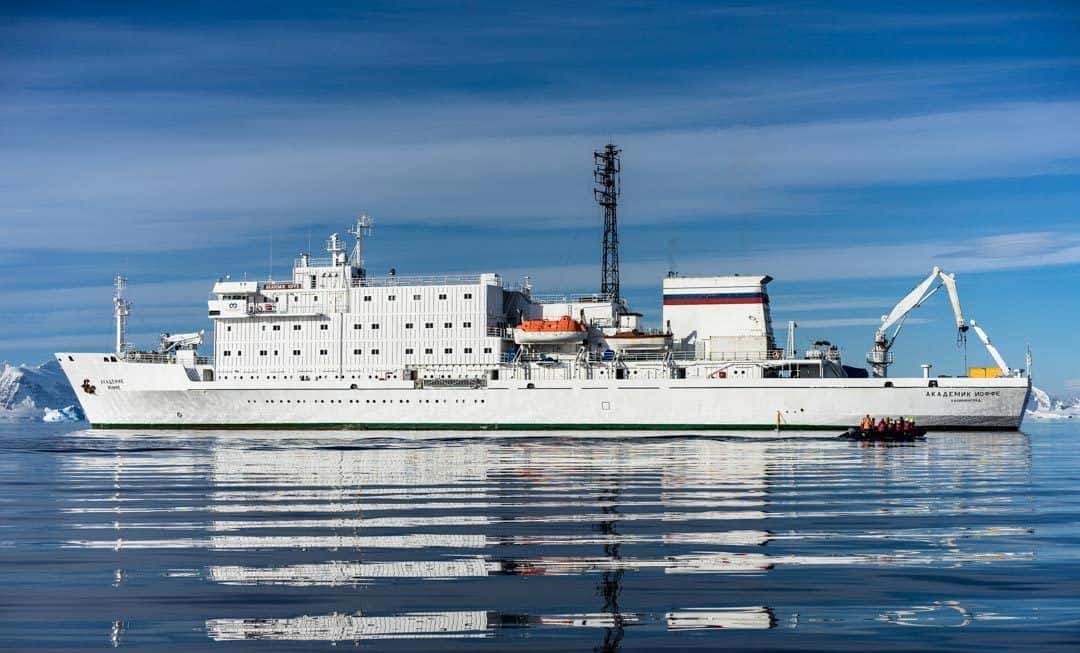 Medical System in Antarctica
All tour operators have a medical team on-board for any possible health issues you may encounter.
The only thing up to the traveller to take care of is to make sure you get the proper vaccinations before the expedition.
The vaccines that you should be up-to-date on are:
Measles-mumps-rubella (MMR) vaccine
Diphteria-tetanus-pertussis vaccine
Varicella (chickenpox) vaccine
Polio vaccine
Flu shot
The risk of acquiring of any of those diseases comes from the fact that they're easily spread from person to person, and the close living quarters.
You will be sharing same space with people from many different parts of the world which carries an increased risk of contracting a disease.
Packing List for Antarctica
Making sure to pack everything you need for your Antarctica travels is the most vital part of your travel preparations.
Some of the tour operators will supply you with adequate waterproof jacket, pants and boots, but make sure to check with them.
Check out our detailed guide on what to wear in Antarctica to get you prepared.
Men And Women
Waterproof jacket
Waterproof pants
Boots (with the most grip)
Thermal underwear
Thermal socks x2
Merino wool socks x3
T-shirts x4
Long sleeve shirt x1
Hooded jumper x1
Down jacket x1
Wind/rain jacket x1
Glove liners x1 pair
Ski gloves x1 pair
Buff bandana x2
Beanie x1
Sunglasses x1
Miscellaneous Items
Travel Tips To Antarctica
Wear layers! In some moments when you physically exert yourself you will start feeling a bit hot so then you should take off a layer. Later on when you feel cold again just put it back on – it's important to regulate the body temperature.
Invest in your camera equipment! This is a trip that most people only take once in their lifetime – you want to be sure to make memorable photos of it.
When booking your cruise make sure that somewhere it says 'step foot on the continent' because some cruise ships don't allow passengers to leave the vessel!
Think of flying to Buenos Aries before connecting to Ushuaia. It might end up a cheaper and you can arrive a day or two earlier to explore Buenos Aries.
Buy a good travel insurance policy! Antarctica is so isolated and unpredictable that your travel policy should always include an emergency evacuation charge!
Read Our Antarctica Blog Posts