We'll show you how to enjoy the perfect Yokohama itinerary with this 3 days in Yokohama, Japan travel guide!
Located a short train ride away from Tokyo Station, this bustling metropolis is rising in popularity for tourists heading to Japan.
The nation's second-largest city has a plethora of activities to enjoy, which you can learn more about by reading our special 'things to do in Yokohama' blog post.
With so much to see and do, there's little wonder it has been seeing more and more foreign visitors in recent years.
While it doesn't have the appeal as some of Japan's other major tourist destinations, such as Kyoto and Osaka, there are still plenty of reasons to visit Yokohama.
The waterfront promenade known as Mirato Mirari 21 has been given a huge facelift, making it a wonderful place to spend the warm evenings.
A number of massive Japanese sports teams call Yokohama their home, making it a perfect spot to check out for the sport lovers that visit the country and want to see a football, rugby or baseball match.
In fact Yokohama was even the location of the 2019 Rugby World Cup final, that's how sporty it is here.
For food lovers, Yokohama has a great restaurant scene, and if you like to knock back a drink or two, the nightlife in Yokohama is fantastic around the infamous Noge Street.
So rather than just doing a Yokohama day trip from Tokyo, why not consider spending an entire 3 days in Yokohama instead?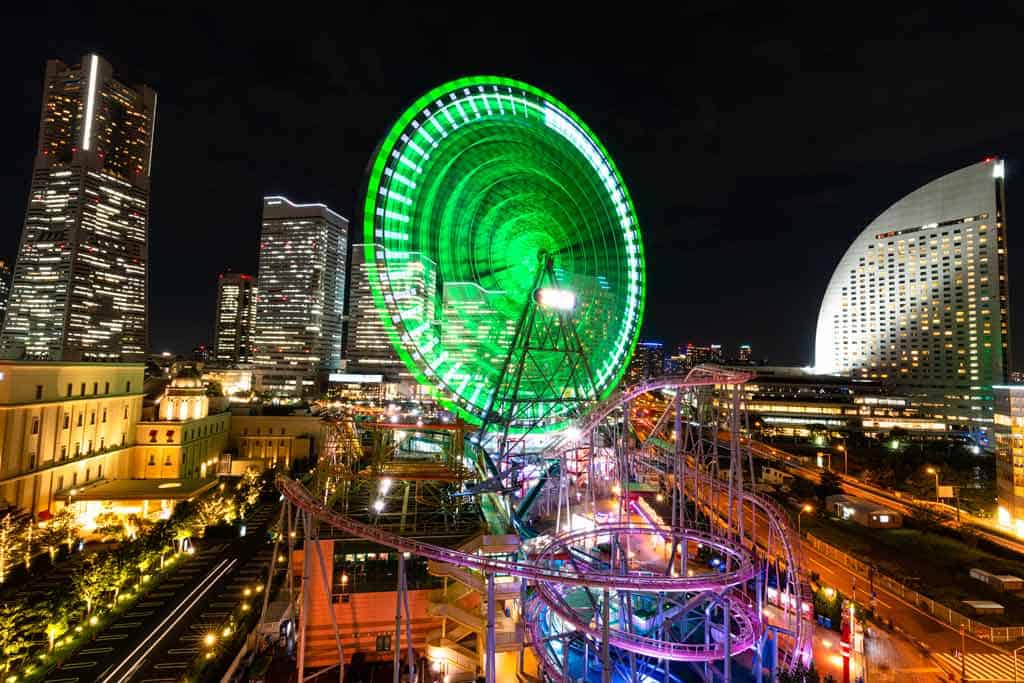 The Best 1, 2 or 3 Days in Yokohama Itinerary
We spent 3 days in the city in 2019, working with the local tourism board to determine the absolute best way to make the most of a Yokohama itinerary for first-time visitors.
At first glance, it can seem as though 3 days is a bit too much, but we quickly found out there weren't enough hours in the day to achieve everything there is to do.
We've put together this Yokohama itinerary to help you really enjoy your one, two or three days in the city.
Day 1 – Minato Mirai 21 Highlights
The first thing you need to do is make your way to Yokohama, and chances are you'll be doing this from Tokyo.
Jump on the Tokyu Railways line from Shibuya, and you'll be in Yokohama in around 30 minutes.
It's the fastest and most efficient way to get to the city.
Once you arrive, head to your hotel, drop your bags off, and then make your way back to Yokohama Station (if your hotel isn't already near there).
9am – Sushi Breakfast at the Fish Market
No trip to Japan would be complete without enjoying a fresh sushi breakfast, and the first place we're going to send you to in Yokohama will blow your mind.
Head out from Yokohama Station towards the Yokohama Central Fish Market, an easy 20-minute walk away.
The market isn't as busy or popular as the one in Tokyo, and the truth is except for the last Saturday of the month, the public can't even visit it.
But you're not heading there to see the fish. Instead, you're coming to eat some sushi!
The city's most famous sushi restaurant is located near the entrance to the market, and it's called Sushi Bar Sagamiya (click on the name for the Google Map location).
Starting from USD$15 you can get a delicious sushi breakfast prepared right there in front of you.
The chef is something of a legend in the city, and while he's usually too busy to accept walk-ins for lunch and dinner, at breakfast time you will likely have the chance to hang out directly with him.
We went for the premium 10-piece deal, and it was only USD$27. Can't be beaten!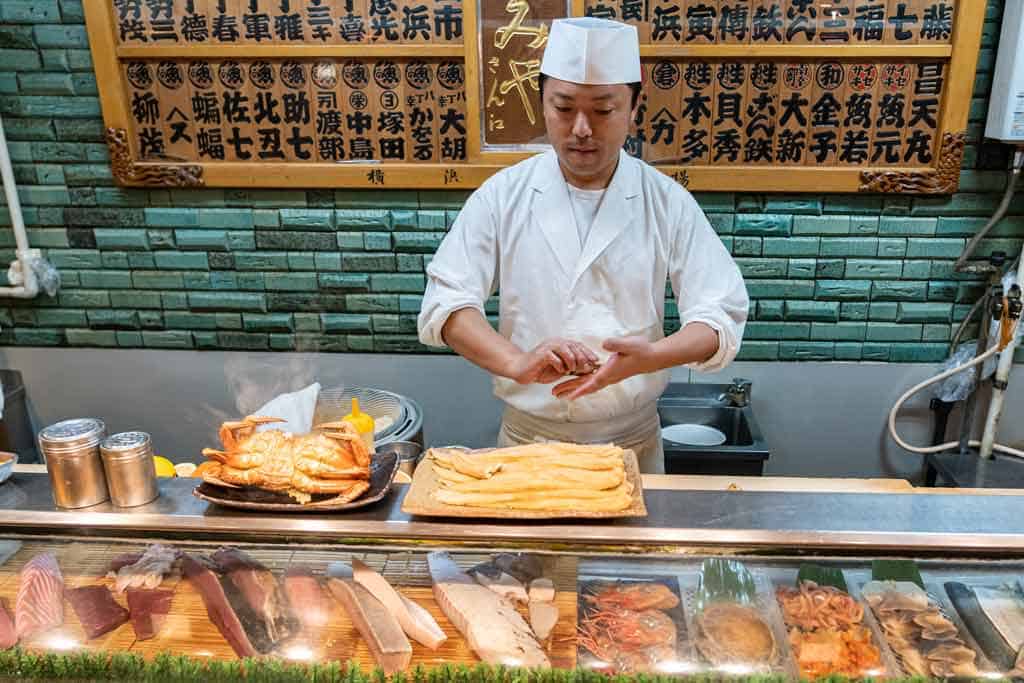 12pm – Wander Over to Minato Mirai 21
The first thing you should do on this 3 days in Yokohama itinerary is head to Minato Mirai 21, the futuristic promenade area right on the water.
This was actually built on reclaimed land, and it is now home to some of Yokohama's newest and best attractions.
You'll immediately notice the huge Ferris wheel, which is arguably the most photographed place in all of Yokohama.
For a really fun experience, take a ride on the Ferris wheel! It's only 800 Yen and has great views over Minato Mirai 21.
Or if you would prefer, wait until the evening so you can see everything lit up.
There are cool boardwalks and paths to wander around, a roller coaster you can ride on, and a few places to grab lunch.
2pm – CUP Noodles Museum
One of the most unique places to visit in Yokohama is the CUP Noodles Museum, located at one end of Minato Mirai 21.
This huge building houses information and interactive exhibits dedicated to the iconic CUP Noodles brand.
You might not instantly realise it, but CUP Noodles quite literally revolutionised the way billions of people around the world eat their meals.
The invention of instant noodles allowed people to cut down on their meal preparation time quite significantly, and it quickly became the go-to meal choice for people living a fast-paced life, particularly in Asia.
The museum is definitely quirky, but that's what makes it so fun to visit.
If you want you can even design your own CUP Noodle packaging to take home with you as a souvenir.
Full disclosure, we wouldn't rate this as a world-class museum, we just thought it was kind of hilarious, and are glad we popped in.
The Shin Yokohama Ramen Museum is another museum dedicated to noodles! If you're passionate about food and noodles, make the time to visit the Shin Yokohama Ramen Museum as well.
Address: 2-3-4 Shinko, Naka-ku, Yokohama
Hours: 10 am to 6 pm, closed on Tuesdays and holidays
Price: 500 Yen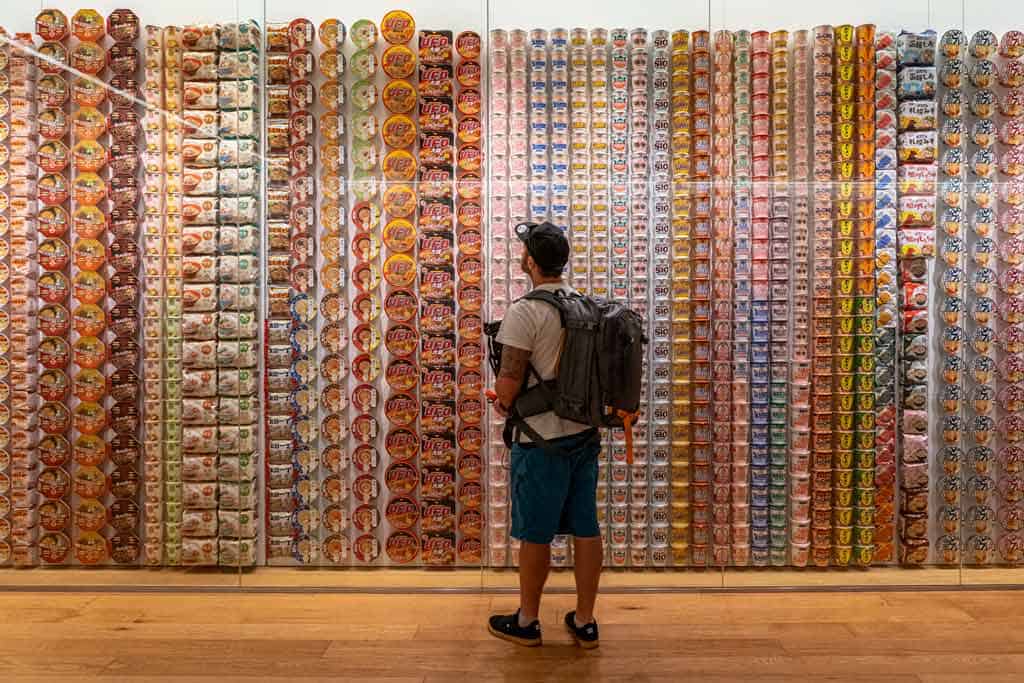 5pm – Head Up the Yokohama Landmark Tower for Sunset
About a 15-minute walk from the CUP Noodles Museum is the Yokohama Landmark Tower, offering the best views in Yokohama.
Boasting the highest observation deck in the city, jump in the elevator (the fastest in the country) to ascend the 69 storeys in just 40 seconds.
Once you get to the top you can wander around freely and enjoy the panoramic vistas, which just get better as the sun sets and the lights of the city turn on.
There's also a restaurant up here, which while slightly pricey, offers good quality food and drinks.
Address: 2-2-1 Minatomirai, Nishi-ku, Yokohama
Hours: 10am-9pm (10pm on Saturdays)
Price: 1000 Yen
READ MORE: Check out our complete guide to travelling in Japan!
7pm – Head to an Izakaya for Dinner
By now you would have worked up quite an appetite, and it's time to find somewhere to eat.
Being Japan, there are countless options for delicious restaurants, so you can choose whatever appeals to you.
We recommend you check out an izakaya, which is a traditional and casual Japanese pub.
Here you'll find all kinds of great local dishes, and ice cold draft beer to wash it down with.
You'll find quite a few izakayas close to the Sakuragichō Station and Yokohama Station.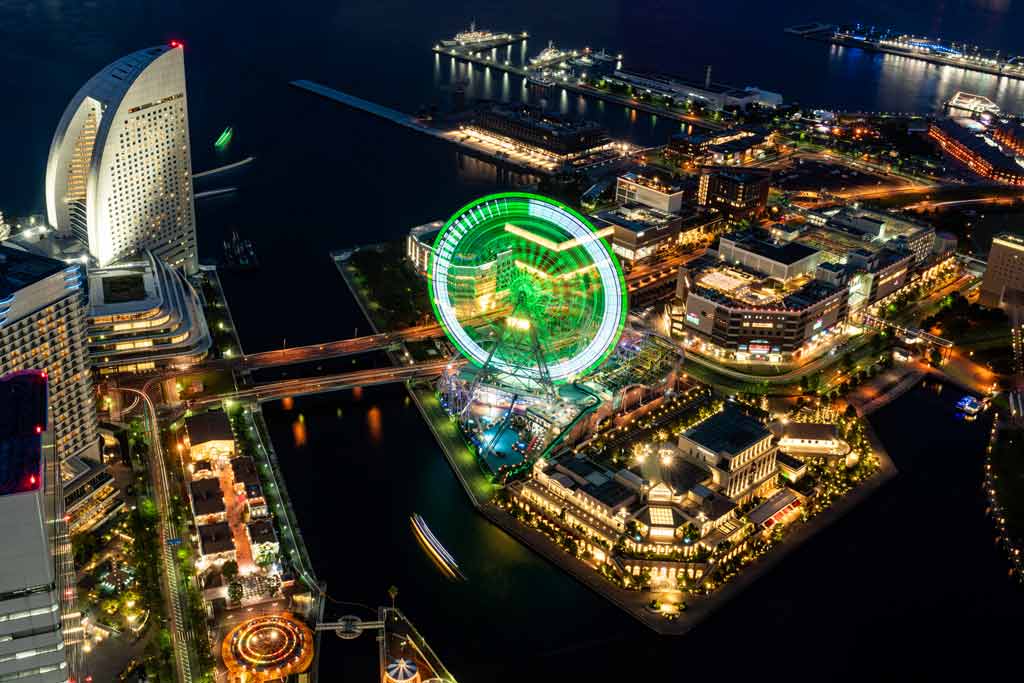 Day 2 – Yokohama Chinatown and Hipster Vibes
Today is going to be another fun day as part of our 3-day Yokohama itinerary, and you'll have the chance to visit one of the places the city is most famous for.
No need for an early start today, as you probably had a few too many draft beers at the izakaya, right?
Instead have a bit of a sleep in, then get ready for exploring Chinatown, Yamashita Park, and more.
9 am – Head to Yokohama Chinatown for Breakfast
Jump on the train and make your way to Yokohama Chinatown, the largest one in Japan, and a perfect place for breakfast.
We ate at Masan no Mise Ryusen, which does a fantastic Chinese congee, a type of rice pudding, and dumplings.
There are literally dozens of places to get breakfast though, so choose anywhere that looks appealing.
The cool thing about being in Yokohama Chinatown this early in the morning is that it is practically empty.
In the evenings it is absolutely buzzing with people and lights, which you'll get to see tonight, so make the most of the temples and alleyways without the crowds.
Address: 218-5 Yamashitacho, Naka Ward, Yokohama
Tip: Don't get the shark fin soup, it's unethical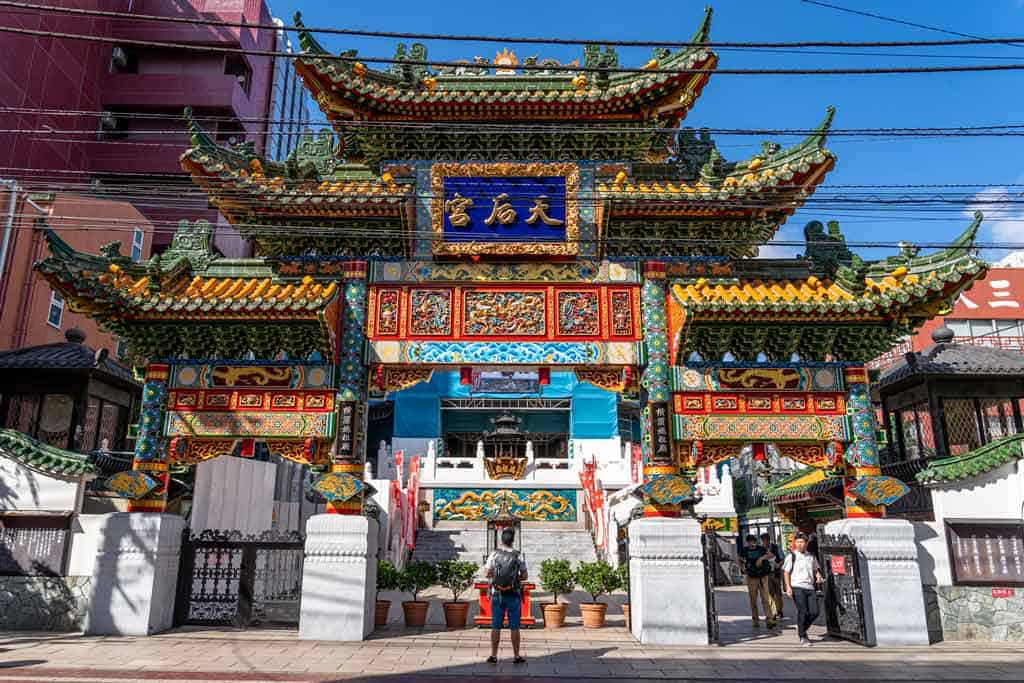 10:30 am – Wander Around Yamashita Park
A short walk from Chinatown is Yamashita Park, which is a pleasant place to go for a stroll and burn off breakfast.
With lots of green space, some pretty flowerbeds and waterfront pathways, you'll find lots of locals out enjoying Yamashita Park in their own way.
One common activity here is Tai Chi, the slow Chinese-style martial arts that help calm the body and keeps people moving well into their older years.
The people here don't mind if you join in as well, so jump on the end and mimic the leader.
Once you've finished Tai Chi-ing your way around Yamashita Park, make your back towards Minato Mirai 21 and the iconic Red Brick Warehouse.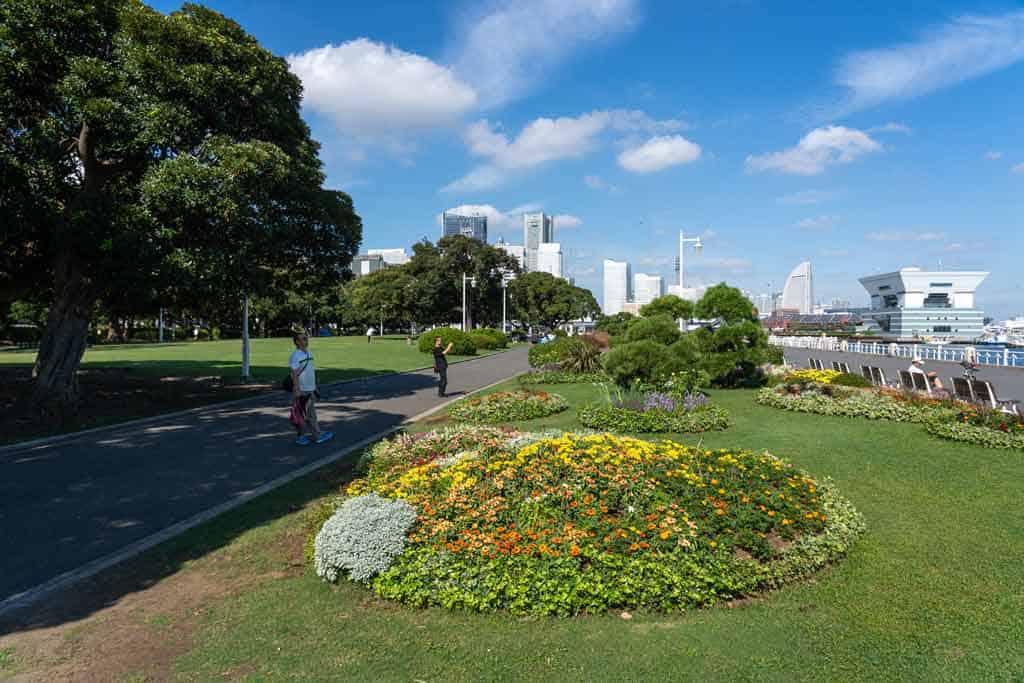 12 pm – Red Brick Warehouse
Known as Yokohama's hipster hot spot, the Red Brick Warehouse is the old Customs Inspection House from the 1920s that used to document goods coming and going through the port.
In recent years though the huge warehouses have been renovated to house some of the city's funkiest restaurants, art galleries, souvenir stores and bars.
It's the kind of place families come to hang out, couples go on dates, and people sink a few craft beers as the sun drops down beneath the horizon.
Walk around the warehouses and find a restaurant that looks good for lunch.
There's no shortage of options here on our Yokohama itinerary.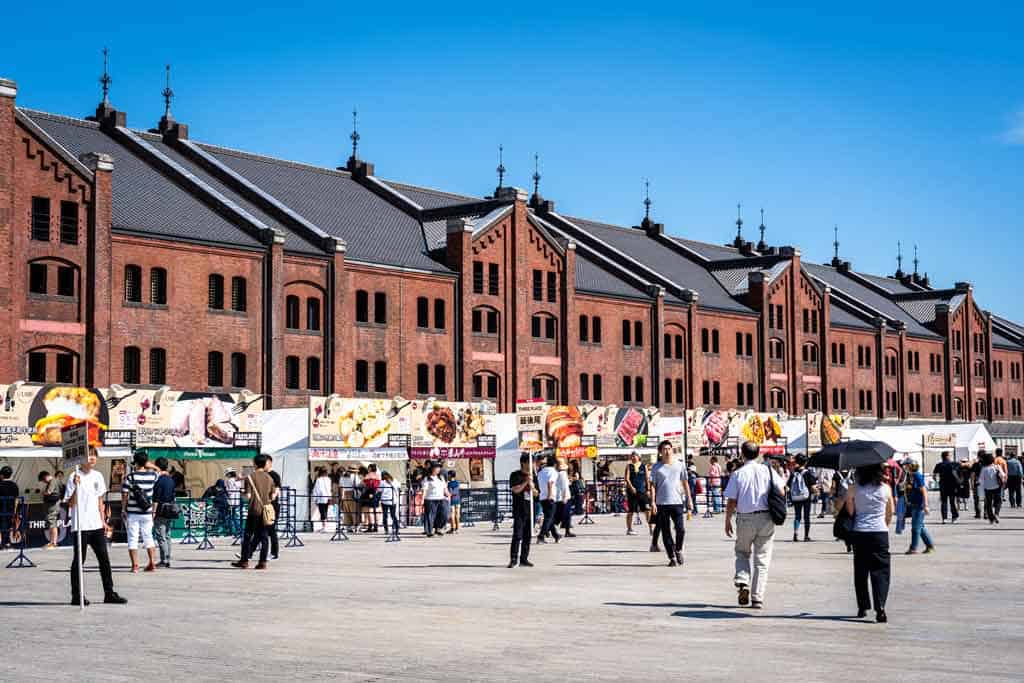 2 pm – Visit the Nissan Gallery
Now that you have a full stomach again, head down to the Sea Bass Pier at the Red Brick Warehouse and buy a ticket to Yokohama Station.
Not only do you get to give your legs a break, you also have a wonderful view of Yokohama from the water as you make your way back downtown.
Once you get to Yokohama Station wander over to the Nissan Headquarters to check out their collection of amazing cars.
No, you're not going into the office to get a selfie with the CEO. Instead, hang out on the bottom floor where they have a wonderful Nissan Gallery.
Here you'll find a range of their most popular vehicles, from the brand new electric vehicles Nissan are making, right back to some of the original cars they made back in the early 20th century.
If you are a car lover you'll find this place amazing, but even if not it's cool to see the older vehicles.
If you really want to, you can even schedule yourself in for a test drive of one of their new electric cars. Just make sure you bring your International Drivers Permit with you.
Address: 1 Chome-1-1 Takashima, Nishi Ward, Yokohama
Hours: 10am – 8pm daily
Price: Free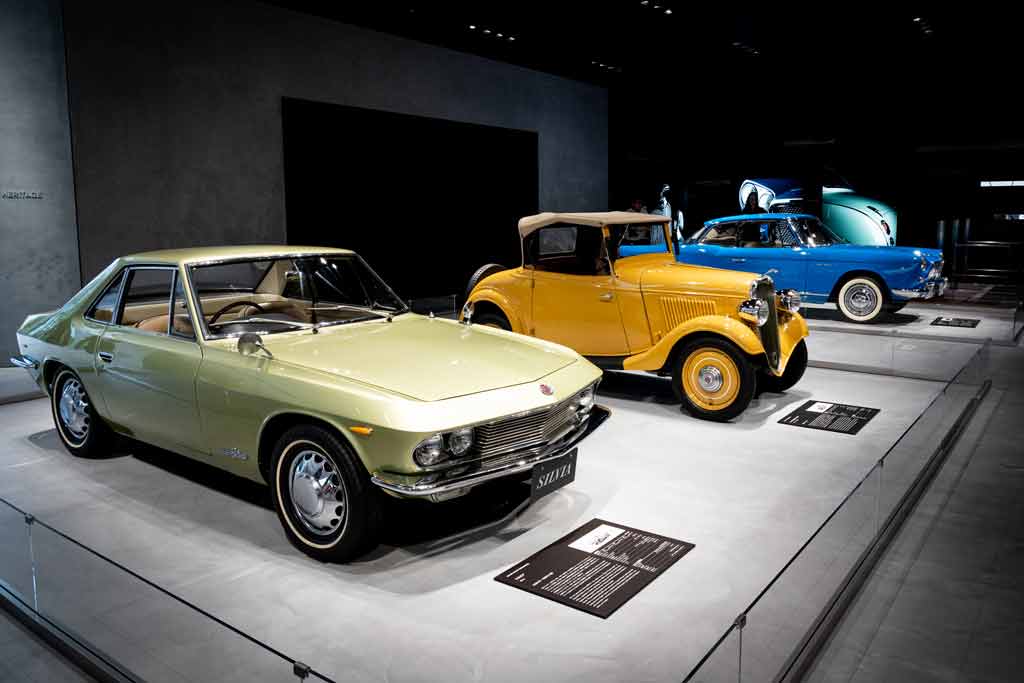 3 pm – Yokohama Museum of Art
About a 15-minute walk from the Nissan Gallery and located right next to the Landmark Tower is the Yokohama Museum of Art.
This gorgeous gallery has a huge collection of contemporary art, including pieces from Salvador Dali and Paul Cezanne, and is a great place to spend a few hours.
Wander through the halls admiring the fascinating artwork from international and Japanese artists.
It's known for putting on unique exhibits as well, such as the recent dedication to the Gothic subculture.
Address: 3-4-1, Minatomirai, Nishi-ku, Yokohama
Hours: 10am – 6pm, closed Thursdays
Price: 500 Yen for adults (fees vary depending on exhibitions)
READ MORE: Don't miss our list of all the best tourist destinations in Japan!
6 pm – Yokohama Chinatown for Dinner
Still feeling full from breakfast and lunch? Well that's too bad because it's time to head back to Yokohama Chinatown and stuff your face again!
Jump back on the train and get off in Chinatown, and you'll immediately notice a difference from the morning when you were here!
The streets are now jammed with people, the lights are mesmerising and there's a distinct uplifting atmosphere about the place.
Spend a bit of time walking around, getting lost in the alleyways, and trying to figure out what you want to eat,
You have two options here. Either snack your way on all the delicious street food around the area, or pick a busy restaurant, grab a seat with the masses, and get tucked into tasty Chinese cuisine with a Japanese flair.
When you're finished make your way back to the hotel and get some sleep.
BONUS TIP: The Tokyu Railway Company have a deal where you can purchase an unlimited day pass for their transport, and get vouchers for meals at certain restaurants in Yokohama Chinatown. Check it out here.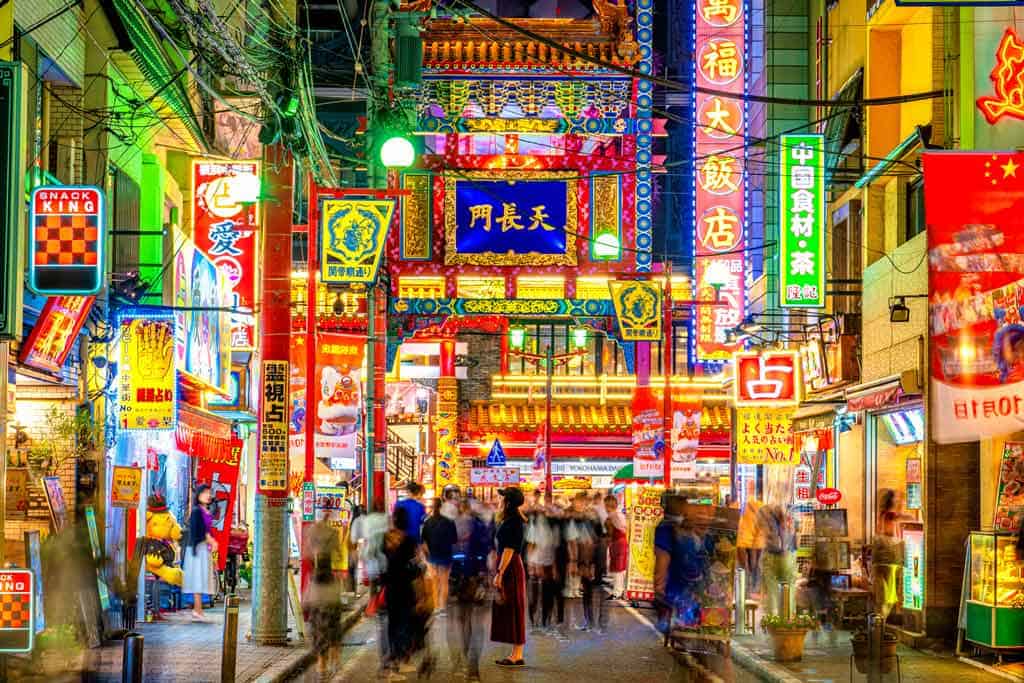 Day 3 – Relax and Rejuvenate
It's been a busy 2 days in Yokohama so far, so we're going to take it down a notch and treat our bodies to a physical and mental break.
Not that you'll be sitting around all day, of course not. It's still a jam-packed Yokohama itinerary after all!
What we mean though is you're going to have the chance to really treat yourself with some great activities.
8 am – Yoga
If you're anything like us, you tend to neglect real exercise and stretching when you're on the road.
The days are long, the nights are loud, and your schedule is usually so busy you can barely get a few minutes to catch your breath, let alone stretch your body out.
Luckily in Yokohama there's a great little yoga studio that is perfect to start the day the right way.
Known as Active Style Club, it can be found close to the Yokohama baseball stadium and offers pilates and yoga most days.
They are happy to accept drop-ins, or if you are in town for more than 3 days they have good unlimited packages for a week at a time.
Head on down and practice your downward dog, feeling refreshed for the rest of your last day in town.
They have hatha, vinyasa, and deep relaxation yoga classes.
Address: 34 Nihon Odori Naka-ku, Yokohama
9:30 am – Ramen for Breakfast
Now that you've mastered the art of zen with some yoga, it's time for everybody's favourite Japanese meal – ramen!
While normally reserved for a late-night dish after a few too many sakes, we believe ramen can be enjoyed at any time of day.
Right by the Sakuragicho Station is Ichiran Yokohama Nishiguchi, a bit of a legendary establishment in the city, and a great spot to stop in for some pork noodle soup.
You order at the ticket booth when you first walk in, customise it as much as you like (spiciness, garlic, etc) and then take your place at one of the individual booths.
The waiter will serve up your soup, followed by your noodles, and then you can get tucked into the delicious broth.
If you feel like you need more noodles you can easily order these from right there at your booth.
Address: 1 Chome-4-6 Hanasakicho, Naka Ward, Yokohama
Hours: Open 24/7
Price: Around 1000-1500 Yen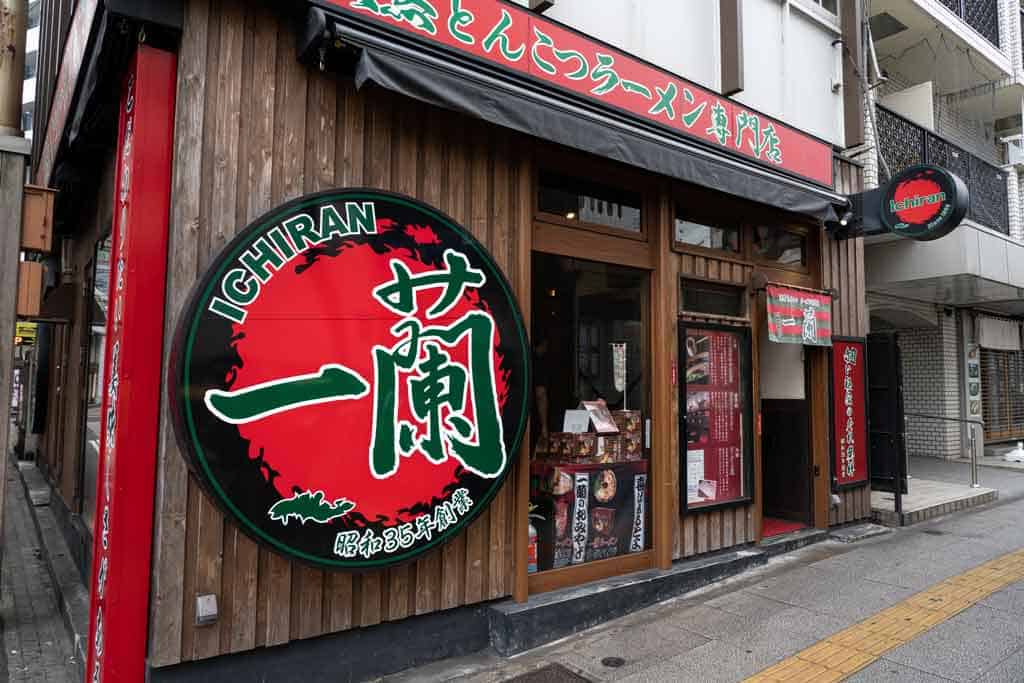 10:30 am – Sankeien Garden
Walk on over to the Sakuragicho Station, but this time you're going to take a bus, not a train, to get to one of the most beautiful places to visit in all of Yokohama, the Sankeien Garden.
Take bus number 106 from outside the station to Sankeien-iriguchi (the price is 220 Yen), which should take about 30 minutes.
Once you get off the bus it's only a few minutes to the entry of Sankeien Garden.
This spacious and picturesque garden is the nicest in the city, and is a wonderful place to spend a few hours wandering around.
You'll find some lovely exhibits dedicated to historic Japanese buildings, and plenty of quiet spots to simply sit and relax in Sankeien Garden.
Don't miss out on the 3-storey pagoda of Kyoto's ancient Tomyoji Temple, a highlight of Sankeien Garden.
Address: 58 Honmokusannotani, Naka Ward, Yokohama
Hours: 9:00 to 17:00
Price: 700 Yen
1 pm – Lunch in Town
Once you're finished exploring the Sankeien Garden you can jump back on the bus and make your way downtown again.
You'll find plenty of places to eat around Sakuragicho Station, so pick somewhere appealing and enjoy a meal.
If you haven't tried any yet, we recommend giving okonomiyaki a taste, which is a Japanese savoury pancake cooked right at your table on a hot plate.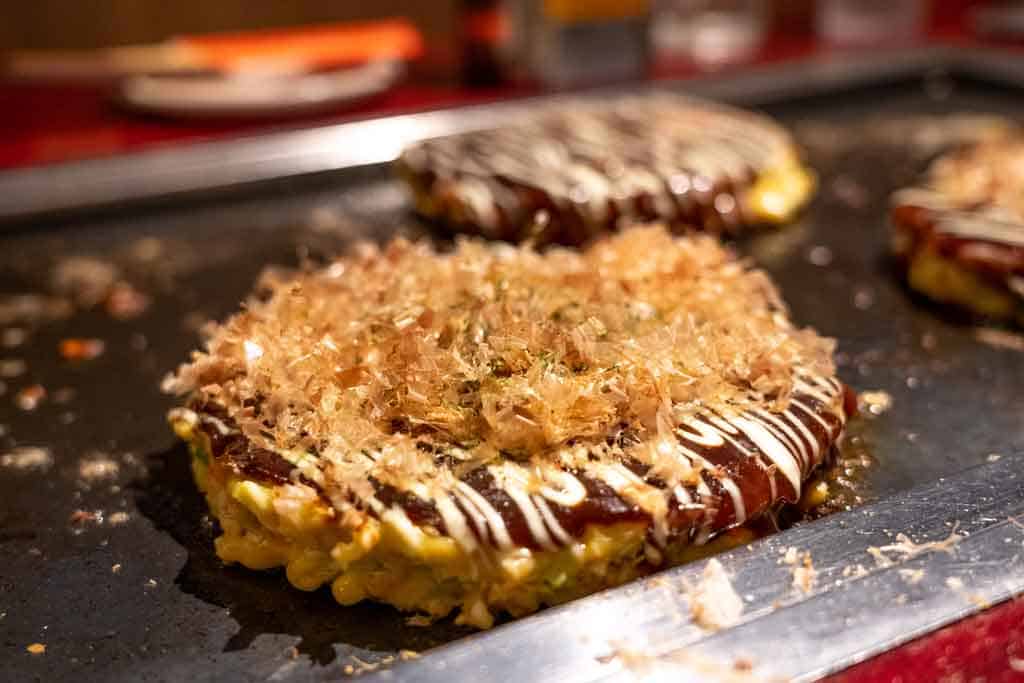 3 pm – Go to an Onsen
After the yoga and gardens, you're probably feeling quite tranquil, which is perfect because you're going to continue the positive vibes by visiting an onsen!
These famous Japanese hot springs can be found all over the country, and in Yokohama, there's a whole selection of fantastic ones to enjoy.
Seeing as you're right downtown, walk on over to Minato Mirai 21 and find the Manyo Club, the nicest onsen in Yokohama.
They have a bunch of different baths to enjoy, including a hydrogen bath, and it's a magnificent place in Yokohama to kick back and soak your body for a while.
There's also a restaurant on-site in case you feel a bit peckish after the baths, or feel like a beer.
Address: 2-7-1, Shinko, Naka-ku, Yokohama
Hours: 24/7
Price: 2500 Yen
6pm – Noge Street for Dinner and Drinks
You've now made it to the end of our 3 days in Yokohama itinerary, and you've earned yourself a night on the town!
Yokohama is actually famous for its nightlight, and the location where it all happens is Noge Street, located on the west side of Sakuragicho Station.
You'll find dozens of high-end restaurants, fun izakayas, karaoke bars, and our personal favourite, all-you-can-drink sake bars to help kick off the night.
If you're travelling in the spring or autumn you'll also be treated to the famous Noge Street Performances, where jugglers and pantomimes hit the streets to entertain the (drunken) masses.
An absolutely perfect way to finish off your time in Yokohama.
Yokohama Travel Guide
Well there you have it – the perfect itinerary to spend 1, 2 or 3 days in Yokohama!
With this, you will have seen most of the main highlights of the city, and will get to see a place in Japan few people really explore beyond a day trip.
But now you need to know a bit more about Yokohama, such as where to stay and when to visit.
That's why we've put together this mini Yokohama travel guide to help you with your plans!
When to Visit Yokohama
The best time to visit Yokohama is in the Spring when the cherry blossoms are in bloom. Fall is also nice because the leaves are changing colour.
Outside of these times, Yokohama is either bitterly cold and snowy or extremely hot and humid.
The cherry blossoms start to bloom around early April, and in our opinion is the best time to come to the city.
Places like Mitsuike Park, which is known as one of Japan's 100 best places to see the cherry blossoms, and Sankeien Garden are covered in the stunning flowers, creating a beautiful scene.
Around October and November, the leaves start to change colour and shine in vibrant displays of yellows, oranges, reds and purples.
Yokohama can be visited at any time of year, but if your schedule allows for it, choose either of those two seasons.
Getting Around Yokohama
Yokohama has a very good train system, with regular connections to Tokyo leaving every few minutes.
The Tokyu Railways line has perhaps the best access to places around Yokohama.
Taxis are plentiful but quite expensive, with fares starting at around 720 JPY as soon as you jump in.
There's also a ferry that can get you to quite a few of the main tourist attractions, such as near the Red Brick Warehouse, Minato Mirai 21 and near the Nissan Headquarters.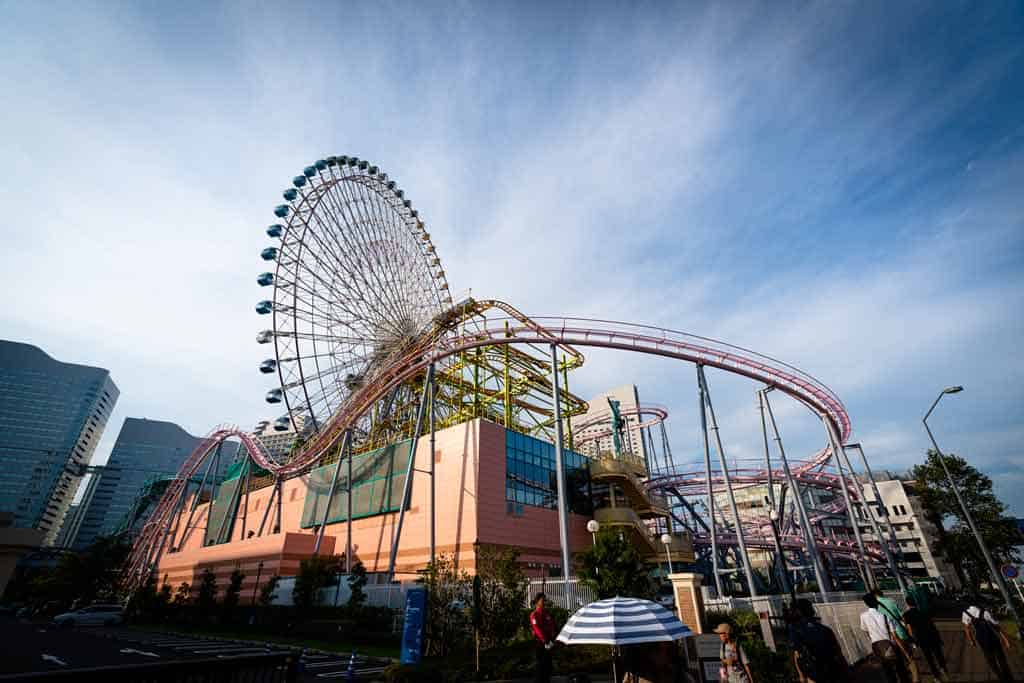 Where to Stay in Yokohama
There are a few different areas you can stay in Yokohama, and it depends on your budget and travel style.
Personally we recommend staying around Minato Mirai 21 area, as you'll be right in the centre of all the action. There are some great Yokohama hotels for travelers of all budgets.
The Best Hostel in Yokohama – Yokohama Central Hostel
Located right next to the JR Kannai Station, with easy access to Chinatown, Mirato Mirai and Noge Street, the Yokohama Central Hostel is the perfect choice for backpackers.
Each room has air conditioning, free fast wifi and charging facilities, and the property itself is clean and sociable.
There's a basic kitchen for guests to use, and a nice lounge to meet other travellers in.
There aren't a lot of great hostels in Yokohama, but out of all of them, Yokohama Central Hostel gets the best reviews.
Best Mid-Range Hotel – Hotel Edit Yokohama
Named one of Yokohama's most popular hotels by Agoda in 2017, the Hotel Edit Yokohama is located very close to the JR Kannai line, a short walk from Minato Mirai 21, and is a fantastic place to stay if you don't want to break the bank.
Rooms are tastefully decorated and surprisingly spacious for this price range.
Each room has LCD televisions, a small sitting area, modern and clean facilities and all the amenities you would need for a comfortable stay.
With free wifi and friendly staff, it's a great mid-range choice in Yokohama.
Best Hotel for Couples – Yokohama Bay Hotel Tokyu
Another great option if you're travelling with your partner and want something elegant is the Yokohama Bay Hotel Tokyu.
This modern hotel has 485 rooms and is located right by Minato Mirai 21.
The rooms are massive with lovely views over Yokohama Bay, and have all the amenities you would ever want.
Best Luxury Hotel – Yokohama Bay Sheraton
For when you need the absolute best place to rest your head at night in town, you can't go past the Yokohama Bay Sheraton Hotel and Towers.
As to be expected in a Sheraton Hotel, no expense has been spared in the design and luxury of the accommodation.
With a fantastic location overlooking the Yokohama Bay, and just steps from Yokohama Station, you are right in the heart of it all.
The rooms are simply incredible, and even the cheapest rooms are some of the best out of all the Yokohama hotels.
Disclaimer – We visited Japan as part of a marketing campaign with the tourism board to promote emerging destinations in the country. All thoughts, opinions and bottles of sake consumed are, as always, our own.