Back at the end of 2013 we started NOMADasaurus as a simple travel blog to document our adventures around the world. As time has passed this website has grown and developed into something a whole lot more. It's not just us, Alesha and Jarryd, keeping things rolling anymore. We've expanded to have a wonderful team behind us, creating content, exploring new destinations and bringing the best in adventure travel to the world!
Meet the NOMADasaurus team!
Alesha Bradford
Founder & Photographer
With an insatiable appetite for adventure, happiness, prosperity and hilarity, Alesha is someone who has never accepted the unremarkable to be a part of her life.
Raised on a farm in a small outback town in Western Australia (when we say small, imagine 200 people and her closest neighbour being 10km away) Lesh quickly grew wanderlust for the bigger world and left home at the age of 20 to explore her home country and its neighbour, New Zealand.
When farther flung places called her name, she leapt over the ocean to the US and Canada where she worked and partied her way across the continent. With more than a handful of countries already under her belt, she stares out into the distance and constantly dreams about what is on the other side of the horizon. She's grown tired of just wondering and now is taking the next step to discover for herself what is out there.
Bringing a dose of sensibility to the partnership, Lesh adds direction and purpose to the adventure and is the humble photographer behind the majority of the wonderful images seen on NOMADasaurus. She is also the harmonica player, despite not knowing how to play the harmonica.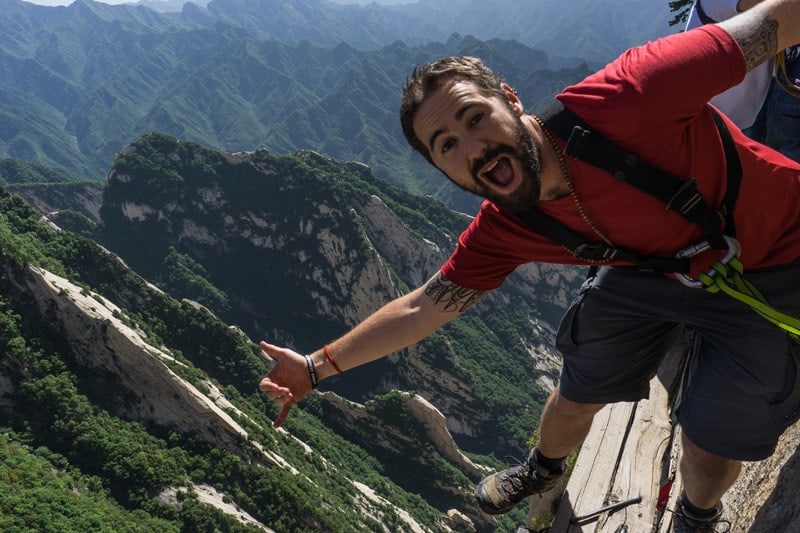 Jarryd Salem
Founder & Editor
Explorer and anthropologist. Writer and teacher. Musician and artist. Philosopher and travel guide.
These are all professions that Jazza has very little skills and attributes in, but that doesn't stop him from trying.
Born in Sydney, Australia, Jazza was bitten hard by the travel bug early on in his life and at the age of 20 left his home to be a ski bum in Canada. 8 years later, he still wants to be a ski bum, but has instead substituted that life for one of discovering new, exciting places all over the world.
With an all-encompassing passion for snow, mountain and water sports, and a love of travel and adventure, he endeavours to bring his enthusiasm for life to the far corners of the globe and inspire others to do the same.
Jazza is the chief author of the stories and writings found on NOMADasaurus. His writing skills peaked at the ripe old age of 12, when he was awarded the coveted "Letter of the Month" in an Australian surfing magazine, and as a result won a custom made surfboard. He has continued to write to this day, still hoping that someone will give him another surfboard for his ramblings. So far this has been unsuccessful.
Jane Mountain
Writer
Jane chose her career as a freelance writer and editor so she would never have to stop travelling. She wants to live in a world where artisanal dark chocolate is always at hand and everybody lives their wildest adventures. With that in mind, she left behind her corporate cubicle in 2013 to ride her bike (almost) around the world. After 2 years, 16,000 km and 22 countries, she'd had enough of punctured tires but not of travel.
She also documents her incredible adventures on her own blog My Five Acres.
Angel M.
Web Guru
I'm passionate about web development and SEO, and for the past six years they have been my bread and butter. I had a small, local IT company that transpired into a full-time online engagement. I love hiking and camping and spend my leisure time rummaging for the arrows I sent way off target while practicing archery. My city is Varna, Bulgaria and as soon as the Spring blossoms we cast ourselves away to some remote beach (that has 4G coverage 🙂 ).
While being part of the Nomadasaurus team is a natural thrill that comes with the shared love for exploration and the spirit of freedom, the amazing content integrated with the brand doesn't hurt either.
Seann McAuliffe
Writer
Originally I'm from Brisbane, Australia and at the moment I've just returned home from a 16 month traveling adventure. I'm already planning the next trip away. Last year I was 3 years into my career as a Project Engineer when I decided that it was the perfect time to go exploring the world, before commitments began piling up. The plan is to see as many countries as possible and go exploring for the places that haven't made it onto the tourist radar yet. All of this while getting better at my photography hobby.
Check out more on my blog.
Steph Dyson
Writer
Steph Dyson is a travel writer and educational volunteer who writes about adventurous travel and meaningful volunteering as she believes them to be life-changing but accessible ways of exploring the world.
Currently based in Santiago, Chile, she's spent almost two years travelling, volunteering, and living in several South American countries and is still not ready to go home yet. A cheese addict and Bolivian television personality (well, almost), she's a lover of the great outdoors and never says no to an adventure.
You can check out her tips for travelling and volunteering in South America on her website, Worldly Adventurer.