From surfing to robots to checking out an infamous red-light district, here is our list of awesome things to do in Fukuoka.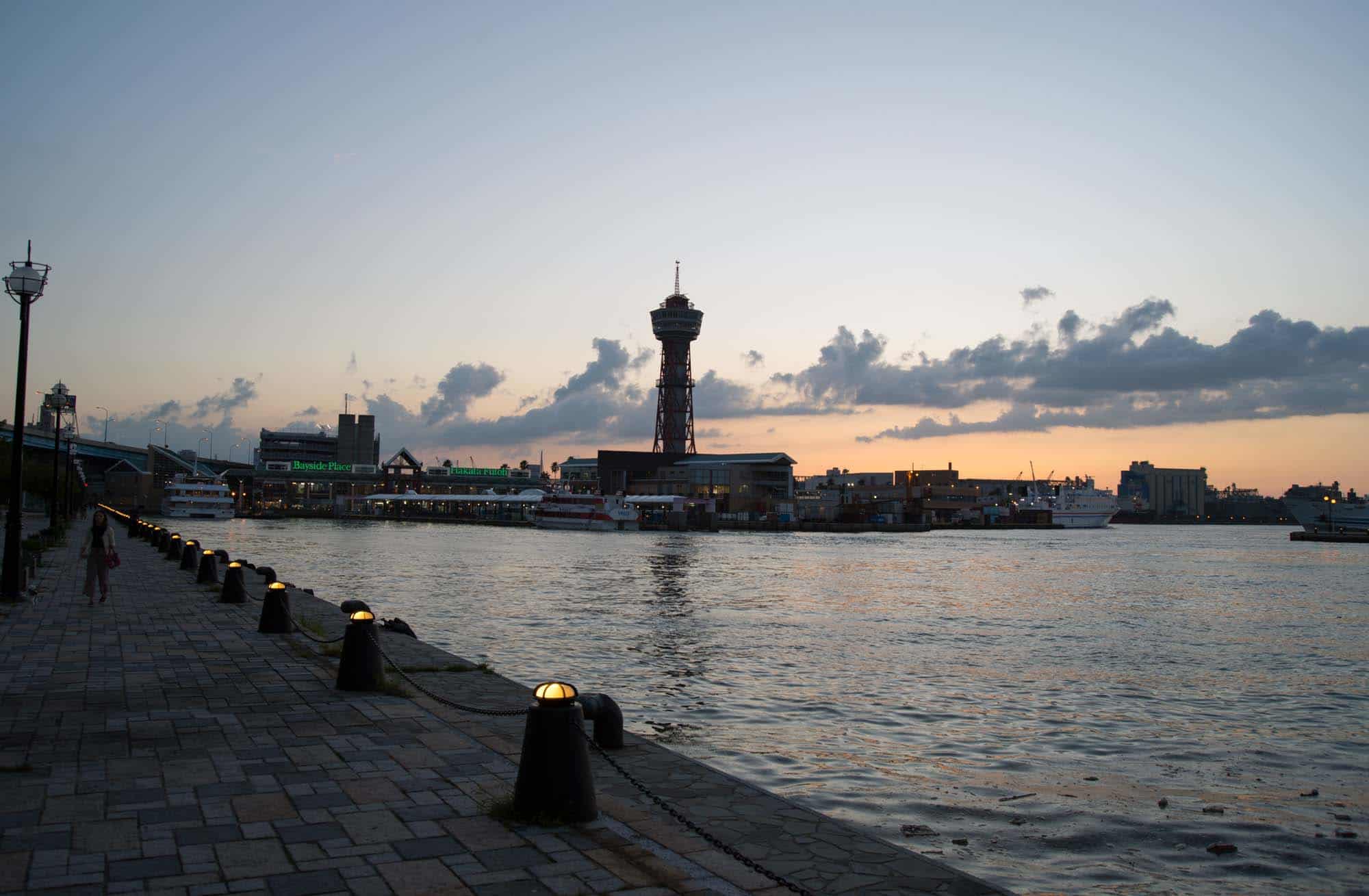 Fukuoka is a city and port, located right in the north of Kyushu island and incorporates the former city of Hakata.
The modern city of Fukuoka was formed in 1889, merging the former cities of Hakata and Fukuoka after the Boshin War of 1868.
Historically, Hakata Bay was the port and merchant district, known for the area's culture and is still today the main commercial area.
Fukuoka, on the other hand, was home to many samurai.
A meeting was held when the cities decided to merge to agree on a new name for the city.
While Hakata was initially chosen, a group of samurai crashed the meeting and forced those present to choose Fukuoka as its name.
This is why Hakata is still used to refer to the Hakata Bay area of the city and the name of the city's main train station is called Hakata Station.
Today, it is Japan's sixth-largest city with 1.5 million residents and is filled with temples, shrines, castle ruins, beaches, islands, shopping and festivals.
This means of course that there is an awesome list of things to do in Fukuoka.
READ MORE: Check out our list of the best places to visit in Japan!
The Best Things to Do in Fukuoka
The Fukuoka Prefecture is popularly known for two things: its food and its red-light district.
A little odd, right?
A city right on the bay with a booming nightlife, Fukuoka is visited by over 2 million foreigners annually.
While a red-light district may seem like the biggest draw, it isn't.
Compared to some other famous districts around the world, Fukuoka's is fairly subtle and tame and filled with other non-sex related nightlife options.
There are of course plenty of other Fukuoka activities in the water or on land for anyone to enjoy.
Here is our list of awesome things to do in Fukuoka.
READ MORE: Don't miss our ultimate 'travel to Japan' guide!
1) Visit the Red Light District
One of the best things to do in Fukuoka is to stroll through Nakasu in the evening and take in the fun vibe and neon lights reflecting off the canal.
Nakasu is one of the largest red-light districts in all of Japan and is situated between the Naka River and Hakata River.
The area is home to many restaurants, hostess bars, pink salons and other adult places.
Activities in Nakasu are not as overtly advertised as you'd expect so it's completely possible to walk through the area without much notice to any of it.
Come in the earlier evening and sample some Japanese treats from the food stalls.
Due to how infamous the Red Light District is, it's definitely one of the places to visit in Fukuoka.
2) Catch Some Waves
For some fun in the sun and sea, grab a surfboard and enjoy one of the best water activities in Fukuoka, Japan.
With a coastline facing the Genkai Sea, Fukuoka picks up northerly swells coming out of the Sea of Japan.
You'll find warm water and low crowds here compared to the further north.
Fukuoka's waves are ideal for beginner-intermediates but can still offer fun for more experienced surfers.
The waves tend to be better between high and low tides and the key is to to keep an eye on weather reports to find a good time to go.
Check out our ultimate destination guide all about travel to Japan!
3) Play Arcade Games
While there may not be tonnes of epic adventurous activities in Fukuoka, that doesn't mean you can't have some easy, child-like fun.
Since most of us are just big kids in adult bodies anyway, head to an arcade and play some Japanese arcade games.
Head to Taito Station or Namco where you'll find endless hours of entertainment in some very familiar games like Super Mario, Space Invaders and skill tester machines.
The arcades are pretty excessive compared to anything we've seen back and honestly just make for some cool photo opportunities.
There are also some great prizes up for grabs but be careful not to completely blow your budget here!
READ MORE: Don't come to Japan without checking out the best things to do in Tokyo!
4) Find Tranquility at Yusentei Park
One of the top Fukuoka attractions to visit is Yusentei Park, the first Japanese Garden in the area to be centred on a lake.
It was built in 1754 as a second home for the 6th lord of Fukuoka and in 1998, was designated as having significant value by Fukuoka.
The park is appreciated by locals and visitors who appreciate the tranquil beauty of Japan.
Head to the main building where you will find tea rooms offering Matcha tea sets to enjoy in the garden.
Address: 1-46 Yusentei, Jonan Ward
Opening hours: every day from 9 AM – 5 PM (Closed on Mondays)
Price: Free of charge
5) Sample Tonkotsu Ramen All Around the City
The top of the list of what to do in Fukuoka is trying the delicious dish that the city is famous for.
Tonkotsu ramen (or Hakata ramen as locals call it) originates from Fukuoka so there really is no better place to enjoy it than right here!
The soup base for Hakata ramen is made from pork bones simmered for hours and hours until the soup comes out thick and creamy.
Typically, the noodles are topped with strips of pork belly, egg and spring onion.
Most ramen places give you the option of adding on other toppings like bamboo shoots or mushrooms and even let you choose your saltiness level and the firmness of the noodles.
The most popular Hakata ramen chains originating from Fukuoka are Ichiran and Ippudo which you'll find scattered around the country.
We recommend finding some small local Hakata ramen restaurants to try instead.
6) Head Straight To The Ramen Stadium
Don't want to shop around for your ramen? Zero problems.
Head over to the Canal City Mall where you'll find the Ramen Stadium with around 8 different ramen restaurants to choose from.
While it may be called a stadium, the area is more or less a ramen food court so don't come expecting an actual stadium.
If you've got the appetite for it, try sampling ramen from each venue to compare!
Address: 1 Chome-2 Sumiyoshi, Hakata Ward (inside the Canal City Mall)
Opening hours: every day from 11 AM – 11 PM
7) Go to a Sumo Match
One of the top things to do in Fukuoka in November is to get yourself into a sumo wrestling match.
The Fukuoka Kokusai Center hosts the annual Fukuoka Sumo Tournament over two weeks.
Tickets go in sale in early October and usually sell out quickly so make sure you plan ahead.
On the day of each match, you can queue up early to try and get one of the cheaper limited tickets available but don't bank on this.
During the tournament, you'll see sumo wrestlers wandering the streets in their downtime and apparently many of them are spotted in the city's local bathhouses.
The arena isn't very big so you don't need to pick the most expensive seats for a good view.
8) Watch Sunset From Fukuoka Tower
Located near the beach in Seaside Momochi, the Fukuoka Tower was built for the 1989 Asia-Pacific Exhibition.
The Fukuoka Tower stands at 234 metres tall and is the tallest seaside tower in Japan.
The observation deck is located at 123 metres and has a stunning 360-degree view of the city center.
The best time to visit the massive Fukuoka Tower is in the late afternoon to get a good spot to watch the sun go down.
Address: 2 Chome-3-26 Momochihama, Sawara Ward
Opening hours: 9:30 AM – 10 PM
Price: 800 yen
9) Or Get Free Views From JR Hakata City
If the tower doesn't interest you but you're after some nice views over the city, head up to the building that houses Hakata Station.
The station is only a 5-minute train ride away from the airport and chances are you'll be passing through at least once.
JR Hakata City has a rooftop with an urban garden offering panoramic views of Fukuoka as well as a shrine dedicated to trains.
Address: 〒812-0012 1-1, Hakataekichuogai, Hakata-ku, Fukuoka-shi
Opening hours: every day from 10 AM – 11 PM
Price: Free of charge
READ MORE: Here's our comprehensive list of the top things to do in Japan!
10) Sing Your Heart Out
One of the best activities in Fukuoka is one in which you get to be the star!
If you've never been to karaoke before, you're missing out on what of the best things in life.
Karaoke is a big part of the Japanese culture and you'll find different venues all around the country.
Karaoke in Japan isn't in a public setting though.
Instead, you hire a private room for you and your friends to sing your hearts out without embarrassing yourself in front of a group of strangers.
Many karaoke venues also offer nomihodai which is an all-you-can-drink package that works out to be good value if you're a big drinker.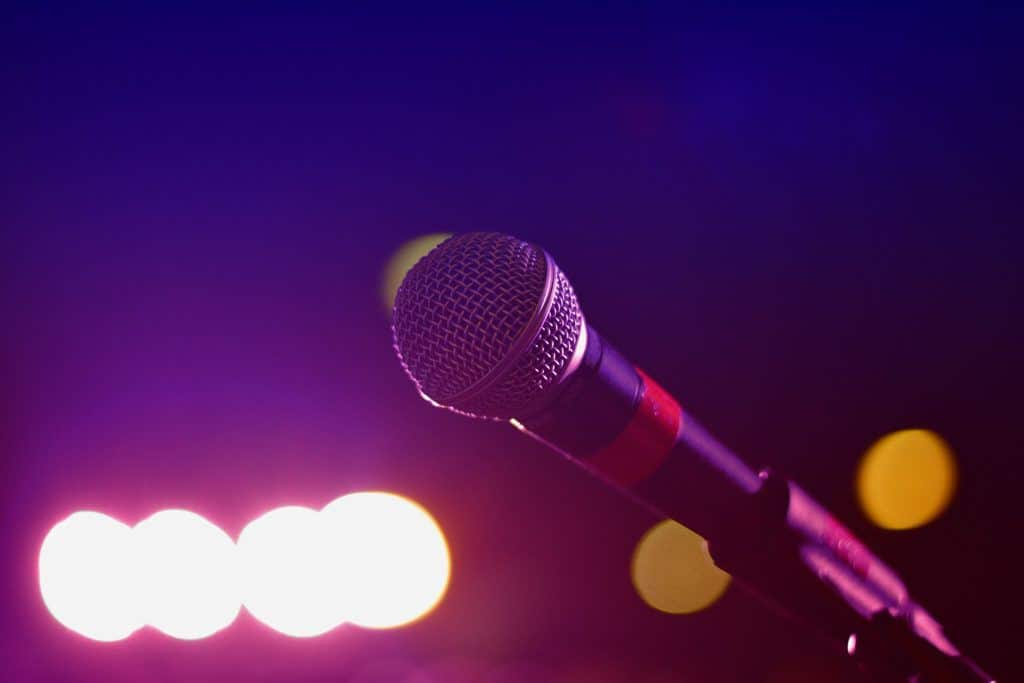 11) Visit the City Science Museum
The Fukuoka City Science Museum offers a fantastic opportunity for kids and adults to learn about the infinite universe, the environment, technologies that support our everyday lives and even watch some interesting science experiments.
The Dome Theatre Planetarium is definitely worth a visit.
The 25-metre diameter dome has 220 seats and 3D digital surround systems to add to their experience.
Robosquare was also relocated to the museum so head to the 5th floor to get a close look at some robots.
Address: 4 Chome-2-1 Ropponmatsu, Chuo Ward
Opening hours: every day from 9:30 AM – 9:30 PM
Price: 500 yen for standard exhibits and 500 yen for the Dome Theatre.
12) Watch a Baseball Game
Love sport and wondering what to see in Fukuoka, Japan to get you out of your seat?
Baseball is very popular in Japan and going to a match is guaranteed to give you a good day out.
There are only 12 professional baseball teams in Japan and the Fukuoka SoftBank Hawks is the only club in the Kyushu region.
Fukuoka YAHUOKU! Dome is where home games are played.
Given the Hawks were the 2018 Champions of the Japan Series and have also won the League Championship 20 times, they're a great team to watch and support.
If you want to see Japanese locals getting loud and rowdy, a baseball game is one of the only opportunities.
Check the official Hawks website for the game schedule in advance and make sure you buy tickets ahead of time.
13) Visit a Traditional Folk Museum – Hakata Machiya Furusato-kan
This folk museum was formerly a textile manufacturing house of Hakata fabrics in the Meiji era.
The museum is spread across three replica machiya, a type of traditional Japanese townhouse, that was reconstructed to exactly match the former house.
Visiting Hakata Machiya Furusato-kan is one of the best cultural things to do in Fukuoka, Japan.
Inside the buildings, you'll find demonstrations of local crafts, galleries showing historical photographs, displays of traditional ways of living in Hakata during the Meiji and Taisho eras.
It also shows various aspects of the Hakata culture, such as crafts and performing arts.
Watch local craftsmen at work on the second floor of the Exhibition Hall where you can see Hakata dolls, papier mache, Hakata spinning tops and musical products being made.
In the House Hall, you can try your hand at some Hakata fabric weaving or other activities to participate in.
For those who like mementos, the souvenir shop has traditional Hakata handicrafts and products from the old times as well as sweets and festival items.
Those interested in art should also consider visiting the Fukuoka Art Museum.
Address: 6-10 Reisenmachi, Hakata Ward
Opening hours: every day from 10 AM – 6 PM
Price: 200 yen
14) Walk Around Ohori Park and see Fukuoka Castle
Fukuoka sightseeing is at its best at Ohori Park.
Ohori is Japanese for 'moat' and with the pond at the centre of the park, it was served as part of the moat system of Fukuoka Castle.
Fukuoka Castle was built in the 17th century, and has since turned to ruins. However, the Fukuoka Castle Ruins are a national historic site in Japan and are worth checking out as they are near Ohori Park.
Ohori Park itself is a city park and there's a nice walking path around the pond that is over two kilometres long.
There are three islands in the middle of the pond that are connected to each other and the mainland by beautiful stone bridges.
The Ohori Park Japanese Garden is also well landscaped and has lots fo amazing plants and flowers on display.
Ohori Park is a great spot to spend a bit of time relaxing away from the busy crowds as well as to take some nice photos.
15) Go Vintage Shopping in Daimyo
Daimyo is an awesome change of pace to the rest of the shopping areas in central Fukuoka.
It is a must-visit place for fashion-conscious people, filled with tiny boutiques, retro stores and second-hand shops.
In general, second-hand shops in Japan stock a lot of high quality, well looked after clothes so you don't need to worry about things not lasting.
Chances are, you'll find some great bargains that look new.
If you love shopping but don't want to contribute to fast fashion, this is where you need to go.
There are no big brands or department stores in Daimyo so even just walking through the area feels different from the rest of the city.
16) Get Up Early for the Market
If you're an early morning person and thinking of what to see in Fukuoka, Yanagibashirengo Market is the place for you!
The market sells fresh seafood and produce and you'll always see locals shopping here.
Known for the quality of its products, Yanagibashirengo is fairly small but is commonly known as the kitchen of Hakata.
Enjoy a Japanese style breakfast and pick up some mentaiko (pollock roe), a speciality of Fukuoka.
Opening hours: every day from 8 AM – 6 PM (Closed Sunday)
Price: Free of charge
17) Check Out Fukuoka's Oldest Shrine
Kushida Shrine is an ancient Shinto shrine dating back to 757.
It is one of the top Fukuoka, Japan points of interest since it is the city's oldest and most important shrine. It's a Fukuoka must see!
The biggest festival in Fukuoka, Yamakasa Gion Matsuri, is held here every year in July.
If you are visiting during this time, it's a can't be missed event. Otherwise, come and visit the shrine anyway.
Opening hours: 24h/7
Price: Free of charge
18) Take A Day Trip To Dazaifu
This is easily the best and easiest day trip from Fukuoka if you have sufficient time in the city.
Located only 15 kilometres away (an hourly train or bus), Dazaifu is famous for Dazaifu Tenmangu Shrine, a shrine with hundreds of plum trees.
There's also nice zen rock gardens at Komyozenji Temple, the Kyushu National Museum and the ruins of the government office that stood for a thousand years.
Even if you've only got a half-day to spare, Dazaifu is definitely worth visiting during your Fukuoka visit.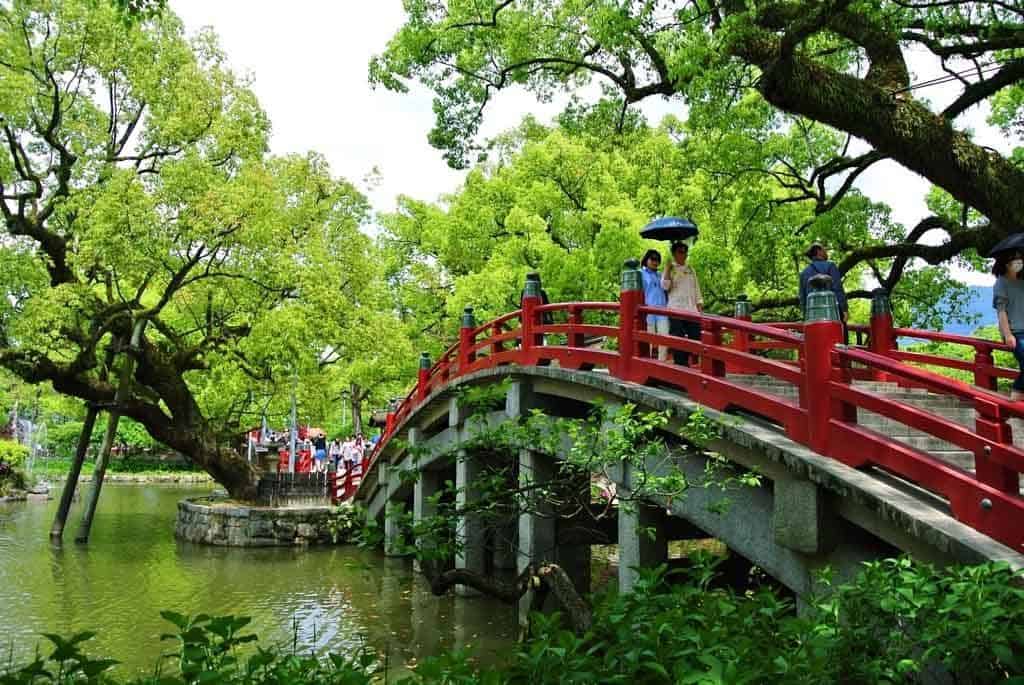 Fukuoka Travel Guide
Now that you know all of the top things to do in Fukuoka, we want to help you plan your visit properly.
Check out where to stay and where to eat in our mini Fukuoka travel guide.
Best Accommodation – Where to Stay In Fukuoka
One of the best things about travelling through Japan is that accommodation standards are pretty high everywhere you go.
This means that whether you're on a tight budget or have some cash to splash, you can rest assured that you'll find a clean and comfortable place to stay.
There's a range of different accommodation styles in Japan such as hostels, guest houses, ryokan and luxury hotels.
Generally, you won't find major party hostels like you would in other parts of the world.
Instead, hostels tend to be fairly quiet and are usually just a place for people to sleep rather than commune and make friends.
Ryokans are traditional style inns that typically offer a breakfast and dinner service, tatami mat rooms and onsen (hot spring baths).
While there are a few ryokans in Fukuoka, we didn't find any to really stand out (especially compared to other options around the country) so we recommend waiting to try one in some other cities instead of Fukuoka.
If you're wondering where to stay in Fukuoka, we've got some recommendations to suit every budget and to ensure you make the most of the Fukuoka sightseeing opportunities.
The Best Hostel In Fukuoka – HafH Fukuoka THE LIFE
HafH Fukuoka THE LIFE is definitely one of the cooler hostels around and is very conveniently located in the heart of all the action.
From the hostel, you can walk to many of the Fukuoka tourist attractions around including lots of amazing temples.
There is a subway entrance within the same vicinity and the airport is located super close to the hostel.
The rooms are kept very clean and the staff is friendly and helpful. The hostel has over 400 positive reviews on Hostelworld, and has a 9.3/10 rating!
Best Budget Accommodation For Couples – Montan Hakata
This new and beautifully decorated hotel offers rooms for all budgets and has one of the most spacious and bright common areas we've ever seen.
For couples looking for a budget-friendly private option, this hotel is the best value for money since it's around the price of two beds in a dorm room at other hostels.
Private rooms have everything you need with AC, ample closet space, a mini-fridge, kettle, balcony, TV and lounge.
The bathrooms are equipped with toiletries and even have bathtubs – a rare find in Japan!
The hotel puts on a daily buffet breakfast but we recommend going for a room without it and eating outside instead! Save yourself for all of that delicious ramen on offer in the city.
The subway station is only a short walk away with plenty of things to see in Fukuoka nearby too.
If you're tired of walking, the hotel provides free bikes for guests and since the city is very bike-friendly, it's a good way to get around and enjoy the city.
Best Mid-Range Hotel in Fukuoka – Dormy Inn Hakata Gion
Dormy Inn is a lovely mid-range hotel in an excellent location. It's a pretty standard and large hotel with large rooms, big comfortable beds, a TV and a bathroom with all amenities.
An added bonus though is the hotel also has its own indoor onsen for guests to use (we recommend avoiding it from around 8:00 – 10:00 pm since it usually gets crowded).
The hotel is only a two-minute walk from the nearest station and is also within walking distance to the JR Hakata station, the popular Canal City shopping mall and has a few good restaurants nearby.
There's even a convenience store right on the ground floor.
A delicious and free buffet breakfast is usually offered with rooms and guests can also enjoy late-night complimentary ramen!
Best Luxury Hotel In Fukuoka – Hilton Fukuoka Sea Hawk
Truly the epitome of luxury, staying at this hotel is like taking a holiday from your holiday.
Equipped with an onsen, gym and an outdoor and indoor pool, this hotel offers traditional high-class hotel services as well as lavish ryokan experiences.
Situated right on Hakata Bay, you'll love overlooking the water as well as the city.
The hotel also has several onsite restaurants serving high quality Japanese and western cuisines.
Be sure to book one of the Panoramic Suites so that you can have your own private spa with a glorious view.
If a ryokan experience is what you're after, pick the Japanese suite which is a stunning tatami mat room set up as a private dining room which then converts into a bedroom with futons.
If you are staying for a few nights, book a night in the Japanese suite and another in the Panoramic Suite to make the most of your stay.
Best Restaurants In Fukuoka
Since Fukuoka is famous for its Hakata ramen, it's a no brainer that you must try this when in the city.
Besides the ramen, Fukuoka offers excellent seafood options so sashimi and tempura are done well here.
Budget
Tempura doesn't need to be expensive and Tempuradokoro Hirao Honten is proof of this.
With freshly made seafood and vegetable tempura options, you can pick whatever you like and enjoy it all fresh out of the fryer.
Make sure you get there early because this place is usually packed!
Address: 2-4-1 Higashihirao, Hakata
Opening hours: every day from 10:30 AM – 9 PM
Mid-range
Hakata Ikkousha Sohonten is a simple and delicious ramen restaurant that consistently does ramen well.
The restaurant is recommended by Fukuoka locals and considered much better than some of the other chain restaurants. A must try!
Address: Kowa Building 1F, 3 Chome-23-12 Hakata Ekimae, Hakata Ward
Opening hours: every day from 11 AM – 12 AM (except on Sundays they close at 9 PM)
High-End
This isn't exactly a fusion restaurant but rather a fine-dining French restaurant with Japanese influence.
Restaurant Hakata Hiramatsu is easily one of the best restaurants in Fukuoka and offers a special dining experience with quality food and service.
Address: 3-1 Shimokawabatamachi | Hakata Riverain 2F, Hakata
Opening hours: every day from 12 PM – 3:30 PM and 5:30 PM – 11 PM
DISCLAIMER: Some of the links in this article are affiliate links, which means if you book accommodation, tours or buy a product, we will receive a small commission at no extra cost to you. These commissions help us keep creating more free travel content to help people plan their holidays and adventures. We only recommend the best accommodations, tours and products that ourselves or our fantastic editorial team have personally experienced, and regularly review these. Thanks for your support, kind friend!