Whether you're looking to explore endless salt flats or cycle down the world's most dangerous road, let our ultimate guide for travel to Bolivia help you plan your trip!
Bolivia has various climates, diverse cultures, attractions for all ages and adventures for the biggest adrenaline junkies.
Depending on what you wish to experience, you can find yourself in the hot lowlands to cold mountain tops.
If you can think of it, Bolivia most likely has it!
An Amazonian jungle
Unlivable sweltering deserts
Incredibly fertile grasslands
Snowcapped mountains
And so much more!
Plus there are over 36 different ethnic groups – making it one of the most diverse countries in the world.
But if you are looking for an ocean nearby, that is the one thing Bolivia lacks. It is one of only two landlocked countries in South America.
Still, Bolivia shares the world highest lake with its neighbour, Peru, at Lake Titicaca.
Bolivia Travel Guide
Thinking about travelling to Bolivia as your next holiday destination? Make sure that you use our Bolivia travel guide to prepare you for your adventure!
General Info
Here are a few of the basics to get you started in your planning.
Capital: Sucre (constitutional capital) and La Paz (seat of the government and de facto capital)
Other Main Cities: Santa Cruz de la Sierra
Currency: Boliviano
Language: Spanish and 36 indigenous languages
Population: 11,248,864
Area: 1,098,581 sq. km
Electricity Voltage: 220 Volt
Electricity Sockets: Plug type A & C
How to Travel to Bolivia
In general there aren't that many direct flights to Bolivia.
Most flights originating in other South American countries will land in either La Paz or Santa Cruz de la Sierra, the two most populated cities in Bolivia.
Flying
The quickest and easiest way to visit Bolivia is to fly, if you don't mind the odd connection.
Flying from the US & Canada
From the USA you can fly out from Miami to La Paz and Santa Cruz de la Sierra.
There is also an option to fly from different cities in the US via connections.
Most flights are likely to connect in Miami. And then in Miami, you will make the connection to Bolivia.
When flying from Canada you will also have to first fly to the US and then make your connection.
Of course, if you're already visiting the neighbouring countries in South America you have a much wider selection of flight connections.
Examples of quick routes include those originating in Sao Paulo (Brazil), Lima (Peru) and Buenos Aires (Argentina).
The main airports in Bolivia are in the two capitals: La Paz and Santa Cruz de la Sierra.
The airplane tickets are on the expensive side, ranging from USD$800-1100.
Flying from United Kingdom & Ireland
Unfortunately there are no direct flights departing from the UK or Ireland.
The quickest route is to fly to Madrid, Sao Paulo, Buenos Aires or Miami from one of the daily flights from London. From there you will connect to Bolivia.
The cost of a round trip ticket is approximately USD$1,500.
Flying from Australia & New Zealand
From Australia and its neighbouring countries, the quickest route is to fly to Buenos Aires, Argentina. You can do this most easily with Qantas or Aerolineas Argentina via Auckland or Sydney.
The cost of the round trip is around USD$1,500.
From Buenos Aires flights to Bolivia will be approximately USD$300-500.
Of course, there is always the option to fly to the USA first and then connect from Miami to Bolivia.
Traveling Overland From The Bordering Countries
The only alternative to flying to Bolivia is to make your way through South America and travel to Bolivia overland by bus, train or automobile.
You can reach Bolivia by bus from all five neighbouring countries: Chile, Peru, Argentina, Paraguay and Brazil.
Peru
Take the bus from Puno and enter Bolivia either through the Kasani border or Desaguadero.
The ride is around 4 hours away from La Paz.
Brazil
The main entry point is Quijarro in Bolivia which is close to the Corumbá, Brazil.
From Quijarro you can make your way to Santa Cruz by train. But be warned that it's a 13-18 hour long train ride!
From Brazil, you can also enter Bolivia at San Matías. This will be a whole day of bus travel from San Ignacio, Chiquitania.
Another way of travelling to Bolivia is from Amazonia. There are several entry points (Brasiléia, Cobija, Guajarámerim, Guayaramerin).
Chile
There are three main routes of travelling to Bolivia from Chile.
Take the bus departing from Arica to La Paz
Take the train from Calama to Uyunivia Avaroa
You can also go on a jeep ride from San Pedro de Atacama to Uyuni
Argentina
La Quiaca to Villazón (road and rail connections to Uyuni, Oruro and Tupiza)
Pcitos to Yacuiba (road and rail connections to Santa Cruz and Tarija)
Paraguay
If you are travelling to Peru from Paraguay it will be a whole day of bus travel from Asunción to Santa Cruz.
Visa Requirements for Bolivia
If you want to travel to Bolivia you must know whether or not a visa is required to enter the country.
All US citizens are required to purchase an entry visa (USD$160).
For citizens of other countries, the Bolivian government has divided countries into three groups.
1st group: Countries that do not require the visa
2nd group: Countries that require a tourist visa
3rd group: Countries that require a visa with authorization from Bolivia
If you wish to see into which group your country falls in, click here
5 Interesting Facts About Bolivia
Bolivia is full of interesting people, places, history and culture. Here are a few interesting facts to help you plan to travel to Bolivia.
In about 99% of the country tap water is NOT safe for consumption.
People dress up as Zebras in La Paz! They help children cross the street and educate drivers and pedestrians about safety measures.
Camino de las Yungas is known as the "World's Most Dangerous Road". Every year the number of casualties ranges from 200 to 300.
Reflect at the world's largest mirror – Salar de Uyuni. It is the world's largest salt flat at 10,582 sq. km.
Bolivia has 37 official languages! Pick the one you are best at speaking and enjoy your travel in Bolivia!
Best Time to Travel to Bolivia
Bolivia is in the southern hemisphere. For this reason, the best time to travel to Bolivia is during its summer (December – February).
From May to October, the highlands are cold and temperatures in the desert at night are below freezing. This is especially true during the months of June and July.
But temperatures will also vary depending on which region of Bolivia you travel.
For example, the Salar de Uyuni is located in the high desert where even summertime temperatures can range greatly.
Also, when visiting the Amazonian regions of Bolivia the temperatures can remain hot and humid year-round.
The beginning of the dry season is from April to May. The country begins to come alive during these months after all of the rainfall.
If you travel to Bolivia during this time you will benefit from lower prices and fewer tourists.
Bolivia Travel Itineraries
Here's a typical rundown of places to visit and for how long to help you plan your itinerary.
Lake Titicaca (1 – 2 Days)
If you enter Bolivia from Peru you will reach the town of Copacabana.
You don't have to spend a night in Copacabana. But it is worth it if anything to relax and take in the sights of the lake.
The first day is to be spent at the lake and go canoeing. Or take a tour out to visit the floating reed cities.
On the second day, explore Copacabana and hike to the top of Cerro Calvario.
La Paz (2 – 3 Days)
Capital city of Bolivia has many attractions worth exploring.
You can go for a ride on the iconic teleferico and enjoy the stunning views of La Paz beneath you.
Or visit the witches market and shop for spells.
You could also spend days at a time trying to visit any of the many impressive museums in the city.
La Paz is also notorious for its nightlife.
If this interests you, head out in the evening and get a taste of it for yourself!
While in La Paz if you're searching for an adrenaline high cycle down the Camino de las Yungas!
But do be careful as it is known as the "World's Most Dangerous Road."
Salar de Uyuni (2 – 3 Days)
The Salar de Uyuni is one of the main reasons that people all over the world travel to Bolivia!
Even if you don't have a lot of time it is definitely worth booking a three-day trip.
There are many opportunities to travel across the salt flats in any number of tours originating in the town of Uyuni.
Of course, after spending a few days trekking across the surreal landscapes, stay for a night in the town of Uyuni to get some rest.
Sucre (1 – 2 Days)
Sucre is a colonial, picturesque town.
This is a town that's renowned for having some of the best-preserved colonial architecture in all of South America.
Spend some time enjoying the laid back atmosphere in the town.
And make sure to indulge yourself in the local food and drink while you explore the ancient town.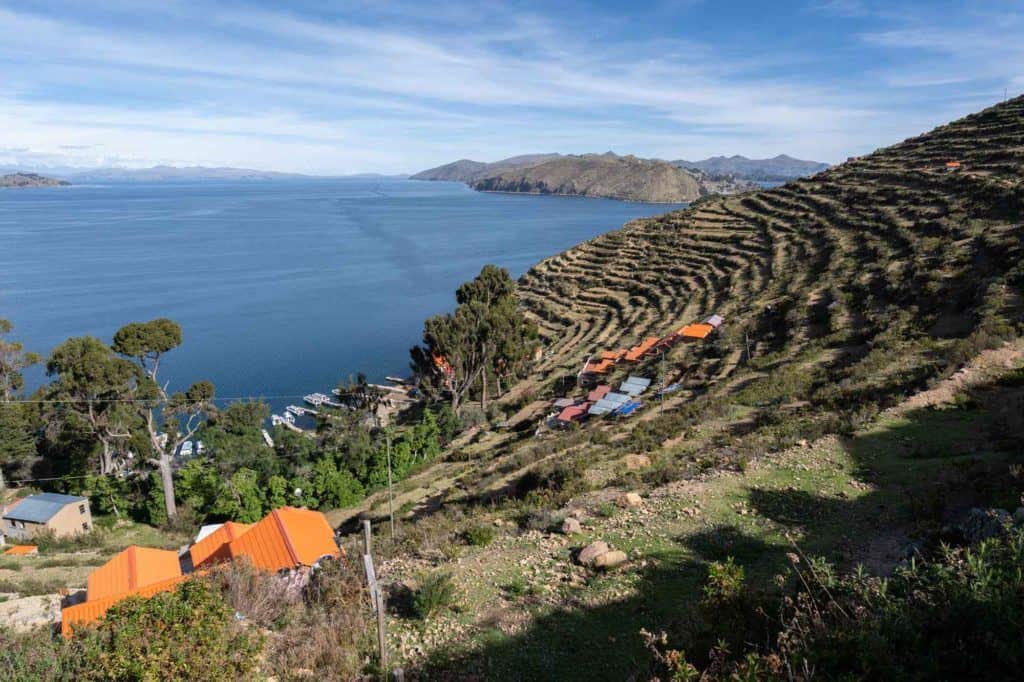 Budget for Travelling Bolivia
Bolivia is known for being a cheap place to travel in South America, but even then it's easy to spend up big if you want to.
Here's our general budget guide.
Backpacker – $20 per day
The cheapest accommodations when travelling in Bolivia is definitely camping or staying in budget dorm rooms in hostels.
If you have your own tent it would cost you around USD$5, if you do not find a place to wild camp (be very careful about safety while wild camping though)
But you can also rent tents relatively cheaply as well (around USD$11).
Dorm rooms can cost anywhere from USD$5 to $10 a night.
Food is very cheap in Bolivia. It is almost worth purchasing already prepared meals rather than shopping at grocery stores and preparing your own meals.
If you're on a really tight budget then head to the markets or street vendors where you can buy fresh fruit salads and hot meals for as low as USD$1.
If you see anywhere that says "almuerzo" that means full lunch. This is a great deal as you will get a soup, main dish and dessert for about USD$1.50!
As for transportation costs as you travel in Bolivia, you also don't have to worry.
If you take a cab within the city centre limits will cost you around USD$0.60 per person.
While buses offer even lower prices. One way tickets are around USD$0.30.
If you have to take a long bus ride then the price should be around USD$2/per hour.
Make sure you check out our complete guide to backpacking in Bolivia.
Couples/Mid-Range – $60-100 per day
If you are travelling as a couple or have a slightly higher budget, you can live very comfortably in Bolivia.
You can find private rooms for around $20 a night, and if you're willing to spend between $30-50 a night, you'll get something very nice in good hotels.
With that kind of budget you'll also be able to eat in many restaurants, enjoy a tasty coffee if you'd like and head out for a few beers in the evenings.
Luxury – $150 per day
You can live quite well when travelling in Bolivia on USD$100-150 per day.
Four stars hotel like Radisson Hotel in La Paz are about USD$80 per night.
The more expensive restaurants offer meals at around USD$20-30
And most of the museums offer free admission or have very low priced tickets around USD$2-4.
You could also plan to book a good quality 3-day Salar de Uyuni Salt Flats tour for around USD$270 per person. This would include all meals and accommodations.
Even if you wanted to rent a car to tour the country on your own, car rental prices are reasonably set around USD$40 per day.
Top 5 Places to Visit in Bolivia
La Paz. This capital city is surrounded by snow-capped peaks and offers everything from haute cuisine to lively nightlife.
Salar de Uyuni. People all over the world travel to Bolivia specifically to witness this natural phenomenon, vast white salt flats stretching into the horizon.
Reserva Eduardo Avaroa. This is one of the best national parks in the country and can be visited when you are doing your 3-day tour of Salar de Uyuni. Experience hot springs in which you can bathe and enjoy the views, geysers, deserts and several differently coloured lagoons!
Sucre (White City). The official capital of Bolivia. Sucre is a charming town that is also on UNESCO's list for its impeccably preserved colonial architecture!
Santa Cruz de la Sierra. This town is part of Bolivia's tropical Amazonian area and is the jumping-off point for trips to visit the Amazon. The city also boasts of having the best nightlife in all of Bolivia. For a wild night, you must visit the Monseñor Rivero Street.
Top 5 Travel Experiences in Bolivia
The Pampas tour. This is one of two ways in which you can experience the Amazon jungle from Bolivia. Get up close and personal with the Amazons notorious wildlife and landscapes.
The World's Most Dangerous Road. This is a must for every thrill-seeker! But be cautioned that it has its name for a reason. Every year hundreds of people die while travelling on the road, including tourists.
Salar de Uyuni. You cannot miss the world's largest salt flat! The landscapes surrounding you will take your breath away! Plus you can have all sorts of fun taking photos on the white vastness of the salt flats.
Madidi National Park. This park is one of the most biodiverse national parks in the world. There are jaguars, rare fauna and over 1,000 species of birds.
Oruro Carnival. This town comes alive with folk dances, colourful and flamboyant costumes, live music and 20 hours of constant partying. And these are just some of the reasons why this carnival attracts around 400,000 people annually.
Transportation While Travelling in Bolivia
Travelling in Bolivia is both easy and affordable. You will find that it is possible to travel by bus, plane or train to almost any part of the country.
Bus
The bus is by far the easiest and cheapest way to travel in Bolivia.
The bus network is very well developed so all the buses are pretty frequent and reliable. You can travel by bus both within and between most cities and towns in Bolivia.
The prices are very low at around USD$0.30 one way. And if you're going on a longer trip then it's around USD$2/per hour.
If you're going on a long bus journey, you should know that there are no meals included in the price.
So prepare some snacks for the trip or buy a hot meal from one of the street vendors that work on one of the stops on your trip.
There are two types of buses for short journeys: micros and trufis.
Micros
Micros are minibuses that have an already set route. They leave at any time when the bus is full.
Micros will stop wherever the passenger wants to get off or on. Just let the driver know where you are going and remind them to stop for you.
All tickets cost approximately the same, which is around USD$0.15 one way.
Trufis
The trufi is a van or a cab that, like the micro, has an already predetermined route. You are typically sharing the ride with a handful of people.
Trufis do not have set schedules either. They only leave when they are full.
They are cheaper than regular taxis because you are carpooling with other passengers.
One way trip would cost about USD$0.40 to most places within a city or town.
Taxi
Unlike many other places in the world, the taxi is regarded as one of the safest ways to travel in Bolivia.
You can call a cab at any time and anywhere. And they are so numerous that hailing a taxi from the side of the road is quite easy.
There are two types of taxis available: radio taxis and regular taxis.
Radio Taxis
Radio taxis are dispatched based on calls that they receive from private clients like hotels or restaurants.
These taxis drive to the passenger's location and take them to their desired destination.
This is a safer, but the more expensive, option that would cost you around USD$1 -6.
Regular Taxis
Regular taxis operate throughout most cities and larger towns in Bolivia. These are the standard cabs that you would expect to see in any city in the world.
Taxis are reliable forms of transportation. You can often negotiate fares with taxi drivers.
But note that fares are already quite inexpensive so haggling with a driver is only going to take change out of his or her pocket.
Cable Car
If you are looking for a unique way to travel in Bolivia be sure to check out the cable car.
The teleferico operates at 4000 m in elevation making it the highest cable car in the world.
Riding the cable car will connect you from La Paz to El Alto.
Not only is it able to provide transportation to 3,000 passengers per hour between La Paz and El Alto – but also the duration of the ride is just 10 minutes!
The price of the ride is quite reasonable, at approximately USD$0.50. There are also various discounts for seniors, students and the disabled.
Accommodation in Bolivia
When travelling in Bolivia you can find accommodation for very good prices. But know, of course, that the standards of accommodation vary.
In more urban areas you will find budget hostels for as little as USD$2-3 to high-end hotels that charge USD$100 per night.
In smaller towns, you won't have that much luck in booking an upper scale accommodation. But there is always a lot of variety when it comes to budget places.
Rates are highest from July to August and in areas that are popular with tourists.
Also, make sure to book in advance if you plan to visit during a major festival.
Many places in Bolivia do not differentiate between a hostel and a hotel. So if you are looking for one or the other, you'll likely find them to be the same in most places.
Even small basic places will refer to themselves as a hotel. Keep your eye out for other names, such as hostales, residenciales or alojamientos.
These are all different names for basically the same thing.
They offer very simple rooms with shared bathrooms.
Hotels
There is no real rating system for hotels in Bolivia. So the best way to tell if you should stay at the hotel is to explore a bit.
Usually, the hotel staff will agree to bargain with the price of stay – especially if you notice that the hotel is half empty.
Hostels
Hostels are slowly popping up all around Bolivia. Most of them are connected to Hostelling International.
But very few hostels have dorms or communal kitchens, which seem standard in most places in the world.
Instead, they offer cheap rooms with a choice of opting out for a private or shared bathroom.
Camping
If you wish to explore the wilderness then camping is the perfect choice for you.
Outside of the city and town limits you can usually camp anywhere and almost always for free!
But be advised that in the highlands it gets very cold at night. Meanwhile, in the lowlands, you will have a problem with the mosquitoes.
Attacks on campers are rare but you should still be careful. Use standard safety measures when deciding where to camp.
Never camp by yourself. And women shouldn't go camping unless they're accompanied by men.
In national parks and protected areas you can find albergues or refugios.
Those are rustic shelters where you can stay for a very small fee.
Cooking facilities and running water are often available in the national parks.
Food in Bolivia
Sanduíche de Chola (pork sandwich): This sandwich is a warm bun with slow-cooked ham, pickle of onions and topped with ahi chilli.
Cuñapé (cheesy bread): Enjoy a bun made out of yucca flour that has cheese cooked inside of them.
Humintas (baked tamales): These are sweet corn tomales with grated cinnamon (or raisin and sugar) and cheese in the middle. It's all deliciously packed within a corn husk and then grilled or steamed!
Chuflay (traditional mixed drink): Sip on ginger ale and singani (a native spirit made from Muscat de Alejandría grapes). It is fruity and spicy at the same time.
Sonso de yucca (kind of like mashed potatoes, Bolivian style): These are yucas cooked and mashed with cheese.
Safety in Bolivia
Like many South American countries, Bolivia isn't exactly the safest place to travel through.
Be aware of your surroundings because pickpocketing is on the rise – especially in tourist dense areas, such as Cochabamba, Oruro, Copacabana, Santa Cruz and La Paz.
Avoid withdrawing money from the ATMs at night or isolated locations – that's usually when thefts are done.
There are also a lot more violent crimes happening, such as kidnapping.
Many times the criminals will target foreigners/tourists, take them hostage and drive them to an ATM where they're supposed to withdraw money to pay for their own ransom.
Again this is most likely to occur in La Paz.
And, while not common, it is more likely to happen if you take a taxi when the driver is in on the theft.
This is why we encourage you to use only reputable and reliable cab companies.
Like with many countries, Bolivia also isn't safe for roaming around after dark.
It might be tempting with its famous nightlife but be sure to travel in groups, remain in well-lit areas and call a radio taxi to pick you up if you find that you need a ride somewhere after dark.
Make sure you always get travel insurance wherever you travel. We recommend World Nomads.
Medical System in Bolivia
Because the medical system in Bolivia follows a socialist model, everyone is entitled to some basic care.
It is great that you can get treated for a variety of illnesses for free. But the only thing that's a bit inconvenient is that the system is under a lot of strain.
They have way too many patients, not enough staff and funding.
So if you have to go to a clinic you will have to get there very early in the morning and be prepared to wait for the whole day.
Also, their public hospitals are notorious for having poor hygiene and being overcrowded.
If possible avoid public hospitals and opt out for private clinics instead.
Packing List for Bolivia
Men/Women
1 pair of jeans
1 pair of sweatpants
1 pair of hiking pants
3 pairs of shorts
Fleece jacket
1 cardigan
2 long-sleeved shirts
4 t-shirts
1 swimsuit
1 rain jacket
1 hoodie
3 tank tops
1 pair of comfortable sneakers
1 pair of flip flops
1 pair of hiking shoes
Miscellaneous Items
Sunglasses
Microfiber towel
Hat
Umbrella
Pair of gloves and scarf
World plug adapter
Camera
Flashlight
SteriPen
Travel Tips for Bolivia
These are our top travel tips for Bolivia. Use common travel sense when travelling in Bolivia the same as you would in any part of the world.
But note the following in particular:
Water is not safe for consumption. Make sure to carry a bottle with a filter and/or purchase bottled water as necessary. Make sure the bottled water caps are not already open when you purchase them.
Certain areas in La Paz and other touristy places are very dangerous. Be mindful of your surroundings at all times.
Make copies of all your important travel documents and plane tickets. If making friends while enjoying the nightlife in Bolivia be sure to keep your documents secure.
Bring a travel lock and always lock your luggage when you are not around it. Keep an eye on people near your possessions when on public transportation as pickpocketing is a common crime.
Check Out Our Bolivia Blog Posts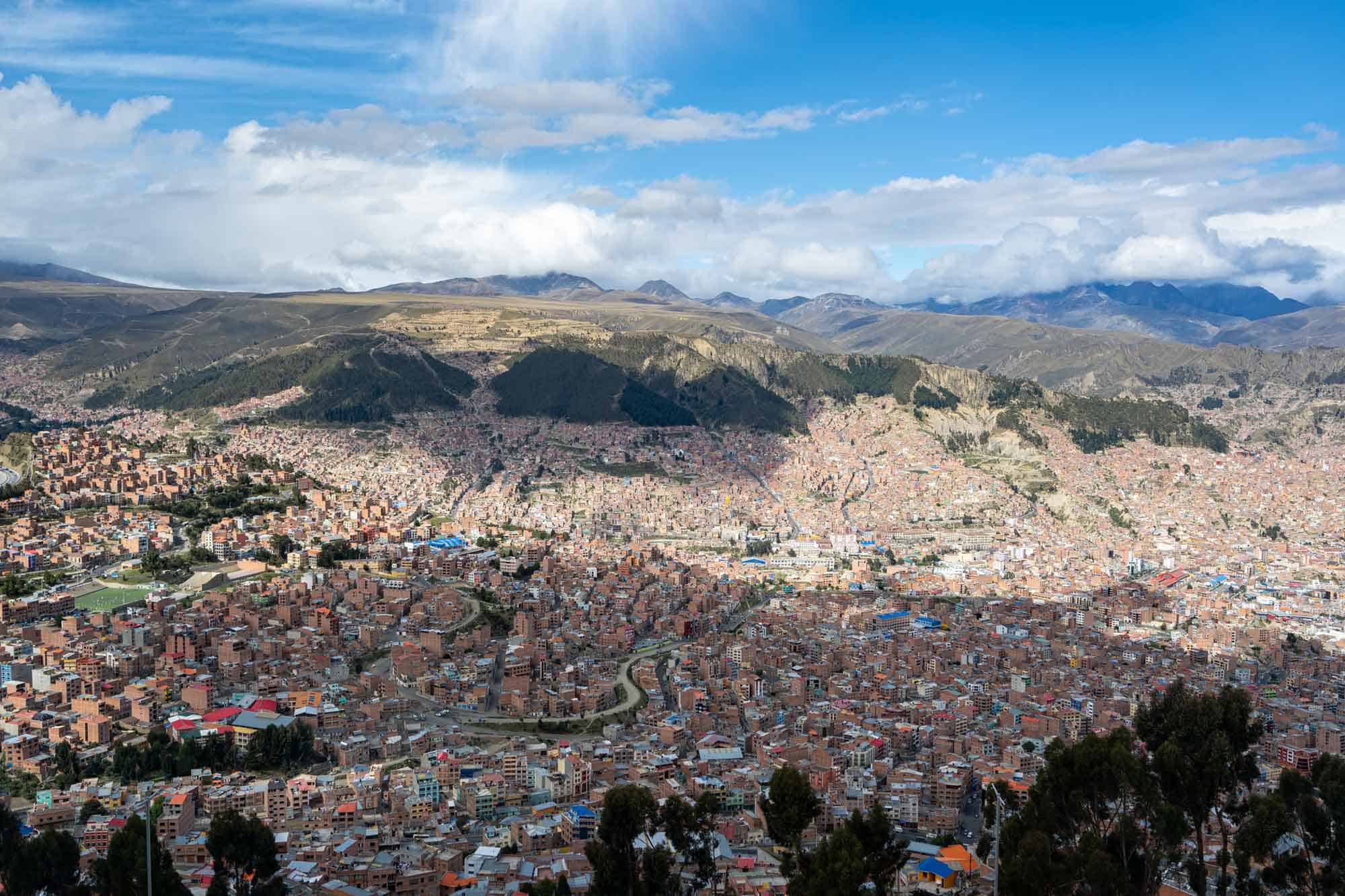 From riding a cable car to the top of the city to mountain biking down the deadliest road in the world, here is our list…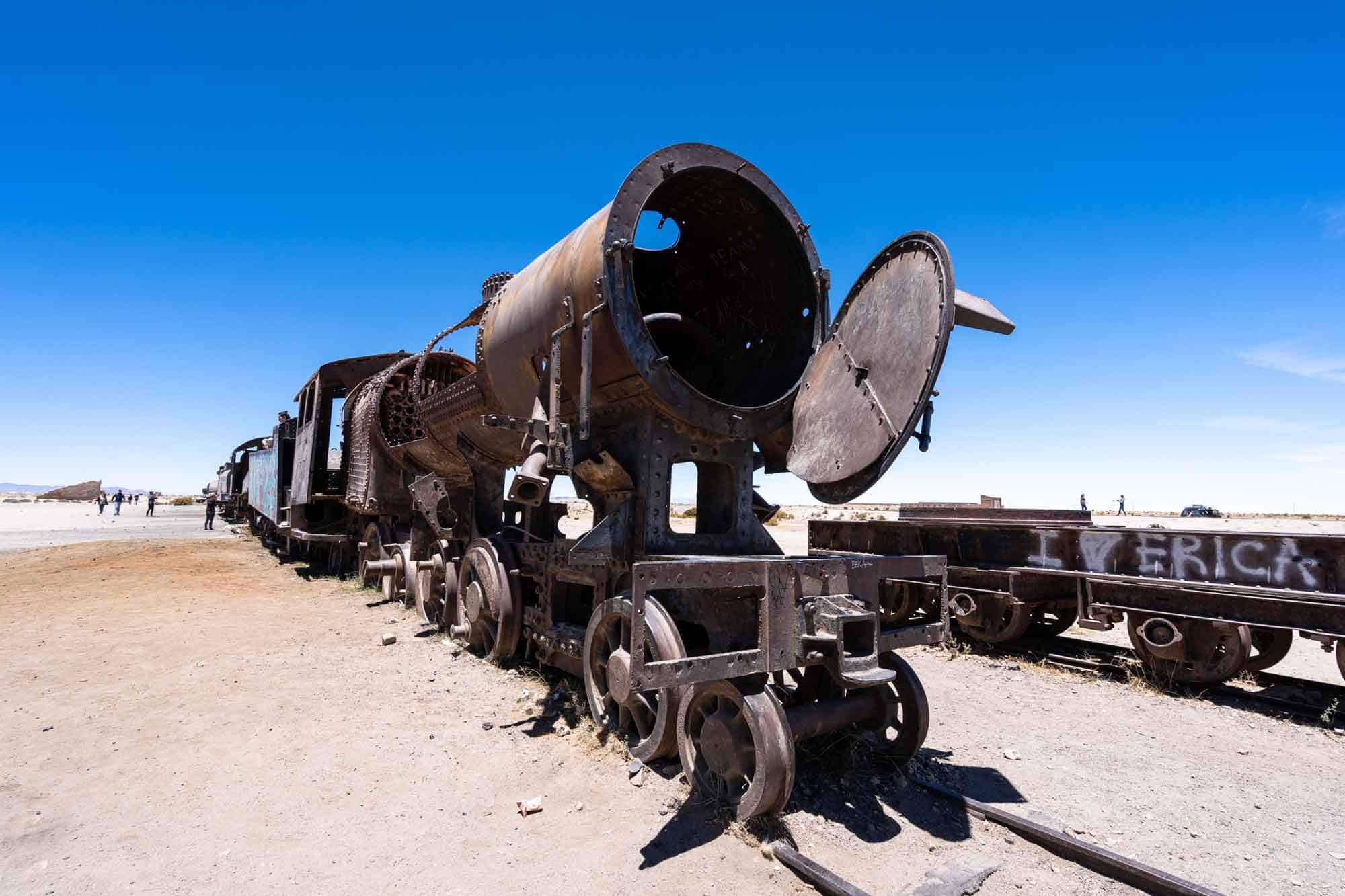 Everything you need to know about backpacking in Bolivia in our ultimate beginner's guide. When you say the words "South America", Bolivia's probably not at…