The perfect way to enjoy a Yokohama day trip from Tokyo (or anywhere else) in Japan.
Less than 30 minutes by fast train on the Tokyu line from Tokyo is Yokohama, Japan's second-largest city and home to a multitude of interesting attractions and activities.
Most visitors who make it out this way do so as part of a Yokohama day trip, using Tokyo as a base and taking advantage of the excellent public transport system to see everything in a single day.
While we personally feel Yokohama deserves an extended itinerary to enjoy everything it has to offer, you can certainly see many of the main points of interest with limited time.
To help you make the most of your time here, we've put together this Yokohama day trip itinerary and blog, with all of our best tips and advice based on our own visit in 2019.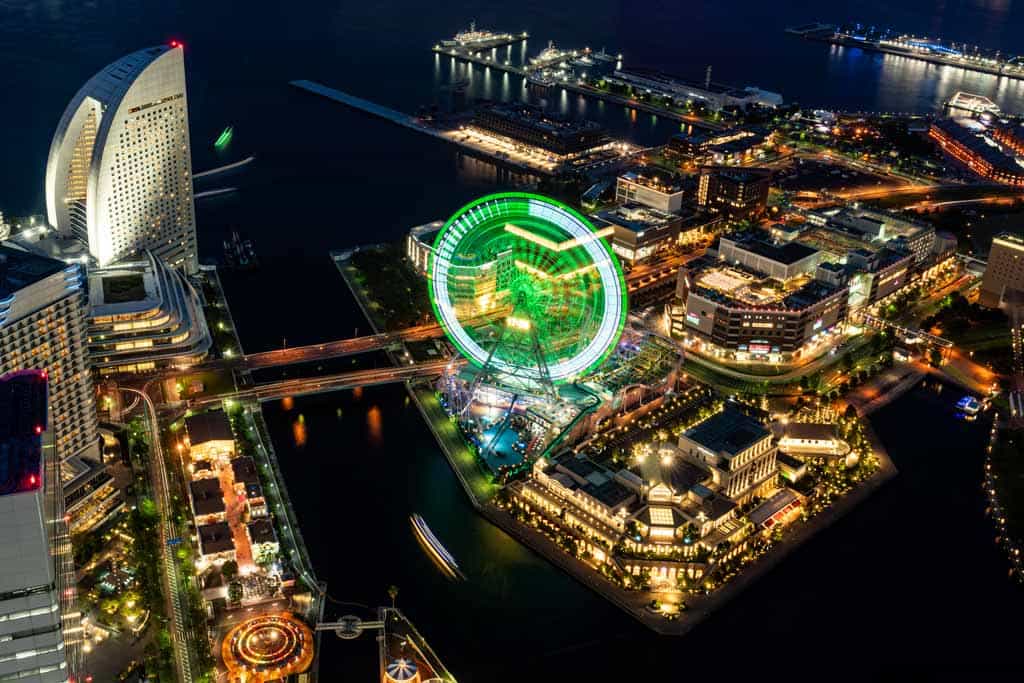 Our Yokohama Day Trip Guide
So you're planning a day trip to Yokohama? Well you've come to the right place!
Make sure you wear walking shoes today, because you're really going to get your steps up.
Here's exactly what we recommend you to see and do if you only have one day in Yokohama.
READ MORE: Check out our comprehensive guide to the best things to do in Yokohama!
Step One – Getting to Yokohama
Take the train to Yokohama Station nice and early, aiming to arrive around 9am, so you can make the most of the city.
We're going to assume that you are travelling to Yokohama from Tokyo, but you can get easily get here from other places in Japan like Kawasaki.
Luckily with Japan's excellent train system, getting to Yokohama is incredibly easy, quick and affordable.
The first thing you need to do is get yourself to the main Tokyo Station, or to the popular Shibuya Station.
From Shibuya Station jump on the Tōkyū Tōyoko Line to Yokohama. It's an express train, getting you there in 30 minutes. The cost is 500JPY.
From Tokyo Station, you can use a JR Pass (use that link to buy yours for the best price) to jump on any train heading towards Yokohama, but it is slower.
With it being as easy as that, it's little wonder that it's known as one of Tokyo's best day trips.
9am – Breakfast in the Train Station
If you're anything like us, you'll be slightly confused when people tell you to have breakfast in a train station.
But you're in Japan now, and even the train stations have incredible food options!
Once you get off your train head down to the underground mall beneath the station.
From there simply walk around until you find a place that looks good to enjoy a bite to eat.
You'll find plenty of solid Japanese options, as well as some Western-style breakfasts.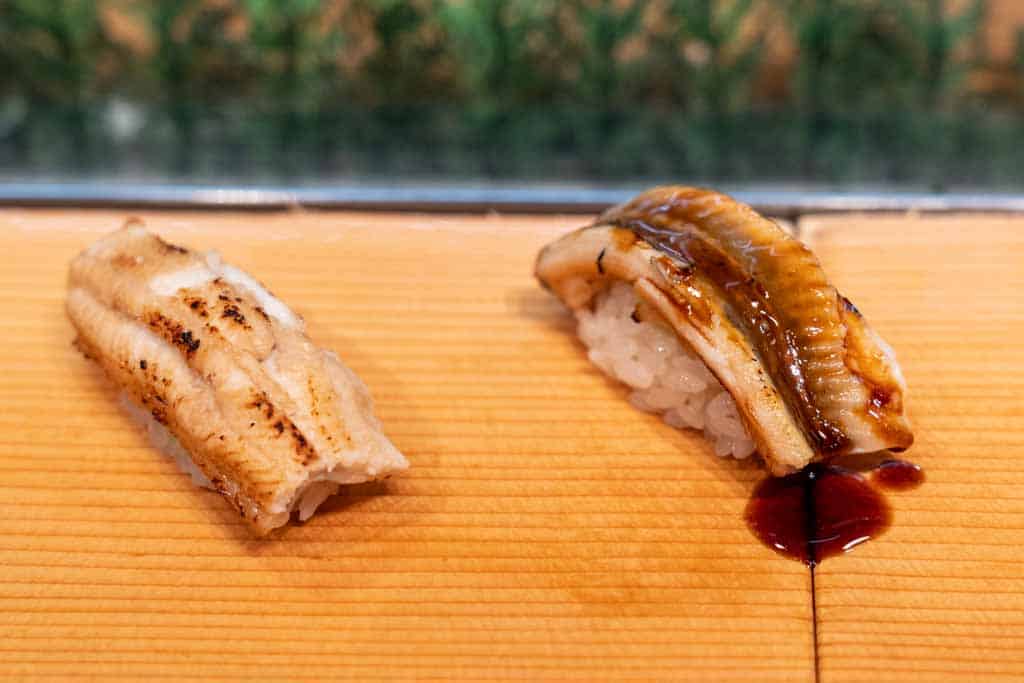 10am – See the Nissan Gallery (45 Minutes)
Once you're finished with your breakfast at Yokohama Station, exit heading east and walk over to the Nissan Headquarters.
You might be wondering why you are going to a car company's place of business, but you're not going up to the offices.
Instead you're going to see the fantastic car museum downstairs as part of this Tokyo to Yokohama day trip.
The Nissan company has been around since 1933, and besides creating some of the best racecars ever to grace the tracks, today they are the largest manufacturer of electric vehicles in the world.
The Nissan Gallery found in Yokohama has a large floor space dedicated to the history of their ground-breaking cars.
You can see some of the original models right alongside the latest sports car, and there are even some interactive games to play as well.
Even if you're not into cars, it's worth stopping by to see the older models.
If you are really interested, you can even go for a test drive in one of their brand new cars.
It's free to do, and you book it right there at the desk. Just make sure you bring your International Drivers Permit with you.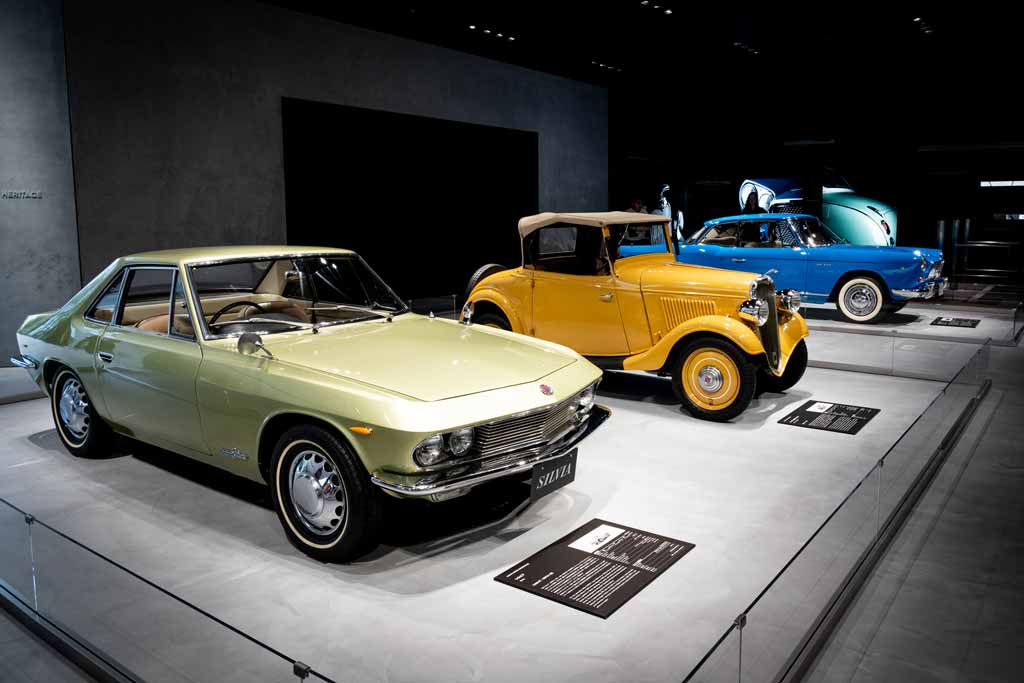 11:00am – Yokohama Landmark Tower (30 Minutes)
It's about a 15-minute (1km) walk from the Nissan Gallery to your next destination, the Yokohama Landmark Tower, along Minato Mirai-Odori Boulevard.
The Landmark Tower is the second-tallest building in Japan, and has unparalleled views of the Yokohama Bay area.
For 1000JPY you can ride the elevator to the top (69 storeys in 40 seconds, making it the fastest elevator in the country) and enjoy the marvellous 360-degree panorama vistas.
You'll find the usual suspects up here – an overpriced souvenir store and restaurant selling decent food and drinks – but on this Yokahama day trip blog all we're doing is enjoying the views, then heading across to our next destination.
Note – The city actually looks better at night, so if you are so inclined, you can come here in the evening instead.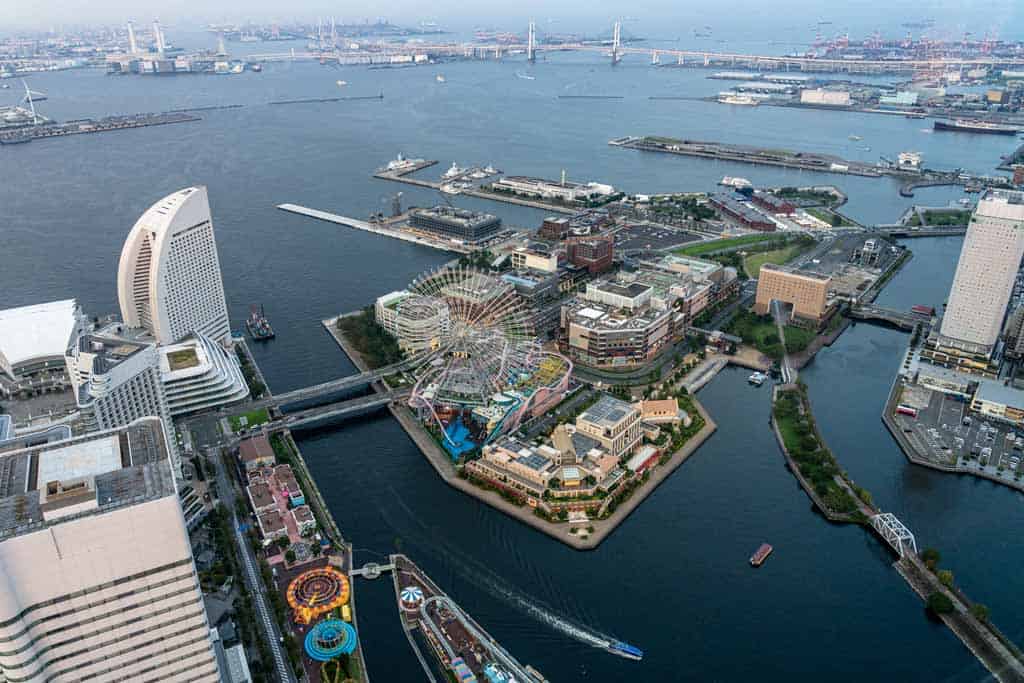 11:45pm – Walk Around Minato Mirai 21 (15 Minutes)
Once you come back down the blitzing-fast elevator, walk over the bridge and enter Minato Mirai, the buzzing waterfront promenade.
A real highlight of a Yokohama one day trip, this area is built on reclaimed land and has been turned into a real tourist precinct, complete with a huge shopping mall, amusement park, and Ferris wheel.
Walk around for a bit, and if you really love Ferris wheels, go for a quick ride in it, which will add on about 20 minutes or so to your day.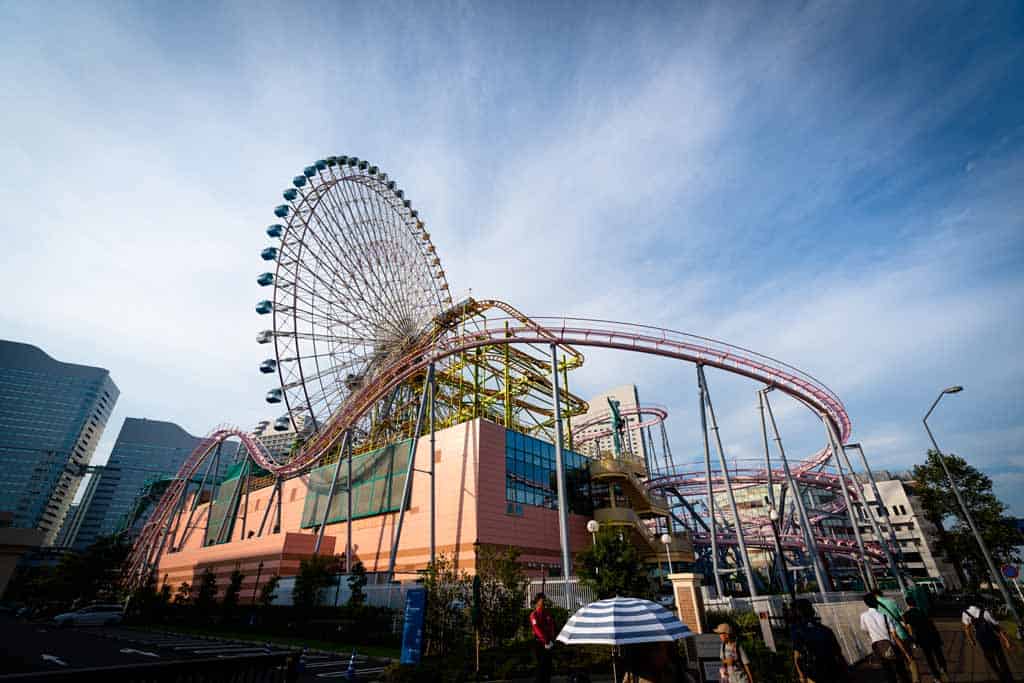 12:00pm – CUPNOODLES Museum (1 Hour)
We have to admit, the CUPNOODLES Museum is kind of odd and quirky, which is exactly why you should check it out!
The surprisingly impressive Cup Noodle Museum is built to commemorate Momofuku Ando's food invention, the dried instant ramen noodles.
It's hard to believe, but this food quite literally changed the world. Before Momofuku's innovation, all noodles, including pasta, were handmade.
He discovered a way to prepare them so that they only need hot water to cook.
Then by placing them in a vacuum-sealed cup, he quite literally made a ready-to-cook meal that revolutionised the way the world ate food.
His company, Nissin, became a household name, and started countless copycat brands.
The museum is massive, with exhibits and displays detailing the history of the CUPNOODLES brand and the cup noodles factory.
READ MORE: Don't miss our complete guide with everything you need to know about travel in Japan!
Most of the exhibits are in Japanese, but there is an audio guide you can get, as well as a free app to download. Just scan the QR codes that are found around the museum.
If you want a souvenir to take home, you can even design your own cup noodles using permanent markers.
Afterwards, you take your cup to put in some noodles and whatever flavours you want.
You could also pay a visit to the Shin Yokohama Ramen Museum for more noodle adventures. Yep, there's another interactive museum about noodles in Yokohama!
We've been to a lot of strange museums in our time, and the CUP Noodles Museum in Yokohama is as unusual as they come. But hey, when in Japan, right?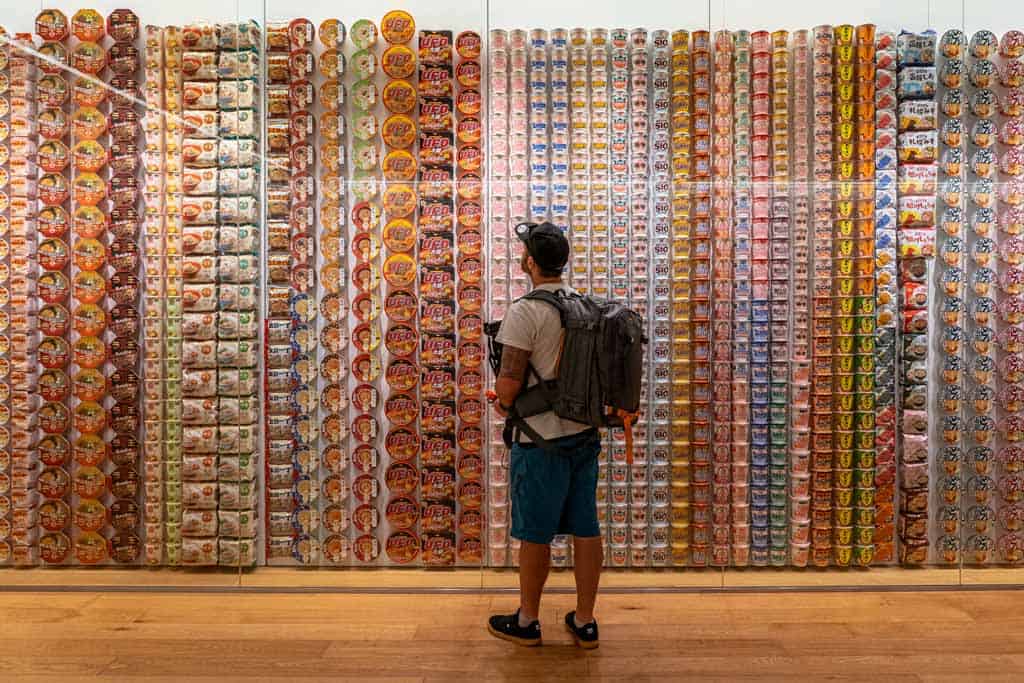 1:30pm – Red Brick Warehouse for Lunch (1.5 Hours)
As interesting as the CUPNOODLES Museum is, we don't recommend eating lunch there.
Instead save that for Yokohama's answer to the world's growing hipster trend, the Red Brick Warehouse.
These two historical buildings at the eastern end of Minato Mirai 21 were originally used as customs offices, monitoring goods coming in and out of the Yokohama port.
Today though they have been revamped to become a funky shopping and dining complex.
If you love art, this is the place to buy it, as plenty of painters, sculptors and designers have come to call the Red Brick Warehouses home.
But by now it's well after lunchtime, and you're probably hungry.
Go for a walk and grab a seat at any restaurant that looks appealing. There's no shortage of options here.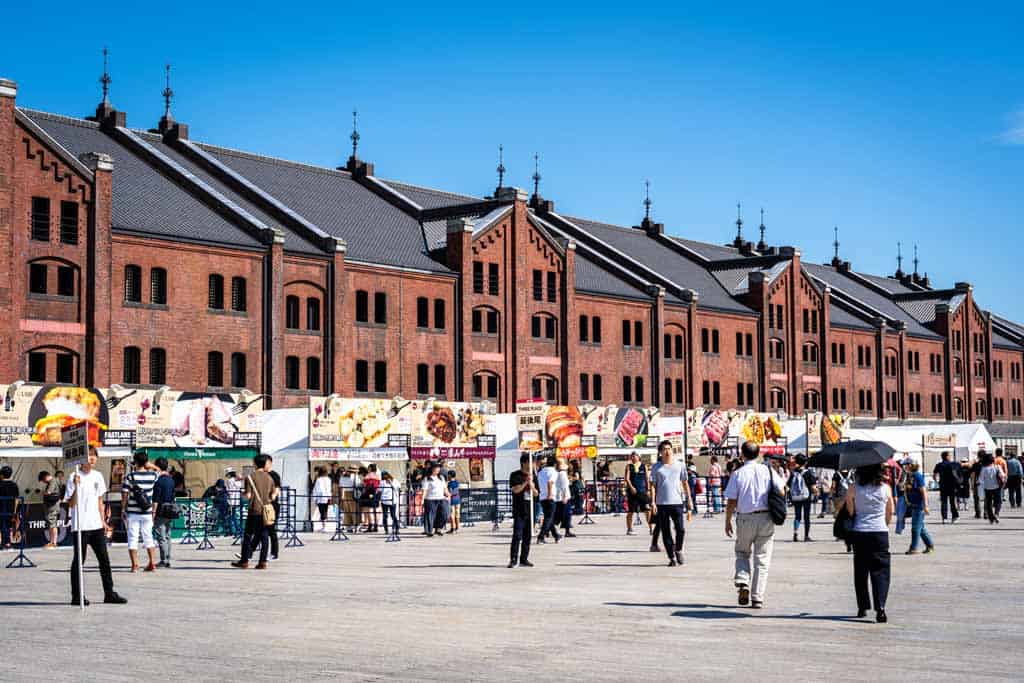 3:15pm – Walk Off Lunch at Yamashita Park (20 Minutes)
Feeling satisfied with a full belly, go for a walk over the bridge and check out the lovely Yamashita Park on this day trip to Yokohama.
With huge grassy areas located right next to the harbour, it's a nice place to observe local life and escape the hustle-bustle of the city.
People bring their families and pets to the park to relax and play games, and you may even see groups practising Tai Chi. Also check out the landscaped Japanese Garden.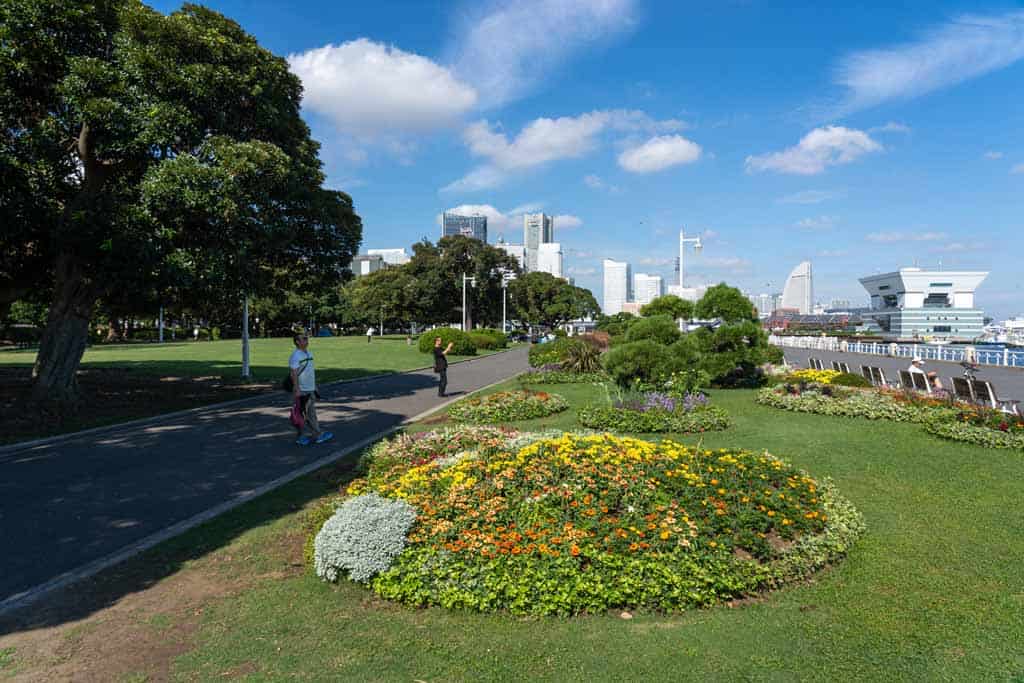 4:00pm – Check Out Chinatown (2 Hours)
Walking south from Yamashita Park will lead you to Yokohama Chinatown.
The largest Chinatown in Japan, this precinct is an absolute hive of activity, and you could easily spend a few hours wandering around the narrow alleyways, trying delicious Chinese food and being mesmerised by all the bright lights.
There are a number of very interesting temples and shrines to see as well, with our favourite being Kanteibyo, right in the centre.
You have two options here, depending on what you feel like.
You can either have dinner in Chinatown (there are countless amazing places to eat Chinese food here), or head to Yokohama's nightlife capital, Noge Street, for a meal and some drinks.
Personally we recommend eating in Chinatown, as many of the good restaurants in Noge Street are very busy.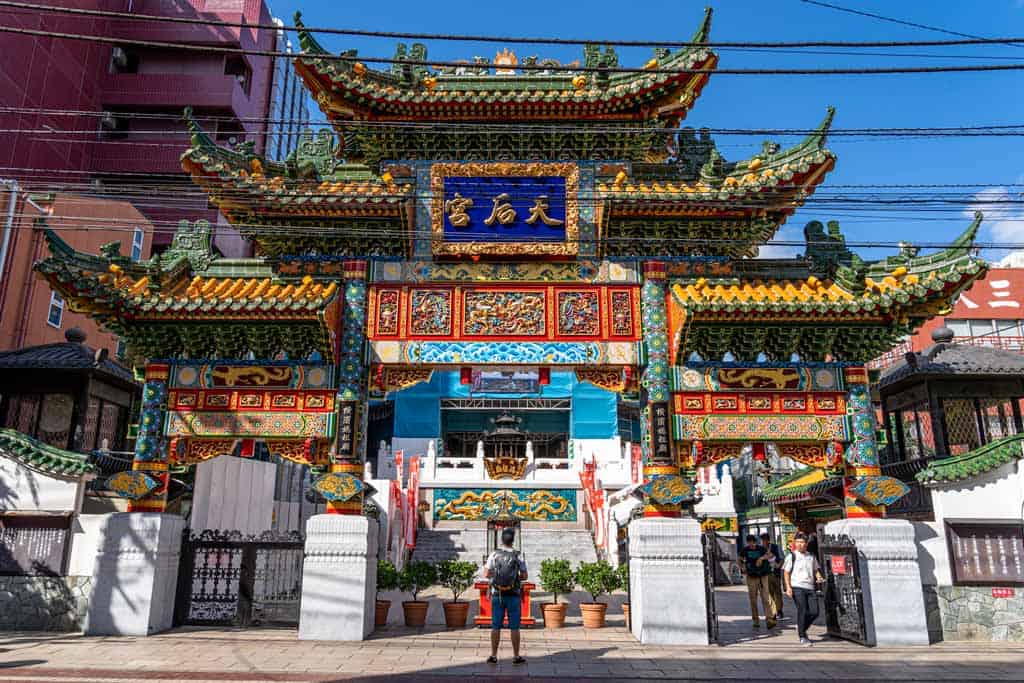 6:30pm – Head to Noge Street for All-You-Can-Drink Sake (1.5 Hours)
Once you're finished eating, walk to the Ishikawacho Station at the south end of Chinatown, and take a train to Sakuragicho Station.
From here you are right on the doorstep of Yokohama's might famous nightlife district, Noge Street.
Exit to the south of Sakuragicho Station and you'll find yourself surrounded by izakayas (Japanese pubs) and bars.
You can essentially just take your pick of where you feel like grabbing a drink, but we recommend going to Akatsuki No Kura for their all-you-can-drink sake special.
For 1480JPY you can get stuck into as many of their premium sakes that you can handle for 90 minutes.
Don't think of it as an alcohol race though, because even though Japanese people love sake, this experience is as much about tasting different kinds as it is trying to get tipsy real quick.
Address: Yokohama-shi, Nishi-ku, Minamisaiwai 1-10-16 2F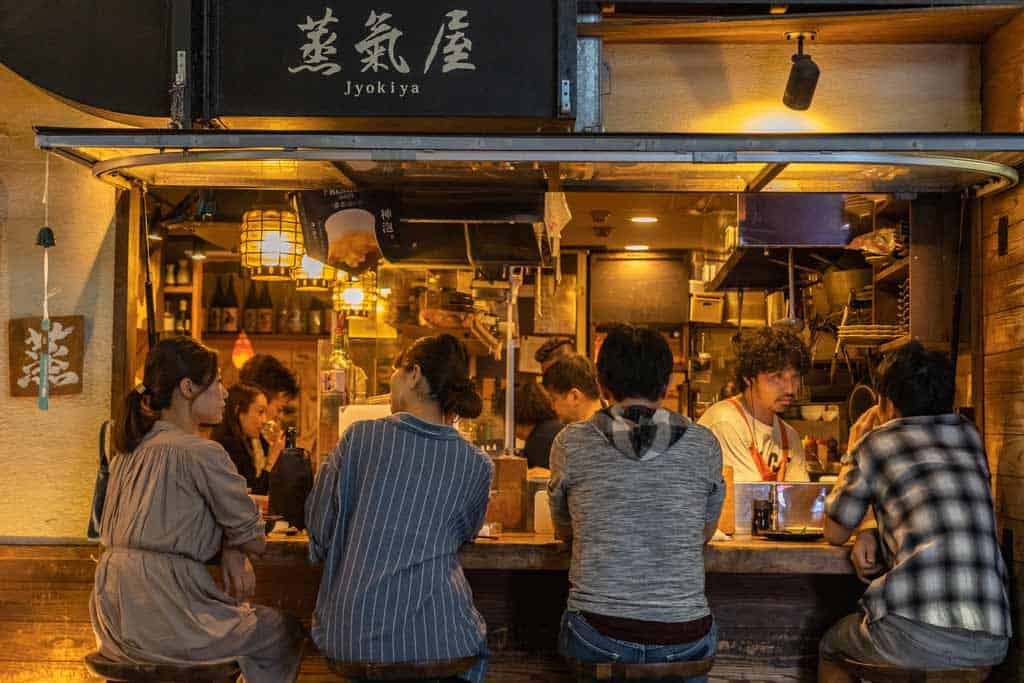 8:00pm – Make Your Way Back to Tokyo
By now you're probably pretty exhausted (and maybe a bit boozy), and it's time to make your way back to your hotel in Tokyo.
Luckily it's very easy to do from Noge Street.
Simply make your way back to Sakuragicho Station and ride one stop to Yokohama Station.
From here jump back on the Tōkyū + Minatomirai Line heading north to Shibuyu.
If you take the express train, you should be back in the city by 8:45pm.
That's it for our Yokohama day trip itinerary! We hope you enjoy your time in the city.
READ MORE: Want to know how to make the most of your time in the capital city? Here's our 3 days in Tokyo itinerary guide!