If you're planning a trip to Japan's second-largest city, make sure you make the most of it with our perfect 3 days in Osaka itinerary!
Osaka is the compromise between the more progressive Tokyo and the more traditional Kyoto.
This ultra-urban metropolis has been a key economic hub for Japan since the 16th century.
During World War II Osaka was a major manufacturing hub for weapons and munitions.
This meant that it was a major target for American forces. At the end of the war, the city was in ruins.
Since then Osaka has been a major part of Japan's economic miracle churning out high-quality tech and electronic products.
What Osaka lacks in activities, it makes up for with bustling alleyways, markets and arcades that are the cities heart and soul.
However, Osaka is most famous for its incredible food and you'll eat lots of it during this Osaka itinerary.
READ MORE: Check out our guide on the best things to do in Osaka!
Get ready to experience Kuidaore (食い倒れ) which literally translates 'to eat oneself into ruin.'
The city's most well-known district of Dotonbori is chock full of incredible restaurants and food stands.
In Osaka you can find Matsusaka, Kobe and Ohmi beef – three of Japan's top beef brands.
Whilst burning a rather substantial hole in your pocket, dining on these varieties will change your views on what meat is supposed to taste like.
This is the city where conveyor belt sushi and takoyaki were invented. So get stuck in and experience Kuidaore during your 3 days in Osaka itinerary!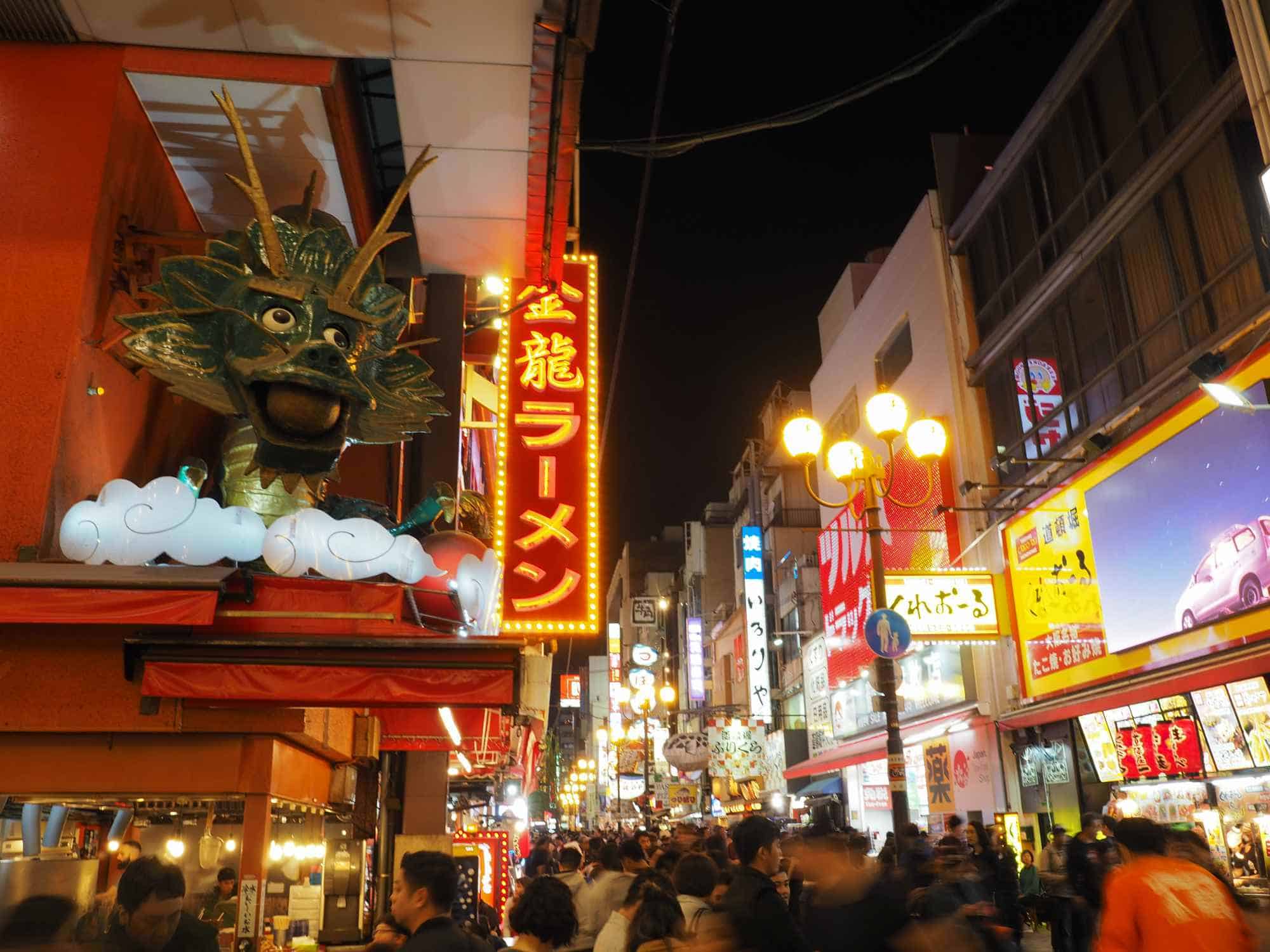 Osaka Itinerary Travel Guide
Before we get too deep into this Osaka itinerary, here are a few tips to help you figure out how to get there, and around the place.
Getting There and Away
Osaka is a great hub for both international and domestic travel.
Air
Osaka is very well connected to Asia and the rest of the world through Kansai International Airport.
From the airport, there are numerous direct trains and buses into central Osaka.
Train
Shin Osaka station is one of the largest in Japan and a major train travel hub in the Kansai region of Japan.
Osaka station is an hour by train from both Kyoto and Nara and approximately 3 hours from Hiroshima.
If you're looking at further travel around the Kansai region it's worth considering Kansai region JR passes.
They are much cheaper than a national Japan Rail pass so it could be a good option for those on a tight budget.
Bus
Japan has an excellent intercity bus network. Night buses run from Osaka station to various major cities in Japan including Tokyo and Hiroshima.
The night buses are an excellent option for saving both time and money. Check out the biggest of the networks Willer Express for more information.
Getting Around Osaka
Getting around the city during your Osaka itinerary will require some public transport, but it should be straightforward.
Firstly, Osaka is huge. Fortunately, the city is supported by an excellent rail system that is made up of metro, JR and private lines that keep the city's population of 2.6 million on the move.
There are numerous day passes available
These include passes offered through the metro as well as multi-entry passes that include free entry into a number of top Osaka attractions.
The metro system runs from 5 am until 12 am.
Perhaps the best thing you can buy though is the Osaka Amazing Pass, which gives you unlimited transport access, as well as entry to quite a few of the main attractions in town.
Buy it on the Klook website for the best price.
How to Spend a Perfect 3 Days in Osaka Itinerary
This 3 days in Soaka itinerary will cover all the highlights including Osaka Castle, Umeda Sky Building, Universal Studios Japan, and lots of street food.
But depending on other things you may want to see and do in Japan, you may wish to stretch this out over a longer period or squeeze it into only a couple of days.
Use this 3 day Osaka itinerary as a framework to build an amazing experience.
Day 1
Start your day early and grab some breakfast at your hotel or hostel.
Or head to a Lawsons, 7-11 or Family Mart to pick up something to eat.
The earlier you can get to Osaka Castle the better chance you have to avoid the crowds.
Osaka Castle
Start your day out by heading to one of Osaka's most famous and evocative sights: Osaka Castle.
The current structure is a reconstruction built in 1931.
The original Osaka Castle was built in 1583 by General Toyotomi Hideyoshi using a workforce of 100,000 labourers.
Inside the castle, there is an excellent museum that gives a fascinating explanation of the castles and Osaka's history.
There are some excellent exhibits featuring art and armour.
The views of the city from the top floor of the Osaka Castle are also well worth a look.
The surrounding moat and park make a pleasant stroll as well as offering great views of the castle.
Additionally, there are boat tours available around the moat which offer some lovely views of Osaka Castle itself.
If you've bought the Osaka Amazing Pass, entrance is free.
Address: 1-1 Osakajo, Chuo Ward, Osaka, 540-0002, Japan.
Nearest Subway Station: Tanimachi-yonchome, exit 9. Alternatively, Temmabashi and Osaka-jo koen are other good options.
Opening Hours: 9 am – 5 pm.
Cost: Grounds/Castle – 600 yen / 900 yen.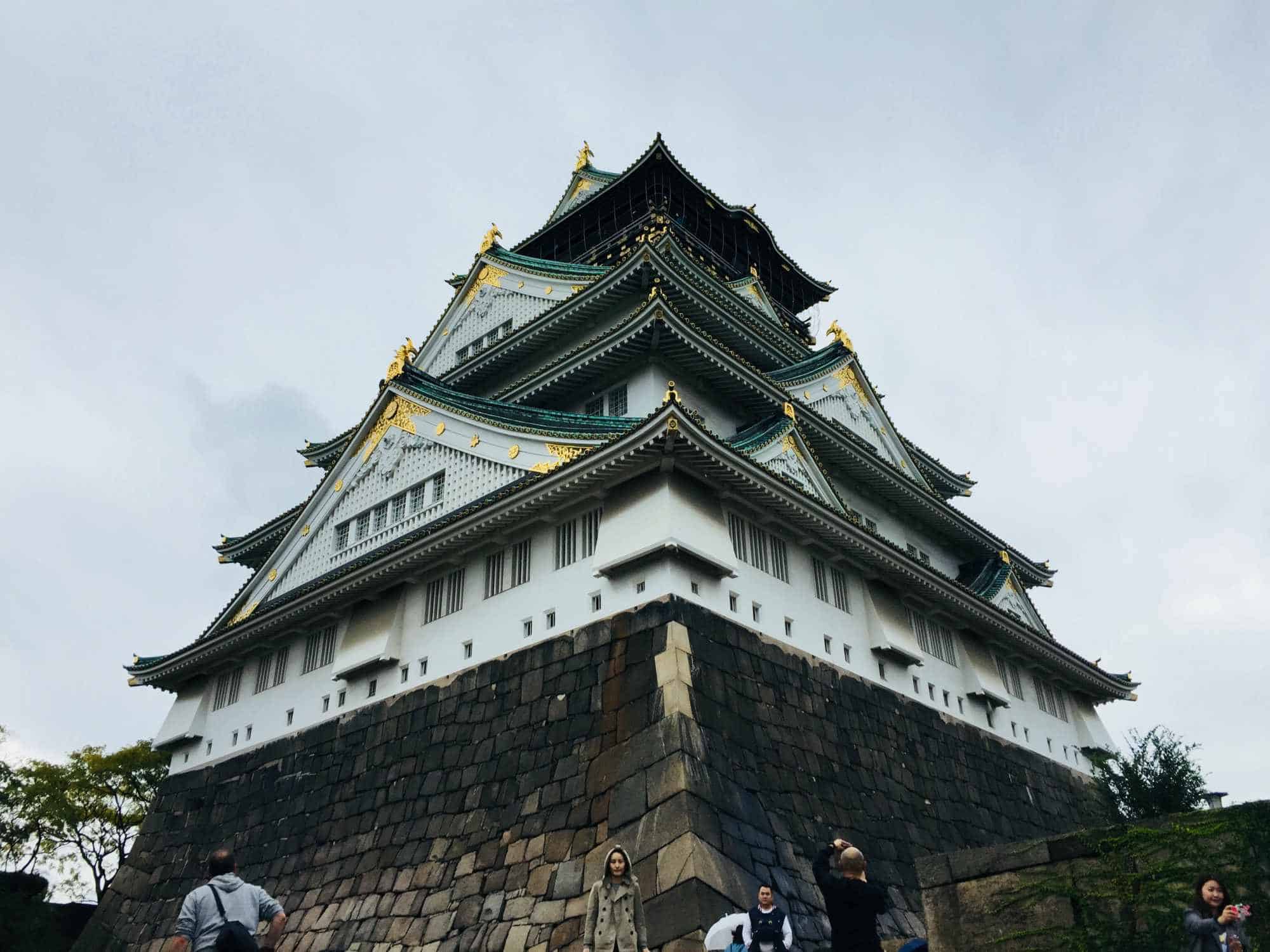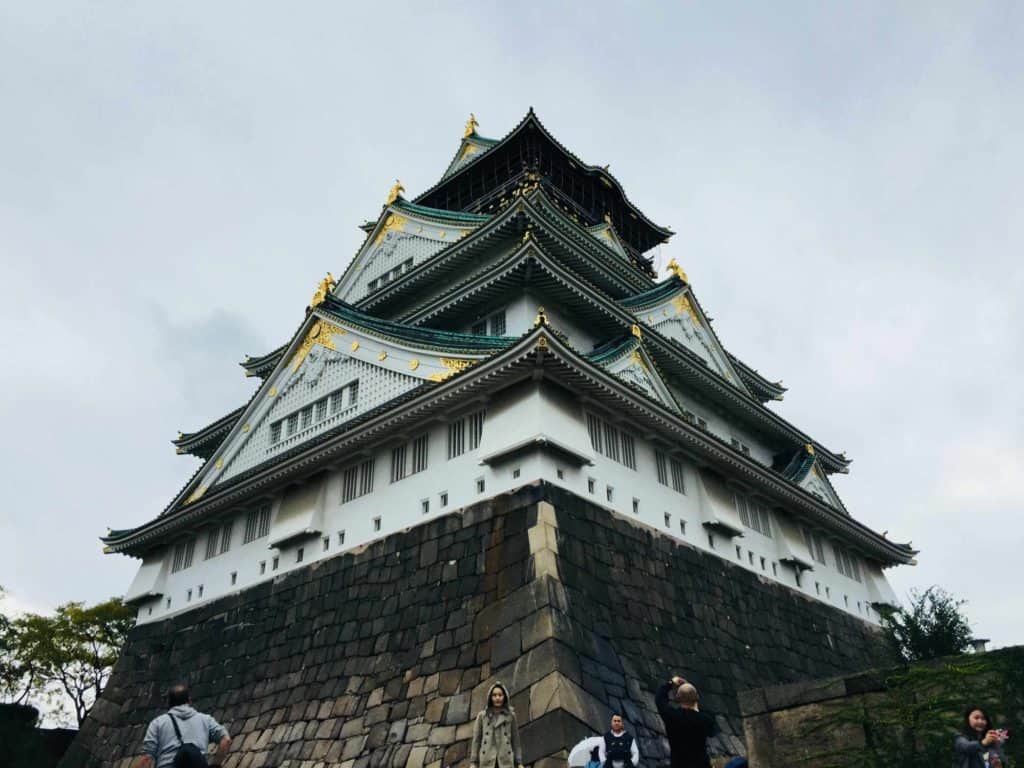 Osaka Museum of History
Follow up on a trip to Osaka Castle with a visit to this interesting museum.
Although the English captions are sparse, an audio guide can be hired for 200 yen.
Osaka Museum of History is great for history lovers, so include it in your Osaka itinerary if that appeals to you!
Address: 4 Chome-1-32 Otemae, Chuo Ward, Osaka, 540-0008, Japan
Nearest Subway Station: Tanimachi-yonchome.
Opening Hours: 9:30 am – 5 pm, open until 8 pm on Friday. The museum is closed on Tuesday.
Cost: 600 yen for just the museum and 900 yen for a ticket combined with Osaka Castle.
Explore Kita (Umeda)
After a cultured morning of understanding Osaka's history head to the north of the city for a hefty slice of modern Osaka.
Commonly known as Kita the area is sometimes known as Umeda.
The best subway options are Osaka or Umeda stations.
The area is home to department stores, arcades, food courts and izakayas.
So if you want to sample some Osaka delicacies to recharge before exploring then you will be spoilt for choice.
There are numerous shopping arcades and areas that are well worth exploring, so take the afternoon at your own pace and be prepared to get lost!
Below are some of Kita's highlights that are well worth checking out.
HEP Five Ferris Wheel
Perched on the seventh floor of the HEP Five building this Ferris wheel offers spectacular views over Osaka.
But this experience is certainly not one for the faint-hearted.
Address: HEP FIVE 7th floor 5-15 Kakuda-cho, Kita Ward, Osaka City, Osaka
Nearest Subway Station: Umeda or Osaka (Osaka, not Shin Osaka), both are walking distance although Umeda is slightly closer.
As a word of warning this area is an absolute maze of exits, walking routes and underground shopping arcades so expect to get lost very easily.
Opening Hours: 11am – 11pm.
Cost: 600 yen
Umeda Sky Building
This rather lovely piece of modern architecture offers some great views of Osaka's Kita district.
The outdoor roof garden known as the Floating Garden Observatory offers complete 360-degree views.
At night this building is spectacular, and the views from the Floating Garden Observatory are unparalleled.
Address: 1 Chome-1-87 Oyodonaka, Kita Ward, Osaka, 531-6023, Japan
Nearest Subway Station: Umeda or Osaka, although Umeda is slightly closer.
Opening Hours: 9:30am – 10:30pm
Cost: 1500 yen
Ohatsu Tenjin Shrine
This wonderful shrine is hidden amongst the skyscrapers and shopping arcades of Kita.
The shrine's fame comes from a tragic play about two lovers, Ohatsu, a prostitute and Tokubei, a merchant's apprentice.
Unable to bear the horror of living apart they committed suicide at the site of the current temple.
Address: 2 Chome-5-4 Sonezaki, Kita Ward, Osaka, 530-0057, Japan
Nearest Subway Station: Umeda or Osaka, although Osaka is slightly closer.
Opening Hours: 6 am – Midnight
Cost: Free
Grand Front Osaka
This huge complex directly north of Osaka Station is a network of interconnected high rises filled with shops and restaurants.
Nakazakicho District
If you're looking for a slightly quieter area of Kita then Nakazakicho is well worth checking out.
Located to the east of Osaka station, this network of alleyways is a mixture of cafes, independent clothing stores and craft shops.
This part of the city is a great place to wander and escape the crowds of the more commercial western side of Kita.
Kitashinchi District
If you are looking for a place to party and sample some of Osaka's nightlife, then you could do far worse than head to Kitashinchi.
The region is just a short walk south of Osaka Station.
Here there is a mixture of amazing restaurants, bars and nightclubs.
This area isn't like the newly-developed areas around Ground Front Osaka and Osaka station itself.
It has a more authentic and laid back vibe and is popular with locals.
Take a River Cruise at Night
As the sun sets Osaka becomes a spectacular display of lights and colour to rival anywhere in the world.
A fun way to experience this is by taking a river cruise at night.
There are two options you can choose, which are the Nakanoshima or Tombori.
Both provide lovely views of the city at night.
The Nakanoshima river cruise will take around the northern portion of the city.
Whereas the Tombori river cruises will take you through Dotonbori, Osaka's most infamous night spots.
The latter can be explored just as well (and maybe more interestingly) on foot.
Both river cruises are 900 yen for adults and run until 9 pm.
However, the Nakanoshima cruises run from 5 pm whereas the Tombori cruises begin earlier in the day.
READ MORE: How to spend a perfect 3 days in Tokyo!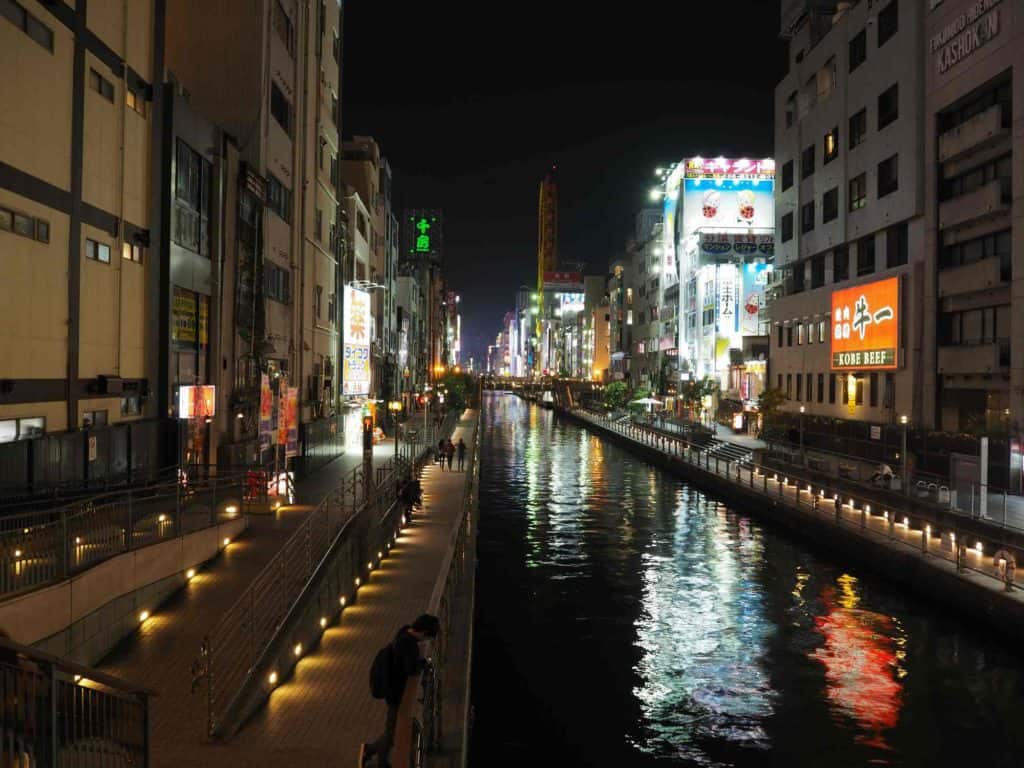 Day 2
For day 2 we will begin by checking out some of Osaka's most famous temples.
By the day's end, you will visit what many believe to be the city's heart and soul, the wonderfully chaotic Dotonbori.
Begin your day with a quick bite at your accommodation or find a convenience store or street stand to pick up something to eat on your way out.
Sumiyoshi Taisha
Start your day by heading south to this spectacular shrine.
This is one of Japan's oldest shrines and was founded in the 3rd before Buddhism had arrived in Japan.
This means that it is a unique shrine with no influence from the Asian mainland – it is purely Japanese.
Of more than two thousand Sumiyoshi shrines found in Japan, this is the main and most famous one.
Sumiyoshi shrines enshrine the Shinto gods who protect travellers, fisherman and sailors at sea.
Therefore the shrines are often found close to harbours.
The Sorihashi Bridge is another highlight.
With a uniquely high arch of a pond, it is a particularly beautiful piece of architecture.
During the first visits to shrines after the new year, this is one of the most visited in Japan.
Address: 2 Chome-9-89 Sumiyoshi, Sumiyoshi Ward, Osaka, 558-0045, Japan
Nearest Subway Station: Sumiyoshi Taisha Station on the Nankai Main Line. Do be aware that fast trains won't always stop at Sumiyoshi Taisha.
Opening Hours: 6:00am – 5pm (4:30pm from October to March)
Cost: Outer temples – Free. Inner Precinct – 300 yen
Shitenno-ji Temple
Continue the morning with a visit to one of the oldest temples in Japan.
The huge tori gate is original. Having been built in 1294 it is the oldest of it's kind in Japan.
However, the rest of the structure is not original.
A mixture of war, fire, earthquakes and typhoons destroyed it over time.
In spite of this, the buildings have been reconstructed to reflect the original designs.
It was originally founded by Prince Shotoku in 593.
The outer temple site is free. But to enter the inner temple areas and the spectacular Gokuraku-jodo Garden you will need to pay.
The inner precinct is home to a five-storied pagoda that you can climb for some great views.
Prince Shotoku is enshrined in the Main Hall (Kondo)
The Gokuraku-jodo Garden is a real highlight of this temple and is definitely worth a visit.
Address: 1-11-18 Shitennoji, Tennoji Ward, Osaka, 543-0051, Japan
Nearest Subway Station: Shitennoji-mae-Yuhigaoka on the subway system. Or alternatively it's a 10-minute walk from JR Tennoji station, which is on the JR loop line.
Opening Hours: 8:30am – 4:30pm (4:00pm from October to March)
Cost: Outer temples – Free. Inner Precinct – 300 yen, Treasure House – 300 yen and Gokuraku-judo Garden – 300 yen.
Explore Shinsekai
A short walk from the Shitenno-ji Temple is Shin Sekai, which literally translated a 'New World.'
Prior to World War II, this was home to an amusement park.
The amusement park is long gone. But Shinsekai retains a certain nostalgic feeling amongst the Japanese population.
Tsutenkaku Tower is the central point of the district. With an observation deck at 91 metres, there are some lovely views.
Shinsekai is one of the best places to chow down on an Osaka speciality of Kushikatsu.
This delicious meal is composed of skewered meat and vegetables that are battered or deep-fried.
Many of these restaurants are open 24 hours a day, so unsurprisingly they truly come alive at night.
Address: 1 Chome-18-6 Ebisuhigashi, Naniwa Ward, Osaka, 556-0002, Japan
Nearest Subway Station: Shin-imamiya station.
Opening Hours: 8:30am – 4:30pm (4:00pm from October to March)
Kuromon Market
Head north from Shinsekai to the Kuromon market.
This huge street food market, just a 15-minute walk from Dotonbori, is home to all kinds of fresh produce and street vendors selling a variety of phenomenal Japanese food.
However, it's the latter of these options that should be your focus.
As you shuffle past the seemingly endless street food stalls serving all manner of tasty treats, keep an eye out for some Osaka specialties.
If you are very lucky you may be able to find some Matsusaka beef. If so, be sure to try some!
Only 2,500 cows meet the standards to be classified as being Matsusaka. As you can imagine, it's certainly not on the budget-friendly side of things.
However, it is definitely worth trying!
Address: 2 Chome-4-1 Nipponbashi, Chuo Ward, Osaka, 542-0073, Japan
Nearest Subway Station: Nippombashi. It is a short walk from Shinsekai or Osaka Namba Station
Cost: Entry is free. All of the wonderful food sadly is not free!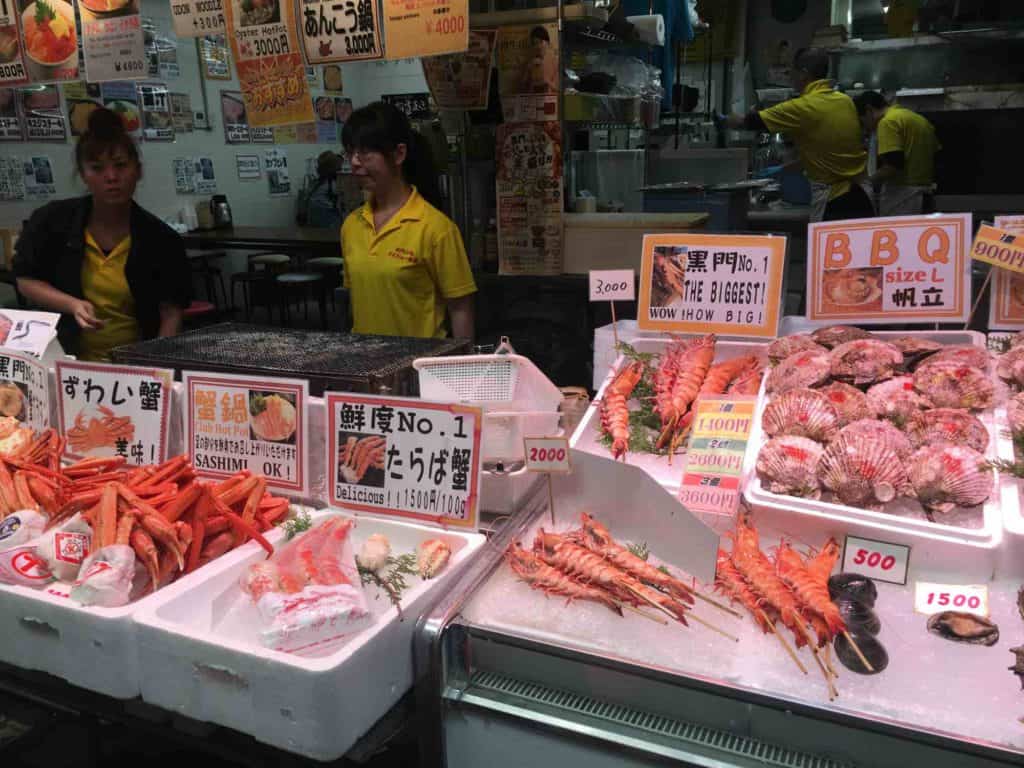 Explore Dotonbori as the Sun Goes Down
Welcome to Osaka's liveliest night spot. The centre of Osaka's Minami district, this is one of the city's most photogenic spots.
Izakayas, BBQ restaurants and food stalls fight for your appetite.
Japanese department stores fight for your yen.
And huge drug stores are overrun by Chinese tourists clamouring to get ahold of medicines that are not available in Mainland China.
The area's name comes from the rather lovely Dotonbori-Gawa canal that cuts Dotonbori in two.
The canal area is a great place to take a stroll, especially at night when it's all lit up.
For some amazing views of the canal, you head to Ebisu-bashi bridge.
If you are lucky you may be able to catch a performance by a famous J-Pop act.
Just south and parallel to the Dotonbori Canal you will find Dotonbori street.
It is here that you will find the largest and flashiest restaurants.
Keep an eye out for one of Dotonbori's most famous residents, the giant spider crab.
South of Dotonbori street you will find the tiny and rather well-hidden Hozen-ji temple.
Outside is the Fudo-myoo statue, which worshipers splash with water.
Close by you will also find Hozen-ji Yokocho, a lovely little alleyway to explore.
In fact, this area is home a number of alleyways that are well worth a post-meal stroll.
Once you have had your fill with exploring and wandering along the canal it's time to get stuck into the wholesome Osaka activity of Kuidaore, or eating yourself into ruin.
The area alongside the canal is packed with restaurants.
However, the further they get from the canal the quieter and cheaper the eateries become.
If you're looking for a cute little izakaya then you are unlikely to find it in the very centre of Dotonbori.
The alleyway is a haven of fantastic restaurants and eateries.
Alternatively, you can pick up a bite from some of the food stalls that can be found everywhere and enjoy a combination of eating and people-watching.
The area around Osaka Namba station is home to a number of bars, Pachinko Halls and 'gentleman' clubs.
Nearest Station: Osaka Namba Station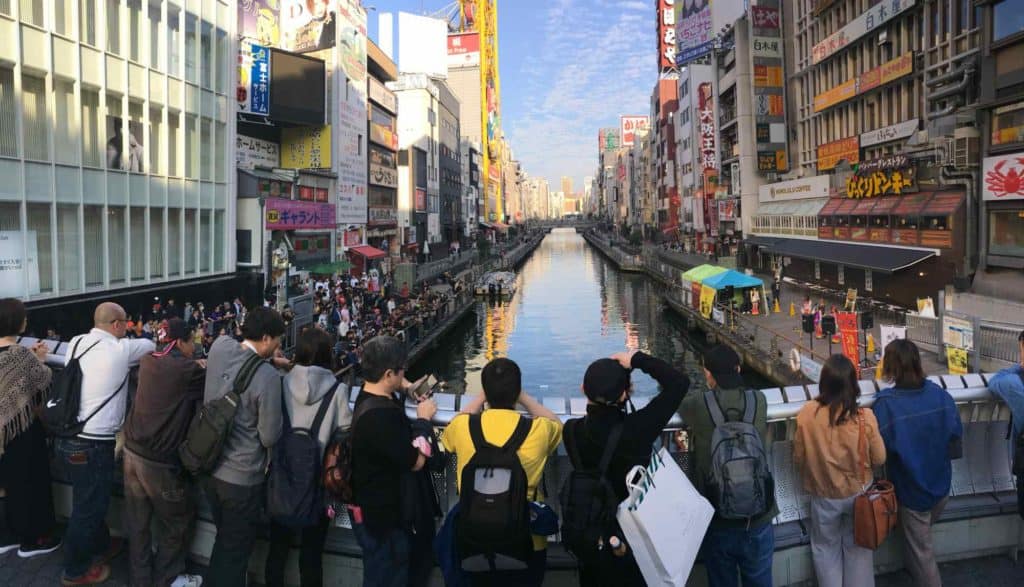 Day 3
On the final day of your 3 day Osaka itinerary you have the opportunity to get out of Osaka for the day.
Experience some of the lovely Kansai countryside with a trip to Minoo Park on the outskirts of Osaka.
End your day with another trip to Dotonbori, or head down to Spa World in the south of the city to relax in a huge onsen.
Minoo Park
Less than 30 minutes from Umeda is Minoo Park.
In autumn this forested valley is one of the best places to enjoy the spectacular colours that autumn in Japan brings.
The colours really come to life in the last 2 weeks of November.
The main hiking trail extends for roughly 3km running alongside the Minoo River all the way to the Minoo Waterfall, a popular 33-metre fall.
The trail begins very close to Hankyu Minoo Station and passes a few temples and shops.
It is generally flat, so it's certainly not a challenging walk.
The rather lovely Ryuanji Temple is well worth checking out.
It's roughly halfway between the station and the waterfall.
There are a number of other hiking trails that go further into the park beyond the waterfall offering some lovely views.
Getting there and away: From Umeda take the Hanky Takarazuka Line from Hanky Umeda to Ishibashi Station. Then transfer onto the Hankyu Minoo Line to Minoo Station. It takes about 25 minutes and costs 270 yen. Due to the fact that it's on private rail lines, it's not covered by the JR rail pass.
But if you fancy staying in Osaka then you have options too.
Begin your day by heading to Abeno Harukas. Then visit Osaka Bay before finishing up at Spa World.
Abeno Harukas
This is Japan's tallest building has an observation deck offering some lovely views over Osaka from Harukas 300.
It's also home to Abeno Harukas Kintestsu Department Store, which is the largest department store in Japan.
It's made up of two buildings called 'tower' and 'wing' and is known for selling all manner of things.
On the 16th floor, you will find the Abeno Harukus Art Museum.
The exhibits are changed every few months and are made up of mainly western and Buddhist art.
Address: 1 Chome-1-43 Abenosuji, Abeno Ward, Osaka, 545-6016, Japan
Nearest Subway Station: JR Tennoji Station.
Opening Hours: 9:00am – 10:00pm
Cost: 1500 yen
Explore Osaka Bay Area
This sprawling area consists of museums, theme parks and shopping centres and offers a very different experience to central Osaka.
The area is a collection of young districts made up of gleaming skyscrapers on a set of man-made islands.
Osaka Bay has three main areas: Tempozan Harbor Village, Sakishima and Sakurajima.
Tempozan Harbor Village offers decent shopping and entertainment facilities, including a Ferris wheel and aquarium.
Sakashima is mainly focused on business events and trade fairs.
However, the observation deck of the Sakishima building and the shopping mall inside the Asia Pacific Trade Center are well worth exploring.
Sakurajima is home to one of Osaka's top family attractions – Universal Studios Japan.
If you have kids or you love themed rides and attractions, Universal Studios Japan is a super fun thing to add to an Osaka itinerary.
You could also book a boat cruise if you didn't have the chance to do a river cruise the night before.
Spa World
An awesome way to sign off from the Kansai capital of culture is a visit to Spa World in the south of the city.
Located in Shinsekai, the spa has a large number of pools offering both European and Asian-themed options.
Naturally, this is Japan so the baths are enjoyed naked and are gender-separated.
The natural spa waters are a great way to relax those aching muscle after your 3 day Osaka itinerary.
Address: 3 Chome-4-24 Ebisuhigashi, Naniwa Ward, Osaka, 556-0002, Japan
Nearest Subway Station: Dobutsuen-Mae station
Opening Hours: 10:00am – 8:45am the next day
Cost: 2400 yen for 3 hours. Pay an additional 300 yen for an all day pass.
READ MORE: Don't miss out on our amazing 3 days in Kyoto itinerary!
Eating in Osaka
No Osaka itinerary without a deep dive into the food scene to really allow you to experience Kuidaore in all of its glory.
The biggest food area is around the neon playground that is Dotonbroi.
However, there are some fantastic spots elsewhere in the city, particularly in Umeda and Kuromon Market.
Enjoy the following Osaka delicacies, as these are what makes Osaka stand out from other Japanese metropolises.
Takoyaki
Know in English as octopus balls, takoyaki was created in Osaka and has since become an enduring demonstration of Japanese cuisine across the world.
In essence, its batter is mixed with pieces of octopus and is then grilled into a ball, topped with mayonaise, bonito flakes, savoury sauce and powdered seaweed.
They are amazing and can be found all over Osaka!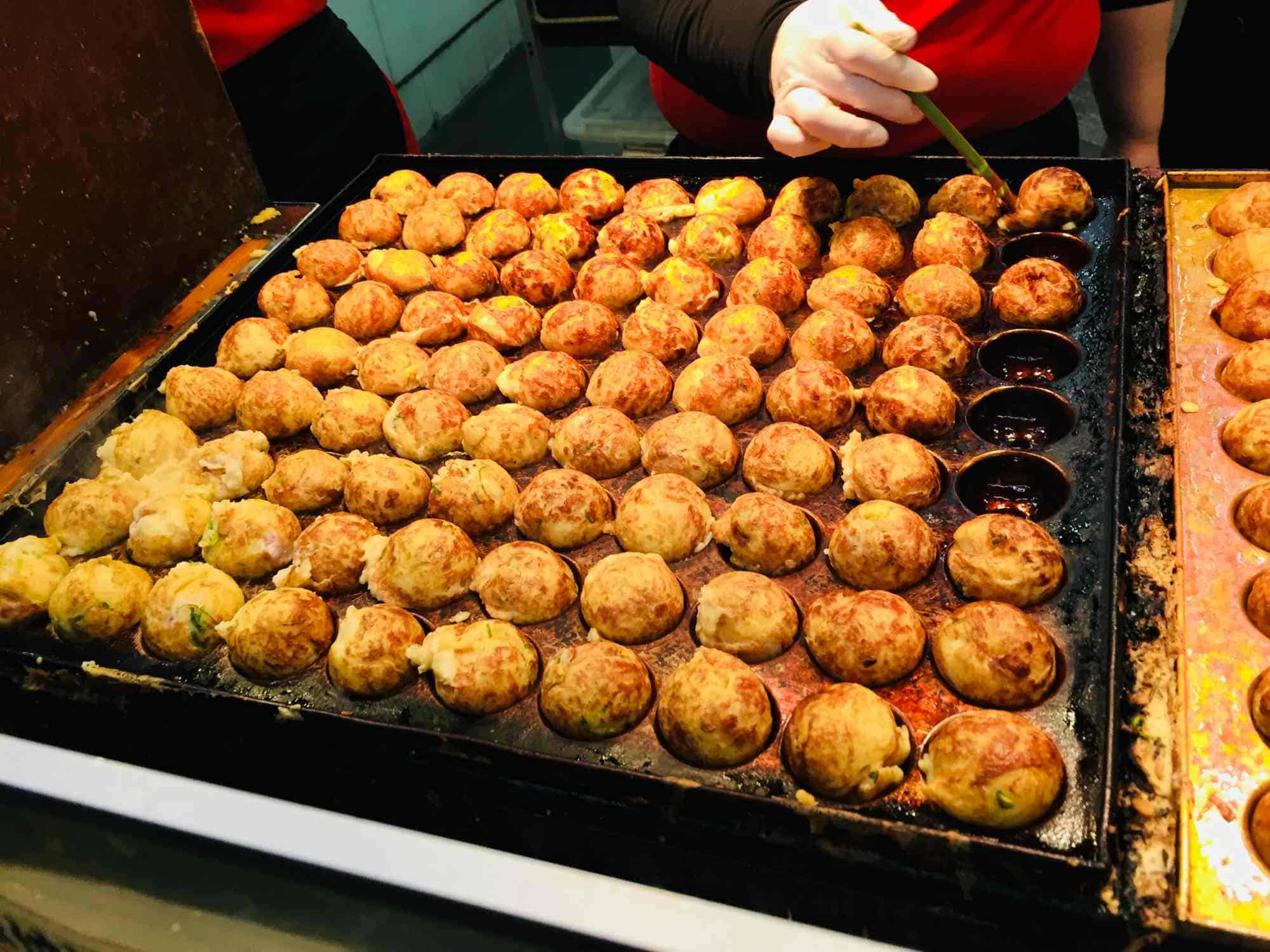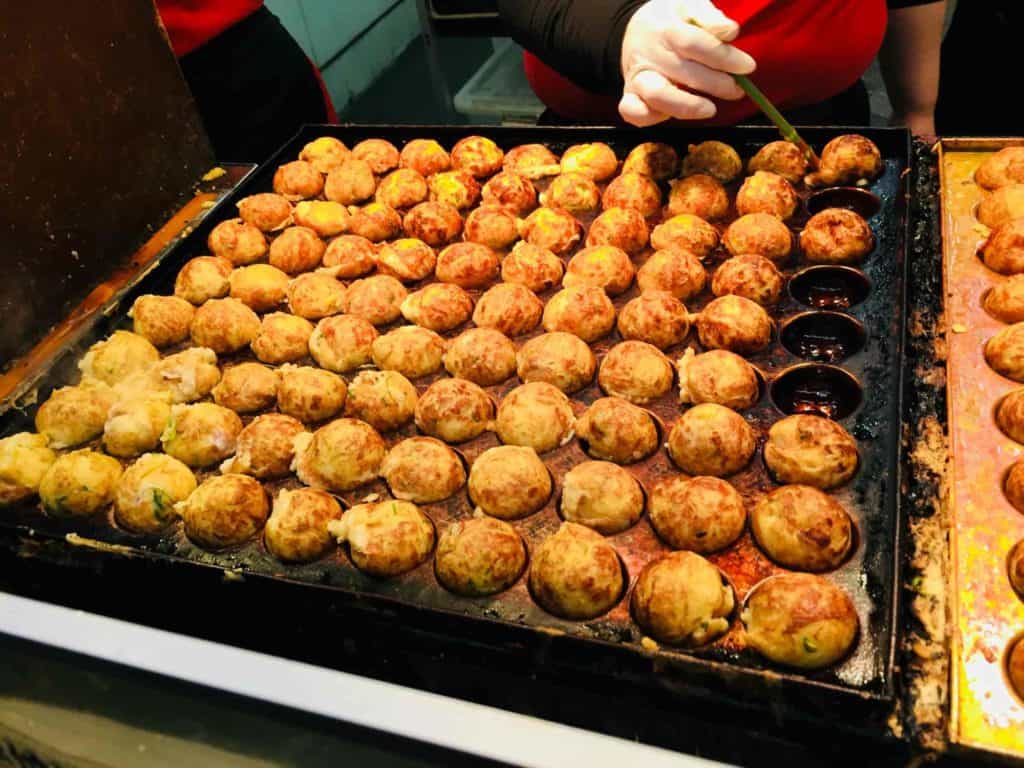 Kaiten Sushi
Known more commonly outside of Japan as conveyor belt sushi, this style of restaurant has become a Japanese icon.
Invented in the 1950s, the conveyor belt service was considered to be very much at the lower end of the sushi spectrum.
However, the desire for cheaper eats has grown this market has flourished.
True it's certainly not a sushi master experience. But it's hard to grumble at sushi from as low as 100 yen a plate!
Kushikatsu
If you're looking for a hearty meal, try Kushikatsu.
This dish consists of skewered meat, vegetables and fish deep fried and served with dipping sauce.
Kushikatsu goes perfectly with a chilled beer.
The Shinsekai neighbourhood has plenty of these restaurants.
Premium Japanese Beef
Osaka is a great place to find Kobe, Omi and Matsusaka beef.
These delicacies will be expensive. But they are absolutely worth it.
However, it may completely alter the way you view meat forever.
Japanese BBQ
Osaka, Dotonbori in particular, is home to a wide variety of BBQ restaurants where you cook raw meat over a small charcoal fire.
Many of these restaurants have a very affordable all-you-can-eat option. However, this option is not always displayed in English.
If you see the Kanji 放题 outside then there is an all-you-can-eat option available so just ask for that menu when you sit down.
Accommodation in Osaka
You can find a variety of options for accommodation in Osaka.
With options ranging from budget-friendly hostels to more luxurious hotels, you are sure to find the perfect place to stay during your 3 days in Osaka.
Best Budget Accommodation in Osaka – The Stay Osaka
This excellent hostel is located just under a mile from Dotonbori.
This means that you don't need to worry about getting the subway home after you've eaten yourself to ruin.
The vast majority of the accommodation here is in the form of dorms that a clean and very well maintained.
There are some private rooms. However, these are quite expensive.
The Stay Osaka also has dorm rooms that can be rented privately for large groups.
The hostel also has a huge common area and a well-equipped kitchen to help save you a few pennies.
There's also a little bar, which is a great opportunity to meet fellow travellers and swap tips and stories.
---
Best Mid Range Accommodation in Osaka – The Royal Park Canvas Osaka Kitahama
This newly built hotel is located in the north of the city in the area close to Umeda and Osaka stations.
However, the nearest subway station is Kitahama.
With Kita and Osaka Castle both within walking distance, this area offers something of a slightly more relaxed pace than staying in Dotobori.
Offering good sized rooms at a reasonable rate, this is a good mid-range option for those looking for a bit of comfort in fast-paced Osaka.
---
Best Luxury Accommodation in Osaka – Canedo Hotels Osaka Namba
This 4-star hotel is located in the heart of Namba (Dotonbori) and offers large rooms, a swimming pool as well as a sauna.
Space is a premium in jam-packed Osaka. So this hotel bucks the trend of most. There are also options to include free breakfast.
With some rooms offering excellent views of the city, this is a great option for those with a little more money to spend for comfort and luxury.
DISCLAIMER: Some of the links in this article are affiliate links, which means if you book accommodation, tours or buy a product, we will receive a small commission at no extra cost to you. These commissions help us keep creating more free travel content to help people plan their holidays and adventures. We only recommend the best accommodations, tours and products that ourselves or our fantastic editorial team have personally experienced, and regularly review these. Thanks for your support, kind friend!