Everything you need to know before you travel to Uzbekistan in our comprehensive 2023 Uzbekistan travel guide.
In years gone by, Central Asia was an expanse of land that few people knew or even cared about. At the heart of Central Asia lies Uzbekistan an intoxicating mix of Soviet brutalism and Islamic wonder.
With travel to Uzbekistan getting both easier and more accessible in recent years, now is the perfect time to go!
Travelling in Uzbekistan: At a Glance
Here are the basics of travel to Uzbekistan.
CAPITAL: Tashkent
OTHER MAIN CITIES: Samarkand, Bukhara, Andijan, Nukus, Bukhara, Kokand
CURRENCY: Som (See current exchange rates) USD$1 is worth roughly 10,000 Som. This exchange rate can be found in banks. In the past, the best exchange rates were found on the black market due to set rates by Uzbek banks.
ELECTRICITY: 220 volts/ types C and F plug sockets
(Be sure to get your universal travel adapter before you leave)
ENTRY / VISA: There are a number of countries that are visa-free for 30 days and a number of others that are granted visas on arrival. For information about which countries are granted visa-free access click here.
SAFETY: Uzbekistan is generally safe with violent crime involving foreigners being rare. That being said pickpocketing, purse snatching, muggings, and snatch-and-grab thefts are more common, particularly in crowded places. In the past, the Fergana Valley has experienced significant unrest so check all government travel advice if you are planning on travelling here.
LANGUAGE: The official language of Uzbekistan is Uzbek however, you can get by with Russian almost anywhere. English is not widely spoken so knowing a little bit of Russian will be very beneficial. This page has a list of useful Uzbek phrases.
TRANSPORTATION: Transport in Uzbekistan is probably better than you would expect. The country has a reasonable train network with tickets being affordable and reasonably easy to purchase (easier still if you have a smattering of Russian). Private taxis and marshrutka are very common. Domestic flights are also an option.
Important Note! Before you book any international trip, we honestly recommend getting travel insurance. You never know when things will go wrong, and medical bills can add up quickly if you get sick or injure yourself overseas.
Our personal recommendation based on our own experience is World Nomads.
TOP 5 TRAVEL EXPERIENCES IN UZBEKISTAN
With so much to see and do in Uzbekistan, it really is hard to pick the top experiences.
However, we think that to truly appreciate Uzbekistan you need to plan to do these 5 activities during your visit.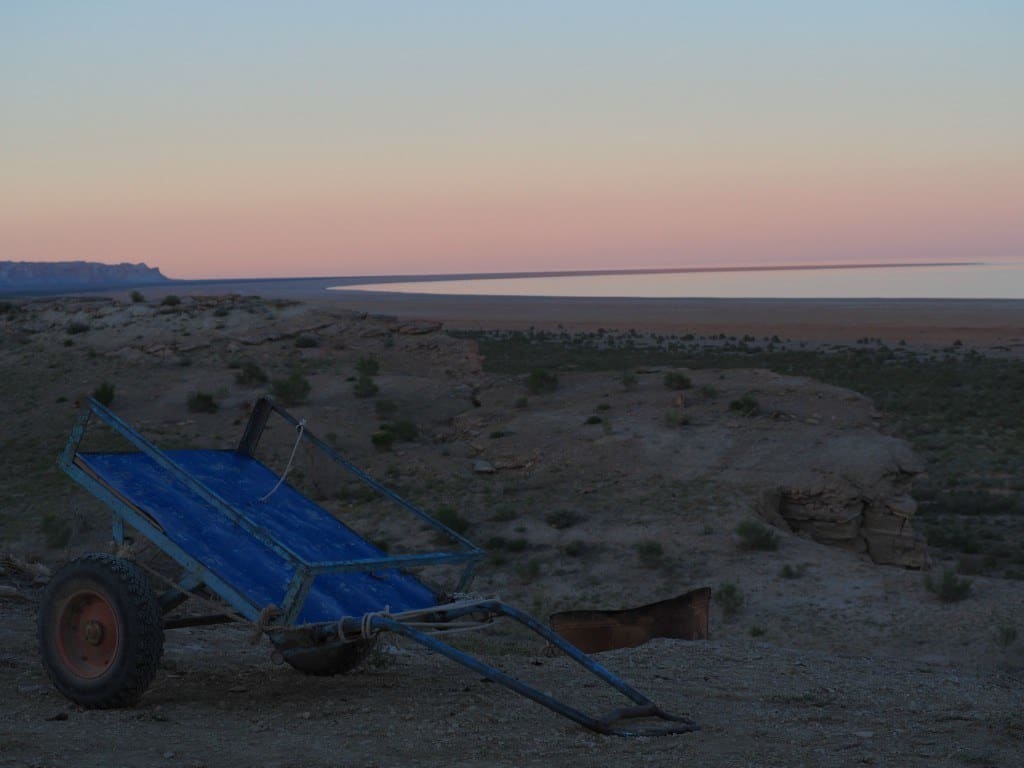 Visit the Aral Sea
Once the world's fourth-largest lake, the Aral Sea has now shrunk to 20% of its original size but it still a must-see in Uzbekistan.
Explore the ship graveyard at Moynaq, climb onto Ustyurt Plateau, and watch the sunset over what's left of the Aral Sea!
View Spectacular Islamic Architecture
Samarkand is home to what many believe is the most stunning Islamic architecture in Uzbekistan. The Registan is the largest and most well known. However, the Gur-E-Amir Mausoleum and the Shah-i-Zinda are equally spectacular.
Explore the Backstreets of Bukhara
Bukhara's narrow backstreets offer a break from the searing heat and wonderful opportunity to take in the city's gorgeous Islamic architecture.
The photogenic Chor-Minor is an absolute must as well as the Kalon Mosque and Minaret. Head to Chasmai Mirob for some stunning sunset views over Bukhara.
Get Lost In Old Tashkent
The area around the Chorsu Bazaar, Khast Iman and the Kolkuz Canal offer a view of old Tashkent at it's finest.
Head to the Amir Timur Square or the Navoi Theatre for a view of Soviet Tashkent in all it's communist glory.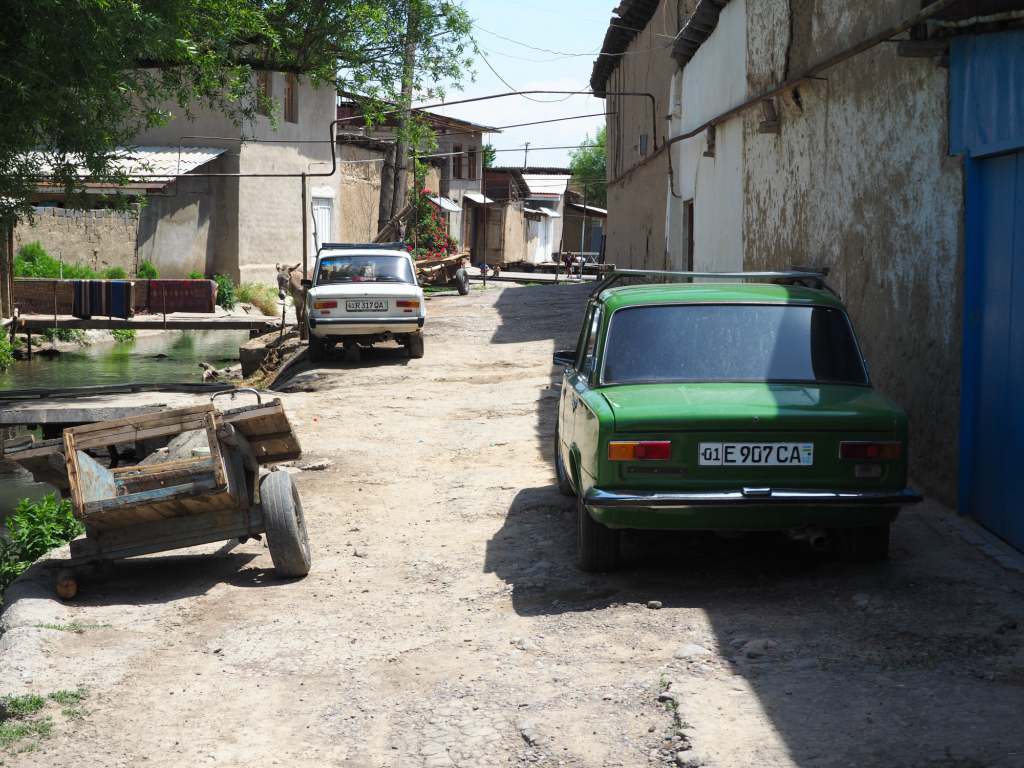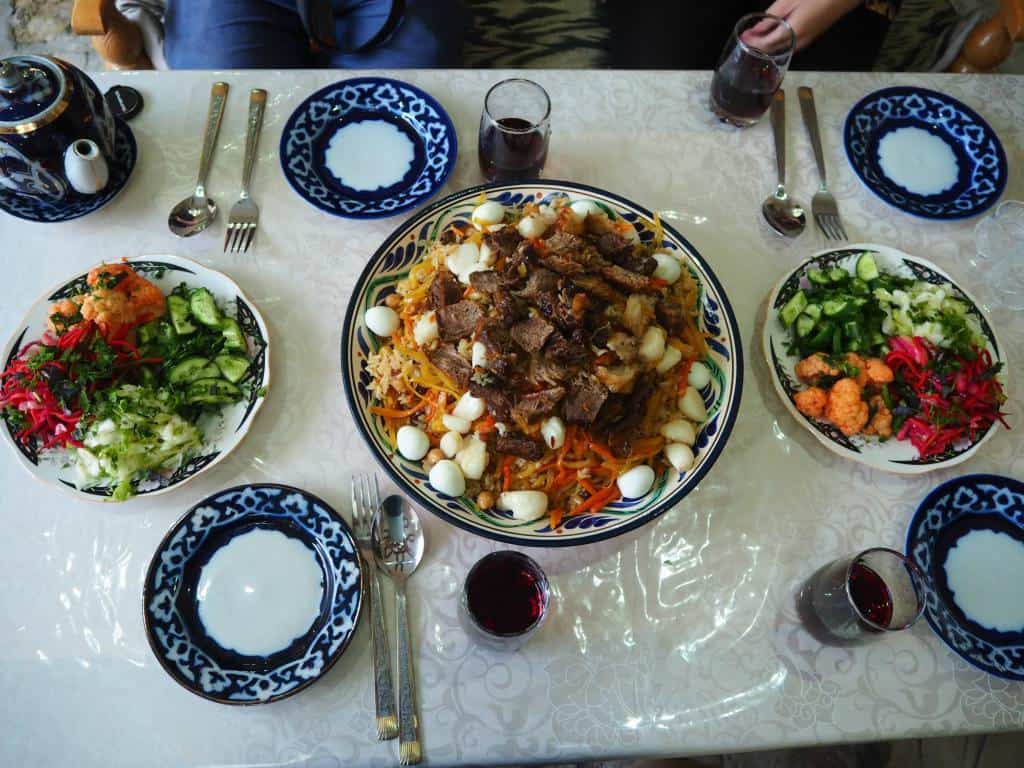 Chow down on Plov
This quintessential Central Asian dish can be found all over Uzbekistan, so make sure you get your fill!
OTHER THINGS TO DO IN UZBEKISTAN
If you're planning on travelling to Uzbekistan, don't miss these other attractions.
Stand in awe as you wander around the Palace of Khudayar Khan – Home to the last ruler of the Kokand Khanate, this palace was known as the "Pearl of Kokand," and for good reason!
Admire the ruins of the Aksaray Palace in Shakhrisabz – These stunning ruins are just a short drive from Samarkand and are well worth the day trip.
Visit the ship graveyard in Moynaq – Once home to the thriving fishing industry, Moynaq is now home to a collection of ships rusting away on what was the bed of the Aral Sea.
Walk around Khiva's city walls – Get up early and take a wander around Khiva's city walls for some spectacular views of this ancient wonder.
Visit Elliq-Qala – This translates as 50 fortresses, although the majority of that number are not in great condition. However, the ones that are, are nothing short of spectacular.
Marvel at Tashkent's metro stations – Tashkent's metro stations have had a reputation for great art for a while. In 2018 you were legally allowed to take photos so enjoy!
Visit the bug pit aka Zindon Prison – A gruesome part of Bukhara's tumultuous and often violent history. This was the pit where William Stoddart and Arthur Connolly were held.
Explore the country through Train Travel – Riding the rails across Uzbekistan's desert landscape veers between brutally hot, and truly spectacular.
Be sure to look into all of these great things to do in Uzbekistan during your visit.
BEST PLACES TO VISIT IN UZBEKISTAN
There are plenty of amazing places to visit in Uzbekistan. Depending on your interests, trip duration, and time of year you will find lots of things to do during any length of stay.
Make sure you read our complete guide to the best places to visit in Uzbekistan in addition to the highlights below.
Samarkand
A city brimming with gorgeous Islamic architecture and oodles of history.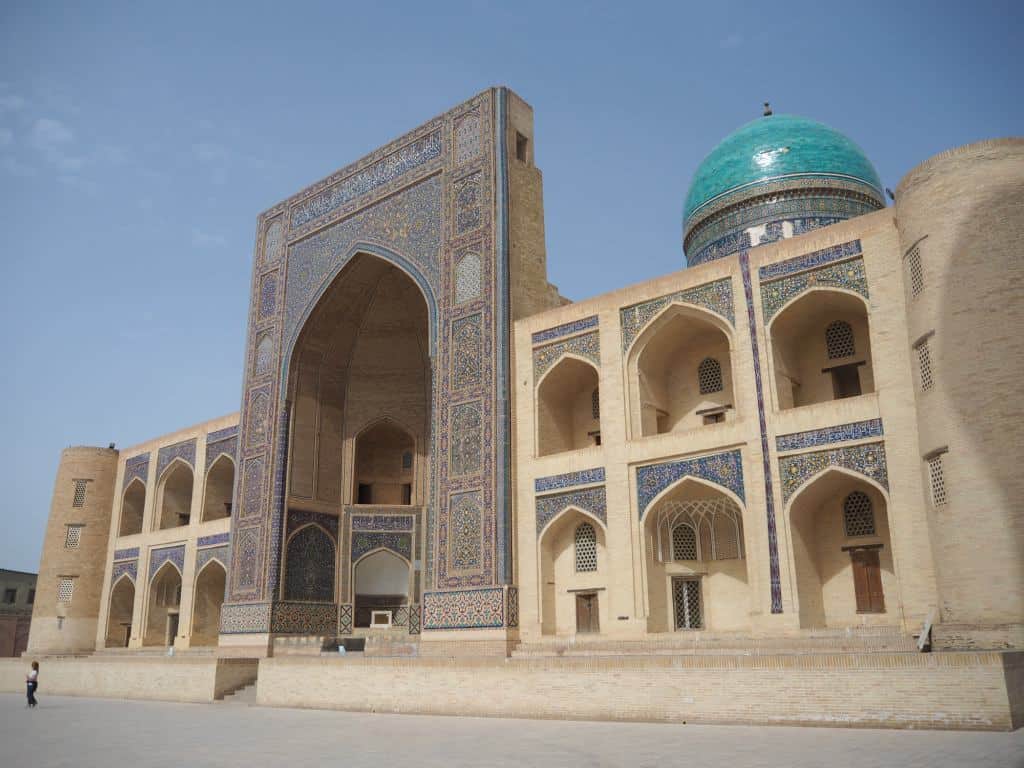 Tashkent
The largest city in Central Asia has plenty to do and has a healthy tip of the hat to Tashkent's Soviet past.
Check out our Tashkent city guide here.
Khiva
This tiny little town close to the border of Turkmenistan features some wonderful views from the city walls. Head out of Khiva to check out a number of ancient fortresses with Ayaz Kala being particularly spectacular.
Check out our Khiva city guide here.
BEST UZBEKISTAN TRAVEL ITINERARY
Depending on whether you are starting from scratch or have a general idea of what kind of things you would like to see and do, we've put together a few itineraries that are sure to leave you wanting for nothing at the end of your visit.
There are so many amazing things to do in Uzbekistan that planning an itinerary for your travel can be a little overwhelming.
Most travellers will want to budget at least 2-3 weeks to give you plenty of time to explore all of Uzbekistan's most well-known sights and a few off the beaten track ones in the Fergana Valley.
However, be sure to check all travel advice before visiting this region.
| | | | |
| --- | --- | --- | --- |
| | 1 – Week | 2 – Weeks | 3-Weeks |
| Tashkent | 2 Days | 3 Days | 3 Days |
| Bukhara | 2 Days | 3 Days | 3 Days |
| Samarkand | 3 Days | 3 Days | 3 Days |
| Nukus | X | 1 Day | 1 Day |
| Aral Sea | X | 2 Days | 2 Days |
| Khiva | X | 2 Days | 3 Days |
| Andijon | X | X | 3 Days |
| Kokand | X | X | 2 Days |
| | Cut out the Aral Sea | Cut out Fergana Valley | Return Tashkent |
For more details on planning the best Uzbekistan itinerary be sure to check out this post.
UZBEKISTAN TRIP PLANNING
Now that you have a good overview of what you want to do and how long you want to visit Uzbekistan, let's fill you in on all the other details of your trip!
BEST TIME TO VISIT UZBEKISTAN
Uzbekistan bakes during the summer and gets pretty nippy in the winter. Spring and autumn bring a nice balance of the two.
However, this time is naturally the most popular with visitors. But even in the busiest times, most places in Uzbekistan are not heaving with tourists, unlike some parts of Europe.
March to May and September to October brings the most pleasant climate. From June to August the mercury is usually hovering in the high 30's C.
| | | |
| --- | --- | --- |
| | Month | What to Expect |
| Low Season | Jul – Aug | Searing heat makes travel extremely uncomfortable |
| Mid-Season | Nov – Feb | November and December are cold, but not freezing with many tourist destinations empty. Cold winds rip through the country in January and February. |
| High Season | Apr – June, Sept-Oct. | The best time to visit Uzbekistan, clear blue skies and warm temperatures. |
UZBEKISTAN TRAVEL BUDGET GUIDELINE
When it comes to budgeting, Uzbekistan is slap bang in the middle of the five Central Asian countries. You'll find that it is cheaper than Kazakhstan and Turkmenistan, but more expensive than Kyrgyzstan and Tajikistan.
However, in comparison to Europe, North America and even parts of South East Asia, Uzbekistan is noticeably cheaper.
| | | | | | |
| --- | --- | --- | --- | --- | --- |
| | Meals | Accommodation | Transportation | Attractions | Daily Cost |
| Backpacker | $10 – $15 | $15 – $30 | $50 – $100 | $5 – $10 | $30 – $55 |
| Mid-Range | $15 – $40 | $30 – $50 | $100 – $200 | $10 – $30 | $55 – $120 |
| Luxury | $40+ | $50+ | $200+ | $30+ | $120+ |
This table does not factor in trips to the Aral Sea which often costs around $240 per person.
Budgeting Tips:
Uzbekistan is generally quite affordable, so it's already quite easy on the wallet. However, there are a few tips that will help you to save a little bit of money.
1) Utilise trains and marshrutka (van/bus)where possible when traveling between Tashkent, Nukus, Samarkand and Bukhara.
2) Use Metered Taxies in Tashkent.
3) Know your Som. Occasionally people may slip 500 Som notes into replacing larger denominations.
4) The local markets offer unbeatable value and make a great lunch option, even compared to reasonably-priced restaurants.
5) Learn a little bit of Russian as English is very rarely spoken. This will go a long way to helping you buying tickets, arranging marshrutka's, and negotiating.
6) Exchange money at banks not the black-market. Banks now offer the correct exchange rate between Uzbek Soms and foreign currency.
Here are a few other things you should know about the different budgets at which you can choose to travel.
Budget Traveller ($30 Single / $55 Couples)
Uzbekistan is an extremely budget-friendly destination. Even at this end of the scale, you can expect a private room in guesthouses, although you can take advantage of hostels in Tashkent.
You will be eating at Uzbek restaurants and getting around on public transport. Being at the budget end of the scale you a trip to the Aral Sea is out of the question. However, a day trip or two is certainly possible.
Mid-Range Traveller ($60 Single / $120 Couple)
With a little more cash to spend, you can expect to stay in hotels with plenty of mod-cons and amenities.
Additionally, a trip out to the Aral Sea will be affordable so you're probably going to want to take advantage of that.
Although you will be primarily travelling by train between cities you may be able to splurge on a private taxi from say Nukus to Khiva.
Luxury Traveller ($120+ Single / $200+ Couple)
At the upper-end scale, it's 4 and 5-star hotels with private taxis to get you around. You can expect to eat at the best restaurants and arrange private tours everywhere you go.
Another option is to book onto a private organised tour that takes care of everything but at a more significant cost.
GETTING TO AND AROUND UZBEKISTAN
Uzbekistan is quite an easy country to get around and transport is certainly in the adorable bracket. Border crossings are an exception to this rule, with the costs of marshrutkas and private taxi's being noticeably more expensive, as you would expect.
Roads are generally in good condition, with the exception of some stretches of road in Karakalpakstan in the northeast of the country.
Guesthouses and hotels can assist you in booking private taxis, marshrutkas, and trains to wherever you need to go.
Entry Requirements
In recent years Uzbekistan has relaxed it's visa policy significantly with the majority of western and developed nations being able to enter visa-free or with an e-visa.
The days of jumping through hoops at an Uzbek embassy seem to have gone for now.
For more information on Uzbekistan's visa policy please read more on the official Uzbekistan government's website.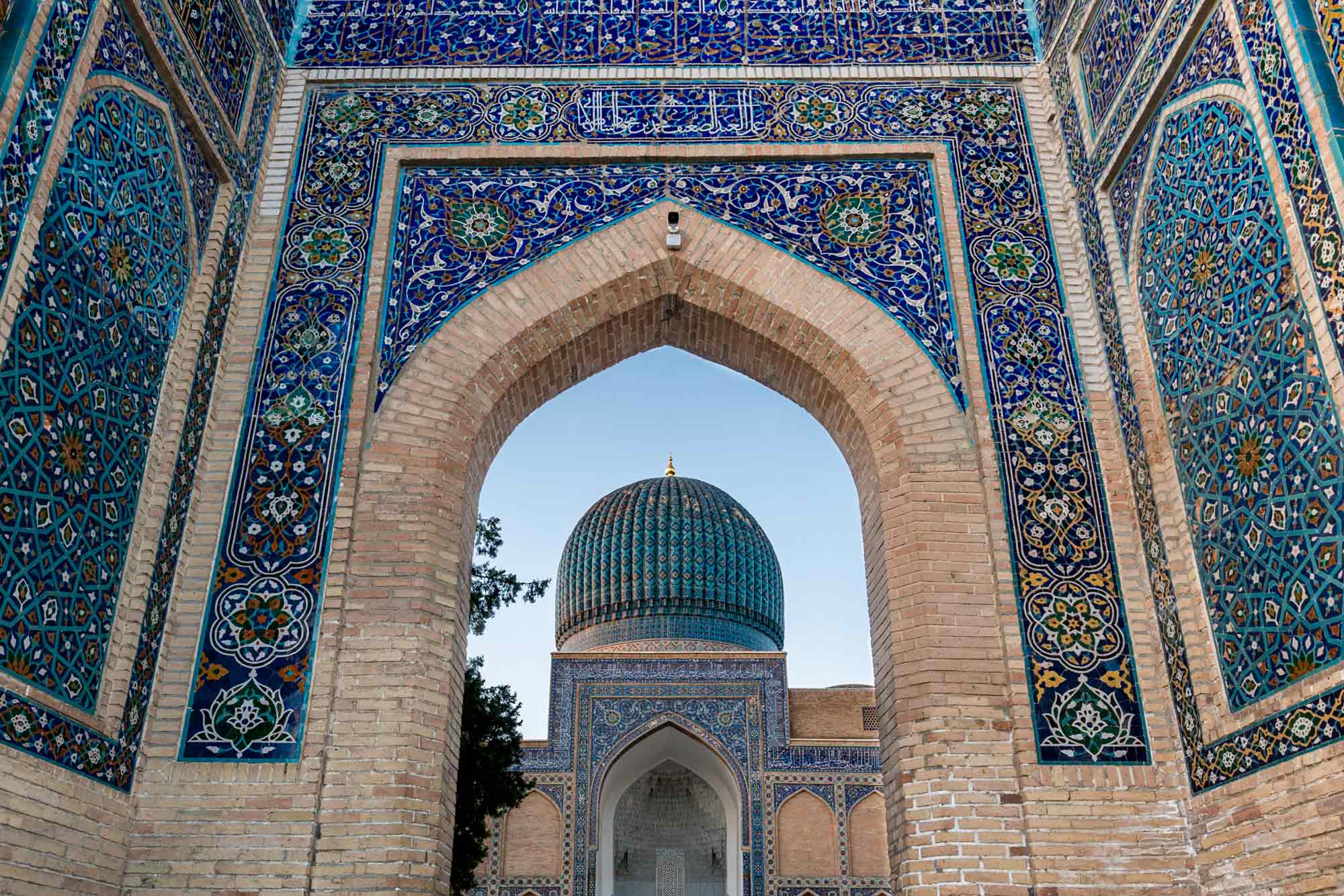 Getting Around Uzbekistan
Uzbekistan is blessed with a reasonably efficient transport network. That being said public transport is limited in Karakalpakstan and the Fergana Valley meaning a private taxi is your best bet here.
Travelling by Air
You're most likely to be travelling by air when entering the country. However, you might opt to fly between Tashkent and Nukus rather than take the 18 hour night train.
Uzbekistan Airlines, which operates the vast majority of the country's internal flights, is a safe, modern airline.
Travelling by Private Taxi
This is a very common way to travel in Uzbekistan. Naturally, private taxi is a popular option from the airport, train and bus stations and border crossings.
However, it is also a great option when travelling between cities.
When travelling in a private taxi between you will be paying per seat. Therefore the taxi doesn't leave until it's full. So you have choices to wait for that to happen or pay for the empty seats.
Very often your guesthouse will be able to arrange one. However, there is not much chance of negotiating. Whereas if you find someone on the street then you will be able to negotiate the price.
Generally, if you book a private taxi through a guesthouse it's more expensive, but the service is more reliable.
If you are travelling within a city, especially Tashkent, then any car is a potential private taxi. Simply stand at the side of the road with your thumb out and someone, in a taxi or regular car will pull over.
Prices can occasionally be negotiated. But very often they are small sums of money and it's not worth negotiating.
Note that this is not perceived to be hitchhiking. Drivers who pick you up have the expectation that you will pay.
Travelling by Marshrutky/Bus
Marshrutky is a converted transit van that can be found all of the former Soviet Union. They operate like buses in any other country and are generally cheap and reliable.
However, there is often a certain level of flexibility to be expected with leaving times, as very often drivers want to fill up the seats. And if you have large bags that cannot fit under seats then be prepared to have to pay for an additional seat for your luggage.
Negotiating bus stations can be a particularly challenging experience even if you know some Russian. This is a similar story across Central Asia and the Caucasus.
Also don't expect a formal cue, very often it's first come first served.
This method of transport is particularly common in the Fergana Valley.
Travelling by Train
Uzbekistan has a reliable train network that runs from Nukus in the west to the Fergana Valley in the east, stopping at most of Uzbekistan's big hitters in between (with the exception of Khiva).
Train journeys are generally quicker and more comfortable than private taxies and marshrutkas. This is not always the case, so make sure you do your research.
Train tickets can be brought from travel agencies or from dedicated train ticket offices which are fairly easy to find.
However as mentioned earlier, it is likely that you will need to know some Russian to make the process more bearable for yourself and poor sod behind the desk.
Trains are not particularly crowded and are very reliable, especially the high-speed trains.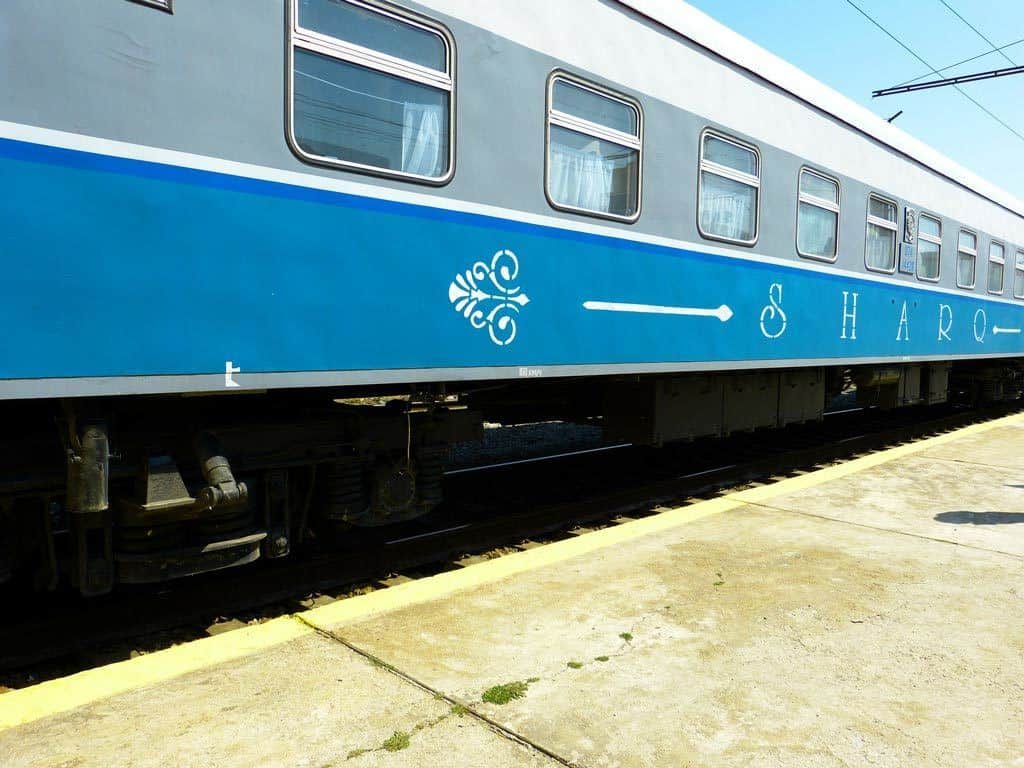 APPS AND TECHNOLOGY
Here are a few apps that we think you should acquaint yourself with prior to your travels:
BEST THINGS TO EAT IN UZBEKISTAN
Uzbekistan serves up plenty of Central Asian classics. They claim that the plov in Uzbekistan is the best in the region.
You will be able to find manti, lagman and shashlik everywhere. However, make sure you check out the country's markets as Uzbekistan is one of the world's most prominent producer of apricots and cherries.
They are also major producers of various types of nuts.
PLOV – Uzbekistan's national dish can be found all over the country at almost every restaurant. It is believed that the oil at the bottom of the pan can act as an aphrodisiac.
SHASHLIK – As the sun begins to go down the smell of Shashlik will fill the air. Usually consisting of chunks of lamb and occasionally beef, it's the perfect way to end a hard day of exploring.
MANTI – Manti are boiled or steamed dumplings that are filled with spiced meat usually being lamb or ground beef. In Uzbekistan, they are often served with a healthy dollop of sour cream.
LAGMAN – These spicy tomato noodles are very similar to noodle dishes found slightly further east in China's Xinjiang province. The base of the dish is pulled noodles, with tomatoes, onions, garlic and peppers being the key ingredients. It's then topped off with meat and a variety of other vegetables.
SAMSA – This is probably the most common street food in Uzbekistan. The filling is often made from minced lamb or beef, with cheese, pumpkin and potato also being available. In Uzbekistan's markets, these are often cheap as chips, being baked in huge batches.
KOREAN FOOD IN TASHKENT – Uzbekistan has a surprisingly large Korean population mainly clustered in Tashkent. The prices are more expensive in comparison to a restaurant serving traditional Uzbek fare, but the food is great.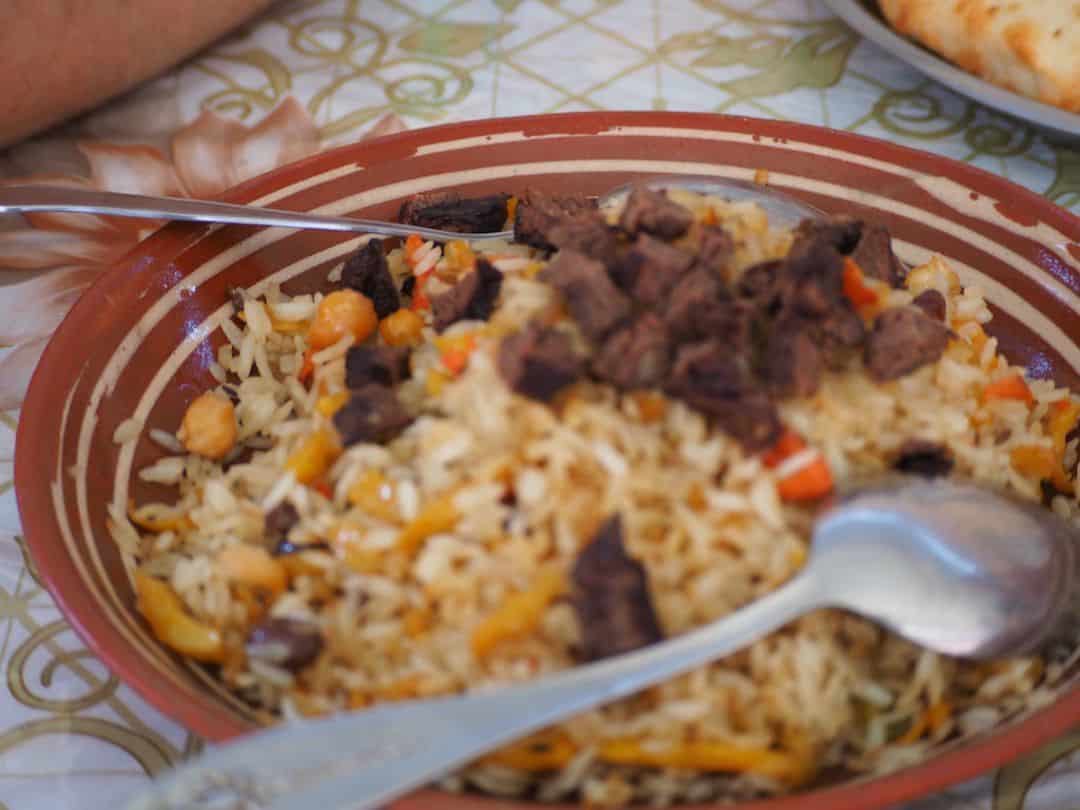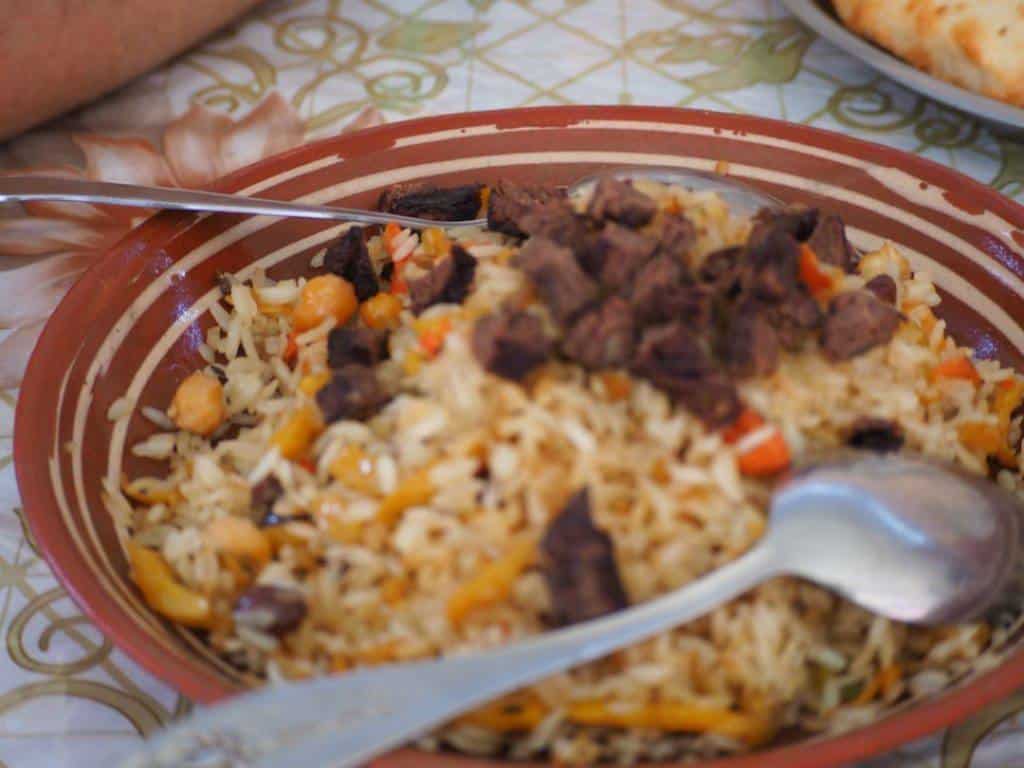 PLACES TO STAY IN UZBEKISTAN
Uzbekistan is full of great accommodation options. Hostels are mainly found in Tashkent, with guesthouses and hotels common outside of the capital.
The majority of large hotel chains can be found in Tashkent with more and more springing up in Samarkand and Bukhara. Interestingly Tashkent had the lions share of Soviet-style hotels if that's your thing.
Generally, accommodation is much cheaper than other travel destinations, which is why dormitory-style rooms are not so common here.
Types of Accommodations
Hostels
The majority of hostels are found in Tashkent and are a mixture of dorms and private rooms. Hostels in Tashkent book out quickly so you'll have to book in advance. Topchan and Art Hostel are the two most well known.
Hotels
Hotels in Uzbekistan come in the form of small intimate guesthouses or a gigantic Soviet monstrosity.
As tourism to Uzbekistan has increased more and more people have been extending their homes or building on plots of land creating some incredible guesthouses.
Rooms are generally very spacious with private bathrooms being the norm. Additionally, the vast majority of hotels and guesthouses include a typical Uzbek breakfast of eggs, bread, jam and meat.
Airbnb
Another good option for accommodation in Uzbekistan in recent years is AirBnB. And there are more and more amazing places popping up to stay for very affordable prices every day.
As Uzbekistan has opened up Airbnb has become more of an option for travellers. That being said you will need to check if your visa allows you to stay in private accommodation.
In some cases, individuals who are entering with an in-passport visa will need to stay at hotels or guesthouses where foreigners can be appropriately registered.
If you're looking for an awesome place to stay in Port Stephens, we personally love using Airbnb. If you've never used the platform before, sign up using this link to get USD$35 off your first booking.
UZBEKISTAN TRAVEL TIPS
While there are many basic travel tips, we suggest you use when travelling to Uzbekistan, there are also plenty of Uzbekistan-specific tips that will make your visit the best it can be.
Here are a few we recommend you consider as you plan your trip to visit Uzbekistan:
1. Learn Some Russian
A little bit of Russian is an absolute lifesaver. From buying train tickets to negotiating a private taxi to the border, a little bit of the lingo will make your life a whole lot easier.
2. Get out early
From May the temperature is consistently in the 30's C. Avoid the sometimes brutal midday heat by getting out early and exploring before breakfast. It will be much cooler, and best of all there will be hardly any people about.
3. Know where your local market is
Central Asian fare tends to be heavy on the meat but rather light on the fruit and veg. And with the fact that that the vast majority of travellers will be dining out, there's a good chance you won't be eating a balanced diet.
As a major fruit producer in the region, Uzbekistan's markets are chock full of awesome produce. So get your fix there.
4. Organise your cash
Getting your hands on some Uzbek Som outside of Uzbekistan is an absolute nightmare. So you will need to plan ahead.
Cash points are not common in Uzbekistan, and some will not take foreign cards.
You will be fine in Tashkent, however outside of the capital, it can be a little more hit and miss.
Therefore the vast majority of travellers bring a healthy amount of US dollars with them to exchange into Uzbek Som at banks or currency exchanges, which you can find in any destination that may have foreign visitors.
US dollars are the easiest currency to exchange. However, Euros, British pounds, Japanese yen and Chinese renminbi can also be exchanged, albeit at fewer locations.
The notes you exchange need to be in good condition – so no rips, major creases or folds.
5. Always have a bag
Due to the amount of currency you will possess, you will not be able to carry Uzbek Soms in your wallet or purse. So be prepared to be carrying around a bag loaded with cash.
6. Bring a scarf (women only)
As Uzbekistan is an Islamic nation women will often needing to cover their heads when entering religious buildings. However this not regularly enforced. Please be mindful and respectful.
UZBEKISTAN PACKING LIST
We always travel with a core packing list wherever we go. And when it comes to Uzbekistan, many factors will affect what else you need to bring along with you.
Check out our travel essentials and be sure to add any of the other additional items listed below.
UZBEKISTAN PACKING LIST
It really depends on when you travel to Japan. Bringing wet weather gear is always advisable.

However if you're heading into the mountains it's worth bringing extra warm clothes, even in summer.

General Items

T-Shirts x4
Long sleeved jumper/hoodie x2 (it can get nippy in the evenings in Tashkent and the Aral Sea)
Trousers x3 (thin trousers that dry quickly are best)
Shorts x2 (not needed in winter)
Hiking boots/shoes
Flip flops
Sunglasses
Gloves
A decent sunhat

Miscellaneous

Powerpack
Adaptor for both wall sockets and cigarette lighters in vehicles
Unlocked phone for an Uzbek sim card
Medication and female sanitary products
Currency to exchange into Uzbek soms
A Russian phrasebook

ALWAYS BE SURE TO PACK TRAVEL INSURANCE!
Important Note! Before you book any international trip, we honestly recommend getting travel insurance. You never know when things will go wrong, and medical bills can add up quickly if you get sick or injure yourself overseas.
Our personal recommendation based on our own experience is World Nomads.
STAYING SAFE IN UZBEKISTAN
Uzbekistan is generally a safe country. That being said you should take the same precautions you would in your home country.
Pickpocketing and bag snatching can occur at markets and other crowded areas. Due to the fact you will have to carry your Uzbek som in a bag make sure you keep an eye on it.
There are the standard scams involving taxi drivers, such as massive surcharges at the airport. Check your bills in restaurants as occasionally items will be added that you didn't order. However, this is rare.
The peculiarity of almost every vehicle being a taxi is a strange thing to overcome. We never felt unsafe doing this and it is standard practice in Uzbekistan. However, make sure you have your wits about you.
If you are visiting any sites dedicated to the country's former president/dictator Islam Karimov, avoid photographing anything controversial and act in a respectful manner.
In spite of the positive changes made by the Uzbek government, this is still one of the most repressive political systems on the planet.
STAYING CONNECTED IN UZBEKISTAN
The Internet in Uzbekistan is surprisingly quick and reliable. Picking up a SIM card in Tashkent is pretty quick and easy, with the main mobile provider being Ucell.
Incidentally, some of their outlets accept payment in dollars at a fixed rate, rather than the market rate so make sure you have already been to the bank or currency exchange.
The vast majority of accommodation options have reliable wifi. However, in some cases, they will not support streaming or downloading.
If you find yourself up in Nukus heading out towards the Aral Sea internet connections are noticeably slower.
BE A RESPONSIBLE TRAVELLER IN UZBEKISTAN
The best way to be a responsible traveller in Uzbekistan is to follow the rules and behave in a respectful manner.
This is a country that is just opening up to travel and tourism, so many locals are curious and will often be interested to learn about foreign cultures and practice their English.
Additionally, you MUST always behave in a respectful manner around religious sites.
READ MORE:At NOMADasaurus, we believe and promote responsible, sustainable travel wherever you go in the world. If you need more ideas, be sure to check out our comprehensive
sustainable tourism guide
.
KEY RUSSIAN TRAVEL PHRASES
Although Uzbek is the national language, Russian is widely spoken and understood by the majority of the population.
Less Russian is spoken in the countries north western region of Karakalpakstan where Uzbek and their own local dialect reign supreme.
Very often signs are written in both Uzbek and Russian.
You don't have to be fluent in Russian to have a great time when you travel to Uzbekistan. But it does help to know a few key phrases.
This will not only assist you in your travels but it will also show respect to the local Uzbek people that you are doing your best to assimilate into their culture.
Please/Excuse me / пожалуйста (pozhaluysta)
Train station / вокзал (vokzal)
Yes / да (da)
Thank you / Спасибо (spasibo)
Bank / банк (bank)
No / нет (net)
Hello / Привет (privet)
Currency exchange / обмен (obmen)
Train / поезд (poyezd)
Goodbye/ до свидания
(do svidaniya)
Ticket office / касса (kassa)
Marshrutka / маршрутка
Good morning / доброе утро
(dobroye utro)
Bus/marshrutky station / автобус вокзал (avtobus vokzal)
How much is it? / сколько это стоит (skol'ko eto stoit)
Good afternoon /
Добрый день
(dobryy den)
I want a beer? /
я хочу пива (ya khochu piva)
I want this / я хочу этот (ya khochu etot)
Good evening / Добрый вечер
(dobryy vecher)
Which …….. goes to ……..? / какой …… в …… (kakoy)
I don't understand Russian / Я не понимаю по русски
(ya ne ponimayu po russki)
Where is the ______? / где ____? (gde)
Bus / автобус (avtobus)
I want to buy two tickets to …… / Я хочу купить 2 билета в …. (ya khochu kupit' 2 bileta v)
BOOKS TO READ ABOUT UZBEKISTAN
Maybe you already know everything about Uzbekistan. Chances are you don't!
But even if you are well-read, here are a few suggestions that might be worth your time while you're on the plane to Uzbekistan.
Check Out Our Uzbekistan Travel Blog Posts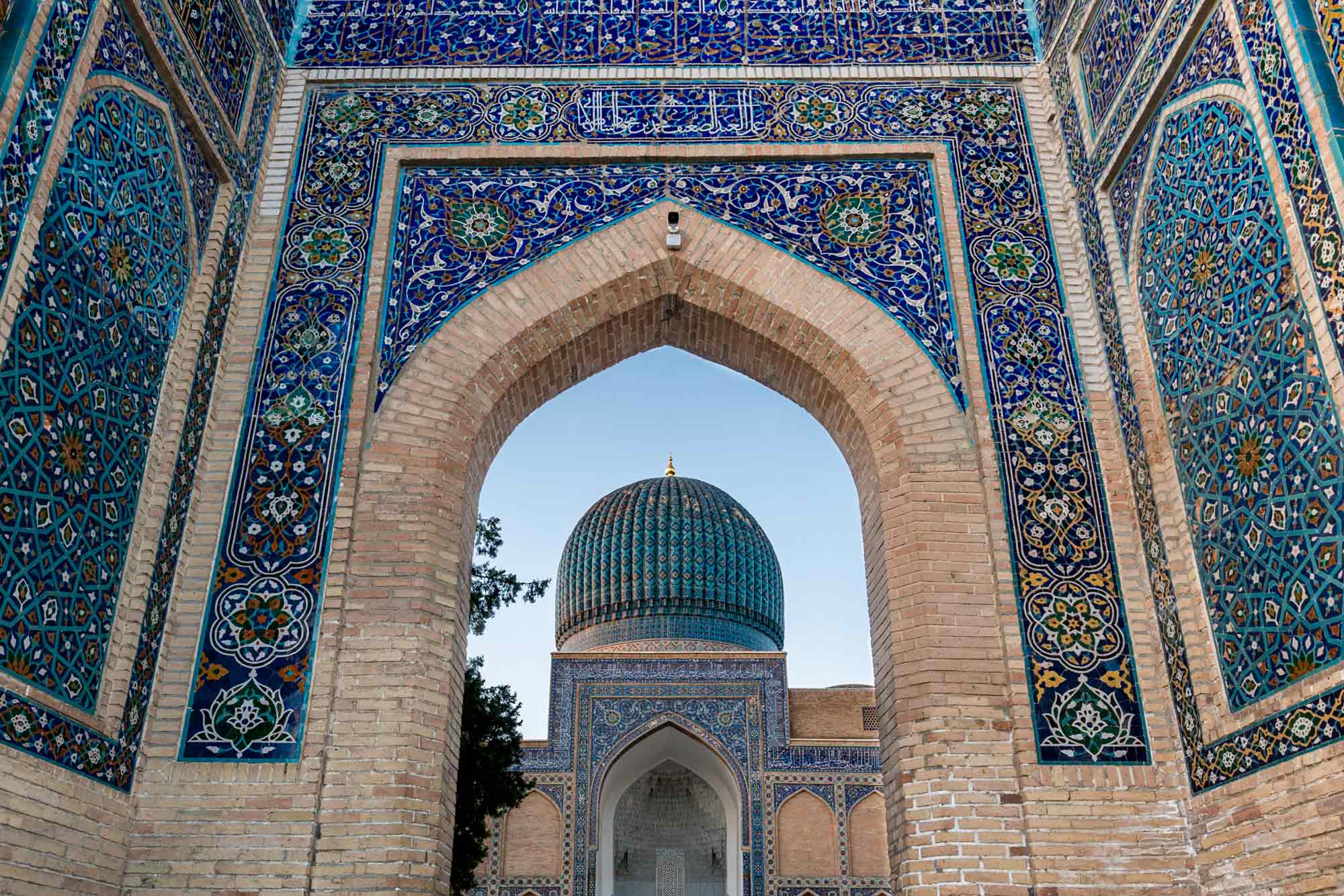 Don't miss out on these fascinating things to do in Samarkand, Uzbekistan on your travels to this stunning Silk Road city! Home to some of…
DISCLAIMER: Some of the links in this article are affiliate links, which means if you book accommodation, tours or buy a product, we will receive a small commission at no extra cost to you. These commissions help us keep creating more free travel content to help people plan their holidays and adventures. We only recommend the best accommodations, tours and products that ourselves or our fantastic editorial team have personally experienced, and regularly review these. Thanks for your support, kind friend!