Everything you need to know about travel to New Zealand in our comprehensive 2023 New Zealand travel guide.
New Zealand is truly the land of the Long White Cloud with a vast contrast between the epic coastlines of the Otago Peninsula to the summit of Aoraki Mount Cook.
Most people divide their travel in New Zealand between the North Island and South Island. South Island tends to be more popular with outdoor enthusiasts.
But regardless of which island you see, or whether you tour both, you won't be let down.
Fancy a thermal river? Then head to the North Island's Rotorua or if you prefer snowy mountains, Queenstown is the place to go!
If none of this fancies you then why not head to the Bay of Islands only a short drive from Auckland to take in some sunshine and fresh oysters? Follow this up with a trip you'll not soon forget to the top of New Zealand, Cape Reinga.
New Zealand is probably the most surprising country you can visit as it is jam-packed full of adventure, landscapes and friendly locals. Do yourself a favour and get there ASAP!
Once you start planning to travel to New Zealand, you're in for a great adventure!
Here's our New Zealand travel guide to get you caught up on the basics of this amazing country.
TRAVELLING IN NEW ZEALAND: AT A GLANCE
Here are the basics about travel to New Zealand.
| | |
| --- | --- |
| CAPITAL: Wellington | OTHER MAIN CITIES: Auckland, Queenstown, Christchurch |
| CURRENCY: New Zealand Dollar (See current exchange rates) (1 beer cost $9NZD = USD$5.50) | ELECTRICITY: 230/240 volt with 2 or 3 pins, the same as Australia and parts of Asia. (Be sure to get your universal travel adapter before you leave) |
| ENTRY / VISA: Australians can enter and stay visa free. UK citizens can enter for free with a 6-month stay. Other nationalities may qualify for a visa waiver. For information about which countries are granted visa-free waivers click here. | SAFETY: New Zealand is generally considered as safe as most other developed countries. Of course you should take the normal health and safety precations when you travel to New Zealand. |
| LANGUAGE: English, Maori | TRANSPORTATION: By far the most common way to get around New Zealand and between the North and South Island is by car or campervan. The roads are safe, efficient and there are plenty of places to stop on any part of a drive through the country. |
Important Note! Before you book any international trip, we honestly recommend getting travel insurance. You never know when things will go wrong, and medical bills can add up quickly if you get sick or injure yourself overseas.
Our personal recommendation based on our own experience is World Nomads.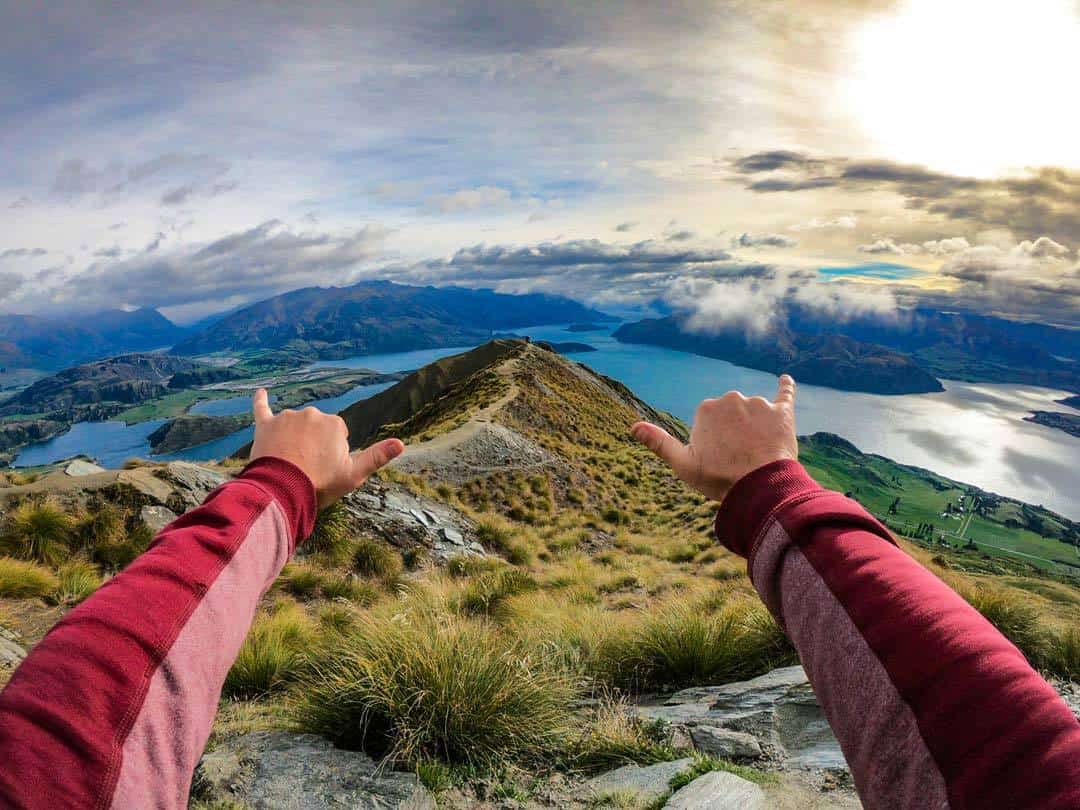 TOP 5 TRAVEL EXPERIENCES IN NEW ZEALAND
With so much to see and do in New Zealand, it really is hard to pick the top experiences.
However, we think that to truly appreciate New Zealand you need to plan to do these 5 activities during your visit.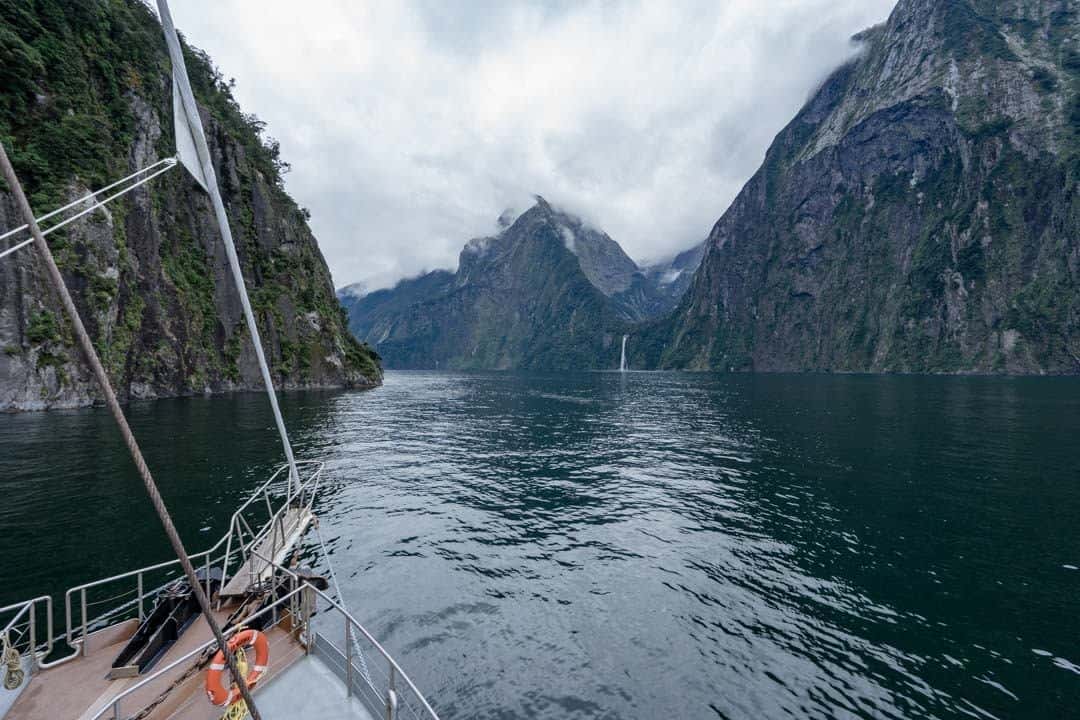 Walking Hooker Valley
The Hooker Valley walk at Aoraki National Park is basically like walking in a piece of paradise. To your left will be snowcapped peaks and to your left will be snowcapped peaks. At the end of the trail lays Hooker Valley Lake full of icebergs and epic views of Mount Cook.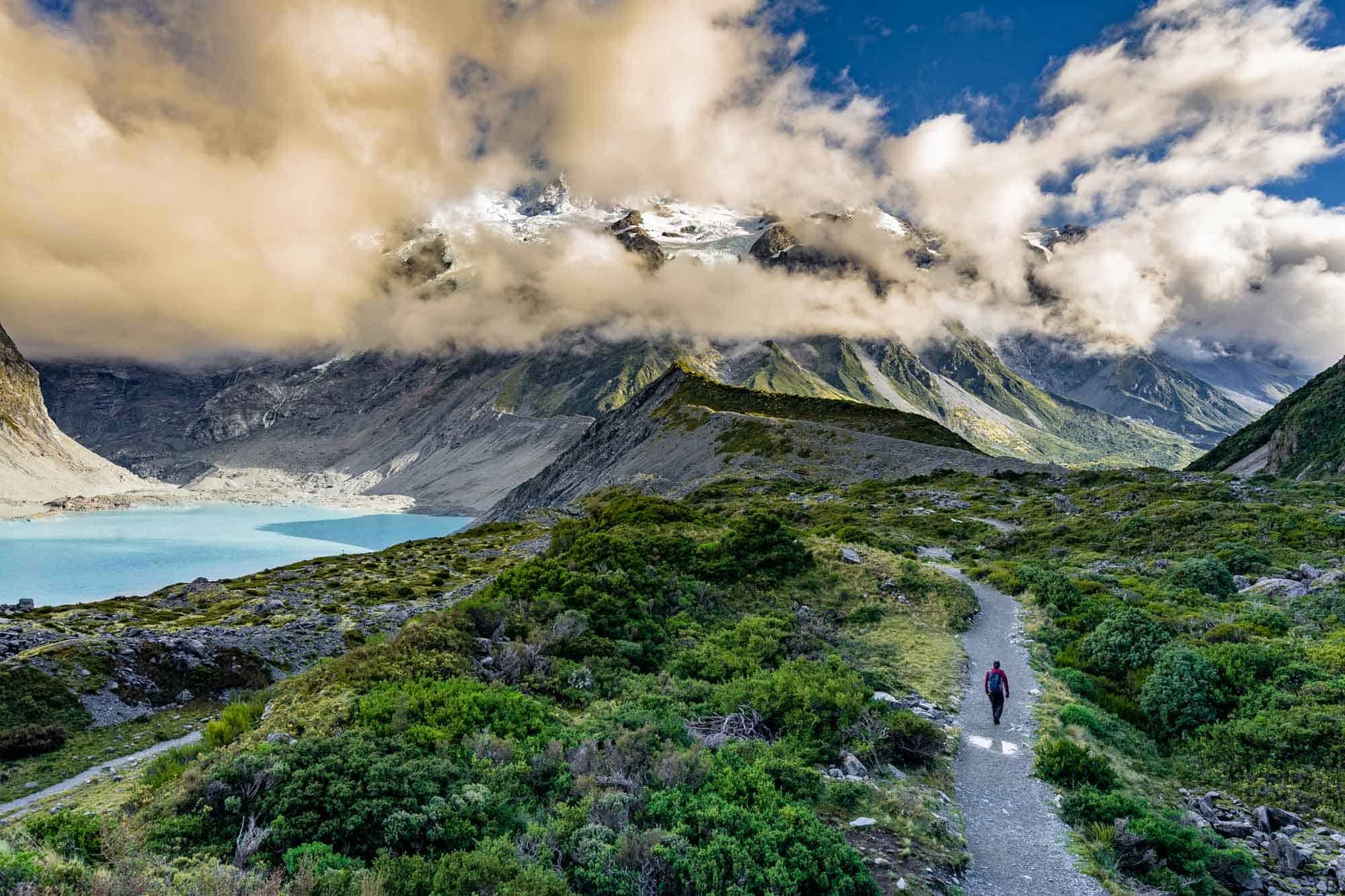 Stargazing at Lake Tekapo
Stargazing at Lake Tekapo is remarkable due to limited light pollution. Opt for a summer's night out to enjoy the Southern Hemispheres spectacular stars!
Book a trip to Lake Tekapo here!
Snowboarding or Skiing the Remarkables
Snowboarding or skiing The Remarkables high above Queenstown is every snow enthusiasts dream! So get prepared to shred and smash some freshly fallen powder!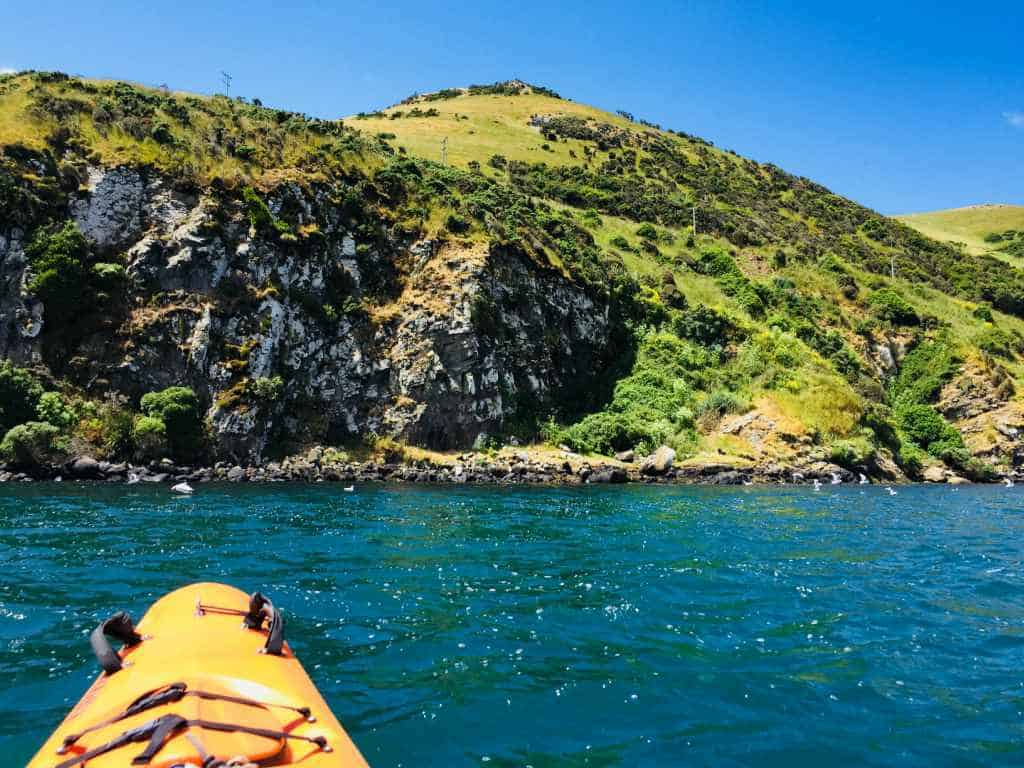 Wildlife Watching on the Otago Peninsula
Wildlife watching on the Otago Peninsula can be done at any time of the year where penguins, seals and albatrosses can be seen in their natural environment.
Other Things to do in New Zealand
There are plenty of great things to do in New Zealand. Most of them will keep you outside exploring the beautiful landscapes found throughout the country!
Splurge on a heli-skiing trip in Wanaka. See the mountainside like few people do as you shred your way through freshly fallen snow!
Go for a hike on any of the spectacular trails found throughout the country. Some favourites can be found in our guide to hiking New Zealand.
Visit Hobbiton and tour the set of Lord of the Rings. If you're not a fan of the movies you will be once you check out where they were filmed!
Paddle a canoe on a multiday trip down the Whanganui River. Spend 3-5 days on a unique journey you are not bound to forget.
Kayak Doubtful Sound. You won't get a more authentic and raw natural experience in New Zealand than getting out on the Doubtful Sound for a good paddle.
Take a zip-line canopy tour through Rotorua. Visit the thick forest from above and learn about its importance while getting the adrenaline moving!
Kayak Abel Tasman. Ok, so paddling Abel Tasman is pretty magical too. Be sure to add this to your list of things to do in New Zealand!
Kitesurf in Taranaki. The wind is epic and harnessing it in a kitesurfing sail is going to lead to one of the most adrenaline-pumping activities in New Zealand!
Go whitewater rafting down the Kaituna River. Paddle through 14 rapids, including a handful of epic class 5 rapids and the world's highest rafted waterfall.
Bungee jump in Auckland or Queensland. Go weightless (momentarily) where bungee jumping first began with the most spectacular backdrop!
BEST PLACES TO VISIT IN NEW ZEALAND
There are plenty of amazing places to visit in New Zealand. Depending on your interests, trip duration and time of year you will find plenty of things to do during any length of stay.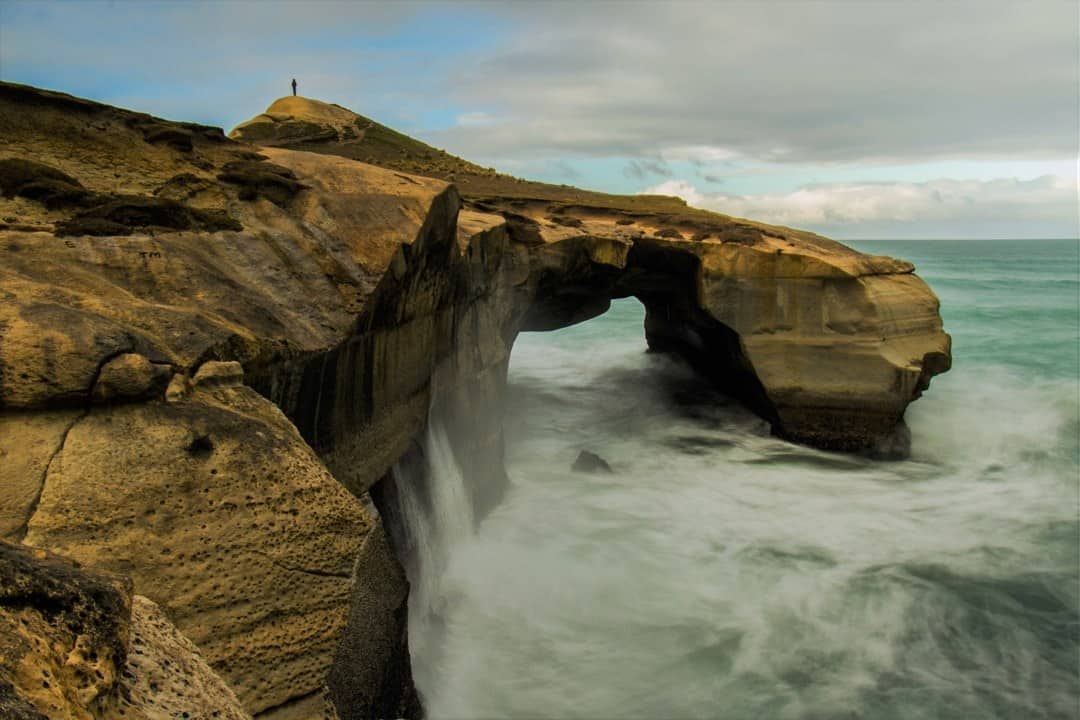 Auckland
Rich in Maori history and culture, Auckland is the most populous city in New Zealand. Here you'll find plenty of incredible things to do!
Queenstown
Known for its beautiful landscapes and wild outdoor activities (can you say bungee jumping?!) Queenstown will have your heart as soon as you arrive!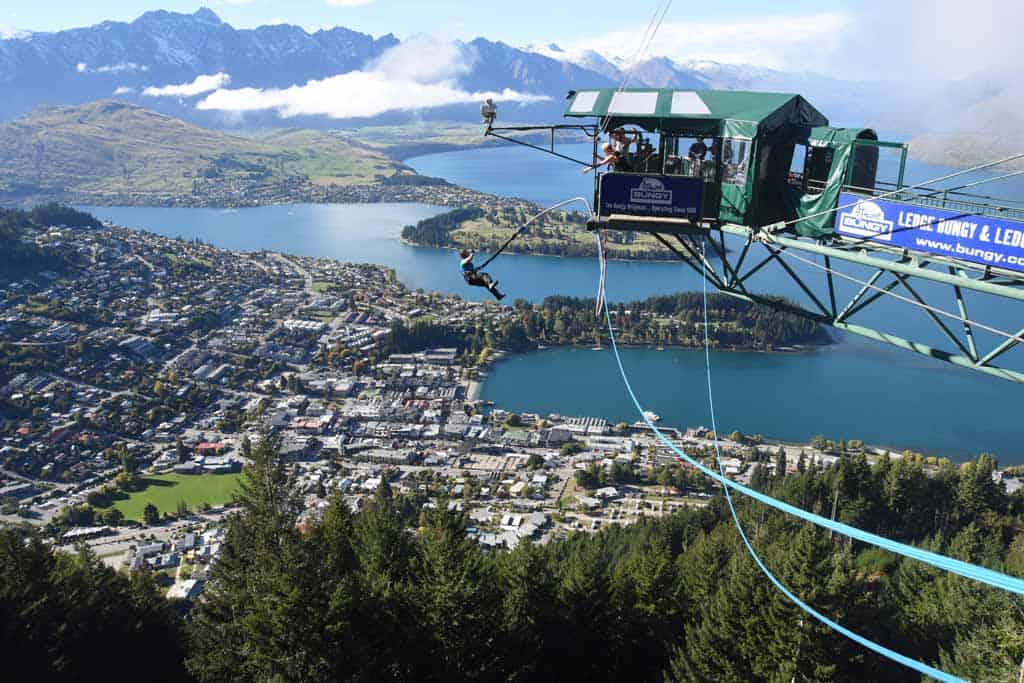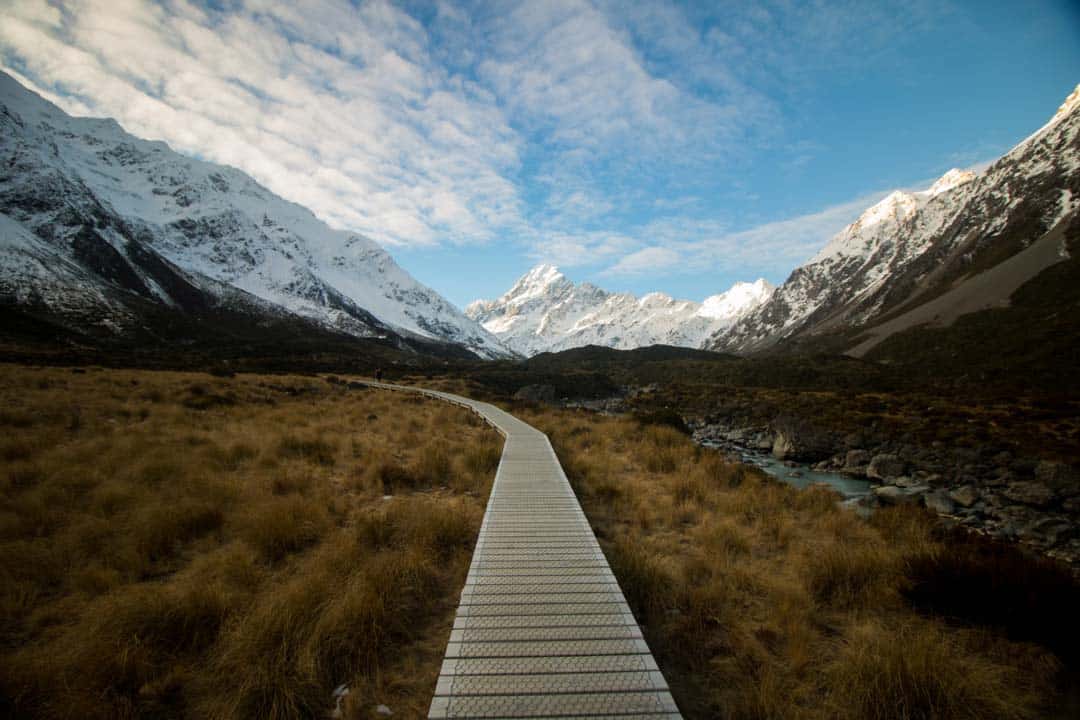 Tongariro Crossing
Tongariro Crossing is one of the most popular day treks in the North Island where you see scenes from the famous Mordor and Mount Doom from the Lord of the Rings.
Mount Aspiring National Park
Mount Aspiring National Park is honestly the most beautiful place to sit back and just stare at mountains for hours on end. Options here include a hike to Rob Roy Glacier or further onto French's Ridge hut for those adventurous souls.
For more information on specific things to do in the top places to visit in New Zealand, reference our following city travel guides:
BE SURE TO CHECK OUT THESE OTHER AWESOME PLACES TO VISIT IN NEW ZEALAND.
BEST NEW ZEALAND TRAVEL ITINERARY
Depending on whether you are starting from scratch or have a general idea of what kind of things you would like to see and do when travelling in New Zealand, we've put together a few itineraries that are sure to leave you wanting for nothing at the end of your visit.
There are so many amazing things to do in New Zealand that planning an itinerary for your travel can be a little overwhelming.
In this section, we'll not only help you plan a 1-, 2-, or 3-week New Zealand itinerary but also give you an overview of many of the places you might want to consider visiting and things you may want to do.
Of course, no one-size-fits-all plan will suffice. But if we were to head back to New Zealand these are the top places and things that we would want to do!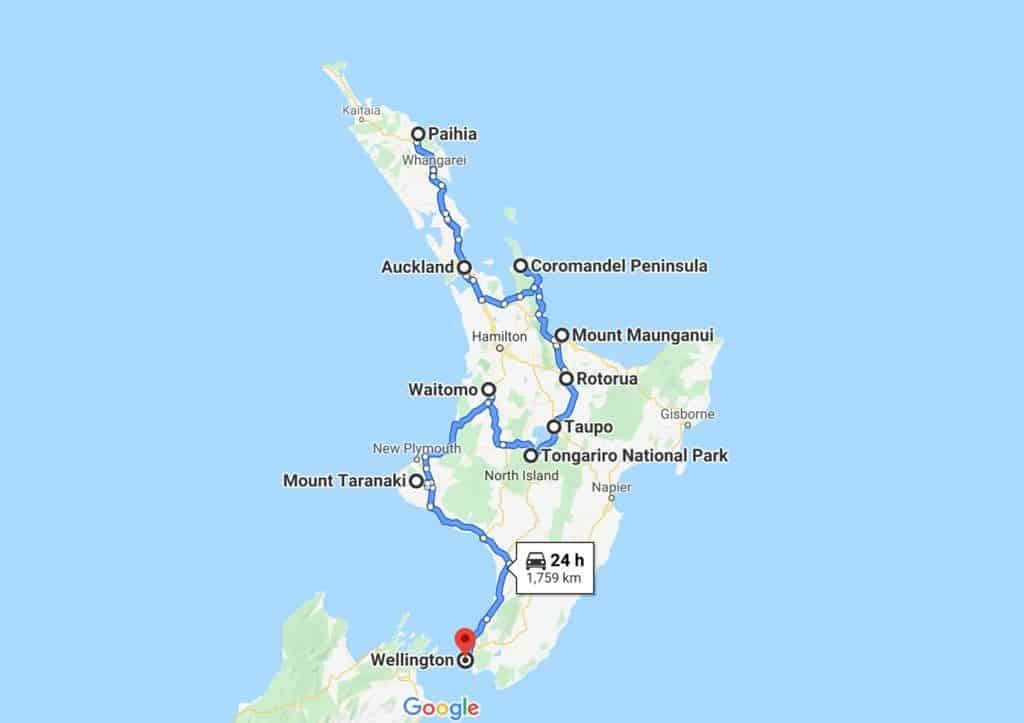 1-Week New Zealand North / South Island Travel Itinerary Highlights
If you only have 1 week to travel in New Zealand the best thing you can do is to pick either the North Island or the South Island to explore.
Here's an overview of how we'd spend 1 week on either the North Island or South Island of New Zealand.
| | |
| --- | --- |
| North Island New Zealand Itinerary | South Island New Zealand Itinerary |
| Day 1-2 -Auckland | Day 1 – Akaroa and the Banks Peninsula |
| Day 3-4 – Bay of Islands | Day 2 – Okains Beach, the Banks Peninsula and driving to Mount Cook. |
| Day 5 – Waitomo Caves | Day 3 – Mount Cook and drive to Wanaka |
| Day 6 – Tongariro National Park | Day 4 – Hiking around Lake Wanaka |
| Day 7 – Hobbiton | Day 5 – Adrenaline sports around Lake Wanaka |
| | Day 6 – Milford Sound |
| | Day 7 – Queenstown |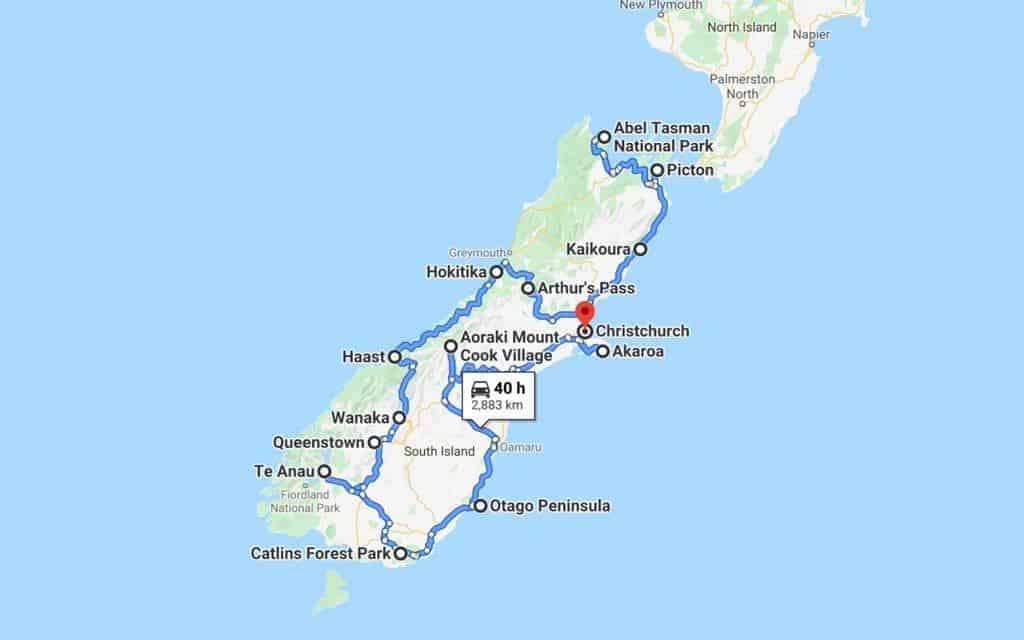 2-Week New Zealand Travel Itinerary Highlights
With 2 weeks in New Zealand, you can split your trip to cover both the North Island and the South Island. For this itinerary we recommend you fly into Auckland and out of Christchurch.
This is an idea of how we'd spend 2 weeks in New Zealand.
Day 1 and 2 – Auckland
Day 3 – Mount Maunganui
Day 4 – Rotorua and drive to the Tongariro National Park
Day 5 – Tongariro National Park
Day 6 – Wellington
Day 7 – Crossing the Cook Strait and driving to the Abel Tasman National Park.
Day 8 – Hiking in the Abel Tasman National Park
Day 9 – South Islands West Coast – Kaiteriteri to Hokitika
Day 10 – South Island's West Coast – Hokitika to Franz Josef or Fox Glacier and on to Wanaka
Day 11 and 12 – Lake Wanaka
Day 13 – Mount Cook
Day 14 – Christchurch
3-Week New Zealand Travel Itinerary Highlights
Three weeks in New Zealand gives you a chance to see and do more. So if we had 3 weeks in New Zealand, this is how we'd spend it.
Day 1 – Auckland
Day 2 – Waitomo
Day 3 – Tongariro National Park
Day 4 – The Forgotten World Highway
Day 5 – Wellington
Day 6 – Crossing the Cook Strait to Picton and driving to Kaikoura
Day 7 – Whale watching and dolphin swimming in Kaikoura
Day 8 and 9 – Akaroa, the Banks Peninsula and driving to Mount Cook.
Day 10 – Hiking around Mount Cook
Day 11 and 12 – Wanaka
Day 13 and 14 – Queenstown
Day 15 and 16 – Doubtful Sound
Day 17 and 18 – Caitlins National Park
Day 19 and 20 – Dunedin and the Otago Peninsula
Day 21 – Christchurch
READ MORE: Check out this post for more details on our New Zealand travel itinerary.
NEW ZEALAND TRIP PLANNING
Now we're going to help you plan your ultimate trip to the Land of the Long White Cloud so you don't make any mistakes! Here's our best New Zealand travel tips based on almost a dozen trips!
BEST TIME TO VISIT NEW ZEALAND
These are the best times to travel to New Zealand:
October – February for those perfect summer days.
June – September for all things snow.
| | | |
| --- | --- | --- |
| | Enjoy | Avoid |
| Low Season | Skiing, snowboarding, fewer crowds and cheaper prices | Cold, wet weather and road closures as well as some hiking trails being closed. |
| Mid Season | Fewer crowds, cool weather for hiking | Get ready for rain |
| High Season | Spectacular weather, all hiking trails open | More people and higher prices |
NEW ZEALAND TRAVEL BUDGET GUIDELINE
New Zealand is not the most affordable place to visit. However, you are sure to have a spectacular time well worth the expense.
You'll find that taking a road trip is the best and most affordable way to see the country – especially if you plan to do some camping along the way.
Here's an overview of what to expect when budgeting for travel to New Zealand:
| | | | | | |
| --- | --- | --- | --- | --- | --- |
| | Food | Accommodation | Transportation | Attractions | Average Daily Cost |
| Budget | $10 – $15 | $30 – $50 | $50 – $70 | $0 – $300 | $90 – $140 |
| Mid-Range | $15 – $50 | $40 – $80 | $70 – $150 | $0 – $300 | $140 – $280 |
| Luxury | $50+ | $80+ | $150+ | $0 – $300 | $280+ |
Here are a few things you should know about the different budgets at which you can choose to travel.
Note: Budgets shown as Single Traveller / Couples per day.
Budget Traveller ($90 Single / $140 Couples)
If you're here on a strict budget you are more likely to be getting around by car or basic camper van relying on DOC sites for your accommodation needs with the occasional splurge at a holiday park.
Basic camper vans will be small 2 berth campers that are often old Mazda vans, or people carriers converted into a home on wheels.
These budget-friendly camper vans are not self-contained, therefore you will not be allowed to freedom camp.
Make use of supermarkets and accommodation facilities to cook and limit eating out to an absolute minimum to keep the costs down.
Make sure to check the discounted aisles as quite often meat is marked down significantly if it is soon the pass its expiration date.
Adrenaline sports and other activities in New Zealand do not come cheap. If you are on a budget you will need to limit there.
So work out what you can realistically afford and do your research before you go, as the same activity may be cheaper in other parts of the country.
Mid-Range Traveller ($140 Single / $280 Couple)
If you're on a mid-range budget then you are more likely to be travelling in a self-contained pop-top camper van and staying in a few more holiday parks than DOC sites.
Although eating out is expensive you may be able to afford the odd restaurant visit. But you will still be utilising supermarkets and holiday park facilities for the majority of your meals.
In terms of activities, you will be able to do more than if you were on a budget.
However, you will still need to watch the pennies, as the costs of these can rack up very quickly.
Luxury Traveller ($200+ Single / $300+ Couple)
If money is no object then you will be travelling in a rental car and staying in Airbnb, hotels or guesthouses, or you will be in a large multi-berth camper van.
As well a being fitted with the latest mod cons, the larger camper van will also be self-contained. If you're taking the camper van option then you will be spending the majority of your time in holiday parks.
You will have the option to eat out more often, and whether you choose to is up to you.
In addition, you will also be able to splash out on some fancy purchases from the supermarket.
For activities, go wild! You've got the money so splash out and do as much as you want. New Zealand is full of great adventures and opportunities to have an amazing time!
New Zealand Budgeting Tips:
We have some great tips on how to make the most of your budget when you travel to New Zealand.
Top 10 Cards
Top 10 is the largest holiday park chain in New Zealand. They offer high-quality facilities at a reasonable price.
Purchasing a Top 10 card for $49 will save you 10% at all of their holiday parks. There are other additional discounts all over the country, including the ferry crossing from Wellington to Picton and on various activities including trips to Milford and Doubtful Sound.
Whenever you're booking an activity, check if they have a top 10 discount. It saved us quite a lot when we were out there.
Take advantage of supermarket deals
Unless you have an almost unlimited budget you are going to be cooking a lot of your own food. New Zealand's main supermarkets are Four Square, Pak n'Save, New World, Countdown and Fresh Choice.
Each supermarket will have various deals and multi saver options and some will have fuel discounts as well.
Early Bookings
If you're visiting in Spring or Summer then it pays to book early to both ensure your space in a holiday park (especially around the Tongariro National Park) or on various activities.
Occasionally booking early will get you significant discounts.
Scour Travel Magazines
Any travel magazine, including ones you will pick up with your rental vehicle or at the airport, are loaded with discount coupons, for a variety of things potentially saving you quite a bit of money.
These generally can't be combined with a top 10 discount card though.
Free BBQ's
At various locations across New Zealand, you can expect to find free BBQs for public use. Make sure you have cleaning materials to ensure it's clean for others to use afterward.
Plan Where You Are Going To Fill Up
Prices of petrol can vary in New Zealand. Therefore it pays to plan where to fill up.
For example, if you are taking a trip down to the tiny town of Manapouri to take a trip to Doubtful Sound, make sure you have a full tank before heading off as petrol is expensive there.
As a general rule of thumb, the smaller and more isolated a place is, the higher the petrol price is likely to be. A small difference here or there can help you to save if you're here for a significant period of time.
Keep this in mind when travelling in New Zealand.
Check Your Fuel Consumption
When choosing which campervan you want to rent, check the fuel consumption. Often a lot of older and cheaper models consume a lot more fuel than some more expensive models.
Therefore it may be worth paying more to rent, as it could be cheaper when fuel costs are taken into account.
Limit Your Eating Out
If you are on a budget then this is one of the easiest ways to save money. Whilst being delicious, eating out in New Zealand is expensive and as such is an easy way to limit your outgoings.
Consider Travelling in New Zealand in The Winter
The cost of activities and vehicle rental is much cheaper in the winter than in the spring and summer.
Naturally, the weather won't be as good and there will be some activities that are not running and some hiking trails that may not be accessible.
However, it has the potential to save you quite a bit of money.
Hire Returns
If you are planning on visiting New Zealand for a long time then this could be worth considering. Many camper van rental companies need vehicles moving to various places around the country.
The cost of renting campervans for these journeys is insanely cheap, sometimes as little as a few dollars a day.
The downside is that you have a limited time to get from point A to point B and it can be hard to follow a route, as you may be going here there and everywhere.
However, if time is on your side then this could be well worth it!
Buying A Vehicle
If you are going to be visiting New Zealand for an extended period of time then renting is not a sensible financial decision.
Buying your own vehicles has a number of advantages
Your trip is a long as you want it to be.
You could potentially sell the vehicle for the same or a similar price to what you paid for it, limiting your travel costs.
However, you won't be able to rely on a hire company if something goes wrong.
You will need to add a few weeks on either side of your trip to buy and sell your vehicle.
GETTING TO AND AROUND NEW ZEALAND
New Zealand is an island nation and thus the most reasonable, cost-efficient and common way to travel to New Zealand is by air.
Entry Requirements
It is relatively easy to travel to New Zealand. Australians can enter and stay visa-free.
UK citizens can enter for free with a 6-month stay.
Other nationalities may qualify for a visa waiver.
For information about which countries are granted visa-free waivers click here
Getting Around New Zealand
Hiring a vehicle is the best way to get around New Zealand and experience the stunning scenery that New Zealand has to offer.
Whilst there are public transport options available, there are natural limitations on the areas you can visit.
Travelling by Air
This is not a common option for many travellers. However if your time here for a shorter period of time then they can be an excellent option to cover larger distances.
You can then pick up a hire car at each destination and utilise short term rentals. This may be beneficial, for example, in flying between the North and South Islands to/from Auckland and Christchurch.
It's not uncommon to find discounts, especially when booking early.
Travelling by Car
Generally much cheaper than renting a campervan, both in terms of rental fees and fuel consumption. If you're here on a short visit then renting a car may be a better option than renting a campervan.
This can be a particularly budget-friendly option if you plan on camping as opposed to staying in Airbnb's and guesthouses.
The best way to get around is to rent a car and explore on your own! We recommend Rental Cars, which has the largest range of vehicles for the best value on the market.
Campervans
This is the way most travellers get around. Many have wonderful memories of pulling up in their campervans on edge of a lake, a deserted beach, or just stopping on a quiet road to admire the view.
It gives you more freedom and flexibility than a car. However it is more expensive and uses more fuel.
But if you are visiting for a longer period of time it can actually work out being quite similar, once you take the cost of accommodation into account. Holiday parks and DOC sites are much cheaper than guesthouses and Airbnb's.
Many travellers rent large campervans, despite have little experience of driving a vehicle of such size.
When combining this lack of experience with New Zealand's narrow and winding roads it can be a rather stressful experience. So think carefully about what you really need.
READ MORE: Check out our epic New Zealand road trip itinerary!
Travelling by Bus
If you don't drive then this is the best option. The two most well known bus companies are the Kiwi Experience, which is aimed primarily at those aged between 18 and 25, and the intercity network.
Both companies offer flexible hop on hop off passes where you buy a certain number of hours in which you can then top up as you see fit. You can also change your plans if necessary.
Additionally you can purchase pre-arranged passes which can work out to be good value for money.
Although bus networks in New Zealand are well connected, it is harder to get away from the towns and into the middle of nowhere – which is one of the highlights of any visit.
Additionally, it will be harder to access hiking trails since you will not have a car and thusly will be reliant on public transport.
Travelling by Boat/Ferry
The countries major ferry route is between Picton and Wellington connecting the North and South Islands.
In high season it is recommended to book ahead.
Travelling by Train
The most famous train journey in New Zealand is the Trans-Alpine route that crosses the South Island between Christchurch and Greymouth via the Arthus Pass National Park.
Aside from this there a number of other train routes offering stunning scenery.
That being said, this isn't the most convenient way to travel and you will have to combine it with bus travel or vehicle hire to be able to get around the country.
APPS AND TECHNOLOGY
Mobile apps and technology will make your trip safer, more affordable and overall more enjoyable.
Here are a few we think you should definitely acquaint yourself with prior to your travels:
BEST THINGS TO EAT IN NEW ZEALAND
New Zealand has some pretty tasty food. You should definitely give the following foods a try when visiting!
Lamb – A staple in Kiwi meals and found at almost every restaurant. Lamb is traditionally prepared with rosemary and garlic.
Spaghetti on toast – Yes, as simple as it sounds this is a delicious New Zealand staple
Marmite – The equivalent of Australian Vegemite, made from yeast extract and herbs. Spread it thin over crackers or bread.
L&P – Lemon and Paeroa is mineral water tinted with lemon that could easily be the countries national drink
Hangi – A traditional Maori method of steaming meats and vegetables where the food is wrapped in leaves and buried to cook on heated stones in holes in the ground.
Kumara – A form of sweet potato that is prepared a variety of ways such as chips and wedges
Fish And Chips – A classic dish with deep-fried battered fish and potato fries served with tomato sauce
Pavlova – A meringue dessert that has caused much dispute over whether it was originally created in Australia or New Zealand.
Hokey Pokey Ice Cream – Vanilla ice cream with caramelized sugar. Enough said!
Manuka Honey – Produced by bees that collect the pollen of Manuka trees, this honey is thick and uniquely sweetened in flavor
PLACES TO STAY IN NEW ZEALAND
New Zealand is chock full of great accommodation options. Whether you're on a budget and need to stay at a hostel or have enough room in your budget to splurge on a hotel or unique Airbnb you'll be pleased with your stay.
Of course, if you are looking to camp in beautiful landscapes then your options become even more wide open.
Holiday Parks and Campsites
Probably one of the most popular accommodation options for travellers visiting New Zealand. The predominantly cater to campervans and campers. However, some do have small chalets on site.
The vast majority will come with large kitchens and communal bathrooms. However, not all kitchens are equipped, meaning they do not have cooking utensils and cutlery.
In addition, holiday parks will offer both powered and non-powered sites. Naturally, non-powered sites are cheaper, so this could be a good way to save a few pennies here and there.
Rankers and Campermate are two useful apps that can help you locate holiday parks and campsites, see what facilities they have and check out reviews from other travellers.
Campmate allows you to book in advance and check out various things to do in the local area amongst other things.
There will be some campsites and holiday parks that only allow self-contained vehicles.
Your vehicle is self-contained if:
You have a toilet fixed or portable that can be used even when the beds are down
You have a fresh and wastewater tank
A sink
An evacuation hose
A rubbish bin with a lid
Self-contained campervans can also be identified by a blue sticker.
DOC Sites
DOC (Department of Conservation Sites) are generally cheaper and more rustic than holiday parks. Expect a bathroom and maybe a small unequipped kitchen.
However, they often located in stunning locations, with the White Horse Campground close to Mount Cook being a prime example.
There are 6 different categories of DOC site. They are a great budget option and are often surrounded by some stunning scenery.
Freedom Camping
There are some spots where you are allowed to freedom camp. In the past, you used to be able to freedom camp almost anywhere.
However, a large increase in tourists and the waste they left behind has put paid to that. You can now only freedom camp if you are in a self-contained vehicle.
Freedom camping is a wonderful thing. However for it to carry on working effectively, everyone needs to follow the rules and clear up after themselves.
Hostels
New Zealand is jam-packed with plenty of awesome hostels that connect travellers and are phenomenal resources of tips and information.
Incidentally, they are great places to buy and sell vehicles. So if you land in Christchurch or Auckland and are planning on buying camper van for your road trip, then your hostel is the perfect place to start.
Hostels predominantly focus on dorms as opposed to private rooms, which brings to cost down significantly.
If you are travelling by car, then hostels are a great alternative to camping, although they are naturally more expensive. Make sure they have parking!
Hotels
Hotels in New Zealand are not cheap, so if you are on a budget this is something you may want to avoid.
However, there are spectacular hotels and guesthouses throughout the country that are a great excuse to splash some cash.
Generally, hotels rank from simple motel-style options up the swanky 5-star options with plenty in between.
Airbnb
Another good option in recent years for accommodation in New Zealand is AirBnB. And there are more and more amazing places popping up to stay for very affordable prices every day.
As is typical in many destinations where Airbnb accommodations are popping up, you'll likely find great value and a little more personal space with an Airbnb stay.
If you're looking for an awesome place to stay in Port Stephens, we personally love using Airbnb. If you've never used the platform before, sign up using this link to get USD$35 off your first booking.
NEW ZEALAND TRAVEL TIPS
Here are the best travel tips for New Zealand to help you have the safest, most affordable and enjoyable trip possible.
GENERAL NEW ZEALAND TRAVEL TIPS
While there are many basic travel tips we suggest you use when travelling to New Zealand, there are also plenty of New Zealand-specific tips that will make your visit the best it can be.
Here are a few we recommend you consider as you plan your trip to visit New Zealand:
1. Make Sure You Have a Credit Card
New Zealand is not densely populated. It's the size of the UK with a population of around 4.5 million (for reference the UK population is over 65 million).
This means there are a rather large number of unmanned petrol stations that are pay at the pump.
When we visited we had problems with debit cards being accepted at these machines. However, we experience no issues with credit cards.
2. Avoid The Summer Holidays If Possible
Late December and January are particularly busy in New Zealand as this is the nation's summer holiday. This means that there will be large numbers of both international and domestic tourists.
November and early December bring great weather and smaller fewer people.
3. Don't Follow Penguins
If you are in Omaru, and you're walking back to your accommodation and you catch sight of a penguin, stop and do not follow them.
If you don't stop then the penguins may be too scared to return to their nests.
4. Check For Weather Warnings
The weather can change quickly in New Zealand. During the winter months, large areas of New Zealand can experience heavy snowfall which can lead to road closures amongst other things.
Make sure to check weather warnings and road closure notices to ensure you can make appropriate plans.
5. Be Prepared For 4 Seasons in a Day
New Zealand is the absolute definition of 4 seasons in a day. Therefore whenever you're heading out on a hike make sure you bring the appropriate clothing just in case the weather changes.
6. Hayfever Issues
New Zealand has a large amount of indigenous flora and fauna, particularly on the South Island. If you have hay fever then you may have quite a serious allergic reaction.
If you experience this then you'll need to go to a doctor and get some prescription-strength hay fever medication.
7. Always Assume Journeys Will Take Longer Than Google Maps Says
New Zealand's roads offer breathtaking views as you wind your way across the country.
Occasionally roads can be steep, narrow and extremely twisty.
If you are not used to driving such roads then it's a safe bet that journeys will take longer than what google maps says.
8. Book Ahead If You Can
This is especially advisable for campsites and holiday parks. In Autumn and Winter, there is a good chance you can turn up and there will be space.
However in late Spring, early Summer this is not always a guarantee. Naturally, this is more likely in busier, more popular spots.
Additionally, you are likely to be arriving somewhere after 6 pm it's worth calling the holiday park/campsite and booking a spot as very often desks close at 6 pm.
If you are planning on taking on any of New Zealand's great walks and are planning in staying on the huts en route, then this is another situation where it is advisable to book ahead.
NEW ZEALAND PACKING LIST
We always travel with a core packing list wherever we go. And when it comes to New Zealand, many factors will affect what else you need to bring along with you.
Check out our travel essentials and be sure to add any of the other additional items listed below.
NEW ZEALAND PACKING LIST
New Zealand's weather can change at the drop of a hat, so it makes sense to pack a variety of clothing.

In addition, if you are planning on doing any hiking in New Zealand you will need a good pair of hiking boots.

General Items
* Trousers x3 (thin trousers that dry quickly are best)
* Shorts x2 (not needed in winter)
* Flip flops (not needed in winter)
* Hiking boots
* Sneakers/Trainers
* Wet weather jacket
* T-shirt x5
* Fleece/thick jumper x2
* Sunglasses
* Gloves
* A decent sunhat
* Swimming gear

Miscellaneous
* Power pack
* Adaptor for both wall sockets and cigarette lighters in vehicles
* Unlocked phone for a New Zealand sim card
* Hay fever medication if you're here in Spring/Summer
* Credit card
* Camping gear if planning on camping

ALWAYS BE SURE TO PACK TRAVEL INSURANCE!
Important Note! Before you book any international trip, we honestly recommend getting travel insurance. You never know when things will go wrong, and medical bills can add up quickly if you get sick or injure yourself overseas.
Our personal recommendation based on our own experience is World Nomads.
STAYING SAFE IN NEW ZEALAND
Generally speaking, New Zealand is very safe. That being said, you still need to take sensible precautions to keep yourself safe as you would do in your home country.
If you are heading out on multi-day hikes make sure you inform somebody. You're best off informing you accommodation, however, they may directly ask you to register elsewhere.
This will differ depending on the hike and the region of the country you're in.
Generally driving is very safe. The majority of road users are courteous and follow the rules of the road.
However, as mentioned earlier, New Zealand's road criss-cross a variety of environments meaning that roads can be very narrow, steep and winding along the contours of the landscape.
Therefore make sure you are driving at a speed that you are comfortable with and follow the rules of the road.
New Zealand is blessed with many stunning beaches. However, make sure you pay attention to any beaches that are advising against swimming due to currents.
STAYING CONNECTED IN NEW ZEALAND
Staying connected in New Zealand can be challenging. But it has never easier as the country becomes more and more popular for travellers.
We feel like your money will go a lot further if you consider a few other options.
Purchase a SIM Card
Travel sims can be picked up anywhere in New Zealand. There are usually a variety of deals on offer. However, don't expect the same kind of data packages you get in Europe, the Far East or the US.
With some companies, you can get free data when in the vicinity of one of their phone boxes.
Access Free WiFI
The vast majority of holiday parks and campsites have wifi. However, outside of major towns and cities, there is often a limit on the amount of data that you can use, as little 250 MB in some cases.
Unsurprisingly wifi connections can be patchy in more rural locations, with the South Island having a noticeable poorer wifi service in comparison to the North Island.
Hotels and guesthouses don't suffer the same wifi issues and don't have limits of the amount of data you can use. Generally, the speed is reasonable, much faster than what is available in holiday parks.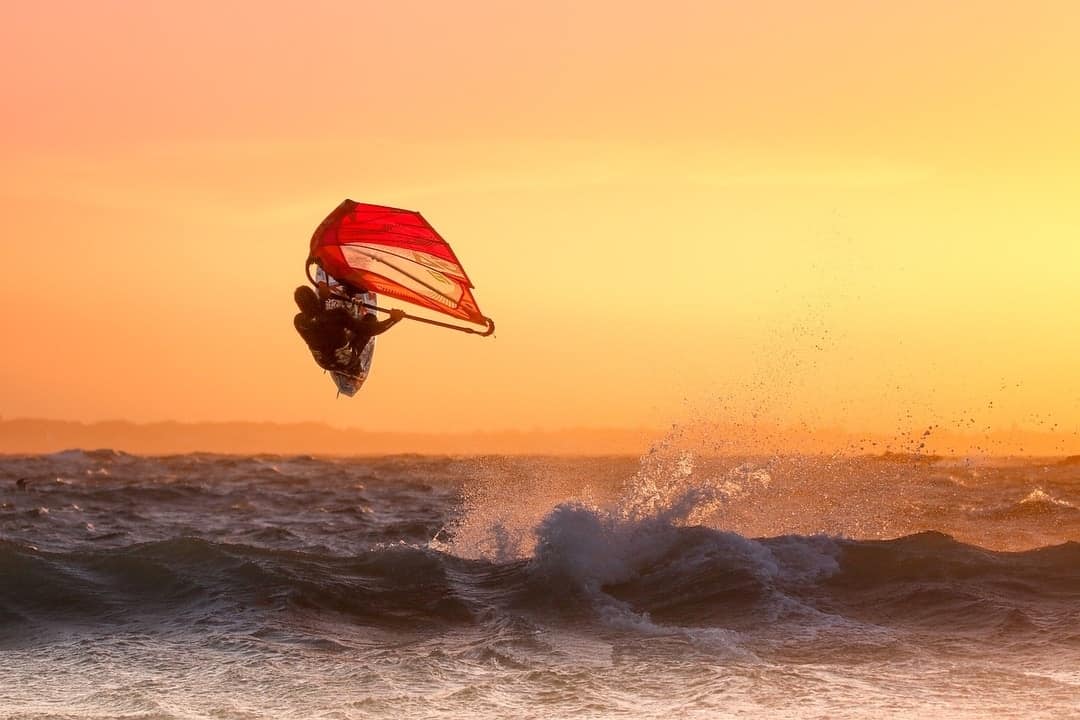 BE A RESPONSIBLE TRAVELER IN NEW ZEALAND
In recent years tourism numbers to New Zealand have surged. Whilst this has brought economic opportunity up and down the country, it has also lead to a number of challenges.
The first of these is freedom camping. In years gone by you could freedom camp almost anywhere with the expectations that people would follow basic rules such as cleaning up after yourself.
Sadly, however, these rules have been changed and you can now only freedom camp in designated spots and only if you have a self-contained vehicle in many cases.
Being a responsible traveller means following the rules with regards to freedom camping.
New Zealand is pristine. A large part of this is due to the lack of trash bins. You are expected to leave nothing but footprints.
It's a simple and easy rule to follow. Make sure you keep New Zealand beautiful for everyone else that has the pleasure of visiting.
New Zealand is also home to a wide variety of wildlife with strict rules on interacting with them.
For example, a few of the basics are not feeding kea's (the worlds only alpine parrot), staying a safe distance from seals whilst they are on land and not following the little blue penguins in Omaru.
Many roads in New Zealand are single lane and are particularly windy and can be challenging if you are driving a large campervan.
Be sure to observe all road rules and drive sensibly.
READ MORE:
At NOMADasaurus, we believe and promote responsible, sustainable travel wherever you go in the world. If you need more ideas, be sure to check out our comprehensive sustainable tourism guide.
BOOKS TO READ ABOUT NEW ZEALAND
Maybe you already know everything about New Zealand. Chances are you don't!
But even if you are well-read, here are a few suggestions that might be worth your time while you're on the plane to New Zealand.
Pounamu Pounamu (Witi Ihimaera) – A look at what it is like to be a New Zealander from the Maori perspective from one of New Zealand's first and most respected writers of Maori culture, tradition and storytelling. Buy it online here.
The Penguin History of New Zealand (Michael King) – The well-rounded historical story of the settling and advancement of New Zealand from one of New Zealand's leading historians. You can find it here.
Squashed Possums: Off the Beaten Path in New Zealand (Jonathan Tindale) – An fun story of vagabond life in New Zealand from a man who lived in a wandering caravan and had some of the most peculiar encounters across the country. Check prices on Amazon.
Straying From the Flock: Travels in New Zealand (Alexander Elder) – The memoir of a New Zealand traveller as told through 50 chapters, each reflecting one day of adventure in the wild country. Buy it online.
CHECK OUT ALL OF OUR NEW ZEALAND BLOG POSTS
DISCLAIMER: Some of the links in this article are affiliate links, which means if you book accommodation, tours or buy a product, we will receive a small commission at no extra cost to you. These commissions help us keep creating more free travel content to help people plan their holidays and adventures. We only recommend the best accommodations, tours and products that ourselves or our fantastic editorial team have personally experienced, and regularly review these. Thanks for your support, kind friend!