Everything you need to know about travel to Vietnam in our comprehensive 2021 Vietnam travel guide.
We get it. You're wondering what the absolute best destination to travel in Southeast Asia is.
You've spent hours researching.
Talked to friends.
Scoured the internet for blogs.
Watched YouTube videos.
And you've finally realised something.
Without a doubt, Vietnam is the place for you.
And trust us, as a couple that have travelled the world for over a decade, we think you've made the right decision.
There's a reason Vietnam is our all-time favourite country…
From the tropical coral reefs of Nha Trang to the northern mountains of Sa Pa, travel to Vietnam is one of the most adventurous yet culturally empowering experiences you can have.
One moment you will find yourself haggling for banh mi deep within Saigon and later that day you could be watching a breathtaking sunset from the Mekong Delta.
Vietnam is more than a country. It's an experience.
You'll find yourself immersed among street food vendors cooking up exotic cuisines such as pho along streets with stores selling suits and ties.
Or you'll be cruising the waters of Halong Bay while monkeys jump from island to island.
Or you might find yourself trekking to the highest peak in Vietnam, Fansipan soaring to over 3,100 metres!
Not into adventure activities? Homestays are the perfect way to spend your day as the monsoon rains fall across the endless snaking rivers of the Mekong.
Vietnamese hospitality is unrivalled and is something that you should experience once in your life, so what are you waiting for? Say good morning Vietnam! And go get lost!
So we've convinced you to travel to Vietnam? Awesome!
Now check out the basic information about the country in our Vietnam travel guide.
TRAVELLING IN VIETNAM: AT A GLANCE
Here are the basics about travel to Vietnam.
DON'T FORGET TO PACK THE MOST IMPORTANT THING: TRAVEL INSURANCE!
TOP 5 TRAVEL EXPERIENCES IN VIETNAM
With so much to see and do in Vietnam, it really is hard to pick the top experiences.
However, we think that to truly appreciate Vietnam you need to plan to do these 5 activities during your visit.
Other Things to do in Vietnam
Learn to cook Vietnamese food. Eating delicious Vietnamese food is one thing. Eating it after you've learned to prepare it is another!
Scuba dive in Nha Trang. You may not think of Vietnam as a big scuba location, but there is some great diving to be had in Nha Trang.
Go canyoning in Dalat. Rappel, slide, jump and climb your way through canyons in this gorgeous place!
Explore the Marble Mountains in Da Nang. These beautiful mountains have been mined for marble for years and have incredible views and temples to visit along the way.
Sandboard down the sand dunes in Mui Ne. It's like snowboarding, but down massive sand dunes! Enjoy this rush!
Visit the Giants Causeway in Ghan Da Dia. Half the world away from the Giant's Causeway in Northern Ireland, be amazed at this unique geologic structure.
Visit the Cu Chi Tunnels outside of Ho Chi Minh City. No trip to HCMC is complete without touring these historic tunnels that were used during the war.
Conquer the Hoi An Pass on a motorbike. This is known as one of the most beautiful sections of highway in the world. Enjoy!
Explore the world's biggest cave. We have a special connection with Hang Son Doong as it is where we were engaged. Make your own special moment too!
Climb the highest mountain in Indochina in Sapa. Fansipan is over 3,000m above sea level and offers incredible views along the way to the top!
BE SURE TO CHECK OUT THESE OTHER AMAZING THINGS TO DO IN VIETNAM
BEST PLACES TO VISIT IN VIETNAM
There are plenty of amazing places to visit in Vietnam. Depending on your interests, trip duration and time of year you will find plenty of things to do during any length of stay.
For more information on specific things to do in the top places to visit in Vietnam, reference our following city travel guides:
BE SURE TO CHECK OUT THESE OTHER AWESOME PLACES TO VISIT IN VIETNAM.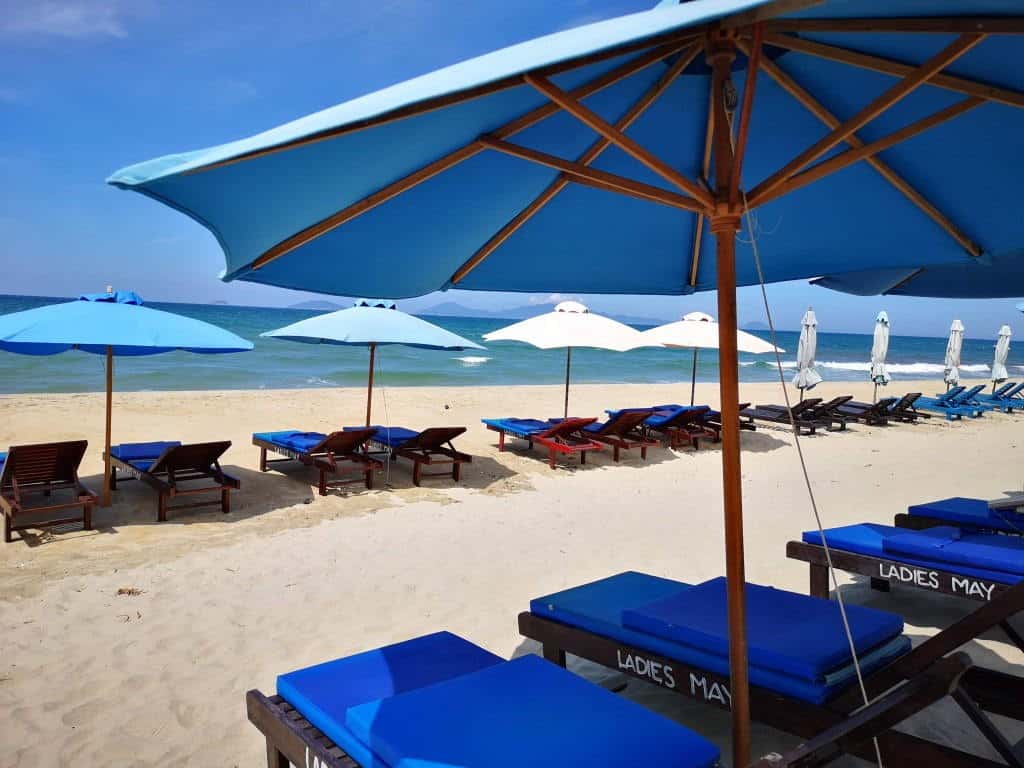 BEST VIETNAM TRAVEL ITINERARY
We've put together a few Vietnam itineraries that are sure to leave you wanting for nothing at the end of your visit.
There are so many amazing things to do in Vietnam that planning an itinerary for your travel can be a little overwhelming.
Even though the country is one united nation, you can think of it geographically as being divided into a northern and southern region.
So depending on how much time you have, you may want to explore the northern region, southern region or the entire country.
Of course, no one-size-fits-all plan will suffice. But if we were to head back to Vietnam these are the top places and things that we would want to do!
1-Week Vietnam Travel Itinerary Highlights
Most people spend at least a month went hey travel to Vietnam. But if you had just one week, or were willing to split a few weeks between the northern and southern regions, this is how we'd spend our time!
Northern Vietnam
Fly into Hanoi
2 nights – Hanoi
2 nights – Halong Bay or Bai Tu Long Bay
2 nights – Sapa
Alternative to Sapa – 2 night in Hue
Fly out of Hanoi
Central Vietnam
Fly into Hanoi or HCMC. Get a local flight down to Dong Hoi
3 nights – Phong Nha
2 nights – Hue
2-3 nights – Hoi An
Fly out of Da Nang to either Hanoi or HCMC to leave
South Vietnam
Fly into Ho Chi Minh City
2 nights – Ho Chi Minh City
2 nights – Mekong Delta
2 nights – Dalat
1 night – Mui Ne
Fly out of Ho Chi Minh City
READ MORE: Check out this post for more details on our Vietnam travel itinerary. 
VIETNAM TRIP PLANNING
BEST TIME TO VISIT VIETNAM
The best time to travel to Vietnam really depends on what you are looking for in terms of weather, scenery and budget.
Peak season occurs from mid-December through to February. But expect prices to double during this time. The low season is perfect for those on a budget.
Low Season – April to June, September to November
Shoulder Season – December to March
High Season – July & August
Northern Vietnam – The best months to travel Northern Vietnam are April to May or September to October. There are mostly sunny days and the rain has stopped.
The weather gets really cold from December to March and is not suited for hiking or sailing a junk boat in Halong Bay that time of year.
Central Vietnam – The best months for travel to Central Vietnam are January to June. There are heavy rains in October and November and the really hot months are from May to August.
Southern Vietnam – The best months to explore Southern Vietnam are January to April where conditions are beautiful.
You really can travel the south at any time of the year. Just note that from May to November there are afternoon downpours.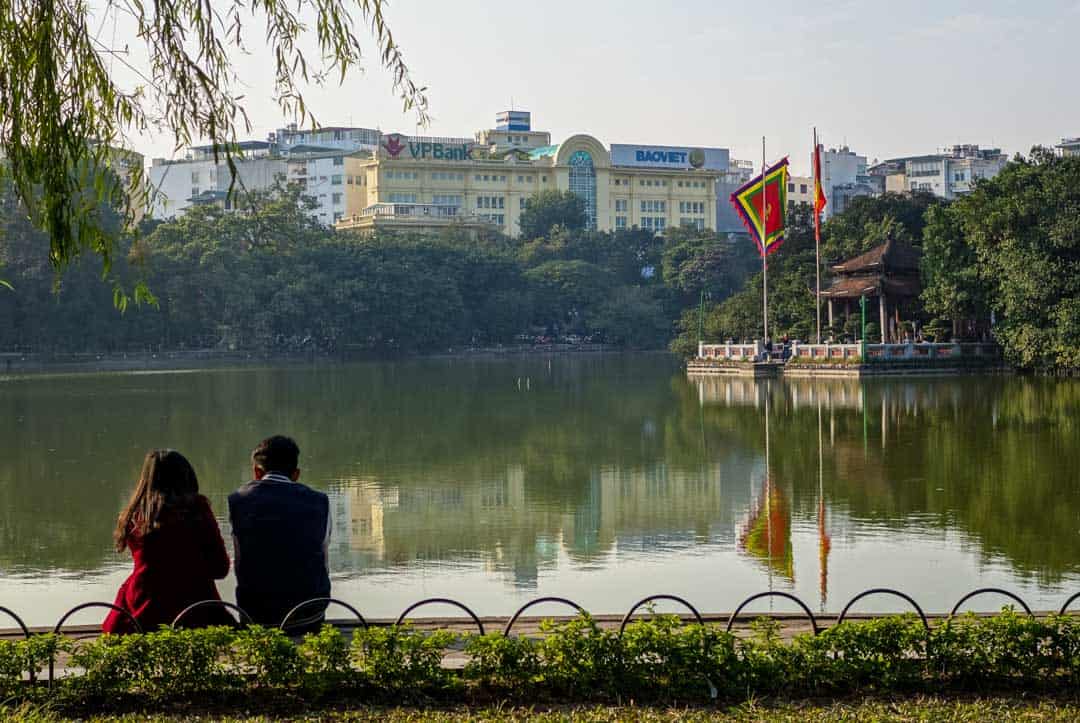 VIETNAM TRAVEL BUDGET GUIDELINE
Vietnam is a cheap country to travel if you want it to be, this all depends on what your budget is like. Our advice is always over-budget when making plans, and if you come home with money, it can go towards your next trip. All prices below are in USD per day.
Budgeting Tips
To make your money go further here are a few tips:
Eat street food as often as possible. You can usually fill up for $1-2USD.
Travel in groups when possible. Staying in hostels will lead to making friends. And with friends, you can split transportation costs and barter on other expenses.
Negotiate taxi fares before taking the ride. Vietnamese taxi drivers are notorious for flexible fares that tend to fall int heir favor. Don't be afraid of a little negotiation.
Drink bia hoi. Sure it's not the more delightful beer. But it is shipped in fresh each day, it's cheap and it's what the local drink.
Take in the sights for free. Do a little research and walk the streets on your own. You'll also find there are a number of free tours and other opportunities if you ask around.
Sleep on overnight busses for longer trips. Combine the transportation and accommodation line items of your budget and save a few dollars.
But there are a few things you should know about the different budgets at which you can choose to travel.
Note: Budgets shown as Single Traveller / Couples per day.
Budget Traveller ($35 Single / $50 Couples)
If you are on a backpacker budget and planning on staying in dorm rooms, getting street food, drinking a few nights of the week, I would budget for about $35 a day.
A single hostel bed can be $5-$8 per person. A budget basic private room is $15-$20. A street food meal can be $1-$2. A bottle of beer is about $1- $1.50 and a bia hoi is $0.20 per cup. This is not the nicest beer. But it is passable and you get to make new friends when drinking it.
Walking or taking public transport will keep your budget down. There are many free things to do, you just need to think outside the box.
Mid-Range Traveller ($100 Single / $120 Couple)
If you have a little more cash in your budget your travels in Vietnam will become a lot more comfortable.
A nicer hotel is definitely affordable.
There are restaurants where you will pay more than the street food price. But the food is definitely of nicer quality (most of the time). The local beer can get a little too much sometimes so you will be able to enjoy an international beer or wine.
For the attractions you are most interested in, get a guide and learn more about the history of the country. You'll be able to commit much more of your budget to do things rather than cutting corners just to stay alive.
Luxury Traveller ($90+ Single / $120+ Couple)
You don't have to have that much more to enjoy a luxury trip to Vietnam. With a few more dollars in your budget, a nicer hotel is definitely affordable. Eat and drink anything you would like at virtually any restaurant.
You can hire transportation without having to haggle. And you can pretty much do any tour you would like to do when visiting any part of Vietnam.
GETTING TO AND AROUND VIETNAM
Entry Requirements
Most travellers are required to have visas when travelling to Vietnam, which can typically be arranged upon arrival. You are typically allowed to stay for 3 – 6 months, depending on nationality.
For information about your specific visa requirements click here
Additionally, Vietnam has introduced an electronic visa (e-visa), which costs $25 USD and is granted for single entry visits for up to 30 days.
You no longer will have to apply through an agent to get an invitation letter or queue at the airport immigration for hours waiting to receive your visa upon arrival.
Apply in advance here.
Once you are approved, all you need to do is print the visa out and present it on entry to Vietnam. Don't lose this e- visa print out as you will need this during your travels in Vietnam.
Hotels will ask for it on check-in at the accommodation and travel agents may ask for it if you are booking flights.
Also, print out your travel insurance as well. Immigration will ask for this also as they want to know you are covered if you fall ill or get injured during your stay.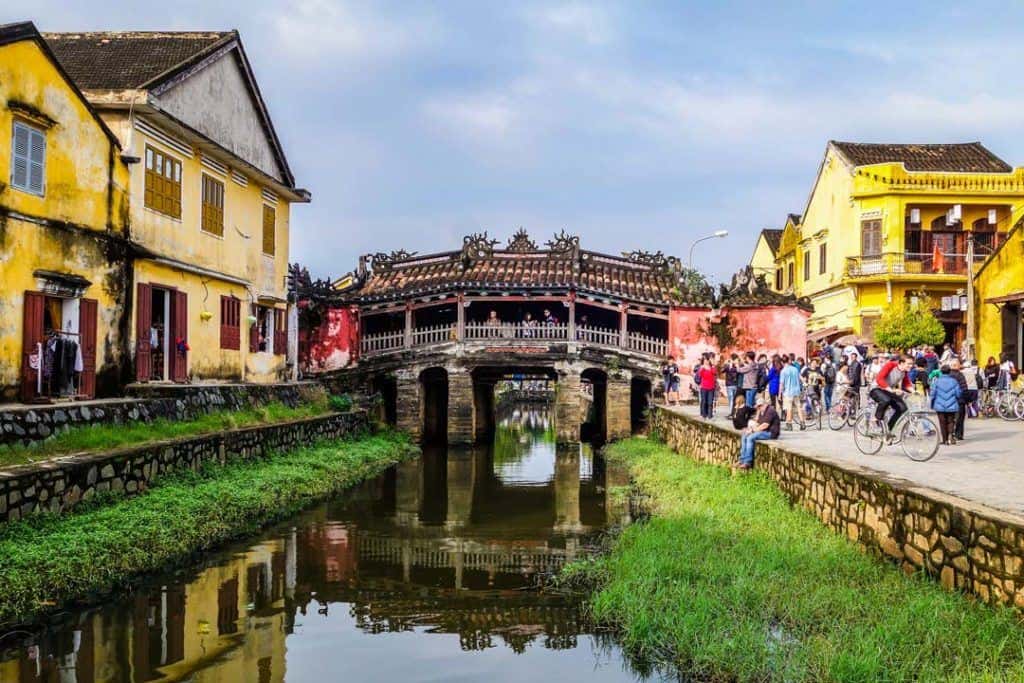 Getting to Vietnam
There are a number of different ways to travel to Vietnam, depending on where you are coming from and how you like to get around with transport.
Air
There are a lot of different airlines that fly to Vietnam from all over the world. There are two major international airports in Vietnam: Tan Son Nhat Airport (SGN) in Ho Chi Minh City in the south and Noi Bai Airpot (HAN) in Hanoi in the north.
Direct flights to Vietnam from Australia, Europe and North America are still limited, but it is improving. You will most likely have to book a flight with a stopover in either Hong Kong, Bangkok, Kuala Lumpur, Seoul or Singapore.
There are many domestic airports scattered among the country. Vietnam Airlines is Vietnam's national carrier. We have flown with them several times and they are amazing.
Train
You can cross into Vietnam by train from China, all the way from Beijing to Ping Xian. This is the Dong Dang Crossing which is 160km from Hanoi.
After you have crossed the border hop on a train to Hanoi. Don't buy the direct ticket from Beijing to Hanoi. It works out cheaper to buy your ticket from Beijing to Ping Xian then cross the border and purchase another ticket from Dong Dang to Hanoi.
If you do the train trip from Beijing through to Hanoi, it will take 36 hours so it is best to book a sleeper. Make sure you have your visa organised before getting to the border.
You can bring your own food and drinks for the train or purchase them from the cafeteria on board. There are squat toilets on board and areas to store your luggage.
Bus
You can get to Hanoi or Ho Chi Minh City through either the Cambodia, Laos or China borders. There is a route from Vientiane (Laos) to Hanoi, and one from Siem Reap or Phnom Penh to Ho Chi Minh City.
Most travel agents in Vientiane, Siem Reap or Phnom Penh will sell the tickets or at your accommodation. You can also get a minivan from Guangzhou through to Hanoi.
Make sure you have your visa ready. The border crossings by land may not be set up as well as others.
If you want to book any of your bus trips online rather than trying to deal with travel agencies in the country, you can do so on the popular website Bookaway.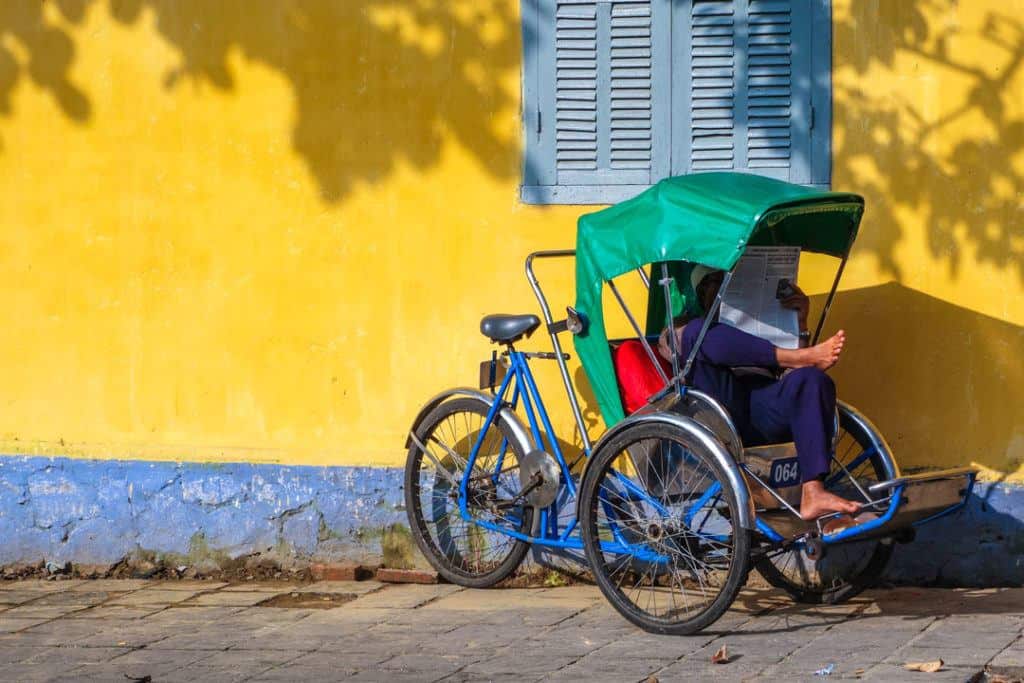 Getting Around Vietnam
Getting around Vietnam is surprisingly easy. Public transport goes everywhere, and there are plenty of moto-taxis that are happy to take you to the places that public transport won't reach.
Travelling by Air
The fastest way to get around the country, of course, is by air. There are many domestic airports all over the country and you can fly in from major cities.
You can get cheap flights within the country through VietJet Air and Vietnam Airlines. For the best deals head directly on the airline's website.
Travelling by Taxi, Tuk Tuk Or Mototaxi
When you are in the cities and town catching a taxi, tuk-tuk or moto-taxi can be the best way to get around. For taxi companies, look for the biggest and most reputable companies as you can be ripped off.
For the tuk-tuks, ask your accommodation the average price to your destination so you can agree on a price with the driver.
We recommend Uber and Grab (car or motorbike) which you can use an app and get the price.
Travelling by Bus
It is possible and advisable to travel by bus throughout Vietnam. Busses inside of cities can be complicated and should be a last resort.
However, when travelling long distances in Vietnam busses are a great option. This is especially true if you take night busses and sleep during the ride.
Travelling by Motorbike
We think travelling by motorbike is the best way to see Vietnam if you have the time. Buy your own motorbike and ride the length of the country. Or you can choose one area and explore Northern Vietnam or South Vietnam.
Here's our post to help guide you on how to buy a motorbike in Vietnam.
Travelling by Train
Taking the train is a great way to get around the country. They are great for overnight journeys as the trains have bed cabins.
In Vietnam, there are many places with roadwork that can last for years. So trains can be the best way to go.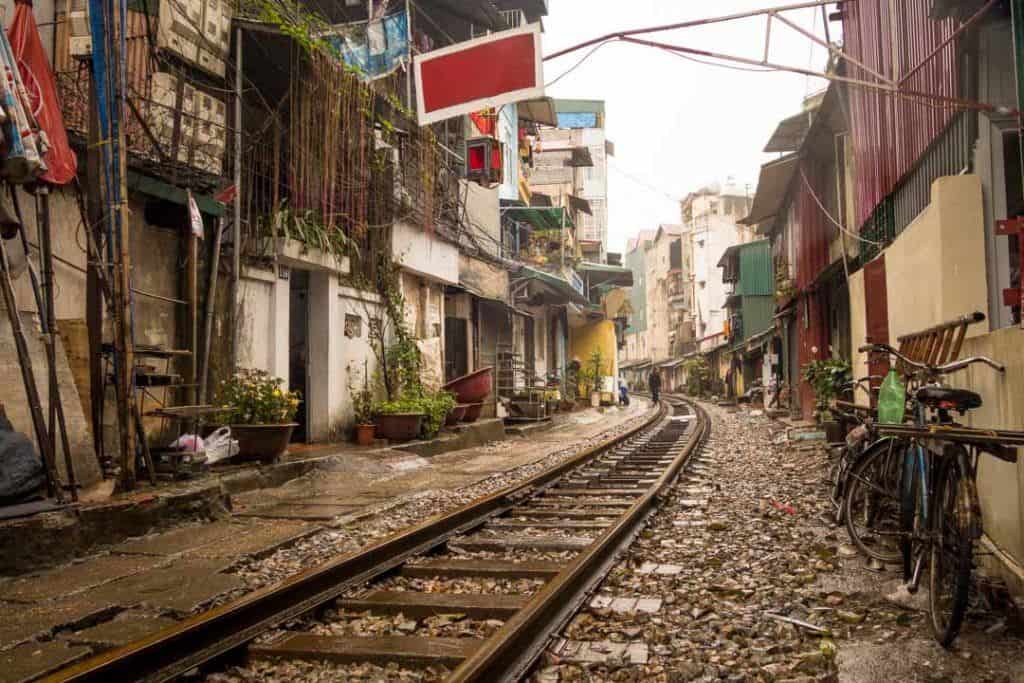 APPS AND TECHNOLOGY
We know you'll absolutely love travelling in Vietnam. But technology has made it easier, more affordable and safer to travel than ever.
Here are a few apps we think you should definitely acquaint yourself with prior to your travels:
Grab – Use this app to catch a ride from any metro area in Vietnam.
XE Currency – Transfer, monitor and calculate currency as the need arises. This app may not be totally necessary as you are typically tied into rates the banks charge for services. But it is handy to have around.
Express VPN – This will protect your sensitive information wherever you travel – not just in [Country]. Be sure to have this to keep your online information secure as you travel. 
iTranslate – Even if you don't know more than a handful of Vietnamese words, iTranslate will help you communicate as you travel in Vietnam.
WiFi Finder – With this app, you no longer have to guess whether the next place on your itinerary has WiFi or scramble across town looking for hot spots.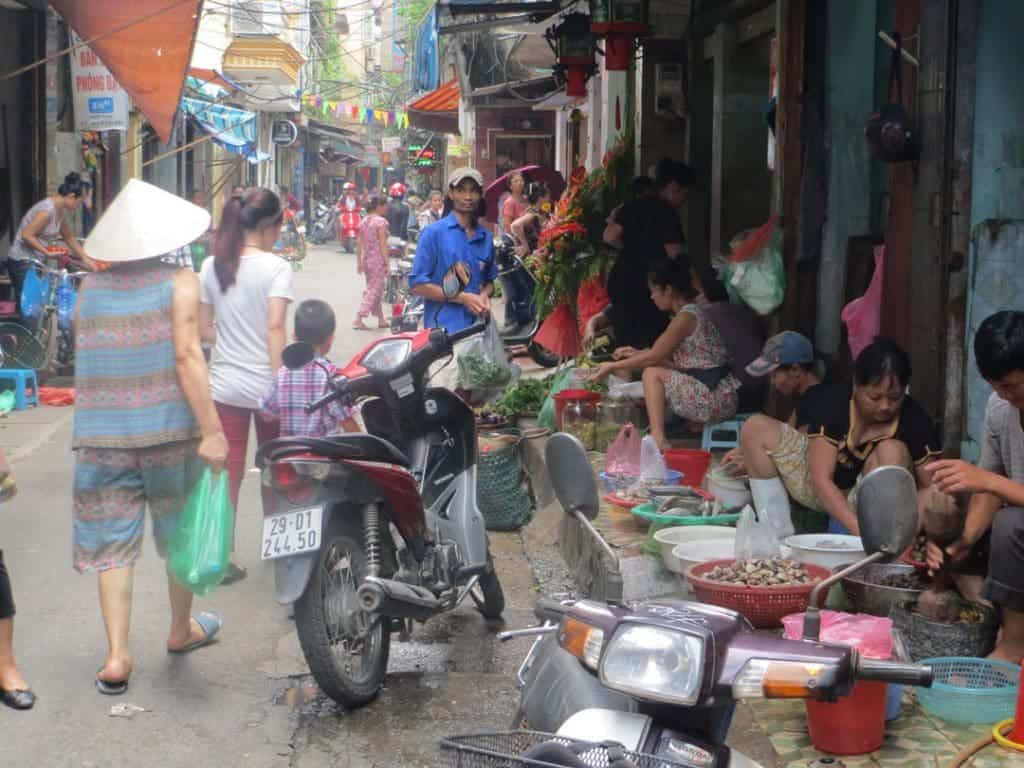 BEST THINGS TO EAT IN VIETNAM
When you travel to a foreign country one of the new and most exciting things you will experience is the food. There are so many amazing food choices in Vietnam, and Vietnamese food is delicious.
Here are a few of our favourites.
Goi Cuon: This is a rice paper packed with greens, coriander and various combinations of minced or shredded pork, shrimp or crab. It will be served with a sweet and sour sauce or a delicious homemade peanut sauce.
Sometimes to make the experience even better, you get to hand roll them yourself. This was our favourite dish.
Banh Mi: With this one, it will be different in every corner of Vietnam. This is a baguette sandwich that is filled with meat, greens, pata, pickled vegetables, soy sauce, cilantro and sometimes an omelet.
The meat filling will be roasted pork belly, grilled pork loin, barbecue pork, boiled chicken, or a fried egg.
Pho (pronounced 'fur'): This flat rice noodle soup is either light beef or chicken broth flavoured with coriander and ginger with spring onions and bits of meat (chicken, pork or beef).
It is a dish you can have any time of the day and is delicious, but it can be hit and miss in some places. If you have an average one, please do try it again. We ate pho a lot for breakfast and never got sick of it.
Bun Cha: This is a Hanoi specialty and it is deliciously addictive. Bun Cha is served with grilled fatty pork over a plate of white rice noodles. It will be served with a sauce.
It will all be served separately and you combined everything together. You can ask for some little fried spring rolls on top too. It is so delicious!
Coa Lau: Hoi An is the best (and only authentic) place to try this one. as the noodles are made using water from a special well in town.
It is chewy rice flour noodles with Chinese barbecue pork, bean sprouts, croutons and fresh herbs in a delicious pork-based gravy.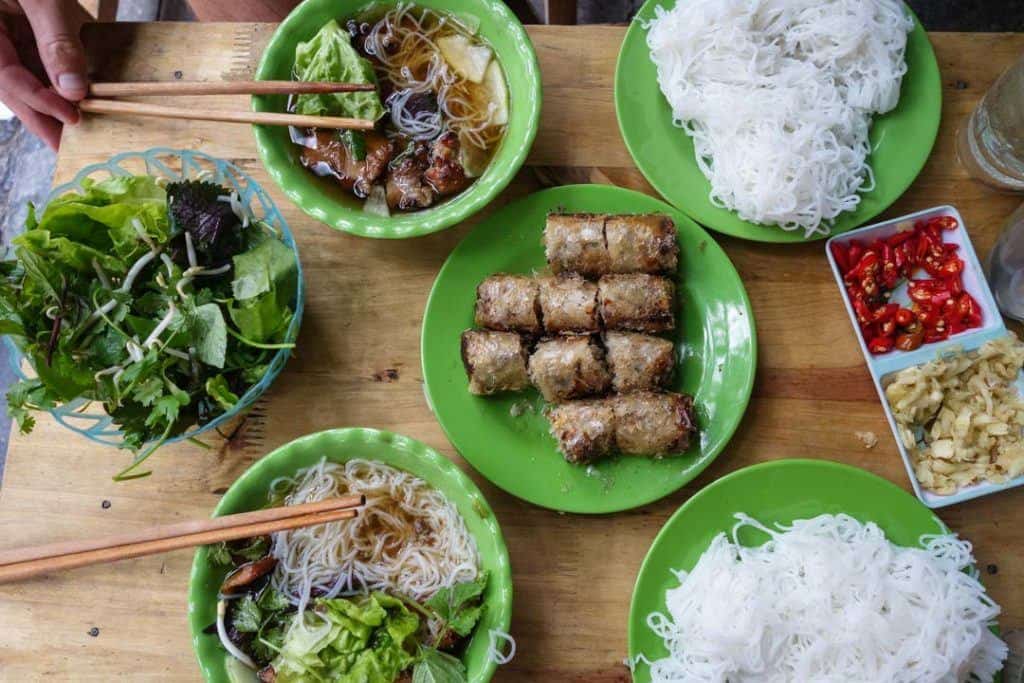 PLACES TO STAY IN VIETNAM
There are accommodation options for all budgets in Vietnam. You can stay in a shared dorm for $5 USD per night, or a luxury hotel for over $300 USD.
The accommodation standards can vary in each destination.
For example, we got a really nice hotel in the middle of nowhere when we were on our bike for $12 a night. But we would not find a place like this in Hanoi, Hoi An, HCMC or Hue for less than $25.
NOTE – In Vietnam, the accommodation will keep your passport for the duration of your stay. This is to do with the government. Officials will randomly come around and check hotels and hostels.
If they do not have the ID or passport of every person staying there, the accommodation will be fined. The accommodation will keep your passport in a safe. If you are unsure just ask, "do you lock my passport up?"
Types of Accommodations
Hostels
Vietnam is wildly popular among backpackers. Because the costs are generally incredibly low, budget travellers flock to the country.
This means that there are lots of great hostel options when looking for accommodations in Vietnam.
Whether you are busy spending all your time exploring and are just looking for a cheap place to crash for the night or want to make friends along the way, you will find most of what you are looking for in a variety of hostels throughout Vietnam.
Hotels
Because costs are generally lower in Vietnam than in most parts of the world your quality of life can go up quite a bit when you travel to Vietnam.
One way you can upgrade your travel experience is by booking rooms in hotels instead of beds in hostels. For a few dollars more you'll get vastly more space and privacy.
In some towns and villages, hotels are your only option.
But generally, these are very reasonably priced. You can expect to spend USD$20-30 for a decent hotel room in most cities, towns and villages across Vietnam.
Airbnb
Another good option in recent years is AirBnB, and there are more and more amazing places popping up to stay in Vietnam for very affordable prices every day.
As is typical in many destinations where Airbnb accommodations are available, you'll likely find great value and a little more personal space with an Airbnb stay. 
If you're looking for an awesome place to stay, we personally love using Airbnb. If you've never used the platform before, sign up using this link to get USD$35 off your first booking.
Our Favorite Places to Stay in Vietnam
We travelled from the south to the north and stayed in many different places. Here are a few accommodation options we highly recommend.
VIETNAM TRAVEL TIPS
The Vietnamese people are friendly, welcoming and hospitable towards travellers. It is a great destination to travel to in Southeast Asia.
The people are very respectful and would like the same back from you. Here are a few things that you should know before going to Vietnam.
GENERAL VIETNAM TRAVEL TIPS
While we have many basic travel tips we suggest you use when travelling to Vietnam, there are also plenty of Vietnam-specific tips that will make your visit the best it can be. 
Here are a few we recommend you consider as you plan your trip to visit Vietnam:
Please show respect to their religious beliefs and their cultures. You are travelling to someone else's country. They have different religious beliefs and cultures in your home. Please respect them.
Watch your belongings. Vietnam is a safe country but unfortunately, there still is petty theft. Whether you are at a restaurant or on a bus always watch your belongings.
Beware of the counterfeit tour agencies. Unfortunately, there are plenty of these around, especially in the main tourist areas. Book through the main owner or operator or any of these tours that we recommend.
Do not drink the tap water. The locals don't even drink the water. There is bottled water available everywhere. Popular tourist restaurants will usually have on their menu that they wash their salad and veggies in sterilised water and make tea, coffee and soup from that too.
Carry toilet paper everywhere. There are toilets available in restaurants or in public but there may not be toilet paper. Most of the time you have to pay for the public toilet and they may give you some toilet paper, but don't count on it. Always have your stash.
Toilet paper goes in the bin. DO NOT put the toilet paper in the toilet. Please put it into the bin provided. Vietnam's sewerage systems are not built for much more than human waste so toilet paper and other items will just clog up your toilet.
Embrace the "bum gun". Next to every toilet in Vietnam, there is a water hose. This is not to wash down the floor. This is to clean yourself up after you do your business. Don't be disgusted by this. Embrace it.
Vietnam is bigger than you think. This country is huge and many people underestimate it. Vietnam is about 1,650 kilometres long from north to south. The distance on buses and trains is long so be prepared.
Take note of the Vietnamese money. It will be a new currency for you so do take a look at it before you go out spending. There are more zeros in it than you might be used to (1USD = 23,000 Dong)
Always take photos when you rent a scooter. Renting a scooter in Vietnam is something everyone does. It is a great way to get around and see all the attractions. But where you rent it from can get you into trouble. Whenever you rent a scooter take photos of the bike or else might end up with a crazy expensive bill.
Always wear a helmet. Always. Please wear a helmet. The roads are crazier here than they are in your country. The rules are different and road conditions are not the best. A quality helmet could save your life in an accident.
Make sure you have travel insurance. We tell people who are going travelling, "if you can't afford travel insurance, you can't afford to travel." You do not know what is going to happen while you are away and knowing you are covered will put your mind at ease.
Be confident when crossing the road. The roads in Vietnam are crazy. Crossing the road can be daunting but you need to be confident. Do not walk backward or hesitate. Walk slowly and watch the traffic coming towards you. They will all move around you.
Take your shoes off before entering a temple or a person's home. It is a custom that stems back to ancient times and a big part comes back to cleanliness. The ground is used for chatting, dining and even sleeping.
Cover your shoulders and knees when entering a temple. This is common in most religious sites. There are always signs suggesting visitors dress 'appropriately.' Shoulders and knees should be covered. If it is a hot day and a t-shirt is too sticky, carry a scarf for when you visit to cover your shoulders.
Keep a low profile. Do not be loud, raise your voice in aggression or show off. Do not show dramatic affection publicly like kissing. Save it for the hotel room
Ask for permission before taking a photo of someone. This is polite and ensures you are not intruding on them. The people are not there for your entertainment. If they say no, smile and thank them anyway.
Do not take photos of anything to do with the government or military. This is a big NO in any country and can end up with you in jail.
Do not touch someone on the head. The head is the most important part of the body. Touching someone's head who you don't know is like saying you are more important than they are.
Place your chopsticks across the top of the bowl when finished. Don't have your chopsticks hanging out of the bowl, and don't point them at anyone when they are resting on the plate.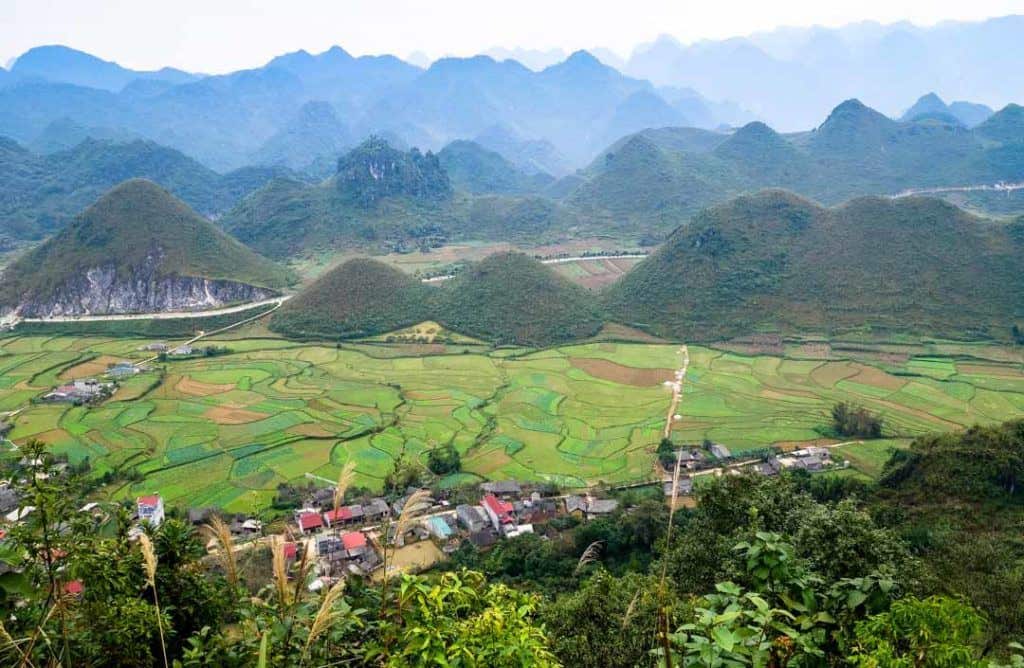 VIETNAM PACKING LIST
We always travel with a core packing list wherever we go. And when it comes to Vietnam, many factors will affect what else you need to bring along with you. 
Check out our travel essentials and be sure to add any of the other additional items listed below. 
Important Note! Before you book any international trip, we honestly recommend getting travel insurance. You never know when things will go wrong, and medical bills can add up quickly if you get sick or injure yourself overseas.
Our personal recommendation based on our own experience is World Nomads.
STAYING SAFE IN VIETNAM
Vietnam is extremely safe, apart from the one major danger which is the roads. They are crazy, even more so if you try to ride 10'000km around the country on motorbikes as we did!
Aside from that, common sense will keep you safe.
Here are a few reminders of what common sense when travelling in Vietnam means:
As you saw above, Vietnam is extremely safe. We did not feel unsafe once in the 7 months we were there (excluding the roads).
This doesn't mean you can completely let your guard down though, and petty theft does happen in this country, although it's not common.
Some tips for protecting your things:
In other words, use common sense and you'll be fine.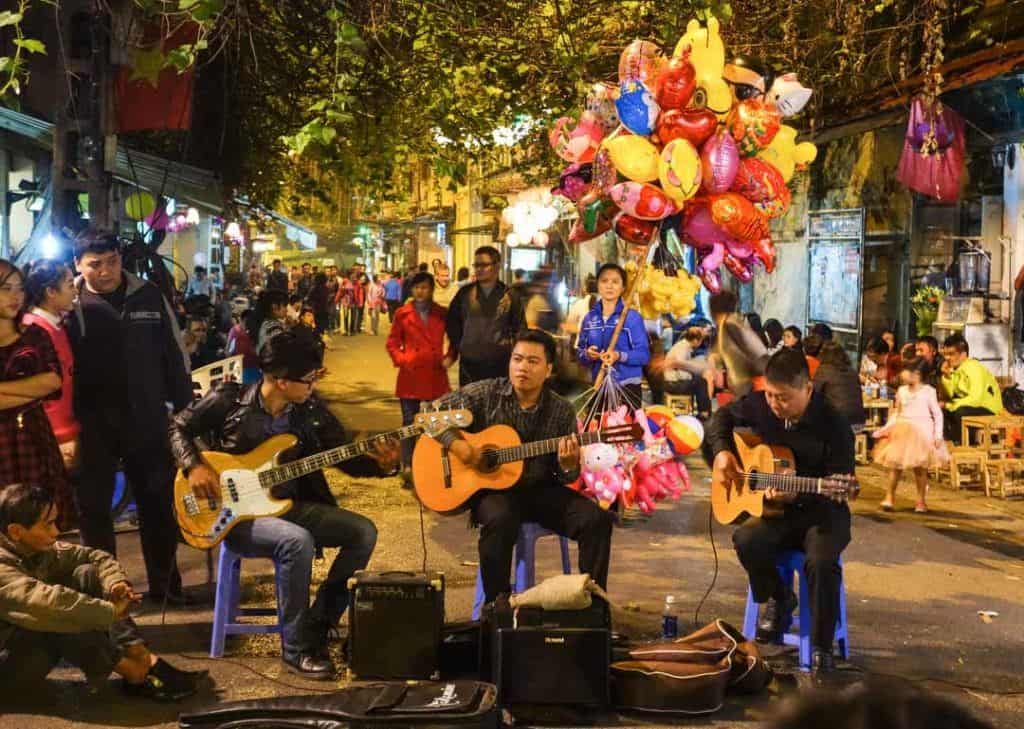 STAYING CONNECTED IN VIETNAM
Staying connected with friends and family (and work) when travelling in Vietnam is important. But if you don't know how to connect you can find yourself greatly inconvenienced or spending too much money.
We feel like your money will go a lot further if you consider a few options.
Purchase a SIM Card
Picking up a SIM card has become the quickest and typically most affordable way to stay connected in Vietnam or any country for that matter.
If you have an unlocked phone you can use a 4G SIM card to connect to the cellular networks in Vietnam. From there you can cast a hot spot if you need to crank out some work on your computer or want to connect a tablet.
This 3G/4G SIM card is a great and affordable option for a SIM card if you are flying into Vietnam.
Rent a Portable WiFi Device
Alternatively to a SIM card, particularly if you don't have an unlocked phone, you can rent a portable WiFi device during your travel to Vietnam.
This device will be delivered to you when you arrive in Vietnam and will provide 4G service for less than USD$5 per day.
You'll be able to connect anywhere you can find service across the country, which will be most of the places you are likely to travel in Vietnam.
Access Free WiFI
Free is always best, if it is convenient. And there are plenty of places throughout Vietnam that will provide free WiFi in public spaces or at restaurants, cafes and hostels and hotels.
We recommend using the WiFi Finder app, which will help you locate WiFi anywhere you travel in Vietnam.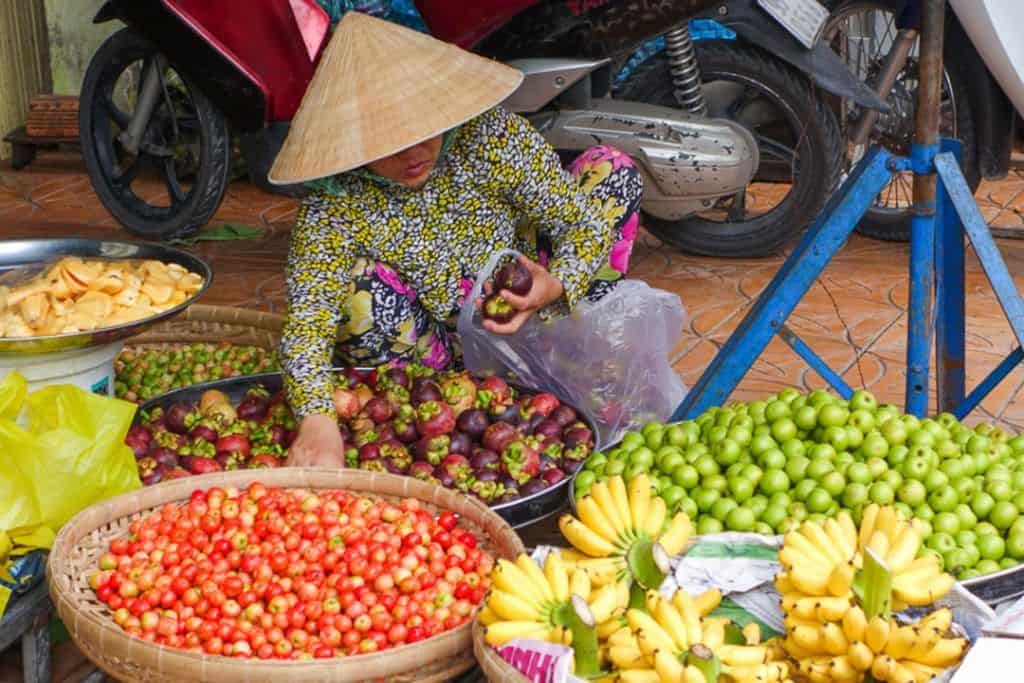 BE A RESPONSIBLE TRAVELER IN VIETNAM
We absolutely love Vietnam. And we love the idea that it will remain a beautiful and friendly place for travellers for years to come.
As such we strongly promote activities that allow you to make decisions to be a responsible traveller.
Here are a few tips specific to travel to Vietnam that will promote sustainable tourism in the country:
Use your own energy to get around. Walk or cycle through town as much as possible. Taking a cyclo-taxi is a close alternative if you don't have the energy to propel yourself through the city. But this reduces the impact of taxis, busses and other forms of automotive transportation.
Mind your plastic. Plastic is everywhere in Vietnam. But using your own reusable bag for groceries and other shopping, carrying a reusable water bottle and having your own straw are just 3 of the many simple ways you can reduce the amount of plastic you use.
Shop local. Visiting the markets will be one of your top experiences when travelling to Vietnam. Support local vendors as often as possible, including in taking tours when available.
Be mindful of wildlife. Wildlife in the wild is great. But be mindful not to provoke, feed or otherwise molest wildlife. And never purchase any item made of or involving rare or endangered species.
Attempt to communicate in Vietnamese. You're probably not going to be fluent as soon as you arrive in the country. But knowing a few phrases and doing your best to communicate with locals will show respect and earn trust and make your experience richer.
KEY VIETNAMESE TRAVEL PHRASES
You don't have to be fluent in Vietnamese to have a great time when you travel to Vietnam. But it does help to know a few key phrases.
This will not only assist you in your travels but it will also show respect to the local Vietnamese people that you are doing your best to assimilate into their culture.
BOOKS TO READ ABOUT VIETNAM
Maybe you already know everything about Vietnam. Chances are you don't!
But even if you are well-read, here are a few suggestions that might be worth your time while you're on the plane to Vietnam.
The Quiet American (Graham Greene) – Originally published in 1956 and adapted for film twice, this story by Greene became an instant classic. Greene fictionalizes life in 1950s Vietnam as told by a British correspondent trying to understand the roots of the rising conflict set to occur.
At Home In The World (Thich Nhat Hanh) – World renown Vietnamese monk, Hanh reflects on lessons and stories in life from the Buddhist perspective.
Vietnam: Rising Dragon (Bill Hayton) – A piece of nonfiction that looks back on the Vietnam of old and attempts to projects its place in the future of Southeast Asia.
The Sympathizer (Viet Thanh Nguyen) – The Pulitzer Prize-winning book, allegedly influenced by The Quiet American, is told through the eyes of a double-agent during the Vietnam War who struggles to understand the minds and hearts of men engaged in war.
DISCLAIMER: Some of the links in this article are affiliate links, which means if you book accommodation, tours or buy a product, we will receive a small commission at no extra cost to you. These commissions help us keep creating more free travel content to help people plan their holidays and adventures. We only recommend the best accommodations, tours and products, and regularly review these. Thanks for your support, kind friend!
Read Our Vietnam Posts
<div id="mediavine-settings" data-blacklist-all="1″></div>