Everything you need to know about travelling to Sado Island, one of Japan's most beautiful off-the-beaten-path destinations.
Every now and then we stumble across a destination that not only surpasses expectations, it takes our breath away.
After spending 6 weeks travelling around Japan, Sado Island was that place for us.
Located in the Niigata prefecture on the west of the country, Japan's sixth-largest island is home to towering mountains, jagged coastlines, fascinating cultural experiences and some of the best rockpools we've ever seen.
We took the ferry from Niigata terminal and landed in Sado Island just after dark on a wet winter night.
In our typical travel fashion, we had done very little research about visiting Sado Island before we arrived.
The few things we had seen online made it seem like an interesting destination, but with relatively few foreign tourists travelling out there, we weren't sure just how amazing it would be.
When we woke in the morning though and hit the road to see what the island had to offer, we were immediately blown away.
READ MORE: Check out our ultimate Japan travel guide filled with all the tips you'll ever need to visit the and of the Rising Sun.
The scenery was spectacular, and we started to realise that the 2 days we had set aside for the island was nowhere near enough.
We could easily spend a week travelling around Sado Island, photographing its mesmerising landscapes and getting to know the friendly inhabitants.
You don't need to just take our word for it though.
To encourage you to visit here, we've put together this epic Sado Island travel guide to help you with your plans.
The Best Things to Do in Sado Island, Japan
Let's kick things off by sharing our tips on the best things to do in Sado Island, from hiking to viewpoints and even learning to play Japanese drums!
Rent a Car and Check Out the Coastline
We grew up in Australia, so it takes a lot for us to get impressed by a coastline. But Sado Island definitely wowed us.
The jagged, imposing cliffs that line Sado's western shore would not be out of place in a Game of Thrones episode, with waves smashing against them far below while solitary trees grip to the outcrops.
We spent a few hours driving up and down the coast, stopping for photos and being constantly left in awe.
It felt as though every few kilometres the views just got better and better.
If you want to make the most of your time in Sado Island, and have the freedom to explore its fabled coastline, we recommend picking up a rental car and self-driving.
In case you're not comfortable driving yourself around the island, you can book a tour with the local tourism office.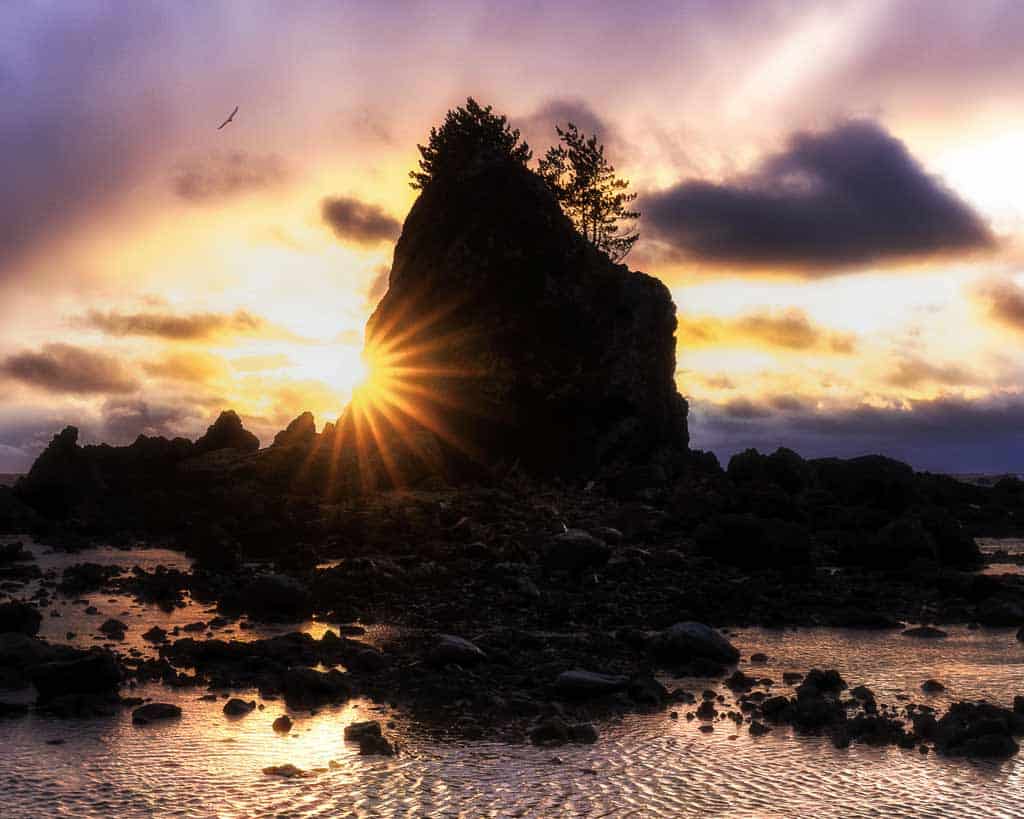 Senkakuwan Bay Lookout
Senkakuwan Bay showcases perhaps the best section of Sado Island's coastline.
Stretching for 3km on the western side of the island are 5 bays that make up the Senkakuwan area, and if you only have time to visit one spot, make sure it's this one.
There's a bridge that crosses over to a little island with a lookout, where you can get gorgeous views looking back on the bays.
If you're visiting during the summer you can also book a glass-bottom boat to head out to sea and check out the vistas from the water.
Lookout Admission Fee: ¥700 per person
Address: 1561 Kitaebisu, Sado, Niigata 952-2133, Japan
Opening Hours: 08:30 – 16:00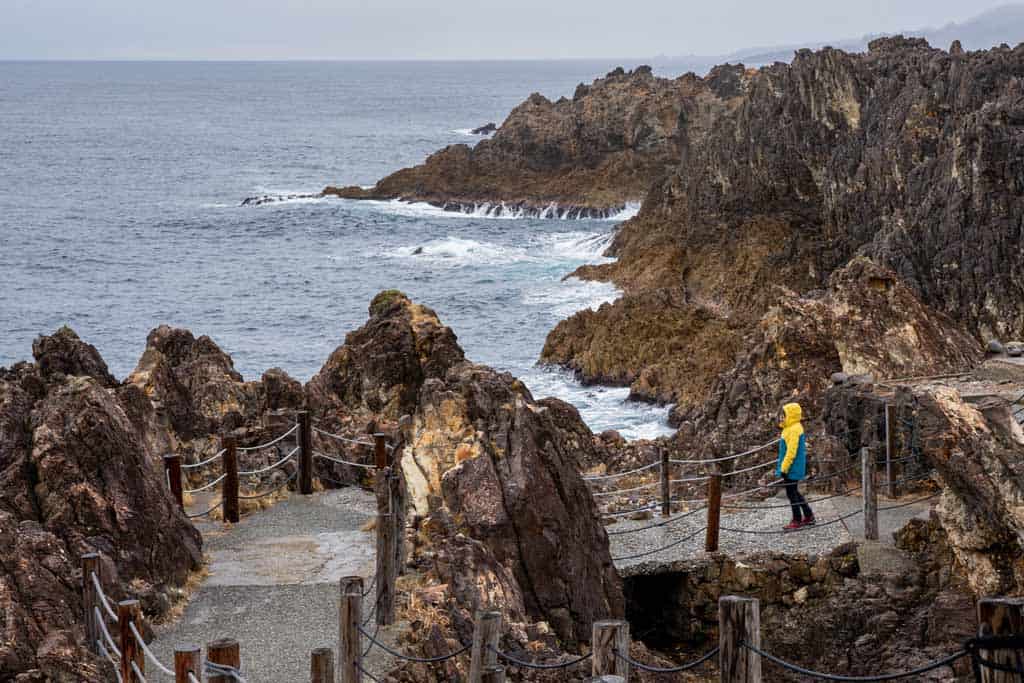 Learn to Drum at the Sado Island Taiko Centre
While you're exploring this fantastic destination, make sure you swing by the Sado Island Taiko Centre to learn all about traditional drumming from some of the best in the world.
The taiko is a type of large timber drum that has been used in Japanese music and dances for centuries.
And Sado Island is home to one of the best taiko ensembles in Japan, Kodo.
These guys aren't only one of the best in the country – they are famous around the globe thanks to their rigorous touring schedule and being invited to perform at huge events.
Not only do they love performing, they love teaching, and because of that they opened up the Sado Island Taiko Centre, run by the Kodo Cultural Foundation, to allow visitors to come and learn to drum.
We signed up for a 1-hour drumming demonstration and absolutely loved it.
We all got in a circle and our instructor, Sami, started the lesson. Sami would drum a beat, then we would copy.
To keep things interesting she turned it into a game where we had to throw the beat around to different people in the circle rapidly, then we all took turns leading the group.
Sami has been drumming for 20 years, travelling the world performing with the group, and seeing her skills in person was fantastic.
She taught us all about the drums, the different sounds they make, and also what they are made of.
There had two huge taiko drums that were hand-carved from an enormous 600-year-old keyaki (Japanese zelkova) log. Their names are Mr Potato and Miss Piggy.
Cost: ¥1600 person for 1-hour drumming lesson
Address: 150-3 Ogi Kanetashinden, Sado, Niigata 952-0611
Opening Hours: 09:00-17:00 (closed Mondays)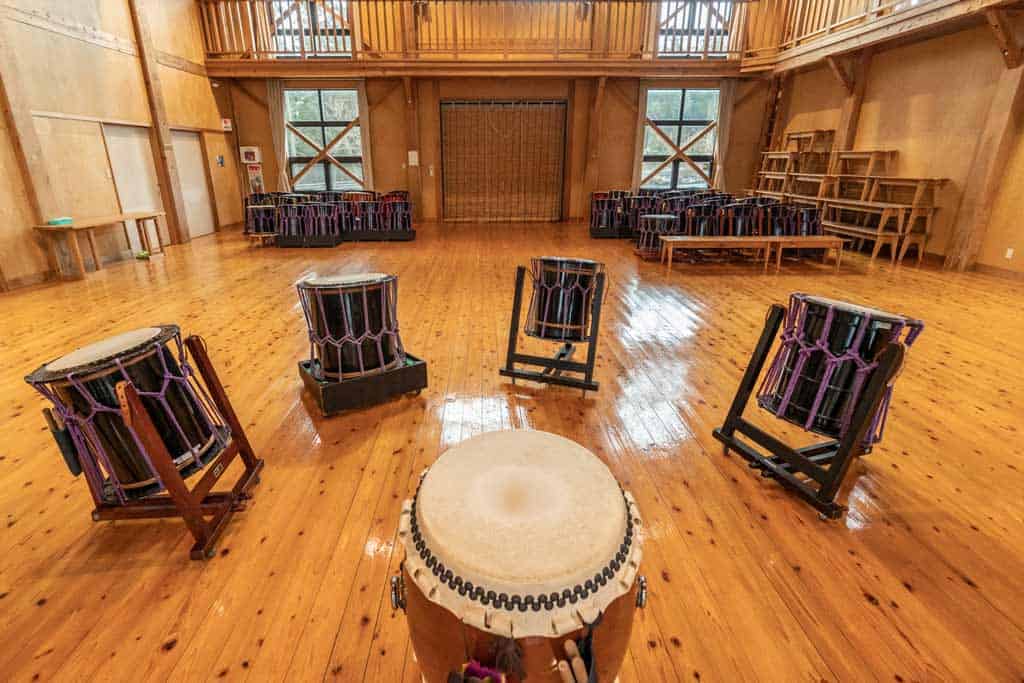 Learn How to Make Soba Noodles
After drumming your heart out on the taiko demonstration, you can try your hand at making delicious soba noodles right there in the Sado Island Taiko Centre.
Soba is the Japanese name for buckwheat, and you will most likely have had this dish a bunch on your travels around the country.
The soba noodles cooking class is a fun experience, and you are taught how to hand-make the noodles using buckwheat flour, water and lots of kneading under the expert supervision of a local chef.
Roll the dough flat, cut it into small strips using the sharpest kitchen knife you've ever seen, and then throw it in a huge pot to cook.
Once you have cooked the noodles its time for the best part – to eat!
You sit down as a group and enjoy the soba noodles served either chilled, with a dipping sauce, or in a hot broth as a noodle soup.
Definitely worth doing after your drumming experience.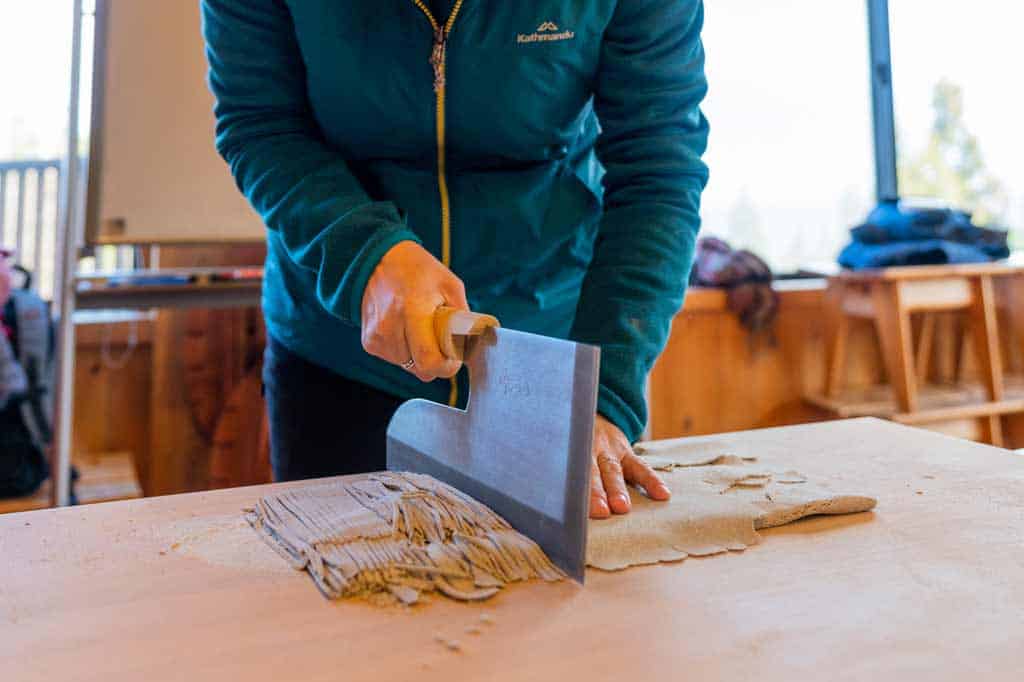 Enjoy a Meal at Shimafumi Bakery
There are lots of great places to enjoy a meal around Sado Island, but the Shimafumi Bakery has to take the cake for having one of the best views around.
Situated on a headland overlooking the large bay on the west coast, Shimafumi Bakery serves up delicious sandwiches, soups and sweets.
If it's a sunny day you can sit outside, sip on a tasty coffee and watch the waves hit the point below.
Address: 105-4 Daisho, Sado, Niigata 952-0431, Japan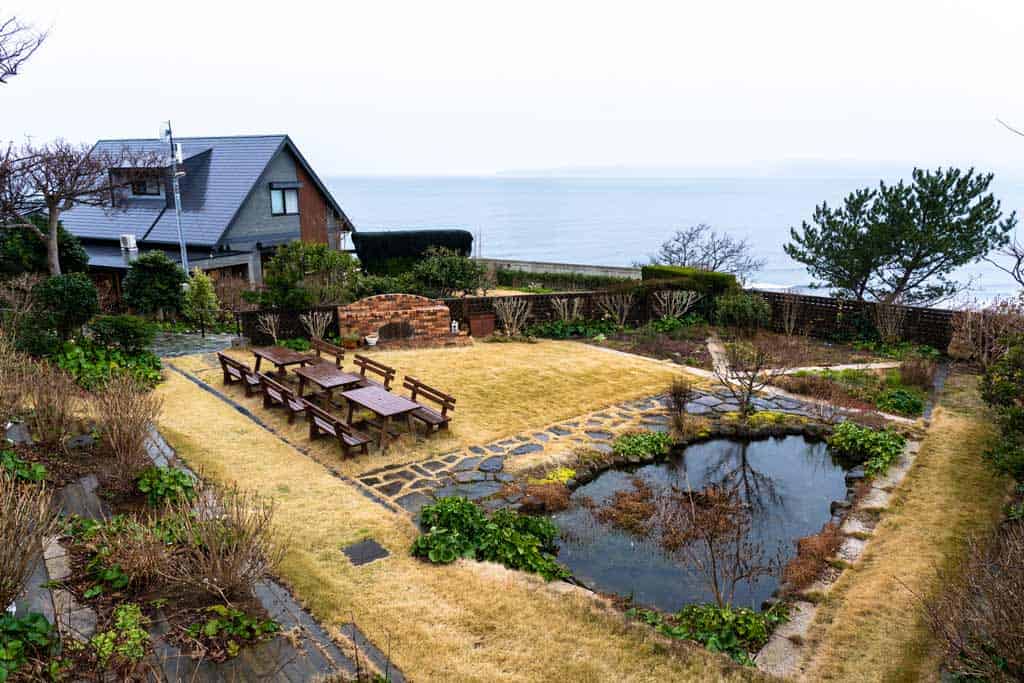 Go Hiking or Snowshoeing in the Mountains
The interior of Sado Island is surprisingly mountainous, so when you're finished hanging out at the coast, it's time to put on your hiking shoes and get into nature.
During the summer you'll find spectacular trails cutting through beautiful, lust forests, with high vantage points offering views over the entire island.
Sado Island in winter offers a different opportunity – snowshoeing.
As we were here in February, we were keen to find out the best things to do in Sado Island in winter, and trekking through snow was right up our alley.
We booked a snowshoeing experience through the Visit Sado Tourism Office and spent a few hours hiking around one of the mountains here.
As we got higher the views opened right up, allowing us to look down on the glistening sea in the distance, but being in the snow-covered forest was a real highlight.
The tour wasn't strenuous, and would be perfect for any fitness level.
Book it by calling Visit Sado Tourism, or stop by their office in the ferry terminal.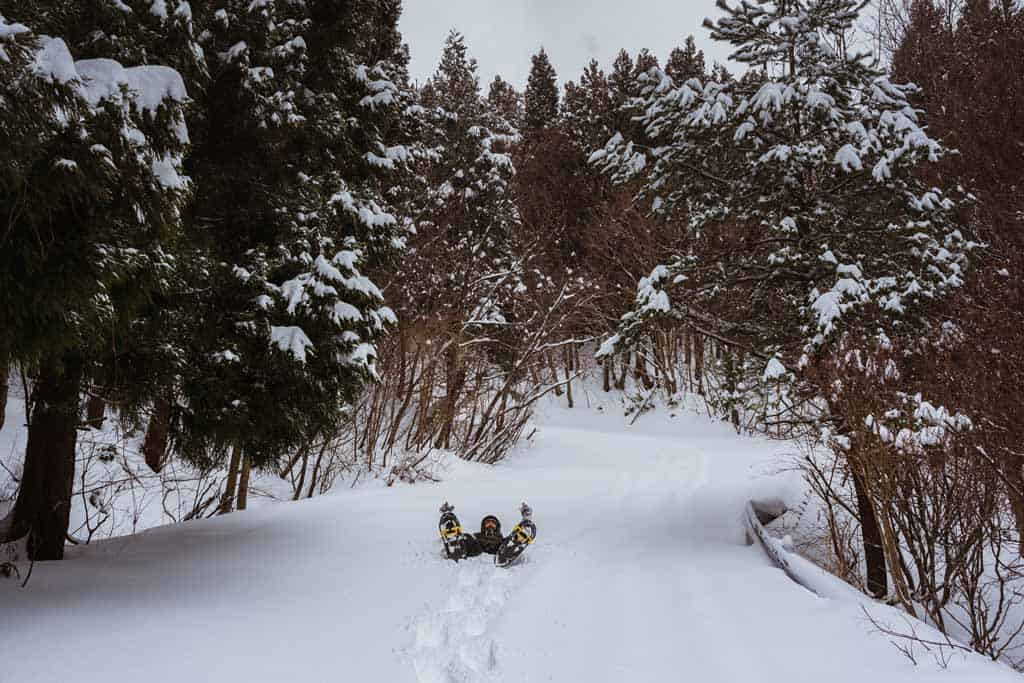 Go Surfing in Sado Island
Japan is famous for its epic skiing and snowboarding conditions, but did you know it also has amazing surf?
The east coast and islands in the south get the best swell, but there's a solid, consistent break on the west coast of Sado Island as well.
You can find a good spot to paddle out right below the Shimafumi Bakery.
If you don't have your own surfboard with you, there is a guy that apparently rents them out in the town of Manoshinmachi.
Or Try Scuba Diving
If you're travelling to Sado Island in summer, one of the coolest things you can do is go scuba diving.
The seas off of Sado has amazing visibility and a number of underwater caverns for experienced divers.
Most of the dive shops are on the east coast around Ryotsu. Expect to pay around ¥5000 for a dive if you are certified.
Check Out Ogi Town
Down on Sado's southern coast is the quaint little port town of Ogi, which is by far one of the best Sado Island attractions.
Famous for the wooden tub boats called taraibune, wandering the streets of Ogi Town is like stepping back into a forgotten era.
The old timber houses lean in from all sides, casting shadows across the narrow alleyways.
You can't help but meander your way around, pointing your camera in every direction.
For a birds-eye view of the port town, climb up the stairs towards the road at the northern end.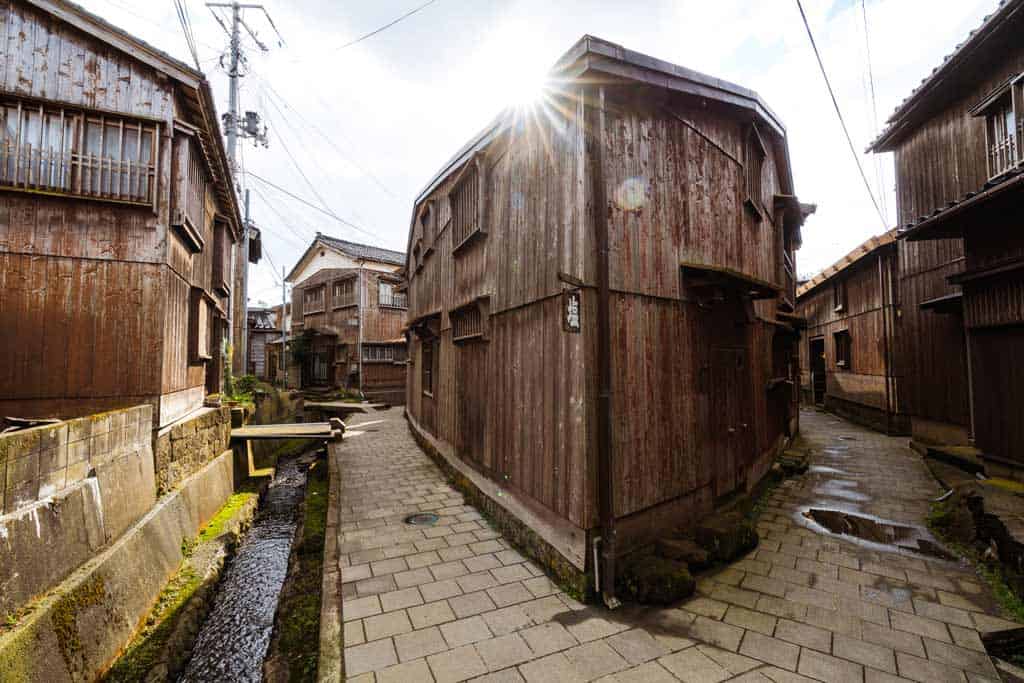 Ride in a Tub Boat
The small, round tug boats that are found all around Ogi town are called taraibune, and they have been used throughout history by seafaring people to harvest seaweed.
Just next to Ogi town, you can book in for a 10-minute tub boat ride with a local.
The price is only ¥500, so if you have 10 minutes spare, it's well worth doing for that traditional Sado Island experience.
Explore the Gold Mines
In 1601, during the Edo Period, gold was discovered in the rocks of Sado Island.
It kickstarted what would become a long and fruitful history of mining on the island, with the newly developed gold mine becoming the most productive in all of Japan.
At its peak, the mine was producing over 400kg of gold every single year.
In 1989 the mining eventually stopped, but in recent years there has been a new transformation for the site, with it being opened up to visitors.
If you've never been in an underground mine before, it is quite the experience.
Here at the Sado gold mine they have set up a (safe) area for people to explore the tunnels, with exhibits showing exactly what it was like for the people who worked there.
There's also a great little museum onsite to check out.
Price: ¥300 per person
Address: 952-1562 18-1 Mehama-cho, Aikawa-Mimachi, Sado City
Soak in the Rockpools
Not too far from Ogi town are some of the most stunning natural rockpools we have ever seen.
Follow the beach around until you reach the long tunnel. Cross over and then turn right towards the sea.
Eventually you'll come across dozens of natural pools with the most impossibly clear water you have ever seen.
Some of them are absolutely perfect for swimming as well (just mind the sharp, volcanic rocks).
If you're visiting Sado Island in summer this is the perfect place to come and take a dip.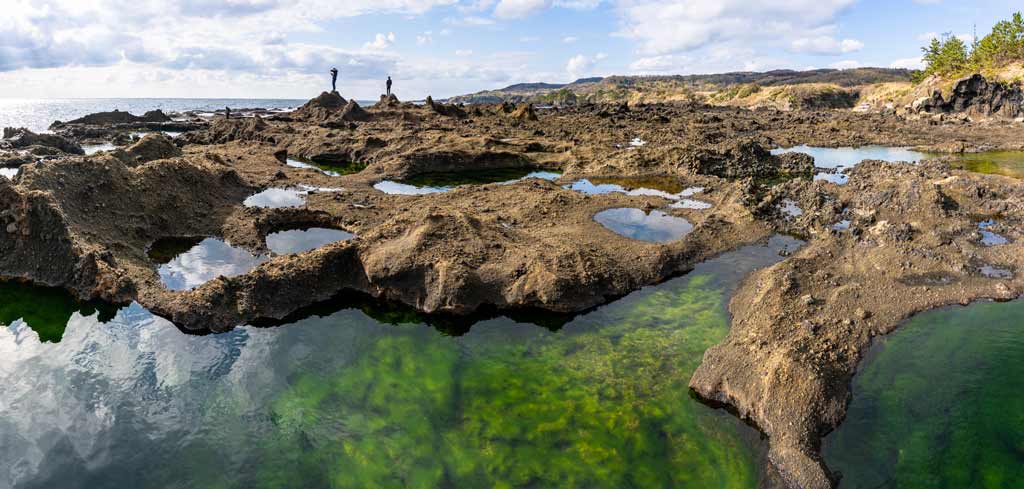 Sado Island Travel Guide
Now that you know what to do in Sado Island, we're going to share with you some other great tips to make the most of your time here.
Read on to find out where to stay, how to get here, how to get around and where to go explore next!
Where to Stay in Sado Island
There's quite a few different accommodation options available on Sado Island to suit any budget.
The best place to find these are on the Agoda website.
Here's where we stayed though.
Ryokan Urashima
We were lucky enough to spend two nights in the best hotel in Sado, Ryokan Urashima.
This beautiful hotel is spread across two properties, with one being the place to stay, and the other housing the onsens and dining rooms.
Japan is notorious for having small living quarters, but our hotel room at Ryokan Urashima was absolutely enormous.
Designed in a traditional Japanese style, it had its own entrance hall, leading to a separate toilet and massive bathroom.
The main room had a table and chairs placed on the floor, with a heated space underneath the table to keep your legs warm on those chilly winter evenings.
The bedroom was where the housekeepers would lay your Japanese-style beds at night, and there was even another room that could be used for reading or storage, with windows looking out to the bay.
There was TV and coffee-making facilities as well.
Every day they had different meal styles as well for the guests.
On our first night we had a massive Japanese dinner, with 7 courses held in a private room.
On the second night we were treated to a French-inspired food experience, which pushed out to 9 courses.
The breakfasts were the same, with one day being Japanese style, the next day being Western style.
The food was simply delectable, making it on par with the best food we've had in all of Japan.
To top it off they had two huge onsens for guests to use, with males and females separated.
The quality of these onsens matched the high standard of the hotel, and they had obviously been designed to be peaceful and beautiful.
It was a very high-end accommodation, but absolutely worth it to spoil ourselves for two days in Sado Island.
Address: 978-3 Kubota, Sado, Niigata 952-1325
Phone: +81 259-57-3751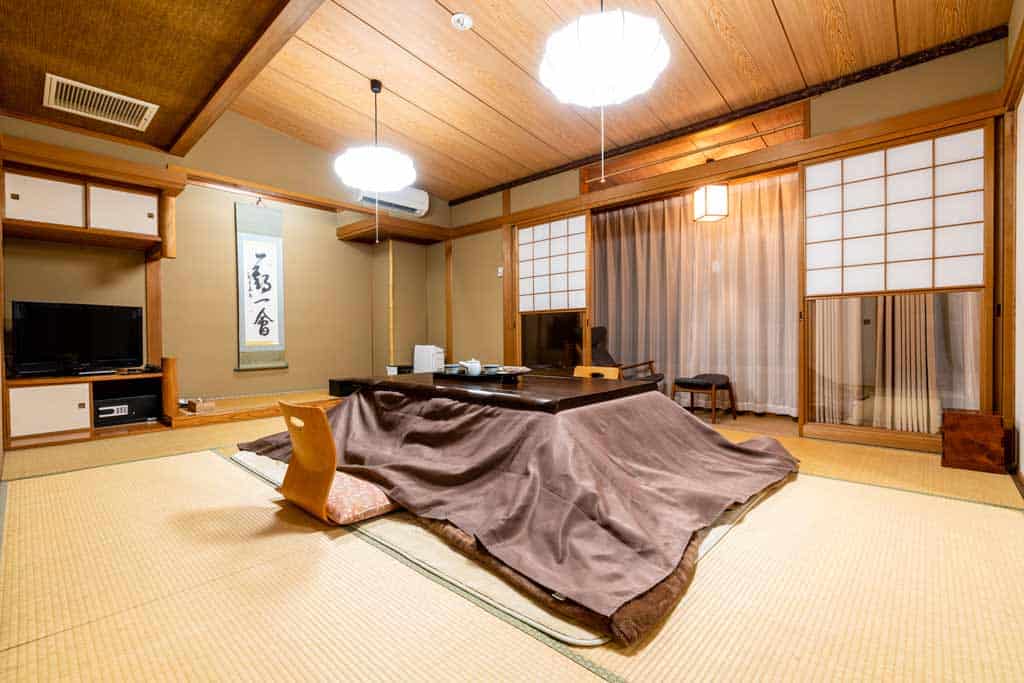 How to Get to Sado Island
Getting to Sado Island is quite easy, although it does take a little bit of time.
Plane
Even though Sado Island has an airport, it hasn't been operating for the public since 2014.
There are rumours though that they will soon be opening up flights from Tokyo, so watch this space.
The closest airport, for now, is Niigata Airport, and from there you need to take a ferry to Sado.
Ferry
Being an island, the only way to get to Sado is by ferry.
There are currently two ferry terminals that have regular services to Sado. The main one in Niigata, and one in Naoetsu that only operates in summer.
Ferries from Niigata to Ryotsu
The first thing you need to do is get to Niigata Station by using your JR Pass. There are regular services to Tokyo and most other major destinations.
Once there you can take a bus from outside to the station to the Niigata Port Terminal for ¥210 per person.
At the terminal you have two options to get to Sado Island. The normal car ferry, or the faster jetfoil.
We took the car ferry in second class and were very pleased with how comfortable it was.
Car Ferry Price: ¥2420 one-way for second class + ¥260 fuel surcharge
Jetfoil Price: ¥6510 one-way + ¥260 fuel surcharge
Schedule: Check the website
BONUS TIP: If you're planning on using the public buses on Sado Island, and have a day in Niigata to explore, it is worth buying a Sado Gold Passport from the Niigata Ferry Terminal. This includes your return ticket to Sado, unlimited bus travel on Sado for 3 days, and a one-day bus tour in Niigata city. The total price for this is ¥5500
Ferries from Naoetsu to Ogi
Outside of winter there is also a ferry between Naoetsu and Ogi.
This is very handy if you will be exploring the town of Joetsu on the mainland before or after your trip to Sado Island.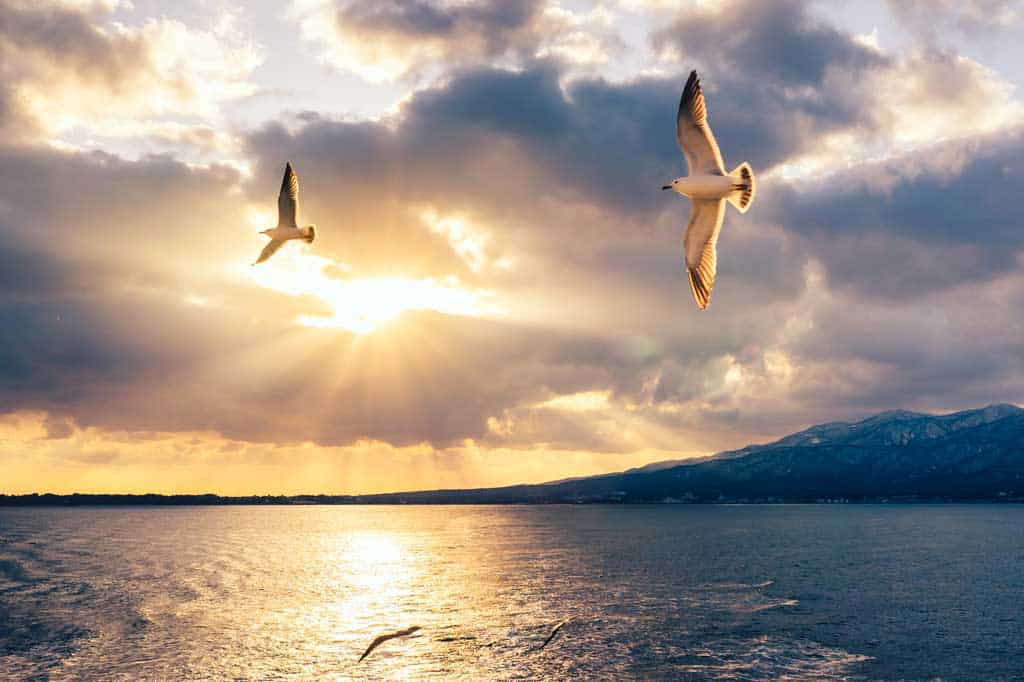 How to Get Around Sado
Once you're on the island, the public bus network isn't too bad, although can be quite slow.
If you're up with this, then no problem. Pick up a bus schedule when you get to the Sado ferry terminal, and if you have your Sado Gold Passport, your transport is included with that.
Another option is to book a guided tour of the island. Again, you can book this in the tourism office at the ferry terminal, or through the Visit Sado website.
Or if you prefer to have your own wheels, then get yourself a car and have all the freedom in the world.
The best way to get around is to rent a car and explore on your own! We recommend Rental Cars, which has the largest range of vehicles for the best value on the market.
Where to Go After Sado Island
Now that you know how to get there, we're also going to share where else you should visit while you're in the area.
Joetsu
A short train ride away from the Naotesu ferry terminal is the quirky town of Joetsu.
Home to Japan's oldest theatre, Japan's oldest candy store and the iconic gangi roofs that protect pedestrians from enormous snowfall Joetsu is an interesting place to spend the day if you like to get off the beaten path.
Here are some of the best things to do in Joetsu, Japan.
Visit Takada Castle
This historic Edo-era castle, built sometime in the 16th century, is a beautiful site, surrounded by a moat and protected by high walls.
You can visit the grounds, or if you come during the spring you'll be amazed to see the entire place surrounded by cherry blossoms in one of the most dazzling displays in the entire country.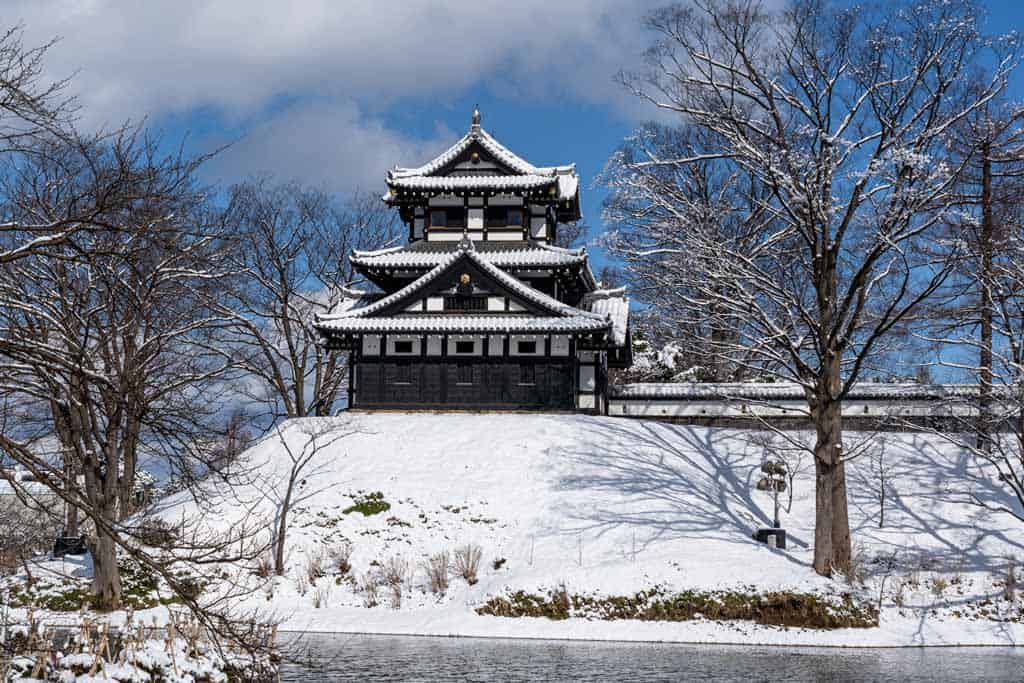 See Japan's Oldest Theatre, Takada Sekaikan
Originally constructed in 1911 to host plays, Takada Sekaikan has had a colourful history over the years.
It became a movie theatre, played exclusively pornography for a while and then turned back into a cinema, which is still open today.
If you happen to be there in the evening you can go and catch a show.
Eat Some Candy at Takahashi Magozaemon Shoten
Joetsu also has Japan's oldest candy shop, so if you have a sweet tooth make sure you stop by.
Mr Takahashi is the current owner, having had the store and its secret recipes passed down through generations.
Originally opened in 1624, this candy shop brought the culture of making Ame candy to town, and quickly developed a stellar reputation.
So famous did it become that one of Japan's Emperors personally visited to try the candy for himself, and after gaining access to his distributor's log books, Mr Takahashi recently discovered that his candy has made its way into the palace every year for special events.
The store is open to the public, and while not cheap, when else can you say you've eaten the same candy as the Japanese Emperor?
Myoko Akakura
If you're visiting Sado Island in winter, make sure you set aside some time to hit up the legendary ski resorts over in Myoko.
While many tourists flock to Hokkaido for their skiing trips, the resorts of Myoko receive almost as much snow with a fraction of the visitors.
We spent some time at Akakura Onsen and Akakura Kanko and couldn't believe just how good the powder was.
Definitely add it to your list of things to do in Japan for after Sado.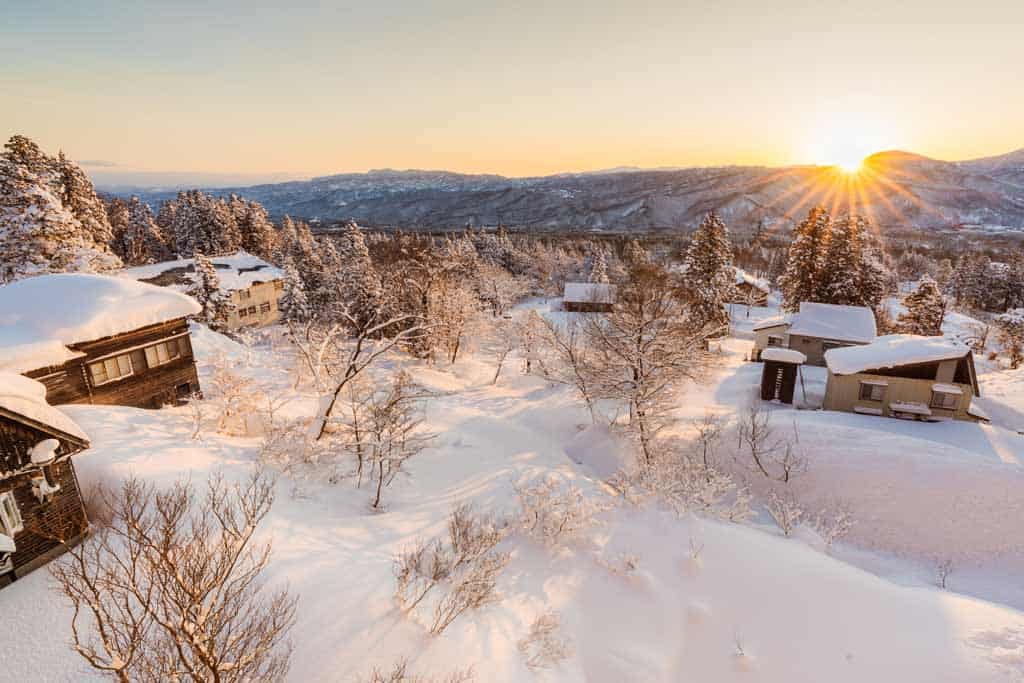 Travel Tips for Sado Island
Here are some of our best travel tips for Sado Island.
Bring a Rain Jacket
No matter what time of year you are visiting Sado, make sure you bring a rain jacket.
The weather can turn quite quickly here, and you want to stay protected if it does.
Add More Time to Your Itinerary
Our biggest regret was that we only had two days in Sado.
You could easily spend a week here, as there's so much to see and do.
Get a Rental Car
Unless you're happy with booking a tour throughout your whole time in Sado, or want to use the bus network, it's best to get a rental car.
This way you'll have the freedom to explore all the amazing places to visit on Sado Island.
Get to the Ferry Terminal Early
You don't need to book your ferry ticket before you get there, but make sure you arrive to the terminal with enough time to purchase your tickets before boarding commences.
We got there quite late, and while they let us on the ferry, it was getting close.
DISCLAIMER: Some of the links in this article are affiliate links, which means if you book accommodation, tours or buy a product, we will receive a small commission at no extra cost to you. These commissions help us keep creating more free travel content to help people plan their holidays and adventures. We only recommend the best accommodations, tours and products that ourselves or our fantastic editorial team have personally experienced, and regularly review these. Thanks for your support, kind friend!