Everything you need to know about what to do, where to stay and how to get around in our ultimate travel guide to Nakatsugawa, Japan!
Situated almost halfway between Tokyo and Kyoto along the JR Line, Nakatsugawa in the Gifu prefecture is in a perfect location for all visitors to stop off and explore.
With the Kiso River winding its way through the region, creating epic natural wonders like Ena Gorge and the Ena Valley, its beauty needs to be seen to be believed.
The historic Nakasendo Route leads right through the nearby Edo-era post town of Magome-juku, and close by you can hike to the top of Mt Ena.
Further from town you'll find some of the Gifu Prefecture's most epic landscapes, like Tsukechi Gorge and the tumbling falls.
But for some reason, despite all the incredible attractions, Nakatsugawa is often removed from travellers' 'places to visit in Japan' list.
READ MORE: Check out our ultimate Japan travel guide, filled with the latest and best information you need to explore this great country!
This is such a shame, because as we found on our most recent trip to Japan, Nakatsugawa is one of the country's most splendid highlights.
We were lucky enough to spend two full days exploring this fantastic city and all of its wonderful surroundings, and couldn't believe just how fantastic it is.
To help (and encourage) other travellers to visit, we've put together this Nakatsugawa, Japan travel guide filled with all of our recommendations, tips and advice.
Do yourself a favour – next time you're in Japan, set aside a few days to explore this mind-blowing city.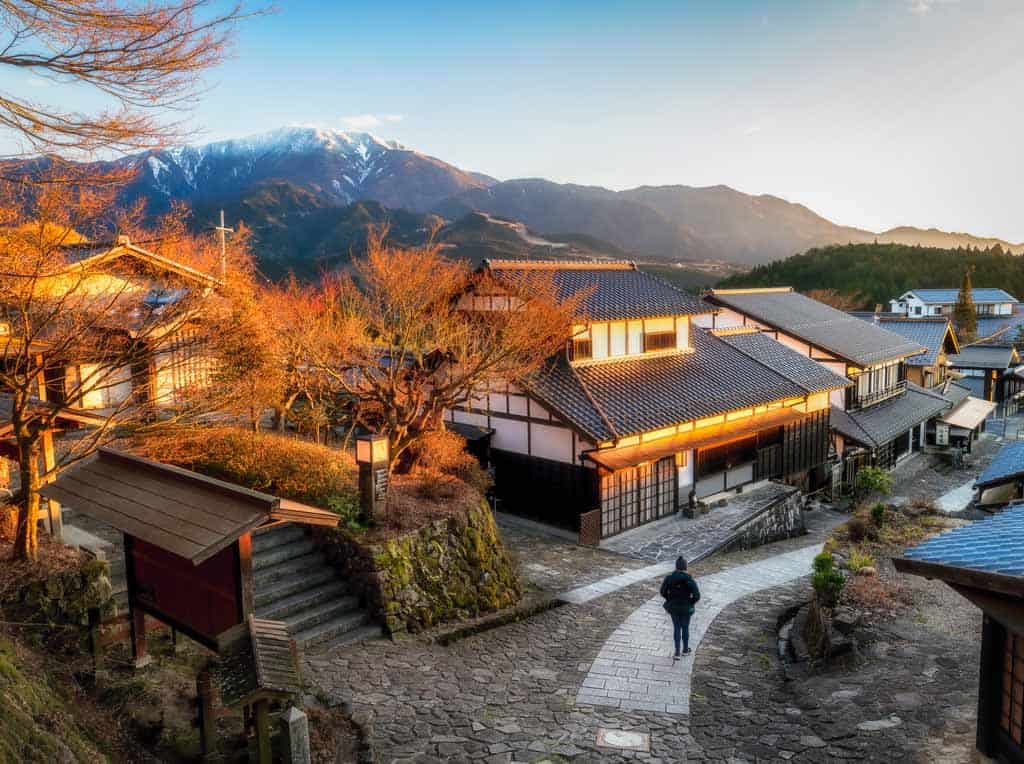 The Best Things to Do in Nakatsugawa City and Surrounding Area
To start off our article we want to dive straight into all the best things to do in Nakatsugawa City, and the surrounding area.
Whether you love nature, history, or even sake, you're sure to have an awesome time here!
Walking Tour of Nakatsugawa
The very first thing you should do in Nakatsugawa, or any city in the world for that matter, is go on a walking tour.
Most people who come into Nakatsugawa head straight up to Magome, but before you make your way up there, spend a bit of time walking around the city.
It has a fascinating Japanese vibe, and the narrow, twisting alleyways are splendid to get lost in.
You'll also find some quirky attractions, such as by the public toilet that looks like an old Japanese house. If you walk to the end towards the concrete structure and clap, a little doll comes out and does a dance.
Walking around town will probably take an hour, so it's a perfect way to warm up the legs for some more hiking later in the day.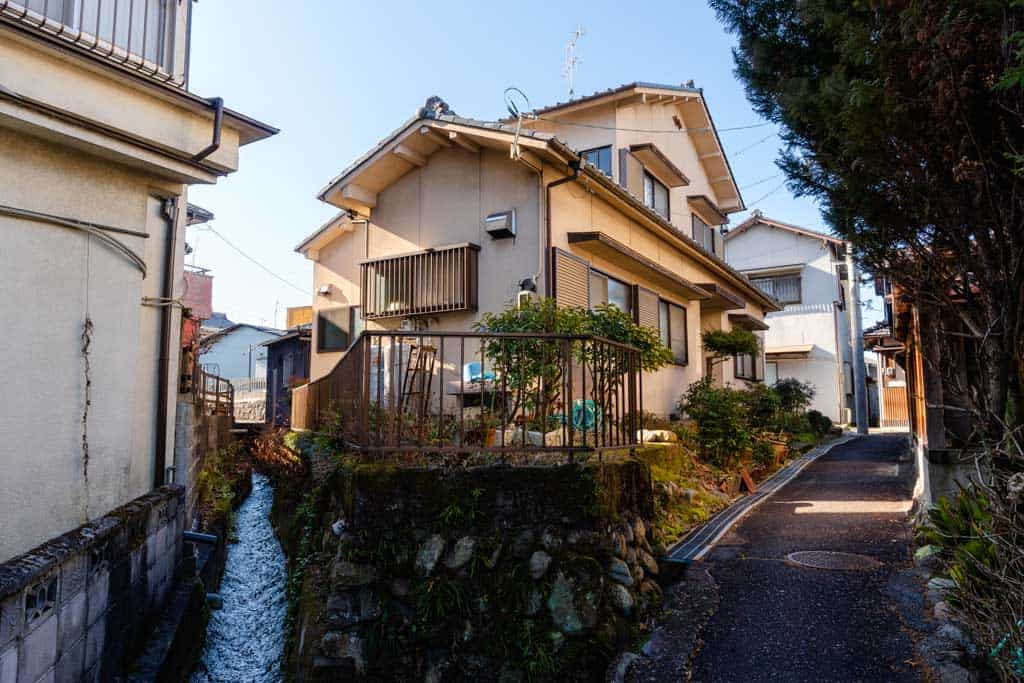 Hazama Sake Brewery
One of the things that is unique to Japan is the famous alcoholic drink, sake.
Made by fermenting polished rice, it is a staple in Japanese nightlife, and there are even thousands of sake bars found all over the country.
If you love this drink, any trip to Japan should include a visit to a sake brewery, and luckily if you're travelling in Nakatsugawa, one of the country's best ones are found right here!
Hazama Brewery has been making delicious, award-winning sake for over 390 years.
Housed in an absolutely gorgeous Japanese-style building, visitors are welcome to wander the property and can even join in a sake taste test.
The cost is only 500JPY, and it includes a small bottle of sake you can take home with you.
Address: 4-1-51 Honmachi, Nakatsugawa-shi
Walking the Nakasendo Way
If there's any one particular thing that Nakatsugawa is most famous for, it has to be the legendary Nakasendo Way walking trail.
Originally stretching from Kyoto all the way to Tokyo, the Nakasendo Way is an old mountain trail that was used for trade and transport for centuries.
These days it is known as one of Japan's most famous hiking trails.
The entire length is 534km, but if you don't have a couple of weeks up your sleeve for the whole thing, you can hike one of the most beautiful sections from right here in town.
The Nakasendo Trail from Magome-juku to Tsumago-juku is 7.7km long, crossing over the Magome Pass, and is an absolute must-do on any list of things to do in Nakatsugawa.
Along this stretch, you'll visit gorgeous post towns, waterfalls and stunning forests, and if you bring your camera along you're sure to get some incredible photos.
You can start from either end, but we personally began in Tsumago-juku so that we could finish up in Magome during the golden hour.
Tsumago-juku is a lovely little town, and is well worth visiting in its own right.
For that reason we recommend getting there early and spending an hour or two just wandering around.
From there it's an easy-to-follow path towards Magome, weaving through pine forests and up towards the Magome Pass.
Make sure you take a detour to the waterfalls that can be found along the way.
Once you climb down from the Pass it's a quick trek into Magome. And if you've timed it right, you'll be there just before sunset and will have the place almost to yourself as the tour groups have left.
This section of the trail will only take about 2-3 hours, depending on your fitness levels and how many times you stop for photos.
To get to Tsumago from Nakatsugawa, you can either take a taxi (it's about 30 minutes by car), or take public transport.
Bus to Tsumago from Nakatsugawa
First take the bus from Nakatsugawa Station to Magome.
From Magome ask for the bus to Nagiso Station, but get off at Tsumago. It will take about 30 minutes.
Magome Station to Nagiso Station via Tsumago and Magome Pass: 9.15 am, 10.50 am, 1.25 pm, 3:00 pm and 5.15 pm.
Nagiso Station to Magome via Tsumago and Magome Pass: 8.35 am, 10.05 am, 12.40 pm, 2:15 pm and 4.35 pm.
You can find the official timetable here.
Price: Magome to Tsumago – Adult is 600 Yen one-way
Wander the Streets of Magome
Magome-juku is one of the most picturesque villages we've come across in all of Japan.
Cobblestone streets meander their way between ancient timber houses, with cafes, restaurants, museums and tea houses scattered along the way.
The design has been kept in line with how it would have looked during the Edo period, so it feels like stepping back in time.
This town is extremely busy during the day, with tour groups wandering around everywhere.
To avoid this we recommend being here early in the morning, or do what we did and walk into town along the Nakasendo Way from Tsumago and time your trip to arrive just before sunset.
Getting to Magome from Nakatsugawa by Bus
From Nakatsugawa JR Station to Magome will take you about 25 minutes. Here are the times:
Weekdays: 7.42 am, 9.10 am, 9.55 am, 10.45 am, 11.15 am, 12.15 pm, 1.15 pm, 2.15 pm, 3.15 pm, 4.15 pm, 5.15 pm, with the last bus at 6.30 pm.
Weekends and public holidays: 8.10 am, 9.10 am, 9.55 am, 10.45 am, 11.15 am, 12.1 pm, 1.15 pm, 2.15 pm, 3.15 pm, 4.15 pm, with the last bus at 5.45 pm
Buses from to Nakatsugawa from Magome by Bus
From Magome to Nakatsugawa Station will take you about 25 minutes. Here are the times:
Weekdays: 7.00 am, 8.15 am, 9.45 am, 10.30 am, 11.20 am, 11.50 am, 12.50 pm, 1.50 pm, 2.50 pm, 3.50 pm, 4.50 pm, 5.50 pm, with the last bus at 6.15 pm.
Weekends and public holidays: 7.00 am, 8.40 am, 9.45 am, 10.30 am, 11.20 am, 11.50 am, 12.50 pm, 1.50 pm, 2.50 pm, 3.50 pm, 4.50 pm, with the last bus at 6.15 pm
Prices: 540 yen for an adult, and 270 yen for a child, one way.
Stone Pavement in Ochiai
Also part of the famous Nakasendo Trail, the stone pavement in Ochiai contains sections of the original pathway from centuries ago.
Also known as Ochiai-no-Ishidatami, this path is 840m long and winds its way through a picturesque forest.
There's an old shrine at the top as well, and the top of the path leads perfectly into Magome-juku.
Magome Observatory
For one of the nicest views over the Central Alps, head up to Magome Observatory, at the top of the hill overlooking the town.
It's completely free and is right off the Nakasendo Way, so definitely stop by during your walk.
READ MORE: Going elsewhere in the Land of the Rising Sun? Check out our list of the best things to do in Japan!
Tsukechi Gorge
Now it's time to head out into the magnificent nature that makes Nakatsugawa such a fantastic destination.
About an hour from the city is the Tsukechi Gorge, a haven of lush forest, crystal clear rivers and towering waterfalls.
If you like hiking, you'll absolutely love it here, as there is a great trail that weaves its way along the river and through the gorge.
The best time to visit is in the autumn, when all the leaves change colour.
You can get there from Nakatsugawa Station by taking the Kitaena Kotsu bus.
Yumori Park
One of our favourite places close to Nakatsugawa, Yumori Park is another outdoor-lover's paradise.
This park is home to the powerful Ryujin Falls, a series of cascades that plummet into deep pools that are carved through a gorge.
When you arrive you'll come across a number of cabins that can be rented out in the summer as accommodation.
Follow the river and cross a bridge, and you'll start to make your way towards the Ryujin Falls.
Here you will be mesmerised as a series of small bridges and walkways cross between the cliffs, offering stunning views of the waterfalls.
Once you've snapped your pictures, you can venture further into Yumori Park for some more exploration.
There is a famous shrine, and during autumn they hold the Momiji Festival here.
If you don't have your own vehicle, you can get to Yumori Park from the Nakatsugawa Station by jumping on the Chuo Train Line and getting off at Sakashita Station.
Here find the Yumori Line bus, and hop off at Yumorikoenguchi.
It's only a 10-minute walk from here to get into the park
Naegi Castle Ruins
The Naegi Castle, also known as Misty Castle, is one of Nakatsugawa's main attractions.
Set on a bluff overlooking the Kiso River and the Nakasendo Way, this imposing location just one hour walking from the city was specifically chosen so ancient warriors could monitor both water and land access from enemies.
It was built in 1532 by Tōyama Naokado, a leader of the Tōyama clan that ruled the region, but was eventually passed onto different armies over the next few centuries.
In 1871 it was torn down and abandoned, and what is left is a restoration of the ruins that were left behind.
While not as impressive as say, Osaka Castle, the Naegi Castle ruins boasts a fantastic view, with Mount Ena looming in the distance.
Entrance to the ruins is free, and you can get there by walking from town, taking a taxi, or taking a bus from Yodogawa Station bound for Naegi.
Naegi Castle by Bus
There is a bus from town that will take you there but it does drop you off at the bottom of the hill. You will have to walk 1.6km to reach Naegi Castle.
Nakatsugawa Station to Naegi Castle: 09:15 – 09:30, 11:15 – 11:30, 13:15 – 13:30, 14:15 – 14:30
Naegi Castle Bus Stop to Nakatsugawa Station: 10:30 – 10:45, 11:30 – 11:45, 13:30 – 13:45, 15:30 – 15:45
Price: Adult – 500 yen one-way, 800 yen return, Child – 300 yen one-way, 500 yen return
Do let the bus driver know you would like a round trip when you first get on the bus or when you pay when you get off.
Cycle Tour
If you want to have a real unique experience and have an awesome guide with you to explore Nakatsugawa, definitely check out a cycling tour by Kazunori Ukisu.
Kazu Ukky, as he is also known, is an absolutely fantastic tour guide, speaking impeccable English and having a deep knowledge and understanding of the region.
We were lucky enough to have him as our guide for two days as we travelled around Nakatsugawa, and we can honestly say our experience was made all the more richer by having him show us around.
While we had a car to get around, Kazu Ukky also does bicycle tours around the region.
He has all the equipment already, so if you have a free day and want to see the best of Nakatsugawa, get in touch with him.
Make sure you tell him that NOMADasaurus sent you.
Nakatsugawa City Travel Guide
Now that you know all of the amazing things to do in Nakatsugawa, we want to share some other amazing travel tips for the city.
Read on to find out where to stay, where to eat, how to get around and where to go next!
Where to Stay in Nakatsugawa City
Nakatsugawa has a nice range of different accommodation options, depending on your style and budget.
These are the two places that we stayed at during our time in Nakatsugawa.
Hotel Hanasarasa
Located 3km from Magome-juku right by the Yubunesawa River, the Hotel Hanasarasa is a sprawling complex with high-end facilities for all travellers.
The rooms are enormous, and you can choose either traditional Japanese style, or a room with Western beds.
Next door is the Kur Resort Yubunesawa leisure centre with a public onsen, swimming pool and gym.
Guests of the Hotel Hanasarasa can use these facilities for free. Please note that if you have tattoos you are unable to use the onsen here (old Japanese rule), but you can use the onsen inside the hotel.
The onsite restaurant is very good as well, providing huge multi-course meals for dinner and breakfast.
As an added bonus the hotel has a free shuttle bus going between the hotel and JR Nakatsugawa Station.
From the station the shuttle stop is just past the ticket gate, and departure times are: 09:55, 10:55, 11:55, 13:55, 14:55, 15:55, 16:55
Check at the hotel for times to go back to the station.
Address: 280 Misaka, Nakatsugawa, Gifu 508-0007, Japan
Phone: +81 573-69-5211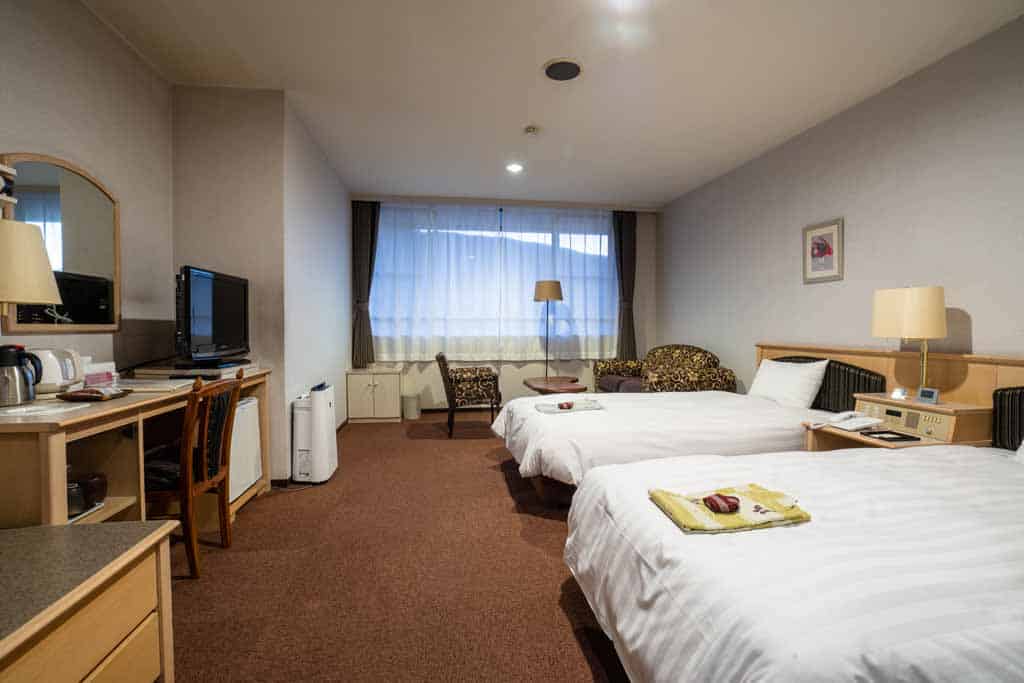 Plaza Hotel
If you're just looking for a good spot for one or two nights, the Plaza Hotel right next to the JR Nakatsugawa Station is the perfect spot.
The rooms are spacious, which is a nice change compared to most convenient Japanese hotels, and the staff are very friendly.
A simple breakfast is included, and they have a proper coffee machine.
Highly recommend it you come in late or have an early train and want to be within walking distance of the train station.
Address: 3-5 Sakaemachi, Nakatsugawa, Gifu 508-0032, Japan
Phone: +81 573-66-5858
Where to Eat in Nakatsugawa
There's no shortage of places to eat in Nakatsugawa, and if you like Japanese food, you're in for a treat.
There are many pubs (called 'Izakaya) in the town which offer the normal Japanese cuisine and they serve dishes like tempura, noodle soups, fries and you even may see a steak.
Cold, draft beer is always on tap as well.
There are also some hot pot restaurants in the area if you like that style of meal.
We ate a nice vegetarian noodle meal at a Chinese Restaurant called "香港酒場", which was down the road from the Plaza Hotel.
How to Get to Nakatsugawa City
Nakatsugawa is very well situated to get around Japan by rail, and if you're travelling between the two popular destinations of Tokyo and Kyoto, it's only a short detour to get to here.
Train
The best way to get to Nakatsugawa is by train.
Nakatsugawa Station is right on the JR Chuo Main Line, less than an hour from Nagoya and only 2 hours from Gifu.
If you're coming from Tokyo or Kyoto, take the Shinkansen to Nagoya Station, then change onto the JR line.
We highly recommend buying a JR Rail Pass if you're travelling around Japan by train, as it will save you tonnes of money.
Plane
The closest airport to Nakatsugawa is the Chubu International Airport near Nagoya.
This airport has flights to most major cities in Japan, as well as a number of international destinations, including Hong Kong, Manila, Beijing, Detroit, Honolulu, Singapore and Frankfurt.
From the airport take the train to Kanayama Station, then change onto the JR Chuo Main Line to get to Nakatsugawa.
Getting Around Nakatsugawa City
Getting around Nakatsugawa City is easy thanks to its expansive bus network, although it isn't the quickest mode of transport.
Bus
There are buses everywhere around town and most of the main attractions have a route going to them, although they may require a bit of walking once you get off at your stop.
Walking
If you're like us and love walking, you can get around just about most places in Nakatsugawa, Magome and beyond by foot.
Rental Car
If you have your international drivers permit and love having the freedom of your own wheels, you can get yourself a rental car to explore Nakatsugawa.
The best way to get around is to rent a car and explore on your own! We recommend Rental Cars, which has the largest range of vehicles for the best value on the market.
Where to Go After Nakatsugawa City
Nakatsugawa is well situated to explore a plethora of other Japan destinations.
Once you're finished exploring the city, check out these other great places to visit.
Nagoya
A short train ride away is Nagoya, an interesting city with dozens of attractions to keep all visitors interested.
Chino
The city of Chino is a great place to visit if you want to spend some time in the mountains.
Kyoto
Kyoto is our favourite city in Japan, and if you love history, stunning shrines and towering bamboo groves, it'll become yours as well!
Travel Tips for Nakatsugawa City
You're almost fully prepared for your trip to Nakatsugawa! But first we want to share with you some of our personal Nakatsugawa travel tips.
Do Not Rush Through
Some people try to do the Nakasendo Way as a day trip from Kyoto, without spending any time in the city.
Do yourself a favour and extend your trip by a couple of days. This way you'll get to visit all of the amazing gorges, waterfalls and peaks that make this destination so amazing.
Bring Your Hiking Shoes
If you're coming here you will most likely be planning on doing part of the Nakasendo Way, or want to wander through the gorges.
For that reason we recommend you bring solid walking shoes with you to stay safe.
Carry Coins or a SUICA Card
The buses can break notes, but it's much easier and quicker to pay with correct coins, or a SUICA card, which you can pick up at train stations of 7/11s around Nakatsugawa.
DISCLAIMER: Some of the links in this article are affiliate links, which means if you book accommodation, tours or buy a product, we will receive a small commission at no extra cost to you. These commissions help us keep creating more free travel content to help people plan their holidays and adventures. We only recommend the best accommodations, tours and products that ourselves or our fantastic editorial team have personally experienced, and regularly review these. Thanks for your support, kind friend!