Here is our complete guide to tell you everything you need to know to travel to South Georgia Island!
It's been called the 'Serengeti of the Southern Ocean', home to some of the greatest wildlife encounters on earth, and ruggedly beautiful in every sense of the term, but it's a destination very few have even heard about.
Less than 10'000 people take part in a South Georgia travel adventure every year, making it one of the least-visited places on the planet.
A trip to this subantarctic marvel is without equal, and will leave even the most experienced world traveller humbled by its multitude of animal, marine and bird life.
So how exactly does one travel to South Georgia Island, the mysterious rock in out in the middle of the southern Atlantic Ocean?
Travelling elsewhere in the region? Don't miss our complete guide all about travel to Antarctica.
South Georgia Travel Guide
We travelled to South Georgia in November of 2018 as part of a 14-day photography symposium, which allowed us to explore this stunning place in an in-depth adventure few companies can match.
Before we left we were wondering if South Georgia would compare to the beauty of Antarctica, another place we've been fortunate enough to explore.
Having visited both, we can now safely say South Georgia is on par with, if not better than, any travel experience we ever could have imagined. Here's our complete guide to help you plan your travels to South Georgia.
We are running a very exclusive small-group expedition to Antarctica, South Georgia and Falkland Islands in 2024! Check out the tour page if you'd like to learn more.
General Information
Capital: King Edward Point
Other Main Settlements: Grytviken, Stromness (now abandoned)
Currency: British Pound
Language: English
Population: Around 30 temporary residents, no permanent population.
Area: 3903km² (including the South Sandwich Islands)
Where is South Georgia Island?
South Georgia Island is one of the most remote destinations on the entire planet, hidden away in the wild waters of the southern Atlantic Ocean.
Located in the subantarctic, around 1400km east-south-east from the Falkland Islands, and 2000km from Ushuaia on the South American mainland, a trip to this isolated island is a journey only for intrepid travellers, adventure seekers and wildlife enthusiasts.
It is geopolitically a part of the South Sandwich Islands as well, an archipelago even more remote further to the south, but which receives almost no visitors.
EXCLUSIVE – We have partnered with the world's top polar tour operator, Quark Expeditions, to offer readers of NOMADasaurus a very special deal on any trip to Antarctica or the Arctic! Contact us ([email protected]) if you'd like to learn more.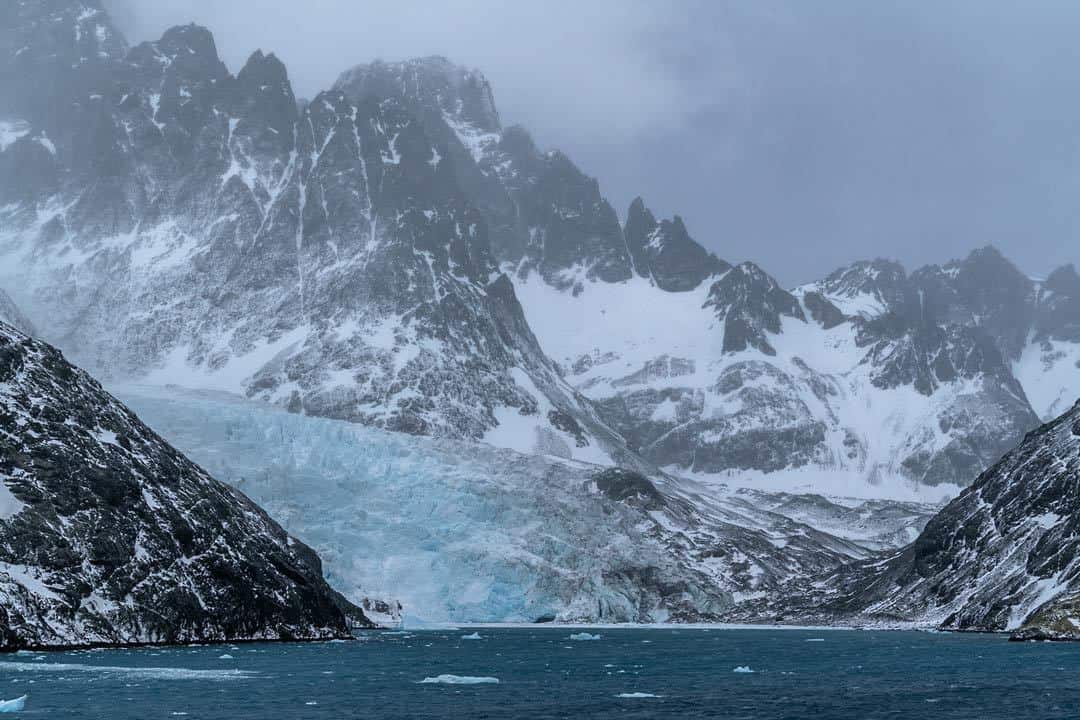 How to Get to South Georgia
You may be asking yourself does South Georgia have an airport? The answer is no, and due to that the only way to get to South Georgia is by ship.
A number of licensed tour operators travel to South Georgia every summer as part of subantarctic or Antarctic expeditions.
We travelled to South Georgia with One Ocean Expeditions in 2018, who used to run the most in-depth tours to the island available on the market.
Unfortunately they closed up for business at the end of 2019.
Most people who visit South Georgia will depart on ship from either Ushuaia in Argentina, or from Stanley in the Falkland Islands, which has the closest airport to the island.
No matter which destination you leave from, either trip requires a 2-3 day voyage across the southern Atlantic Ocean to reach the island.
Another possible route is to fly into King Georgia Island in the Antarctic and join a tour from there, but these itineraries aren't very common.
Logistically joining a tour is the most straightforward and cost-effective way to travel to South Georgia, and it is the most recommended method of visiting.
If you want to get to South Georgia without joining a tour then you will have to charter your own vessel, or make your own way there on a sailboat.
With either of these options you are still required to register with the South Georgia government, and you must abide by their strict visiting rules and policies.
This is the most difficult way to travel to the island, but is definitely possible if you have the resources and experience at hand.
Most tours that visit South Georgia do so as part of a well-rounded itinerary that includes the Falkland Islands and Antarctica.
This particular loop offers excellent value and variety of places to visit in one trip, however these usually only have a few days allocated in South Georgia. You can read more under our 'How Much Time to Spend in South Georgia' section of this guide.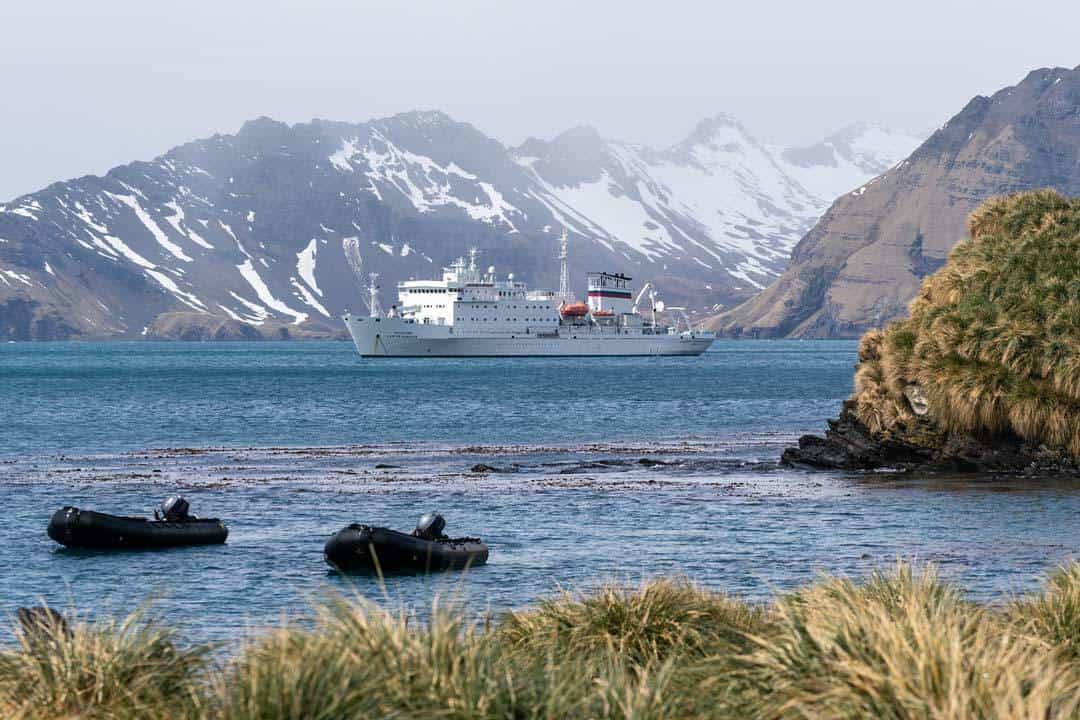 Visa Requirements for South Georgia Island
Even though South Georgia is a British Overseas Territory, under control of the United Kingdom government, no visas are required to visit the island.
That being said all visitors must apply for a permit from the South Georgia government before arriving in its waters, and must present themselves with a valid passport at the customs office in Grytviken within a set time frame of being in the territory.
If you are visiting as part of a tour then your operator will take care of these formalities for you, so you don't have to worry about any applications before you start your trip.
On our voyage with One Ocean Expeditions, the expedition leader and captain of the ship were in direct contact with the customs officials on the island, and when we entered the harbour at Grytviken the officers actually came onboard.
All of our passports were collected ahead of time, and once the passenger manifest was checked with the approved visitor permits, our passports were stamped and the passengers were granted entry into South Georgia.
It's important to note that you can still spend a set amount of time exploring parts of the island before checking in at Grytviken, but it's required by law that all passengers and crew are officially stamped in before they leave South Georgia waters.
Geography of the Island
For such a small and remote island in the middle of the ocean, the geography of South Georgia is quite surprising.
This is an island covered in jagged mountains, ancient glaciers and twisting valleys, and it is one of the most rugged places we have ever seen.
The highest mountain on South Georgia is Mount Paget, which stands at 2934m above sea level. To put that into perspective Mount Kosciuszko, Australia's highest point, is 2228m above sea level.
With such a mountainous and glaciated topography, there's only a small number of bays and harbours that allow for human access, with most of those being located on the east coast of the island.
In between the mountains and valleys are large plains, often muddy, with huge sections of tussock grass providing an excellent home for many nesting birds.
The beaches are a mix of stones and black sand, and these are punctuated by rocky outcrops scattered throughout and at each end.
There's also a number of epic fjords, with huge peaks rising from the water and glaciers tumbling back down to the edge of the sea.
Snow covers most of the interior of the island, and even in the middle of summer patches of snow can be found near the landing sites.
South Georgia really is one of the most visually stunning places on earth.
Best Time to Travel to South Georgia
The season for travel to South Georgia is in the summer, between the end of October and March, when the weather is warmer, calmer and more forgiving.
Outside of these months weather conditions are below freezing and incredibly harsh, making regular tourist visits almost impossible.
While you can travel here at any point during the summer, we believe that the best time to travel to South Georgia Island is in the months of October and November.
That is because the wildlife encounters in the early season are at their most extreme, with the enormous elephant seals fighting for the affection of the females and king penguin chicks flourishing in the thousands.
This is also the time before the female fur seals arrive to the island to mate. Once they do make their appearance the males become extremely aggressive, and landing at a beach covered in male fur seals is considered to be too dangerous.
Make sure you read our new guide to the best time to visit South Georgia where we break down the entire season with pros and cons for each month.
What is the Weather Like in South Georgia?
The weather in South Georgia is as wild as its location is remote, and it's important to factor this in when planning your trip of a lifetime.
During the winter temperatures drop below freezing, with huge snowfalls covering the entire island. Storms make the seas around the island extremely difficult to navigate.
Because of this no licensed tour operators run expeditions to South Georgia in the winter, however freight ships may make the occasional voyage from nearby Falkland Islands to replenish supplies for the temporary residents living at King Edward Point and Grytviken.
In the summertime the weather is warmer, sometimes with temperatures reaching into the low double digits centigrade, but for the most part you can expect temps to be just above freezing.
Rain and snow is common at any time of year, even during the summer. Make sure you pack appropriate clothing for all conditions.
How Much Time to Spend in South Georgia?
Despite the multitude of amazing things to do and places to see in South Georgia, most people only spend a very short number of days in this spectacular destination.
This is because the majority of tours include South Georgia as part of an itinerary that visits the Falkland Islands and Antarctica as well.
It's quite common for these expeditions to only spend 2-3 days in South Georgia. During this time they'll visit the main highlights of the island, such as Gold Harbour, Salisbury Plain and Grytviken.
If this is the only chance you get to travel to Antarctica and the subantarctic in your life, then we believe you should make the most of it and choose a tour that includes all three magical destinations.
However if you think you may make a trip to the polar regions again in your life, or wildlife encounters are of the utmost important to you, then we highly recommend visiting South Georgia as part of an in-depth voyage.
South Georgia has been called the Serengeti of the Southern Ocean due to the huge abundance of wildlife present on the island, and when you see it for yourself you'll understand why.
In fact during the peak season in October and November, South Georgia has more wildlife per square metre than anywhere else on the planet.
When matched with the sensational scenery of glaciers and mountains, there really is no place on earth quite like it.
Having spent time in Antarctica on a separate 11-day trip in 2017, and having cruised the Galapagos Islands for three weeks, we can honestly say that South Georgia offered the most incredible wildlife encounters of anywhere we have ever experienced before.
One Ocean Expeditions have a number of 'South Georgia In-Depth' tours that spend up to 10 days in this remarkable destination, giving visitors the most time possible to explore the best places the island has to offer, including visiting some places more than once.
Ultimately the answer to the question "how long should I spend in South Georgia" depends on what you want, but we recommend 4 days minimum, and if you can, spend as much time as possible.
Quarantine
Due to the remoteness of this island in the middle of the ocean, it is extremely important to protect the native flora and fauna.
The South Georgia government has put in strict quarantine measures to ensure no aggressive species or diseases are brought onto the island.
Before your ship arrives into South Georgia waters you will be required to properly inspect all of your clothing and equipment that will make landfall for seeds, dirt, insects and food scraps.
Your tour operator will likely have a special cleaning session in a dedicated mud room during your voyage from Falkland Islands or Ushuaia, and this will include vacuuming, inspections and disinfectant scrubbing.
Upon arrival in Grytviken the South Georgia customs officials will also do a complete ship inspection for any stowaway animals, especially rats, and will also do spot inspections of people's clothing.
If any issues are discovered nobody is permitted to leave the ship until the contaminants are destroyed or isolated.
One inspiring story about the protection of South Georgia is the rat epidemic that plagued the island for decades.
Rats were transplanted onto the island from ships in the past that didn't use proper quarantine measures to stop the introduction of foreign species.
These pests wreaked havoc on the island, breeding in incredible numbers and decimating the local wildlife. For many years the South Georgia pipit, an endemic bird, was on the brink of extinction due to the rat problem.
An enormous rat eradication program was implemented over recent years, and in 2018 the South Georgia Heritage Trust excitedly declared South Georgia as rat-free.
Please take quarantine very seriously when you travel to South Georgia.
Top 5 Places to Visit in South Georgia
When you're checking which tour to join on a South Georgia travel adventure, then make sure you include these top 5 places to visit in South Georgia.
Grytviken
Grytviken is the biggest settlement on South Georgia, and home to the largest whaling station on the island.
The collection of rusted buildings are extremely interesting to explore, and also confronting and tragic when considering how much marine life was slaughtered here. Still, this is history, and needs to be visited.
Grytviken has an absolutely phenomenal museum, a post office, and is also the place where Sir Ernest Shackleton and his right-hand man, Frank Wild, are buried.
READ MORE: Check out our new travel guide about Grytviken, South Georgia.
Gold Harbour
Of all the amazing places to visit in South Georgia, Gold Harbour is arguably the most stunning and awe-inspiring. If you had to choose just one adjective to describe it, then it would have to be 'magical'.
Huge fields covered in tens of thousands king penguins stretch as far as the eye can see, elephant seals line the beaches, but the real beauty is rising there above you.
An enormous hanging glacier looms over the sand and tussock grass fields, dominating the landscape. It feels as though at any moment huge chunks of ice will tumble to the earth below, and when it's shrouded in fog it adds to the intrigue of the place.
Salisbury Plain
Salisbury Plain has a very large king penguin colony on South Georgia, with between 60'000 and 100'000 breeding pairs scattered around the place.
Here the king penguins spread right up the side of a large hill, which gives a different kind of view not seen anywhere else on the island, which usually involves always being at the penguins' level or looking down at them.
It's one of the highlights of any South Georgia tour, and definitely not to be missed when considering South Georgia travel itineraries.
Drygalski Fjord
Very few tour operators have the time or the right type of ship to enter Drygalski Fjord, tucked away at the southeastern tip of South Georgia, but those that do are forever captivated by its beauty.
The narrow fjord twists its way between soaring peaks, with numerous glaciers creeping their way into the sea on all sides.
Navigating through Drygalski Fjord is a unique experience that offers something that you cannot get anywhere else on South Georgia – a glimpse into just how ancient and rugged this island in the southern Atlantic really is.
St Andrew's Bay
St Andrews Bay is home to the largest king penguin rookery on South Georgia, with some estimates putting the numbers at over 150'000 breeding pairs.
There is no more humbling emotion than climbing the muddy hills to gain an elevated view of this sea of king penguins seemingly occupying every square foot of St Andrews Bay.
Most tours to South Georgia will include a visit to St Andrews Bay, and in-depth trips will try to make two landings.
Top 5 Things to Do in South Georgia
When you book your tour to go travelling to South Georgia island you'll most likely have your entire itinerary pre-planned, as expedition ships are forced by law to apply for permits for each landing zone.
Only one ship at any one time is allowed to be in a particular place in order to minimise the impact of tourism on the island, and while this means schedules are set months ahead of time, it is necessary to protect the place.
Still, when you are seeking out the ultimate tour to sign up with, make sure they include these best things to do in South Georgia.
Make a Toast at Sir Ernest Shackleton's Grave
No trip to South Georgia is complete without a visit to Sir Ernest Shackleton's grave, the greatest polar explorer in history.
Sir Ernest Shackleton spent time at South Georgia in 1914 while preparing for his infamous Imperial Trans-Antarctic Expedition. When his ship, the Endurance, became stuck in pack ice on the Antarctic Peninsula his crew made their way to Elephant Island and bunkered down.
As winter approached Shackleton took a small, leaky vessel, the James Caird, and sailed across turbulent seas towards South Georgia with a few of his strongest men.
He heroically made the 1300km passage in 16 days, trekked across the harsh terrain of the island at the start of winter and arrived in the small settlement of Stromness safely. He did not stay long though, as he organised a rescue mission to save his remaining crew on Elephant Island.
Using a whaling vessel he attempted to travel back to Elephant Island and failed due to pack ice. He tried a further three times using different ships before he finally made it to the camp and his waiting crew on the island on August 30th.
The rescue was completed, and not a single soul was lost.
After Sir Ernest Shackleton died his remains were sent to be buried at Grytviken at the request of his wife. Today his grave is an important site to visit for anybody who has a love for Antarctic history or exploration.
When you stop by in Grytviken make sure you toast a glass of whisky to Sir Ernest Shackleton, one of the greatest adventurers and explorers who ever lived.
Cruise Through Drygalski Fjord
If you are lucky enough to sign up for an in-depth expedition to South Georgia, try to join a company that gives the opportunity to cruise through Drygalski Fjord, one of the most stark and beautiful places in the world.
The glaciers and soaring mountains that surround the ship are a sight to behold, and the views are something that will stay with you for a lifetime.
Not all expedition ships can enter Drygalski Fjord due to how narrow it is. We travelled on the Akademik Sergey Vavilov, a Russian polar research vessel operated by One Ocean Expeditions (similar to the Akademik Ioffe), and the ship's size and capability to turn 360 degrees in one place meant we could cruise to the end of the fjord without issue.
Drygalski Fjord is as beautiful as the Lemair Channel in Antarctica, and more stunning than anything we saw when cruising the Chilean Fjords in Patagonia.
Learn About the Island's Whaling History
South Georgia is a beautiful place, home to the most amazing wildlife populations in the world, but it is also a place of tragic history.
For decades whaling was the biggest industry around the island, and millions of mammals were slaughtered and processed right here on South Georgia.
The ruins of the processing plants can be found in places such as Stromness and Grytviken, and it's a haunting experience to be walking around them knowing how many animals lost their lives here.
If you're on a high-end tour the expedition crew should have historians onboard that can tell the story of the whaling industry. Also make sure you visit the museum in Grytviken, which is extremely well done and full of interesting information and pictures.
On a positive note whales have started to return to the waters around South Georgia, and on our trip we saw a number of orcas as well as a southern right whale. However they still do not enter many of the harbours.
Kayaking at Gold Harbour
If you love adventure, then kayaking in South Georgia is an incredible activity that should not be missed.
We signed up for the sea kayaking program with One Ocean Expeditions, which meant we had the opportunity to go for a paddle in the most magical place on the island – Gold Harbour.
Kayaking through the shimmering waters with Antarctic fur seals and penguins swimming by is a magnificent experience, and when the hanging glacier of Gold Harbour is your backdrop, every element comes together to make this one of the best things to do in South Georgia.
Fall in Love With the Weaners
You're probably wondering what a weaner is. The odd name actually belongs to the baby southern elephant seals!
While adult elephant seals are enormous (weighing up to 4 tonnes) and can be quite ugly, the babies are some of the cutest things you'll ever see!
Looking like flabby sausages, weaners are very curious of humans and not at all aggressive. If you sit down and wait they'll often come right up to you to see what you are, and might even end up wiping their snotty noses on your outerwear.
It's hard not to fall in love with the weaners, especially when you consider it's not an animal most people think about when travelling to South Georgia.
Top 5 Species of South Georgia Wildlife
What makes South Georgia so special is the abundance of wildlife. No other place on earth has such a large density of animals in one place, and to see this with your own eyes is truly overwhelming.
Numbers of many species are flourishing, especially the pipit, thanks to the recent eradication of the introduced rat population that for years has destroyed and plagued this island.
Here's the top 5 wildlife of South Georgia that you will experience on your trip.
King Penguins
King penguins are the main species everybody wants to see when they travel to South Georgia, and for good reason.
The second largest penguin in the world is absolutely adorable, very curious, and can be found in numbers rising up to 150'000 on South Georgia.
They stand up to 1m tall and can weigh up to 17kg. The king penguin chicks look quite different to the adults as well, with brown, fluffy feathers rather than the black and white colours the adults are known for.
Want a real amazing experience with king penguins? Just sit down and wait – they'll likely approach you to check you out.
Gentoo Penguins
The next most populous penguin species in South Georgia are the gentoo penguins, and you can find these super cute species often nesting in the tussock grass just up from the beaches.
They are the fastest swimmers of any penguin in the world, and are a lot shyer than their larger cousins, the kings.
Do yourself a favour and pry away from the king penguins long enough to spend some time with gentoos nesting in their habitat.
The other species of penguins you may see in South Georgia are the chinstrap and macaronis, however the latter is notoriously difficult to spot as they only live in a few places that are mostly inaccessible to visitors.
Southern Elephant Seals
The largest species in South Georgia, and the most overwhelming to see, are the southern elephant seals.
Often found in huge harems made up of dozens of females and one 'beach master' male, these mammals can weigh up to 4 tonnes and can be nearly 4m long.
The males are recognised by their elongated noses (hence the name 'elephant seal'), and they are extremely dominant when it comes to their territory.
If you travel in the early season it's possible to witness one of the most harrowing sights in all of South Georgia – the males flighting each other almost to the death for control of the harems.
It's a gruesome, terrifying scene, but it's wildlife behaviour in its most raw element. Make sure you keep well back if you see two males charging towards each other.
When they're not fighting, they are often just lazing about on the beach, and the babies are the cutest things you'll ever see!
Antarctic Fur Seals
Antarctic fur seals are everywhere in South Georgia, and as cute as they are, they can be quite vicious, especially when the females arrive on the island.
With the adults weighing just under 90 kilos and stretching 1.4m long, they are a lot smaller than the elephant seals, but don't let that make you fall into a false sense of security when around them.
They're very territorial, and if you get too close to one they may lash out and bite to defend themselves.
Some beaches and landing sites are closed off on South Georgia after December when the females return to the island, due to the fighting that happens between the males. Another reason to book your trip early int eh season.
Wandering Albatross
The world's largest bird of flight, the wandering albatross is one of the true kings of South Georgia, and for anyone that loves birding, they can be the main reason for a visit to the island.
With a wingspan of 1.4m, the wandering albatross can fly up to 6000km in 12 days, and spends most of its life in flight.
They only touch down on land to breed and eat, so if you're lucky you might get to see them flying around the stern of your ship when sailing to or from South Georgia.
However if you travel early in the season you may also get the chance to explore Prion Island, a Special Protected Area that is home to a small number of wandering albatross nests.
There is a boardwalk that has been constructed on the island for visitors to walk on without trampling the fragile ground beneath.
Later in the summer the island is completely closed off to visitors, as fur seals take over the beach, meaning a safe landing is not possible. All the more reason to travel in the early season.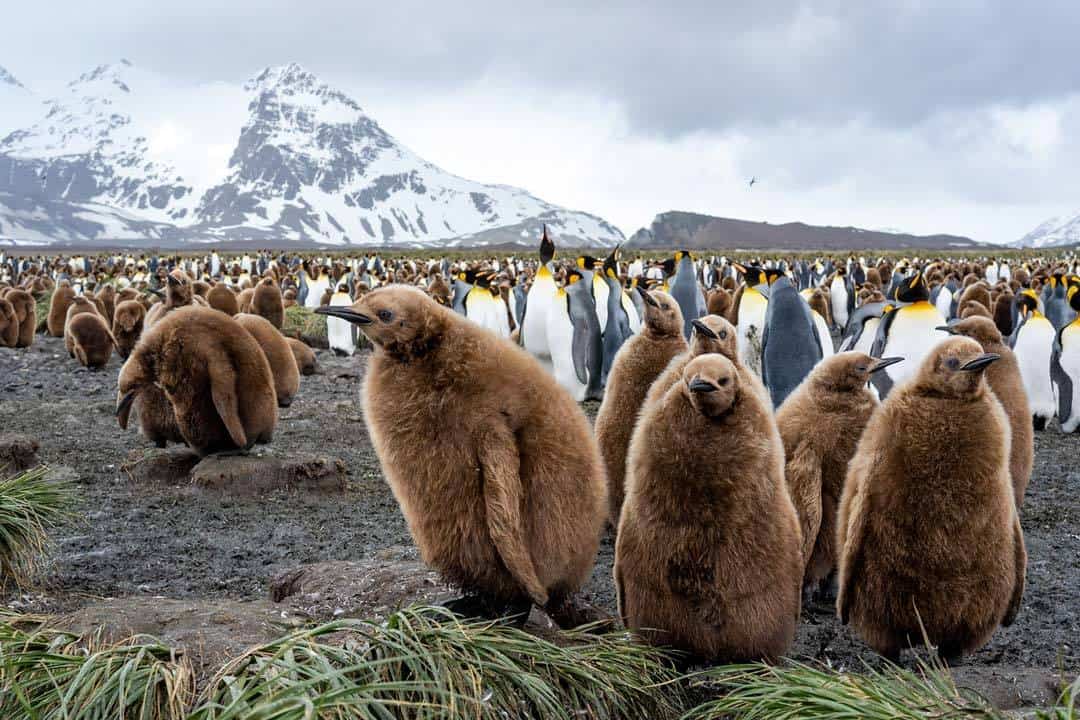 Safety in South Georgia
An expedition to South Georgia is an adventure of a lifetime, and there's little wonder that those that visit often make plans to come again and again.
However due to its wild location and intense animal life, there are a number of safety concerns to take into account when travelling to South Georgia.
Don't worry – all of these are mitigated by your expedition leader and their team when planning your travels to the island, and as long as you follow instructions you will be completely safe, but these are some of the issues they will be handling.
Weather
Obviously weather is the number one safety issue in South Georgia, and if conditions such as storms, abnormally cold weather, big seas or heavy wind, rain or snow settle in it may be impossible to make a shore landing.
Your expedition leader and ship's captain will constantly monitor weather conditions and will make decisions to maintain the safety of all passengers and crew.
This is one reason why South Georgia travel expeditions only visit in the summertime.
The Elements
Even in safe landing conditions, there are some weather phenomenon that may affect your general wellbeing on South Georgia. This is primarily the cold temperatures and rain.
Be sure to properly layer up your clothes to maintain body warmth, wear waterproof jackets, pants and boots at all times if there is any rain or snow around, and if you do start to feel too cold or wet you can always ask to be taken back to the ship to dry off and warm up.
As long as you pack the right clothes you will be fine when handling the elements in South Georgia.
Fur Seals and Elephant Seals
The two animals that are of most concern to the safety of visitors on South Georgia are the Antarctic fur seal and the southern elephant seal.
Fur seals are very territorial and may lash out and bite if you get too close to them. Their bite is notoriously nasty and can become extremely infected. While staff doctors are often onboard tour operator ships, if someone is bitten then they will most likely have to return to the Falkland Islands for proper hospital care.
Elephant seals are not aggressive towards humans, however the males do charge each other to fight over control of the harems. If you get in between two male elephant seals it can be quite dangerous.
As long as you follow your guides' and expedition leader's advice though, you will be completely safe from all of the amazing wildlife on South Georgia. They will block off areas deemed to be too dangerous, and will monitor the animal's behaviour at all times.
Rusted Metal and Old Buildings
Especially in places like Grytviken, you will come across lots of corroded metal left over from the whaling processing plants of bygone eras.
The South Georgian government has undertaken extensive work over the years to secure any buildings at risk of collapse, but there's still the risk of cutting yourself on any of the bits of metal that are scattered around the place.
Always be vigilant when walking near any buildings in South Georgia.
Note – Some constructions in South Georgia were built using asbestos. Any that haven't been completely decontaminated are strictly off limits to visitors.
South Georgia Travel Tips
Based on our 14-day expedition to this incredible destination in 2018, here are our best South Georgia travel tips.
Bring A Dry Bag: It can, and does, rain a lot in South Georgia and you'll want to make sure your camera gear stays dry while out on shore excursions. If you travel with One Ocean Expeditions they will provide a heavy duty dry bag backpack for you.
Don't Miss Out On Any Shore Excursions: Every shore excursion promises to have a different experience for you. Even if you're lucky enough to visit the same place twice, don't skip out on any shore excursions – power through the tiredness, it's completely worth it.
Get A Zoom Lens: If you want to get the most epic pictures imaginable of the wildlife and landscapes of South Georgia, you'll need to bring a zoom lens. 200mm is the minimum, but 400 or even 600mm lens will be better.
Choose A Dedicated South Georgia Trip: Most tours to South Georgia include the Falkland Islands and Antarctica in the itinerary, but if you can, we recommend doing a special South Georgia-only adventure so you can spend more time in this fantastic place.
Travel In Early Season: As we've mentioned before travelling to South Georgia in the early season will actually give you greater wildlife encounters.
Take Seasickness Tablets: Unless you know for a fact that you can handle the turbulent motion of rough seas, we highly recommend you take seasickness tablets. During the journey from Falkland Islands or Ushuaia you may encounter large swell, and the last thing you want to do is spend the entire time cooped up in your cabin while everybody is enjoying the detailed presentations and fun parties that happen onboard.
Travel Packing List for a South Georgia Tour
Here's our list of travel clothing and gear we recommend bringing to South Georgia. If you travel with One Ocean Expeditions they will provide you with waterproof pants, waterproof jacket and insulated waterproof boots.
If you live in Australia or New Zealand we recommend buying good quality technical clothing from your closest Kathmandu store. They make some of the best adventure and travel clothing of any company on the market, and it is all ethically sourced.
Note for a more detailed polar packing list, please check out our article 'What to wear in Antarctica'.
Merino wool thermals
Warm fleece
T-shirts
Light jacket
Thermal socks
Merino or fleece glove liners
Waterproof ski gloves
Hiking pants
Sunglasses (we recommend SunGod adventure-proof sunglasses)
Beanie (toque)
Neck warmer
Comfortable closed-toe shoes for around the ship
Jeans or trousers for around the ship
Backpack for shore excursions (we recommend a dry bag)
At least one decent camera, wide angle and zoom lens.
Read Our South Georgia Posts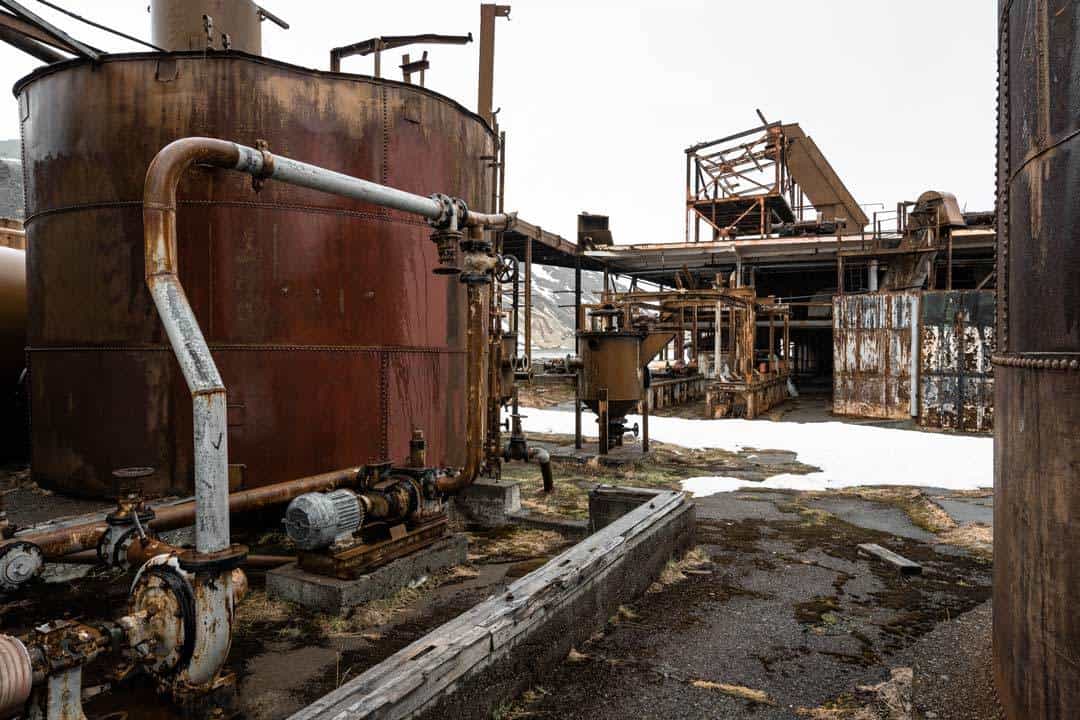 We've visited this fascinating and haunting station two times in the past few years to put together this guide on everything you need to know…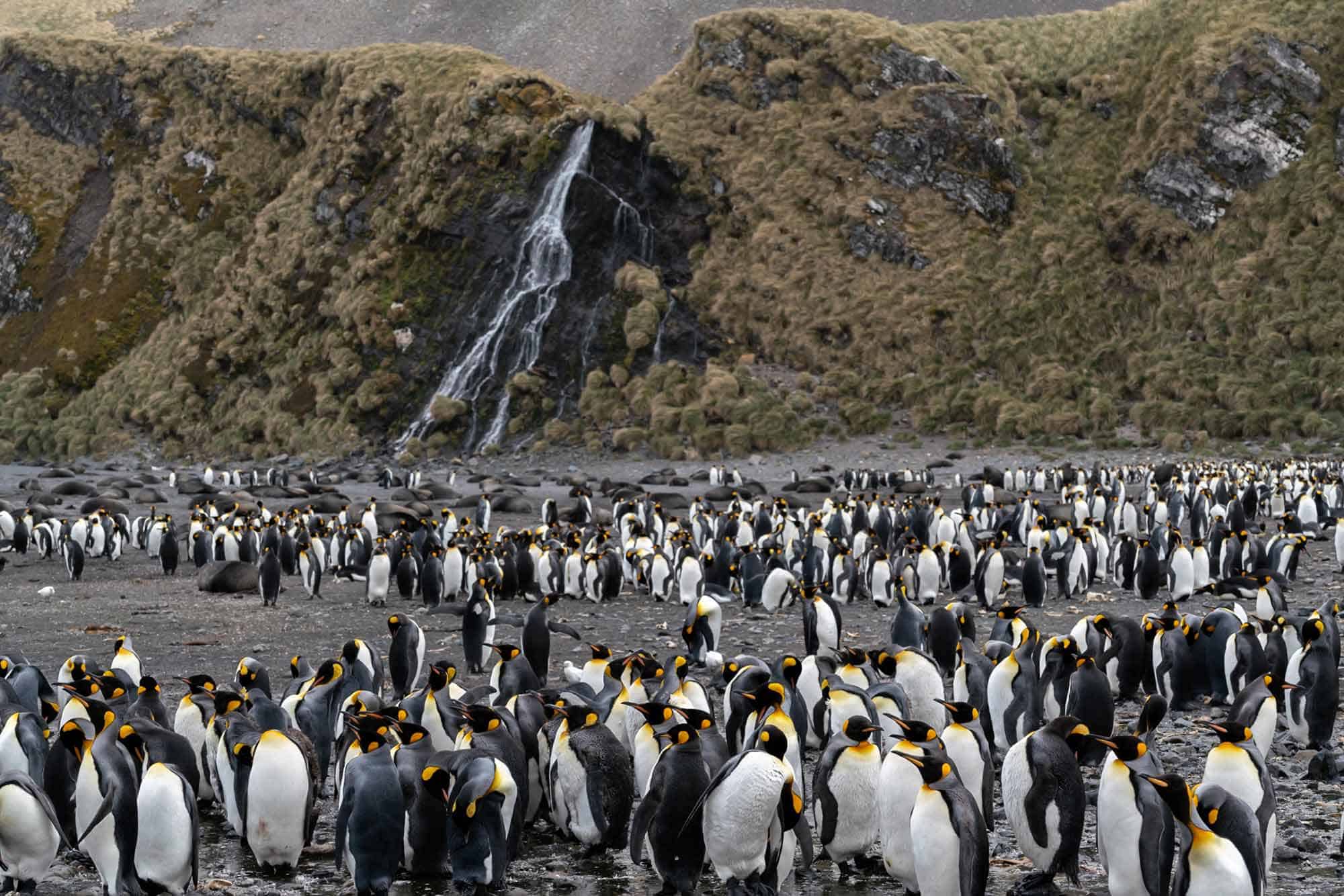 Our guide to the best time to visit South Georgia Island. Home to one of the greatest wildlife shows on earth, South Georgia Island is…