While there is plenty to see in the city, there are also many great day trips from Osaka, Japan.
If you are still a little undecided about where to travel in Japan, planning to stay in the city of Osaka, western Japan will be a highlight of your Japanese travels.
Osaka is Japan's second-largest city and is southwest of Tokyo, in the region known as Kansai.
What you will love about Osaka is easy to access places of interest in the Kansai region. You can use the efficient rail system to enhance your Japanese experience with day trips from Osaka.
Any day trip from Osaka is easy with a Japan Rail Card as trains are fast and reliable, allowing you more time to explore each destination.
But make sure you check which station your train leaves from as Osaka has two train stations:
Shin Osaka Station
Osaka Station
But don't expect platform signs to be in English. Instead, use the train numbers to find your train.
If unsure of anything, most stations do have English speakers at the information centres.
Osaka is a vibrant city surrounded by places of stunning scenery and culture.
When planning your day trip from Osaka, you have several choices, especially with the nearby ancient capital of Japan, Kyoto.
And depending on the season, you can experience cherry blossoms in spring, incredible leaf colour in autumn, snow in winter, and humid days in summer.
READ MORE: Check out our ultimate guide to travelling in Japan!
Best Day Trips from Osaka, Japan
A suggestion of day trips, depending on your time, can combine one or more places to visit.
For example, you could decide to return to Kyoto to explore more on a second-day trip.
Here are some of the best ideas for a day trip from Osaka.
1) Nara Park
An hour from Osaka is Nara, Japan's first capital in 710, which has one of the largest wooden structures in the world, the Buddhist Todai-ji Temple.
It was constructed in 752 but rebuilt after a fire in 1692.
The temple is found in the northern area of the park and is an important place for Japanese to visit the 15-meter bronze Great Buddha (dai-butsu).
Within Nara Park, there are more temples and shrines to visit. And as you wander the various paths, you will see deer roaming freely.
You are allowed to feed them from food bought at kiosks within the park.
A highlight not to be missed is the wooden Nandai-mon Gate, where two 8.4-meter statues guard the entrance to the temple.
Getting to Nara Park: 30-minute walk from the Kintetsu Nara Train Station or 45-minutes from the JR Nara Station. Buses are available too.
READ MORE: Check out these other great things to do in Nara!
2) Himeji Castle
Himeji Castle is a day trip from Osaka not to be missed.
A UNESCO World Heritage building, Himeji Castle is often known as the "White Egret" because of the white exterior.
The construction of Himeji Castle started in 1333 and is now one of the most visited castles in Japan.
One of its prominent features is the large moat in the middle of the castle grounds. You'll want to allow a few hours for your visit to this national treasure of Japan.
Getting to Himeji: take the Shinkansen (fast train) from Shin-Osaka, arriving in 30-minutes. Then you can either walk up to Himeji Castle or take a taxi.
3) Hiroshima Peace Memorial Park
Another worthwhile day trip from Osaka is to visit the Hiroshima Peace Park, where on the 6th August 1945, Hiroshima was devastated by an atomic bomb dropped by Allies.
The Hiroshima Peace Memorial Museum details the horrific day and the subsequent effect on the people of Hiroshima.
The Genbaku Atomic Dome is the only building left standing and is also a UNESCO site.
If you visit on the 6th August, Memorial Day lanterns light the sky. This is one of the most epic day trips from Osaka!
Getting to Hiroshima: You have two options with your Japan Rail Pass, either the Sanyo Shinkansen Line from Shin-Osaka Station to Hiroshima in 1.5 hours or the Kodama train in 2.5 hours.
Alternatively, you can book this day tour that has all the main attractions in one affordable and fun package, including Miyajima Island.
READ MORE: Be sure to add these other activities to your Hiroshima day trip.
4) Kyoto – Toei Kyoto Studio Park and Nijo Castle
Known as the cultural capital of Japan, Kyoto (Capital-City) was the seat of the Imperial Court from 794 until 1869, until the Meiji Restoration when the Emperor and his Court moved to Tokyo (Eastern-Capital).
A fabulous city for day trips from Osaka, Kyoto is famous for young ladies known as Geisha or Geiko in the Kyoto dialect.
In the early evening, two popular places to see Geisha is to visit either Hanami-koji-dori or Shijo-dori of Pontocho.
The other option is to ask tourist information stops in Kyoto for the dates of the annual Odori dance performances of Geishas.
Nishiki Market is a must-see on a day trip to the historic city of Kyoto.
Only a 10-minute walk from Kyoto station, here you can indulge in freshly made sushi or tofu mini doughnuts as you wander the various food stalls of interesting food items.
For a uniquely Japanese experience, check out one of the numerous Torikizoku Bars.
Here the staff is enthusiastic, offering a menu where any plate or drink is only 280 Yen before tax. It means you can try lots of dishes, some on the recommendation of staff.
Even a glass of Sake is 280 Yen. These bars were established in Osaka and are now available throughout Kansai and Japan. In Kyoto, you'll find one near Kyoto Station.
Another thing to do when in Kyoto is to walk the Philosopher's Path. The 2km canal path was a daily walk by Japan's famous philosopher Nishida Kitaro to Kyoto university.
It is popular to walk the path during April's cherry blossom season, although it can be crazy busy.
Kyoto is definitely recommended for day trips from Osaka, though it would be even better to spend a few days there as there is so much to do.
Getting to Kyoto Station from Osaka: Special Rapid train takes 30 minutes from Shin-Osaka Station, and Osaka Station or Shinkansen is 15 minutes.
Nightingale Floors of Nijo Castle, Kyoto
A truly magical experience is to walk along the wooden halls of Nijo Castle. Each step you take makes the sound of a chirping bird as flooring nails rub against a clamp.
Legend says it was one way to alert the household of movement or intruders to the castle.
The castle and grounds are also impressive, so allow a couple of hours to visit.
And don't be surprised if young school children want to practice their English. The questions are always the same, with one in the group asking the questions.
Getting to Nijo Castle: within walking distance from Kyoto Station or you can take the subway to Nijojo-Mae Station.
Toei Kyoto Studio Park
A great day trip from Osaka is visiting the Toei Kyoto Studio Park. Here you can lose yourself in the Japanese filmmaking from the 1920s to 1960s.
Wandering through the various sets, Ninja warriors or beautiful princesses can be approached for photos.
The studio also has scheduled Ninja performances each day.
And if you feel like taking a more active role, book a transformation for yourself to dress as a Princess or a Warrior.
The change of make-up, hair, and costume can take up to an hour, but then you have one hour to walk around the sets in your period costume.
Getting to Toei Kyoto Studio Park: from Osaka at least a one-hour train journey from Shin-Osaka to Hanazono (Kyoto) with a 1km walk to the studio.
READ MORE: Be sure to check out these other great activities when you visit Kyoto.
5) Kyoto – Kinkaku-ji Temple (Temple of the Golden Pavilion) and Ryoan-ji Temple
Kyoto – Kinkaku-ji Temple (Temple of the Golden Pavilion)
In 1397 this temple was originally a villa built for a local statesman, but on his death, the villa became a Buddhist temple.
Unfortunately, in 1950 the building was destroyed by fire and was rebuilt in 1955 from original villa paintings.
What makes the temple a popular place to visit is to see the gold leaf decoration. Seeing it for the first time, surrounded by a tranquil garden and pond, is a calming picturesque vista.
The temple is a UNESCO world heritage site and visited by locals and Japanese throughout the year.
If you really want to make the most of your day trip, book an epic tour of the pavilion.
Getting to Kinkaku-ji Temple: take Kyoto City Bus #205 from the bus terminal located on the north side of Kyoto Station.
Ryoan-ji Temple
Many visitors come to Ryoan-ji Temple on a day trip to see its famous rock garden.
This temple was originally a statesman's villa but became a Zen temple in 1450. The rock garden is unique with its rectangle shape covered in pebbles with small groups of rocks on patches of moss.
Each visitor can interpret their own meaning of the garden.
There are 15 rocks in the garden, but you can only see 14 rocks at any one time. It is said, when one achieves enlightenment, that all 15 rocks become visible.
At the rock garden is the former priest's residence (Hojo), which shows you the inside layout of a Japanese residence.
You can also wander through other gardens near the temple, visit the pond, bridge, and shrines, which are often common features of a Japanese villa garden.
For a unique taste experience, the gardens restaurant is where you can try Yudofu (boiled tofu) a specialty dish of Kyoto.
Getting to Ryoan-ji Temple (from Kinkaku-ji Temple): take Kyoto City Bus #59 or a 20-minute walk. (We decided to walk through a residential area to see the houses and gardens of local Japanese.)
Getting to Ryoan-ji Temple (from Kyoto Station): take Bus #26 to Nanna-ji, then Bus #59 to Ryoan-ji Temple
READ MORE: Plan to spend a few extra days in Kyoto with this perfect Kyoto itinerary!
6) Kyoto – Ninna-ji Temple, Tenryu-ji Temple, and Arashiyama
If you really want an easy day trip itinerary from Osaka to follow, check this one out on Klook that goes to Kyoto.
BONUS – Booking ahead of time ensures you won't miss out on the tour, and get the best price too! And just for NOMADasaurus readers, if you use the Klook discount code "NOMADS10" on the website when checking out, you'll get $10 off your first booking!
Kyoto – Ninna-ji Temple
Between Ryoan-ji Temple and Arashiyama is the UNESCO Ninnaji temple, previously known as the Omuro Imperial Palace.
Visitors come to see the Goten, built in the style of an imperial palace.
Inside is the exquisite internal features of painted sliding doors, with covered walkways leading to gardens and ponds.
The five-storied pagoda is one of five buildings within the grounds built in the 1600s Edo Period.
Getting to Ninnaji Temple: from Kyoto Station take Bus #26
Tenryu-ji Temple, Kyoto
One of the best gardens in Kyoto is within the grounds of the Zen temple, Tenryu-ji Temple.
These calming gardens are picturesque featuring rock gardens, ponds, and views of the Arashiyama mountains.
Tenryu-ji Temple is one of the best UNESCO World Heritage sites for the Rinzai Zen Japanese Buddhism, and it's a great spot for a day trip.
Getting to Tenryu-ji Temple: 15 minutes from Kyoto Station to JR Saga-Arashiyama Station, then it's a 15-minute walk to the temple.
Arashiyama Bamboo Grove
When you feel like a day trip in nature, lunch at Arashiyama bamboo grove is ideal. During the Heian period, Arashiyama was surrounded by noble residences who enjoyed their beautiful walks of the bamboo groves.
During the summer months, the height of the bamboo gave respite from the sun.
Today only this portion of the bamboo forest remains, which can reach a height of 30 meters and 15-20 cms wide.
The beauty of the grove can either be walked or admired from hiring a rickshaw.
You can also take a walk along the Togetsukyo Bridge crossing over the Katsura-gawa River.
And if you love monkeys, a walk up the hill (all signposted) will bring you to the Iwatayama (monkey park), where monkeys roam freely.
But if you would rather see more from the river, boat cruises are available near the Togetsukyo Bridge.
Or you can browse the souvenir shops along the main street as you enjoy a delicious Japanese favorite, green-tea ice cream.
Getting to Arashiyama: take the iconic Randem Tram (25 minutes) from Nanna-ji Temple or Kyoto Station take the JR Sagano Line to Saga-Arashiyama Station (15 minutes) then it's only a 10-minute walk to Arashiyama.
READ MORE: Check out these great things to do in Kyoto at night!
7) Kobe
What will surprise you when you visit Kobe, only a short journey from Osaka, is the western influence of the city.
When Japan opened the Port of Kobe in 1868, the city grew with 19th-century architecture.
But the city also adapted as space is at a premium in Japan, Kobe created a unique shopping experience, under the overhead railway lines.
Here you can wander underneath to browse at a variety of shops or dine at small restaurants.
Kobe is also a city of taste sensations of Kobe beef, Matcha tea cake, Baumkuchen, and Sake.
Getting to Kobe: 15 minutes on the Sanyo Shinkansen or 20 minutes on the JR Special Rapid Train.
Kobe Beef
Now, this is a dish you must try for a taste and cooking experience.
Kobe beef (Wagyu beef) is beef marbled with fat grown from Japanese black cattle.
For a taste sensation, Kobe has several restaurants offering a set menu for Kobe Beef.
We chose a small restaurant and sat at the bar where we could watch the meal preparation.
Watching the chef thinly slice the beef, cook, and then serve, we were surprised at the flavour from such a small piece of meat.
For a real tasty adventure on your day trip, book yourself into this Kobe beef experience.
Baumkuchen in Kobe
When you take a Kobe day trip, you need to allow time for afternoon tea.
The strong influence of patisserie in the 19th century has influenced the bakery or teahouse in Kobe.
While the cakes do look like what you can find in Europe, you need to try the Matcha cake (green tea cake).
It's delicious and is a local twist on Baumkuchen, which is also a specialty of Kobe's patisserie scene.
Hakutsuru Sake Brewery Museum, Kobe
Kobe is famous for its production of Sake, and to learn more about the rice wine process, spend a few hours at the Hakutsuru Sake Brewery Museum.
The museum is free to enter and has detailed exhibits displayed on two floors within an old brewery.
All the information is in English, including short videos of the various processes. And when your self-tour finishes, sake tasting is available at the shop.
Getting to Hakutsuru Sake Brewery Museum: from Shin-Kobe station takes 15 minutes by train from Kasuganomichi(Hanshin) to Sumiyoshi(Hanshin).
Kobe Port
The perfect finish to your day trip in the bustling city of Kobe is to visit the waterfront Meriken Park of Kobe port.
It is a modern park, repaired after the 1995 Great Hanshin Awaji Earthquake, which killed 5,000 people.
Overlooking the park is modern architecture, the most impressive are the Kobe Port Tower and the Kobe Maritime Museum.
The Kobe Port Tower offers 360-degree views of Kobe and the Rokko mountain range. You can't miss the 108-meter red tower with a rotating cafe.
The Kobe Maritime Museum takes you on a journey to explain the history of the port and its connection to the western world.
The museum also showcases the corporate museum of Kawasaki products, including the Shinkansen trains.
The impressive Nakatottei Chou terminal offers one to two-hour sightseeing boat tours around Kobe Bay.
The cruise takes you near Akashi Kaikyo Bridge, the world's longest suspension bridge at 4 kilometres.
If you are still at Kobe Port in the evening, take a walk along Gaslight Street where old fashioned gas lamps light the area.
And for restaurants, head to Renga Soko, where 19th-century brick warehouses are fashionable restaurants.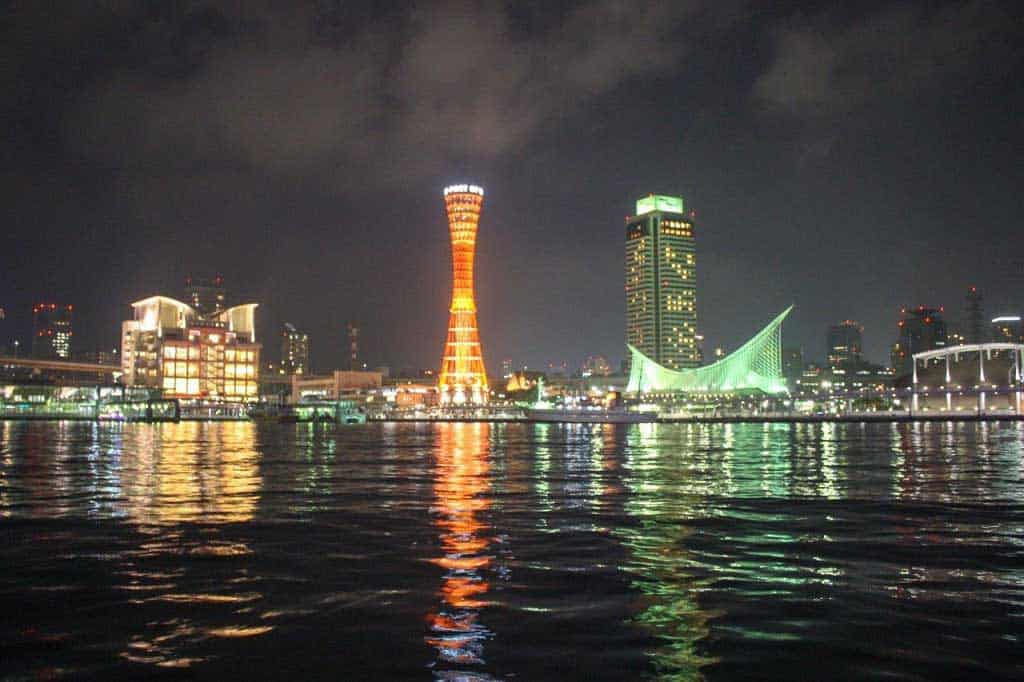 Wrapping up Osaka Day Trips
When it's time to plan your day trips from Osaka, the Kansai region provides a different Japanese experience.
Here you can wander through ancient gardens, admire spectacular temples, and visit century-old feudal castles.
Travelling on a day trip is easy when using a Japan Rail Card, which must be pre-purchased before you arrive in Japan.
And when you need to reduce your travel times, book a seat on the famous Shinkansen bullet train.
There are many beautiful Japanese dishes to try, apart from sushi, so indulge yourself for a taste sensation.
Many restaurants have displays of their menu, making it easy to find a dish to suit your budget and taste.
Finally, allow plenty of time to immerse yourself in the beauty and culture of the Kansai region.
Osaka is the perfect base to stay and see more with day trips from Osaka.
DISCLAIMER: Some of the links in this article are affiliate links, which means if you book accommodation, tours or buy a product, we will receive a small commission at no extra cost to you. These commissions help us keep creating more free travel content to help people plan their holidays and adventures. We only recommend the best accommodations, tours and products, and regularly review these. Thanks for your support, kind friend!