Everything you need to know to plan your perfect 3 days in Kyoto itinerary!
Kyoto, once the capital of Japan, is home to a seemingly unlimited number of things to do.
From strolling quiet bonsai filled gardens to temple-hopping an unforgettable gold and silver pavilions.
This Kyoto 3 day itinerary will guide you through what you cannot miss out on in such a short window.
You'll get some stunning views overlooking parts of Kyoto and walks through thousands of torii gates.
Also, plan on having some interesting cuisine of Kyoto – including fire ramen.
Yes, a bowl of ramen that is literally lit on fire just before serving!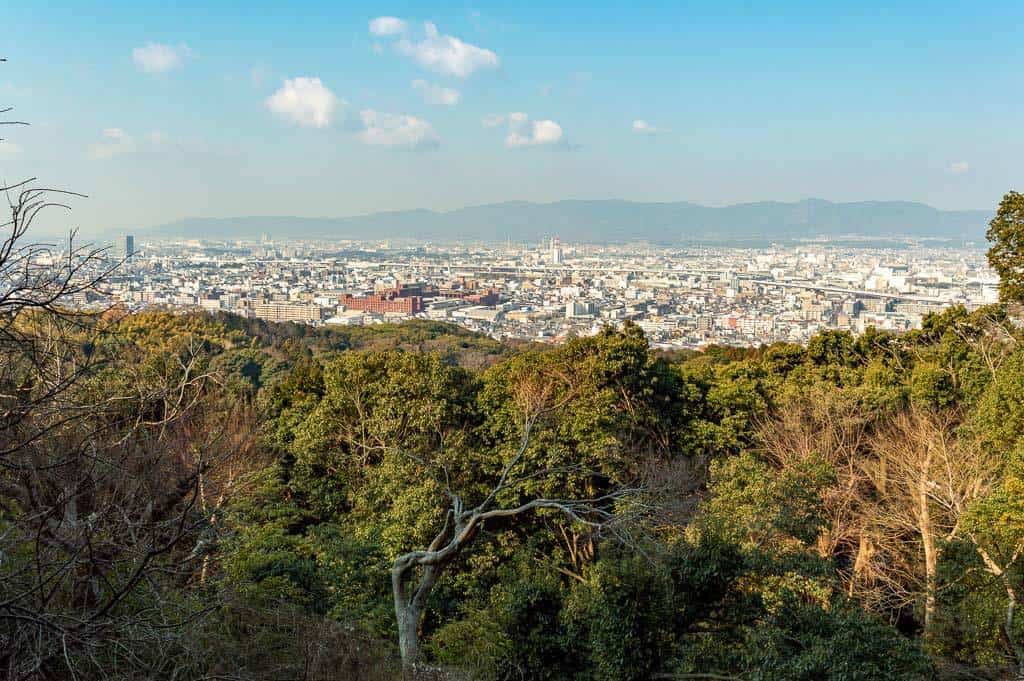 With all these memorable sights and attractions, 3 days in Kyoto might not sound like enough – as there will always be more to see in a city with a vast history and a unique, and often quirky Japanese culture.
Before we dive right into this 3 day Kyoto itinerary, here is a short history lesson for one of Japan's best places to visit.
History of Kyoto
As mentioned above, Kyoto was once the capital city of Japan, from when it was founded in 794 to 1868.
However, Kyoto, which translates into "capital city," has not always had the same name.
In 794, the city was founded as Heian.
Kyoto lost its capital city status when Japan handed control over from the leader of the samurai, the Shogun, back to the Emperor.
In 1868, the capital of Japan became Tokyo, where it has stayed ever since.
Today, Kyoto is Japan's third-largest city (behind Osaka and Tokyo) and has plenty of ways to learn about the history of Kyoto.
There is plenty more on offer than just unforgettable temples.
Your Perfect 3 Days in Kyoto Itinerary
Without further ado, let me tell you what to do in Kyoto in 3 days!
First things first you need to find an awesome place to stay. We recommend staying in the Gion neighbourhood, so you're central to everything there. You can find great accommodation here on Agoda.
Don't forget to use our exclusive coupon code AGODANMD10 to get 10% off your booking.
READ MORE: Don't miss our complete Travel to Japan guide!
Day 1 in Kyoto
We're going to start off our Kyoto itinerary by tackling some of the best attractions in the city. Don't forget to start your day early!
8:45am – Nijo Castle
First up on this 3-day Kyoto itinerary is Nijo Castle.
One of 17 UNESCO Historic Monuments of Kyoto, Nijo Castle has several beautiful gardens and historical information within its giant fortified walls.
Tokugawa Ieyasu, the founder of the Tokugawa Shogunate, ordered all current feudal lords of Japan to contribute to the building of Nijo Castle.
Construction began in 1601 and completed in 1626.
Nijo Castle and the surrounding complex has been damaged by fire multiple times during the 1700s.
A lightning strike and a fire that ravaged much of Kyoto were to blame for the destruction.
Nijo Castle opens at 8:45 am.
It is a common theme to beat the crowds by arriving early, that's why you should aim to be here by opening if you intend to have the castle grounds to yourself for a while.
Some of the main points of interest inside Nijo Castle include the Ninomaru Palace – consisting of five separate but joining buildings.
Intricate carvings from wood sand golden leaf decorations are present to this day.
They had the intention of portraying a powerful and wealthy.
One thing to look out for is the intentional "squeaky floors" to warn residents of ninja attacks as you can't walk on the floor silently!
Nijo Castle is a great example of Japan's final samurai period and a perfect way to start your 3 days in Kyoto.
Expect to spend 1-2 hours here, depending on how much you want to explore Nijo Castle and its grounds.
If you're visiting Kyoto in spring, you can admire all the cherry blossoms that bloom on the grounds around the castle.
11 am – Menbakaichida Fire Ramen – Lunch
Kyoto is home to quite a unique style of ramen. In fact, the "fire ramen" is the only one in the world.
Plus, it's a very short walk from Nijo Castle grounds.
This unforgettable bowl of ramen is in a tiny restaurant, so waiting times for your flaming bowl might take a few minutes to get seated.
That's why I suggest getting here for a bit of an early lunch. It's also delicious ramen as well!
Menbakaichida restaurant opens at 11 am, so if you can be within the first 5 or 6 guests, you shorten your waiting time until lunch to zero!
Now, when I say fire ramen, I mean they ignite your dish in a giant fireball in front of you, just before they serve it to you.
To make it safe, you're given a paper apron for the oil splashes and specific instructions to lean backward on the bar stool.
Although it doesn't feel it, the fireball is pretty cool.
It's not just for a show, the flames help bring out the flavour in the green onions.
1 pm – Kyoto Imperial Palace
After a fiery lunch, it's time to head to Kyoto's Imperial Palace.
Today, you can visit the palace that served as the residence of the Imperial Family until Japan's capital moved to Tokyo in 1869.
As is common with large wooden buildings, a fire destroyed the Imperial Palace a total of 8 times.
The version you see today was completed in 1855.
No reservation is currently required, and the opening hours are from 9 am to 5 pm.
Kyoto Imperial Palace is a short 5 minutes drive or 25-minute walk from Nijo Castle.
4 pm – Nishiki Market
Nicknames by locals as Kyoto's Pantry, Nishiki Market is seen as the best traditional food market in the entire city.
Somehow, over 130 stalls of foods and goods line the narrow 5 block street in downtown Kyoto.
While this causes limited personal space, the atmosphere from the vendors and customers and all the tasty options to eat make Nishiki Market well worth the visit.
Nishiki Market is around 10 minutes by car or roughly 20 minutes on foot.
There is no entrance fee to enter this congested shopping street in downtown Kyoto.
It's a perfect place to try some local Kyoto dishes and have a memorable dinner all at once.
If you love food, make sure you check out this foodie walking tour of Kyoto during the daytime!
Check out our Japan Vlog on exploring the Higashiyama and Downtown Districts in Kyoto in Japan.
Day 2
Welcome to day two of your 3-day Kyoto itinerary! Get up nice and early, as it's going to be a jam-packed day in central Kyoto.
8 am – Fushimi Inari Shrine
Once again, day two of this Kyoto itinerary begins early. With good reason.
Fushimi Inari Shrine is usually the number one attraction -in all of Japan!
This popularity means that it is busy, very busy!
Dedicated to the Shinto God of Rice, Inari, thousands of bright torii gates lead visitors from the main shrine up Mt Inari.
This trail winds up the sacred Inari Mountain and eventually gives off some beautiful views of Kyoto and surrounding areas.
Even if you're here as early as possible, you won't be able to escape the crowds by the time you descend Inari Mountain.
But that early morning walk through one of Japan's most important shrines is amazing.
At the entrance to the shrine complex stands the Romon Gate that was donated in 1589.
Another popular spot for a photo OP is where the torrid gates and pathway splits into a 'Y' shape.
Depending on your speed, the full hike to the summit of Mount Inari takes from 2-3 hours, so bring plenty of water and snacks along with you.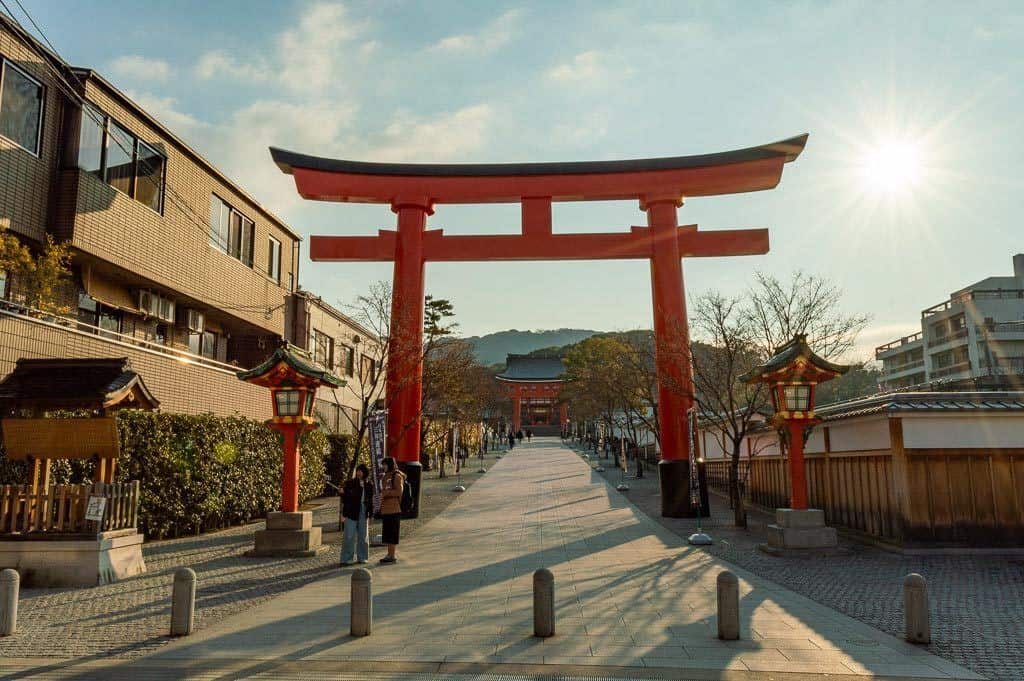 12 pm – Lunch
There are plenty of options for great restaurants for lunch around Fushimi Inari Shrine.
If you're in the mood for sushi, Kyoto Train Station, has a great sushi train option, Ashami.
Whatever you're looking for, from egg rolls and inari pockets to octopus and even horse meat (providing the translation is legitimate).
It's a pretty cheap option for lunch with 3 or 4 plates costing around USD$6, depending on what plates you choose.
1 pm – Toji Temple
Toji Temple, or East Temple, was built at the start of the Heian Period in the late 700's.
This 5 story pagoda is made from wood and is another famous UNESCO World Heritage Site in Kyoto.
Other notable buildings in the complex include Kondo Hall.
Reconstructed in the early Edo Period after a fire in 1486 destroyed the original.
It is considered one of the Toji Temple Complex's original buildings.
Destroyed in the same fire is Kodo Hall, which sits next door. Kodo Hall served as the lecture hall in the Toji Temple area.
The wooden Toji Tower itself stands 57 meters tall, the tallest in all Japan.
You can get to Toji Temple via the Kintetsu Kyoto Line and is a 5-minute walk from Toji Station.
During cherry blossom season, the grounds around the temple are overflowing with the beautiful flowers as well!
3 pm – Ginkaku ji Temple – Silver Pavilion
After Shogun Ashikaga Yoshimasa's death in 1490, Ginkaku ji Temple, or the Silver Pavilion, was reformatted from retirement house to Zen Temple.
While Ginkaku ji Temple is well worth a visit in itself, as are the other buildings in the complex, it is the beautiful moss-covered gardens that steal the show.
Walking a small loop through lush greeny and trickling rivers, it's hard to find a place equal to the tranquillity of the Ginkaku ji Temple Complex.
Ginkaku ji Temple can be accessed from Kyoto Station by bus #5, 17 or 100.
Opening hours are from 8:30 am to 5 pm.
Expect to spend about an hour here, unless you walk the short trail very slowly taking in the sights.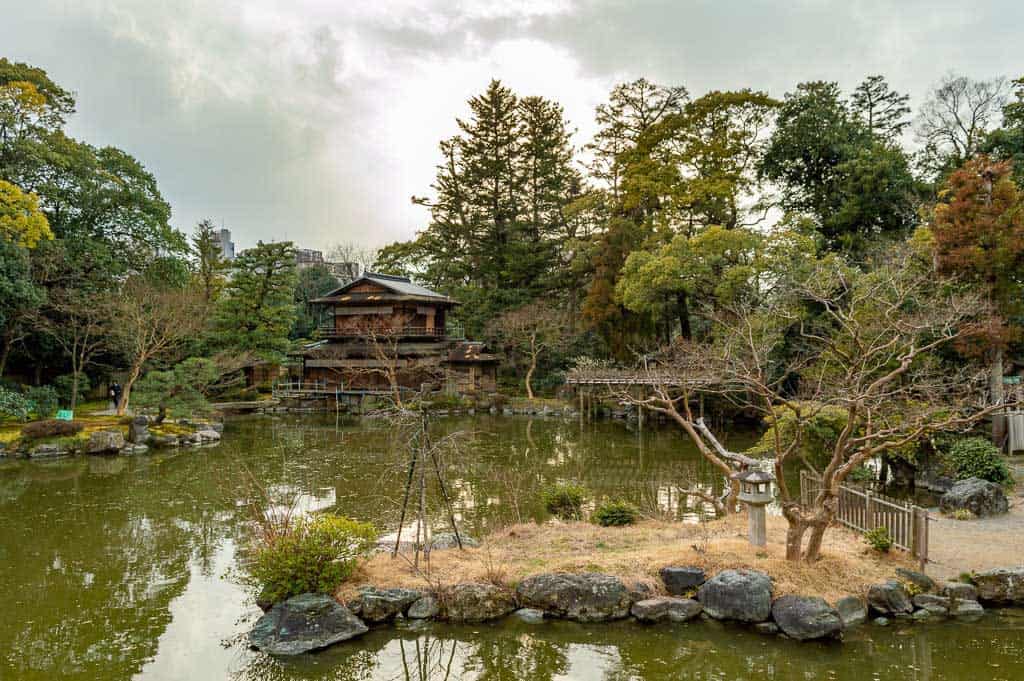 Check out our Japan Vlog on exploring the Gion District in Kyoto, Japan.
Day 3
We're almost at the end of your itinerary for Kyoto in 3 days. Don't think you've done everything just yet though, we still have a few more amazing Kyoto activities for you.
Early – Head to Arashiyama
On the western edge of downtown Kyoto is the district of Arashiyama.
This whole area is not only a Historic Site of Kyoto, but it's also a Site of Scenic Beauty, as classified by the Japanese Government.
There are several things to do in the area of Arashiyama, and most are easy walking distance from each other.
As with most popular sites around Kyoto, Arashiyama is popular, and that brings crowds.
Arashiyama is easily accessed from Kyoto Station. Jump on the JR Sagano Line and head to Saga-Arashiyama Station.
From here, the center of Arashiyama is a 10-minute walk.
Check our our Japan Vlog on exploring Kyoto's most famous attraction in Japan.
8 am – Togetsukyō Bridge
If you catch the train to Arashiyama JR Station, you will be close to Arashiyama's well known Togetsukyō Bridge.
So it makes sense to visit here first.
In fact, the easiest way to get to the next stop, the Bamboo Forest of Arashiyama, you'll cross the bridge anyway.
Togetsukyō Bridge spans 155 meters across the Katsura River.
The original bridge was constructed a little upstream in 1606.
Walking the length of this bridge gives beautiful views of the river below and the surrounding mountains.
You might even get lucky enough to see local fishermen casting in along the banks.
9 am – Arashiyama Bamboo Grove
One of the areas most visited sites of Arashiyama is the Bamboo Grove.
This is a natural bamboo forest, with paved trails weaving through the tall shoots of the sturdy, yet flexible plant.
Since 2015, the Arashiyama Bamboo Grove has opened free of charge to visitors.
This makes the attraction near Kyoto even more appealing.
If you're wanting to visit the Bamboo Grove without hordes of visitors and hand-cart taxis, I suggest starting your day here.
For an even better experience, you can book yourself a great guided tour of the bamboo forests.
Or do something real different and try a rickshaw tour here.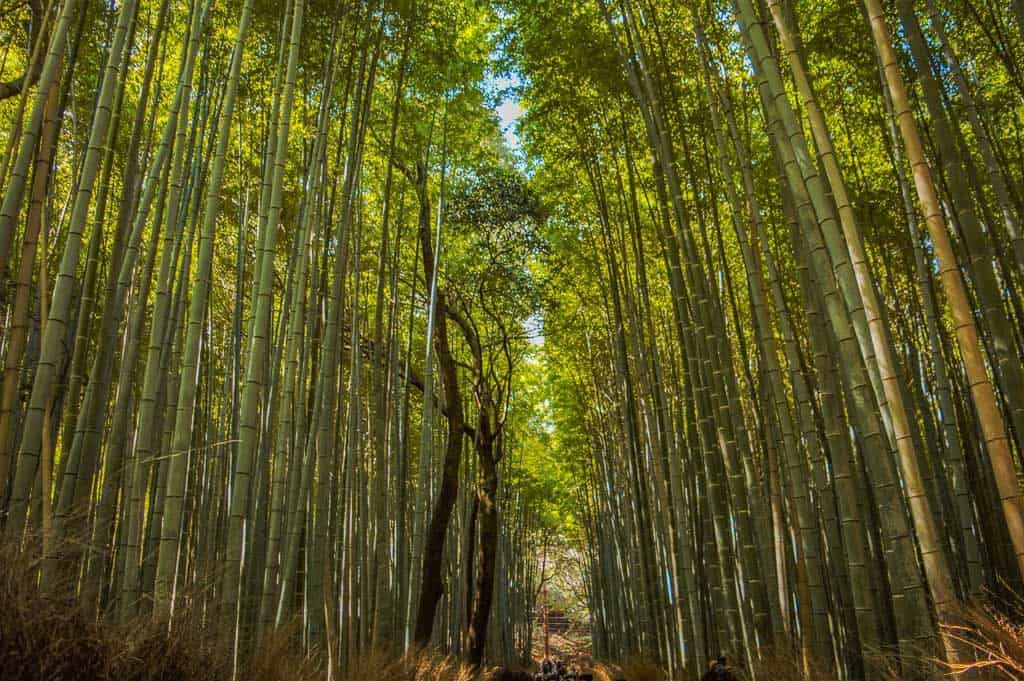 11 am – Tenryuji Temple
Built in 1339 by the Shogun Ashikaga Takauji, in dedication to Emperor Go-Daigo who passed away as means to ease the spirits of the late ruler.
Much of the temple grounds, including most of the building, have been destroyed multiple times throughout history and now date back to the Meiji Period (1868 – 1912).
The temple gardens survive in their original state to this day and provide a lovely stroll around the small pond.
Opening hours for Tenryuji Temple are 8:30 am to 5 pm, and you should expect to spend around an hour here.
12 pm – Ryoanji Temple and Lunch
Ryoanji Temple was converted into a Zen Temple in 1450.
It's also the site of possibly Japan's most renowned rock garden.
Pretty much everything about this rock garden is uncertain, its date of construction and the meaning behind it.
The story I heard most is that these 15, expertly placed stones, resemble a tiger carrying a cub.
One of the most interesting facts, is that in this square enclosure of pebbles, no matter where you stand, you can only ever see 14 stones.
Personally, it's the surrounding scenery that makes Ryoanji Temple a must-visit with 3 days in Kyoto.
There are plenty of quiet trails and immaculately kept ponds to soak in the reflection of the still surface.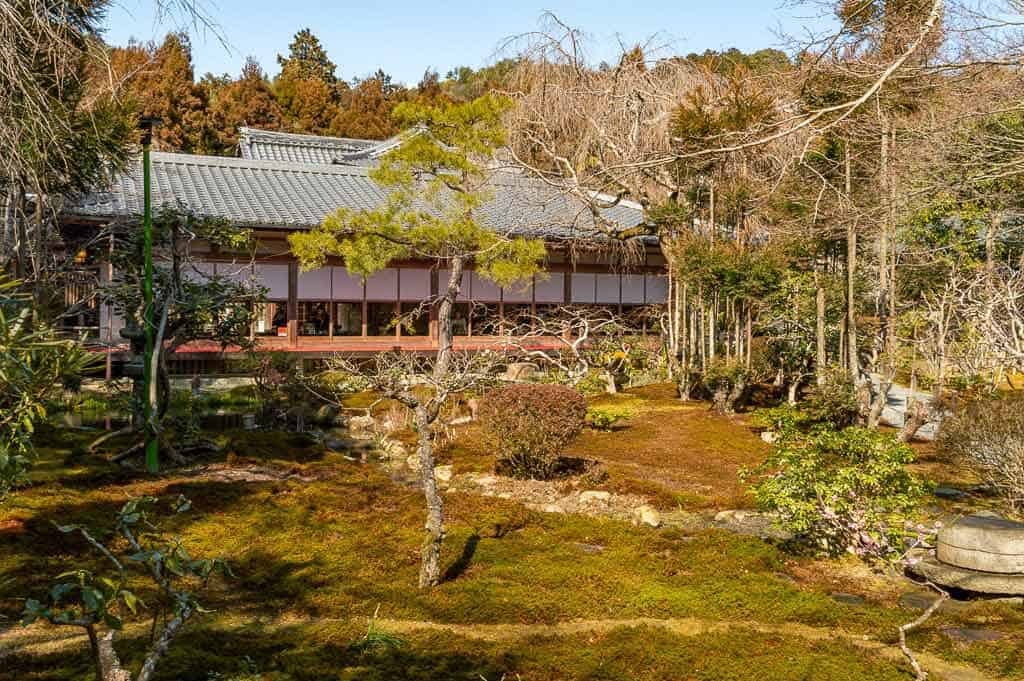 Lunch
For lunch, there's no need to leave the temple grounds.
There is a small restaurant that offers a Kyoto specialty, Yodafu.
Boiled tofu in a tasty broth is a lot more filling than you would expect.
This, along with Japanese Tea and a beautiful view overlooking the lush green surroundings is a perfect spot for lunch.
3pm – Kinkaku ji Temple
A 3 day Kyoto itinerary wouldn't be complete without a visit to Kinkaku ji Temple, or the Gold Pavilion.
One of Kyoto's famed 17 Historic Monuments, the Golden Pavilion Buddhist Temple is one of Japan's most visited buildings.
This Zen Temple was originally completed in 1397 and reconstructed in 1955 after being burnt to the ground by a novice monk who then tried to commit suicide behind the temple.
The glimmering gold surface has a symbolic meaning and thought to cleanse negative thoughts concerned with death.
As it is so popular, getting a picture or a view without another person in the shot is almost impossible.
By standing next to the edge of the lake, looking out over the glass-like surface and the reflecting golden iconic symbol of Kyoto, it's hard not to fall in love with Kinkaku ji Temple.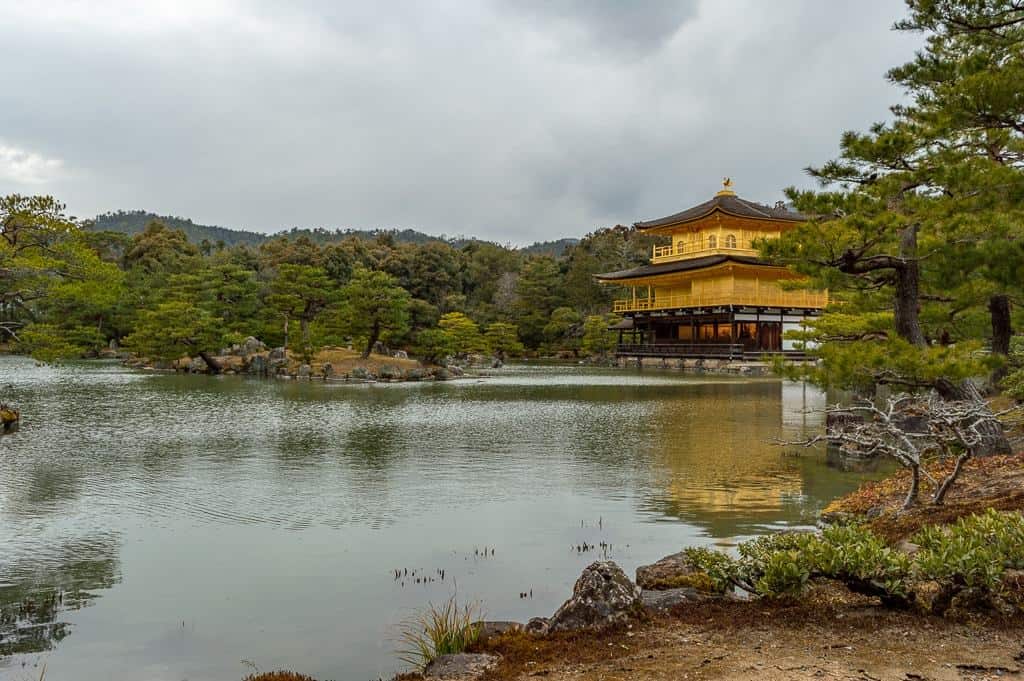 Summarizing Your 3 Day Kyoto Itinerary
As with all destinations with the vast history and culture of Kyoto, there will always be more to see.
In fact, 3 days in Kyoto is just the beginning of this incredibly beautiful, historic city.
But by following this itinerary, you'll be treated to a range of cultural, historical and scenic sights that this busy city has to offer.
And by the end of your trip here, you'll have a small but memorable insight into one of Japan's ancient capital cities.