From hiking through lush, green forests to watching a sunset over the driest desert on Earth, there are plenty of reasons to travel to Chile.
Located along the western coast of South America, Chile spans nearly half of the continent from its northernmost to southernmost points.
Although Chile is often overlooked, the country will stun every visitor with the sheer abundance of natural diversity, rich food and culture and friendly locals.
Chile is one of the few places in the world where you can start your day hiking the Andes Mountains and finish it watching the sunset over the Pacific Ocean.
It's this kind of landscape diversity that is driving many nature enthusiasts to flock to Chile from all parts of the world.
From the Moai statues on Easter Island, the contrast between Patagonia and Atacama Desert, Santiago's buzzing cultural life, and the world class wines and street art – Chile has something to offer for everyone.
This stunning country has inspired Nobel Award-winning poets and has left long lasting impressions on travellers from all walks of life.
Chile Travel Guide
If you've decided to travel to Chile to see its beauty firsthand, make sure to read through our Chile Travel Guide!
General Info
Capital: Santiago
Other Main Cities: Valparaíso, Antofagasta, La Serena
Currency: Chilean Peso
Language: Spanish
Population: 17,574,003
Area: 756,096.3 sq.m2
Electricity Voltage: 220V
Electricity Sockets: Type C and L
How to Get to Chile
Travelling to Chile is relatively easy depending on your place of origin. Most people travel to Chile by air.
However there are other options to arrive in Chile – from ferries and cruise ships to busses and automobiles.
Most people arrive in Santiago, Chile's most populated city and capitol.
But it is possible to begin your journey into Chile from neighboring countries at any number of border towns.
Flying
International flights to Chile will almost always arrive in Santiago.
But there are several other international airports throughout the country into which you may arrive.
Chile has direct connections with Europe, Israel, New Zealand, Australia and North America.
There are also plenty of flights from other South American countries.
As Chile occupies the southern half of the South American continent, flights into the country can be expensive if you are traveling from outside of South America.
Flight options and fares will also vary depending on the seasons.
Located in the southern hemisphere, the most popular time to travel to Chile is during its summer (December – February).
You can also expect a premium on fares during winter (June – August) as Chile boasts a wide array of winter sports and activities.
Fares drop during the shoulder seasons of March to May and September – November.
Flying From The US & Canada
There are many options when travelling to Chile from the US. The most common and budget-friendly cities of origin are Los Angeles and Miami.
Although you can reach Chile through connecting flights from pretty much any location in North America.
Expect to pay between USD$1,000 – $1,200 for a roundtrip flight during peak seasons.
But also keep an eye out for last minute flight deals. Or, alternatively, book your ticket well in advance to avoid higher fees.
Airlines that fly to Chile
American Airlines
LAN
Delta
Flying directly from Canada is more costly. Expect to add a few hundred US Dollars to the cost of fares originating in Canada.
But both Air Canada and LAN fly from Toronto to Santiago.
Flights from Europe
There are no direct flights to Chile from the UK. To travel to Chile you would have to go via a European, US or Latin American city.
Some of the airlines that offer flights are:
LAN
Iberia
British Airways
Air France
The costs of the tickets during high season can be in between USD$1,500 – $2,200.
Regardless of the fare you pay or the number of connections, flights from Europe will be long. Expect to spend at least 16 hours in transit.
You may want to combine your travel from Europe with a few days of layover in the US to break up the journey.
Flights from New Zealand, Australia and South Africa
It is possible to fly direct to Santiago, Chile from both Sydney and Auckland.
During the high season you can expect the fares to be about USD$1,500 -$2,000.
But you can expect a variety of options from the following airlines:
Qantas
LAN
Air New Zealand
Argentinas
Buenos Aires – Aerolineas
Taking A Bus To Chile
If you plan to travel to Chile from Peru, Bolivia or Argentina there are many options to travel by bus.
Most larger cities in these countries offer direct bus routes to Santiago or Valparaiso.
But you can also find bus transport from many of the border towns.
Bus tickets are quite affordable for the budget traveler.
And, for just a few dollars more you can travel in a bit of comfort with seats that recline partially or fully.
As the duration of the bus ride can near a full day of travel, having these comfort options is great.
The most popular and common bus carriers include:
Pullman
Turbus
Cruz Del Sur
Driving To Chile
If you are visiting a neighboring country such as Bolivia, Argentina or Peru you can travel to Chile relatively easily in a personal vehicle.
In Argentina alone there are over 30 border crossings.
The two most used crossings are the Paso International Los Libertadores (Cristo Redentor) and the Pajaritos crossing.
The Paso International Los Libertadores is a mountain pass in the Andes between Santiago, Chile and Mendoza, Argentina.
The Pajaritos crossing is between Osorno, Chile and Villa La Angostura, Argentina.
Many of the crossings are paved highways but in the south of Chile some are gravel roads.
Note: Some crossings through the Andes Mountains be closed during the winter months.
Some of them are not accessible by public transportation and during winter are closed due to weather conditions.
To be safe always check with a tourism organisation ahead of time to ensure that the crossing is open.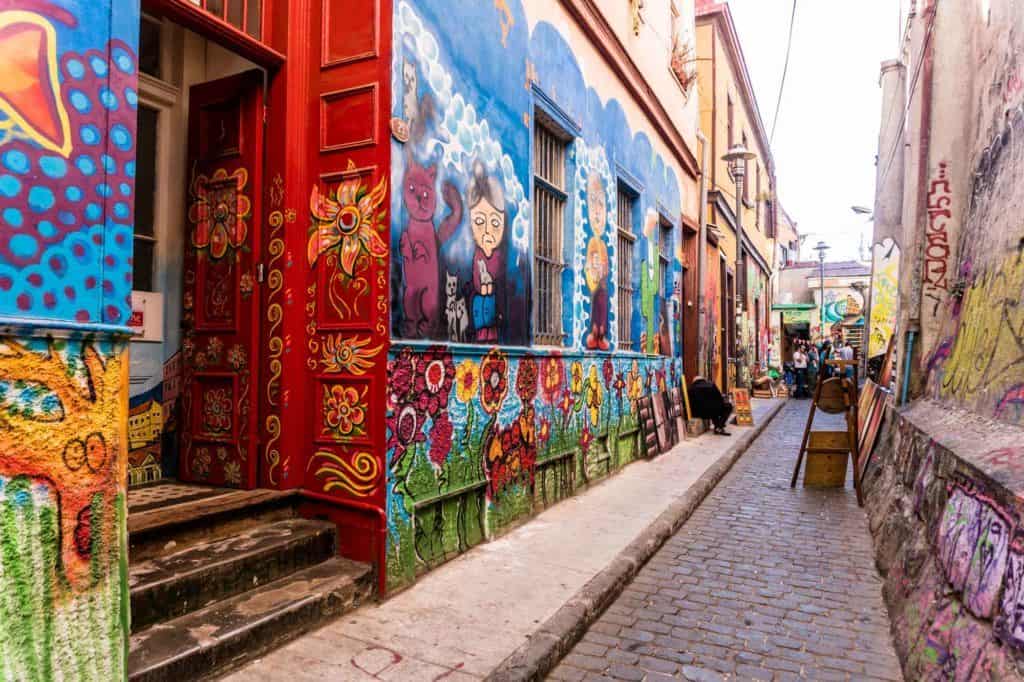 Visa Requirements For Chile
Travellers from most countries in the world must have a visa in order to travel to Chile.
However there are many countries that are exempt from the visa, including the US and Australia.
In exchange for visa-free entrance, travellers with passports from these countries will pay an entry fee upon arrival in Chile.
Anyone else planning to visit Chile must obtain a visa from one of the Chilean embassies or consulates unless they're a citizen from one of the countries exempt from the visa.
Citizens of the US, Australia, Mexico and Suriname can enter without a visa but will have to pay entry fees that range between USD$25 (Mexico) to USD$160 (United States).
Residents of countries that hold APEC business cards countries can visit Chile up to 90 days without a visa for business purposes.
5 Interesting Facts About Chile
The driest place on Earth is located in Chile – the Atacama desert
Chile is the longest country in the world (4,270 km)!
World's biggest swimming pool is in Algarrobo! It's 1,013 meters in length and has a depth of 35 meters!
As the "Country of Poets," Chile is the birthplace of two Nobel Prize winners – Pablo Neruda and Gabriela Mistral.
Chile is home to 6 UNESCO World Heritage sites.
Best Time To Travel To Chile
Due to Chile's large geographical imprint on the world and the fact that it stretches nearly half the length of South America, you can plan to visit Chile at pretty much any time of year.
Summer (December – February) is by far the busiest time of year for visitors travelling in Chile.
However, there are plenty of winter sports that attract visitors between June – August as well.
The shoulder seasons (March – May and September – November) can also be great times to travel to Chile if you do not mind more extreme variations in weather.
Depending on the places you want to see and activities that you want to do, there are certainly better times of the year to visit different regions.
Chile has seven climate pockets that range from desert in the North to alpine grassland and glaciers in the South.
If you wish to travel to Chile for festivals the best time is during the summer season between January and February.
There are many events scattered throughout the country celebrating music, dance, food and culture!
One of the most renowned festivals is the Semana Ancuditana in Chiloe and Ancud in January.
Much, if not all, of Patagonia is inaccessible during the winter months.
Even during shoulder and summer seasons the weather can be brutal in Patagonia.
Expect wind, rain and cooler temperatures anytime you visit the southernmost portion of the country.
The Torres del Paine and the Lake District is open year-round but the best time to plan your visit is during spring and summer (October – April).
Visiting the Atacama Desert is more accessible year round.
Though, as a desert, do be mindful of the always dry and possibly hot conditions during the summer months.
The most popular time of year to visit Easter Island is during the high season (December – March).
But if you'd like to avoid the crowds and higher seasonal prices, you can always visit the famous island on the shoulder season when it gets quieter and cooler.
To visit Chile's capital, Santiago, we recommend going during the summer!
Not only do many of the locals vacate the city, but also the accommodation rates drop as well.
Itineraries For Travel to Chile
There is so much to see and do when travelling in Chile.
This makes it difficult to plan a trip to cover the entire country in one visit.
Additionally since most travelers arrive in Santiago, located near the middle of Chile, it can be difficult to explore both the northern region (Atacama Desert) and southern regions (Lake District and Patagonia) without extensive travel.
But we recommend that you plan to spend at least two weeks travelling in Chile with the following suggested itinerary:
Santiago (3 days)
Santiago is a beautiful city with a lot to offer! Rich in history and culture, this city could be a two week destination in itself!
Exploring downtown can take you on many detours. You can start with the impressive architectural sites like the neoclassical La Moneda Palace!
And then find yourself at the Plaza de Armas where you will find the Catedral Metropolitana that will leave anyone short of breath.
From buying fresh fish at Mercado Central to discovering the amazing street art, Santiago is a dynamic city that won't allow you to sit still.
Make sure to stop at any number of cafes, restaurants and bars and immerse yourself in traditional Chilean cuisine.
It's likely you won't find a favorite because you have so many options from which to choose!
There are also plenty of short day trips that you can take from the city.
Spend an enjoyable afternoon visiting one of Santiago's nearby vineyards – Cousiño Macul, Concha Y Toro or Santa Rita.
Or rent a bike and head out for some exercise and great scenery along nearby mountain biking trails.
Valparaíso Day (2 Days)
The coastal city Valparaíso is known for its amazing street art and bohemian vibe.
Walk around Cerro Concepcion and Cerro Alegre to admire the vibrant murals stretched throughout the sides of the buildings.
In keeping with the rich artistic theme, you can visit the Nobel Prize winning Pablo Neruda's house in the city.
Then visit his oceanside home a short distance away at Isla Negra.
And while Valparaiso is more of an industrial city, there are plenty of great walks to take through neighborhoods that offer great views of the city and of the Pacific coast.
Of course if you're visiting during the weekend and want to explore the nightlife, Valparaiso has some great bars and clubs that will keep you going through the night.
Castro (1-2 Days)
From Santiago fly to Puerto Montt and then catch a bus to Castro.
At Castro the colorful wooden palafitos await you! Built on stilts over the water, these buildings give you a different look and feel than what you'd find in the larger cities of Santiago and Valparaiso.
The Monumento Natural Islotes de Puñihuil is the only place in the world where you can encounter both the Humboldt and Magallanic penguins in the same place!
Explore the artisan craft market where you will find handmade jewelry and wool knitted items.
The churches of San Francisco and Rilán are both situated in Castro and are very much worth a visit.
Patagonia (5 + Days)
If you travel to Chile you do not want to miss Patagonia, as it is one of the most breathtaking regions in the world.
Many travellers come to Chile simply for the beauty, awe and outdoor adventure of Patagonia.
We suggest that you plan to stay within the region as long as you can.
Because Patagonia occupies the lower third of the country, just getting around the region can take quite a bit of time in itself.
But regardless of where or how far you travel between places in Patagonia, the scenery is not going to disappoint you.
From mountains and glaciers to fjords, lakes and thick forests the landscape of Patagonia offers some of the most spectacular views in the world.
The most popular part of Chilean Patagonia is the Torres Del Paine National Park.
It will take the better part of your day just to reach the park from a more populated area.
Then if you plan to hike Torres Del Paine plan to spend at least 4-5 more days.
There are two main hikes here, the 'O Circuit' and the 'W Trek', and these are not for the feint of heart and should only be completed if you have hiking experience and the right gear.
But if you're in good physical shape we absolutely recommend doing this trek!
From the views of the amazing glacial lake to the amazing fauna of the national park, Patagonia is one of the better preserved natural areas.
Atacama Desert (3 Days)
The Atacama Desert is on the northern end of Chile. So once you've visited Patagonia it will take time to return to the Atacama Desert.
But doing so will show you perhaps the greatest contrast that a country has to offer in landscapes.
The Atacama Desert will provide you some of the most unique and otherworldly views.
Once you've managed to get to the village of San Pedro de Atacama, book a tour of the Valle de la Luna.
If you are adventurous, rent a car and explore the desert on your own. There's a good chance you won't come across another vehicle for hours.
This can be a great thing as long as you are prepared and safe in your journey.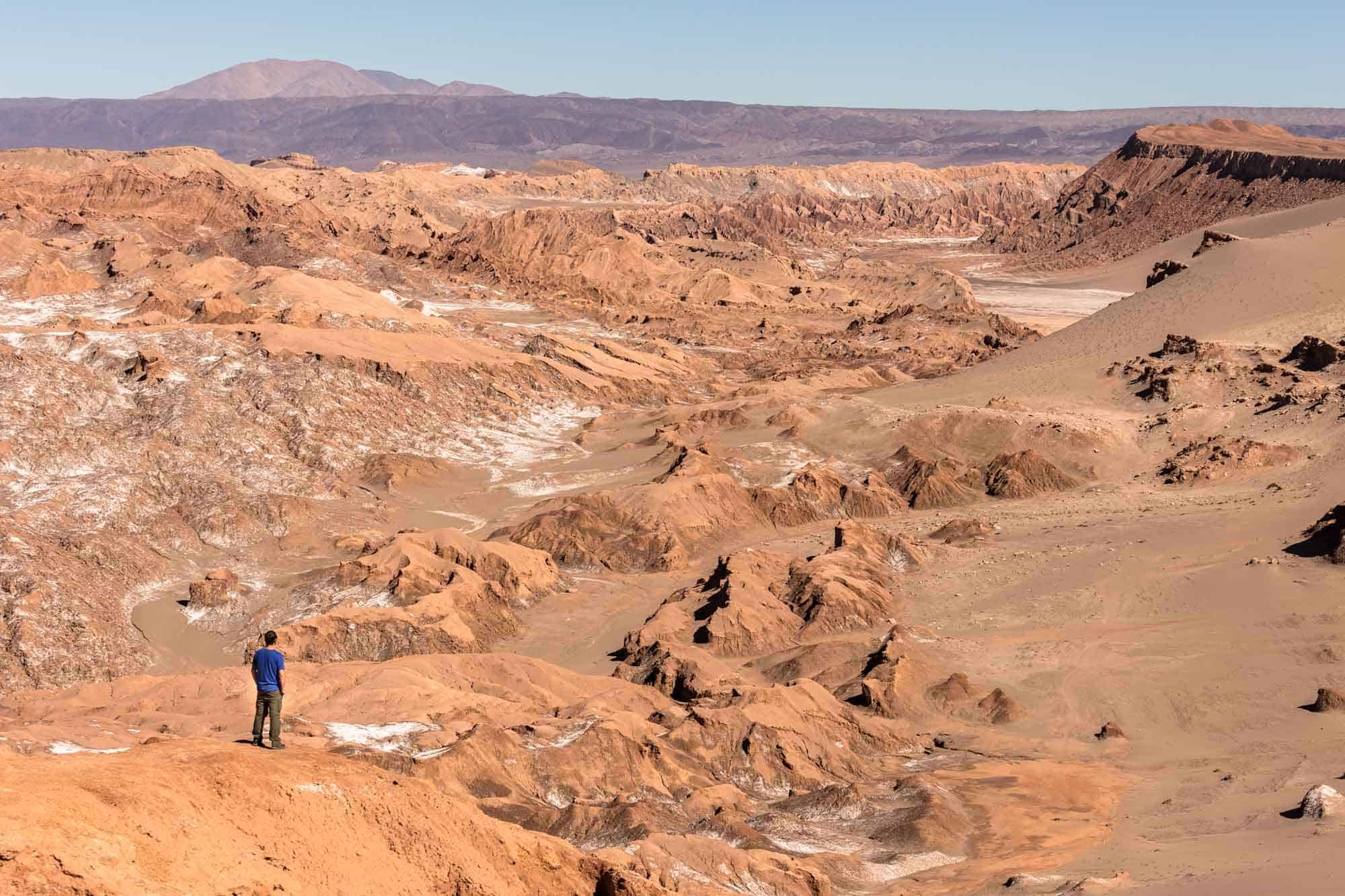 Budget For Travelling In Chile
Chile is more expensive than its neighboring countries Bolivia and Peru. But it is cheaper than Argentina.
When planning a budget for any trip you will want to divide your funds between four main expenses: accommodation, transportation, food and activities.
Accommodations
There is a mix of accommodation options when travelling in Chile – from hostels, mid-range airbnbs to luxury hotels.
An average hostel would cost minimum USD$20-30/per night for a private room and USD$10/per night in a dorm room.
You might spend a little more on an Airbnb room. And hotels will definitely be more costly.
But there are ways that you can recoup some expenses on accommodations.
If you're planning on camping at Torres Del Paine or other parks there are many free campsites.
Transportation
Another thing you can do to cut down your accommodation costs is to take the night bus when going to a new destination.
Because of the Chile's size you are bound to spend a lot of money and time on long distance buses.
Most long distance routes offer the option to upgrade to a reclining chair. This will allow you to be able to rest while you travel.
The road conditions are excellent and most highways follow the beautiful coastline.
This is quite possibly the biggest expense if you want to really see the whole country.
But if you consider combining the long distances with your accommodation budget then you can make your money last.
Food
If you're travelling in Chile on a tight budget, be prepared to cook a lot of meals when travelling in Chile.
But don't be surprised by the prices of food in the grocery stores too.
Chile is not as cheap as many places in the world!
But there are plenty of options to enjoy local restaurant cuisines.
Chilean food is a mixture of a variety of cultures and eating at any number of restaurants will give you options to savor different pieces of the Chilean culture.
Of course be sure to enjoy eating like the locals as well. The cheapest food you will find will be street food.
Try the ice cream, the Chilean hot dog or fried sushi.
Daily food expense would likely range from USD$10–20.
Activities
For us the most important part of visiting another country is partaking in activities that are unique to the region we are visiting.
When you travel to Chile we recommend hiking the "W" trek in the Torres Del Paine!
You can camp for free. Or if you want a more luxurious option you can even book a nice guesthouse along the trail.
We prepacked our food with us. But that meant that we had to carry it around during those 5 days!
You can pay for food along the way but it is pretty costly.
Other activities in Chile you may want to account for in your budget include visiting the Atacama Desert, flying to Easter Island and adventure sports like kayaking, kiteboarding, horseback riding and skiing among many more activities.
Top 5 Places To Visit In Chile
Valparaiso – Known for its bohemian vibe, beautiful seaside views and lively colored houses. It is built upon dozens of hillsides overlooking the Pacific Ocean. It has a labyrinth of cobblestone alleyways and streets thus making it a cultural and architectural legacy.
San Rafael Glacier – Situated inside the Laguna San Rafael National Park. The glacier is reachable only via boat or plane. The nautical adventure is a spectacle as you pass through the narrow channels of the Aisén region.
Valle de la Luna – Located within the Atacama Desert. This desert is adorned with large sand dunes and stone formation that imitate the moon's surface earning the region the nickname "Valley of the Moon".
Torres del Paine – The most popular national park within Patagonia. The region features lakes, glaciers and mountains. The main centerpiece of this nature's masterwork are the three Towers of Paine that are granite peaks shaped by glacial ice.
Easter Island – Known for being one of the most isolated places in the world. The island has 887 statues called moai that were created by the Rapanui people centuries ago. The moai statues are the major tourist attraction. But the island itself is a great location for surfing and diving!
Top 5 Experiences When Travelling In Chile
Hiking in Torres Del Paine – The national park offers two routes to explore its vastness and beauty. Both are not too physically demanding for five day treks. Enjoy either the "W Trek" and/or the "Paine Circuit." Both routes are best to be explored from October – April. If you're really keen on wildlife you can also go on a Patagonian safari.
Drink Pisco Sour In Santiago – Pisco is not as popular as other cities from the South America region. But it slowly started garnering the recognition it deserved. Santiago consistently ranks near the top of the world's favorite cities to visit. The city is famous for its downtown bohemian neighborhood and it's the perfect place to sit down and enjoy their national drink, the pisco sour.
Horseback Riding through the Andes Mountains – A short day trip from Santiago will bring you into all sorts of adventures in the Andes Mountains. You can go rafting, hiking or horseback riding in the Andes! El Colorado is one of the more popular horseback riding spots. El Morado, further south in Cajón del Maipo, is a great place to go horseback riding as well.
Wine Tasting – The region around Santiago allows for some of the best grape growing in the world. This has enabled Chile to produce many world famous wines. It is quite easy to go on a wine tasting tour all around the wineries in Maipo, Colchagua and Casablanca valleys!
Stargaze – The San Pedro de Atacama and Elqui Valley are both favored by the romantics and astronomers! Isolated from light pollution and blessed with usually clear weather, the skies will leave you in a daze for hours.
Transportation In Chile
Chile's one-of-a-kind geography makes it challenging to travel through the country. It can take days to travel by bus from one end of the country to the other.
And flights are not always available between the different regions of the country.
Thankfully the public transport system is very reliable and decently priced!
Bus
Bus is the most common transport used by the locals as bus routes are numerous and fares are incredibly reasonable.
A lot of the same numbered buses serve slightly altered routes so you always need to pay attention to its placards that indicate its last destination.
When you board tell your driver the destination you're traveling to and he will inform you about the price of the ticket. Most drivers will also make sure that you do not miss your stop.
Transantiago (Santiago's bus system) has automatic ticket machines and you can map your route online!
Within cities, buses are fairly regular along determined routes and are quick and inexpensive.
Typical bus ride is less than USD$0.50.
Even for long distance journeys, buses are still a preferred method of traveling. They connect pretty much every major city in Chile and other neighboring countries.
A majority of these bus rides are over a day long so there are comfortable reclining seats and sleeper buses available too.
Taxis
Taxis are a safe way to travel, provided you use with caution and common sense.
There are plenty of taxis in major cities and catching a ride is quite easy.
But be warned, they are not cheap! Standard rates are around USD$1/per kilometer.
Double check that the meter is running and that the fare is reasonable. Taxi drivers may try to take advantage of a foreigner.
That said, try to tell the driver exactly what route you want to take to your destination in order to avoid spending a lot of time and money!
If you're planning a longer trip, negotiate the price beforehand to get a better deal than using the meter.
There are on-call taxi companies that you can call and request a pick up. Their rates are a bit higher compared to standard taxis.
But they are safe, fairly priced and reliable.
Collectivos
Collectivos are taxis that drive on a fixed route. Most collectivos are minivans or shorter busses. And many are privately owned and operated.
You will pay less for a collectivo than a taxi. But you will also be carpooling with strangers.
If you're taking a short trip it's a good way to save some money.
Metro
Chile's largest city, Santiago has an excellent metro system that is both modern and efficient.
It's a great way to go around the city. But compared to bus ticket prices – it's a bit expensive.
One-way metro ticket costs between USD$0.75 -1 depending on whether you are traveling during peak or off-peak times.
Hitchhiking
While we don't advise hitchhiking in any country, in Chile it's a common practice and it's one of the safest countries to do so in South America.
If you want to try hitchhiking, never hitchhike alone – always in pairs.
During summer, cars are packed with families so you might wait a while before getting a lift.
If you're in Patagonia, the distances are great and there aren't that many vehicles.
Bring snacks and plenty of water as it is likely going to be a long wait between rides!
Trains
Chile has mountainous terrain thus their railway system isn't very well developed or used.
There are several trains connecting some Chilean cities.
But the travel time is longer than that of a bus. Train fares are also higher than those of busses.
So unless you absolutely want to add riding a train in Chile to your bucket list, you're much better off taking a bus between locations.
Accommodations in Chile
The standard accommodation when travelling in Chile is reasonable, but generally higher priced than other countries in South America.
Some of the cheapest accommodations would be a hostel dorm room and that would go for around USD$10-15/per night and USD$20-30/per night for a double room.
Hotels will likely cost more. And Airbnb rooms will, of course, vary somewhere in between the two.
Click here to get $35 off your first AirBnB stay.
In major cities and cities on the Panamerican Highway there are a lot of accommodation options that would suit anyone's budget and needs.
But in the more remote areas, you will likely have to settle with hospedajes, or family stays.
Of course the accommodation prices increase significantly during the high season (December – February).
If you're booking outside the high season you might even be able to negotiate a deal!
One important thing to note is that room rates should have the IVA inclusive of the cost. The IVA is a Chilean goods and services tax which counts as 19%!
So always ask check to ensure that the room rate includes the IVA.
Another helpful tip is that if you pay in US dollars you will be exempt from paying IVA.
Not everyone is happy to offer this discount so you can remind them. Some will even give you a small discount if you pay in cash!
Hotels
Mid-range hotels are typically categorized in two groups: large houses with spacious rooms or modern hotels with smaller rooms but better facilities.
A basic room will almost always include a TV and a private bathroom with a hot water shower and towels.
As prices increase you can expect better décor, mini bar, a safe, private parking, room services and sometimes a swimming pool.
The standards of high-end hotels still can vary dramatically – from boutique hotels to impersonal, no-frills accommodations.
Residenciales & Hospedajes
Residenciales and hospedajes are the most widely available and used accommodation while travelling in Chile.
As with any other type of accommodation, the standards can vary. But in general they are simple, modest rooms separated from the main house by a corridor or in a row around the backyard or patio.
They have a bed, clothing rail, a bedside table. Most of them a shared bathroom.
Most often you are sharing a living space with a family who rents out the room, similar to Airbnb.
As such these are not only a great deal for budget travelers. But also they provide you an opportunity to be social with locals who can offer insight into the area you are visiting.
Cabañas
Cabanas are very popular, particularly along the coast. Although they are scattered around tourist spots all over the country.
These are holiday chalets orientated towards families. They will most often include a kitchen, dining area, double bedroom and a second room with bunk beds.
They standards range from very modest and basic to grand accommodation with daily maid service.
The prices are charged by the cabin, so it does not matter whether you are staying by yourself or with a larger group of family or friends.
Refugios
Refugios, or "refuges," are small wooden huts situated in ranger stations in national parks.
They are very rustic and offer the very basics. Some will have toilets, hot water, clean sheets and blankets. But others offer only a basic place to sleep.
They are typically open year round. But if you're traveling in winter or during some extreme weather conditions make sure to check with Conaf (regional forestry office) in advance to determine if they have beds left in the refugio.
Two of the best locations of refugios are the ones at the Lago Chungará and Salar de Surire.
Hostels
Hostels are plentiful in Chile. And currently hostel owners are joining together to create a link between all major cities in Chile.
As with other countries where tourism is booming more and more with each passing year, hostels are sprouting out all over the country.
Oftentimes hostels also tend to have the best informal information about local excursions and guides.
And many of them are affiliated with Hostelling International so if you're a member you can get a discount!
Camping
There are plenty of opportunities to camp in Chile.
But to do so you will want to equip yourself with their annual camping guide, "Turistel Rutero Camping" (only in Spanish, sorry!).
This guide has all of the information you will need to determine where you can and cannot camp.
Campsites range from just plots of land with the bare minimum facilities to luxury camping with hot showers and private barbecue grills.
The luxury campgrounds are usually part of a seaside resort which are very expensive.
Camping in the wild in the countryside is also an option but you will need to have your own vehicle.
The majority of national parks will not let you camp outside the predetermined areas in order to protect the environment.
They do have some pretty rusting campsites that are run by Conaf and they cost around USD$10/per night.
Camping on the beach is forbidden but during summer you will see some illicit campsites.
If you do end up camping wild on the beach/countryside please make sure to follow all the guidelines to keep the environment clean.
Food in Chile
Completo – Completo in Spanish means "complete." The completo is a hot dog that is sold at practically every street corner in Chile. It's a bigger hot dog than the American ones and it is typically covered in mayonnaise, tomatoes, pickles, sauerkraut and onions. There is another popular version called "Italiano," and it is typically garnished with tomatoes, mayo and avocado!
Chilean Empanadas – These are a favorite snack among the locals. The most traditional filling is pino, which is a mixture of minced meat, hard-boiled egg, raisins, black olives and onions.
Pastel de Choclo – A pie based on the new, tender corn of the season. The filling is pino (same as in empanadas) and they also have a version that includes a boiled chicken.
Churrasco and Chacarero – Chilean steak sandwiches that are served throughout the day. The base ingredients are the same: a thin slice of sirloin steak (churrasco cooked a la plancha) and two slices of bread (pan amasado). The difference is that the churrasco sandwich is either with avocados (con palta), with tomatoes (con tomatoes) or complete (which means avocado, tomatoes and mayonnaise). The Chacarero comes with tomatoes, green beans and green peppers (aji verde).
Sopaipillas – Fried flat breads. They are made from pumpkins, flour and butter. These fritters are one of the most popular street foods and are eaten all over the country. You can have them sweet or savory. But most Chileans eat them savory (with ketchup, pebre or mustard).
Is Chile Safe?
Travelling in Chile is very safe when compared to other South American countries.
The most common problem is petty theft in larger cities, beach resorts and bus terminals.
But there is a problem with with stray dogs. Scabies are a common problem with these dogs so don't pet them – because it's highly contagious.
If you're driving be prepared for a pack of dogs to bark and run after the bumper.
Some Chilean beaches have strong offshore rip currents that are very dangerous even for experienced swimmers.
Always make sure to find the post sign on the beach if it's okay for swimming or not.
Crime is usually concentrated in urban areas but also in more rural tourist destinations during high season.
Take regular safety measures in order to prevent any incidents.
If you're staying in a cabin make sure to close and lock windows before leaving.
At the beach never leave your valuables unguarded when going for a swim.
If you're renting a car, don't leave it unattended or unlocked but make sure to have its seat and floors bare and all your possessions in the trunk.
Avoid political protests, especially in Santiago, as they have the tendency to sometimes escalate into violent clashes with police.
Medical Care in Chile
Healthcare in Chile is some of the best in all of South America – especially in Santiago.
The World Health Organization ranked Chile as the 33rd best country for healthcare standards.
Many doctors speak English, as they've been educated abroad.
This ensures better quality of care and that you can likely communicate the health issue with better success than in other countries.
If something unfortunate happens to you while travelling in Chile and you find yourself in need of medical assistance you will have to decide between the public and private healthcare.
Both of these systems have emergency facilities. But the privately funded health facilities will be more strict in ensuring payment up front.
A form is required upon arrival which guarantees that fees will be paid and your health insurance details will be requested.
That said it's important to remember that a "hospital" is publicly funded and a "clinica" is a private medical institution with better quality services.
Packing List for Chile
Because the climate varies among regions and seasons, this packing list provides you the basics for being comfortable in the majority of circumstances while travelling in Chile.
You will want to adjust accordingly based on your specific travel locations, seasons and activities.
Men/Women
2x Long pants
3x Shorts
5x Short-sleeved shirts
2x Long-sleeved shirts
Undergarments
1x Sweater
1x jacket windbreaker
1x Rain jacket
1x walking shoes that are waterproof
1x flip-flops
1x tennis shoes
Breathable socks
Miscellaneous Items (optional, as necessary)
Headlamp
Camera/Tripod
Cellphone
Power adapter
Lip balm
Sunscreen
Towels
Sunglasses
Sun hat with a wide brim and a chin strap
Bandana (because of dust)
Insect repellent
Cosmetics
Hand sanitizer
First aid
Guide book and a map
Pocket knife
Book with everyday phrases in Spanish
Chile Travel Tips
Travelling in Chile is rewarding and exciting. There are many things to see and do.
But whether you are travelling in Chile for a few days, weeks or months there are some basic Chile travel tips for which you should be aware.
Taking photographs of military buildings and personnel is strictly prohibited.
Bring an insect repellent (especially during summer) to protect against bugs such as the tábano (a large biting horsefly).
Make sure to get all your pre-trip vaccinations.
Tap water is safe but it has high mineral content so it might cause some stomach discomfort. Bottled water is plentiful and reasonably priced in most places and makes for a great alternative to tap water.
Most restaurants will include a 10% tip on your bill. It is always good to check to make sure that you are supporting the local food workers.
It is best to change money in one of the change offices in Santiago rather than in rural areas. You may not always be able to find places to exchange currency in rural areas. Having a few extra US Dollars might get you out of a bind if you run out of Chilean Pesos.
If you're traveling to different regions of the country – pack accordingly! The country has several different climates hence extremely different weather conditions.
Check Out Our Chile Posts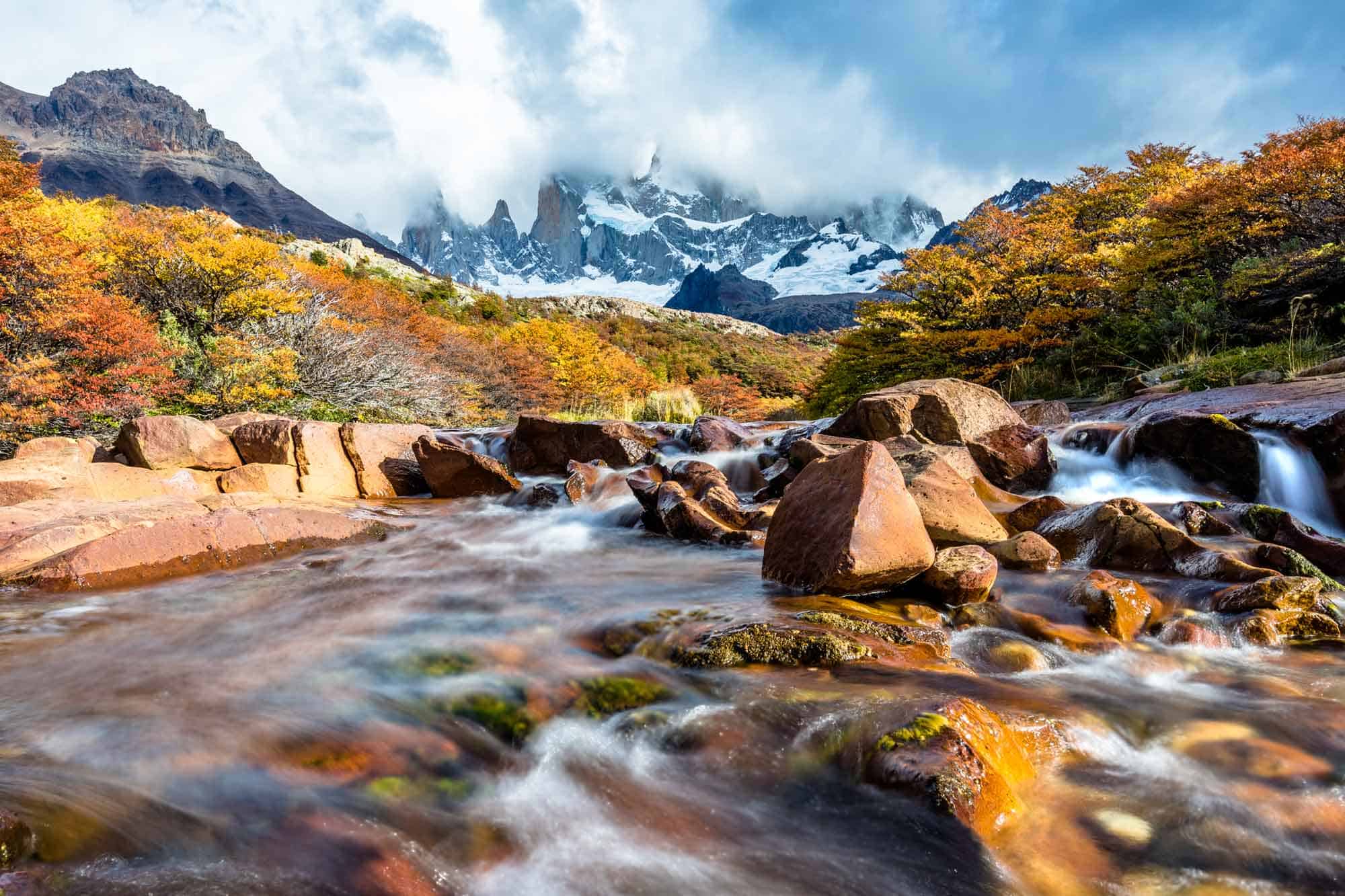 Everything you need to know about hiking in Patagonia. From trekking in Torres del Paine to El Chalten and everywhere in between, this list of…