So you've made the life-changing decision to go backpacking around the world. Excellent! You'll never turn back!
But now you'll need some travel packing tips to know what to take with you and to get the most out of your limited storage on the road.
My first time leaving home with a backpack I over-packed dramatically. I did so because I didn't know what to pack or how to pack.
It got so bad that one time I bought some wheels for my backpack so I didn't have to wear it.
Now how bad is that! It totally defeats the purpose of 'backpacking'! Very lazy and a total rookie mistake.
After many years now I am wiser and a lot better at knowing what to pack. Here are some tips I learned the hard way that will make your first backpacking experience much easier on your back!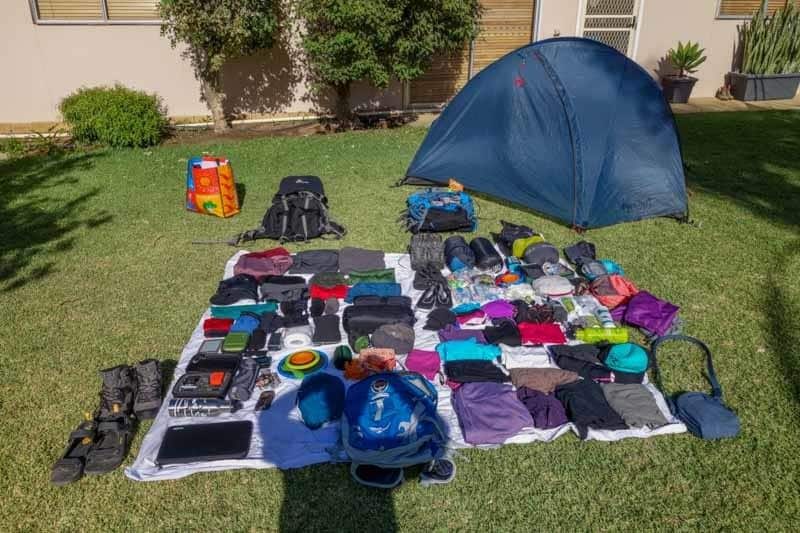 Now, Show Me The Travel Packing Tips!
These are our friend – our best friend. We have had top loader backpacks for a while now and having these are a lifesaver. When you put something down the bottom of your bag, all you have to do is pull out the cells and there it is! I have 4 cells (they come in different sizes). One for shirts, one for pants/shorts, one for underwear, and the other for random things. I can fit so much into them. No matter what type of luggage you choose, these are the greatest thing ever! Best way is to lay it flat, not roll. Get yours on Amazon!
Great to compact your larger clothing items, like a jumper/sweater or sleeping bags. We have compacted our sleeping bags into small compression sacks to make them smaller. They have been especially useful when we had to pack heavier clothes for cold-weather climates, which you may not be grabbing every day. Buy it on Amazon.
Unless the sun is shining and it's really hot where you are travelling to, everyone needs a towel to dry themselves after a shower. We have tried a couple of micro fibre towels and our favourite is the chamois-like material. It dries you better and also dries itself quickly. Grab a towel here.
During the day I will use them as shorts, but in the evening I will turn them into pants. All I have to do is zip off the legs. These pants/shorts combos are awesome. They usually have many pockets that, while not the most fashionable, are extremely useful when you need to carry many different items on you (passport, wallet, map, etc). They come in all styles, so you will be able to find a mutual colour to go with everything. They are also light and usually dry quick. Buy your convertible pants on Amazon.
You can wear a shirt one day, wash it at night and wear it the next day again without worrying about being "that" smelly traveller!. We have lots of quick dry clothing, and love the practicality of them. We only pack three shirts, one pair of pants (that converts into shorts), one pair of swimming trunks, and four pairs of underwear each. They are all quick dry, and serve out purposes perfectly. Being able to do your own laundry at night also helps you save money. See below.
One thing you can never escape is mosquitos! Sometimes your accommodation will not have mosquito nets to protect you from them, so sleeping in this liner can help.. They are lightweight and fold down to nothing. Some accommodation strangely provides you with a rug/blanket, but no sheets. The cheaper ones will provide nothing at all besides the bed! If you are worried about cleanliness, the silk liner can help ease your mind. They are also perfect for covering yourself up during hot nights. We also keep them in our sleeping bags, to help keep those clean. Buy a silk liner.
Universal plug, clothesline and washing powder
This has saved us a good amount of money, and time waiting for our clothes to be laundered. We wash our clothes in our accommodation's sink and hang them where ever we can with our clothesline. Some hotels have a note saying no laundry, but at the end of the day a shirt and underwear is not a lot. If you make washing your own clothes a regular part of your routine, you will always have a clean wardrobe to wear – along with some extra spending money! Grab a travel laundry kit here.
I know this is a strange one but I use my sarong all the time. It can be used as a beach towel, to cover your shoulders or legs if you are visiting temples, a rug for the floor to sit on, a blanket to keep warm on the bus, padding for fragile items, and much more. Or you can get creative and turn it into a fashionable dress.
Lightweight Rain/Wind Resistant Jacket
One thing you cannot control is the weather. In many tropical locations, it can be a beautiful sunny day at one moment, and be pouring rain the next. The weather has a mind of its own. We have light weight rain jackets that can be compressed to take up hardly any room. They are handy to have in the top pocket of your bag just in case a storm rolls through. Don't leave without a North Face rain jacket.
Fold-Up Backpack/Shoulder Bag
When we first started traveling we had big 80L backpacks, and a smaller 20L one for the front. Each. When you have lots of spare space you have a tendency to fill it with stuff you do not need. Now we carry 40L and 50L backpacks, and it is still more than enough. You will want a little backpack to carry your belongings during long journeys on transport, and for day trips. We have found that having a pocket-fold up backpack fills this role perfectly. The only thing with these type of bags is that you need to watch the amount of weight you put in it. Great for simple things, like a sweater, passport, iPad, iPhone, etc. Those valuables you want to carry on you instead of throwing down in the cargo hold. Buy a packable backpack here.
These essential covers fold down to nothing. You have the lightweight jacket to protect yourself from the rain, now you need to protect your belongings! If you really want to go on the cheap, a large, strong garbage bag also works. Short trip? Just buy a cheap rain cover. Long trip? Get something a bit more durable.
Flip Flops/Sandals And A Pair Of Hiking/Walking Shoes
You do not need high heels, flats, dress shoes or nice boots on a backpacking trip. All you need is a pair of flip flops or sandals and a pair of walking shoes to get you around town. If you do a lot of hiking, get a pair of boots that are designed for this activity. Those are the only shoes we travel with and that is all we ever need. In the summer you do tend to live in your flip flops, so you might have to replace them a few times. Teva sandals are awesome, and we've always used and recommended Salomon hiking boots.
Do you have any of your own travel packing tips? Leave a comment below and let us know what you would recommend for a first-time backpacker!