From hiking on the famous Mt. Fuji to spending quality time with fury residents of Rabbit Island, these are just some of the activities you can decide on from our pick of the best Japan day trips.
Stuck On Where To Visit Next? Here's Our Pick Of Best Japan Day Trips!
Often times, the most stressful part of organising a Japan trip is plotting a sensible route through the country.
While this isn't as much of a problem for travellers who don't mind following the established Tokyo-Kyoto/Osaka-Hiroshima tourist trail, adventurous visitors often find it impossible to plan a trip to Japan on their own.
One way to strike a happy medium between these two travel styles is by organising your itinerary as a series of Japan day trips from popular cities, whether that means visiting Mt. Fuji on an excursion from Tokyo, or spending one of your days in Kyoto in nearby, deer-filled Nara.
These are my favourite day trips in Japan to take, no matter where in the country you'll be travelling.
Day Trips from Tokyo
Kamakura
Historical Kamakura isn't always the first choice for travellers when it comes to Tokyo day trips, but it probably should be.
In addition to a variety of Zen Buddhist temples that date back as far as the 8th century, Kamakura is home to Japan's famous "Big Buddha," and Hokoku-ji, a bamboo forest I personally find more appealing than its famous cousin in Kyoto.
Mt. Fuji
It's a popular choice to take a Tokyo to Fuji day trip, and while I'd personally recommend staying a night if you can, it's easy to do this in just a day.
The easiest way to do this is to take a Fujikyu Highway Bus direct from Shibuya station to either Fujiyoshida (where you find iconic Chureito Pagoda) or Kawaguchi-ko, which is home to gorgeous Lake Kawaguchi.
Nikko
A Nikko day trip is probably the #1 choice among Tokyo travellers, and with good reason.
The Tosho-gu Shrine alone, which dates back to the 17th century when the Tokugawa Shogunate ruled over Japan, can occupy hours of your time as you explore the vast hillside it covers.
You should consider an overnight trip if you want to spend time at the mountains and lakes outside the city.
Day Trips from Kyoto and Osaka
Himeji
It might seem strange for Osaka day trip travellers to visit a castle, considering that Osaka's is probably the most famous in Japan.
But while Osaka-jo deserves all the hype it receives, the ornate, white Himeji Castle is certainly the most beautiful castle in Japan. Plus, it's only 15 minutes by foot from Himeji Station, which makes it convenient if you don't have much time to spare.
Don't miss our brand new guide on what to do in Kyoto. Click here to read it.
Mt. Koya
If you're looking for a way to take your Kyoto itinerary to the next level, consider a day trip to Mount Koya.
If you want to trek the 25 km trail to the top, you'll need to spend the night, but if you don't mind riding a cable car to the top (and back down) from Gokurakubashi station, you can take a Koyasan day trip from Kyoto or Osaka.
Nara
Many travellers search the internet for a Tokyo to Nara day trip, but this is a much easier feat if you're already in the Kansai region.
Whether you come from Kyoto or Osaka, a day trip to Nara allows you to get up-close and personal with Japan's largest population of urban deer, not to mention some of the oldest and largest wooden structures in the world.
Nara is also one of the best places to visit in Japan, so don't miss it.
Hiroshima Day Trips
Japan's "Rabbit Island"
Okunoshima isn't necessarily first among day trips from Hiroshima Japan, but it's certainly one of the most unique.
That's because this island, which is just a short ferry ride from JR Takehara Station, is home to more rabbits than people.
Many rumors exists as to the reason for this, many of which are conspiratorial in nature, but I doubt you'll care as rabbits surround you from all sides.
Kintai Bridge
If you've ever seen pictures of a gorgeous wooden bridge in Japan and don't know where it is, it's probably the Kintai Bridge.
Located in Iwakuni, about 10 minutes by bus from Shin-Iwakuni Station on the Shinkansen line, it's an easy day trip from Hiroshima.
The bridge, which dates back to the late 17th century, is particularly beautiful in early April when cherry blossoms are the their peak.
Miyajima
As is the case with Kintai Bridge, many travellers have seen an image of a floating Japanese gate, but don't know where it is.
There are several throughout the country, in fact, but the most popular is Itsukushima Shrine, located on Miyajima island just off the coast of western Hiroshima city.
This is a particularly worthy Hiroshima day trip if you missed Nara, since Miyajima is also home to deer.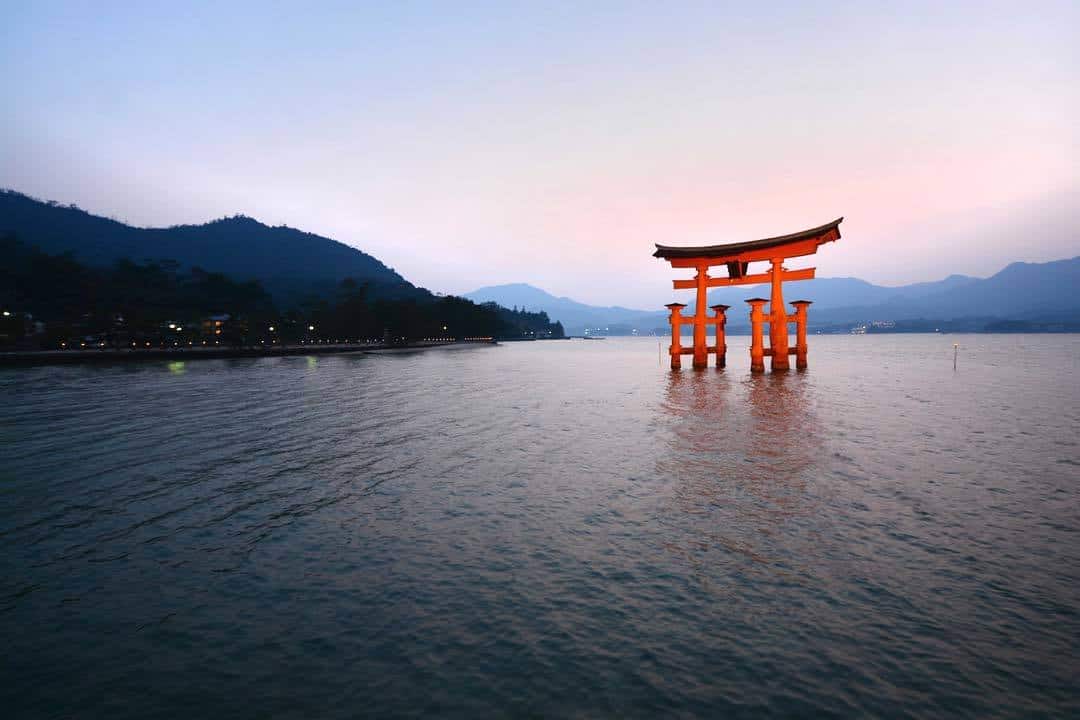 Hokkaido Day Trips
Looking for the ultimate trip? Check out our guide to planning the perfect Hokkaido itinerary.
Furano Lavender Fields
Reaching the Hokkaido lavender fields is easy—you simply get a train or bus to Naka-Furano, just a few hours from Sapporo, and make a leisurely walk to one of two lavender farms owned by Farm Tomita.
Unfortunately, peak lavender season lasts just two weeks in July, so if you make the day trip here from Sapporo, you might end up in Biei, which is where you find the aptly-named "Blue Pond."
Noboribetsu
If you want to experience Hokkaido hot springs but haven't booked a stay at Jozankei, another option is visit Noboribetsu.
While a day pass at one of the onsenhere is an alluring option in winter, summer travelers to Noboribetsu will likely prefer a hike or trek, which allows you to walk across the volcanic terrain that has made this part of Hokkaido such a popular bathing spot.
Otaru Canal
An Otaru day trip is probably the easiest option from Sapporo, with the train journey taking around an hour, and just one attraction—historical Otaru Canal—standing out above the rest.
If you want to turn it into a longer day, you can get a bus from Otaru to scenic Cape Kamui, which is one of the most impressive coastal vistas in Japan's northernmost island.
Other Popular Japan Day Trips
If you travel to Japan in winter, you're probably curious about how to see Japanese snow monkeys, and where the best place to start is.
While you can see these critters from Tokyo, the best place to set off on this popular day trip is from the castle town of Matsumoto or Nagano, where the 1998 Winter Olympics were held.
Another popular Japan animal day trip is Zao Fox Village, which is accessible via the city of Sendai.
You can visit Japanese cities on day trips as well.
For example, you can take a day trip to Yokohama, which is famous for its Chinatown as well as the quirky Cup Noodles Museum, from Tokyo.
From Kyoto or Osaka, meanwhile, cosmopolitan Kobe is within day trip distance; a traveler who stays in Hiroshima can visit Fukuoka (and the nearby reclining Buddha at Nanzo-in) in just a day.
The Bottom Line
By structuring your itinerary around Japan day trips, you can travel through the country in a linear, logical way, but still experience an eclectic and adventurous array of destinations.
Whether you escape futuristic Tokyo for the rich history of Nikko, or trade the tragic museums of Hiroshima for the cuddly rabbits that make their home on a nearby island, Japan's most exciting sights are rarely more than a day away from its major cities.
Which one of these Japanese day trips is your favourite?