Our experience of staying in a traditional ryokan guesthouse in Murakami, Japan.
After spending a fantastic 3 weeks travelling around Japan, visiting everything from the country's biggest cities to its quaint mountain villages, there was one experience left that we still wanted to try – stay in a ryokan.
These traditional Japanese inns are found all over the country, offering tourists a unique accommodation encounter.
Ryokans have a rich history, with the first one being established in the 8th century as the oldest hotel in the world.
Designed as an open, communal space, guests are welcomed with tremendous hospitality and given an opportunity to dive deep into Japanese culture.
A ryokan is more than just a place to rest your head. Staying in one is an experience.
Many of our friends had visited ryokans on their own trips to Japan, and having heard so many positive reviews about them, we couldn't wait to finish our own travels with one.
READ MORE: Check out our complete list of the best places to visit in Japan!
Iromusubi Guesthouse – The Best Ryokan in Murakmi
We had travelled to the west-coast town of Niigata towards the end of our Japan trip, with the plan being to check out the beaches of nearby Gatsugi.
Afterwards we were excited to stay in the best ryokan in Murakami, the brand new Iromusubi Guesthouse.
We couldn't check in until the afternoon, so not wanting to waste the day, we jumped on a train to Murakami, transferring to the scenic rural train to the small fishing village of Gatsugi.
The ride was gorgeous, winding along the coast with spectacular views over the Sea of Japan punctuated with farmland and rocky headlands.
After spending the morning wandering around Gatsugi (more information on what we did there below), we met Mrs Sayo Furubayashi, one of the owners of Iromusubi Guesthouse, at the station.
She had come out to Gatsugi to pick us up, and with her bubbly personality and decent English, we immediately hit it off.
It was a 45-minute drive to the guesthouse, and along the way, Sayo stopped off at a natural spring to fill up jugs of water for cooking that night.
The spring was believed to be high in minerals, and Sayo was excited to prepare a meal for us that night using it.
Soon enough we arrived in the small village of Sasaki, just outside of Murakami, home to Iromusubi Guesthouse.
Sayo excitedly welcomed us inside her place, and we were instantly in awe.
The entire bottom floor was designed as an open space, with mats set on the ground surrounding small tables.
Large windows let in an abundance of natural light, with views over the outside gardens and distant fields.
Traditional Japanese paintings and calligraphy hung on the walls, gentle music played in the background, and the soft ambience was warm and welcoming.
It was absolutely beautiful, and exactly what we had expected a ryokan to be like.
READ MORE: Don't miss our ultimate guide to travelling in Japan!
Sayo asked us to sit down and relax while she prepared a fresh batch of green tea.
She pointed out the wifi password, but we were so mesmerised by the atmosphere that we simply sat there quietly, soaking it all in.
After drinking our tea Sayo took us up to our room on the top floor, pointing out the communal bathrooms on the way.
In ryokans, the bedrooms are often basic, with just a thin Japanese mattress laid on the floor.
We dropped off our bags and wandered back downstairs to see what Sayo had planned for us.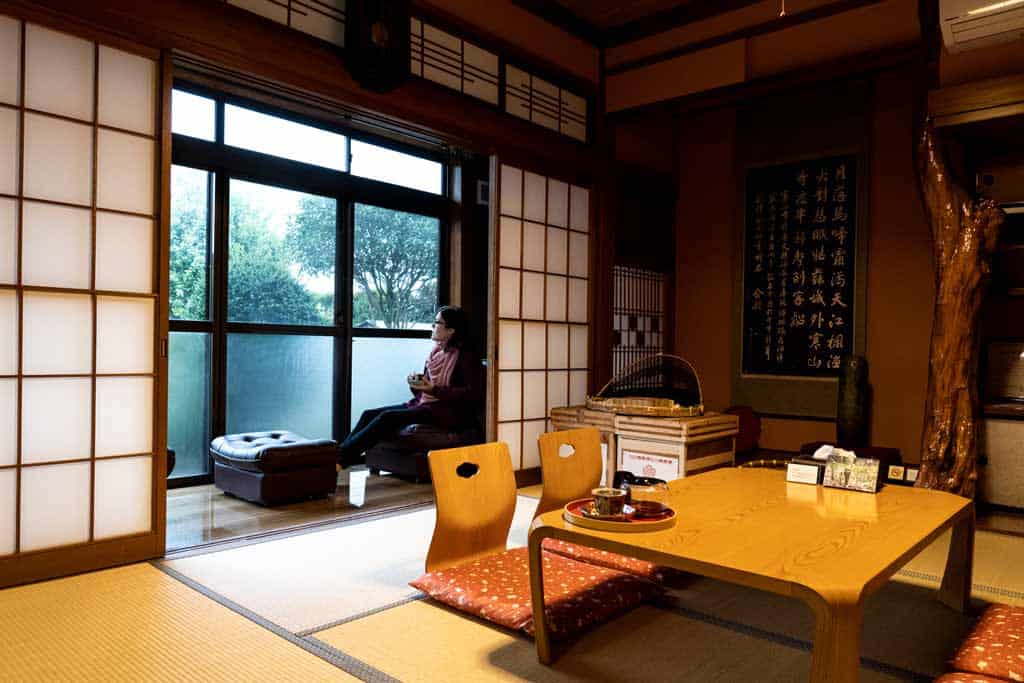 Iromusubi's Experience Program
What sets Iromusubi Guesthouse apart from other ryokans in Japan is their 'Experience Program', that offers guests the chance to try out a range of different things.
We had gone for the deluxe package, that included almost all of the experiences, and we couldn't wait to try them out.
The first of the activities was to drive out to the coast to watch the sunset, and Sayo loaded us into her car and hit the road.
It was a short drive to the beach, but unfortunately some heavy clouds had rolled in and we didn't get any sensational colours.
To be honest, the beach we visited wasn't that great, especially compared to the ones we had seen at Gatsugi that morning, and isn't an experience we particularly recommend.
Once we returned to the house, Sayo set up some herbs and flowers so Alesha could have a relaxing bath.
Feeling rejuvenated, we got ready for dinner and Sayo introduced us to 'Aunty', the cook of the house.
Aunty was excited to prepare us dinner, using the natural spring water Sayo had brought with us, and a collection of delicious fresh vegetables from her own garden.
We sat at a table downstairs and got tucked into some delicious appetisers.
Soon another man arrived at the guesthouse and introduced himself as Takuya's (Sayo's husband) best friend.
Takuya was out of town on a family matter, so he had asked his friend to come and help with cooking a Japanese barbecue for us as part of another experience.
We wandered out into the backyard, where there was a workshed set up with a coal barbecue.
We grabbed a seat, cracked a tasty Japanese craft beer, and chatted away while Aunty and the friend cooked up some delectable Wagyu beef.
With all the meat cooked (and of course sampled, as they kept feeding us as bits were ready), we headed back inside to enjoy the rest of dinner.
We lost count of the number of dishes that came out, but each portion was more delicious than the last.
Downing it with high-quality Sake, the courses soon wound down, and we sat around having wonderful conversations with everybody about life in Japan and travel.
Time got away from us, and after the huge day and early start, we headed to bed exhausted just before midnight.
Vegetable Picking for Breakfast
Our final experience at Iromusubi Guesthouse was going to be vegetable picking with Aunty and Sayo for breakfast.
We woke up at 6am and headed off to their nearby vegetable garden, a short drive away.
The village of Sasaki is known for having some of the best vegetables on the east coast, and we were excited to go and pick our own.
Aunty took us through the organic, sustainable garden collecting a whole range of produce, many of which we had never seen before.
Alesha was in her element, and immediately started drawing plans for her own veggie garden when we eventually get a home.
Loaded up with food, we then made our way back to the guesthouse.
While we waited for Aunty to prepare the vegetables we had picked, we sat by the window looking at the garden, sipping on some amazing coffee Sayo had made for us.
Soon the dishes were brought out, and we got stuck into one of the freshest and healthiest breakfasts of our entire lives.
The vegetables were simple yet delicious, and each one was bursting with different flavours.
Once we had finished it was time sadly time for us to leave. There was a festival going on in Murakami that we wanted to see before heading back to Tokyo to catch our departure flight.
We said our goodbyes to Aunty and thanked her for her amazing food and hospitality before loading up the car with our bags for Sayo drove us into town.
Our first ever experience in a traditional Japanese ryokan in Murakami was absolutely sensational, and it really was better than we ever could have imagined.
The experience program, while not exactly cheap, definitely added a whole different element to the accommodation, and gave us a greater insight into what life in Japan is really like in the countryside.
If you're looking for a unique thing to do in Japan, definitely come and stay at Irumsubi Guesthouse in Murakami!
Murakami and Ryokan Travel Guide
To help you make the most of your time at Iromusubu Guesthouse and Murakami, we've put together this travel guide with things to do, how to get there and costs.
How to Get to Iromusubi Guesthouse
By far the easiest way to get to Iromsubi Guesthouse in Murakami is to take the train.
By purchasing a JR Pass you can travel all around on Japan's extensive rail network with unlimited travel, making transport very cost-effective.
Take the train to Niigata Station first, then make your way to JR Sakamachi Station using the Hakushin Line and Uetsu Main Line.
Sayo or her husband Takuya will happily pick you up from the Sakamachi Station if you call them.
How Much Does the Ryokan Cost?
We'll be honest here – staying in a ryokan isn't a cheap experience, but it's the same all over Japan no matter where you do it.
That being said if you want to do something really unique, it's worth doing in our opinion.
Here's a breakdown of what we spent at Iromusbi Guesthouse. Please note that the experience program is optional.
All prices in Japanese Yen and per person:
Accommodation (dinner & breakfast): ¥9800
Sunset Viewing: ¥1000
Barbecue: ¥2980
Herb Bath: ¥1000
Harvesting Vegetables: ¥1000
Murakami Town Walk: ¥2980
Rice Wine: ¥300 per glass
Craft Beer: ¥650 per bottle
Total spent for the two of us, including 10% tax: ¥44,070, or about USD$400.
In our personal and honest opinion, many of the experiences are slightly overpriced for what they are.
If you didn't want to completely splurge out, you could very happily just pay for the board, dinner and breakfast, which works out to be about USD$100 per person.
Things to Do in Murakami
While you're in town, you may as well check out some of the cool things to do in Murakami.
Visit Gatsugi Village
The train ride to Gatsugi ( 勝木 ) village from Murakami is delightful, and especially when you compare it to the modern, high-speed shinkansen that get around Japan.
The train is very old fashioned and moves quite slow. You can also open up the windows and get fresh air as you chug along past gorgeous beaches and farmland.
The village of Gatsugi is quaint, with narrow streets twisting between timber houses.
The fishing port side on the south of town is not worth visiting, so stick to the northern side.
Climb to Hakogata Hachimangu Shaso Shrine
After you're finished walking around the village, hike up to the Hakogata Hachimangu Shaso shrine ( 筥堅八幡宮社叢 ).
Located on the nearby 80m-high mountain looming above the village, this shrine has been designated as one of Japan's Natural Monuments.
Shaso means 'the grove of the village shrine', and the timber building is surrounded by ancient trees.
Goishi Beach
Further north from the hill and village is Goishi Beach.
The large, round pebbles that make up the coastline here are similar to the ones found in the popular Japanese game 'Go', which is where the beach got its name.
If the weather is nice it can be a pleasant walk along the beach here.
See the Machiya Byobu Exhibition
From mid-September to mid-October every year, Murakami hosts the famous Machiya Byobu Exhibition around the town.
For the entire month locals open up their homes and shops to visitors to display their collections of artistic folding screens (byobu).
Many of these byobus date back to the Edo period between 1603 and 1868, and offer a great insight into historical Japanese art.
It's completely free to attend, as it's a government-run initiative.