Welcome to our complete guide on the best things to do in Kyoto at night.
When travellers consider where to go in Japan, the city of Kyoto is usually at the top of the list.
With some of Japan's most famous temples and traditional culture at its heart, Kyoto is a must-see for any first-time visitors to the country.
Most people plan out their days in Kyoto easily, but what are some fun things to do in Kyoto at night?
READ MORE: Check out our perfect '3 days in Kyoto' itinerary to make the most of your trip!
Things to Do in Kyoto At Night
Here are 18 of the most amazing things to do in Kyoto at night!
1) Take in the View
There are several great places to look down on Kyoto after dark. The easiest to reach for many people is the observation deck of Kyoto Station.
Not far away is the Kyoto Tower, which considerably higher.
Then there are some of the famous hillside temples on the east side of town.
Kiyomizudera and Kodaiji are great around sunset as night falls on Kyoto.
Nearest Subway Station: Kyoto Station's Karasuma Central Gate
Opening Hours: Observation deck hours vary depending on the times of the last train. The Kyoto Tower is open until 9:20 PM (last entrance at 9 PM).
Price: Observation Deck free. Kyoto Tower ticket prices are as follows: ¥800 for adults, ¥650 for high school students, ¥550 for primary & junior-high students, ¥150 for kids under 6 years old.
Buy your ticket for the Kyoto Tower here.
2) Grab an Early Bite at the Nishiki Market
If you're looking for an early evening nibble, then Kyoto has several venues for you.
One appetizing location for snacks and window-shopping is the famous Nishiki Market.
Many people recommend visiting the market early in the morning. Yet most people don't know is that the market is just as interesting near closing time.
What's more, it's usually less crowded, and you might even find a deal on some snacks that didn't sell earlier.
Nearest Subway Station: Karasuma Station or Kawaramachi Station
Opening Hours: Most stores open 9 AM to 6 PM, but hours vary.
Price: Free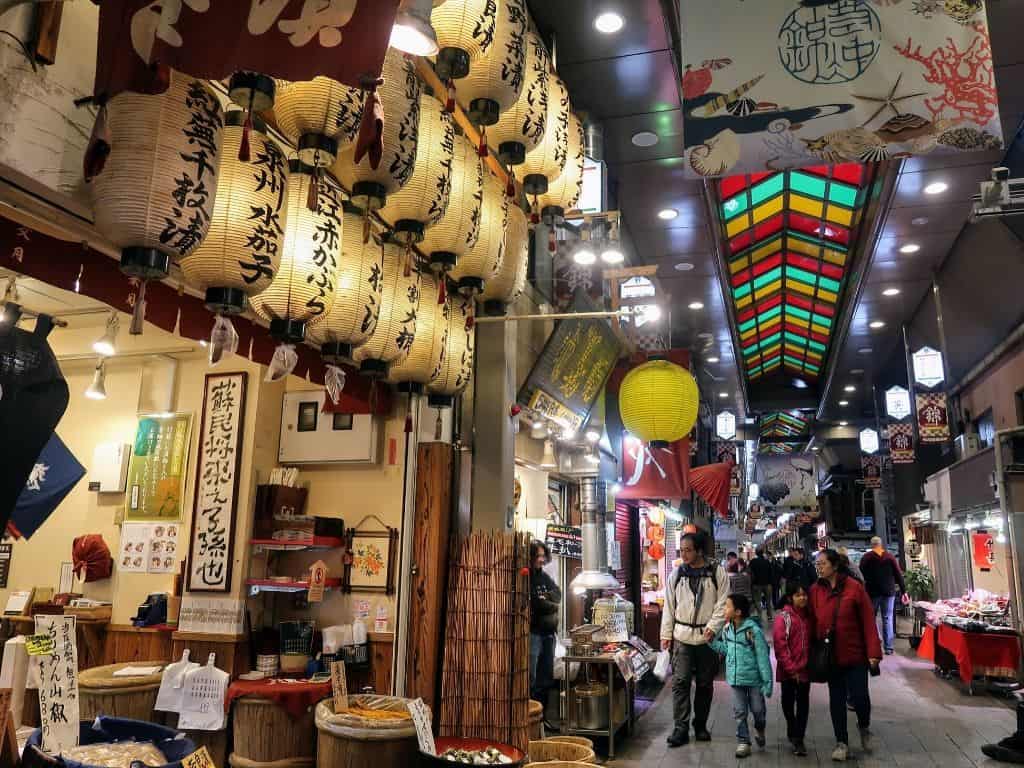 3) Or Whet Your Appetite in a Department Store
Japanese department stores often reserve their underground floors for high-end supermarkets and delectable prepackaged meals.
You'll also find loads of traditional candies and other goodies. Some of the sweets here are packaged and displayed so beautifully behind glass that it looks more like a jewellery shop than desserts.
Two Kyoto department stores we'd recommend visiting are Daimaru and Takashimaya.
Both are great places to grab a luxury bento before heading to the river for an impromptu picnic under the stars.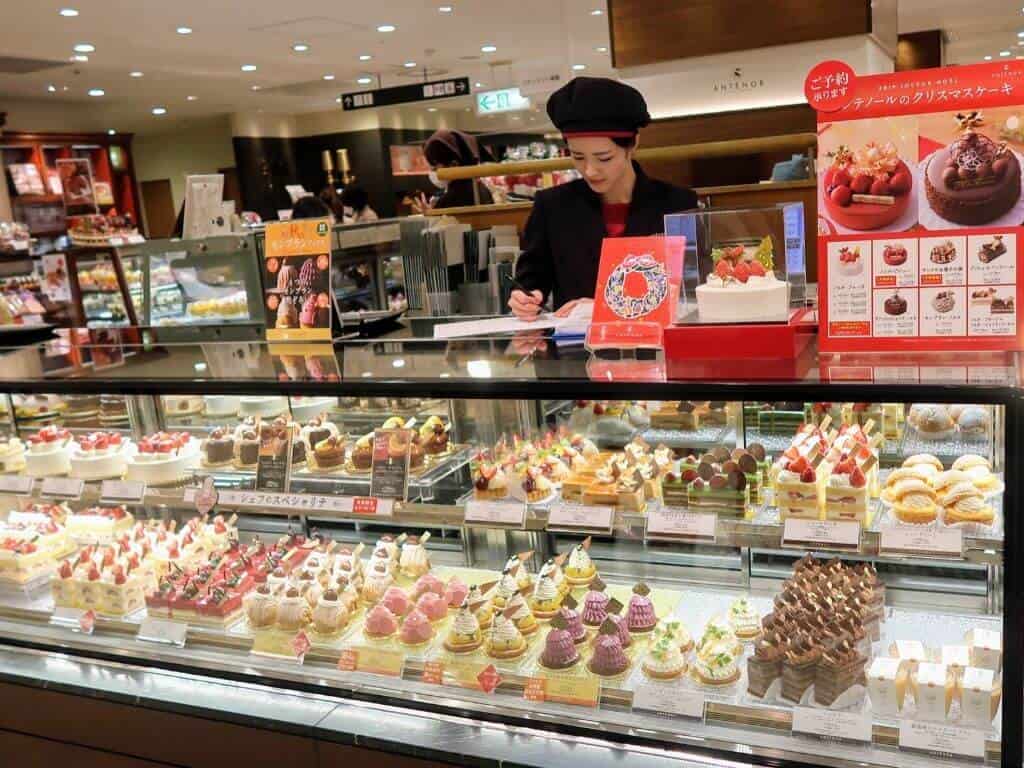 4) Lounge by the Kamogawa
If you're looking for a relaxing thing to do in Kyoto at night, head over to the Kamo River.
The river runs north to south, separating most of Kyoto City from the Gion district and some of the most famous temples and shrines.
During the summer months, the riverbank near Gion and the Shijō Bridge will be populated with street musicians and students out for a stroll.
Walking away from Gion, the paths turn into grassy knolls that are a great place to get away from the crowds.
Just keep in mind that it's not well lit. The only people you're likely to run across are young couples looking for a secluded spot.
The risk of crime is minimal, but women travelling alone should always practice caution as there are few people in this part of Kyoto at night.
Nearest Subway Station: Sanjo Station, Gio-Shijō Station or Kyoto-Kawaramachi Station
Opening Hours: 24 hours
Price: Free
READ MORE: Plan your trip to Japan with our Japan Travel Guide.
5) Look for Street Musicians
Despite Kyoto's ancient roots, it's a surprisingly young city. Some of Japan's best universities and art colleges are in the area, so you're likely to see a lot of students and other young people on the streets of Kyoto at night.
Some of them have band practice by the river, while others have taken to busking for some extra cash.
The quality of music varies wildly, but it's worth taking some time on a Kyoto evening to follow your ears.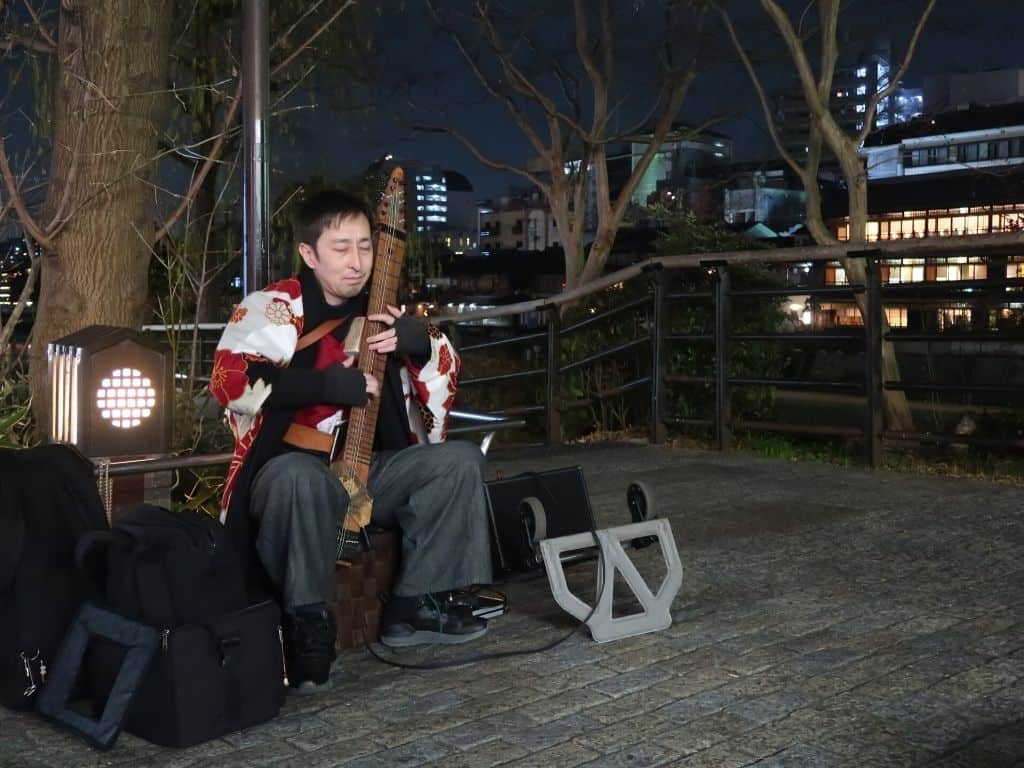 6) Snap a Selfie at Yasaka Jinja
There are a number of beautiful places of worship you can visit in Kyoto at night.
Most Buddhist temples and Shinto shrines close up and lock the doors around 5:30 pm or earlier. But some are accessible 24 hours.
They may not be technically "open," but you're welcome to visit.
Yasaka Jinja is one of the easiest shrines to visit in Kyoto at night.
Built and added onto between 656 and 994 AD, Yasaka Shrine sits at the edge of Maruyama Park facing towards Gion.
In fact, it is also referred to as the Gion Shrine. One of Japan's most famous traditional summer festivals — the Gion Matsuri — takes place here near the end of July.
This is a great shrine to visit at night because it's near downtown and stays lit long after dark.
The location also means that you can schedule plenty of other nighttime activities before or after visiting.
Both the Kamo River and Gion are a short walk away, and usually quite lively in the evening.
Nearest Subway Station: Gion-Shijō Station
Opening Hours: 24 hours
Price: Free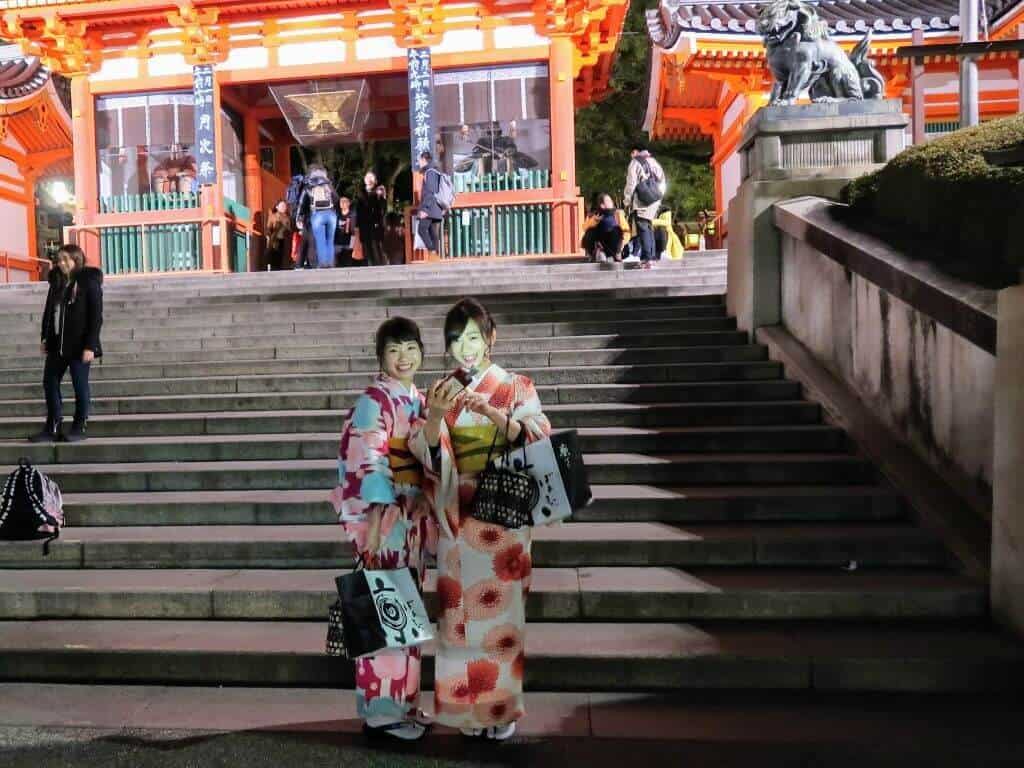 7) Play with the Shadows at Fushimi Inari
Another great shrine to see in Kyoto at night is Fushimi Inari Taisha.
This place is famous for its hundreds upon hundreds of vermilion Tori (traditional gates) that cover the walking paths.
It's beautiful in the daytime, but just as photogenic at night.
There are pros and cons to visiting Fushimi Inari at night.
One advantage is that the crowds have gone. I've been here a few times after 8 pm and it's so empty that it's a little creepy.
The disadvantage is that they are not as well lit and so it can be a challenge to get a good picture.
That said, the lanterns and streetlights great a great latticework of shadows that are fun to try and capture with a camera.
Sometimes the crowds make for a livelier atmosphere, so if possible, try to visit during the daytime as well.
Location: From Kyoto Station, take the JR Nara Line two stops south and follow the signs.
Opening Hours: 24 hours
Price: Free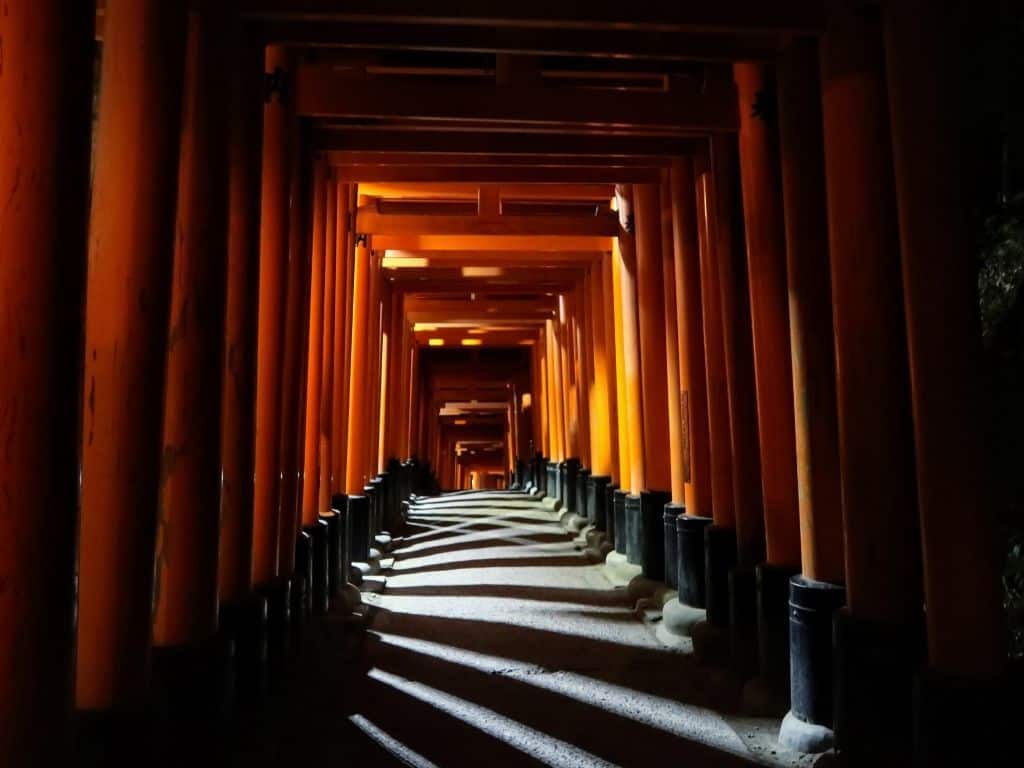 8) Walk the Length of the Pontocho Alley
This narrow lane is packed with traditional bars and restaurants. Running parallel to the Kamo River, Potoncho Alley is one of the most scenic spots in Kyoto at night.
It's only around 500 meters long but provides more atmospheric drinking and dining options than other streets ten times its length.
Unlike many Kyoto attractions, I recommend only visiting after the sun goes down, as it is not as impressive during the day.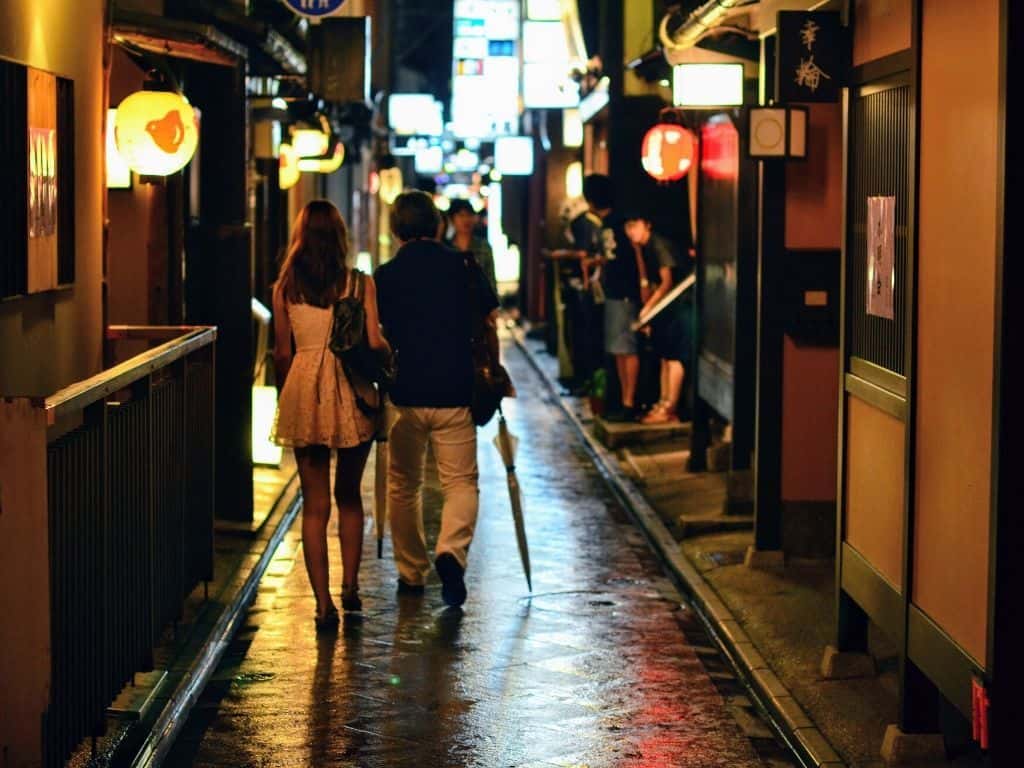 9) Wander Through Gion
Best known as the stomping grounds of working geisha, Kyoto's Gion district is a fascinating place to wander at night.
Streets like Hanamikoji Dori are lined with traditional wooden machiya houses.
Behind the doors of these houses are high-end teahouses and restaurants serving Kyoto-style fine dining.
This is also where many geishas and their apprentices (called maiko) entertain clientele.
If you're looking for things to do in Kyoto at night, this should be near the top of your list.
Nearest Subway Station: Gio-Shijō Station
Opening Hours: Stores vary.
Price: Free
10) Marvel at the Minamiza
The Minamiza is one of Japan's most famous kabuki theaters and an amazing place to see in Kyoto at night.
You can attend one of the many traditional performances here. But even if you don't, it's worth walking by to see the building lit up at night.
Nearest Subway Station: Exit 6 of Gion-Shijō Station
Opening Hours: Showtimes vary, but there's usually a matinee around 11 or noon and an evening show that starts at 4:30 or 5 PM. The Minamiza stays lit until late.
Price: Ticket prices and seating vary, but it's free to admire the building.
11) Walk Down Miyagawacho
Miyagawacho is another traditional stone street with machiya-style homes and maybe a geisha or two.
While lesser known than Gion, I like Miyagawacho slightly better as there is less neon and modern architecture in the periphery.
Segments of its main drag could be the set of a samurai movie if you could just edit out the occasional vending machine or luxury sedan parked nearby.
Nearest Subway Station: Exit 1 or Gion-Shijō Station or Exit 4 of Kiyomizu-Gojo Station.
Opening Hours: Stores vary but usually open until 11pm
Price: Free
12) See the Hanatouro Illuminations
Twice a year lanterns flood the streets of Kyoto for a week. In the spring, the streets of Higashiyama bask in the glow.
This is a great time to visit Yasaka Shrine and the Gion area, but the lanterns extend all the way to the foot of the mountains if you want to walk further.
If you visit Kyoto in the winter, then you can see the Hanatouro Illuminations around the Arashiyama area.
Most people know Arashiyama for the path through its famous bamboo grove.
During Hanatouro, the glowing, swaying stalks of bamboo take on an otherworldly brilliance.
Chances are you'll feel hungry after visiting here, so check out this cool food tour of Arashiyama you can book through Klook.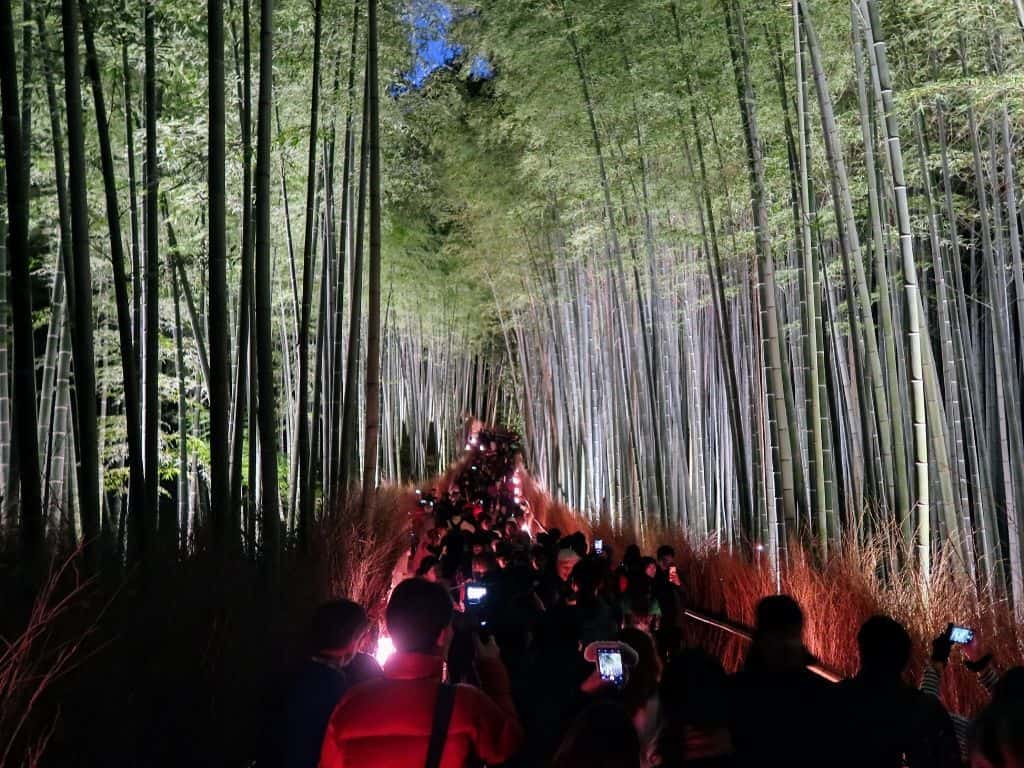 13) Stroll Down a Shotengai
There are plenty of great places to go shopping in Kyoto at night. Some of the best options are shotengai, which are traditional covered shopping streets that are easy to visit rain or shine.
Two of the most popular shotengai run parallel to each other close to the Kamo River.
Teramachi Shotengai is more traditional and caters to an older crowd.
On the other hand, Shinkyogoku Shotengai has a younger, hipper clientele, with shops selling everything from vintage clothing to iPhone cases using traditional Japanese motifs.
Both Teramachi and Shinkyogoku Shotengai are popular with travellers thanks to their proximity to the Nishiki Market.
You'll find plenty of ice cream and souvenirs for sale here. If you're interested in a more local experience, then visit Sanjo-kai Shotengai two kilometres to the west.
Sanjo-kai Shotengai caters more to Kyoto residents and is a fairly authentic thing to do in Kyoto at night.
Nearest Subway Station (Shinkyogoku Shotengai): Exit 9 from Kyoto-Kawaramachi Station.
Nearest Subway Station (Sanjo-kai Shotengai): Sanjo Station.
Opening Hours: roughly 10 AM to 8:30 PM.
Price: Free
READ MORE: Don't just hang out at night! Check out our guide of what to do in Kyoto during the day too!
14) Go Shopping
If the shotengai mentioned above don't satisfy your consumer urges, there are many more shopping opportunities in Kyoto at night.
For example, Shijō Dori is loaded with tempting ways to empty your bank account.
Here you'll Japanese branches of major Western brands (Patagonia, Gucci, Disney) as well as countless Japanese merchants selling everything from pearls to punk-rock kimonos.
Electronics superstore Bic Camera has a branch on this strip as well.
So do hip Japanese street-wear brands like Beams, Bathing Ape and FR2.
Location: Shijō Dori shops are at their most interesting from Karasuma Station on the west all the way to Yasaka Shrine across the river to the east.
Opening Hours: Store hours vary, usually closing between 7 PM 10 PM
Price: Free (window shopping, anyway).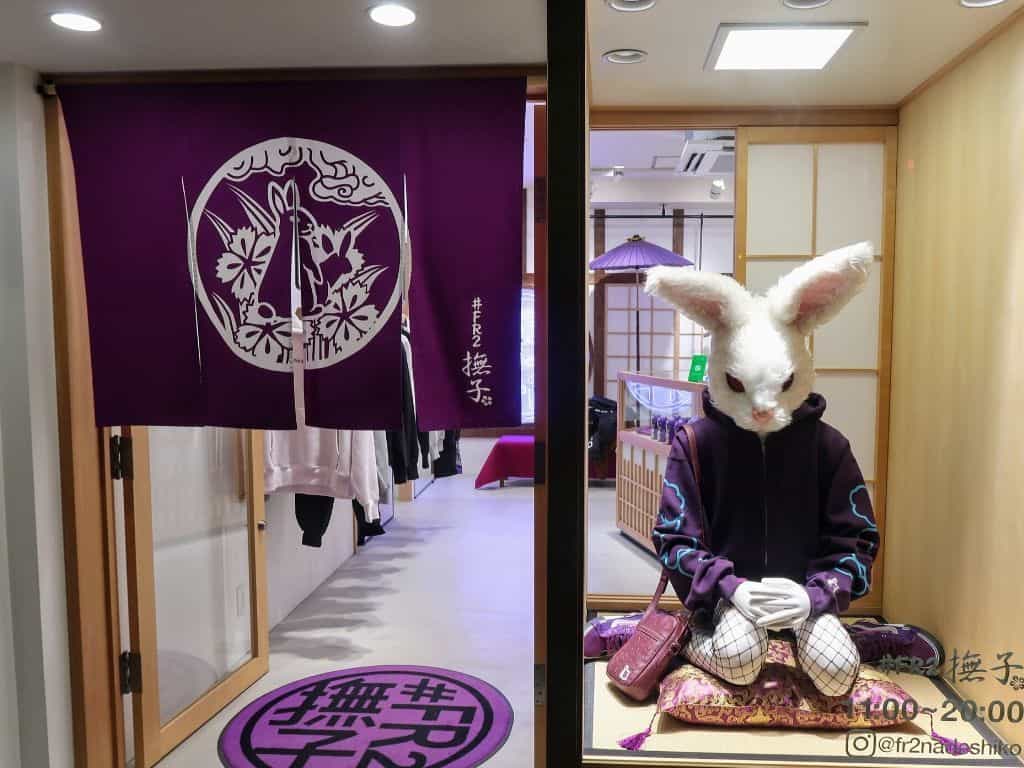 15) Tie One On
If you like bars and nightclubs, then you'll find plenty to do late-night in Kyoto.
There are a number of large universities and art schools in the area, which means lots of students looking for fun after dark.
Many of the best bars and nightclubs in Kyoto are just west of the Kamo River between Sanjo Dori and Shijō Dori.
16) Take a Food Tour or Bar Hopping Tour
There's nothing better than having a local show you around, and in Kyoto, that's easier than you may think.
There are a number of great Kyoto night tours built around the city's world-renowned food and spirits.
When I joined a Kyoto night foodie tour, we stopped at three restaurants for a multi-course feast.
They provided insight into the neighbourhoods we visited as well as the dishes we sampled.
The conversations were great and the variety of food and drinks to wash it down with made it one of my favourite nights in Kyoto thus far.
Location: Gion, Pontocho, and more.
Opening Hours: Magical Trip's Kyoto Night Foodie Tour starts around 6 pm and lasts around three hours.
Price: Approx. Between USD $65 and $100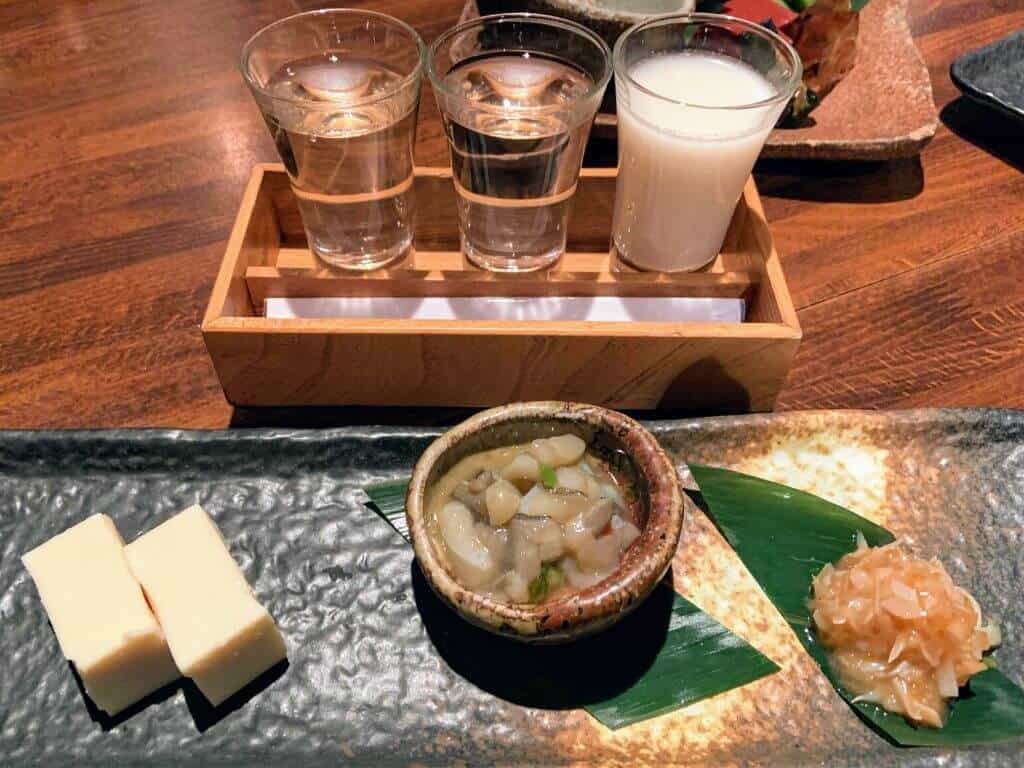 17) Sing Your Heart Out at Karaoke
That's right: you'll find karaoke bars and booths in various parts of the city.
After a few drinks, this can be one of the most fun things to do in Kyoto at night.
You may hear someone belting out a tune here and there as you walk around, but some karaoke bars are private local affairs.
Instead, I recommend going to a national chain like Big Echo.
They have numerous branches near Kyoto nightlife hotspots.
Location: Big Echo has multiple locations in Kyoto. My favourite is next to the Kamo River on Sanjo-Dori, near the statues of Yaji-san and Kita-san.
Opening Hours: 11 AM to 5 AM
Price: From 1500 yen and up, depending on the size of the group, length of stay and food/drink orders.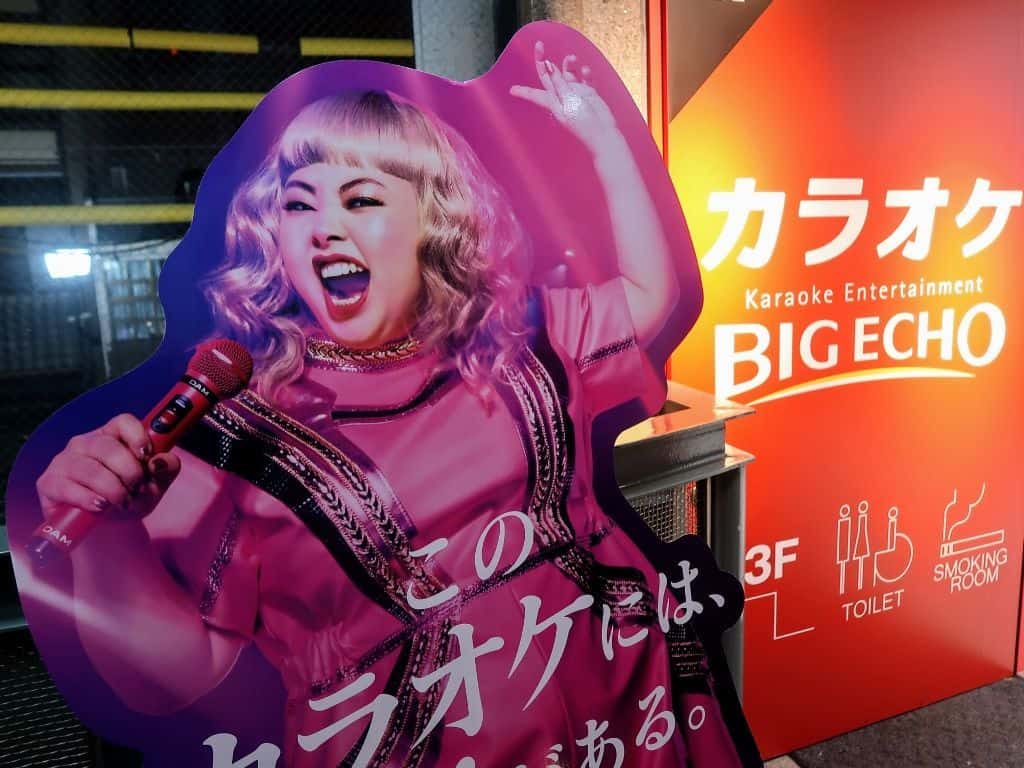 18) Have a Soak
If you're staying in Kyoto overnight, then I hope that you'll be sleeping in a Japanese ryokan with an onsen (traditional bath).
If not, hot springs like Fu Fu No Yu in Arashiyama stay open until 10 PM.
Book your spot at Fu Fu No Yu here on Klook.
Then there are the local sento, public bathhouses used by travellers and residents alike.
Sento are usually no-nonsense: simple tile rooms divided by gender with several tubs of varying temperatures and mineral contents.
Some even have an "electric" tub with a low-voltage current running through it (I am not kidding).
While a few hours at a nice onsen can set you back anywhere from 10 to 40 dollars, sento are usually more economical.
I love to stop in, wash off and warm up before heading back out into the night.
Just make sure you understand local bathing customs.
For example, always shower and clean yourself completely before getting into the tubs.
Nearest Subway Station (Fu Fu No Yu): Hankyu-Arashiyama Station
Nearest Subway Station (Ume-yu and Daikoku-yu): KiyomizuGojo Station.
Opening Hours: Fu Fu no Yu hours are 12 PM to 10 PM. Sento usually stay open until around 2 AM.
Price: Fu Fu No Yu costs 1000 yen for adults on weekdays, 1200 yen on weekends. Additional costs for towels, shampoo, etc. Sento costs around 500 yen.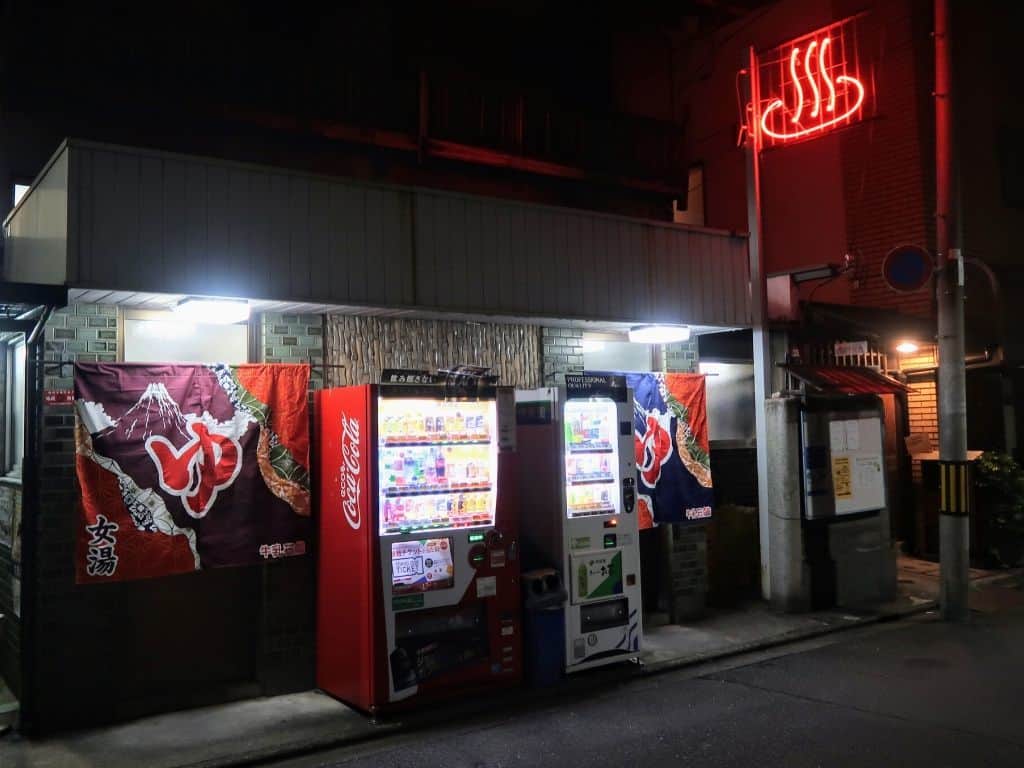 DISCLAIMER: Some of the links in this article are affiliate links, which means if you book accommodation, tours or buy a product, we will receive a small commission at no extra cost to you. These commissions help us keep creating more free travel content to help people plan their holidays and adventures. We only recommend the best accommodations, tours and products that ourselves or our fantastic editorial team have personally experienced, and regularly review these. Thanks for your support, kind friend!