From seeing a geisha show or walking the famous Fushimi Inari shrine in Kyoto to exploring the bustling metropolis of Tokyo or staring out at Mount Fuji, here's our list of the best places to visit in Japan.
Japan is a close-knit island nation that is known for its beautiful cities, unique food, amusement parks, temples, shrines, hot springs, and more.
Hidden gems and beautiful palaces are scattered around the country, from tiny villages right up to the commercial areas in Japan, such as Hiroshima, Osaka or Tokyo.
Travellers flock to Japan to see the beauty of cherry blossom season, or to hike Mount Fuji, ski in the Japan Alps, eat delectable sushi, and more.
But there are lots of unexpected things to do in Japan as well.
Character or animal cafés, vending machines offering a vast array of items, and aquariums showcasing rare and unique marine life are just a few of the best and most interesting things you can view while in Japan.
Don't travel to Japan without reading our ultimate travel guide!
The Best Places to Visit in Japan
Overall, there are so many must-see and must-experience places to visit in Japan due to the nation's rich history, location, and culture.
If you're planning a trip, make sure you use this list to make the most out of your travel to Japan.
1) Tokyo
Tokyo, the capitol of Japan, is obviously one of the best places to go in central Japan. While Kyoto is viewed as the spiritual center of Japan, Tokyo is seen as the most popular, busiest, and most significant city in the country, and there is no question why.
If you are wondering just what to do in Japan, it's common knowledge that starting in Tokyo would have you covered as a perfect introduction to the country.
Of course, the city is largely commercialised and there are endless activities to do, especially if you are looking for UNESCO World Heritage Sites.
On a clear winter day it is even possible to have views of Mount. Fuji in the distance!
It is important, however, to not forget the little things you can visit and explore – from simple and quiet parks to humble and interesting cafés or the occasional shrine or temple.
One unique place to visit in Tokyo would be Neko JaLaLa, a cat-themed cafe that offers more than your usual coffee destination in Tokyo.
There should be no question as to why Tokyo is famous and beloved for its several towers and overall interesting architecture. Buildings like the Tokyo Tower and the Tokyo Skytree should definitely be places on your travel list.
Both structures are known as Japan tourist spots and two of the best places to visit in Japan.
A trip to the Tokyo Tower offers a beautiful and breathtaking view.
The tower lights up beautifully and elegantly throughout the night, which is also a nice touch and a perfect photo scene.
The Tokyo Skytree offers several experiences throughout its tiers, aside from observation and obtaining a beautiful view.
If you are looking for a less-commercialised and more cultural Japan attraction that is located in Tokyo, the Kaneji Buddhist temple is one of the best things you can do.
Complete with intricately designed gardens, hallways, and statues, this temple is ideal for anyone looking for some relaxation time while in Tokyo.
Also consider taking a day trip to see Mount Fuji, the iconic symbol of Japan.
It doesn't matter if your stay in Japan is for 48 hours or two weeks, visiting Tokyo is a Japan must-see.
READ MORE: Check out our complete guide to the best things to do in Tokyo.
Check out our Japan Vlog on going to a crazy robot restaurant in Tokyo in Japan.
2) Osaka
Osaka is a port-based city that is full of interesting museums, attractions, and a fascinating variety of activities for any visitor to Japan.
No tour of the best places to visit in Japan would be complete without a trip to Osaka.
One thing to enjoy about this city is its versatile points of interest, and great opportunities for the Cherry Blossom season.
Whether it be the classic Osaka Castle or a fun amusement park such as Universal Studios Japan, Osaka really seems to have it all.
Dotonbori should ultimately be your first stop due to the influx of street food vendors, arcades, and shops.
After visiting the many wonderful fantasy worlds of Universal Studios Japan, you go go-karting around the streets.
Other popular attractions in Osaka are the beautiful and grand Tempozan Ferris Wheel, the peaceful Expo Commemoration Park, and the educational and intriguing Osaka Museum of History.
You haven't completed Japan sightseeing until you've made your way to Osaka. And from here it is just a short train ride to the famous city of Kyoto.
READ MORE: Check out our detailed guide on the best things to do in Osaka.
3) Nara
If you are looking for elegant cherry blossoms, peaceful Buddhist temples or the occasional Shinto shrine, then Nara is the ideal travel location for you.
Just a short distance from either Kyoto or Osaka, Nara City is the capital of the Nara prefecture and is one of the most captivating and interesting places to visit in Japan.
Shrines surrounded by peaceful, well-kept canals and ponds are a popular sight. As are long the beautiful and friendly deer that roam freely throughout the prefecture – which are one of the most unique things to see in Japan.
It is apparent that Nara might truly be one of the most peaceful, down-to-earth cities in the world.
Nara Park is a central park located within the city that is full of deer that peacefully roam the park. They are a beautiful and adorable sight to visitors.
One staple of Nara would have to be the several palaces, temples, and Buddhist shrines. Todai-ji is a perfect example and is located right in the city of Nara.
This temple is one of the largest in the area, and plays a great role in its history.
Deer are frequently seen in surrounding areas around the temple, which is a nice touch.
By far, the greatest feature with Todai-ji, however, is the addition of the largest known bronze statue modelled after Buddha.
READ MORE: Here's our ultimate list of things to do in Nara, Japan.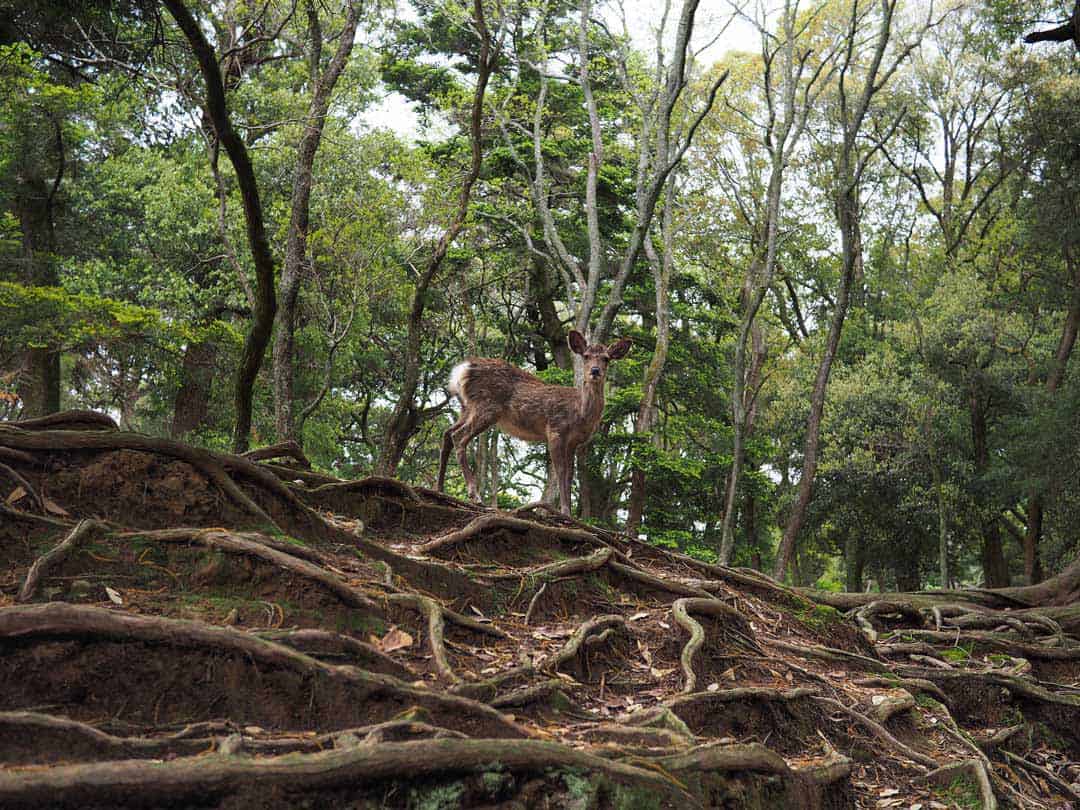 4) Yokohama
Yokohama is one of the more authentic places to visit in Japan if you would like a taste of Japanese culture, some history, and a tad bit of everything else.
One example of how Yokohama stands out against other popular cities and tourist spots in Japan would be the inclusion of Yokohama Chinatown.
Similar to Dotonbori, the Yokohama Chinatown area is ideal for those who love to experience street food as it is popularly offered and sold throughout the area.
If you are looking to take a quiet and enchanting walk, a stop at the Sankeien Garden in Yokohama couldn't hurt as well.
A trip through this park can help relax you after a long day of exploring and visiting different streets and locations throughout the city.
The design of the garden is very traditional and reminiscent of older gardens and contains a beautiful pond surrounded by lush trees and shrubs.
One might enjoy viewing the Tempozan Ferris wheel light up at night. And Yokohama offers beautiful fireworks shows available during specific seasons.
Due to Yokohama being a port city for trading, these shows easily take place in Yokohama at the Yamashita Park, and are enjoyed greatly by both tourists and locals alike.
READ MORE: Here's our brand new article featuring the best things to do in Yokohama.
5) Hakone
As Okinawa is known for its glorious beaches, the small town of Hakone is known for the natural beauty of its mountainous terrain, waterways, and hot springs.
By far the most prominent and well-known attraction is Lake Ashi that makes Hakone one of the most fun places to visit in Japan.
The lake paired with other attractions makes Hakone one of the most beautiful and captivating cities to spend some time during your next vacation.
The picture-perfect and relaxing scenery also helps it make the list as one of Japan's tourist spots. With views of Mt. Fuji, Hakone is one of the best places to see and do it all.
Lake Ashi is surrounded by beautiful mountains, which help to compliment the glistening blue water.
The Hakone Open-Air Museum is also another great reason to visit Hakone, as it compliments the feel and aesthetic of the place due to the large collection of creative artwork.
READ MORE: Here's our guide to the best things to do in Hakone!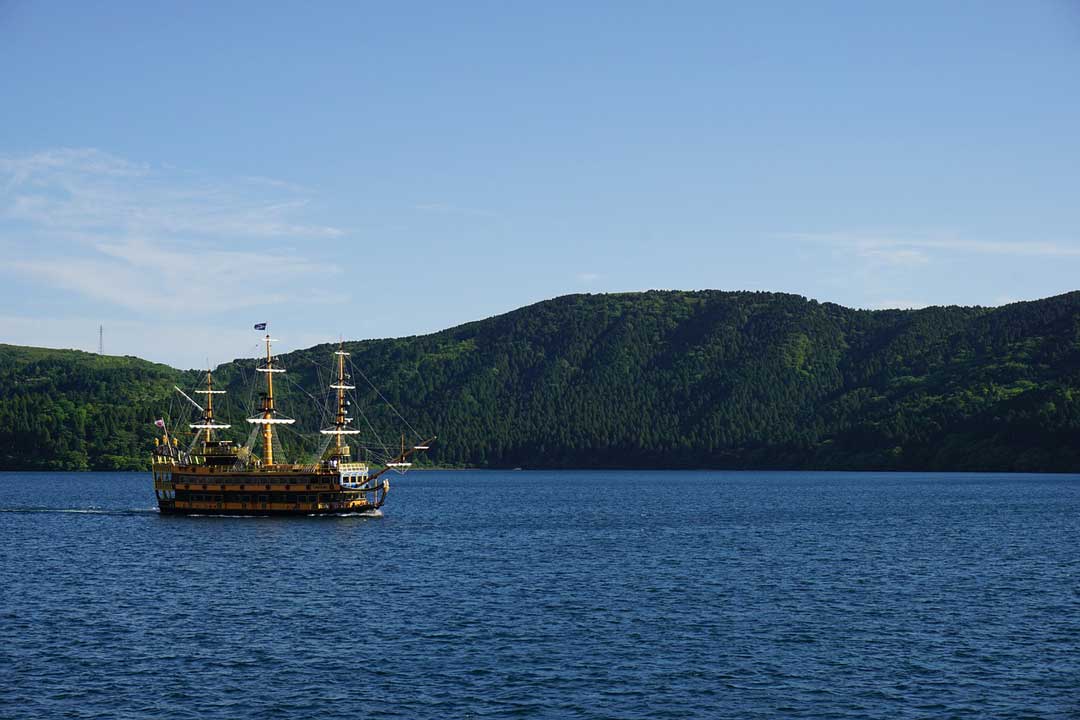 6) Sapporo
The capital city of Hokkaido, Japan's northernmost island, is an absolute gem and one of the best cities on our list of Japanese tourist spots.
Whether it's your first or fifth time to this fascinating country, make sure you spend some time in Sapporo, a metropolis that is buzzing with excitement and culture.
Whether you want to check out Japan's biggest zoo or visit the marvelous winter snow festival, you'll find no shortage of attractions here.
It's also a great jumping-off point for exploring more of Hokkaido, so definitely use it as a base to plan your next moves.
READ MORE: Here's our travel guide to the top things to do in Sapporo.
7) Nagoya
With destinations like the Nagoya TV Tower and the Nagoya Castle, this area can easily be compared to Osaka and Tokyo based on the famous and must-see landmarks.
There is even a museum dedicated to science: Nagoya City Science Museum.
This museum may sound a bit general. But its complex and interactive activities help engage and educate visitors and is home to what is known as the world's biggest planetarium – making it a famous gem of Japan.
Perhaps the highlight of Nagoya and one of the best things to do is to tour the Nagoya TV Tower.
This tower consists of five floors and is a beautiful sight with its glowing appearance during the night.
The sky deck, which is at the topmost floor of the tower, offers a grand view of the city and famous mountains in the area.
The Nagoya Castle is the heart of Japan and another great symbol within the nation of Japan. You wouldn't be able to miss this elegant structure in Nagoya.
This specific castle stems all the way from the Edo period and is lined with alluring Japanese artwork that is lit and brightened up greatly by the strategically placed windows and shading.
Be careful to not forget the entertainment halls and theatres, so you can enjoy a great concert or show while in Nagoya.
And if you're looking for views of Mount Fuji then you can add this place to your list.
READ MORE: Here's our list of the best things to do in Nagoya.
8) Kyoto
While there is much to do on the island of Honshu, Kyoto is almost always at the top of the list of places to see in Japan.
Based on the prominent pagodas, the influx of cherry blossoms, and the rich history included, it is no wonder why Kyoto was once the capital of the great nation of Japan.
Due to the extravagant history Kyoto has throughout wars and harsh time periods, castles and unique Japanese structures have come to cover the region.
By exploring Kyoto, you have the choice to learn about Japan, its people and its culture in a very motivating, intriguing, and interesting way.
Geishas are also a prominent entertaining force in Kyoto, making it one of the best places in Japan to view a show.
The Sento Imperial Palace is a peaceful palace that offers a tour that is free and is a fantastic way to discover and learn about Japanese palaces and history while exploring the area.
If you are looking to buy some authentic and quality Japanese goods, Kyoto should also be in mind. Many tourists buy keepsakes or tokens from their trip here, as shopping is fantastic.
The Kitano Tenman-Gu flea market is the perfect shop for this as it offers a wide range of products such as intricately designed fans, umbrellas, and yukatas.
Of course, no trip to Kyoto is complete without visiting Fushimi Inari, an important Shinto shrine known for its temple and the thousands of brightly coloured tori gates.
READ MORE: Don't miss our complete guide to the best things to do in Kyoto!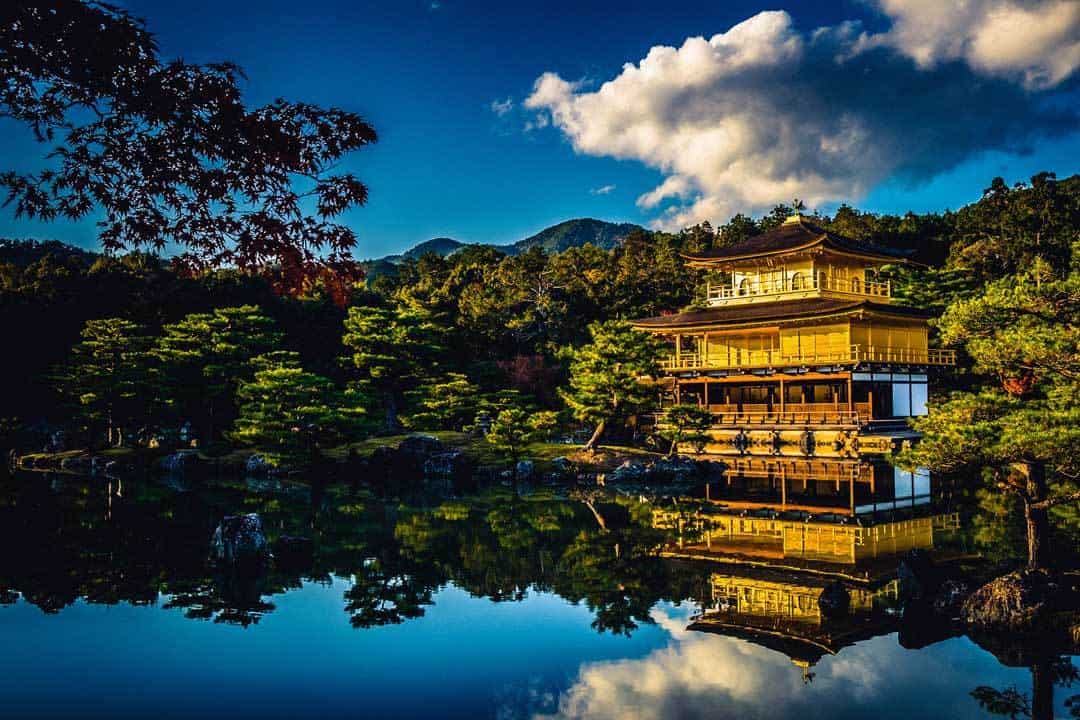 9) Hiroshima
Recent history hasn't been kind to Hiroshima, a city that is most famous for having the atomic bomb dropped on it during World War II, completely decimating the city.
But for such a tragic event, Hiroshima has fully rebuilt itself, and today is one of the top selections for where to go in Japan. The Hiroshima Peace Memorial Park is one of the top Japan tourist attractions.
The Hiroshima Peace Memorial Museum, the main feature of Hiroshima Peace Memorial Park, is one of the best known places in Japan. Memorializing a terrible event near the end of World War II, this UNESCO World Heritage Site is one of the more sacred places to visit in the city.
Nearby Miyajima Island is a fantastic place to spend a day and definitely worth a visit. The Hiroshima Castle is sure to wow you as well.
In terms of unique sights and tourist attractions, the Itsukushima Shrine really stands out, literally, by rising out of the water.
Don't let the idea of a crumpled city stop you from visiting – Hiroshima is truly an incredible spot to explore.
READ MORE: Check out our complete guide to the best things to do in Hiroshima.
10) Kobe
When visiting Kobe, on the island of Honshu, trying their world-famous beef is a must. You can even have it along with Ramen or other traditional dishes.
Kobe could perhaps be the food destination highlight of your trip finding the best places to visit in Japan, aside from Dotonbori.
Another street to visit in Kobe would be their version of Chinatown, which offers another great opportunity to try street food.
The Kobe City Museum is also a great way to explore the great city of Kobe and its history.
Kobe's most popular harbour known as the Kobe Harborland is the best outdoor hub for entertainment and shopping alike.
The harbour even boasts a beautiful Ferris wheel that adds a nice touch. If you are searching for a more scenic addition in Kobe, you must visit Mount Rokko. Although it pales in comparison to Mount Fuji, there are great trails and scenery to enjoy.
This landmark is favoured both by tourists and locals, and is unique in its structure when compared to various other mountains scattered throughout the great nation of Japan.
READ MORE: Here's our guide to all the top things to do in Kobe!
11) Otaru
Otaru doesn't always make the list of places to visit in Japan. But its canal scenery is so romantic it could even rival that of Italy.
Different vendors and stores offering a vast array of Japanese goods paired with various restaurants help to make the canal a must-stop destination.
Aside from the canal, be sure to enjoy a wonderful experience and performance at the Otaru Music Box.
The Otaru Aquarium can help finish off your trip with some educational facts and a great view of various marine life.
READ MORE: Check out our complete guide to the best things to do in Otaru
12) Fukuoka
Fukuoka is a fantastic city on the Kyushu island of Japan, and well worth a visit on your next trip to Japan.
With great surfing opportunities, a fascinating samurai history and plenty of sumo wrestling matches to check out, you'll be amazed at all the great things to do in Fukuoka.
READ MORE: Here's our guide to the top things to do in Japan
13) Kanazawa
Kanazawa is located on Honshu island and bordered by the Sea of Japan. Deriving its name from "marsh of gold" after legend claims a potato farmer dug up gold instead of potatoes in his field one year.
Kanazawa Castle is the city's most notable feature and one of the best places to visit in the city. It stands tall among various other buildings that were surprisingly spared during bombings in WWII.
The original castle was destroyed in a fire in 1888. But the existing castle still stands after being rebuilt.
Kanazawa is also known for its Edo-period architecture, temples, geishas and cuisine. You can't go wrong to add Kanazawa to your list of places to visit in Japan.
READ MORE: Check out our complete guide to the best things to do in Kanazawa.
14) Tohoku
Tohoku is located northeast of Tokyo on the island of Honshu. Very much off the beaten track for most travellers, Tohoku makes the list of best places to visit in Japan for its simplicity and relationship with nature.
Those who travel here know Tohoku for its spectacular coastlines, inviting natural hot springs and intricate cave systems. It is also a great place to see some of the best cherry blossoms in Japan – without all of the crowds you will find elsewhere.
And if you are into studying where modern history meets science, Tohoku is the jumping-off point for exploring the impact of the 2011 tsunami, most notable for it's destruction of the Fukushima nuclear reactor.
No doubt if you are looking for a place where fewer travellers visit, particularly in spring, then you absolutely must add Tohoku to your list of places to visit in Japan!
READ MORE: Check out our complete guide to the best things to do in Tohoku.
15) Okinawa
Okinawa is Japan's most tropical island and definitely one of the more unique places to visit in Japan. Surrounded by beautiful beaches and crystal blue ocean water, Okinawa City is a paradise for people of all ages.
A variety of restaurants are scattered all throughout the city, which is perfect if you plan to have dinner and see a show.
Koza Music Town is perfect for those looking for supreme entertainment and shows.
Besides Koza, Okinawa is simply just a paradise for music lovers due to the many different venues and shows that are offered, especially with the famous bars and clubs scattered about.
The Shurijo Castle is a must-see if you are visiting Okinawa. This palace was dedicated to the Ryukyu Kingdom, and boasts a bright red colour and an intricately paved red walkway leading up to the grand entrance of the castle.
If you're looking for adventure on your next travels to Japan as well, then Okinawa is the place for you. This island is definitely where to go for surfing, scuba diving, kiteboarding and swimming with whale sharks!
READ MORE: Check out our complete guide to the best things to do in Okinawa.
ANYTHING TO ADD TO THIS LIST OF GREAT PLACES IN JAPAN?
In conclusion, Japan is a vast island nation that is known for its mountain peaks, unique architecture, and booming cities.
While travelling there are so many places to visit in Japan and experience on each island and in each city. But it is important to not overlook the small hidden gems in the rural Japan.
Sites and areas like small traditional villages and temples can really add to your overall experience. Whether you visit castles, Buddhist temples or Shinto shrines, enjoy a hot spring or two or come to see the natural beauty of cherry blossom season you understand why the island of Japan and its people are so special.
Aside from trying food in Dotonbori and shopping in the popular streets and stores in Tokyo, be sure to mark the small villages, historic sites, and grand areas for.
Visit the Hiroshima Peace Memorial, stroll beneath the torii gate of Fushimi Inari in Kyoto and find your favorite shrine or temple in any number of smaller villages and towns.
Do you have anywhere else you'd add to this list? Leave a comment below and let us know your favourite places to visit in Japan!
DISCLAIMER: Some of the links in this article are affiliate links, which means if you book accommodation, tours or buy a product, we will receive a small commission at no extra cost to you. These commissions help us keep creating more free travel content to help people plan their holidays and adventures. We only recommend the best accommodations, tours and products that ourselves or our fantastic editorial team have personally experienced, and regularly review these. Thanks for your support, kind friend!