Don't miss this list of the best things to do in Yokohama, Japan to help you make the most of your next vacation to these fascinating city.
You'd be forgiven for thinking of Yokohama as just another suburb of Tokyo since it's located a mere 35km away.
The endless list of places to see and things to do in Yokohama City makes it worth visiting, and whether it's celebrating instant noodles, dressing up in a kimono or taking a peaceful walk through a Japanese garden – there is something for everyone in Yokohama.
With a quarter of Tokyo's population, an escape from the hustle and bustle to historical charm, pop culture and seaside fun is an easy train ride away.
Yokohama was one of the first Japanese ports opened to foreign trade in 1859 so it also offers some unique attractions to its port town identity.
READ MORE: Check out our ultimate Yokohama itinerary for if you have one, two or three days!
The Top Things to Do in Yokohama
There's no shortage of awesome activities to check out when wondering what to do in Yokohama, Japan.
Whether you're interested in culture, food, history or spending time outdoors, you're bound to find some great Yokohama attractions for any style of travel.
Catch a game at Yokohama Stadium or tour the famous Shin Yokohama Ramen Museum. Admire the hipster Red Brick Warehouse or overwhelm your senses at Yokohama Cosmo World.
This city is a real gem of the Kanagawa Prefecture, and it's easy to reach from Tokyo by public transport.
You can book your train ticket online in advance for 3,000 Yen on Klook, and your ticket will include a restaurant coupon!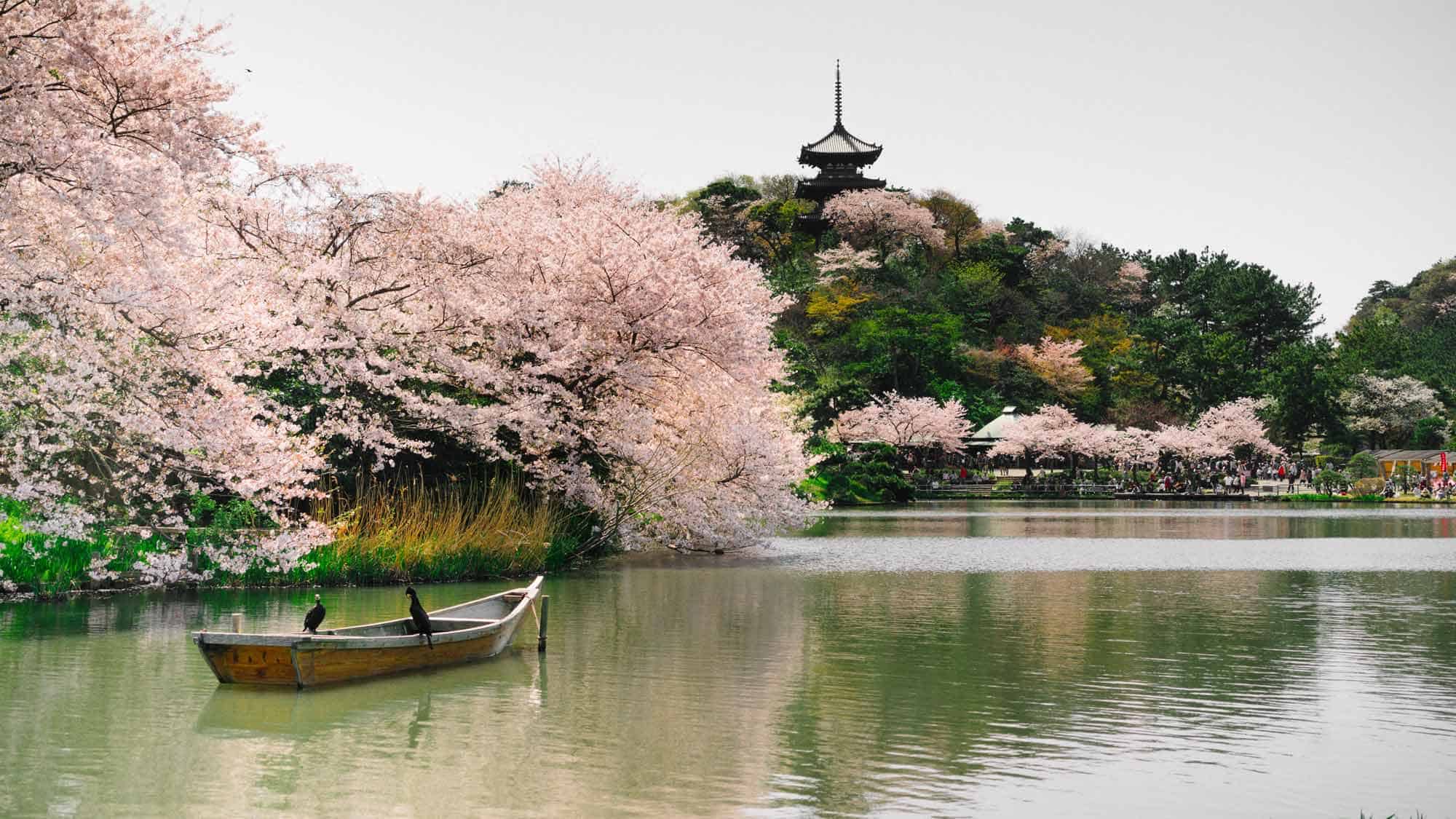 1) CUPNOODLES Museum
We have all been guilty of relying on humble instant noodles to get us through those late night study sessions, seasons of being broke or a quick meal in under 2 minutes. And yes, in Yokohama you can find an entire museum dedicated to the first CUPNOODLES.
The interactive ramen museum has a number of different exhibitions and attractions and is designed to inspire creativity and curiosity. Learn how to make Chicken ramen by hand in a workshop or create your own original CUPNOODLES by selecting your own flavour combinations and designing the packaging.
The museum pays homage to Momofuku Ando, the inventor of instant noodles who went on to invent CUPNOODLES and Space Ramen and even has a theatre playing a 14-minute CG film of his story.
The ramen museum is equally fun for kids and adults so allow yourself at least a couple of hours (or more if you want to get hands-on in the various workshops) and don't miss out on this one-of-a-kind experience in Yokohama.
Address: 2 Chome-3-4 Shinko, Naka Ward
Opening hours: every day from 10 AM – 6 PM; closed Tuesdays
Price: 500 yen (attraction fees required for workshops).
READ MORE: Short on time? Check out our blog post on how to do a Yokohama day trip!
2) Visit the Yokohama Noh Theater
If there's a place to witness tradition and learn about history, it's the theatre. The Yokohama Noh Theater is well known for its production of traditional performing arts as well as new works through international collaborative programs.
Noh and Kyogen are both forms of classical drama though Kyogen is traditionally a Japanese comic theatre and Noh offers a musical poetic dance style. Both forms are considered two of the world's oldest performing arts and are performed in this theatre.
The main stage is also the eighth oldest in the country and when not in use for performances, can be seen freely from the second floor. Rather than seeing an empty stage, you should plan your visit ahead of time and check the performance schedule for tickets to watch a play.
Address: 27-2 Momijigaoka, Nishi Ward
Opening hours: 9 AM – 8 PM
Price: Free of charge when no events are held.
Why not book a private day tour of Yokohama with a local? Check out this great experience on Get Your Guide.
3) Check Out the Largest Chinatown in Japan
Although Yokohama doesn't have a high population of Chinese residents, it is home to the largest Chinatown in Japan which was developed quickly after the Yokohama Port opened to foreign trade in 1859.
There are apparently more businesses than actual residents living in the Yokohama Chinatown!
The entrance is decorated with four colourful gates and more can be found within. There's also a coloured temple in the middle of Yokohama Chinatown that was constructed in 1873 by Chinese residents.
If you're wondering what to do in Yokohama Chinatown though, don't pass up the delicious cuisine on offer at the many food stands and restaurants.
While it's not at all a typical Japanese experience, if you want a break from Japanese food and to see a completely different style of architecture and design, Yokohama Chinatown is well worth a visit.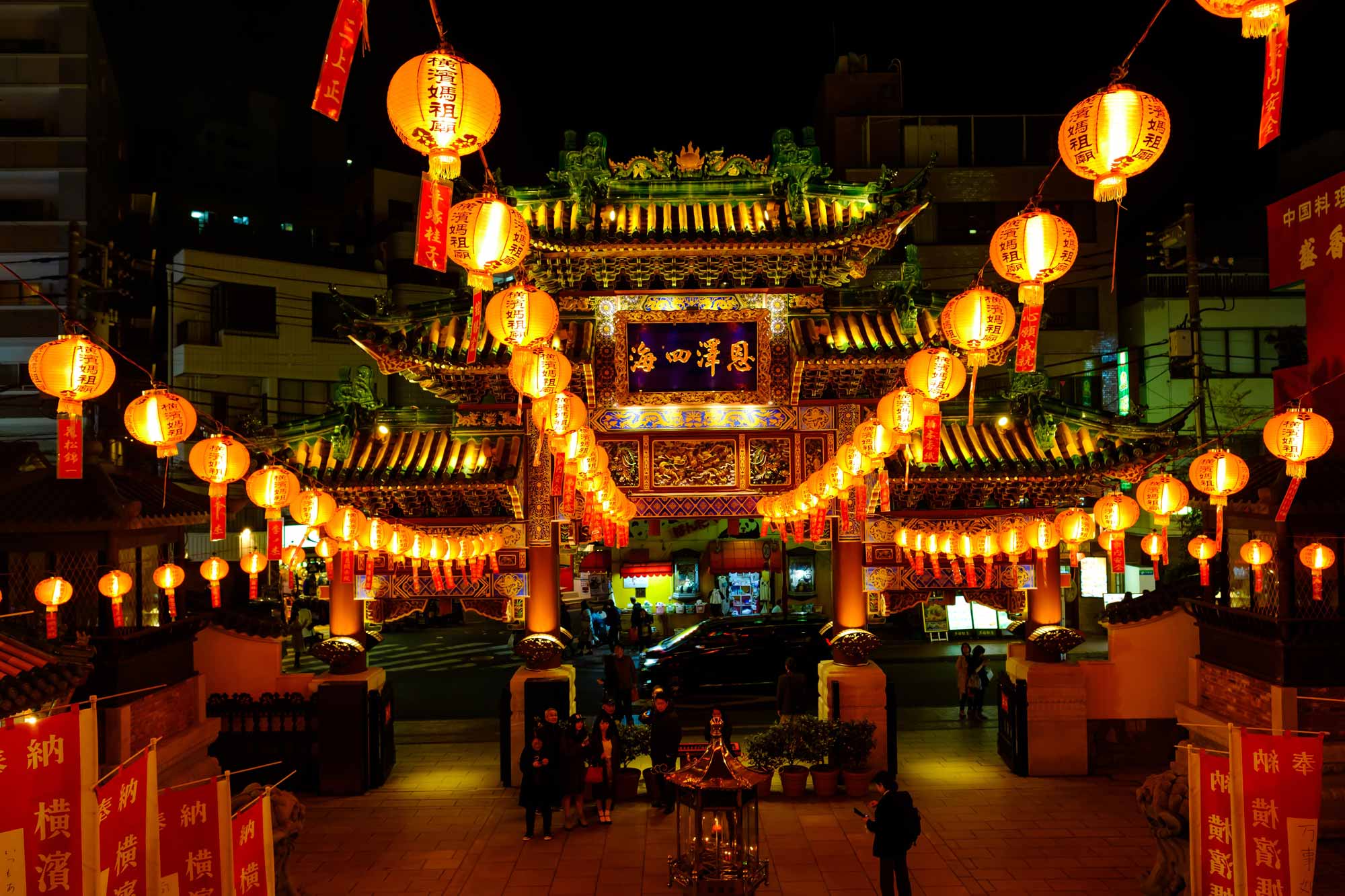 4) Tour a World Cup Stadium
While the Brazilian team captain held the golden cup high, some 2.7 million paper cranes flew down from the sky in Nissan Stadium. This marked the end of the 2002 FIFA World Cup and Japan's first time hosting (shared with South Korea).
The stadium held four games, including the finals, and has a seating capacity of over 70,000. The stadium offers one hour tours on specific dates for 500 yen. Information on tour dates can be confirmed here.
READ MORE: Check out all these awesome things to do in Tokyo!
5) Go to a Game at Yokohama Stadium
Yokohama is home to four professional sports teams – two soccer teams, a baseball team and a basketball team.
If you're a sports fan or just want to be amongst some passionate locals, get yourself to a baseball or football game.
The professional baseball season starts in late March and finishes in October with games taking place on any day of the week excluding Mondays.
Baseball games are a lot of fun and held in Yokohama Stadium. Spectators can join in on events like dance contests and after the top of the seventh inning.
Other fun happenings at Yokohama Stadium include fans singing the team song and letting rocket balloons fly into the sky with a prayer for the team's victory.
Tickets can be purchased online for as little as 1,900 yen.
Japan's professional football league (J.League) commences in March and ends in early December and typically help on Saturday afternoons.
Yokohama has two teams: the Yokohama F. Marinos and Yokohama FC. Tickets start from 2,500 yen and games are played at Nissan Stadium or NIPPATSU Mitsuzawa Football Stadium.
You can also check out the Kawasaki Frontale team, who are also in the Kanagawa prefecture, in case the Yokohama teams are out of town on your visit.
READ MORE: Check out our ultimate list of the best things to do in Japan!
6) Try Every Kind of Ramen at the Shin Yokohama Ramen Museum
Shin Yokohama Ramen Museum is the world's first food-themed amusement park and is essentially a two-storey museum devoted to ramen. Yep, that's another museum dedicated to noodles and we don't mind at all.
Different regions throughout Japan are famous for different styles of ramen like Tonkotsu ramen, a pork broth, which originated in Fukuoka or Wakayama ramen, made of soy sauce and pork bones which originated in the Kansai region.
The Yokohama ramen specialty is called ie-kei, and consists of thick, straight noodles served in soy flavoured pork broth with various toppings.
If you're salivating just reading this, get yourself down to the Shin Yokohama Ramen Museum and compare the distinct styles and find out which is your favourite. Consider it an experiment!
Address: 2 Chome-14-21 Shinyokohama, Kohoku Ward
Opening hours: Weekdays from 11 AM – 10 PM, Saturday: 11:00 AM – 10:30 PM, Sunday and holidays: 10:30 AM – 10 PM
Price: 380 yen
7) Taste 100 Different Types of Sake
Whether or not you're a big drinker, you can't come to Japan and not try sake.
Sake is Japan's most famous native alcohol and is made from fermented rice.
Often referred to as nihonshu, the foundations of good sake are quality rice, clean water, koji mould and yeast.
Since the drink is brewed, not distilled, it isn't strong like spirits. The alcohol content is usually around 16% and is relatively easy to drink.
While the famous sake-producing regions are Niigata, Kobe and Kyoto, Meishu Center Yokohama is a sake tasting and retail shop that offers over 100 different types of sake with prices around 300-400 yen a glass.
Just a reminder, the legal drinking age in Japan is 20 years old and as always, drink responsibly!
Tip: If you are after something to try sans alcohol, head to the supermarket and ask for amazake which is a naturally sweet fermented rice drink and is considered the 'non-alcoholic sake' alternative.
8) Explore one of Yokohama's Most Hipster Buildings
The Yokohama Red Brick Warehouse has been restored and is arguably Yokohama's most hipster building.
The style of architecture and design for the Yokohama Red Brick Warehouse is unique, making it one of the more special things to see in the city.
It's made up of two warehouses and is home to a shopping mall, banquet hall, event venues and other unique shops, cafes and restaurants.
Address: 1 Chome-1 Shinko, Naka Ward
Opening hours: every day from 11 AM – 8 PM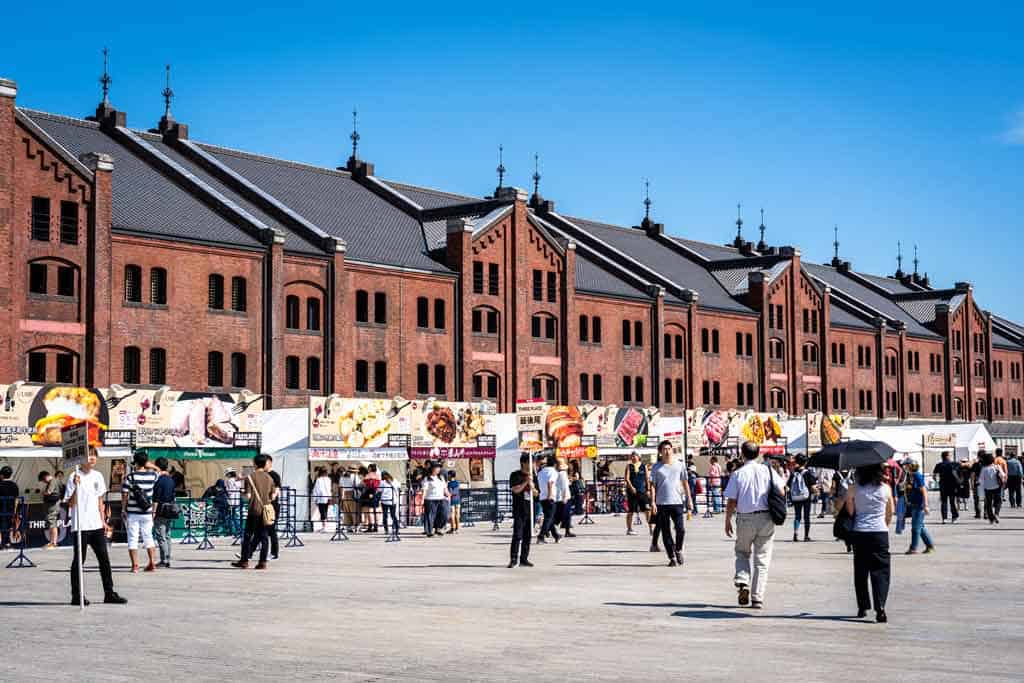 9) Head Out for a Night of Japanese Jazz
Early jazz music was popularised in Japan thanks to international trips by various jazz bands and Yokohama is the birthplace of jazz in Japan.
If you find yourself here in October, look out for the city's annual Yokohama Jazz Promenade, one of Japan's largest jazz music festivals.
Otherwise, one of the most fun things to do in Yokohama at night is to spend an evening going jazz bar hopping throughout the city. Start with Windjammer – the oldest jazz bar in Yokohama with an interior that looks like the inside of a vintage ship. It's one of the top places to visit in Yokohama!
The bar has been a part of the live music scene since 1972 and has a host band that plays live every evening. There's also a great food and cocktail selection here.
If you're already visiting the Red Brick Warehouse, head over to Motion Blue Yokohama, a popular venue for watching live gigs featuring aspiring and big-name musicians.
Since opening its doors in 2002, the bar offers swanky interior styling and is the perfect place for people who have a taste for style, good music and gourmet food.
For a break from Japanese food, head to El Sueno, a cool jazz dining bar with a fine selection of Italian food and wine. El Sueno has a private room available for booking and a jazz hall that seats 30 for live performances. The best part is it doesn't charge extra for live performances!
READ MORE: Planning a trip? Here's our guide to the best places to visit in Japan.
10) Shipdeck Rooftop
The Osanbashi International Passenger Terminal services vessels up to large-scale cruise ships and the pier were reconstructed as part of a project to redevelop the Yokohama Port area.
Designed by London-based architects, all the floors in the public spaces are wooden, making it feel like you are walking on a ship's deck.
The 24-hour rooftop includes grass-covered areas which are the perfect spot on a spring day for relaxing and winding down.
The pier is especially popular with couples in the evenings because of its views of the surrounding area.
11) Visit the Yokohama Museum of Art
Yokohama Museum of Art opened to the public in 1989 and is one of the largest art institutions in Japan.
The building itself is iconic as it was designed by Kenzo Tange, the Japanese architect who won the 1987 Pritzker Prize for architecture, and allows for an abundance of light to pour through a huge skylight above the courtyard.
The museum is made of seven gallery spaces and focuses on collecting and showcasing modern and contemporary art created since the late 19th century.
Here, you can find works of Dali, Magritte, Milo, Picasso, Cezanne and artists with strong ties to Yokohama from the end of the Edo/Meiji period onward.
Since Yokohama is one of the places in Japan where photography was first introduced, the museum also holds an extensive collection of photographs.
The museum exhibits its collections about three times a year at the "Yokohama Museum of Art Collection Exhibit" and holds themed exhibits about four times a year. It's a Yokohama must see for all art lovers.
(Currently, the museum is closed for rennovations but is reopening in 2023. Check their website for updates!)
Address: 3 Chome-4-1 Minatomirai, Nishi Ward
Opening hours: every day from 10 AM – 6 PM, closed Thursdays.
Price: 500 yen and various fees for different exhibitions
12) Ride the Giant Ferris Wheel at Cosmo World
While you're already at Minato Mirai 21, head to Yokohama Cosmo World for a ride on the giant Ferris wheel. While you shouldn't expect too much from the amusement park that houses Cosmo Clock 21, the Ferris wheel offers a spectacular 360-degree view of the city.
Originally constructed at a height of 107.5 metres (353 ft), Cosmo Clock 21 held the title of the world's tallest Ferris wheel for three years until 1992.
In 1999, the Ferris wheel was relocated onto a taller base which increased its overall height to 112.5 metres (369 feet). One rotation of the wheel takes 15 minutes.
Inside the carriage on the wheel, an interactive touchscreen points out major points of interest seen from Cosmo Clock as well as some fun facts. If you're someone who's afraid of heights and wants to leap at the chance to challenge yourself, this is for you.
The theme park of Yokohama Cosmo World itself is quite small compared to some of the other famous ones around Japan, but does have charm and offers a few different rides, roller coasters and carnival stalls.
An alternative way to view Yokohama Cosmo World is from the water! Book a dinner cruise and enjoy a meal on the water while sailing past the best Yokohama sights, including the glittering Ferris wheel.
Address: Naka Ward, Shinko, 2 Chome−8−1
Opening hours: 11 AM – 9 PM, closed Thursdays.
Price: 800 yen. Tickets within the park vary by attraction.
READ MORE: Here's everything you need to know about travelling in Japan.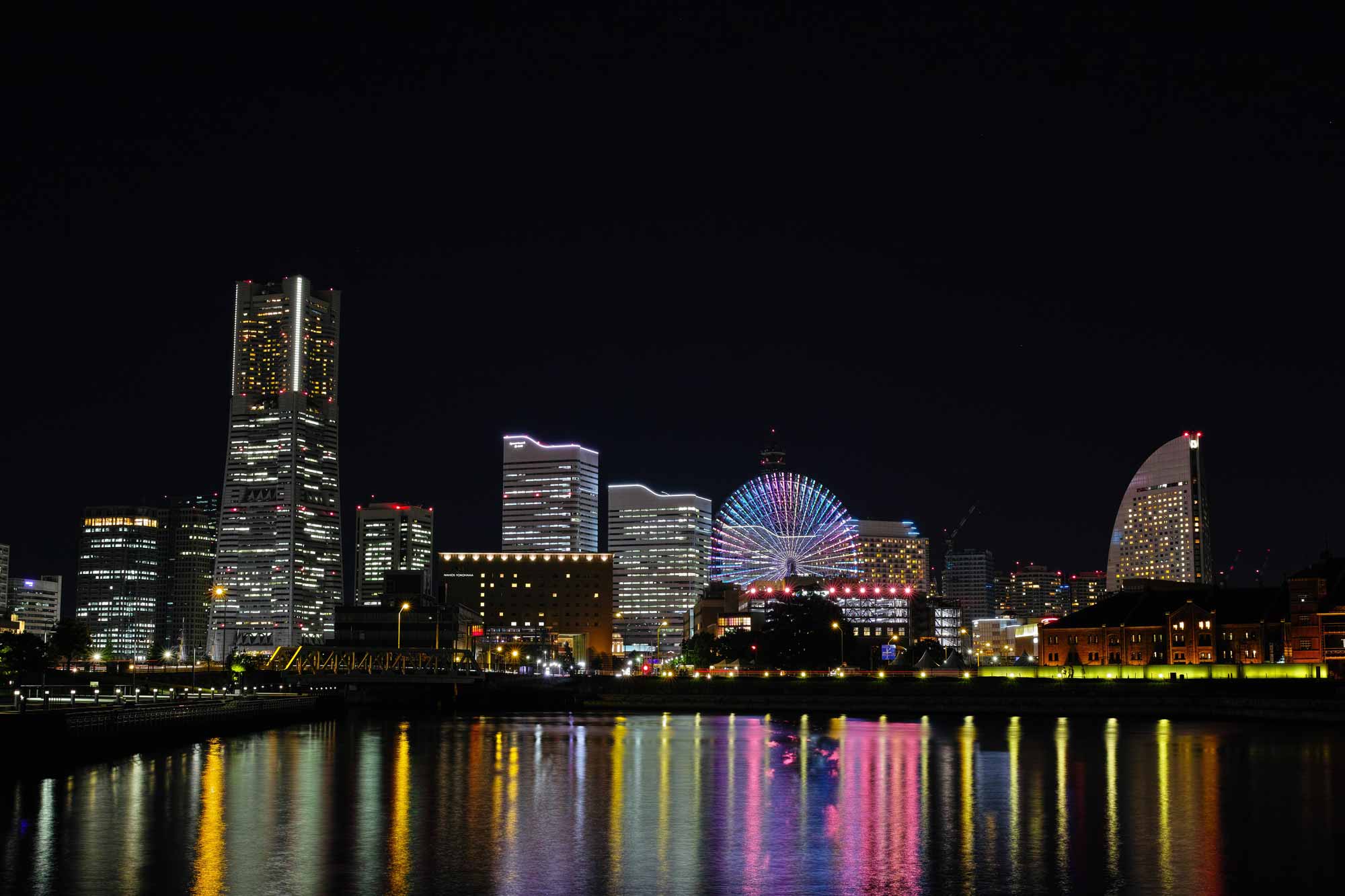 13) Take a Tour Through Kirin Brewery
The Kirin Brewery Company is one of Japan's four leading beer breweries and was founded in Yokohama. Also called the Kirin Yokohama Beer Village, the factory offers free Kirin Ichiban Brewery Tours which takes you on the journey to make Kirin beer.
The tour starts with the base materials of beer, where you can taste the malt, touch the hops and smell its aroma. You'll then be shown the mashing, fermentation and storage areas of the factory and learn how the flavours are balanced and aromas created.
The tour is around 60 minutes long and finishes with a free tasting where visitors are given a couple of beers to sample and some snacks.
Address: 1 Chome-17-1 Namamugi, Tsurumi Ward
Opening hours: Tuesday – Sunday. Tours are conducted every hour between 10 AM – 4 PM.
Price: Free of charge
14) Go on a Swimming Bus Tour
If you're after one of the cool things to do in Yokohama, this is it! Sky Duck Yokohama is a double-decker bus that travels on a road along Yokohama Bay guiding around some famous towers in the area before returning to the bay to dive in the water.
From here, the bus circles the port slowly so that you can enjoy the Yokohama Bayside Area from the sea.
The tours run for around 50 minutes, depart from Nipponmaru Memorial Park and only in Japanese but you can still enjoy the theatrics and view regardless.
Tours operate a few times daily and reservations can be made online.
Price: 3,500 yen for adults
15) Relax in a Natural Hot Spring
A visit to Japan is incomplete without a trip to an onsen. Onsen are natural hot spring baths and have been around since the beginning of recorded history in Japan.
Since Japan is a volcanically active country, there are thousands of hot springs scattered throughout the country.
Onsen are famous for their healing qualities because of the minerals in the water that comes from below the Earth's crust so it's a place of rejuvenation and rest.
You can find different types and styles of onsen around the country that include additional spa facilities, saunas or offer indoor and outdoor baths.
If you're after something simple and minimalist, try Kohokunoyu –where the entrance fee is only 870 yen on weekdays and is open from 10 am to midnight.
If you're after a little more luxury, try Yokohama Tennen Onsen which is open all the time except from 9am – 10:30am for cleaning.
Onsen usually have separate facilities for men and women (although some are mixed baths). You must be completely naked and clean yourself thoroughly at the bathing stations before entering the baths. Soap, shampoo and conditioner are always provided.
READ MORE: Here's our ultimate guide to the best things to do in Kyoto!
16) Dress Up in a Kimono
The Japanese traditional kimono is an essential style for ceremonies like weddings, parties and receptions.
For those who enjoy playing dress up, you can explore the Yokohama Port dressed up in a kimono with your hair done in a uniquely Japanese style called nihon-gami.
Yokohama Haikara offers half or full-day rentals where you are completely styled and can go on a self-guided walking tour dressed up.
Options start from 8,000 yen for a group of two or more and bookings should be made in advance – details are online.
While locals won't usually take offence to foreigners dressed up in kimonos (it's something that most people quite enjoy seeing), please remember to be respectful and behave appropriately at all times.
17) Visit the Yokohama Port Museum and Climb Aboard a Sailing Ship
Yokohama has been Japan's biggest port since the mid-19th century and the city's maritime history is best learned about in the Yokohama Port Museum.
Your ticket actually gets you two attractions and your visit to the Museum begins aboard the Nippon Maru, a 97 metre-long four-mastered barque sailing ship.
The Nippon Maru was built in 1930 as a training ship for Japanese naval cadets and had a 54-year active lifespan.
During that time, the ship sailed the equivalent of over 45 times around the globe! In 1984, the Nippon Maru as retired and donated to the City of Yokohama.
Expect to spend around half an hour here (or more if you're particularly interested in life at sea) exploring the various cabins, checking out some old equipment and admiring the soaring masts and rigging.
The exit of the ship leads you to the Yokohama Port Museum with different zones or exhibits. Walk through the History Zone and follow the chronology of how Yokohama developed into Japan's biggest port into its destruction after World War II.
Afterwards, head to the Rediscovery Zone where a simulator allows you to practice bringing a virtual ship into the harbour. The museum and ship can be enjoyed by children and adults alike and is one of the more fun things to do in Yokohama.
Address: 2 Chome-1-1 Minatomirai, Nishi Ward
Opening hours: Tuesday – Sunday from 10 AM – 5 PM
Price: 600 yen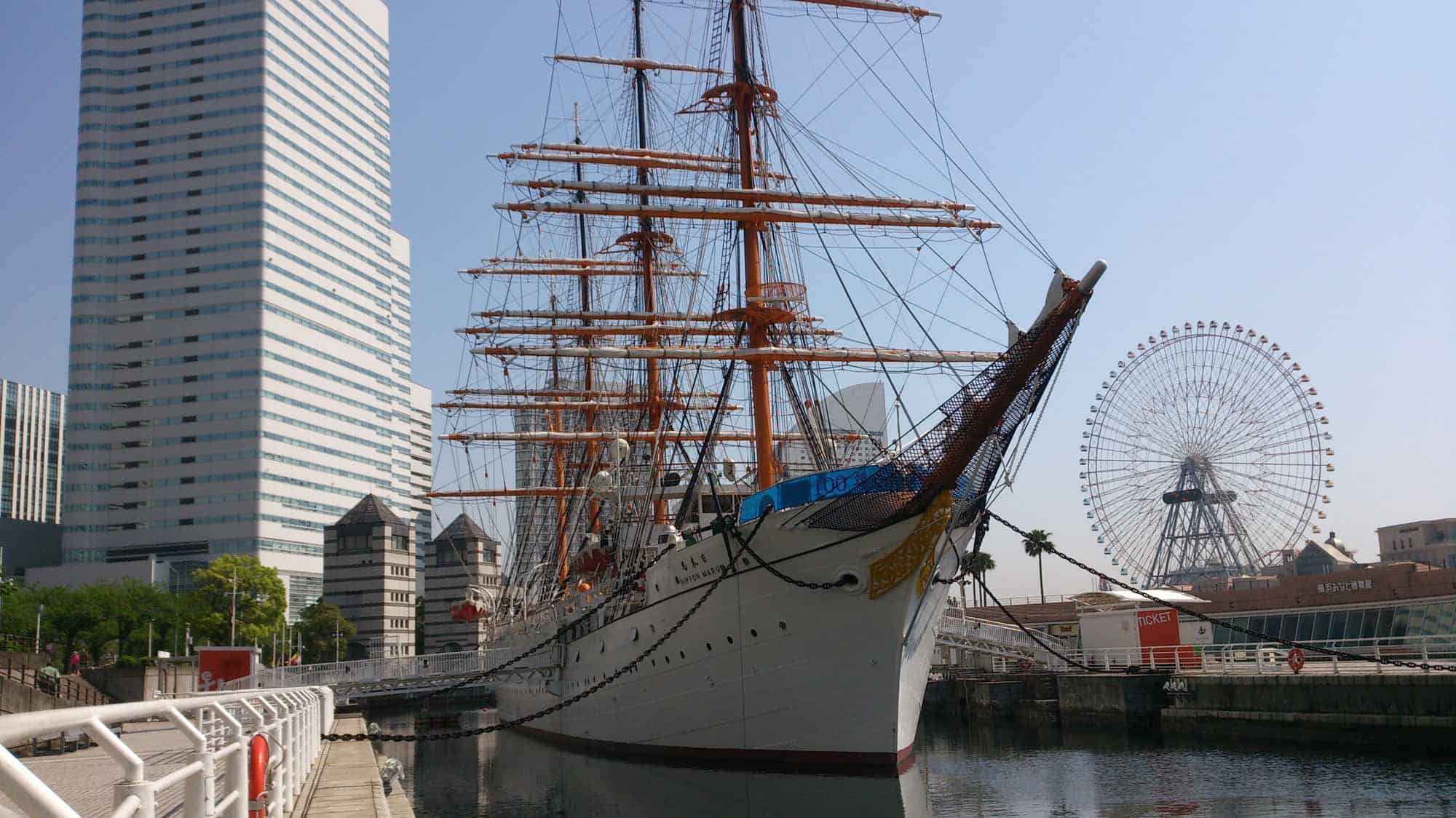 18) Enjoy Cityscapes from a Sky Garden
No matter which tower of Tokyo you climb, you will never get to see the whole city. On the contrary, you can head up to the best Yokohama sightseeing location and travel up 69 floors in 40 seconds in the Yokohama Landmark Tower.
Here, you'll reach the Sky Garden which offers an unbeatable 360-degree view of the entire city and more.
On a clear day, you can see the sunset over Mt Fuji and watch the city slowly light up. Be sure to hang around and wait until it's dark as you'll be rewarded with a pretty special view of Yokohama.
This view should be at the top of your list of what to see in Yokohama!
Address: 2 Chome-2-1 Minatomirai, Nishi Ward
Opening hours: Sunday – Friday from 10 AM – 9 PM; Saturday from 10 AM – 10 PM
Price: 1,000 yen
19) Get the Chance to Skate on an Olympic Size Rink
For some family-friendly head, try one of the more popular Yokohama activities at KOSE Shin Yokohama Skate Center, only a 5-minute walk from Shin Yokohama station.
The centre operates an Olympic size (30m x 60m) ice rink open all year round and there are periodically held figure skating classes that are open to skaters of all levels.
If you've ever dreamed of trying figure skating, come and have a shot!
For travellers with children, there Skate Center also holds short-term classes for children during vacation periods.
The centre has a skating goods store, a café and a convenience store. Definitely a great indoor activity if the weather isn't ideal outside.
Address: 2-11 Shinyokohama, Kohoku Ward
Opening hours: every day from 10 AM – 6 PM
Price: 1,250 yen entry fee + 650 yen for skates
READ MORE: Here's our ultimate guide to the best things to do in Kyoto!
20) Find Harmony at Sankei-en Garden
And last, but certainly not least, finish off by enjoying some peace and quiet in Sankei-en Garden. Sankei-en Garden was built in 1906 on a huge 17.5 hectares.
A successful businessman, Sankei Hara, had a fine sense for the arts and brought old buildings from cities such as Kyoto and Kamakura to be transported to the garden.
The 17 structures offer a balance and harmony between nature and Japanese architecture. 

Hara's family donated the garden to the City of Yokohama following his death.
The garden suffered wartime damage but was restored and is now one of the National Historic Sites. Sankei-en continues to attract visitors all year-round with its picturesque landscapes and beautiful buildings.
The garden is the most idyllic setting for some quiet moments or time for reflection.
Address: 58-1 Honmokusannotani, Naka Ward
Opening hours: every day from 9 AM – 5 PM
Price: 700 yen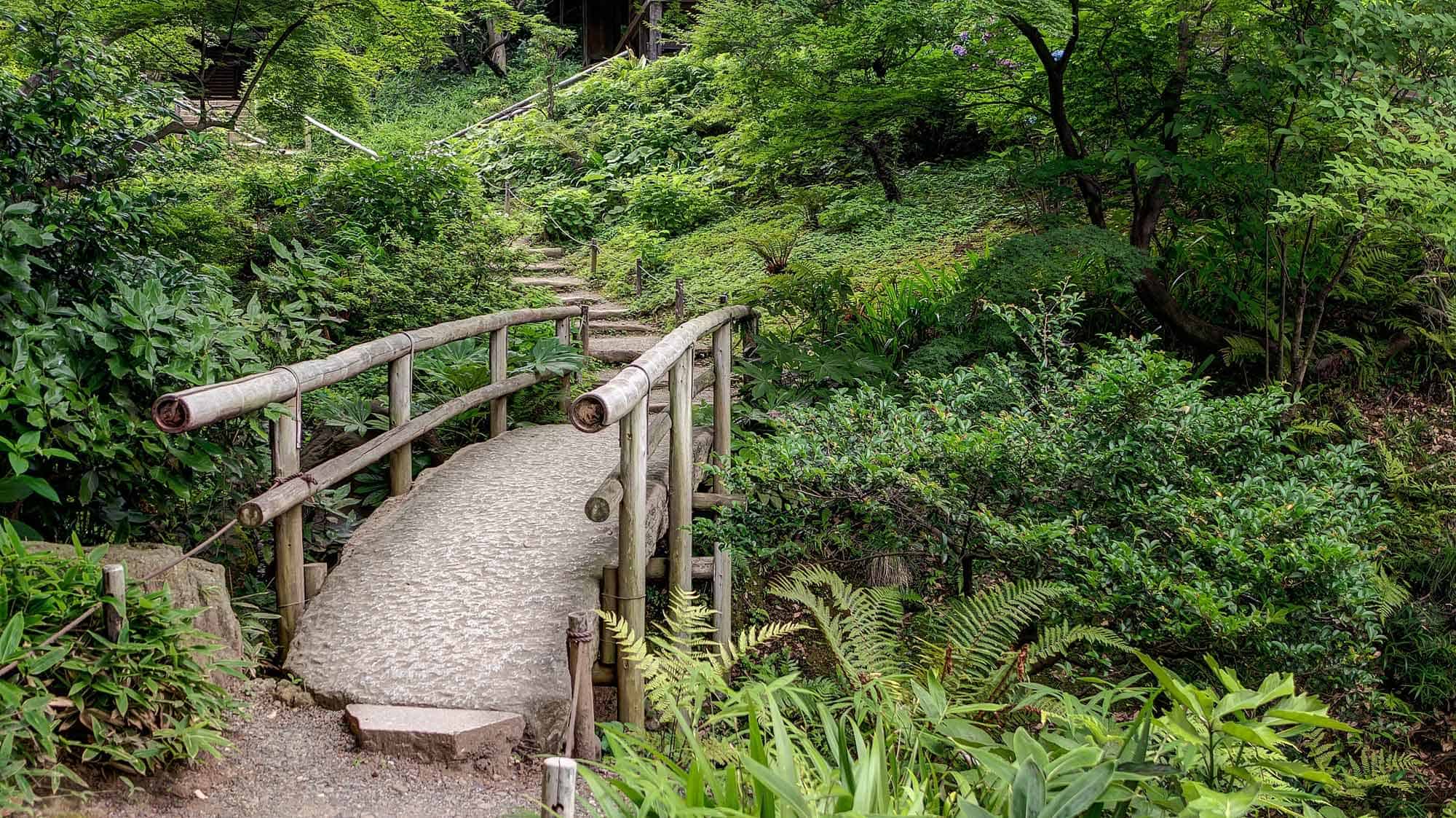 21) Wander the Arcade on Rokkakubashi Shopping Street
In a city where everything seems to be becoming more modern, it's wonderful to see a part that is staying true to its heritage.
Around the Rokkakubashi neighbourhood, you'll find a collection of small stores (mostly owned by locals) that seem to have not changed in years.
Wandering around the area, especially around Nakamise Street, is like stepping back in time and seeing how Japan used to be.
The shopping isn't set up for tourists. Instead, you'll find lots of traditional wares, such as grocery stores, real kimono shops and even places selling old Japanese sandals.
The cafe scene is also great, making it a perfect place to check out around lunch time.
Yokohama Travel Guide
In order to help you make the most of your time in the city, we've put together this mini Yokohama travel guide, complete with details on where to stay and where to eat.
Best Accommodation – Where to Stay in Yokohama
Accommodation standards in Japan are generally very high so while you can hostels or luxury places in Yokohama, you can expect most (if not all) places to be clean and offer free wifi.
If you're wondering where to stay in Yokohama that provides everything you need that's budget-friendly, we recommend staying at Guesthouse FUTARENO as it offers dorm or private room options.
Budget options in Yokohama City are more expensive than the rest of South-East Asia but have hotel-quality standards.
To enjoy all the activities in Yokohama, you should stay at least a couple of nights.
The Best Hostel In Yokohama – Guesthouse FUTARENO
Guesthouse FUTARENO is a traditional Japanese-style wooden hostel with very calm and cozy vibes.
The hostel is a 7-minute walk from two train stations and is centrally located for you to enjoy various activities in Yokohama and Minato-Mirai.
There's also a park next door that offers beautiful views of Yokohama City.
The hostel itself is quite chic, with wooden bunks and very comfortable beds. There's a small kitchen for guests to use and even a bath (extra fee) to soak your body after a long day.
Staff are friendly, helpful and welcoming so this is the ideal place to start your trip in Japan.
The Best Budget Accommodation For Couples – Sotetsu Fresa Inn Yokohama Sakuragicho
For couples wanting a nice budget hotel, Sotetsue Fresa Inn provides the ideal mix of value, comfort, convenience and charm. The hostel is centrally located so a 20-minute walk will get you to most of the fun places in Yokohama.
The breakfast here is delicious and offers an awesome spread of Japanese, Chinese and Western cuisines so there's plenty of variety to keep it interesting.
Rooms aren't very spacious here (as is the case for most places in Japan) but are comfortable and have air-conditioning, a refrigerator and desk.
Best Mid-Range Hotel – Hotel Monterey Yokohama
A classic-modern designed hotel, here you'll have a stunning panoramic view of Yokohama. Located right by Yamishta Park, you'll have a view of the sea and the ginko trees, the ideal combo for stunning photos in autumn.
The hotel is only a few minutes away from public transport and a short walk to Chinatown.
There's a bit of an olde feel here with chandeliers, big foyers and spacious rooms, a classic design nod to its sister city, Vancouver.
Rooms are fairly spacious for Japan and you have a choice between king size bed or a twin. if you want the largest rooms though, ask for the twin rooms.
Best Luxury Hotel In Yokohama – Yokohama Royal Park Hotel
For the ultimate Yokohama experience, stay in the infamous Yokohama Landmark Tower. Nothing can beat a central location like this hotel that occupies the 52nd to the 67th floor, giving you the best seats in the house when it comes to views over the city.
All the usual hotel amenities are here but are of awesome quality. There's a pool, spa, gym and of course free wifi.
Start your mornings off with breakfast on the 70th floor at the Sky Lounge before diving right into the many activities in Yokohama.
For dinner, if you don't want to travel out, there are some classing dining options here with eight different restaurants in the building that suit any occasion whether it's business or a date.
Yokohama Royal Park Hotel is a great value option given its high luxury standards and breathtaking view.
Best Restaurants In Yokohama
When it comes to food, the Japanese know how to do it. You could eat at almost any restaurant in Yokohama and be impressed. If you're new to Japanese cuisine, Yokohama is a fantastic place to introduce you to some classic dishes.
Try tonkotsu, a panko crumbed pork dish served with rice at Katsuretsu An. This place just does tonkotsu so you know it's going to do it well.
For traditional Yokohama style Sukiyaki, don't pass up Araiya Bankokubashi which has an English menu, helpful staff and delicious food.
Splash out at one of the top-rated restaurants in Yokohama at Shikitei, which offers fine dining on the 68th floor of a skyscraper.
DISCLAIMER: Some of the links in this article are affiliate links, which means if you book accommodation, tours or buy a product, we will receive a small commission at no extra cost to you. These commissions help us keep creating more free travel content to help people plan their holidays and adventures. We only recommend the best accommodations, tours and products that ourselves or our fantastic editorial team have personally experienced, and regularly review these. Thanks for your support, kind friend!