Here is our complete guide to tell you everything you need to know to travel to Albania!
Whether you're into epic mountain adventures, relaxing beach vacations or partying it up in a bustling city, Albania has something for you!
Albania is perfect for those who like to spend their time getting lost in the natural treasures of a country.
The beautiful coastline, stunning mountains and the flora are only a few of its wonders that bring tourists here from around the world.
Along with a rich history and culture, it is a great holiday destination for both energetic and chilled out tourists. You can count on spending a perfect beach vacation here, but you can also choose a more active approach.
The urban areas, although rather small, like the capital Tirana, have a unique spirit worth visiting. On the other hand, the Albanian Alps offer great hiking opportunities for mountain-lovers.
While its popularity is continuously growing year after year, it is still considered to be the Balkan's hidden gem.
Unfortunately this stunning and diverse country is still relatively off the beaten path, thanks to a couple of major tourists hotspots in its vicinity.
Maybe that should inspire you to travel to Albania and try to uncover all it has to offer!
More and more tourists travel to Albania to experience its gritty, vibrant streets or to take a dip in its waters. Not only is Albania surrounded by two seas (the Adriatic and the Ionian), it also has a few wonderful rivers and lakes.
But in our opinion it would be a shame to visit Albania and not explore the Theth National Park, along with its gorgeous natural landmarks.
The food is an experience itself, combining influences that have shaped the history of the Balkan peninsula through the years!
So what are you waiting for? It's time to delve into our guide to travelling to Albania and get you prepared for your next big adventure!
Albania Travel Guide
For a more detailed display of things you should see and do, make sure you read this Albania Travel Guide!
Along with those suggestions, you will also get all the important information necessary for a pleasant trip.
All you have to do is pack your bags and decide when you'll take some time for yourself!
General Info
Here's a list of certain things that you will definitely find useful on your visit.
The general info will come in handy one way or another!
Electricity Voltage: The standard voltage is 220-240V at 50 Hz. If you have 110V appliances, you should use a voltage adaptor whilst in Albania.
Electricity Sockets: Type C (also works with plug E and F) and type F (also works with plug C and plug E)
How to Get to Albania
There's a bunch of different ways to travel to Albania, and the method you choose depends on where you are coming from, how long you have, and what your budget is.
Flying
When it comes to air travel, Albania has one major airport in Tirana – the Nënë Tereza.
Direct flights to it are available from many European cities, as well as Israel and Turkey. If you're travelling from another continent, you will need to have a layover in a major city in Europe.
There still aren't any direct flights available from North America, South America, Africa or Australia. The closest option for those coming from the Americas is flying to London or Frankfurt first.
The majority of the flights come from Italy (from around 15 cities), while German cities are in second place.
The large airlines that fly to Nënë Tereza are British Airways, Lufthansa, Turkish Airlines and Alitalia. If you're interested in low-cost airlines, Wizzair has flights from Budapest, London and Dortmund.
Another airport, called the Kukës, should start working in 2020, and it should primarily be a low cost airport.
Getting to the Nënë Tereza from town is fairly simple.
You can take the shuttle (Rinas Express) from the centre of Tirana or travel by taxi.
The bus ticket costs around 2€, while the taxi fare is around 18€.
Make sure you look for the ATEx sign on the cars, since they are the only approved taxi company at the airport.
Ferry
One of the most popular ways of reaching Albania is by ferry.
Most of them depart from Italy and arrive at either Durrës, Vlorë or Sarandë, although some come from Greece too.
Ferries for Durrës leave from Ancona, Bari and Trieste. If you go to Brindisi, you can catch a ferry to Vlorë and Sarandë.
There's also a connection between Sarandë and Corfu in Greece.
The well-known Italian ferry operators are Adria Ferries, Adriatica di Navigazione, Azzurra Line, Venezia Lines and Ilion Lines.
On the other hand, if you're planning to travel to Albania from Greece, check out Sarris and Ionian Seaways.
The prices depend on the number of passengers, whether you have a vehicle or not and the time of year.
Bus
There are a couple of ways to get to Albania by coach. Even though it's not the most comfortable way to travel, it's usually inexpensive and fairly frequent.
You can catch a bus to Albania from Istanbul, Athens, Prishtina, Tetovo, Thessaloniki, Sofia, Larisa, Ohrid and Ulcinj.
The prices go from 10€ to 35€ for a one-way ticket, depending on your starting point.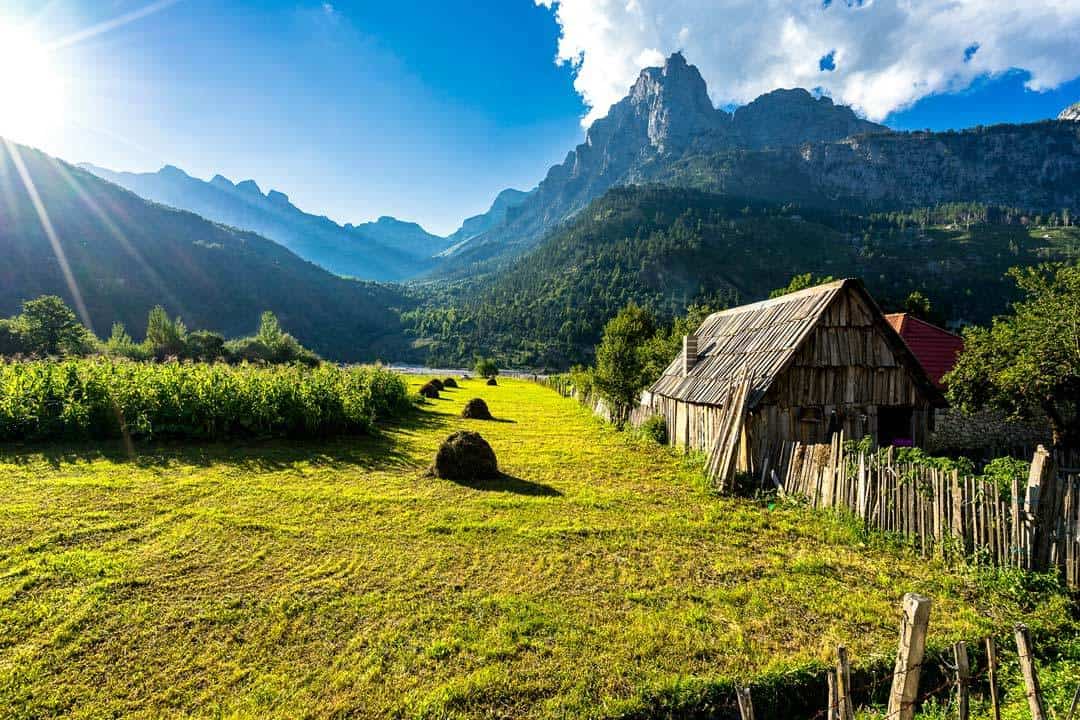 Albania Visa Requirements
All EU citizens, as well as those from the USA, Canada, Australia and UK, can travel to Albania without a visa.
The only condition is that they don't spend more than 90 days there.
In total, there's 55 countries whose nationals don't need a visa for a 90-day stay in Albania. Check if yours is on the list by clicking here.
Those who didn't find their country on the lists above must be issued with a visa.
They can be issued free of charge or cost up to 55 euros, depending on the country.
5 Interesting Facts About Albania
The flora of Albania makes 30 percent of the entire European flora.
The Albanian language is very unique. It is Indo-European, but it forms its own independent branch and it has no relatives!
Until 1991, there were only around 5000 cars in Albania. The Communist dictator Enver Hoxha banned them and insisted that citizens walk or use some type of public transport.
The Albanian Vjosa river is considered to be Europe's very last free-flowing river. Make sure you see its beauty in person.
Mother Teresa, born Anjezë Gonxhe Bojaxhiu, was Albanian!
Best Time to Travel to Albania
Albania's climate is divided into 3 zones: the warm coast, the continental interior and the cold mountains on the north. Depending on what you'd like to see and do, you should choose different times of the year for your trip.
However, the best time to visit in general would be late spring and early fall. The temperatures will be pleasant and you'll be able to enjoy all your activities.
So, anywhere between April and June, and then September and October.
If you've chosen Albania as your summer vacation destination and you like the heat, visit in July. That is the peak of the tourist season and the weather is extremely warm.
It is advised that you avoid the period between December and March, since it can get really cold and wet.
But, if you're a lover of snow and winter sports, use this time to visit some of Albania's ski destinations!
Another advantage of visiting during the cold months is that you'll be one of the few tourists in Albania. Basically, it will be like living with the locals.
Albania Travel Itineraries Suggestions
Albania is a country of great variety and vibrancy.
Visiting different parts of it could feel like visiting multiple countries!
Planning your stay can get difficult, but we've created a couple of itinerary suggestions, based on different preferences.
Most of them require renting a car, but you could also rely on buses or the kindness of strangers.
Here's a few ways to spend 10 days in Albania:
1. The Seaside
Catch a ferry to Vlorë from Italy
Go back to Sarande and catch a ferry
2. Culture
Go back to Tirana to fly out
Budget for Travelling in Albania
In general, Albania is inexpensive for Western tourists, especially when compared to some of the nearby countries, Croatia and Italy.
You can find accommodation for a reasonable price and there are great cheap food options. Museum tickets and public transportation fares are very affordable.
Some prices could go up slightly during the summer, especially in seaside towns, since that's the peak of the season.
However, it's never too drastic. Of course, it all comes down to your needs and personal spending habits.
There's always something interesting to try and something to spend money on. But, if you put in a little effort into your planning, you could experience Albania on a budget!
The prices below are per day.
Budget for Backpackers in Albania
Single Traveller: 20€ – 40€
If you're visiting during the spring or summer, backpacking is a great way to explore Albania. Accommodation in a hostel in Tirana is around 7-15 euros per night.
If you book ahead, you will be able to find the cheaper rooms.
Another suggestion is Booking.com or AirBnB, since you can really get lucky with the prices.
Click here to get $35 off your first stay on AirBnB.
Certain budget hotels can be very affordable, so you can get a room for around 20 euros/night. Ask around and try to find some free tours, since volunteers organise them from time to time.
If you're trying to save money on food, there are always great on-the-go options for 2-3€ in total. For example, instead of eating in a restaurant, try the delicious, traditional Balkan pastry – burek.
It's a win-win!
Use public transportation to get around, just like the locals do. The minibuses they often travel by are called furgons.
They don't have a specific timetable, but they are cheap. Buses are even less expensive, but they're slightly slower.
Flashpacker
Single Traveller: 50€ – 80€
Having a bigger budget means more comfort and luxuries, such as museums and restaurants.
The entrance to the National Museum in Tirana costs less than 2€, and most museums have the same prices. Make sure you visit as many as you can, for a glimpse into Albania's history and culture.
You can have a delicious, satisfying meal for 5€ – 10€, as long as you avoid the most expensive places. Having a cup of coffee will never cost you more than 1,5 €.
Therefore, taking a break in a cute cafe can become your daily ritual.
The starting price for taxis is around 2€ – 3€, while every kilometre is approximately 1€.
You can treat yourself to this type of transportation, since it's probably cheaper than in your home country!
You can find a mid-range hotel room in the very centre of Tirana for an average of 35€ – 45€/night.
The people are incredibly friendly, so you should consider asking a local for some recommendations!
Luxury
Single Traveller: 90€ and more
Accomodation in Albania's most luxurious hotels can cost you anywhere from 60€ to 90€ daily. That will allow you to enjoy private spas and transport to and from the airport, to name a few things.
You should consider booking a tour and letting a guide introduce you to everything this country has to offer.
Why travel to Albania if you're not going to get to know it properly? Tours of the capital will cost you around 20€, while a full-day hiking tour will be close to 80€.
Depending on what you like, you'll definitely find an option that fits your budget and your interests.
Fine dining won't be too costly compared to average European prices. You won't pay more than 40€ for the most expensive meal in a luxurious restaurant!
Consider buying an authentic Albanian souvenir to remind you of your experience.
Traditional Albanian rugs called kilims and the famous Skënderbeu Cognac are a great choice!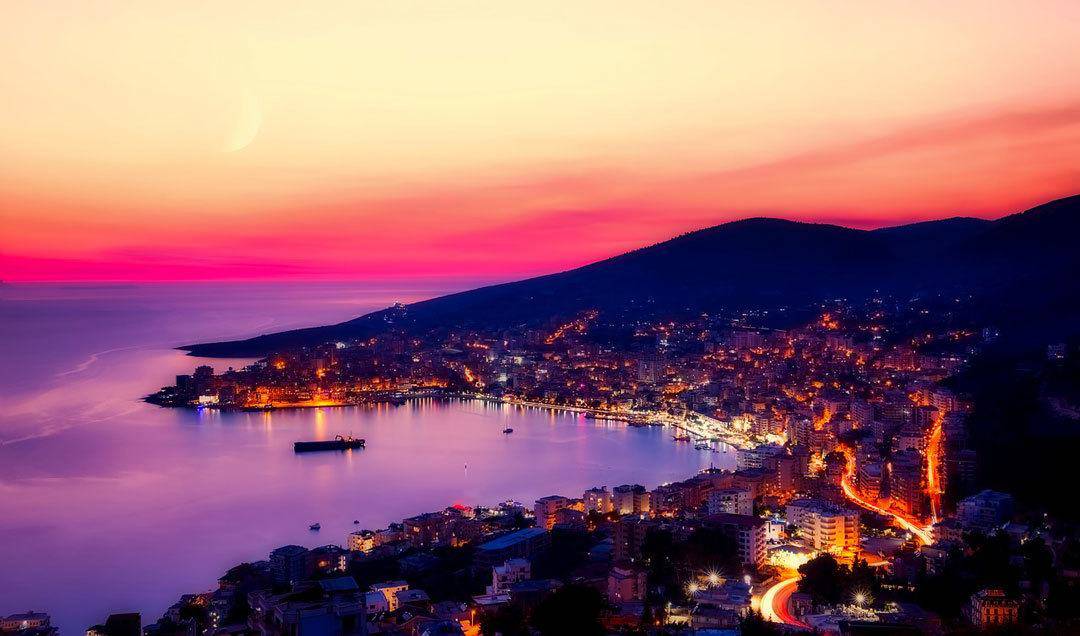 Top 5 Places to Visit in Albania
It's hard to single out only 5 places, when there's so much to see and do. But these five spots should be the ones you must not miss!
The Blue Eye Of Theth

: Located in one of Albania's most beautiful national parks, this might be the most stunning sight in the country. If you're into hiking, plan your route around this, it will definitely be rewarding!
Gjirokastër

: This lovely place is a UNESCO World Heritage Site. It gives visitors a chance to experience a real Ottoman town, as the architecture and the cobbled streets are well preserved!
Berat

: Berat is yet another UNESCO Site, also known as the "city of a thousand windows". Visit its castle. churches and mosques to understand the diversity of Albania's history and culture.
Tirana

: The capital is also the biggest and busiest city. Try to meet some locals and blend in with them so you could feel the real spirit of Tirana. Even though it's not the most beautiful city you'll see, you'll see for yourself why it's so appealing to tourists!
The Riviera

: You can't travel to Albania and not spend some time on the seaside. The crystal clear waters of the two seas and the fairly cheap prices guarantee a good vacation. The Albanian riviera is a hidden treasure when it comes to European holiday destinations!
Top 5 Experiences To Have In Albania
Hiking From Theth To Valbona

: Albania's most popular hike is also one of the most beautiful ones in this part of Europe. As long as you're prepared for approximately 7 hours of walking, you'll really enjoy the incredible scenery. Make sure you bring all of the necessary equipment and enough food, so that you can truly be focused on the nature. This isn't the easiest journey, but it sure is worth the struggle!
Experience xhiro

: Xhiro is an authentic Albanian tradition. Every evening, people go out into the streets, usually the big boulevards, and take a walk. They use this time of day to catch up with their friends or neighbors and hear about each other's days. Many use xhiro to sell their products, so they bring out whatever it is they're selling into the streets. Don't be surprised if you see people having a barbecue party on the sidewalk – it is all possible during xhiro. This Albanian social ritual is something you must be a part of while you're in the country.
Take a Tour About Albania's Communist Past

: As you may or may not know, Albania was under a Communist dictator Enver Hoxha until 1991. This era shaped the country into what it is today in many ways. There are still many sites to see all over Albania that are closely linked to that era. For example, entire parts of Tirana were restricted to those who weren't members of the Communist party. This tour will introduce you to all the interesting facts about Albania's 20th century history. It is exciting and strange and something you should definitely learn about!
Osum River Rafting

: The breathtaking Osum river canyons are a must-see for every nature enthusiast. Try to visit during the spring, since the water levels will allow you to see all the waterfalls. The adrenaline rush combined with the beautiful scenery will make for an unforgettable experience. There's also an interesting legend involving the river and the two mountains surrounding it, Tomorr and Shpirag. The story says that two brothers killed each other because of a girl named Osum and that her tears formed the river.
Visit the bazaars

: Authentic Albanian bazaars exist in a few cities and they're an amazing way to get to know their culture. They are a great place for buying traditional, handmade products, such as kilims and çifteli, an Albanian instrument. The Krujë bazaar is one of the most famous ones, since it has existed for hundreds of years. If you'd like to buy some souvenirs or just feel the bustling spirit, this is the place to be. Supporting small local businesses and craftsmen is something you should do in your country and abroad!
Transport in Albania
Using public transport in Albania can be unreliable, since timetables pretty much don't exist. However, it is very cheap and fairly fast, so it's still very popular among tourists and locals.
Bus
Most people travel by bus. The fares are very low, so you'll rarely spend more than a few euros on the ticket.
The tricky part is that the bus leaves the station when it gets full, not according to the timetable. That means that you can't really predict when it's going to come.
It's best to ask a local who uses the bus often to tell you an approximate time of arrival. Also, always get in the bus with the most passengers, since that one will leave first!
Furgon
People also travel by furgon – a minibus or van of sorts – for a more pleasant trip. The same rule about leaving when full applies here as well.
Be aware that the driver picks up and drops off people along the way. Therefore, you can get off anywhere you want and get on whenever you hail the driver.
Train
This type of transport is very unpopular and rarely used by the locals. The rail system is not developed and the trains are in bad condition, so it's best to stick to other options.
If you do choose to try it, you'll be happy to know that the tickets are cheap and the views are beautiful.
The trains operate between a couple of cities and towns, such as Durrës, Shkodër, Vlorë and a few more.
Also, you should know that Albania is not connected to other countries by train.
Taxi
Even though taxis are the most expensive type of transport in Albania, they're cheap compared to standard European prices.
The starting price is 250 lek, which is roughly 2-3 €. Every kilometre is an additional euro.
Most taxi drivers speak some English, so communicating won't be an issue.
To avoid getting scammed, ask a local or the staff in your hotel to find you a taxi.
Accommodation in Albania
Whether you're a backpacker or someone who needs more comfort, Albania covers it all. From hostels and tiny hotels to the, large world-famous ones, there are options for everyone.
An interesting way to spend your vacation is in an authentic guesthouse. There's quite a few of them in Albania, but you might have to ask the locals for suggestions.
It's really fascinating to wake up in a traditional Albanian household and eat freshly prepared meals!
The riviera destinations are growing more and more and, therefore, there's an abundance of hotels.
However, wherever you go, AirBnB might be a good option, since it's usually inexpensive.
Food in Albania
If you've ever been to the Balkans, you know that the food is incredible in every country.
Since it was influenced by many cultures through the centuries, it is a wonderful mix of flavours, ingredients and textures.
Many Albanian dishes have meat in them, but you can find vegetarian and vegan options.
If you have a sweet tooth, you won't be unsatisfied. The desserts are usually made with nuts, crunchy dough or fruit.
The Berat region has the biggest fig plantation in Europe and their fig preserves are delicious!
Here's a few dishes you must try when you travel to Albania:
Tavë Kosi (baked lamb with rice and yogurt)
Speca me Glizë (peppers stuffed with rice, veggies and ground meat)
Fërgesë (creamy vegetable and cheese stew – could also be made with meat)
Byrek (filo pastry filled with different toppings, such as cheese, spinach, meat and cabbage)
Trilece (creamy, milky cake)
Qofte të Fërguara (fried meatballs)
Safety in Albania
In general, Albania is a safe country for all visitors. There hasn't been many instances of violence against tourists.
It's even safe for solo women travellers, since the people are friendly and welcoming.
Pickpocketing is very rare and there aren't any parts of Albania that are more risky than the others.
Of course, it is always advised that you take certain precautions, like keeping your money in a safe place.
One thing you should be careful about is the traffic.
Albanian drivers are notorious for not exactly following the rules and regulations, so be cautious when crossing the streets.
The roads are slowly getting better, but if you're a driver yourself, you will need some patience.
Packing List For Albania
If you decide to come during the spring and summer, you won't need a ton of clothes.The weather will be nice and pleasant, ideal for walking around.
But if you're travelling to Albania during the colder months, please add a winter jacket to this list!
Men
Women
1 x comfy leggings/sweatpants
Miscellaneous Items
Medical Care In Albania
Since Albania is a relatively poor country, the state of the healthcare system is pretty much the same.
Tirana is the most developed in that sense and you shouldn't have a problem finding help there.
You will be able to find a variety of medication in Albanian pharmacies, called barnatore.
However, if you're on some type of regular prescription medication, make sure you bring it with you, along with a doctor's letter.
It is recommended that you have travel insurance before you travel to Albania. Sometimes, you will have to pay in advance even if you're covered.
The private hospitals and clinics in Tirana mostly have English-speaking doctors and nurses, so you'll be able to explain your symptoms.
You shouldn't be afraid of any specific diseases in Albania, but make sure you have all your vaccinations.
If you plan on spending time in the nature, pay attention to ticks and wear long sleeves and trousers.
In summary, if you have to seek medical care, try to go to Tirana, since the quality and safety is best there.
Travel Tips For Albania
Try not to drink tap water. The water in some mountain areas is safe to drink and also very delicious, but make sure you educate yourself properly.
Remember this: nodding in Albania means no and shaking your head means yes! Either adapt to the locals or stick to communicating with words only.
Get used to the traffic chaos. Look left and right multiple times before crossing the street, get used to the honking and the speed. Also, public transport is irregular and often too packed with people.
It is useful to know a few Albanian phrases and the locals will certainly appreciate it. For example, përshëndetje means hello and faleminderit means thank you. If you'd like to ask someone whether they speak English, say Flisni Anglisht?
If you're planning on exploring the Albanian mountains, bring some type of insect repellent. Also, cover your skin as much as possible, to avoid unpleasant rashes and insect bites.
Try some of the Albanian wines! Albania has a very long tradition of wine making, dating back to the ancient Roman era. You can stick to the classics, or try some of the rare or more luxurious wines. For example, the Uka Farm is the only place in the world where you can drink Ceruja wine. If you'd like to switch things up, try the orange wine.
Read Our Albania Posts