From hiking through several national parks to sipping a Sapporo beer over a steaming bowl of miso ramen, here is our list of awesome things to do in Hokkaido, Japan!
Hokkaido truly is Japan's last remaining wilderness.
It contains 20% of the country's land area with only 5% of the population.
Hokkaido only became part of the Japanese 'mainland' in 1869.
Its rural roots are evident everywhere, farmland wraps around the hills and mountains, the roads are empty and traffic jams are limited.
This is Japan at its most rugged, most inspiring, and most breathtaking.
The second largest of the home islands is made for a road trip, so hire yourself a car and go explore one of the most beautiful places in Japan.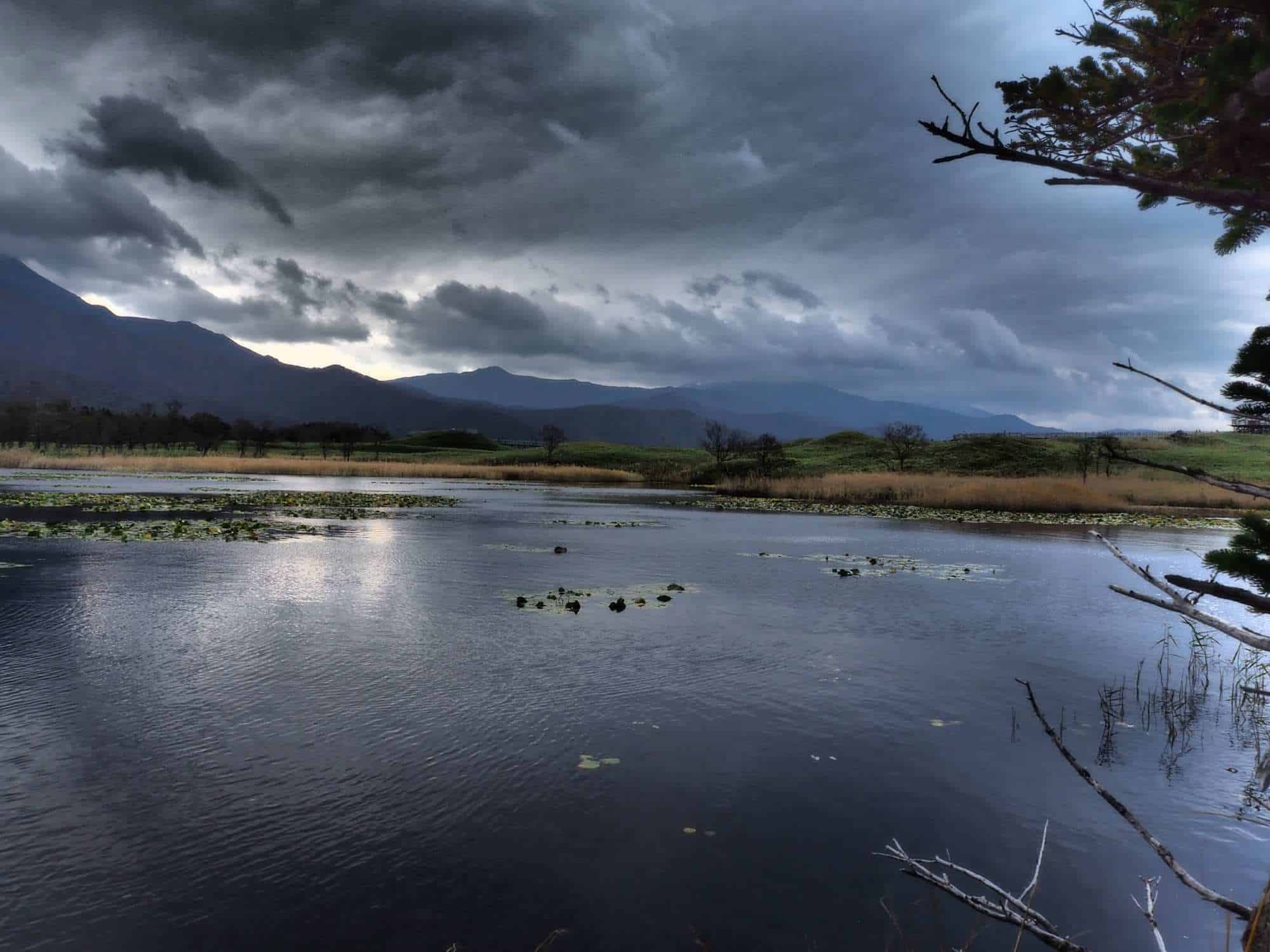 The Best Things to Do in Hokkaido
If you are not sure what to do in Hokkaido, then you've come to the right place!
Hokkaido is chock full of things to do – whether you want to hike in the mountains, relax in some hot springs, check out the ski resorts, or eat some of the best sashimi in Japan.
In terms of what to see in Hokkaido, the island is home to some of Japan's most stunning and sublime scenery, with notable places being the Shiretoko and Akan National Parks.
There is so much to do in Hokkaido that you could be here for months and still not see everything.
As tourism to Japan grows year on year, Hokkaido has still managed to remain reasonably off the beaten track.
There are a variety of reasons for this, including the apprehension of renting a car, concerns over the language barrier, and difficulties getting there to name a few.
Here is our list of some awesome things to do in Hokkaido.
READ MORE: Play your perfect Hokkaido itinerary in this post!
1) Explore the Shiretoko National Park
In some ways this stunning national park has an almost end of the world feel to it.
Jutting out of the northeast corner of the island like a finger pointing towards far away Kamchatka, it is one of the highlights of any trip to Hokkaido.
The best place to stay is in Utoro, at the southwestern end of the park.
Some travel guides recommend staying Shari which is an hour away from the park itself. Whereas Utoro is only 15 minutes away.
The park is full of hiking trails from short strolls to multi-day hikes.
The jewel in the hiking crown is climbing to the summit of Mount Rausu, which offers stunning views of the peninsula.
Just be aware that this is the hike you are most likely to come across one of Hokkaido's most famous residents; brown bears, or higuma in Japanese.
The Shiretoko Go-ko is also well worth checking out and is especially beautiful during the autumn months as the leaves change colour.
If you fancy something a little more rural then check out the Furepe Waterfall which offers some lovely coastal views of the western cape.
For some really spectacular coastal views take a cruise from Utoro harbour along the western cape, an awesome Hokkaido sightseeing experience!
If you're lucky you'll get clear views of Mount Rausu and you may even see some bears on the beaches.
For a change of pace check out the many onsens and hot springs in the area.
One of the most fun things to do in Hokkaido is to head over to Rausu and head north and check out the free foot spas on the beach, definitely one of the top things to do in Hokkaido.
There are stunning views as you soak your feet.
Incidentally, there is a phenomenal sashimi restaurant just next to the beach in Rausu.
Just take a right after coming to the Shiretoko pass road and then take an immediate left.
For the record, the views from the Shiretoko Pass are lovely. However, they are very much cloud-dependent.
In winter the town of Utoro gets one of its most famous visitors, Ryohyo (drift ice) from the Sea of Okhotsk.
The drift ice usually arrives in mid to late January, disappearing in April.
The best time to see and experience this unique drift ice event is mid-to-late February.
During this time you can enjoy ice 'walking' tours which involve donning a dry suit and probably a little more swimming than walking through the drift ice. In the winter this is definitely amongst the top Hokkaido attractions.
If you are coming to the National Park from the west then take the opportunity to drive the stunning Okhotsk line which runs along the Sea of Okhotsk.
The nearer you get to Abashiri the more farmland you will see, so enjoy the deserted roads and spectacular scenery.
Looking for an even cooler experience in the national park? Why not go on a whale, dolphin and bird watching cruise!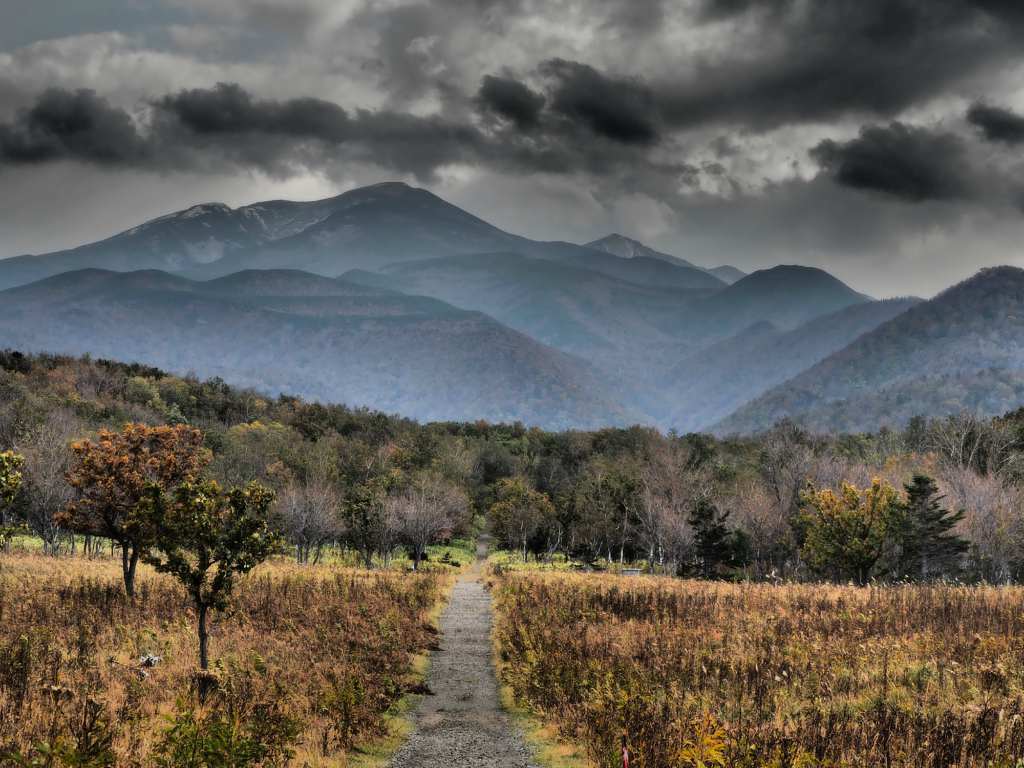 2) Hike in the Akan National Park
This stunning national park is made up of Lake Akan, Lake Mashu and Lake Kussharo and is one of Hokkaido's top attractions.
The easiest way to plan your time is to explore one lake at a time.
Lake Mashu (Mashu-Ko) is probably the most picturesque of them all.
There is a fantastic hike to the top of Mashu Dake that offers amazing views over the National Park itself, easily one of the best things to do in Hokkaido.
Head back when the sun sets for one of the best things to do in Hokkaido at night; stargazing. Lake Mashu is one of the best stargazing spots in Japan, so park and enjoy!
Lake Kussharo and Lake Akan are home to a number of short hikes, foot spas and cafes.
The national park is full of epic hikes. Local visitor centres will have recommendations on the best hikes and which hiking trails are open.
For spectacular views over Lake Kussharo head up to the Bihoro Pass.
On a clear day, the views over Lake Kussharo are truly spellbinding.
If you're into volcanoes and geothermal activity then check out Mount Ion, which offers some pretty awesome mountain views. You can also try to cook an egg in the geothermal spring!
Like many other places on Hokkaido, there are onsens and hot springs dotted all over the place.
From foot spa cafes, to luxurious hot springs, to full-blown onsen hotels, there is enough variety to suit everyone's bathing needs.
If you get the chance, head down to Lake Kussharo's hot water beach with a spade. Dig into the sand and enjoy!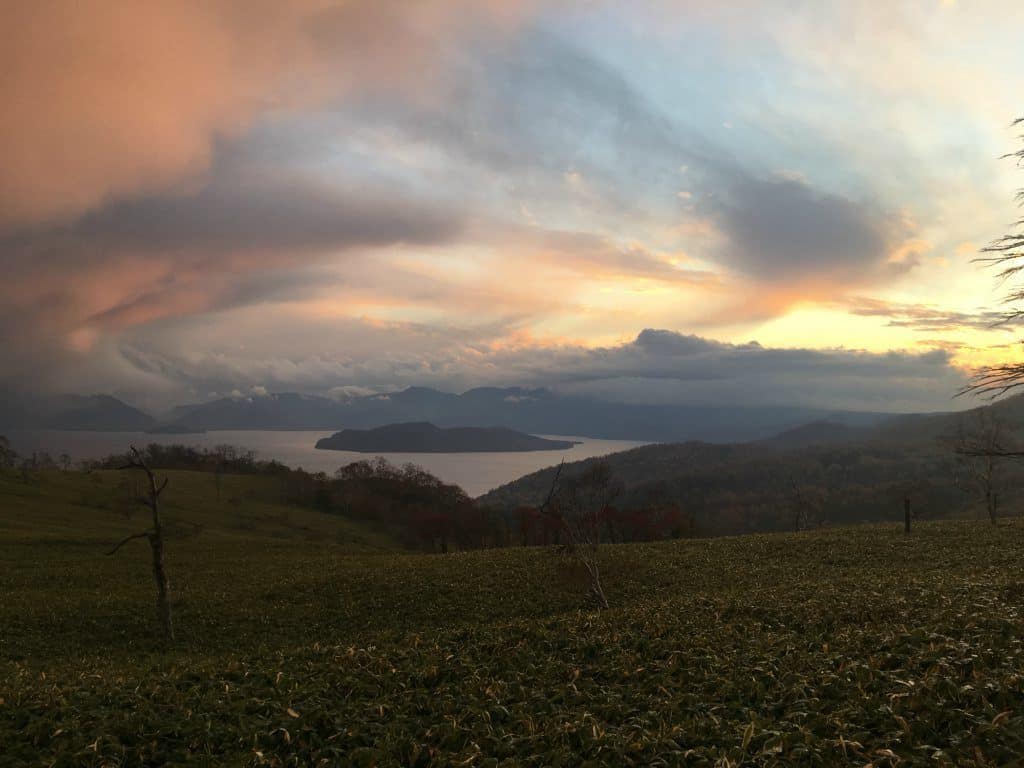 3) Relax in a Hot Spring in the Daisetsuzan National Park
This stunning National Park in the centre of Hokkaido is home to some spectacular hot springs and some of the island's best hiking trails.
Autumn is a great time of year to visit and take in Japan's famous fall colours.
However, this time of year does come with the potential of being quite wet. Also in the Daisetsuzan National Park snow is not unheard of in October.
For those that love to hike there is a mixture of everything from short to multi-day trails offering stunning scenery.
The best places to stay are in one of the onsen towns dotted around the park. From there it's a drive or cable car ride up to the start of a hiking trail.
The most well know of these onsens are Asahidake, Sunkyo and Kogen onsen.
You can spend the day hiking before returning to your onsen hotel to soothe those aching muscles in the hot springs.
There are also numerous mountains that can be summited here.
Many of them require serious preparation, planning and expertise.
However, Kurodake is one of the most accessible mountains in the entire park.
Alternatively, there are a number of hikes departing from the various onsens mentioned above.
Views of the Daisetsuzan from surrounding towns such as Asahikawa, Furano and Biei are awesome!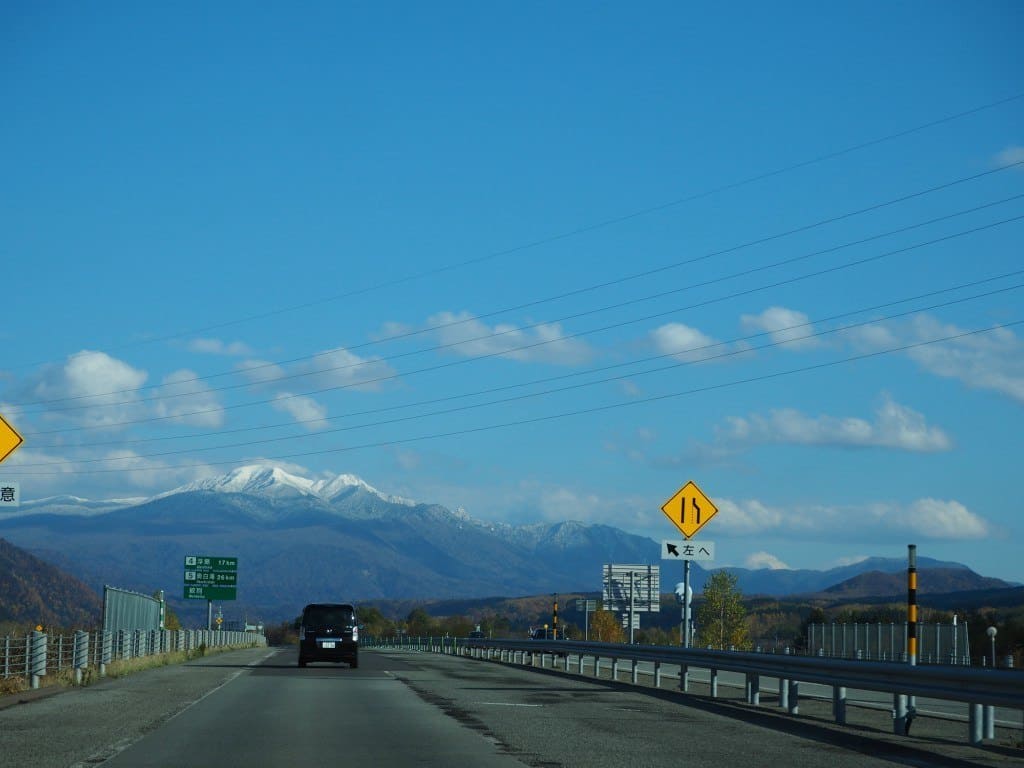 4) Get off the Beaten Track in the Rishiri-Rebun-Sarobetsu National Park
Welcome to one of the most remote and spectacular regions of Hokkaido.
This National Park is made up of two islands; Rishiri-to and Rebun-to.
These two small islands are renowned for their hiking trails, alpine flowers and spectacular scenery.
Rishiri-to is home to onsens and small fishing villages.
The island fans out from the central point of Mount Rishiri, giving the island a very different feel to Rebun-to just across the water.
Naturally, the hike to the centre of the island is one of the most popular trails on the island.
However, this hike is very physically demanding with a 1500m vertical ascent.
Mount Pon at 444m above sea level is a much nicer introduction.
Rebun-to is home to a number of excellent hiking trails and numerous capes offering stunning coastal views.
The excellent Momoiwa and Rebundake trails are particular highlights.
However, the island's west has some excellent hiking trails going the length of the island itself.
These are especially popular and offer some of the most rewarding scenery. Rebun-to has more hiking options that Rishiri-to.
Getting around both Risihiri-to and Rebun-to can be done either by hire car or public bus.
Due to the small size of both islands getting around by bus is an excellent choice.
Renting a car on the island is expensive, around 14,000 yen a day. This is approximately the same cost as bringing a car over on the ferry.
Therefore from a financial point of view, buses are probably a better bet as opposed to renting a car on the island.
These islands are only accessible from the town of Wakkanai on Hokkaido.
However, there are ferries that travel between both islands once or twice a day. From Wakkanai, ferry journeys should take around 2 hours and about 45 minutes between the two islands.
The best time to visit these islands is in summer. June is particularly pretty as the alpine flowers are in full bloom.
If you want to get off the beaten track then this is one of the best things to do in Hokkaido.
READ MORE: Don't miss our list of the top places to visit in Japan!
5) Visit Lake Toya and Lake Shikotsu
These two lakes make up the Shikotsu Toya National Park, a rather lovely expanse of land sandwiched between New Chitose, Noribetsu and Niseko.
With hiking trails, water sports and onsens there's plenty to do around here.
Around Lake Shikotsu there are awesome hiking trails to Tarumae-zan, Fuppushi-dake and Eniwa-dake.
Each offers great views and a decent workout.
Tarumae-zan ranks as one of the most active volcanoes in Japan.
The crater is usually closed. But you can usually get up to the rim, which is 1.5-hour roundtrip hike.
To do this hike you will need a private car to get up to the trailhead.
On the northern edge of the lake lies marukoma onsen, which is worth checking out.
Lake Toya's southern shoreline is dominated by two active volcanoes: Showa-Shin-zan and Usu-zan.
You can visit both of these lakes on an awesome boat cruise.
Showa-Shin-zan still regularly belches out sulphurous gases. On the other hand, Usu-zan has calmed in recent years.
Showa-Shin-zan was a flat wheat field until earthquakes birthed it between 1943 and 1945.
It was named Showa, in accordance with the Showa Emperor, known more commonly as Emperor Hirohito.
The Usuzan ropeway is the best way to get views of both volcanoes.
6) Find Your Perfect Onsen in Noribetsu
Noribetsu is possibly the most famous onsen area in Hokkaido.
This area is home to the famous Noribetsu Hell Valley, Jigoku-dani in Japanese.
Here sulphur fills the air and stains to rocks as it roars out of the vents.
From here there is a lovely trail that takes you past Kuttara-ko and down towards the Ooyunuma River natural foot spa.
This free natural foot spa is rather popular with visitors.
The town is home to numerous onsens, that are mostly in hotels.
However, hotels are happy for you to use their baths for a fee which can be anything from 400 up to 2000 yen.
It's quite easy to combine this with a visit to nearby Lake Toya.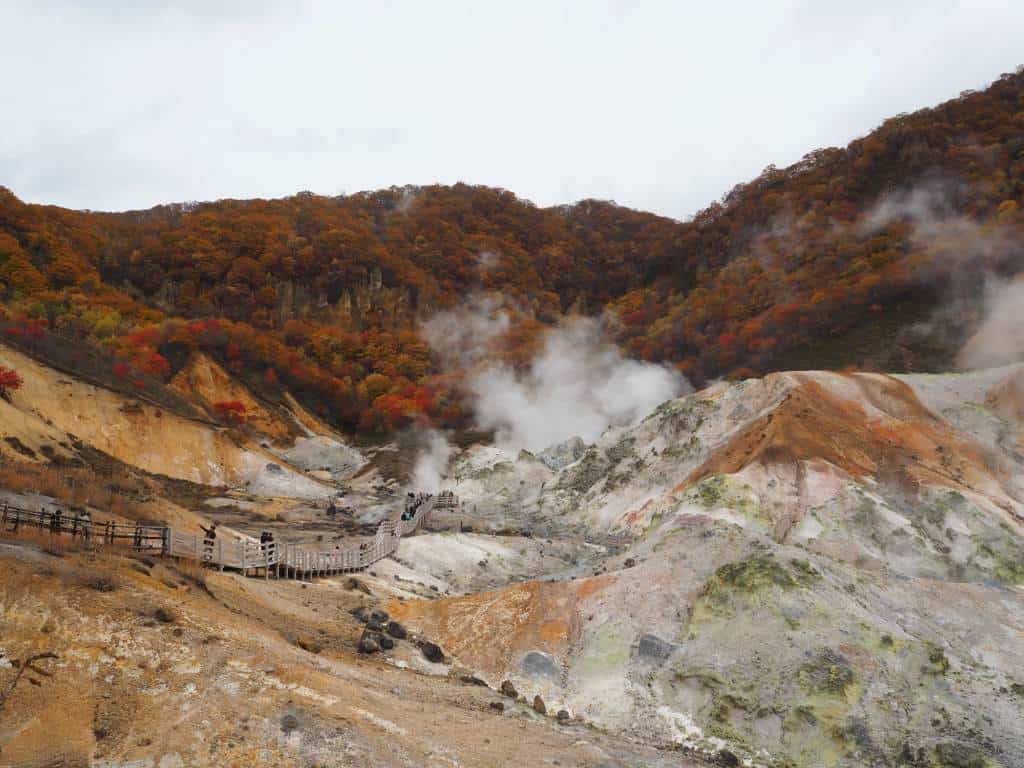 7) Watch the Sunset on the Shakotan Peninsula
This gorgeous peninsula is an undiscovered gem, it's certainly not a Hokkaido tourist spot.
Empty roads wind around the coast through tiny villages with views aplenty.
Sapporo or Otaru are great starting points for this awesome day trip.
Alternatively, you can stay in one of the villages to enjoy the slower pace of life and further explore the area.
There are a variety of places to stop off and explore.
However, some highlights are Cape Ougon, halfway up the northern side of the peninsula.
Around the peninsula's northern and eastern points are the spectacular Shimamui Coast and Cape Kamui.
You can check out the famous 'Shakotan Blue' at the Shimamui Coast.
Further on around the peninsula is the Cape Kamui, which is spectacular at sunset.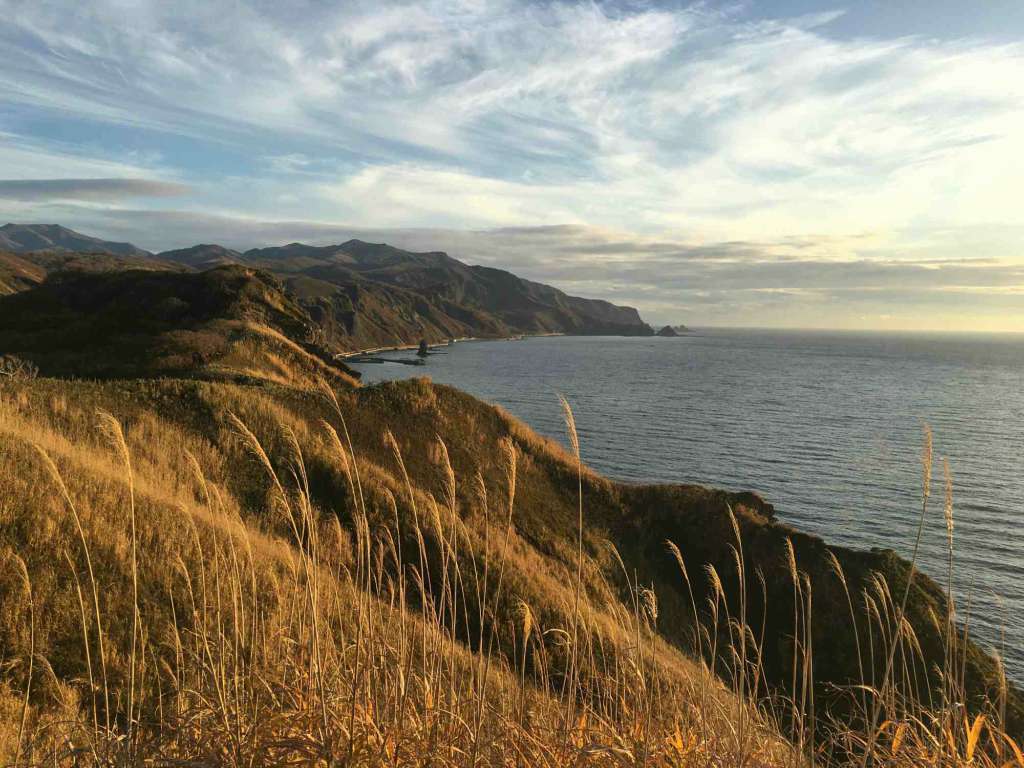 8) Check out the Nighttime View in Hakodate
The southern gateway to Hokkaido, Hakodate was one of the first cities that opened up to foreign trade under the terms of the Kanagawa Treaty of 1854.
This lead to the town hosting a small community of foreigners.
The legacy of this can be clearly seen in the Motomachi district of the city.
Head over to Mount Hakodate for spectacular views of the city, with the best views being 30 minutes after sunset.
This view is one of the top 3 nighttime views in Japan. The others include Mount Inasa in Nagasaki and Mount Rokko in Kobe.
The viewing platforms are accessible by ropeway, bus or car.
Take the opportunity to explore Motomachi and check out the western influences still present today.
Check out western-style villas and churches that seem totally out of place for what one would expect in Japan.
As one of the first western-style forts in Japan, Fort Goryokaku is an absolute must-see.
It was built to defend the city against western imperialism.
And in the civil war between the Meiji government and the shogunate, it was a place of fierce fighting.
After being turned into a pubic museum in the early 1900s, hundreds of cherry blossom trees were planted.
Now it is one of the best places to experience the Sakura season in Hakodate.
If you are into food and shopping then check out the morning market next to Hakodate station.
This bustling place of commerce runs from 5 am (6 am in the winter) until roughly midday.
With plenty of eateries around, this is the place to sample some of the freshest sushi and sashimi in Hakodate.
Outside of Hakodate, you will find the Yunokawa onsen monkeys.
Photos of these adorable macaques have been circling around the internet for years and have become an image of Japan.
If watching the monkeys gets you in the mood then there are plenty of onsens in the area for you to take a dip in.
READ MORE: Our updated Japan travel guide is now here! Click here to find out everything you need to know.
9) Take a Stroll Through Onuma National Park
This lovely National Park is only 20km away from Hakodate.
The lake is dotted with islands and has Mount Komagatake as a backdrop.
The entire park can be explored by foot. This means that it's an easy day trip by train from Hakodate.
There are numerous walking trails through the park that are between 15 and 60 minutes in length.
This is a great option for a day trip from Hakodate.
BONUS TIP: Get yourself a JR Pass for unlimited rail transport around Japan. Klook is the most reliable, and has the cheapest passes.
10) Explore Matsumae's Castle
If you are into Japanese castles then you will enjoy Matsumae.
This former castle town is just west of Cape Shirakami, Hokkaido's most southerly point.
During the Edo period, this was the northern limit of Japan.
The town prospered and attracted merchants who were protected by a garrison resulting in Matsumae Castle.
The castle is surrounded by cherry blossom trees meaning that this is another great sakura spot in Hokkaido.
11) Eat Everything You Can in Sapporo
The capital of Hokkaido is Sapporo, which is also often the entry point into Hokkaido for many.
A funky cosmopolitan city in its own right, Sapporo is well worth exploring. It's also home to a number of Hokkaido tourist spots.
The city is especially famous for its snow and ice festival, which takes place between January and February each year.
This is absolutely one of the best things to see in Hokkaido.
Aside from this, Sapporo is jam-packed with things to do.
Check out funky Susukino a haven of arcades and pop culture and the infamous Ramen Yokocho, an alleyway containing a number of excellent hole in the wall ramen restaurants.
This a great place to slurp down the Hokkaido speciality miso ramen washed down with a Sapporo beer.
The city centre is home to the lovely Odori Park and clock tower, which has an interesting museum attached with full English captions.
If you fancy trying some of Sapporo's most famous tipple then head over to the Sapporo beer factory.
READ MORE: Check out our list of the best things to do in Sapporo!
At night take the opportunity to head to Mount Moiwa to experience one of the best nighttime views in Japan.
Offering spectacular views over Sapporo getting here is just a short tram ride from the city centre.
As well as being famous for miso ramen, Sapporo is a haven for foodies with pretty much all of Hokkaido's most well known culinary exports being found here.
This includes salmon roe, sea urchin, frozen salmon, jingisukan and soft serve ice cream.
The city centre is home to numerous excellent izakaya's which offer a fantastic introduction into the world of Japanese Cuisine.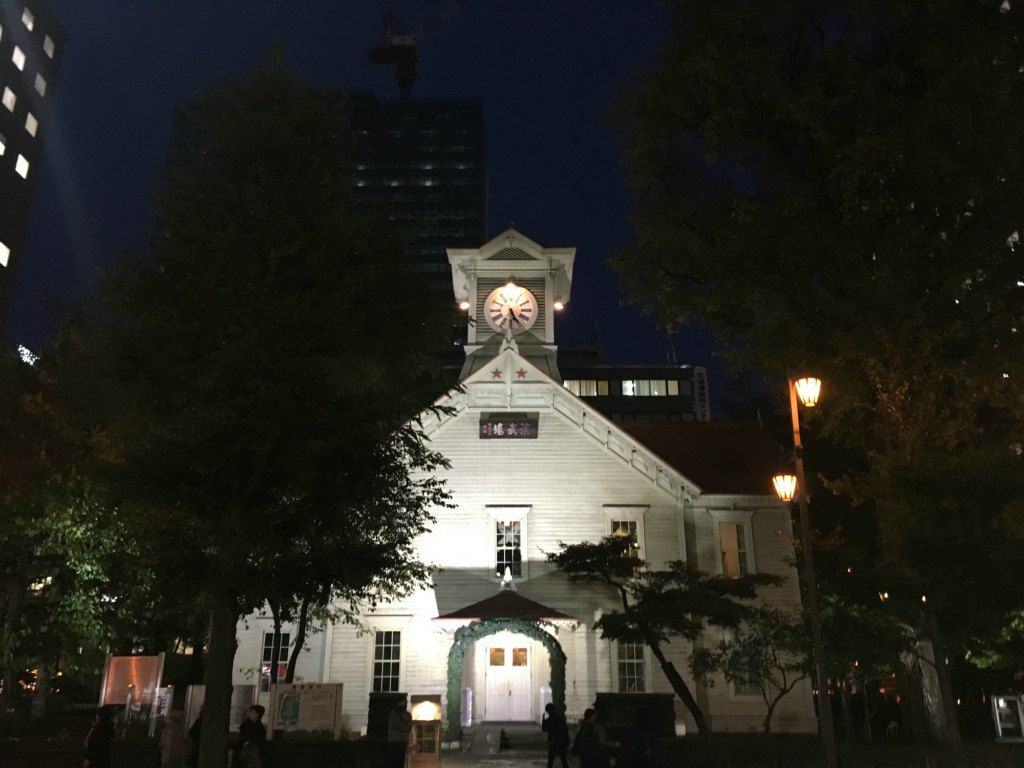 12) Wander Along the Otaru Canal
Welcome to Otaru, one of Japan's most famous towns.
This captivating little coastal retreat is most famous for its canal, history and food.
Back in the late 1800s, the fishing industry was thriving and fortunes were being made.
Financial institutions set up shop which made the town the economic centre of Hokkaido.
However, in the 1950s fishing stocks collapsed and the economic centre moved to Sapporo.
The central point of the town is the picturesque canal which is particularly beautiful at night.
The length of the canal is dotted with museums, shops and some fantastic restaurants and izakayas.
Head down to Sakaimachi to check out some of the towns most famous exports: glassware and music boxes. This area is home to a number of famous Hokkaido tourist attractions.
Elsewhere there are numerous old houses and buildings that hark back to the glory days of Otaru as a financial powerhouse in Northern Japan.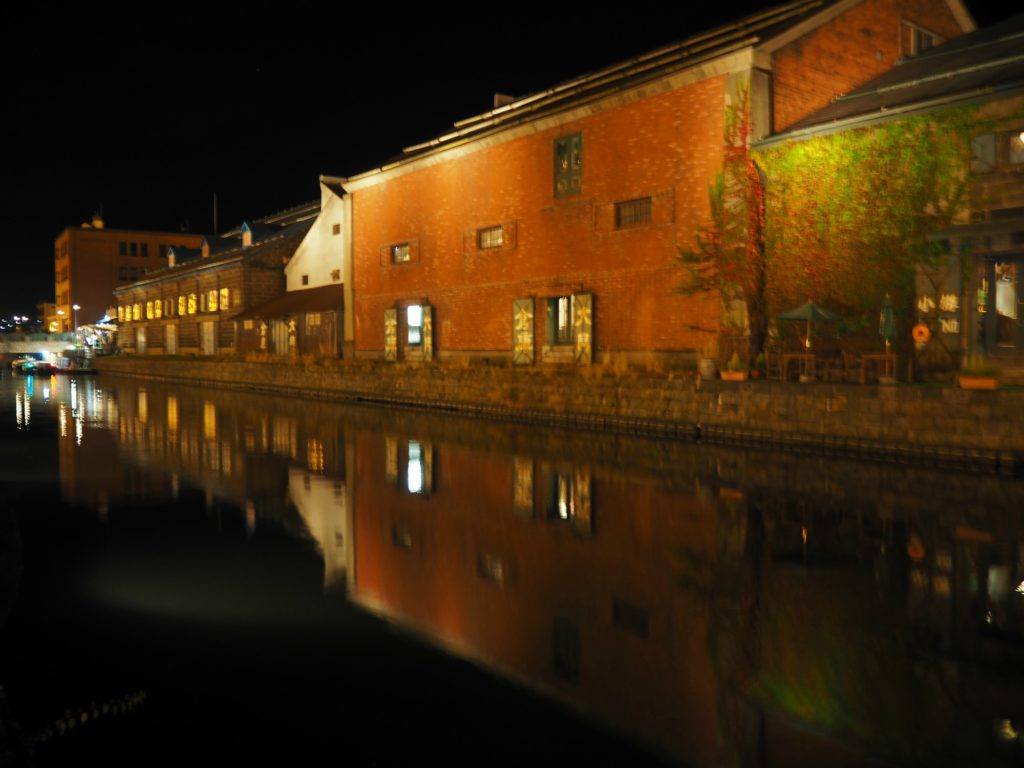 13) Enjoy the Flowers in Furano
These two gorgeous towns are a highlight of any trip to Hokkaido.
Furano is mainly famous for the eruption of colour that comes from its flower farms. The most spectacular of these is Farm Tomita, an awesome thing to see in Hokkaido, particularly in the spring or autumn.
Furano is also famous for its products including cheese, wine and ice cream.
Incidentally, since Hokkaido is Japan's largest dairy producer its ice cream and dairy produce are famous throughout the country.
If you're heading here in the winter then make sure you bring your ski gear as Furano is home to one of the top ski areas and ski resorts in Hokkaido.
Just be aware that when it snows in Hokkaido it can be very heavy so come prepared.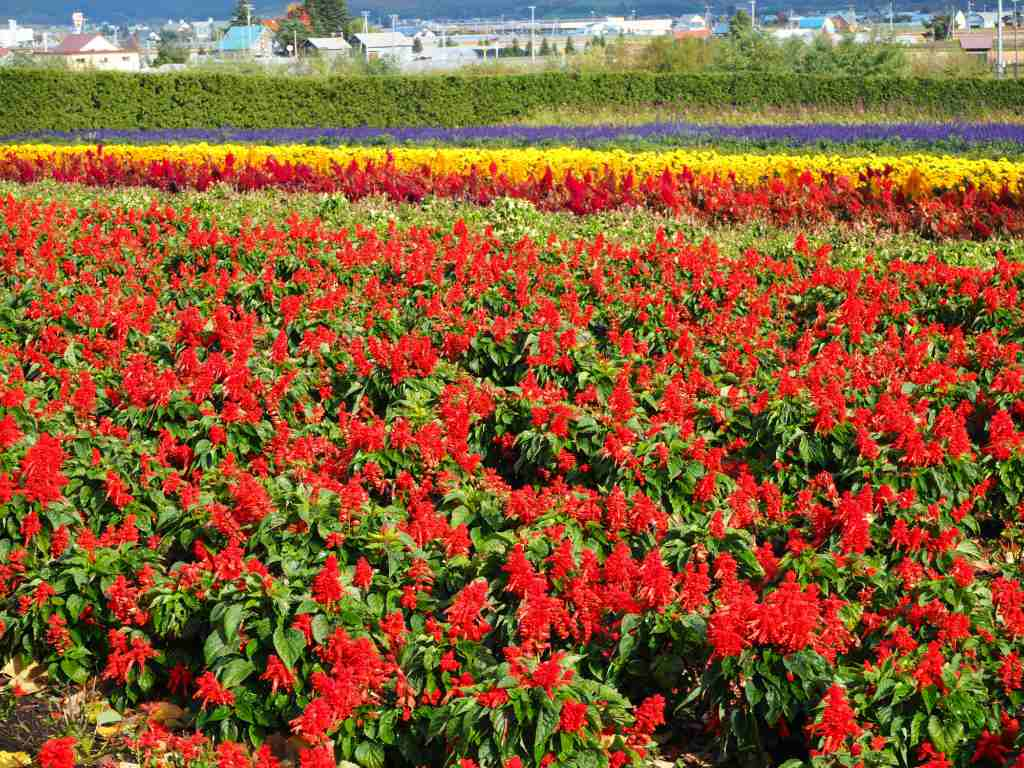 14) See the Blue Pond in Biei
The nearby town of Biei is home to only 11,000 people.
With a backdrop of the stunning Daisetsuzan National Park this town is worth a visit.
Definitely make sure to check out Biei's training station, voted one of the most beautiful in Japan.
Also, be sure to visit the Shirogane Blue Pond, one of the most photographed sights in Hokkaido.
You will see Blue Pond on postcards and on advertising boards at airports in Hokkaido.
Shirogane Blue Pond is a man made pond designed to protect the town of Biei from volcanic activity.
Shirahige Falls is the nearby waterfalls that feeds into the Blue Pond. Aluminum from the surrounding cliffs mixed with the water creates a deep blue color in the sunlight. Hence the name, Blue Pond.
If you have your own transportation then make sure you drive the spectacular route 237 that links Asahikawa, Biei and Furano.
Around Biei take the opportunity to just get lost and go and explore this gorgeous town and the surrounding area.
Because Biei and Furano are near each other, visit both the towns and the flower fields and the Blue Pond as a combined day trip.
15) Check out the World-Class Ski Slopes in Niseko
If you are into skiing then this is one of the best places to visit in Hokkaido.
The world-class skiing here means Niseko is the absolute king of Hokkaido's ski resorts.
This area of rural Japan transforms in the winter months as many Japanese and foreign nationals head over to experience the world-class powder on offer.
In recent years there have been major efforts to push Niseko as a year-round destination.
Outside of winter, you can find hiking, rafting, biking, kayaking and fishing.
This really is Japan's adventure capital.
One rather awesome non-winter activity is summiting the perfect conical of Yotei-zan.
At over 1800m tall this is an intense climb and you should budget between 6 and 9 hours for the return journey.
The weather can change quickly so come prepared.
From the top, the Sea of Japan, the Pacific Ocean and nearby Lake Toya are all visible.
READ MORE: Discover over 30 amazing things to do in Japan!
16) Learn about Abashiri's History
If you're into history then this is definitely one of the places of interest in Hokkaido.
In times gone by it was home to one of Japan's most brutal and famous prisons.
In fact, much of the infrastructure in Hokkaido was constructed by these condemned criminals.
The town itself has a couple of other interesting museums and it's a great jumping-off point for both the Akan and Shiretoko National Parks.
17) See the Ice Sculptures at the Sapporo Snow Festival
If you're visiting Hokkaido in February, the annual Sapporo Snow Festival should definitely be on your list of things to do.
This week-long festival in Odori Park is a real winter wonderland, and is a favorite among locals and tourists.
An entire world made out of snow and ice stretches through the park for about 1.5km. There are incredible snow and ice sculptures, an ice bar, a skating rink, and lots of food stalls and eateries.
The Sapporo Snow Festival is the best way to celebrate the cold in Japan. It's also free!
Visit the official website of the Sapporo Snow Festival for exact dates and details about vendors and events.
Hokkaido Travel Guide
To help you make the most of your time visiting Hokkaido, here's our nifty little travel guide to show you what to eat, when to visit and how to get around.
Eating in Hokkaido
One of the top things to do in Hokkaido is to eat as much amazing food as possible!
The island is a foodies paradise with some of the freshest produce in Japan.
Sapporo is famous for miso ramen, which can be found all over Hokkaido.
Head over to Ramen Yokocho in Sapporo to sample some of the best miso ramen on the island.
If you want to be truly traditional then this should be washed down with a bottle of Sapporo beer, one of the islands most famous brands.
Unsurprisingly, you can find sushi and sashimi everywhere.
The freezing waters that surround Hokkaido help to produce some of the tastiest seafood in Japan.
Crab cuisine is one of Hokkaido's signature seafood dishes, with the catches from Wakkanai and Kushiro fetching the highest prices.
You can also expect to find salmon roe all over the island as it's one of Hokkaido's specialities.
In addition, this is also one of the best places to enjoy the sea urchin sashimi.
This is very much a delicacy in Japan however it most certainly isn't to everyone's taste.
Although the vast majority of Ainu dishes have been lost to time there is one that remains: frozen salmon.
This dish can be found in most izakaya's and is often served as part of sashimi platters.
Hokkaido's vast expanses lend themselves to dairy farming and as a result, milk and ice cream are particularly sumptuous.
No discussion of Hokkaido's culinary wonders would be complete without a mention of jingisukan.
This dish, known as 'Genghis Khan,' is a grilled lamb dish cooked over hot charcoals at BBQ restaurants all over Hokkaido.
Lamb is rarely eaten in Japan so naturally, this dish is a sort of culinary anomaly.
It is believed the name came from the fact that lamb was the meat of choice for the Mongolians.
This dish is best washed down with a bottle of Sapporo beer.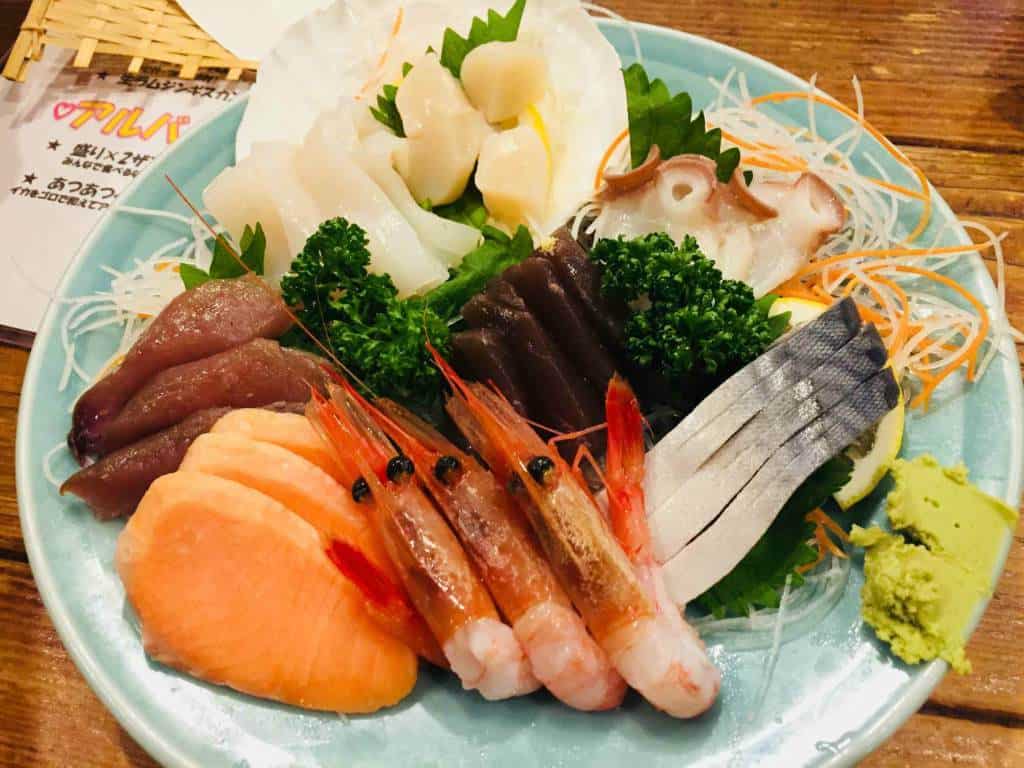 When to visit Hokkaido
Hokkaido is one of those rare places that has something to offer in every season. Whether you're visiting in Spring, Summer, Autumn or Winter there are plenty of things to do in Hokkaido.
Spring brings the sakura season and reasonably clear skies.
Summers are warm without being sweltering.
Autumn brings the gorgeous colours that come with the leaves changing.
Winter brings lots of snow and the landscape becomes a winter wonderland. It's cold, but ideal for skiing or attending the Sapporo Snow Festival.
If you are looking at doing a road trip then the winter is probably not a good time to visit as heavy snow can make driving treacherous and cause the roads to be closed.
We visited in October and it was stunning.
It can be quite wet at this time, like most of Japan. But we only had one or two rainy days.
Getting Around Hokkaido
Hokkaido is huge, do not be under any illusions.
Although a reasonable JR service exists over the island, having your own set of wheels will allow you to explore and visit some of the island's most stunning locations.
Many of the national parks require a car not only to get there but also to explore.
Renting a car is definitely the best way to explore and get the most out of this stunning and rarely visited region of Japan. If you're not sure where to go in Hokkaido, then you could do far worse than renting a car and hitting the open road.
That being said if you're here on a short visit and looking to visit say Sapporo, Otaru and Hakodate then this can be covered easily by public transport.
Get yourself a JR Pass to make the most of this.
Outside of these then you really need a car to access the island's highlights.
Getting to and from Hokkaido
The main airport in Hokkaido is New Chitose International, close to Sapporo.
It is reasonably well connected in Asia with direct flights from Seoul, Beijing and Shanghai to name a few.
However, outside of this region, it is almost guaranteed you will have to transfer.
If you are coming from elsewhere in Japan there are some excellent internal flight deals through ANA and JAL that allow you to book internal flights for approximately USD$100 as a tourist.
This is considerably cheaper than going through search engines like Kayak or Skyscanner.
Is Hokkaido Expensive?
Yes and no. Generally, accommodation in this part of Japan is more expensive than elsewhere.
However, food and other sights are usually cheaper than in other more popular parts of Japan.
Accommodation in and around the national parks are the most expensive, with Akan and Shiretoko noticeably more expensive than other parts of Hokkaido.
This comes down to the fact that onsen hotels are very common and are more expensive than regular hotels.
In addition, there are not a huge number of accommodation options which pushes the price up.
For those planning on hiring their own car, petrol is surprisingly cheap.
However, if you are looking at heading out towards Rishiri-to and Rebun-to taking a car over can be very expensive.
How Long Do You Need to Visit Hokkaido?
This is quite a loaded question as there are so many things to do in Hokkaido.
Most visitors will plan a 2-week Hokkaido itinerary, give or take.
And whilst this is a decent length of time, there is not a chance you will be able to experience all the things there are to do in Hokkaido!
When planning a trip to Hokkaido you need to take into account just how big the island is.
The truth is that Hokkaido is huge. Therefore when planning take these distances and driving times into account.
This is especially true if you do not end up purchasing a Hokkaido expressway pass.