Everything you need to know about travelling to Oita, Japan in our epic travel guide.
For a relatively small country, there is no shortage of incredible places to visit and things to do in the Land of the Rising Sun.
Japan is a fascinating destination, and even if you've travelled here multiple times, you'll always find somewhere new and exciting to explore.
One such region that is often largely missed on traveller's itineraries is Oita, Japan.
The Oita Prefecture is located in the north-eastern section of the island of Kyushu, south of the main Honshu island.
It's best known for its onsen (hot springs) and the surrounding nature, with temples and shrines scattered all throughout lush mountains.
We had the pleasure of spending 3 days in Oita during winter on our most recent trip here, and couldn't believe just how beautiful it was.
From the moment we left the airport and headed up into the mist-shrouded valleys, we were mesmerised by the natural beauty.
As the days went on and we explored not only the wilderness regions but also the city of Beppu, the famous onsens, ancient shrines and sprawling Buddhist complexes, we quickly fell in love with Oita.
If you're thinking about planning a trip here (and you should), we hope this Oita, Japan travel guide helps you with your adventures.
READ MORE: Don't miss our epic guide to travelling in Japan!
The 15 Best Things to Do in Oita Prefecture
You could honestly spend a month exploring all the wonderful things to do in Oita Prefecture, but if you're like us and on a limited time frame, we have put together this list of the must-do activities in Oita.
Explore Kunisaki Peninsula
The Kunisaki Peninsula is part of northern Oita Prefecture, and if you love being in the outdoors, this is the place for you.
Mixing up the stereotype that Japan is just all about bustling cities, the Kunisaki Peninsula is a haven of dense forests, flowing rivers, sparse farmland and towering mountains.
For the hikers among us, Kunisaki Peninsula is Oita's outdoor Mecca, and you'll find dozens of beautiful trails just waiting to be explored.
The best way to get around the Kunisaki Peninsula is by renting a car, which you can do directly from Oita Airport.
Once you have your wheels, drive around to tiny villages and get lost in the magnificent wonders of Kunisaki.
Visit Futagoji Temple
While you're driving around the Peninsula, one of your first stops should be Futagoji Temple, a Tendai Buddhist Temple on the side of Mt Futago.
Founded in the year 718 on the edge of Kunisaki's highest mountain, Futagoji is one of the most important temples of the Rokugo-Manzan Buddhist culture.
It's a pleasant place to wander around, and the timber shrines are stunning.
After taking lots of photos, we decided to hike up to the top of Mt Futago and see what we could find from the summit.
The path up was beautiful, passing by a cascading river amongst all the pine trees and the smell of the forest was lovely after all the fresh rain they just had.
Unfortunately, the clouds had rolled in by the time we got to the top, so we couldn't get a view, but it just made the forest even more mysterious.
Hike up Mt Fudo to Itsutsuji
Not too far from Mt Futago (a 30-minute drive) is Mt Fudo, which boasts one of the most spectacular shrines in all of Oita Prefecture.
Park the car in the parking lot of the Fudo-Chaya cafe and hike up the path for 10 minutes to reach the Itsutsuji shrine.
Here, after carefully ascending a narrow staircase carved into the ridge, you'll find the shrine clinging to the rock face.
The views over the Seto Inland Sea are breathtaking, and on a clear day you can see all the way to Honshu.
The temple itself isn't overly impressive, but its location is hard to beat.
Hike the K1 Trek
One of the best hiking trails in Kyushu is the K1 Trek, an adventure that passes over multiple mountain passes.
Officially starting at Ebisusan Ryosen Temple and Rokusho Shrine, and ending at the Iwatoji Temple via Itsutsuji Shrine, this lovely hiking trail is a must-do.
The whole hike one-way is 11.2km and will take 6 hours. If you're feeling fit you can hike there and back in a single day.
Another option is to park the car at one end, hike to the other side then take a train and taxi back (although it might work out to be pretty expensive).
Alternatively, you can do what we did and hike about halfway, and turn around and walk back the same way.
Starting from the Rokusho Shrine, we found the trail marker (a black, square pole) and were instantly inundated by the lush forest.
The trail twists through mossy pines, weaving its way up and down rocky passes and past small Japanese villages.
We made it to a spectacular viewpoint, that required a fun ascent with a via ferrata-style climb using ropes and chains for support.
You could see all the way out to the sea in one direction, and over the jagged valleys in all other ways.
The entire hike took us 6 hours return, but that included plenty of photo stops along the way.
Go For a Swim at Nada Beach
Nada Beach is not too far from Oita Airport, and is one of the nicest (and quietest) beaches along the coast.
Its easy accessibility makes it one of the best beaches to go for a swim on a hot day, so if you're sweating from a big hike, this is where to go.
There are accommodation and campgrounds right on the water you can stay in during summer. The beach is very clean and beautiful for long walks.
READ MORE: Don't miss out on all these epic things to do in Japan on your next trip!
Hachiman Nada Shrine
Hachiman Nada Shrine is located in Nada Beach, on the south-east coast of Kunisaki.
It is one of the peninsula's most lovely sites of Shinto worship.
Tucked away into a pine forest on the edge of the beach, the shrine faces towards Shikoku, overlooking the Seto Inland Sea.
You'll find large torii gates throughout the complex, but the ones that really stand out are out to sea.
A few hundred metres from the shore is a large, rocky outcrop, where a torii gate stands proudly.
It's a very popular spot for locals and photographers during sunrise, when the sun rises above the gate.
Well worth checking out.
Try a Traditional Onsen in Beppu
Even though we've been talking a lot about the Oita prefecture's stunning natural landscapes, the thing that is most famous for people visiting here is the onsens.
These Japanese hot springs offer a real traditional experience for any tourist visiting the country, and with the ones in Beppu being amongst the most iconic for locals, it's a great reason to head here for your soaking pleasure.
The volcanic terrain of Oita means there are dozens of hot springs to choose from, both public and private, and Beppu is the onsen capital of Oita.
One cool thing about the onsens in Oita is that many of them are tattoo-friendly.
Many people don't realise this, but tattoos are often synonymous with the Yakuza in Japan, and as a result, many hot springs forbid people with tattoos from entering.
But in Oita, they are leading the way in a new Japan, one where tattoos are allowed.
That means people like Alesha and I can finally enjoy this true Japanese experience!
Here are a couple of our favourite onsens around Beppu:
Hyotan Onsen
Hyotan Onsen is one of the most popular hot springs in Beppu, and it was the first one that we ever tried.
They have a number of public bathhouses and one really unique hot sand soak, where you cover yourself in, well, hot sand, which is meant to be fantastic for your skin.
We went for a private onsen though, and absolutely loved the privacy in a tranquil setting.
You can also buy towels for 150 JPY if you need.
The restaurant here also offers delicious food, so it's a great place to grab lunch.
Price: Adult prices

Public Bathhouse: 780 JPY
Sand Bath: 380 JPY
Private Bath: 2150 JPY

Address: 159-2 Kannawa, Beppu, Oita 874-0042
Phone: +81 977-66-0527
Relax at Myoban Onsen
Another popular onsen in Beppu is the Myoban Onsen, located up the hill.
Their public baths are lovely, with nice views over the nearby mountains and plenty of room.
We didn't visit the private baths here, but they look quite cool with a special, unique design of thatched roofs.
Price: Adult prices

Public Bathhouse: 600 JPY
Private Bath: 2000 JPY

Address: Myoban 6-kumi, Beppu
Phone: +81 0977-66-8166
Note: You must go naked in an onsen, but there's no need to feel uncomfortable about it because it's part of the Japanese culture. Nobody is looking at each other, they're all just enjoying the hot springs.
Be Amazed by the "Hells of Beppu"
What is that you ask? Well, we asked the same thing.
The famous "Hells of Beppu" are 8 steaming thermal pools, including Chinoike Jigoku filled with red water, and Tatsumaki Jigoku featuring a geyser.
These hot springs aren't for bathing though. They are purely for observing from a safe distance, as the temperatures are extremely high.
Some people feel as though the Hells of Beppu are a little touristy in the way they have set up the facility, but they are quite a sight to behold.
It will cost you ¥400 to visit one 'hell' or ¥2000 to visit all eight 'hells'.
Climb Mt Yufu
This 1584m-tall volcano offers stunning views over Oita Prefecture and is a popular hike for people who wish to summit what is known as the 'Mt Fuji of Oita' because of its appearance.
The east peak is suitable for beginners and will take 2-3 hours to reach the top.
If you want to be more adventurous and are an experienced hiker, the west peak may be the side for you as you have to scramble and climb up sections using chains.
To climb to the summit on the west peak it may take 4-5 hours.
We unfortunately didn't have time to climb it but when we drove past Mt Yufu there were many people hiking up.
If you do not have your own car, you can get a train to Yufuin Station from either Hakata or Beppu. This train is on the Kyudai Main Line.
Once reaching the Yufuin Station, you can take a bus from the station and get dropped off at Yufu-tozan-guchi.
If your legs are sore at the end of the hike, you can pop into Yufuin Onsen which is near the Yufuin Station in Yufuin.
READ MORE: Check out these awesome things to do in Nagoya, Japan!
Visit Yufuin City
This town has many attractions to keep you busy. Here are a few attractions below that you can check out.
Yufuin Onsen
Soak your body in the lovely Yufuin Onsen, one of the most popular resort towns in Japan.
This place is located on a flat river basin surrounded by mountains. It is a brilliant way to relax and wind down after a busy day.
The Yufuin Hot Springs have the second-highest water flow of all onsens in Japan, and these onsens have been popular since the 8th century.
Lake Kinrin
This lake is famous for the morning mist which is created from the hot and cold springs mixing as they flow into the lake.
There is a path around the lake so you can have a lovely morning walk or rent a bike to explore.
This lake does get very busy by 11am as all the tourists come into the town on day trips So get there early or visit the lake later in the afternoon.
Yufuin Floral Village
Yufuin Floral Village one of the most popular attractions in all of Oita, Japan.
This cute and quirky little place looks like of like a Hobbit village, with lots of souvenir stores selling handicrafts, artifacts, local Japanese products, food and tea.
There are even petting zoos and an owl enclosure, for those who want to see various animals.
It was extremely busy when we got there, and to be honest it wasn't really our scene. We felt as though it was quite touristy and didn't feel very authentic, but quite a few of our followers on Instagram said they enjoyed it on their own visits.
It's free to walk around, so check it out while you're in the area and make your own decision.
The Royal Grand Hall of Buddhism
We stumbled across this place while taking a back road towards Yufuin from Oita City, and boy are we glad we did!
This sprawling complex is the Kyushu Temple of the Nenbutsushu Buddhist Sect of Japan, and is one of the most beautiful religious sites we've visited in Japan.
Tours must be pre-arranged, but we didn't know that when we drove into the parking lot.
Luckily for us a couple of friendly monks came up to us, and by using Google Translate, we managed to gain access to this beautiful temple and be escorted by one of them.
Walking through the big gate, we wandered straight into the grounds of the Main Hall, with its huge, open square and towering temples and pagodas.
It was incredibly peaceful and beautiful to be shown around the Main Hall, but as we hadn't organised a proper tour, this was the only place the monk allowed us to see.
Later on we found out that there is plenty more to see and do, and you could probably pass 2-3 hours easily here.
If you want to visit, we recommend booking online here:
https://nenbutsushu.or.jp or https://kyushyuhonzan.muryojyu.com/index.html
Address: 1447-7, Akano, Hasamamachi, Yufu city, Oita prefecture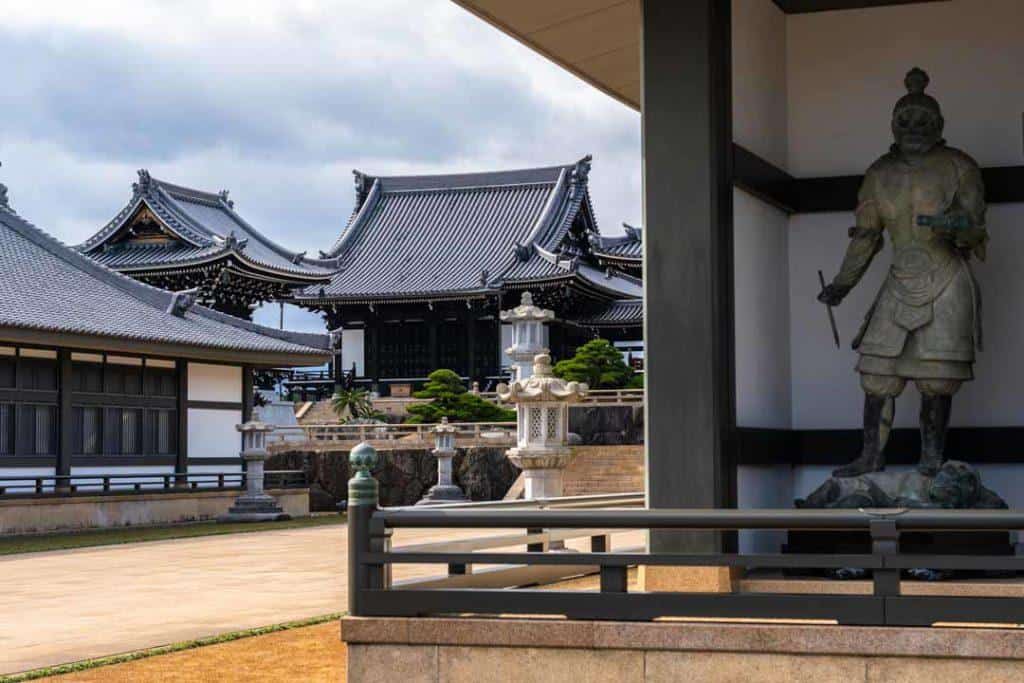 Explore Oita City
If you've finished up exploring Beppu and all the amazing natural wonders around the Oita Prefecture, make sure you stop by Oita City for a final few attractions.
Filled with plenty to see, do and discover, it's the perfect place to explore a different side of Japan.
You can get to Oita City from Beppu by train, bus or rental car.
Oita Prefectural Art Museum
If you love art and museums, then make sure you swing by the Oita Prefectural Art Museum, also known as OpAm.
This award-winning museum isn't large, but the permanent exhibitions on the third floor make it well worth a visit.
You'll find sculptures and paintings from fantastic Oita artists, with a decent showing of the Edo Period-painter Tanomura Chukuden.
Price: 300 JPY
Address: 2-1 Kotobukimachi, Oita, 870-0036
Oita Funai Castle Ruins
The Funai Castle are the ruined remains of a 16th-century castle in Oita city, that are now a popular tourist attraction.
A few of the watchtowers still stand, as well as the wall that follows the moat.
There isn't much of the castle left, but there is a very enjoyable Japanese garden found on the inside.
Entry to the castle ruins is free.
Oita Prefecture Travel Guide
Now that you know all the wonderful things to do in Oita, Japan, we're going to share with you some of our best travel tips for the region, including where to stay and how to get around.
Where to Stay in Beppu
There is a lot of accommodation options around Oita Prefecture, but if you want to be centrally-located, we recommend staying in Beppu.
Ryokan Beppu Nagomitsuki
If you want to stay in arguably the best place in all of Oita, then you can't miss out on Ryokan Beppu Nagomitsuki.
If you don't know what a ryokan is, essentially it's a traditional Japanese guesthouse. And no trip to Japan would be complete without spending a few nights in one!
The Ryokan Beppu Nagomitsuki is impeccably designed, and from the moment you walk in the door you feel as though you've stepped into something special.
It's different to smaller ryokans, like the one we visited in Murakami, in that it has more of a hotel feel, but that doesn't make it any less sensational.
To start with, the rooms are absolutely beautiful. We were shocked when we opened our door.
The rooms are very plush in tatami style, and very quiet and warm inside with an excellent outdoor private onsen bath.
Yep, you read that right. We had our own private outdoor onsen. It was so relaxing and a beautiful treat.
The property is really well designed and definitely at the luxury end of the market.
Although modern, it is very much Japanese in style and maintains all the Ryokan elements you would expect such as the slippers, yukata, and the onsen, not to mention the mind-blowing multi-course Kaiseki meal in the evening.
You can get packages that include dinner and breakfast.
There is a free espresso machine near reception where all guests can access during the day.
Do be aware that the reception shuts at 10pm and so does the front door. We were not given a front door key so we are not too sure how that would work.
This place would be perfect for a romantic getaway.
Rikyu Beppu
Beppu Rikyu is more of a high-tech hotel with traditional vibes, right in the heart of Beppu city.
To start with, you check in using an iPad and are given a code to access the facility and your room.
You won't find a receptionist here, but if there are any problems you can push a button and you immediately video-call a centre with people who can help you.
The room is very much like a ryokan though, with a large sitting area where you sit on the floor, and a kitchenette so you can prepare your own food if you'd like.
Everything else is very modern though, including the bathroom.
Next to the beds you'll also find a smartphone that is free to use for guests staying here.
Where to Eat in Beppu
There are so many great restaurants around town. From traditional Japanese pubs (izakayas) to hotpot restaurants, you'll find no shortage of spots to eat.
Being vegetarian, it was a little hard to find places that could cater to us. But we did stumble across a fantastic place called Veggie Joint.
There are also plenty of Indian restaurants around that can do vegetarian food.
If you're a meat-eater, then you'll be in heaven, as there are tonnes of good restaurants around the place!
We recommend hitting up the long pedestrian street, Motomachi.
How to Get to Oita Prefecture
Now you know all the great things to see and do around oita, and where to stay, it's time to figure out how to get here!
By Flying
Oita Airport is located on the east side of the Kunisaki peninsula.
There are daily flights to and from Tokyo (either Haneda or Narita airports), and these take 1 hour and 30 minutes.
Other destinations that are connected to Oita airport are Osaka, Nagoya, and even Incheon Airport in Seoul, South Korea.
By Train
You can travel to Oita by train, with the most popular departure point for tourists being Osaka.
Using the bullet train, it will take just 3 hours and 30 minutes to get from the city to Oita Station.
First take the JR Sanyo Shinkansen from Shin-Osaka Station to Kokura Station, then change over to the JR Nippo Line to go the rest of the way to Oita Station.
If you're doing any train travel in Japan (and you should, because it's fast and convenient), then make sure you buy a JR Pass.
Where to Go After Oita Prefecture
If you're wondering where to go after Oita Prefecture, here are a couple of recommendations:
Osaka
One of Japan's biggest cities, spending 3 days in Osaka is a must for any first-time visitor to Japan.
Kyoto
Our favourite city in all of Japan! Don't miss out on all the great things to do in Kyoto.
Tokyo
Whether it's your first or fifth time in Japan's capital, you're guaranteed to find plenty of awesome things to do here.
Hiroshima
Just across the sea on Honshu is the city of Hiroshima. It's World War II history is pretty dark, but the city has rejuvenated to be one of the most happening places in Japan!
Around Kyushu Island
You've only seen a bit of Kyushu Island so far! Why not rent a car and explore more of the island?
Travel Tips for Oita, Japan
Here are some of our best travel tips for getting around Oita, Japan.
Rent a Car
Public transport around the cities of Oita is fine, but to get out to the best nature spots you'll need to rent a car.
The best way to get around is to rent a car and explore on your own! We recommend Rental Cars, which has the largest range of vehicles for the best value on the market.
Parking
There is parking everywhere, but in the cities you have to pay. Parking is by the hour so use your coins for this.
The machines do take notes and even credit cards sometimes. At the attractions out of town in nature, parking is free.
Get to Attractions Early or Late
Attractions in the cities get busy during the day so get to places early or later in the afternoon.
As for the hiking, it's always a good idea to start early so you beat the heat of the day (and also the crowds).
Use Google Translate
Locals on Kyushu are very friendly and helpful, but English isn't widely spoken, even at the tourist attractions.
We recommend downloading Google Translate to your phone to help with communication.
Get a WiFi Hotspot Device
Even though you'll find wifi in a lot of places around Japan, we really recommend getting yourself a wifi hotspot device when you land.
This way you can stay connected while you're out exploring, using apps like Google Maps for navigation, and to do research on things you want to see and do.
We use this one from Klook whenever we fly into the country.
DISCLAIMER: Some of the links in this article are affiliate links, which means if you book accommodation, tours or buy a product, we will receive a small commission at no extra cost to you. These commissions help us keep creating more free travel content to help people plan their holidays and adventures. We only recommend the best accommodations, tours and products that ourselves or our fantastic editorial team have personally experienced, and regularly review these. Thanks for your support, kind friend!