Everything you need to know about planning travel to China in our comprehensive destination guide.
From hiking the Great Wall of China to conquering your fear of heights at the highest glass bridge in the world, these are just some of the reasons why you should travel to China.
China is one of the most amazing countries in the world that is deservedly on nearly every traveller's bucket list.
There aren't that many countries that possess such various geographical climates, rich biodiversity, stunning landscapes and culture that persisted as the result of over 4,000 years of accumulated historical heritage.
Whether you want to roam its markets or its mountains and jungles, China has something to offer for everyone.
This country boasts in the diversity in its cuisine in addition to that of its languages, people, climate regions and biodiversity.
When you visit China you will be thoroughly amazed that the diet and culinary options vary from region to region.
This in itself gives you more than enough reason to visit China from one end to the other.
So if you're planning your trip to China and you want your trip to be packed with experiences, new sights, and exotic cuisine while being vastly different from any other previous trip you've taken, then our China travel guide should make the planning as fun as the travel experience itself!
China Travel Guide
Before heading towards China, check out some basic information you might need:
General Information
Capital:

Beijing

Other Main Cities:

Shanghai, Guangzhou, Urumqi, Shenzen, Chengdu, Xian

Currency:

Renminbi

Language:

Standard Chinese, Mongolian, Uyghur, Tibetan and Zhuang

Population:

1,403,500,365

Area:

9,596,961 sq.m2

Electricity Voltage:

220V

Electricity Sockets:

Type A, C and I
Top 5 Places to Visit in China
Mount Huangshan – the UNESCO World Heritage is one of the most scenic highlights in the world. The impressive landscape features daunting peaks, thick forests composed of oddly-shaped pine trees and dense clouds covering the sky. It's a perfect weekend trip if you want to see the most notable peaks and viewpoints of the Yellow Mountains.
Suzhou –

another UNESCO World Heritage site, a town nicknamed the 'Venice of the East.' If you're visiting Shanghai, don't miss the opportunity to pay a visit to this water town. The canals, gardens, narrow alleyways, picturesque pagodas and bridges make it a perfect day trip for some relaxation time.

Hangzhou – one of the seven ancient capitals of China and one of its Four Garden Cities. It's known for the West Lake and stunning and well-preserved nature. The lake area consists of about 60+ cultural sites and spots to enjoy its nature. You can book a guided cruise tour that combines the best of natural sites but also incorporates this city's rich history.
Guilin

– this site has well-deserved its reputation for being one of the biggest natural gems in the world. The oddly-shaped hills (Karst Mountains), mysterious caves and its riverside decorated with the tall bamboo trees, paints a scenery unique to China.

Beijing – China's capital that is home to over 21 million people is not only the political center of the country but also has other impressive cultural and historical highlights that are not to be missed! Those include one of the World's most recognizable landmark, the Great Wall of China and, equally as fascinating Forbidden City – today, a declared UNESCO World Heritage which was home to the rulers of the famous Ming and Qing dynasties.
Top 5 Travel Experiences in China
Hiking the Great Wall of China –

There are many sections of the wall that you can hike. We recommend the Jinshanling section, as most agrees it not only has the most beautiful scenery but is also the most accessible. The Chinese government has invested a lot into the infrastructure of this section, vastly improving the paths, cableway, roads and adding new hiking routes and even, organizing a shuttle bus.

You can even camp on the Great Wall of China if you want!
Walk Over the Zhangjiajie Glass Bridge – This is the longest and highest glass bridge in the World. It will be not only a memorable but also an adrenaline-inducing experience. This area is incredibly special, especially because of the Avatar Mountains and all the beautiful nature in this national park.
Visit the Panda Reserve in Chengdu – if you're an animal lover then you won't regret taking the time to explore the reserve. The Chinese consider pandas sacred animals, and they are doing everything they can to ensure that we will be able to remove pandas from the endangered animals' list. This gorgeous reserve is a testament to their dedication. Check out our post on how to spend 3 days in Chengdu.
Mogao Caves, Dunhuang –

More popularly known as the Caves of a Thousand Buddhas, these are a series of caves (492 caves) where ancient Buddhist carvings, manuscripts and murals from the 14th century can be found. This place is well worth the time, energy and money you'd need to see it. The world-class experts will guide you through over 41,800 meters of Buddhist history.

Visit the Forbidden City –

This UNESCO World Heritage Site in Beijing is incredibly important for the history and culture of the Chinese people. It is a wonderful example of traditional Chinese architecture, it's home to the famous Palace Museum and it is the largest ancient palatial structure in the whole world!
Best Time To Visit China
When considering when to plan your trip to China one of the most important things to keep in mind are the season and the weather.
Some people plan their trips around certain events. While others plan around the seasons/weather.
When NOT to Visit China
When organizing your trip to China, a good starting point is to first decide when NOT to go!
A good rule of thumb is to avoid every public Chinese holiday! But that might prove a little bit trickier than you'd expect since some follow the lunar calendar and are different year to year.
And it sounds counterintuitive to avoid China at certain times. But during public holidays China turns into an entirely different country for a traveller.
This is because transportation tickets are more expensive. Booking a train ticket will prove to be almost an impossible feat and all tourist sites will be overcrowded.
Not to mention that a lot of places will be closed for a couple of days or even a week. So you might miss an opportunity to visit locals' favorite small eateries or some traditional venues.
So for visitors who really want to take their time and enjoy China's main highlights, this would definitely be the worst time to visit.
Avoid the Spring Festival (more known as Chinese New Year/ Chunjie) – mid to late January to mid-February.
This is the most important holiday and you can expect to see millions of Chinese traveling all over the country.
It's known to be the biggest annual mass migration in the world.
You should also avoid visiting China during the Golden Week or the week of National Day.
It's from the 1st – 7th of October. And while the number of people that participate is lower than during the Spring Festival, there are still a lot of people moving and a lot of places closed to the public.
A lot of Chinese travelers also go abroad during this time so you can expect ticket prices for Japan and Thailand to go up.
If you want to visit during those dates, then just make sure to book well in advance and keep in mind that you will be paying more for everything – from accommodation to street food.
Other popular events are the Lantern Festival and the Dragon Boat Festival.
Those events should not interfere with your travel but expect slightly larger crowds at certain sites.
When to Visit China
So now that we tackled when NOT to visit China, what is the best time to visit China?
China occupies a landmass with various climates spanning all over the country.
The best times for a visit are generally in spring (March-May) and autumn (September–November).
If you're having trouble deciding when to visit, a useful trick is to also divide China by regions and seasons.
As we said, spring is a great time to travel pretty much all over China.
But in the north, it might be colder during early spring or late fall. But the weather should still be manageable.
The exception is Tibet. This is because it is closed to foreign visitors for two months every spring.
From April to June, you can visit just about anywhere.
The best times to visit some places in northern China, Hainan or Tiber are during mid-summer.
Some destinations are almost unbearably hot during summer and if you are sensitive to high temperatures, you should keep that in mind.
The places that we would avoid during the summer are:
Nanjing (Jiangsu)
Wuhan (Hubei)
Chongqing (Sichuan)
Xinjiang
Inner Mongolia
Dongbei
Other Travels Seasons
The factor that you should include when planning when to visit is the rainy season.
From April to August if you're planning to visit southern China, your flight just might be delayed or even cancelled due to bad weather conditions.
At this time of year, it's best to travel via high-speed trains – they're rarely delays, fast and comfortable.
As with many other places in the world, in July and August students are on a school break and many families use that time to go on a summer vacation.
Prices will be higher in summer and you should plan well in advance.
Autumn is ideal if you want to visit spots that otherwise experience unbearably high temperatures in summer.
We would suggest during autumn that you plan to visit the Great Wall, Hong Kong and Xinjiang.
To see the incredible feat of mankind, the Great Wall, surrounded and bathed in autumn colours, is a visual experience like no other.
If you're thinking to book your trip during your winter holidays you will be rewarded with fewer crowds and cheaper prices if you can withstand the cold.
During winter you can visit the Harbin Ice Festival (24th of December to 25th of February).
The snow and the scale of ice sculptures that are illuminated at night are an amazing sight to see.
The necessity of warm clothing can never be overemphasized as the temperatures drop during night low as -24 °C and are hardly ever over zero during the day.
A less known fact is that Tibet is great for winter traveling.
During the high season, there is a limited time how much you can spend at the Potala Palace. But you can spend as long as you wish during winter.
The capital of Tibet, Lhasa, also has warmer winters than Beijing.
If that's not a good enough reason to travel to Tibet during winter, we will also mention that it's definitely a more economical option and permits to enter the region are easier to get.
You will get a more authentic experience during winter because that's also when many pilgrims arrive in Tibet.
Food In China
Beijing Duck –

This dish is a must when you're in Beijing, the birthplace of this iconic dish. The sweet and savory duck is served with spring onions, cucumbers, pancakes and other different sides (every restaurant has its own spin on this Chinese classic).

Hot Pot –

This can be an amazing choice or an utter disaster if you do not understand the Chinese spices and ingredients. It's a pick your own destiny. First, choose the soup for your pot. This dish is all about the spice, but if your counterpart can't handle the spice as well as you, you can split the pot into two. After choosing from a wide array of vegetables and meats you walk over to the sauce bar. The sauce bar offers barbecue sauce, freshly cut herbs, sesames and pastes, meats and vinegar. Ask a local to guide you through the process and help with their suggestions.

Hong Shao Rou – This

means red braised pork belly. It's a dish that originated in Shanghai and is popular all across China. It's cooked with garlic, chilli peppers, rice wine, ginger, soy sauce, sugar and deeply aromatic spices.

Dumplings –

These can be eaten at any time of the day. They are usually dipped in soy sauce or vinegar with garlic. Dumplings are a staple of Chinese cuisine and there are many variations to cater to all tastes. The dumpling dough can be based on potatoes, flour or bread and the filling can be made from almost anything – various meats, fish, vegetables or cheese.

Chow Mein –

This is a dish made popular by the locals of Northern China, which today has reached global fame. It's a dish made out of thin noodles (bean and cornflour dough) and is accompanied by sliced meats, Chinese vegetables and an egg.
Travel Itineraries Suggestions for China
China is vast. As the 3rd largest country in the world, China has much to offer by way of travel experience.
But trying to see the entire country can be daunting.
Here is a suggested 12-day itinerary to give you the best chance to see the highlights in the least amount of time we'd recommend when you visit China.
Beijing (3-4 Days)
Perhaps the biggest reason why people go to China is to see the Great Wall of China.
Our main piece of advice is to skip the Badaling, which is the busiest section of the wall.
Visit a part of the wall that is unrestored but still tourist-friendly, such as Jinshanling, Huanghuacheng or Gubeikou.
The easiest section to visit would be to take a bus to Mutianyu.
There you won't have the wall to yourself. But you will have successfully avoided most of the crowds and will see beautiful views.
The second day, go and roam Beijing's hutongs.
These are a network of alleyways and courtyard houses that make up Beijing.
There are day tours that usually include the Wudaoying Hutong, Houhai Lake, the Lama Temple and the Bell and Drum Towers.
But if you have the time, the best way is to simply let yourself get lost.
If you have a budget set aside for activities, hutong tours are interesting as you'd get to learn more about history and culture.
On your third day, make sure to go and see the Tiananmen Square that carries a portrait of Mao right over the entrance to the Forbidden City.
The Forbidden City is huge and you could spend a full day there.
But for most travellers, even two hours is enough to see all the highlights before starting to feel overwhelmed.
For the rest of the day, go to Jingshan Park and enjoy the views of Beijing and the Forbidden City!
Xi'an (2 Days)
Rent a bike at one of the main gates of the wall and do a round trip tour around the ancient wall.
When you get off the wall, take some time to explore the art district near the South Gate.
The area is brimming with small shops and souvenirs.
This stunning neighborhood is a joy to photograph.
Take one afternoon to go roaming around the Huimin Jie Muslim market.
From bargaining for interesting souvenirs to bring back to your loved ones to eating some of the most delicious and cheapest street food you'll ever have.
Also, you are only a day trip away from Xi'an are the terracotta warriors.
You can see rows upon rows of life-sized terracotta warriors.
Jiuzhaigou and Huanglong (2 Days)
Hiking through Jiuzhaigou is one of the most beautiful trails you'll encounter. It is full of crystal lakes and rivers that will mesmerise you.
The waters are so crystal clear that they reflect the sky.
The next day visit Huanglong, known for its calcite deposit pools.
These vibrantly colored pools are why Chinese have nicknamed the Huanglong – "fairyland."
Songpan

(1 Day)

If you're a fan of horses then definitely don't miss out on a horse trek across the Tibetan plateau.

You will be able to travel with a local guide that will show you parts of China that most visitors don't get to see.
Chengdu (2 days)
A bus ride to Chengdu is four to six hours (there are flight options available too). This will leave you just enough time in the afternoon to explore teahouses and the city's scenic gardens.
For dinner, you should go and get the traditional eating experience – the hot pot (from Chongqing and Sichuan).
The next day you might want to take the two-hour trip to see the largest Buddha in the world.
There are many tourist buses that operate on a daily basis.
One of the highlights of Chengdu is their Panda Reserve.
Morning visits are the best because that's when the pandas are most active.
They also have a baby area, where you can observe cubs play with toys and roll around.
Shanghai (2-3 days)
To visit Shanghai, try to have at least two full days available to give this city justice.
Some of Shanghai's highlights are: the Bund, the Yu Yuan Gardens, the French Concession and Jing'an Temple.
A lot of visitors claim that the best soup dumpling eatery is outside the Yu Yuan Gardens. Just follow the queue.
To see the ever-rising skyscrapers expand before you in every direction you look, just go up to one of Shanghai's buildings.
The usual go-to observatory spots are the Shanghai World Financial Center and the Jin Mao Tower.
Visa Requirements For China
If you are travelling to China you will have to apply for a visa from the Chinese embassy or their consulate.
This is unless you are a citizen from one of the visa-exempt countries.
An important side note: Hong Kong and Macau, have their own independent border control policy.
This means that they have their own visa requirements for which you have to apply separately from your Chinese visa.
There are only seventeen countries that are allowed to travel without a previously issued visa to China.
The countries that are exempt from visa are:
Stay up to 90 days:
Bosnia and Herzegovina

San Marino
Stay up to 60 days:
Stay up to 30 days
Bahamas

Barbados

Belarus

Ecuador

Fiji

Grenada

Qatar

Serbia

Seychelles

Tonga

United Arab Emirates
Stay up to 15 days:
For further information and up-to-date changes, click here.
READ MORE: Our experience with getting a Chinese visa in Vietnam.
How to Travel to China
There are plenty of ways to travel to China. Whether you prefer to travel by air, land or sea you will find many options and rates for your travel into the country.
Plane
Flying is the fastest and most convenient way to travel from most countries in the world to China.
China air transport hubs are:
Guangzhou
Shanghai
Hong Kong
Beijing
Chengdu
The biggest and most used airlines are:
Air China
China Eastern Airlines
China Southern Airlines
Hainan Airlines
International flights connect China with major cities all around the world. Further, Chinese domestic flights connect all major cities within the country.
The only two cities in China that have two airports are Shanghai (Hongqiao International Airport and Pudong International Airport) and Beijing (Nanyuan Airport and Capital International Airport).
So be mindful of that when booking your flight.
There are eighteen cities in China that offer 72-hour visa-free transit so visitors can have a short stay in the most popular cities. Just note that these also tend to be the most expensive ones too.
From Europe:
Getting to China from Europe could be tricky and it most likely requires transfers.
That being said, you can still get to China from many European cities, such as Amsterdam, Milan, Rome, Brussels, Paris, Frankfurt, Manchester, Madrid, London, Zurich, Barcelona and Helsinki.
From the US:
It is possible to catch a direct flight from the US to China.
Most flights originate in San Francisco, Seattle, Detroit, Los Angeles, Seattle or Chicago and terminate in either Beijing or Shanghai.
Of course, pricing and availability vary. And you can expect the flights to be operated by one of the three big companies: Delta, American or United Airlines.
Overland
There are a variety of ways and border crossings when you want to visit china overland.
Travelling by train and vehicle are the most common.
Train:
The most usual way to get from Europe to China via train is to hop on the Trans-Siberian railway.
The Trans-Siberian train is a lot easier to arrange when it comes to booking a ticket or organizing your visas. And it is significantly faster.
The Trans-Siberian route, from Moscow – Beijing, is just one train. So in terms of being pragmatic and budget-friendly, this is the option we would recommend.
But that said, there's another possible route: the Silk route via Kazakhstan.
Here you have the following options:
Option 1:
London – Moscow

Moscow – Astana or Almaty (Kazakhstan). This is the direct route for China
Option 2:
Moscow – Bishkek (Kyrgyzstan)

Moscow – Tashkent (Uzbekistan), if you wish to start from Uzbekistan

Tashkent – Samarkand – Bukhara and Urgench for Khiva, these trains link Tashkent with three cities in Uzbekistan

Tashkent – Almaty

Almaty/ Astana – Ürümqi, which is the next step to China

Ürümqi – Xian – Beijing
Train tickets are more expensive than traveling by air and transit times are longer too.
But if you do want to spend some time in Uzbekistan, Kyrgyzstan or Kazakhstan then taking this route is a nice way to do sightseeing.
If you're coming from USA/Canada, the easiest way would be to book your ticket to Moscow and then decide whether you want to take the Silk or the Trans-Siberian route.
Car:
We do not suggest driving because you could only drive to China, not inside the country.
International driver's licenses are not valid in China.
So even if your starting point is from one of the neighbouring countries, it's less hassle to book a train or hop on an airplane.
China Travel Tips
If you're not from China or eastern Asia, you could find the culture and way of interacting to be quite strange.
The way of expressing emotions and opinions is quite different in China as compared to Western cultures.
But that's just the beauty of cultural variety.
Besides that, there are certain things that you should pay attention to in order to have a good time in China.
And there are also things that you should know so that you will be respectful towards the locals.
Here are some tips we have for you during your stay in China:
Don't be afraid of raised voices! A lot of the time you will encounter Chinese people talking very loudly. In most cultures that would signalize that a heated discussion is about to turn into a brawl. But actually, Chinese people can tend to just talk loudly and passionately.

Be sure to have Travel Insurance for the duration of your trip. One incident can cause a major impact on your wallet – not to mention your travel plans.

Don't tip. This might go against your personal beliefs, but Chinese don't tip and neither should you. This will only confuse them or some may even find it insulting.

Buy a VPN. There are a lot of useful websites that are not accessible in China (like Facebook or Google!)

We recommend ExpressVPN. Use this link to get 30 days free when you sign up.
The preferred

method of payment is cash. Most places only accept cash unless you are visiting upscale hotels and restaurants.

Use the

Yuan currency only. The Hong Kong dollar or US dollar won't be accepted.

Install Pleco – the best app for Chinese language for travellers.

Haggle. When merchants see that you are not a native Chinese, they will almost always rise the market price. It's not unusual to haggle. Some merchants even respect you more if you do.

Bring toilet paper and hand sanitizer. In a lot of toilets in China, you won't always find these essentials.

If in need of help, turn to the youth. Statistics have shown that a majority of Chinese under the age of 25 speak conversational English.
Budget for Travelling in China
China is a huge country and prices vary significantly depending on what region and what time of the year you're visiting.
Since you're probably interested in the range of prices of certain things you'll definitely spend money on, we've decided to help.
Here's a list of some essential expenses and their general cost range as you travel to metropolitan areas:
Accommodation: $4 – $400+
Food: $0.50 – $45+
Drinks: $0.40 – $15
Domestic/Local Transportation: $0.30 – $30
Tours: $15 – $600+
Backpacker
When it comes to accommodation, the cheapest form is hostels.
In less touristy areas you can find mixed dorm beds from $4 USD per night.
Even in major cities, like Beijing and Shanghai, the prices start from $3 USD per night!
As for food, the best way to save money is to eat street food or visit a food court at a shopping mall.
The street food in China is not only cheap but also incredibly good. Even the wealthiest love to indulge in street food.
A filling meal from a street vendor would cost you up to $5 USD. But it's usually less than that.
For transport costs, you can rent a bike, which is around $3 USD, depending on how much terrain you want to cover.
If you don't have a budget for cultural activities, you'll be relieved to know that there are many museums that don't charge admission!
Flashpacker
There are a lot of mid-range accommodation options, from private rooms in hostels to private rooms in shared Airbnb and hotels.
Private rooms in hostels cost a little bit more than two beds in a mixed dorm room (around $8 USD per night) or a private room in an Airbnb (from $20 USD per night).
Mid-range hotel prices start from around $30 USD per night.
Eating out in local restaurants usually costs from $10-15 USD per meal.
The cost of an average alcoholic beverage in a bar would be around $8-10 USD.
Transport costs, such as taxi, could cost from $9 USD, of course depending on the time of the day (night fare is more expensive) and the distance you will cover.
But always ask for the price in advance before getting into the taxi!
Luxury
Double rooms in a luxury hotel or a private home booked through Airbnb start from around 120$ USD per night.
Eating out at the most excellent restaurants (hotel restaurants or local ones) will cost you from $45 USD per meal.
There is an array of cultural activities available to all tastes and depending on your interest – whether it'd be visiting the Chinese national opera or the hottest night club – prices vary.
If you're used to travelling in luxury through other countries, you can expect that China not only delivers the luxury to which you're accustomed but also costs considerably lower when compared to other countries.
You could treat yourself to one of the most luxurious tours, such as a Zhujiajiao Water Village Tour from Shanghai.
Transportation In And Around China
China is a huge country and if you plan to travel around it – you'll need some help.
Keep in mind that renting a car won't be an option, since no international driver's licence is valid in China!
Here are all the other ways to travel in cities and between them:
Air
Chinese airlines are safe and comfortable.
There are over 1,200 routes and nearly 1,000 are domestic routes.
The most popular airports for domestic travel are in Shanghai, Guangzhou and Beijing.
Besides Macau and Hong Kong, there are over 200 airports in China that connect over a hundred internal cities and eighty foreign cities.
The most popular and reliable airlines are:
Eastern Airlines
Air China Limited
Hainan Airlines
Shandong Airlines
Southern Airlines
Shanghai Airlines
Xiamen Airlines
Shenzhen Airlines
Sichuan Airlines
Public Bus
Public buses are generally crowded, but very affordable.
Try to avoid peak hours, as traffic jams occur in large and populous cities quite often.
The buses generally run from 6:30 in the morning to 7:30 in the evening.
In some cities they run through the night.
When you board the bus, at the front door there will be a coin box where you are expected to pay for your fare.
However, some buses have a ticket conductor that oftentimes charges according to how much distance you will cover.
The Intercity Long-Distance Bus
The intercity long-distance bus is another increasingly popular option attributed to the development and extension of highways.
All cities have coach stations which are located at the city's railway station.
The long-distance buses operate between almost all Chinese cities.
The run time is usually from early morning to late in the evening, and for longer distances – there are fewer services throughout the day.
The buses usually have a toilet, TV, air-conditioning and some might even have a sleeping berth if it's an overnight trip.
Mini-Buses
Mini-buses operate to try and alleviate the pressure of bus transportation.
The tickets are a bit higher in price and they're determined by the distance you take.
Still, it is best to avoid peak hours which are from 7 am–9 am and 5 pm–7 pm.
Pay close attention to your belongings as pickpockets operate most during rush hour.
Tour Buses
Tour buses usually feature a Chinese character '游' in front of the bus number.
Tour buses are commonly seen in major Chinese cities where there are many famous highlights.
They have a predetermined scenic route and usually have a tour guide on board to share interesting bits of history and fun facts.
Trolleybus/Electric Buses
From 2010, trolleybuses have joined the public transit system in 14 Chinese cities.
All trolleybus systems in China hail from after the 1950s except in Shanghai.
Shanghai's trolleybus system was opened in 1914 and is still operating – making it the oldest operating trolleybus system in the world.
Train
Traveling by railway is the main means of transportation in China and its network is one of the biggest in the world.
The mileage of operating railways adds up to 124,000 kilometres and the number of passengers has surpassed 2.5 billion.
Out of the 124,000 kilometres of railway, the 22,000 kilometres are utilized by the high-speed railways.
The Chinese railway connects almost every place in China – even the most remote ones – and is the backbone of the Chinese traffic network.
The domestic trains are divided into five categories:
High-speed/bullet trains
Fast trains
Tourist trains
Express trains
Normal trains
The High Speed/Bullet Train
This remarkable train, on average, operates fast as 250-300 km/h.
The price of tickets depends whether you want to buy first, second or business class as well as if they have a VIP category.
Some overnight trains offer soft and luxury soft sleeper options.
Many trains sell standing room tickets which cost the same as second class tickets.
The facilities are similar to those of an airplane.
The seats can be adjusted and you have use of a foldable table. Further, electrical sockets and meals and snack services are provided at a price.
This website will help with booking tickets and schedules.
Metro
The major cities have metro systems either already in operation, in planning stages or under construction.
The underground transit is developing at rapid speeds.
This is because one of the priorities to make China a greener country is to reduce the pollution of its cities and improve the quality of living.
Chinese metro systems are immaculate. They transfer large amounts of people, are very frequent and nearly always on time.
This contributes to diminishing the traffic jams and above ground transit.
The Shanghai Metro is the longest metro system in the world.
Taxi
Taxi is a very convenient mode of transport and surprisingly not too expensive.
In major cities, all vehicles have a meter.
If you're situated in a smaller town, ask at your hotel for a price estimate.
And if you're thinking of covering a long distance, it's possible to negotiate a deal.
Taxis are available at nearly all times and everywhere.
Chinese taxi drivers have a reputation of being very honourable. But it is always good practice to exercise caution.
Waterway
China has over 110 thousand kilometres of navigable streams, lakes, rivers and canals.
The Grand Canal is 1794 kilometres long. It connects seventeen cities (from Beijing to Hangzhou) and five rivers (Huaihe, Qintang, Haihe, Yangtze and Huanghe.)
Since so many railways and highways have been built in recent years, waterway transport has diminished.
But there are still ways to move around the country via waterway – especially the Yangtze cruise (Baidi to Yichang), Beijing-Hangzhou Grand Canal and the Li River cruise (Guilin – Yangshuo).
Accommodation in China
There is a lot of variety and options when it comes to accommodation in China.
On one hand, you can stay in a very cheap hostel (which doesn't mean that it lacks quality!).
But China is also full of luxurious hotels and villas.
When picking a place to stay, you should be aware of the fact that, in the Chinese language, there are different words for hotel and they indicate the status of the place.
Dajiudian – "Big wine shop" – luxury accommodation
Shan Zhuang – "Mountain resort" – accommodation in the countryside
Binguan & fandian – a general term for a hotel and can mean anything from an average hotel to a smart hotel.
Kèzhàn – Basic guesthouse
Zhāodàisuŏ – Hostel
Lǚguăn/ lǚshè –

inn

Zhùsù – accommodation
Budget
China is one of the best places in the world when it comes to the number of affordable accommodation options!
The network of hostels in China is ever-expanding and most of them are affiliated with the International Youth Hostel Association.
They tend to have clean and modern facilities, nicely designed social spaces, friendly and English speaking staff and fast Wi-Fi.
Getting around China is challenging if you don't speak the language, but the staff from hostels usually are willing to help you on your way.
They will gladly write the places that you need to visit or a couple of useful phrases to ease day to day communication.
Also, even booking a private room in a hostel is considerably cheaper when compared to European countries.
The quality of hostels is good and the prices tend to be very low.
If you're in Shanghai, staying at the Mingtown Nanjing Road Youth Hostel will cost around $9 per night.
The dorms have 6 beds and male and female dorms are separate.
A deluxe private room in Beijing's Chinese Box Courtyard Hostel costs around $50 and breakfast is included in the price.
The hostel also has a couple of free thematic nights, such as the free vegetarian dumpling party or the professional and traditional Chinese Kongfu tea course!
When it comes to cheap hotels, you will usually find these located near bus or train stations.
Chinese locals usually rent beds and not rooms, so doubling up with strangers isn't uncommon, especially as a means of saving money.
But foreigners are not allowed to share a room with Chinese people.
Instead, they have to rent a whole room. But usually, you will be able to negotiate a good price.
If you're an avid camper, just know that it is only possible to camp in Hong Kong.
There are free campsites all over the New Territories and in the beautiful nature of Qinghai, Gansu, Inner Mongolia, Xinjiang, Yunnan, Sichuan and Tibet.
But just know that to camp, you would have to obtain a government-issued permit.
Mid-Range
Hong Kong, Macau and few southwestern provinces have a number of privately owned guesthouses.
They range in size and quality, from tents to family mansions.
A double room in one of these guesthouses is usually cheaper than in a hotel.
There is at least one mid-range hotel in every town in China.
But the quality of the hotel is hard to predict from the price itself.
An old hotel with faulty bathrooms and washed out sheets could charge you the same as a newly opened establishment.
The general rule is to always try to book the newer place.
In more isolated places, you should be able to find a double room for $20 USD per night. But in bigger cities from $40 USD per night.
One thing you can always rely on when staying in a Chinese hotel is that you will be left with a pair of plastic or paper slippers and a vacuum flask of hot water that can be refilled by the staff!
If you're in Chengdu, the Chengdu Rising Butterfly Hotel is one of the best options.
Either a business twin room or a queen room costs a little over $50. And in some cases, breakfast is included in the price.
The Holiday Inn Express Yizhuang in Beijing will be a great experience.
The price of a standard room with free breakfast for two is usually around $70. But you can often find discounts and pay around $40!
Luxury
Luxury hotels are situated in larger cities and offer the same level of service as any four or five-star hotel anywhere else in the world.
They have the same facilities that are to be expected: gyms, swimming pools and business centers.
The price of a double room will be from $120 upwards and an additional 15% service charge will be added.
The Niccolo Chengdu hotel is one of the most popular of its kind.
The very luxurious hotel will offer an incredible experience that will satisfy any type of guest – all for the price of $150 per night!
The Upper House in Hong Kong is the epitome of glamour and it's especially great for business travel.
It has the largest hotel rooms in Hong Kong, along with ocean views and an amazing location.
The prices start at around $400, but the largest penthouse costs over $2000!
Safety While Travelling in China
China is regarded as a pretty safe and non-violent country.
If there is unrest it's typically contained within certain areas.
Petty Crime
The biggest dangers are petty crimes such as pickpocketing – which with administering precaution is preventable.
Travellers are targets for pickpockets and thieves.
These thieves usually operate near train and bus stations, hard-seat train carriages, intercity but also long-distance buses (especially take precaution if you're boarding the sleeper bus) and public toilets.
It is not advisable for women to travel solo.
Always check your restaurant bill to make sure you are not being charged extra for hidden expenses and avoid paying by credit card so you can make sure they won't add any extra charges.
Safety in Taxis
The most widespread scam are the taxi scams at the Beijing Airport.
Always queue at the taxi rank and insist that the driver uses his meter.
Avoid pedicabs and motorized three-wheelers. Many times these drivers will agree on an initially negotiated price and then after you arrive at the destination they insist on a different sum, which sometimes can even be 10x the initial agreement.
Traffic Accidents
One of the dangers when traveling in China are the high numbers of traffic accidents.
The World Health Organization (WHO) made an estimate that there are approximately 600 vehicular deaths per day.
When taking a long-distance bus you'll find that there are no seatbelts. Even taxis outside of major cities oftentimes don't have rear seatbelts fitted.
The biggest danger is crossing the street no matter how ridiculous it sounds.
In China there are a large number of electric cars and hoverboards that run silently and you probably wouldn't even hear them until it's too late.
The red lights in China don't mean much for Chinese drivers as they often run through them. So even the green figure signaling that it's safe to cross doesn't always mean that.
Medical System In China
The healthcare system in China is a mix of public and private services.
Major cities such as Beijing and Shanghai have hospitals with world-class care and specialist services.
Rural regions sometimes lack even the very basic healthcare services.
Sometimes healthcare options are limited to only types of traditional medicine such as acupressure, herbal remedies and acupuncture.
You should always travel with travel insurance! A comprehensive travel medical insurance is mandatory for visitors.
If you are treated at a private hospital the price difference between a private and a public hospital is significant.
If you're suffering serious health issues and at the time of medical assistance you're in one of the more remote areas, you will have to organize an expensive airlift.
Preparation is key to easy and safe travels.
Make sure that your policy includes medical evacuation, translation service and private hospitals to ensure maximum comfort.
Packing List For Travel To China
While there is always a variety of packing options depending on the season and length of travel, these are the travel essentials we recommend for your trip to China.
Note: This list is intended for trips during spring and summer.
Clothing And Wardrobe For Men And Women
3x Comfortable, long pants

3x Shorts

5x Short-sleeved shirts

2x Long-sleeved shirts

1x Wool sweater

1x Windbreaker/rain jacket

1x Fleece jacket

1x Flip flops

1x Adventure sandals

1x Waterproof shoes

1x Hiking shoes

Undergarments
Breathable socks
Miscellaneous Items
Headlamp

Camera

Extra SD memory card

Headphones

A cellphone (make sure to have an offline Translator App, phrasebook, copies of needed travel documents and ids, currency converter, copy of your insurance card/policy and emergency contact info)

Tripod

Portable battery

Power adapter

Lip balm

Sunscreen

Towels

Sunglasses

Sunhat with a wide brim and a chin strap

Insect repellent

Cosmetics

Toilet paper

Hand sanitizer

First aid

Medication

Guide book and a map

Pocket knife

Book with everyday phrases in Chinese

Reusable water bottle
Check Out Our China Travel Blogs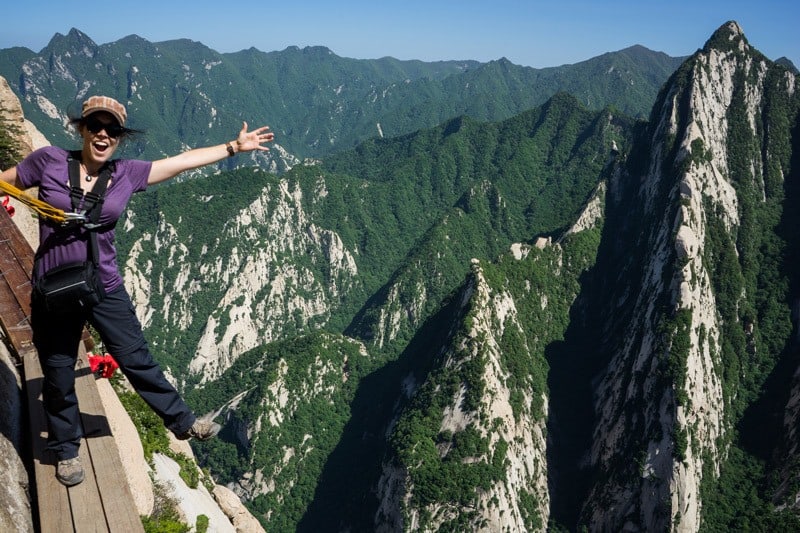 Everything you need to know about hiking Mount Huashan, better known as the 'world's most dangerous hike', or the 'plank walk', in China. Check out…