Argentina is not just famous for its football, National Parks such as Tierra del Fuego and Los Glaciares remain to be some of the most pristine places on earth. Thinking of going to Argentina for 1 to 2 weeks? You might want to think longer once you find out just how epic this place is!
From the streets of Buenos Aires, you will find yourself immersed in the world of Jazz and Blues music or head to a local restaurant to indulge in empanadas or why not a steak accompanied by a glass of Malbec red!
Argentina is a place of natural beauty from the Andean Northwest's coloured desert canyons to the world-famous Fitzroy Range. Where ever you wander, there's a good chance you will visit at least one national park while in Argentina, and don't worry if you can't do them all in one visit, you'll just have to book that flight back.
Argentina Travel Guide
When you start planning to travel to Argentina, it's handy to do a bit of research before you go. Check out our Argentina travel guide to help set prepare you for the land of tango and wine!
General Info
Here's some general information about Argentina.
Other Cities: Mendoza, Ushuaia, Cordoba
5 Interesting Facts About Argentina
Lionel Messi is regarded as one of the best footballers in the world, and from Argentina!
Argentinians barely eat breakfast! So you'll just have to wait till lunch to feast!
'Mate' (pronounced mah-tay) is a drink comprised of chopped leaves from a special plant where family and friends gather for a ritual based on sharing.
Che Guevara born in Rosario, Argentina, 1928 is the most famous of revolutionaries ever to live. He assisted Fidel Castro win back Cuba in 1959 followed by a spur of attempts to liberate South America.
Ushuaia is the gate way to Antarctica! It's very possible to book yourself and cruise to the edge of the earth.
Best Time To Travel To Argentina
For Buenos Aires and the vineyards, September to November for spring weather, otherwise March till May for that perfect temperature.
Trekking in Patagonia is best done in summer to avoid freezing temperatures while snow sports are best off in winter.
Top 5 Places To Visit In Argentina
Patagonia, by far the number one place to go in Argentina. Patagonia occupies a very big area, so heading over to Chile to see El Chaten and Mount Fitzroy are musts!
Iguazu Falls isn't just a spectacular waterfall, Parque Nacional Iguazu hosts exotic birds and lush subtropical rainforests
Tierra del Fuego otherwise known as the 'end of the world'. Head down to Ushuaia where glaciers thrive and mountains pierce the sky
Perito Moreno Glacier is a combination of mountains, lakes with a stunning glacier filling the foreground. A must visit while in Argentina!
General Carrera Lake located near Patagonia where The Andes dominate the landscape. A must see is a series of ancient marble caves, carved by continuous wave action over a period of 6,000 years.
Top 5 Experiences In Argentina
Climbing Aconcagua. Head to Mendoza to begin preparations for climbing the highest peak in the Western Hemisphere. Aconcagua stands at 6,960 metres.
Witnessing a football game between Boca Juniors and River Plate in Buenos Aires! Argentinians are deeply involved in football so why not go join the crowds!
The Andean Northwest lays close to the Andes where desert canyons, archaeological sites can be found. Colonial architecture is also a common feature in this area. So why not get the bus from Buenos Aires for an epic road trip!
Parque Nacional Glaciares hosts the stunning Fitzroy Range which is literally one of the most beautiful places in the world to hike!
Peninsula Valdes is quite possibly one of the most epic locations in Argentina to spot whales, elephant seals, penguins to grey foxes. Definitely worth the journey!
Read Our Argentina Posts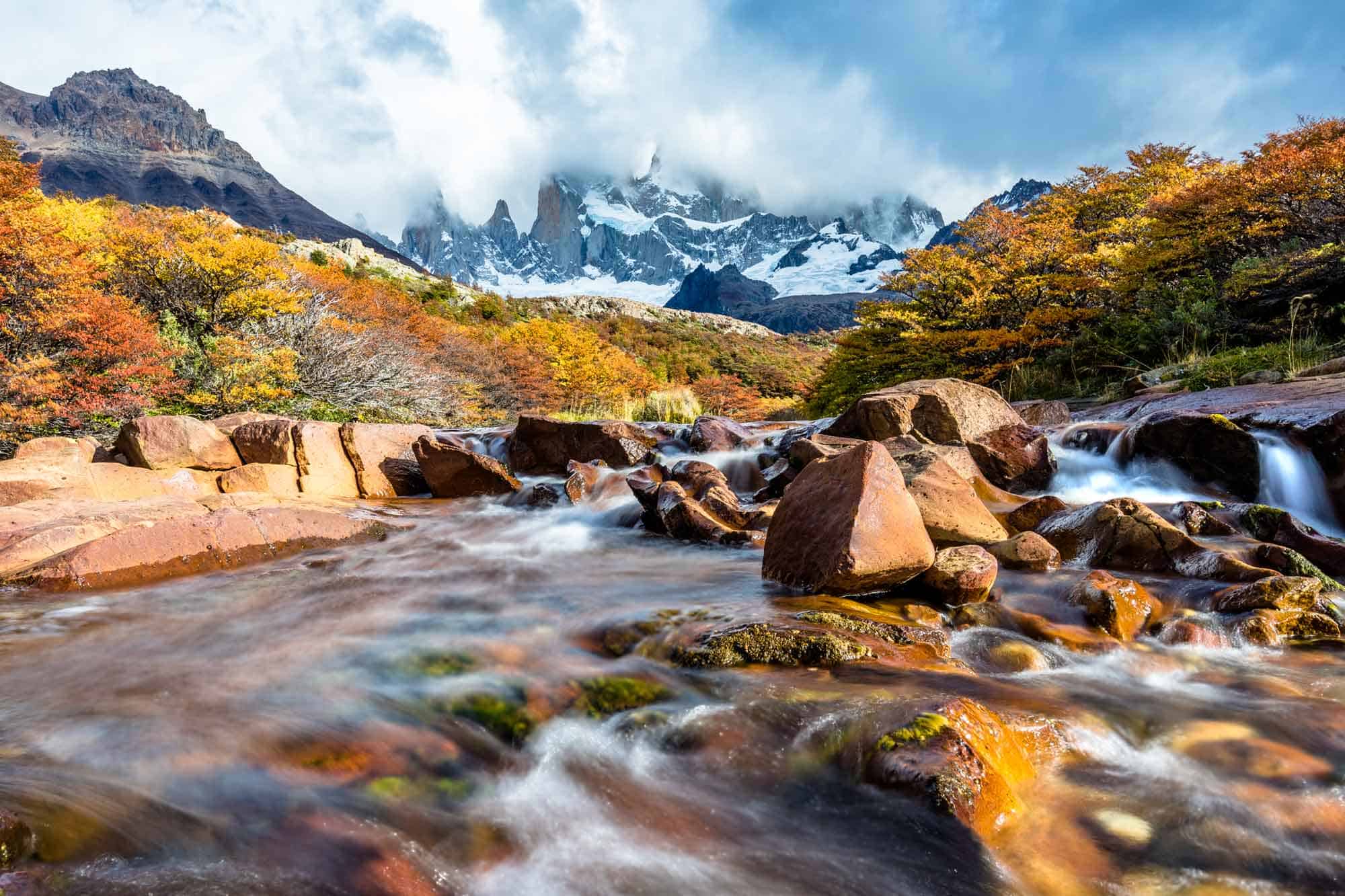 Everything you need to know about hiking in Patagonia. From trekking in Torres del Paine to El Chalten and everywhere in between, this list of…