Everything you need to know about travel to Thailand in our comprehensive 2023 Thailand Travel Guide.
Having spent almost 12 months exploring and living in the 'Land of Smiles', we've become pretty knowledgable when it comes to information on travel to Thailand, which is why we've put together this epic Thailand travel guide for you!
Travelling to Thailand, a place proud in heritage and Buddhism offers an insight into the fight to sustain its past while a booming economy beckons.
From the Grand Palace to the rice paddies of Chiang Mai, Thailand's diversity of adventure and culture combine to be the perfect mix for a first-timers country or those who want to delve deeper.
Maybe a trip to remote Northeastern Thailand to visit 13th-century temples or why not head to Phangnga Bay home to a multitude of limestone islands.
Thailand along with its expanding cities, natural landscapes never cease to amaze from the Northern jungles of Chiang Mai and Chiang Rai where waterfalls become an ideal swimming spot as lush forests dominate the mountainous horizon all while golden beaches and oceans sustain some of Thailand's most pristine and unique sea life.
Travelling in Thailand has it all from exotic cuisines, endless opportunity for adventure and some of the friendliest people in the world. What more could you ask for?
TRAVELLING IN THAILAND: AT A GLANCE:
Here are the basics of travel to Thailand.
CAPITAL: Bangkok
OTHER MAIN CITIES: Chiang Mai, Phuket
CURRENCY:
Thai Baht (See current exchange rates). $1 USD equals roughly 31 Thai Baht. You can often find cheap local meals for about 30-50 Baht ($1-2 USD), and an average beer at a bar can cost between 70-100 Baht ($2-3 USD).
ELECTRICITY: 220 Volt at 50Hz. If you have 110-volt appliances, you need a voltage adaptor otherwise you'll burn out the item you are using. Plug type A (two-prong round socket) or C (two-prong flat sockets).Be sure to get your universal travel adapter before you leave.
ENTRY / VISA: People travelling to Thailand must obtain a visa unless they come from a visa-exempt country, or a country that can obtain a visa on arrival. For information about the visa process click here.
SAFETY: Thailand in general is a very safe country for tourists, but just like everywhere else you need to be street smart. The most common issues tourists will encounter in Thailand comes in the form of petty theft and robberies, usually in busy markets or out on the streets late at night.

LANGUAGE:
Thai (In touristy areas, many locals speak English. So you don't have to be fluent in Thai to navigate the country!)
TRANSPORTATION: Getting around Thailand is super easy. Thailand has some wonderful public transport infrastructure in place, and you can get just about anywhere in the country without too much of an issue.
DON'T FORGET TO PACK THE MOST IMPORTANT THING: TRAVEL INSURANCE!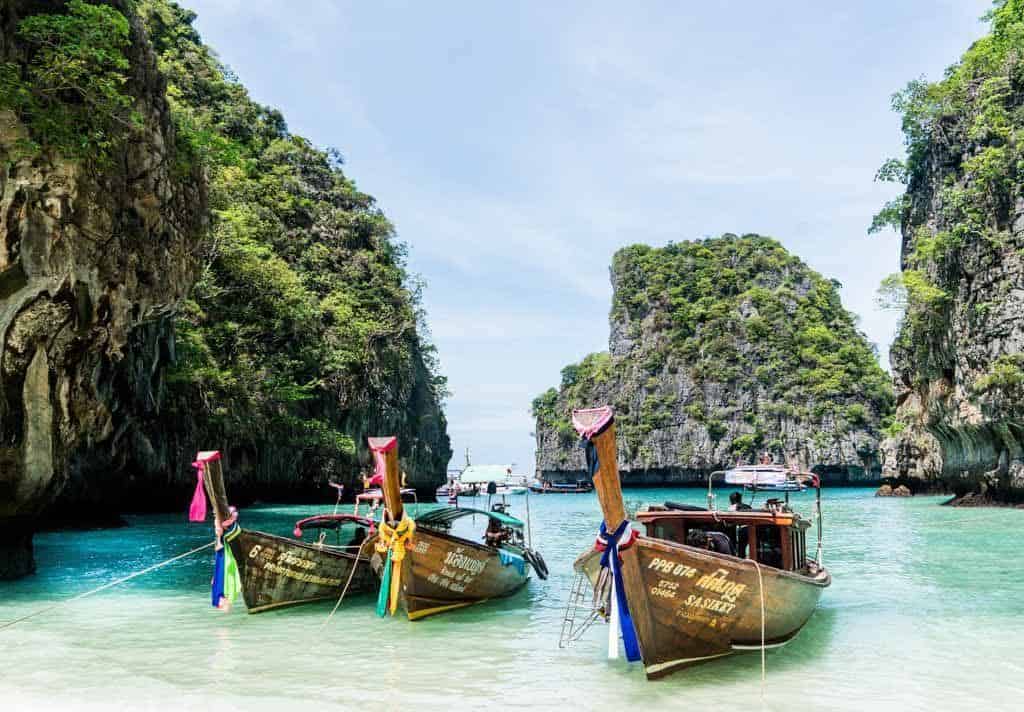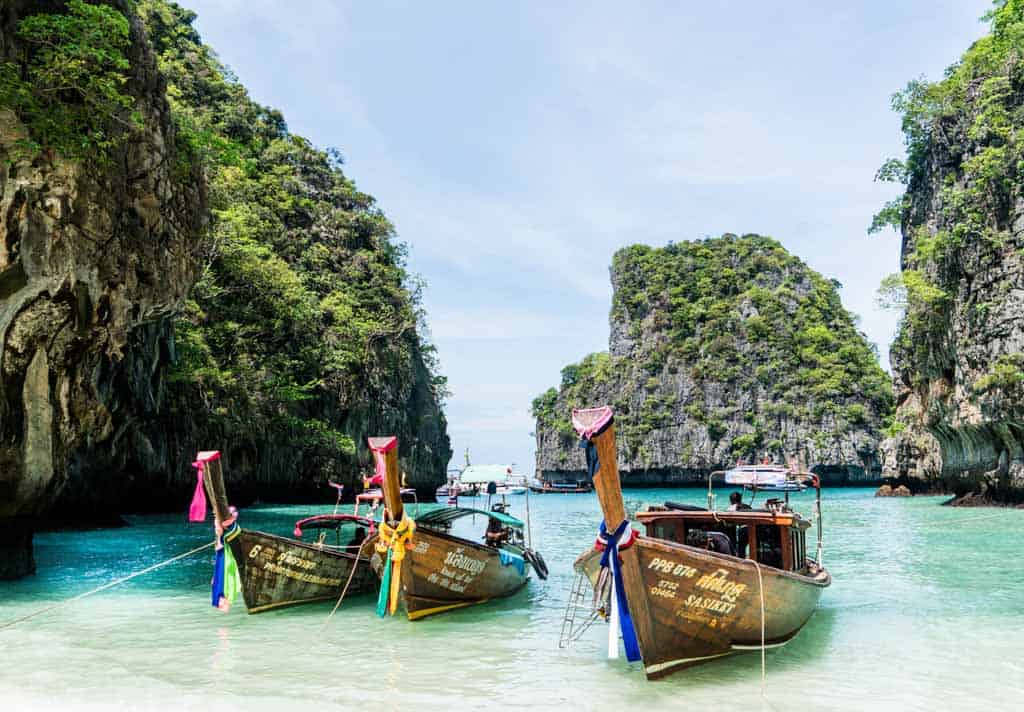 TOP 5 TRAVEL EXPERIENCES IN THAILAND
With so much to see and do in Thailand, it really is hard to pick the top experiences.
However, we think that to truly appreciate Thailand you need to plan to do these 5 activities during your visit.
Go Scuba Diving
Thailand is the place to get scuba certified. The courses are among the cheapest in the world and the trainers are highly qualified. If you are already certified, dives are cheap.
Find peace at a meditation/yoga retreat
Thailand caters to those of us who are looking for a place to recharge our minds and bodies. With lots of affordable options, a retreat should be on your must-do list.
Book your wellness stay in Koh Samui.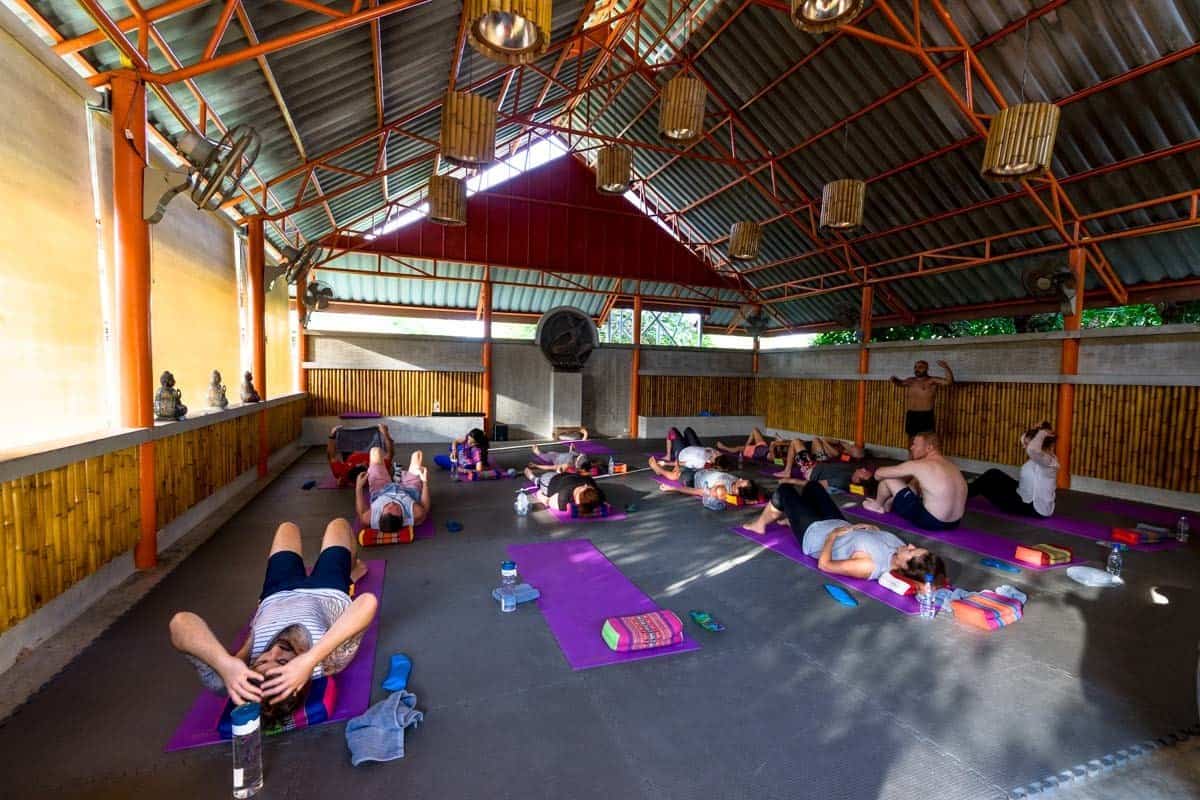 Take a Thai cooking class
Thai food is so delicious, so why not learn to cook it yourself? There are many cooking classes available throughout the country.
Book a cooking class in Bangkok.
Island hop the most picturesque beaches
Thailand offers some of the most spectacular beaches in all of the world. Most of these are on islands only accessible by boat. Fortunately, transport is cheap and easy so get out and find your favourite beach!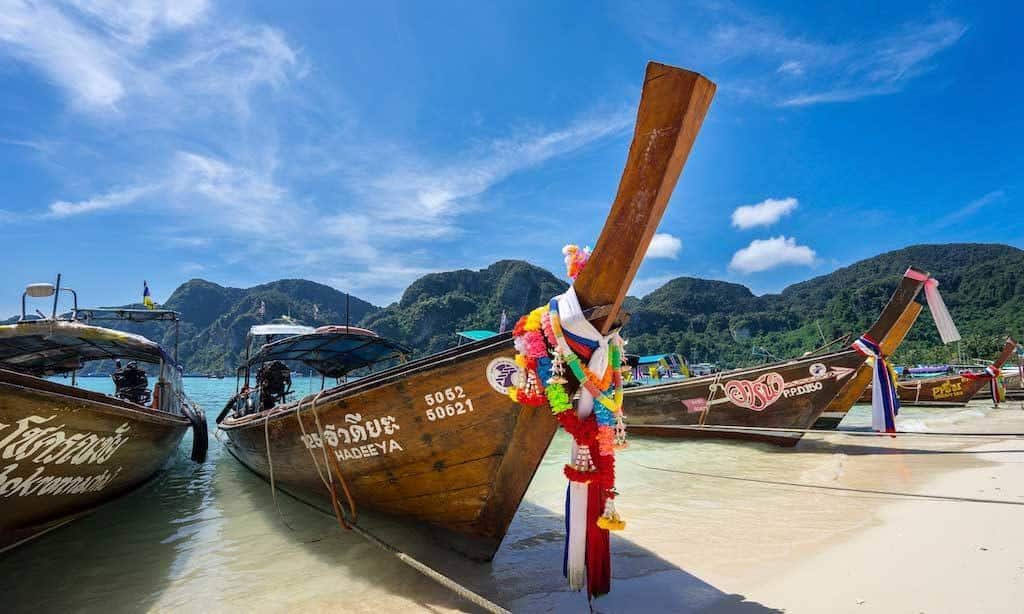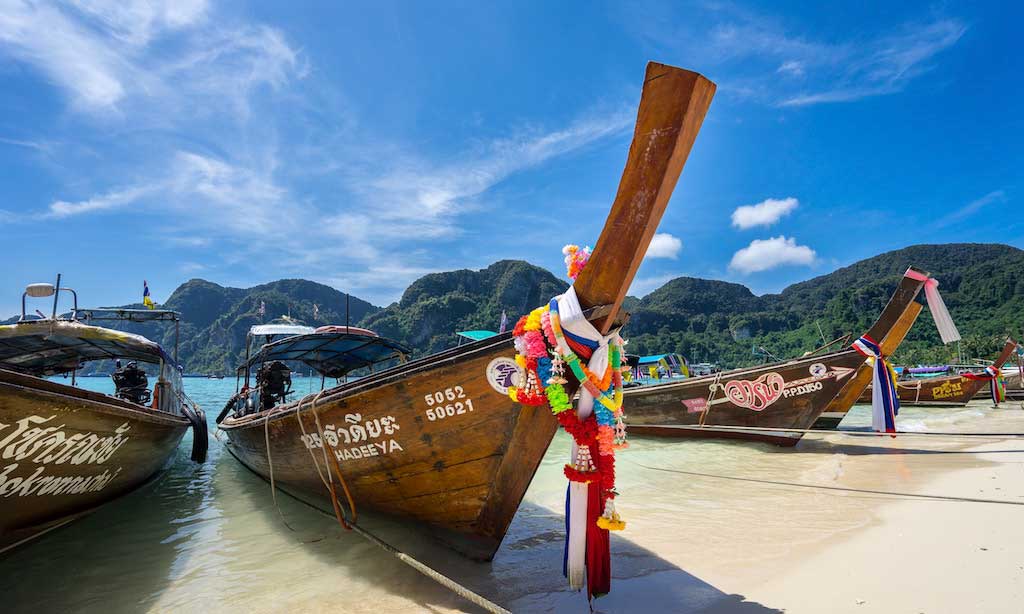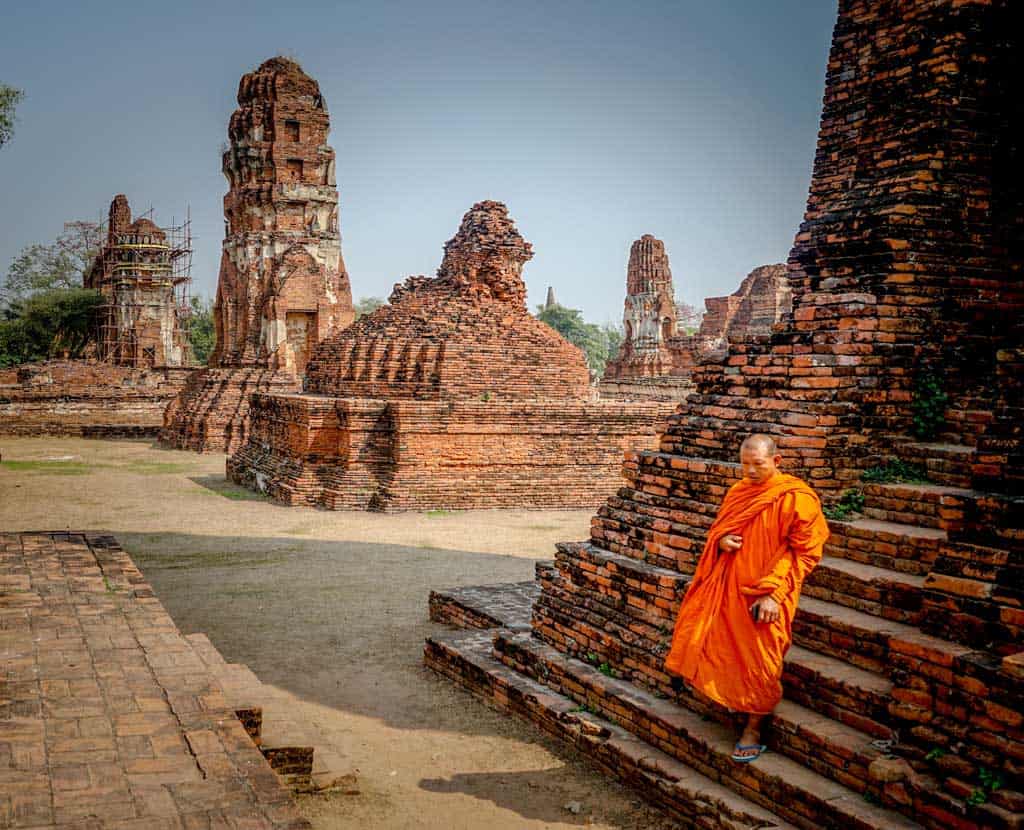 Pay your respects at the many temples
Buddhism is an essential and vibrant part of Thai life and temples are all over the country. To learn more, respectfully engage in conversation with monks. And at some of the temples, you can learn meditation for the day or have a meal for a small donation.
Tour the famous temples of Chiang Mai.
Other Things to do in Thailand
Rock climb. Krabi is known for many things, rock climbing among them. Railay Beach is the most popular place to give the sport a try.
Get a Sak Yant tattoo. Sak Tant tattoos are sacred and blessed tattoos inscribed by monks using traditional bamboo tattoo methods. Definitely a permanent memory from your time in Thailand.
Ride a tuk-tuk. These three-wheeled vehicles are the most common way to navigate the busy streets in most Thai cities. You'd be hard-pressed not to find them convenient and affordable during your travels.
Visit a floating market. Bangkok has the most famous floating markets. But you can tour others throughout the country for a uniquely Thai feel.
Eat Pad Thai. Sure you've probably had Pad Thai at your favourite Thai restaurant back home. But you've never had it as you will in Thailand itself.
Watch a Ladyboy show. Seemingly peculiar yet incredibly popular and well respected in Thai culture, the Ladyboy Cabaret's will leave you entertained for sure.
Walk on the Bridge Over the River Kwai. Famous in its own right, the bridge is worth a stroll when you are visiting Kanchanaburi.
Visit the Golden Triangle. Thailand, Laos and Myanmar come together at what is called the Golden Triangle. Visit here to take in all 3 countries at once.
Visit the Bangkok Airplane Graveyard. It's never good to think of planes and graveyards in the same thought. Unless you can explore the ruins of massive and historic planes.
Catch a sunset at the Phi Phi viewpoint. Sure there are plenty of amazing places to end your day in Thailand. But Koh Phi Phi boasts just about the best sunsets as anywhere else in the country.
Watch Muay Thai fight. You can watch Muay Thai at any number of venues around Thailand. Or take a lesson in Bangkok if you're up for the challenge.
See the Big Buddha. Buddhism is big in Thailand. And nothing demonstrates this more than the Big Buddha in Phuket.
BE SURE TO CHECK OUT THESE OTHER AMAZING THINGS TO DO IN THAILAND!
BEST PLACES TO VISIT IN THAILAND
There are plenty of amazing places to visit in Thailand. Depending on your interests, trip duration and time of year you will find plenty of things to do during any length of stay.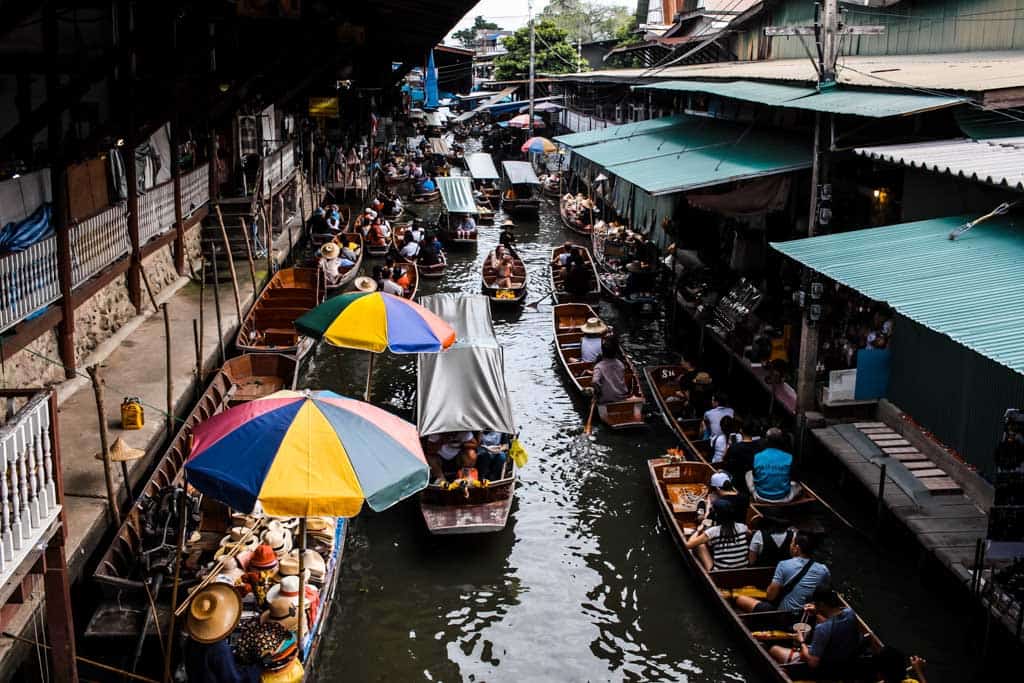 Bangkok
The capital of Thailand has become one of the most popular gateways to Asia. No trip to Thailand is complete without a few days in Bangkok.
Phuket
For the best introduction to the stunning scenery and warm culture of Thailand, visit Phuket, the country's largest island.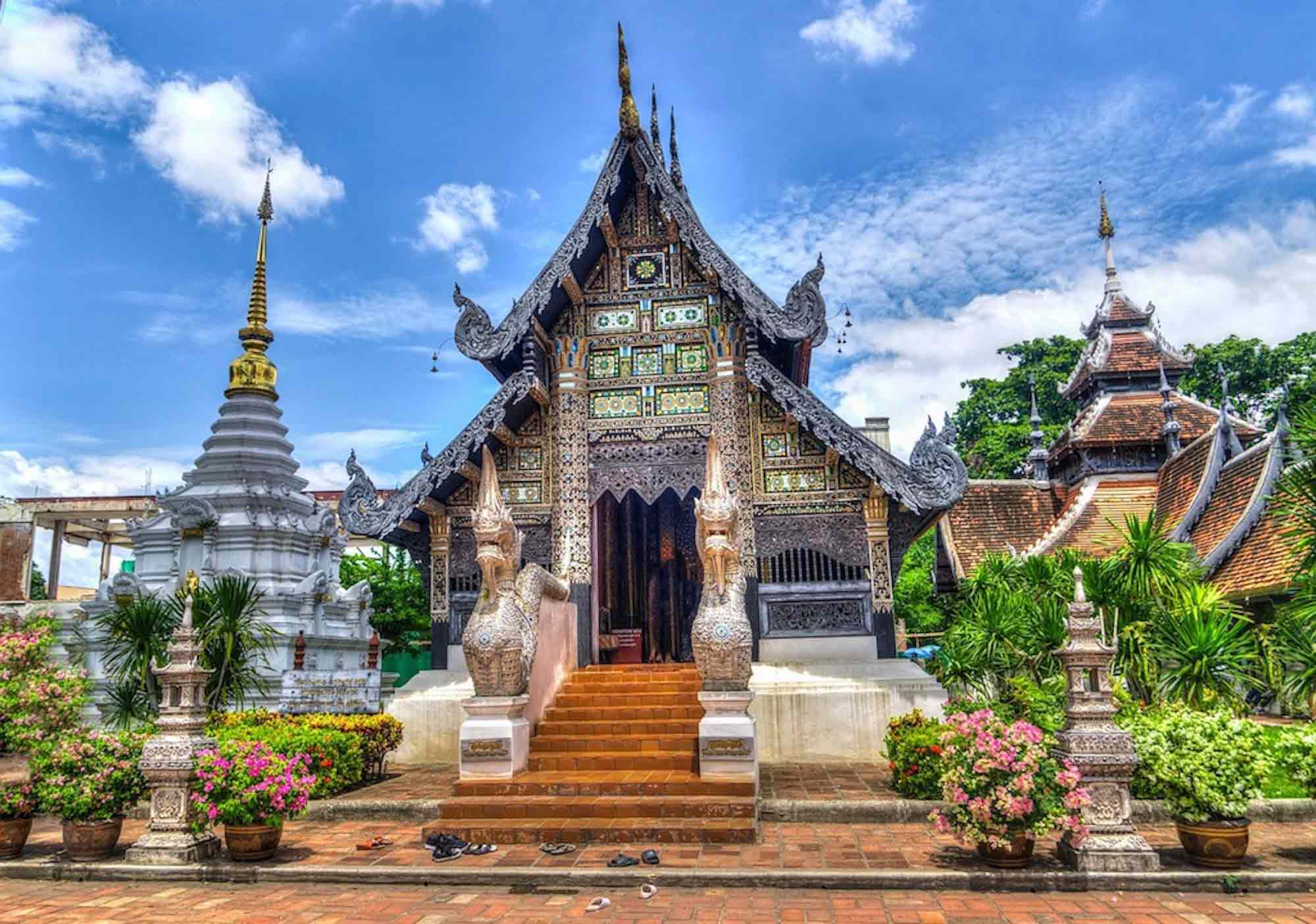 Chiang Mai
With the best restaurant and cafe scene in the country, excellent nightlife, a strong Buddhist presence and enough activities to fill a calendar year, there is definitely no shortage of things to do in Chiang Mai!
Koh Samui
Located in the Gulf of Thailand, Koh Samui is a huge island covered in forest and fringed with pristine beaches. As the second-largest Thai island, you absolutely must plan to visit Koh Samui.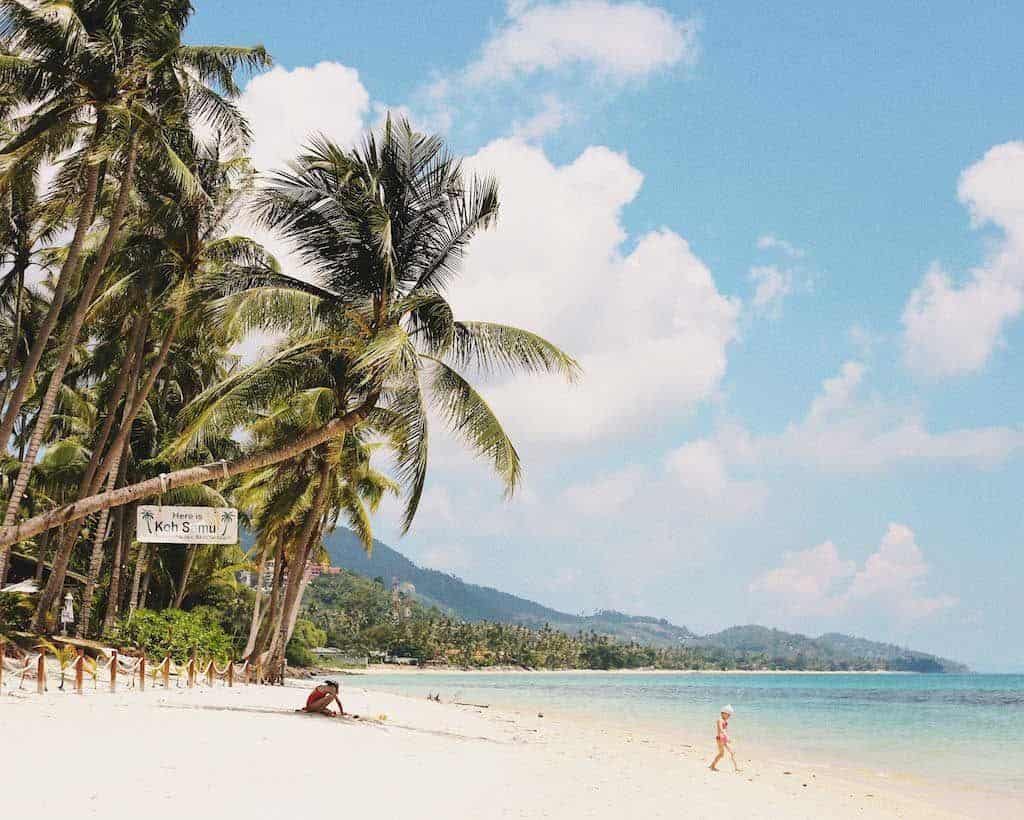 For more information on specific things to do in the top places to visit in Thailand, reference our following city travel guides:
BE SURE TO CHECK OUT THESE OTHER AWESOME PLACES TO VISIT IN THAILAND.
BEST THAILAND TRAVEL ITINERARY
Depending on whether you are starting from scratch or have a general idea of what kind of things you would like to see and do, we've put together a few Thailand itineraries that are sure to leave you wanting for nothing at the end of your visit.
There are so many amazing things to do in Thailand that planning an itinerary for your travel can be a little overwhelming.
Of course, no one-size-fits-all plan will suffice. But if we were to head back to Thailand these are the top places and things that we would want to do!
There is so much to see and do in Thailand, and you honestly could spend years here (lots of people to in fact).
Here is an overview of how you might consider spending between 1 to 3 weeks in Thailand.
Whether you love adventure, relaxation, health and wellness, luxury, food or culture, every type of travel is possible in Thailand!
Southern Thailand is more about beach life, luxury, partying and relaxing, whereas Northern Thailand is more about culture, food and adventure.
Here are some 2-week Thailand itinerary suggestions that will help you plan your trip to Thailand.
Southern Thailand – Beach Life
Northern Thailand – Culture
Fly into Bangkok
3 days in Bangkok – Check out our guide on the best things to do in Bangkok.
2 days in Ayutthaya – Travel back in time and visit this historical park. Well preserved ruins and massive stupas.
Fly up to Chiang Mai
3 days in Chiang Mai – There are so many things to do in Chiang Mai.
3 days in Pai – Relax on the river bed or ride a motorbike and explore the surrounding area. Read our awesome Pai travel guide.
2 days in Chiang Rai – Visit the White Temple.
Fly back to Bangkok and head out on the next adventure.
Best of Both Worlds – North and South
2 days in Bangkok
Day trip to Ayuthaya
Fly from Bangkok to Chiang Mai
2 days in Chiang Mai
2 days in Chiang Rai
Fly from Chiang Rai to Krabi
2 nights in Ao Nang / Railay Beach
2 nights in Koh Lanta
Fly back to Bangkok and fly out
READ MORE: CHECK OUT THIS POST FOR MORE DETAILS ON THE BEST THAILAND ITINERARIES.
THAILAND TRIP PLANNING
BEST TIME TO VISIT THAILAND
If you are travelling the whole country from south to north, we would recommend travelling between the months of December and February for beautiful clear blue skies and nice temperatures.
January to February sees much less rain across the country, and temperatures remain constant throughout the year. The humidity is also very manageable.
If you're in the north of the country at this time of year it may get a bit chilly at night so bring a sweater with you.
If you wanted to avoid the busy times, which are from November to March, consider travelling around from March to October when it is low season. There are way fewer tourists and hotels and flights are cheaper.
The one downside is that it does rain a lot in the afternoons and it can be very humid, but if you don't mind getting a bit wet then this is a brilliant time to travel to Thailand.
Avoid Chiang Mai around April, as this is the burning season. It is not a pleasant time to be there as the air quality is not very good and hard to breathe at times.
If you have asthma, avoid this area completely during the burning season.
THAILAND TRAVEL BUDGET GUIDELINE
Thailand is a very cheap country compared to most Western destinations, but it is on the high side compared to other countries in Southeast Asia.
A Thailand travel budget really comes down to your style and how much you're willing to spend on things.
It's entirely possible to travel on $20 a day, and you could also live on $2000 a day if you want.
For the most part, the north is around 30-50% cheaper than the south, so keep that in mind when you're trying to figure out how much to spend and where you want to hang out the most.
The prices below are a general budget guide to travel in Thailand. All prices are in USD per day.
| | | | | | |
| --- | --- | --- | --- | --- | --- |
| (Prices in USD) | Food | Accommodation | Transportation | Attractions | Average Daily Cost |
| Backpacker | $8 – $15 | $8 – $15 | $4 – $10 | $10 – $25 | $20 – $40 |
| Mid-Range | $15 – $25 | $20 – $30 | $10 – $15 | $10 – $50 | $50 – $100 |
| Luxury | $40 – $60 | $75 – $100+ | $15 – $25+ | $50 – $100+ | $200 – $400+ |
But there are a few things you should know about the different budgets at which you can choose to travel.
Backpacker
Single Traveller: $20-$40
Couple Travellers: $50-$80
Backpacking in Thailand is a wonderful experience for people of all ages and in our opinion the most authentic and enjoyable way to explore the country.
If you are on a backpacker budget and planning on staying in dorm rooms, getting street food, and either not drinking or only having a few beers a week, then you can go as low as $25 a day, a bit more if you are in the south.
A single hostel bed can be $8-$15 per person. A budget basic private room is $15-$30. A street food meal can be $1-$2. A bottle of beer is about $1- $2 from 7/11.
You can rent scooters for as low as $5 a day if you're renting long-term, and fuel is very cheap, making it an excellent way to explore towns.
Flashpacker
Single Traveller: $50-$100
Couple Travellers: $80-$150
If you can afford to fit into a flashpacker budget, you're going to have an incredibly epic time in Thailand.
You'll be spoilt with nice private rooms, great food, cocktails on the beach and quite a few awesome activities like scuba diving in Koh Tao.
You'll get excellent private rooms for $20-30 in the north, $40-50 in the south.
You can eat off the street when you want, and a lot of good, delicious meals can be found for $5-10.
Visit a few temples, do a cooking course, get a private guided tour, the world really is your oyster as a flashpacker in Thailand.
Luxury
Single Traveller: $200-$400+
Couple Travellers: $250-$500+
Thailand has some of the best luxury resorts in the world, and this is where the majority of your budget will go when you travel to Thailand as a luxury visitor.
The truth is even if you eat at very nice restaurants, you'll still struggle to pay more than $20-$30 a meal (there are of course exceptions to this rule in award-winning restaurants), but you'll probably find your budget will get blown out on alcohol.
Fancy cocktails in luxury resorts can cost up to $20 for one drink.
CHECK OUT OUR THAILAND BUDGETING GUIDE TO HELP MAKE YOUR MONEY GO FURTHER.
GETTING TO AND AROUND THAILAND
Visa Requirements For Thailand
People travelling to Thailand must obtain a visa unless they come from a visa-exempt country or a country that can obtain a visa on arrival.
There are 57 countries that are visa-free and 21 countries that can obtain a visa on arrival. The rest need a visa and can obtain them from your local Thai embassy.
Visa-on-arrivals (VOA) are usually given for up to 30 days when arriving by air, or 15 days when entering by land.
These can be extended once at an immigration office in Thailand.
Make sure you look up the visa requirements for your country. Airlines have the list of visas required for different countries and may refuse you to board if you don't have the visa.
Check out whether you need a visa or not here.
How to Get to Thailand
There are a number of airlines that fly to Thailand from all over the world.
The main international airports that you will likely fly into are Bangkok Suvamabhumi Airport (BKK) or Phuket International Airport (HKT). Bangkok is a major transport hub and many countries offer direct flights.
There is public transport from both of these airports into the cities, or you can catch a taxi or shuttle bus.
You can sometimes get a great deal with a budget airline too. Luggage and food will not be included, and you will have to pay this on top of the fare.
But if you are only travelling with a carry-on and don't mind bringing your own food, you can get some awesome prices.
We look for our flights through Skyscanner and Google Flights.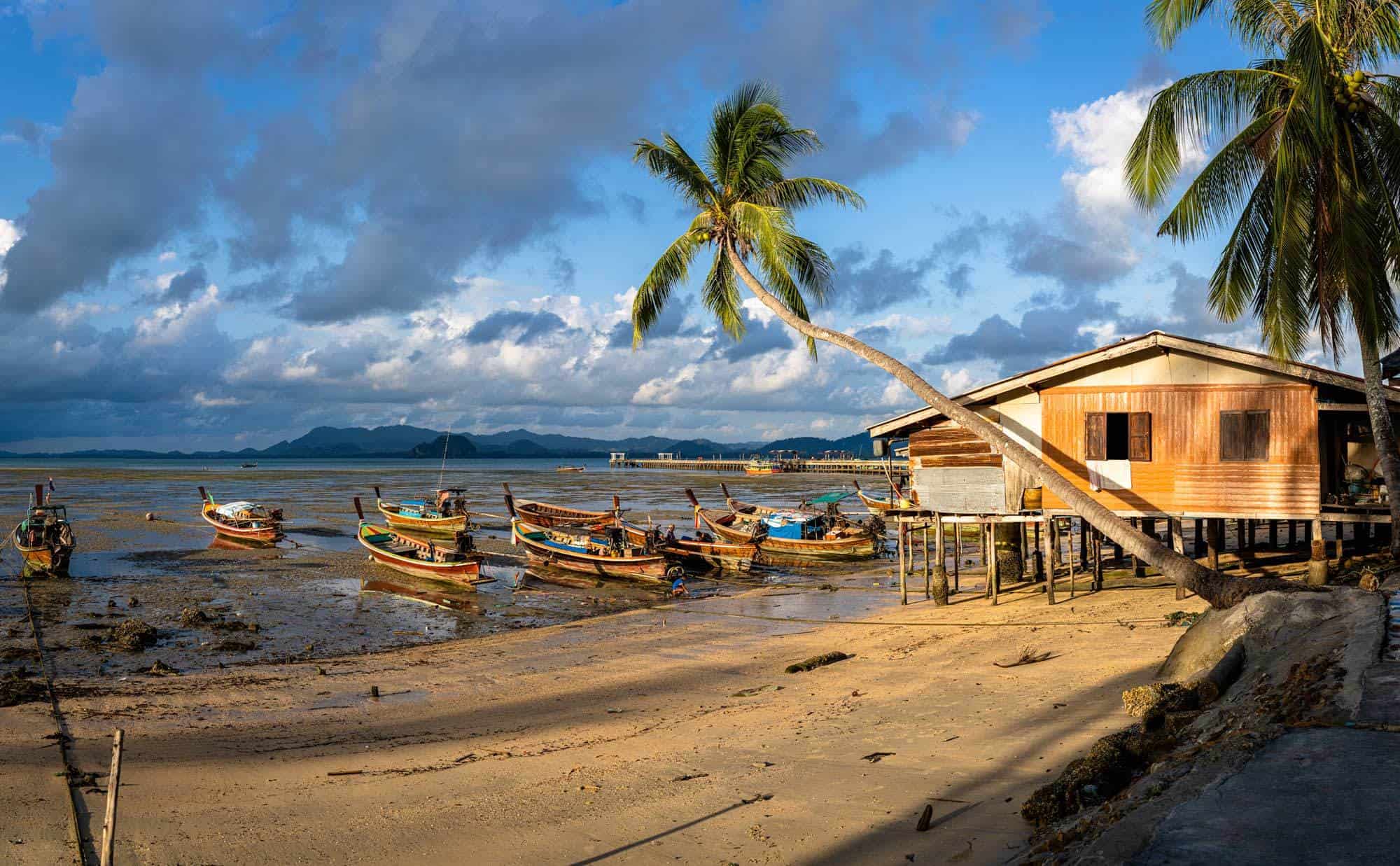 Transport in Thailand
Getting around Thailand is super easy. Thailand has some wonderful public transport infrastructure in place, and you can get just about anywhere in the country without too much of an issue.
If you're more inclined to stick to tourist-focused transport you'll find no shortage of companies willing to get you to every main tourist destination. Caveats apply though, so read on…
Air
You can get some great deals with the local airline carriers within the country. Sometimes flying is cheaper than train or bus travel too.
The airline carriers are usually budget and luggage may not be included in the price. Food and drinks will probably cost extra onboard.
Vietjet, Lion Air, Thai Smile, Nok Air, Bangkok Airways, Orient Thai, Thai Airways and Air Asia are all good carriers in Thailand.
Bus
Buses are the most common way to travel in Thailand, and you'll be hard-pressed to find a single town that isn't serviced by at least one bus company.
The tourists' options are nice "VIP" buses that offer comfortable seating, a small meal and a (mostly) reliable bus. Unless you are on a tight budget, we recommend booking on the VIP buses where possible.
Something to keep in mind is that just because you're paying more for a tourist bus, doesn't mean your valuables will be safe, and unfortunately, there is a lot of theft common on these trips.
But chances are you'll find yourself on a bus at some point in your travel to Thailand.
Boat/Ferry
Getting out to the famous Thai islands often means you'll need to take a boat or a ferry. You can buy your ticket at legit travel agents, or at the boat company's office at the pier.
The boats aren't anything fancy and range from small speed boats to large ferries with open decks and beds for sleeping on the overnight journeys.
You can sit inside or outside, but if you sit outside make sure you wear sunscreen and be prepared to get a bit wet if it's a speedboat.
Train
Thailand has a few major cities that are connected via a decent train network, and this is an excellent way to travel around the country.
From Bangkok, you can get to destinations like Chiang Mai and Chumphon on an overnight trip, or you can get a train to Ayutthaya which is 50km out of Bangkok.
If you are on a tight time frame, the train is not the best way to travel in Thailand, as they do run late a lot of the time.
Taxi
Just like anywhere else in the world, Thailand is full of taxis. And just like anywhere else in the world, these taxi drivers may try and scam you or rip you off.
If you grab a taxi on the street make sure they use the meter or negotiate a price beforehand.
Songthaews
Songthaews are red pick-up trucks with benches on the back (songthaew literally means 'two benches' in Thai), which you will find all throughout Thailand.
They are shared transport for getting around towns or between villages. You simply flag down a Songthaew when you see one comes, tell the driver your destination, and if the driver is going that way jump on the back.
The cost ranges per distance and you pay when you arrive at your destination.
Tuk Tuks
Tuk-tuks are a great way to get around the cities, and no trip to Thailand would be complete without taking at least one tuk-tuk journey.
Tuk-tuks are basically a little bubble trailer attached to the back of a scooter that a couple of people can sit in.
These 3-wheeled vehicles go everywhere and are incredibly popular for locals and tourists alike.
Rental Cars
While driving in Thailand can be quite interesting, renting a car is still the best way to have full autonomy over your travel itinerary.
Be aware of the traffic laws and pay full attention to other drivers.
The best way to get around is to rent a car and explore on your own! We recommend Rental Cars, which has the largest range of cars for the best value on the market.
READ MORE: Check out this post if you're looking for more detailed information and tips on how to get to and around Thailand.
APPS AND TECHNOLOGY
Here are a few we think you should definitely acquaint yourself with prior to your travels: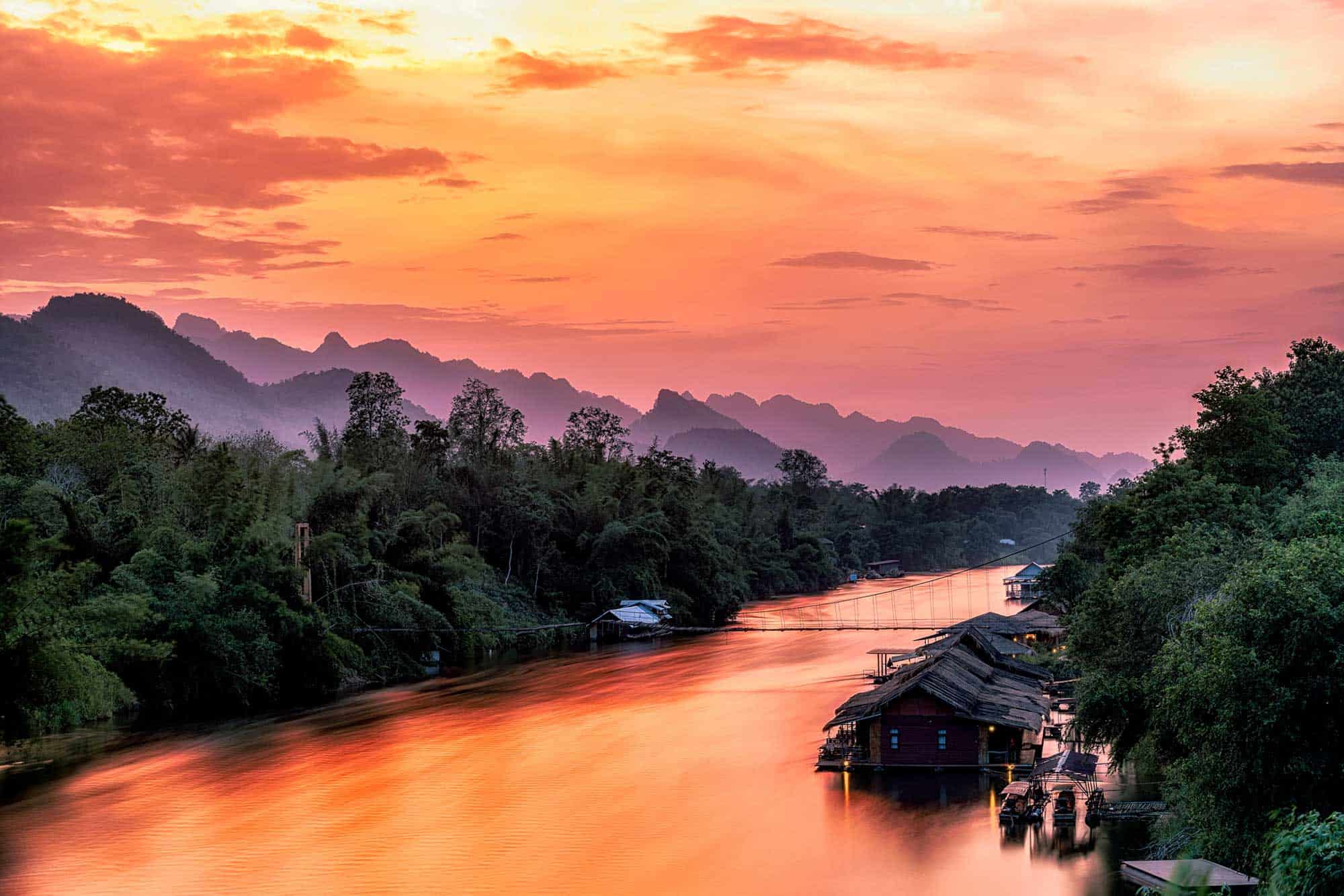 BEST THINGS TO EAT IN THAILAND
There's a reason Thai food is one of the most popular foreign cuisines around the world – because it's absolutely amazing!
Known for being delicious, healthy and cheap, Thai food is quite varied, and you'll find unique dishes in all the major towns, and a distinct flavour difference from the south to the north.
It can also be quite spicy, so if you're not into that make sure you learn to say "mai phet" (my pet), which means "no spice".
Here are some dishes not to miss when you are in Thailand.
Som Tom (Spicy green papaya salad)
Pad Krapow Moo Saap (Fried Basil and pork)
Gaeng Keow Wan Kai (Green chicken curry)
Kai Med Ma Muang (Chicken with cashew nuts)
Khao Soi (Creamy coconut curry noodle soup)
Pad Phuk Tong (Stir-fried pumpkin)
Pak Boong (Morning glory greens)
Panang (Thai curry)
Kao Niew Ma Muang (Mango and sticky rice)
Pad Thai (Classic fried noodle dish)
READ MORE: LEARN EVERYTHING YOU NEED TO KNOW ABOUT THE BEST FOOD IN THAILAND!
PLACES TO STAY IN THAILAND
Thailand is a curious nation when it comes to places to stay because the options here cover just about everything you could ever dream of.
If you're looking for world-class, high-end, award-winning luxury resorts, you'll find them in spade around southern Thailand in places like Phuket.
On the flip side if you are travelling through some remote hill tribe villages in the north, don't be surprised if you end up sleeping on a dirt floor with bugs.
It might not be luxurious, but is definitely authentic! It all depends on where you go and your budget.
To book your accommodation in Thailand we recommend using Agoda, and you can use the coupon code "AGODANMD10" to get 10% off your hotels and hostels.
Types of Accommodations
Hostels
Thailand is packed with affordable backpacker hostels that generally range from 5 to 12 USD per night for a dorm bed.
If you are a solo traveller looking to save the most money, a cheap hostel dorm bed is the way to go.
Most hostels in Thailand have basic amenities and are quite clean. It is common to find kitchens, lounge areas, pool tables and games, televisions, and laundry facilities in hostels around Thailand.
There are a lot of party hostels as well, which are amazing for meeting people and having fun nights out.
But if you prefer a more low-key, quiet, stay make sure you book hostels that aren't notorious for partying.
Guesthouses
For mid-range priced accommodation, Thailand has lots of guesthouses.
These are like very small hotels, usually set in a local's home or apartment building, but they offer a more intimate and homey experience than a hotel.
A standard room in a guesthouse can be anywhere between 15 and 40 USD per night.
So you can enjoy more private and cozy accommodation than a hostel, for a very cheap price.
If you are traveling as a couple, it may even be cheaper to split the cost of one cheap room rather than buy two separate hostel dorm beds.
Hotels
Hotels in Thailand can range from standard and basic to absolute luxury. Even very nice hotels can be super cheap compared to many other countries, so Thailand is a great country to treat yourself.
Gorgeous hotels that aren't 5-star luxury hotels can still cost anywhere between 30 and 150 USD per night.
If you shoot for the best of the best, meaning luxury, beachfront, five-star hotels, you'll spend a few hundred USD per night which is still affordable for the quality you are getting.
Airbnbs
Airbnbs are pretty similar to guesthouses because they are also set up in a local's home or property. But when you rent a place on Airbnb, you usually have either the whole house or apartment to yourself.
You can also rent single rooms on Airbnb for a cheaper stay.
Airbnb prices in Thailand are actually a bit higher than some cheap hotels and guesthouses.
Depending on the quality of the place, places can cost anywhere between 50 and 150 USD per night.
If you're looking for an awesome place to stay in Port Stephens, we personally love using Airbnb. If you've never used the platform before, sign up using this link to get USD$35 off your first booking.
Beach Bungalows
Because Thailand has such an abundance of coastline, it is quite easy and affordable to find adorable beach bungalows.
Renting a beach bungalow means you'll have your own private mini house right on the sand with the ocean right in front of your window.
Any major tourist island of Thailand will have beach bungalows available for rent, and they usually cost only 30 to 70 USD per night.
THAILAND TRAVEL TIPS
While there are many basic travel tips we suggest you use when travelling to Thailand, there are also plenty of Thai-specific tips that will make your visit the best it can be.
Here are some of our best tips to help you travel to Thailand.
Be respectful to the locals and other travellers. Respect the culture, whether you are in a temple or out on the streets.
Dress appropriately. Because you are in a warm country, doesn't mean you can wear next to no clothing. Please dress respectfully, especially when you are going inside a temple.
Never raise your voice or start a commotion in public. In Thai culture, they do not do this and hate confrontation. Always keep your calm, even if someone is trying to take advantage of you.
Be prepared to take off your shoes a lot. Bring slip-on or sandals. You will be taking your shoes off and on if you are entering a temple, home or some hotels and restaurants.
Book tours through respectable travel agents
There are two prices at attractions; Local price and foreigner (farang) price. Unfortunately, there is nothing you can do about it. Don't argue, it will not get you anywhere.
Have an idea of prices before you shop, buy a tour, buy a transport ticket or rent a room. Sometimes the prices fluctuate depending on how smart you are. Do your research so you don't get ripped off.
Know the currency exchange rate. This is important when changing money. You want to know you are getting a good price.
Try new foods. Thai food is delicious
Use your insect repellent, as the sand flies and mosquitoes are terrible
Wear a helmet if you rent a scooter
Know the scams. Research scams in Thailand so you are prepared and know if someone tries it on you.
Do not drink the tap water. Take a metal water bottle and refill it out of big filtered water vendors or reverse osmosis machines.
Take advantage of the happy hours. You will see them at bars and cafes during the day. So take note and have a few drinks then.
Always look both ways when crossing the road. Sometimes a scooter may be going down the wrong way. Look both ways and be sure before crossing.
When renting a scooter, take photos of the bike from all angles and in front of the rental place too. Never leave your passport with them either. Bring a photocopy. There are dodgy companies out there.
The girls in the bars may not be ladies. There are many lady-boys in Thailand and you would never even know so just heads up if you are not into that.
READ MORE: Our comprehensive list of Thailand travel tips to make your journey safer, more enjoyable and more affordable!
THAILAND PACKING LIST
We always travel with a core packing list wherever we go. And when it comes to Thailand, many factors will affect what else you need to bring along with you.
Check out our travel essentials and be sure to add any of the other additional items listed below.
THAILAND PACKING LIST
Thailand is for the most part a warm and humid country (the mountains in the north being an exception), so you shouldn't have any issues packing light.

If you forget to bring something with you to Thailand, don't stress, because you can buy anything and everything you'd ever need in the country.



Women


4 x sleeved t–shirts
2 x shorts
1 x skirt
1 x leggings
1 x loose pants
1 x cardigan
1 x rain coat
1 x pair slip on shoe
1 x pair of flip flops
1 x pair of sneakers
1 x scarf
1 x hat
2 x bathers
1 x quick dry towel
1 x sarong
1 x sunglasses
Underwear
Bras
Socks
Toiletries
Men
2 x t–shirts
2 x singlets
3 x shorts
1 x pants
1 x rain coat
1 x jumper
1 x swim shorts
1 x quick dry towel
1 x pair of flip flops
1 x pair of sneakers
1 x hat
1 x sunglasses
Underwear
Socks
Toiletries

Miscellaneous Items
Roll toilet paper
Sunscreen (very expensive in Asian countries)
Insect repellent
Water bottle
Ear plugs
Travel electricity adaptor
Medication
Padlock






ALWAYS BE SURE TO PACK TRAVEL INSURANCE!
READ MORE: Be sure to know what and why to pack for every season in Thailand!
STAYING SAFE IN THAILAND
Thailand, in general, is a very safe country for tourists, but just like everywhere else you need to be street smart.
The most common issues tourists will encounter in Thailand comes in the form of petty theft and robberies, usually in busy markets or out on the streets late at night.
You need to respect and obey the Thai law, including all of those that involve respecting the monarchy.
Thailand has experiences with civil unrest and military coups in recent years.
Use your head and stay clear of street demonstrations.
Violent crime is very rare in Thailand, but do exercise caution during parties such as full moon parties or dodgy areas in places.
In general, if you show respect to Thai people, they will show respect to you.
Driving on the roads in Thailand is crazy, so we can't mention safety without reminding you to be wise on the roads.
For bus and minivan transport try and go with tour companies and bus companies that are responsible.
If you rent a motorbike, check it over when you pick it up. Check the brakes, the lights, etc. Most importantly always wear a helmet, shoes, pants and a top.
Don't be one of those backpackers that rides a scooter wearing their swimwear thinking you're cool.
Hot tip – the gravel in Thailand is just as hard as the gravel in your home country if you come off.
Don't travel to Thailand without travel insurance! It's the most important thing you need for your trip, trust us. Alesha visited the hospital in Koh Lanta with stomach pains and we ended up with a $1500 bill.
Travel insurance covered every cent.
Get your free quote with World Nomads here.
MEDICAL SYSTEM IN THAILAND
If you need to go to a hospital in Thailand, don't panic. The quality of care is very good, and in some hospitals could be even better than what you have back in your home country.
In most situations, you'll be required to pay upfront for any care unless you can prove you have travel insurance.
That's one of our Thailand travel tips for you.
Private Hospitals In Thailand
There is a private hospital network that is privately owned, and their prices are a lot more expensive.
The doctors and nurses will speak English and the care is very good, but you are paying an arm and a leg for their services.
They will ask for your passport on the way in before they see you. NEVER hand them your passport.
If you are insured, call your insurance company and get clearance that they will pay, or you can pay a price upfront to get the services rolling.
If you hand them your passport, they will hold it ransom and start charging you for random services, refusing to return it to you until you pay the full amount.
When it comes to money, these private companies are very aggressive. And if they know an insurance company is paying they will give you tests that are not necessary.
This happened to Alesha when she had an intestine infection. We were communicating with our insurance company and told them these tests were not needed.
The insurance company agreed and the clinic got very aggressive and hostile. This was at Siam International Clinic in Koh Lanta.
While we were there we saw them rip off countless backpackers, charging them insane prices for things as basic as paracetamol.
The service was great, the facility was spotless, but they were a business first and hospital second, only caring about extracting as much cash as possible.
This isn't to scare you, and obviously if you're sick or have an accident go to a hospital immediately. It's just a warning.
We highly recommend you always have travel insurance when travelling in Thailand.
Government Hospitals in Thailand
There are dozens of government-run hospitals all throughout Thailand, and these range from having very high standards to being basic, third-world facilities.
At these hospitals, you will be waiting in long queues, and there may be no one that speaks English.
If you can go with a local, that would be the best option for communication. You may also need to pay upfront before a doctor or nurse will see you.
As a foreigner expect to be charged a higher fee than a Thai person, but these costs will be extremely cheap, especially when compared to the private hospitals.
This is because locals pay social security and tax, so a lot of their medical care may be subsidised.
Medical Tourism
Medical Tourism is definitely a big thing for people travelling to Thailand.
You can get procedures done for way cheaper than in most western countries, and a lot of these services are extremely high quality.
But DO YOUR RESEARCH!
If you are looking to get cosmetic work done, meet with the clinic, ask all your questions and research the clinic online for reviews before committing to anything.
For dental care, Thailand is an excellent place to go as well. We went to a dental clinic in Chiang Mai called Dental 4 U and we had great experiences with them.
We did our research, talked to ex-pats, and all arrows kept pointing at this dentist.
It was a lot cheaper than Australia, very clean, our dentist spoke perfect English, had studied in the US, and explained every little detail to us.
STAYING CONNECTED IN THAILAND
These days it is incredibly easy to stay connected while traveling. Free wifi is common in touristy areas, and SIM cards are quick and easy to obtain.
So if you're only traveling to Thailand for a week or two, you should be able to survive by just sticking with your current data plan or only using wifi.
If you're spending a few weeks or longer in Thailand, you may want to get a local SIM card so you can connect with locals more.
Consider these options for staying connected in Thailand.
Purchase a SIM Card
Head to any 7-Eleven or cell-phone store in Thailand to purchase a local SIM card. There are lots of different plans to choose from, including ones with data.
A cheap, pay-as-you-go plan is the most flexible and economical unless you plan on making lots of phone calls every day or using lots of data, then you can buy a prepaid plan.
In touristy cities like Bangkok the staff at cell-phone stores usually speak English. Show them your phone, discuss what type of plan you want and they can install a local SIM card for you.
Then you'll have a Thai phone number, and you can start calling and texting and using data in addition to just seeking out wifi.
If you want to set up your SIM card before you go, you can order it online and then pick it up when you arrive.
Get your WiFi for Thailand setup today.
Rent a Portable WiFi Device
If you're heading out of the populated areas and into remote corners of Thailand, you probably won't have any signal or wifi.
You can rent a portable wifi device, but they generally only work in areas with good connections. Portable wifi devices, also known as "pocket wifi", are also about the same price as just buying a SIM card with a data package.
You're probably better off just buying some data.
But if you're venturing into the wilderness of Thailand, maybe just try to embrace being off-the-grid and enjoy some disconnection from technology.
Access Free WiFI
Most tourist destinations have free wifi, as do most hostels and hotels.
It is usually very straightforward and easy to login to free wifi from your phone or laptop, and then you can contact people via iMessage, WhatsApp or Facebook Messenger.
While you have free wifi, it can be useful to download a navigation app like Maps.Me so you can use GPS navigation while once you leave the wifi.
BE A RESPONSIBLE TRAVELLER IN THAILAND
The best way to be a responsible traveler in Thailand is to learn a bit about the local culture and try your best to adhere to its customs.
That means always having respect for others. Show respect for other travelers and local Thais, and also show respect for the land.
Don't litter, avoid buying single-use plastics and try to leave a natural place as pristine as it was when you arrived.
When booking tours in Thailand, do your research to make sure the tour company is reputable and sustainable.
Choose eco-friendly businesses over others, and try to support local businesses rather than big conglomerates.
Elephant tourism is massive in South East Asia. If you are dying to see elephants in the wild, only visit elephant sanctuaries where the animals are rescued and treated with respect and dignity.
Never ride elephants, and never go to a place where the animals are exploited.
Overall, just use good judgment. Thailand is grateful for tourism and its contribution to the economy, so travel responsibly while you're there and help maintain this beautiful country.
READ MORE:
At NOMADasaurus, we believe and promote responsible, sustainable travel wherever you go in the world. If you need more ideas, be sure to check out our comprehensive sustainable tourism guide.
KEY THAILAND TRAVEL PHRASES
You don't have to be fluent in Thai to have a great time when you travel to Thailand. But it does help to know a few key phrases.
This will not only assist you in your travels but it will also show respect to the local Thai people that you are doing your best to assimilate into their culture.
Keep in mind that In Thai, there are often masculine and feminine forms of a phrase.
So on this list, if you are a male, use the translation listed first, and if you are female use the translation listed second.
Krup is the word used at the end of many phrases if you are a male, and ka is used if you are a female.
Phrases that have krup/ka at the end mean you say one or the other, depending on your gender.
| | | |
| --- | --- | --- |
| Hello / Sawadee (krup/ka) | Excuse me // I'm sorry /Khor thoad (krup/ka) | Yes / chai (krup/ka) |
| Thank you / khop khun (krup/ka) | Goodbye/ la gòn (krup/ka) | No / mai (krup/ka) |
| Good morning / arùnsawat (krup/ka) | How much does this cost? / Ra ka tao rai (Krup/Ka)? | My name is __ / pom dschû___, chun dschû___. |
| Good night / radrisawat (krup/ka) | Do you have ______? / Khuṇ mī___? | How much / Gee baht? |
| How are you? / sa bai dee ma (krup/ka) | What is this? / nii kuu à-rai?? | What do you recommend / arai khrup/ka? |
| I'm fine, thanks / Sa bai dee, khop khun | Can I have a beer? / Kor beer sod (krup/ka) | Where is the toilet? / hông náam yòo têe năi?? |
| I don't understand / pǒm mái káujai (krup/ka) | Can you speak English? / Kun pood paasaa anggrit dai mai? | I don't speak Thai / pǒm puud tai mái dái (krup/ka) |
| Where is _____ ? /Yoo tee nai___? | I want to go to __ / Pom yaak pai ____/ Chun yaak pai __ . | |
BOOKS TO READ ABOUT THAILAND
Maybe you already know everything about Thailand. Chances are you don't!
But even if you are well-read, here are a few suggestions that might be worth your time while you're on the plane to Thailand.
Anna and the King of Siam
This is an amazing true story of an English school teacher who was invited to live in nineteenth-century Siam and care for the children of the nation's leader, King Mongkut.
The Kingdom of Siam eventually became Thailand, so this is an interesting insight into the history of the area. This book inspired the famous play and movie, The King and I. Purchase on Amazon
The Beach
A suspenseful and enticing fiction story, "The Beach" is about a traveler in Bangkok named Richard who hears about the legend of a hidden paradise beach.
He then embarks on a journey to find this secret beach and uncovers dark and mysterious mysteries about the place along the way.
This book was made into a movie starring Leonardo Di Caprio, and Maya Bay from the Phi Phi Islands is shown in the movie. Buy on Amazon.
The Bridge Over The River Kwai
In the remote town of Kanchanaburi, Thailand, the Thai-Burma Railway, also known as the Death Railway, is the area's biggest attraction.
The novel, "The Bridge Over The River Kwai", is a fiction story loosely based on the real story of the Prisoners of War who built this bridge during World War II. Buy now on Amazon.
Thailand: The Beautiful Cookbook
This is an amazing book to get either before or after visiting Thailand. If you want to learn about the cuisine, the culture, and the traditions of Thailand, this book has so much information that will educate and inspire you.
Or after a trip to Thailand, if you want to savor and remember all the delicious food you ate and recreate the recipes at home, this is a great book to have on hand. Purchase on Amazon.
Read Our Thailand Blog Posts
DISCLAIMER: Some of the links in this article are affiliate links, which means if you book accommodation, tours or buy a product, we will receive a small commission at no extra cost to you. These commissions help us keep creating more free travel content to help people plan their holidays and adventures. We only recommend the best accommodations, tours and products that ourselves or our fantastic editorial team have personally experienced, and regularly review these. Thanks for your support, kind friend!