Hanging out in Tonsai Beach in Krabi, Thailand!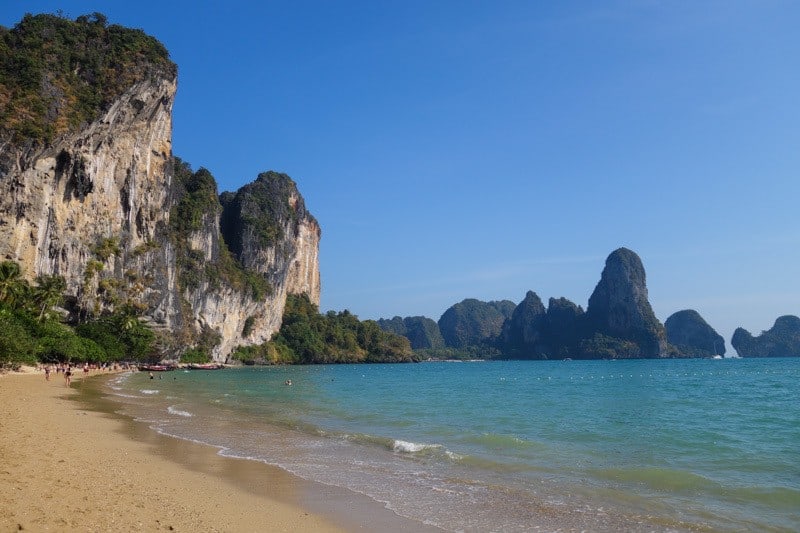 Tonsai Beach – True Thai Paradise
Southern Thailand is known for its white sand, crystal clear waters, dramatic islands and laid-back lifestyle. It is also a hub of adventure and activity, such as rock climbing, diving, kayaking, snorkelling and plenty more.
Tonsai Beach, in the Krabi province, is a small village based in a bay on the Thai mainland, which is only accessible by boat.
Its neighbours, Ao Nang and Railay have long been favourite traveller destinations because of its imposing limestone cliffs, drawing a huge crowd of dedicated rock climbers and BASE jumpers.
Tonsai is the lesser known of its counterparts, and as a result is a lot more rustic. But in this lies its beauty, and it is the kind of place you come for a day and stay for a week, or longer.
The typical crowd that congregates at the beach are budget-focused, bohemian backpackers.
Rock climbing is the main daytime activity, but for those who prefer to keep both feet on the ground, sea kayaking, slacklining, hiking and exploring tend to chew up the hours.
In the evenings, the art of fire dancing takes over the scene, and all up and down the beach, the hypnotising views of twirling flames is dominant.
Reggae music drifts from the all the bars, and exhausted adventurers lounge on the cushions, in slight conversation between intermittent naps.
The haze of "herbal smoke" floats in the air, and everyone is happy and relaxed.
Average prices in Southern Thailand are notoriously more expensive than in the North, but Ton Sai is still a place where you can get by for very little, especially the longer you stay.
Where To Stay On Tonsai Beach
Accommodation and prices varies from camping in tents at 100 baht ($3.50), rustic bamboo bungalows for 500 baht ($16), to mid-range rooms around 2500 baht ($75) and up.
And as with most of SE Asia, everything is negotiable and longer-term stays of a week or more and attract much more wallet-friendly prices.
Need accommodation in Tonsai Beach? Book here through booking.com
Where To Eat And Drink In Tonsai Beach
Culinary delights are not as world class as other parts of the country, but a tasty portion of food will be found for varying budgets.
The iconic "Mama's Chicken" can have you well-fed for less than a 100 baht, with staples like barbecue chicken at 60 baht, mango and stick rice for 60 baht and pad thai at 80 baht.
There is only limited seating so you invariably end up sitting with welcoming travellers who are almost always up for conversation.
They even sell banana loaf for 70 baht. Check out Sao Legacy for the biggest servings of Pad Thai, Lad Naa or veggie burger for 80 baht. You can get a great breakfast from them starting at 60 baht.
Many of the restaurants serve up delicious Thai and Western food for reasonable prices, and if desired, you can easily end up spending 300-400 baht for a meal.
The weather in peak season (November to April) is fairly warm and humid, and the easiest way to stay refreshed is a fresh fruit juice or shake, starting from 50 baht.
Happy hours in all the bars offer great deals on cocktails and other alcoholic beverages. For the more venturesome, "Happy Shakes" can be bought from many of the bars and coffee shops for 400 baht. Just be prepared for many hours of debauchery.
Things To Do In Tonsai Beach
Not surprisingly there's a lot of awesome things to do in Tonsai Beach, and no matter your style you're bound to find something cool to while away the time.
Rock Climbing
Tonsai Beach is one of the most well known places to rock climb in Thailand. There are many different route from beginner to advance and everything in between.
If you have never rock climbed then this is a great place to learn. Or if you are experienced, you can improve your skills and challenge yourself to harder routes. You can rent the gear on their own or go with a group.
Check out Base Camp and The Rock Shop, where you can do a one day tour, a rock climbing course or rent some climbing gear.
They even offer Deep Water Solo if you are into that. Deep Water Soloing is the purest form of climbing. The climber will climb difficult routes with water at the base to protect them when they fall.
Relax On The Beach
One thing you will definitely do on Tonsai Beach is chill out at a bars and relax. We did this a lot and watched the rock climbers on the near by limestone rock while sipping on a tasty cold beer.
There were some cheeky monkeys that owned the beach and definitely would help themselves to your stuff if you didn't watch it.
Places like this will keep you here for longer than expected. Chilling by the beach, surrounded by jungle cliffs, is the most common way of watching the hours pass by.
Take in the sunset in the evenings. It is a great way to end the day and meet new people.
Rent A Kayak
Get out onto the water. It is the best way to see the area and enjoyable.
You can rent a kayak from the bars and cafes on Tonsai Beach for as low as 500 baht for the entire day (Price may have changed).
Leave early morning (well about 930ish, this is a sleepy bay), pack some sunscreen, a towel, a hat and a packed lunch with snacks.
You can head around to Railay Beach and continue on to Phra Nang Beach, or if you are up for a challenge head over to Chicken Island.
We kayaked over there and it was beautiful. We had hidden beaches to ourselves and we were not a a time frame. If you do this, leave early to give yourself enough time.
Check the weather before hand, you don't want to be paddling in waves and strong winds. This trip will take a lot longer and you maybe be going into the wind on the way back. This was a highlight of our stay in Tonsai.
Walk Over To Railay Beach
There is two ways to get to Railay Beach, and you cannot get lost on both trails. You can either walk to neighbouring Railay Beach at low tide or via the jungle path up behind the small town at high tide.
The path through the jungle will open up to nicer beaches, beautiful viewpoints, intriguing cave shrines and a picturesque lagoon that requires a fair amount of effort to reach.
If you decided to walk around the limestone mountains through the water from Tonsai beach to Railay beach during low tide make sure it is safe.
Ask the locals. They are the best people got information about the seas and tides.
If you do walk through the water make sure you bring some shoes for the walk back in the jungle. Don't forget to bring sunscreen, bug spray for the jungle walk, a towel, hat and lots of water.
When you get to Railay Beach do some more exploring by visiting Phra Nang Beach and Phra Nang cave near the end of the beach.
Phra Nang is a beautiful clear beach that is semi-protected. Go early because this beach can get busy, so be prepared.
Phra Nang Cave will surprise you…. there is a lot of wooden penises. Yep.
For local fisherman the cave is where they offer a phallic symbol that hopefully will result in them having a great catch.
Some woman believe it is the cave of fertility. They will go their with an offering hoping all goes well for them to fall pregnant. M
ost Thais who visit Railay will go to this cave to pay their respects to the princess goddess, Phra Nang, who is the fertility spirit.
There is a lagoon to climb to but we have heard (as of May 2016) it is closed due to the repairs of the path and ladders.
This is not an easy attraction to see. It can be dangerous if you do not know what you are doing and people have seriously hurt themselves.
When the path does reopen, be careful and take your time. It is a challenging climb for non-climbers and you will pop out into an open lagoon area.
Make sure you visit it on high tide when the water will be in the lagoon. There is rope and ladders along the path where needed. Check with the climbing centre to see if it is open.
Hike up to the Railay Beach Lookout. This steep hike will take you about 20 minutes to climb up, but do go at your own pace.
There are ropes to assist you. Once you reach the top you will be rewarded with a stunning view of the area so bring the camera. Take some snacks up and take your time up there.
Don't forget your bug spray as the bugs will find you up there too. They are everywhere. T
he dirt is red and will stain your body and clothes, so make sure to wash up before getting back to hotel as some of them will charge you if you dirty their linen.
Get A Massage
You are on holiday, you have to get a Thai massage. Check with your hotel where you can get a massage in Tonsai.
There is a massage parlour with a view of the beach called Mambo's. We have heard it is clean, inexpensive, good masseurs and even offer you a cup of herbal tea at the end.
After you can relax on the beach and enjoy the day. Definitely one of the best things to do in Ton Sai beach.
Practice Some Yoga
Practicing yoga in a beautiful area in Thailand? Yes please.
There is a few places you can practise yoga in Tonsai. Check out Base Camp Tonsai, which offer yoga and tai chi to people for a 300 baht per class for a drop in fee, or they can do packages.
There is also Tonsai Yoga and Flower of Life Yoga which both offer different types of yoga through out the day. These both weren't here when we visited years back but if they were we would have been all over it.
Love doing yoga? Check out The Sanctuary on Kho Phagnan as well!
Do Some Slacklining
You will definitely find a slackline somewhere in Tonsai. Most likely outside of a bar or cafe.
If you have never tried it before, this is a great place to learn. Many rock climbers will be skacklining in their down time.
You'll definitely be able to pick up from tips from other travellers and locals. If you are an experienced slackliner, no worries. There are lines set up over water and higher from the ground to challenge your skills. Ask a local about the highlines that sometimes get set up too.
Enjoy A Fire Show
If you haven't ever seen a fire show, you definitely will here in Tonsai, This place is is filled with talented fire twirlers and they are the best you'll see.
A lot of fire twirlers will sell beginner pois if you are interested in taking it up yourself.
Island Hopping Tour
You can go on an island hopping tour where you can explore the are, swim and go snorkel. There are local companies that do different tours of the area just ask at your hotel.
Most go over and visit Chicken Island, Tub Island and Poda Island. There are even tours that head over to Phi Phi Island by speed boat.
Just let your hotel or the travel agent know a day before so they can arrange it for you.
Go For A Dive
Thailand is known for beautiful diving. You can go diving out of Tonsai at Scuba Talent Dive Centre which is located on the beach.
Or if you are not into diving you can go snorkelling. Charter the boat or share with our for a great day out on the water.
Before you know it, a day has turned into a week, and a week into a month, and you will start to wonder where the time has gone. Memories will be a blur of exciting activities, new friends and hazy evening parties.
Packing your bag and boarding a boat to leave will be the hardest decision you have to make in Tonsai. The second hardest will be whether you want a mango or a watermelon juice.
How To Get To Tonsai Beach
Tonsai Beach is part of the Railay Peninsula and is only accessible by boat. The beach is surrounded by high mountains and there is no road access.
Flying In (Nearest Airport)
There nearest airport is at Krabi where you can fly in from most destinations in Thailand. Get a taxi into Ao Nang Pier, or you can buy a bus/ shuttle ticket from inside the airport to avoid scams.
The taxi may be pricey from the airport, so remember do negotiate a price. If that doesn't work you can walk out away from the airport and the price should lower. The bus/ shuttle will be a flat fee that is not negotiable.
When you get to the Ao Nang Poer there will be boats everywhere. You can buy your longtail ticket from a counter and they will let you know which boat to board.
The price is about 100 baht per person one way. You can only buy a one-way ticket and when you want to return, and you pay on the longtail at Tonsai Beach.
It is a minimum of 8 people per boat and services run from 8am to 6pm. Boats will leave as soon as there is 8 people.
When you get on the boat do let the driver know you are doing to Tonsai Becah so they don't continue on to Railay Beach. If you fly in late, we recommend spending a night in Ao Nang and getting a longtail in the morning.
Boat / Ferry
This is how we got to Tonsai Beach. We came from Phuket and were dropped off at Tonsai Beach. The ferries can not get into the beach so you will be transferred to a longtail free of charge and brought into shore.
You can access Tonsai Beach by either Phuket, Phi Phi Island, or Koh Lanta. Ferries run everyday and you can purchase your tickets from the local travel agent.
If you are coming in from Phuket or Koh Lanta, check out the schedule here. Once you get to Tonsai Beach, it is all by foot from there. Some nicer resorts have a golf cart which you can call them for a pick up.
Transfer
Some resorts at Tonsai Beach will transfer you for a charge. Contact your accommodation to find out your options.
Save this Pin for later?