Here's our epic guide for the best things to do in Krabi Thailand – Don't do the same things everyone else does!
Have you been wondering what to do in Krabi for your next big adventure?
We'll tell you all about the best places to go, how to get there, and when to go, so you can have the best trip you could possibly imagine.
You're going to love it. Thailand is famous for its gorgeous white sand beaches and crystal blue water.
Krabi gives you all that and more! Come on over and explore this magical place for yourself.
Wondering What to Do in Krabi? Read on…
Krabi is a province in southern Thailand hosting all the usual gems you'd expect.
From the beautiful beaches, pristine water, coral reefs, waterfalls, and epic caves to get lost in.
Krabi is a dramatic combination of landscapes. From a mountainous mainland surrounded by the drop-dead gorgeous Andaman Sea. It's a 130-island-strong archipelago. Go rock climbing in the morning and relax on the sand afterward.
Krabi's beaches are more beautiful than Koh Samui and Koh Phangan in the region of Surat Thani. And it's way less touristy than the more famous Phuket. Railay Beach and Ao Nang Beach are famous!
If you've been losing your mind in Bangkok, head down south to Krabi for your dose of rejuvenating time and exploration.
It has some of the busiest party islands like Koh Phi Phi, but also some off-the-beaten-track places.
For those looking for something a little more chill, it's a perfect place for relaxation and recreation.
There's a little bit of everything here – from water sports to buzzing nightlife. On land, you can find tropical temples and Buddhist caves, and a wealth of delicious cuisines to tuck into.
From the hot springs of Thung Teao Forest Natural Park to the rock climbing cliffs of Railay Beach, to the white sand of Phra Nang Beach, there is no shortage of adventure opportunities.
After adventuring in nature, get a Thai massage, taste local cuisine at a night market, or hang out in Ao Nang or Krabi Town.
From the culture, to the nature, to the most welcoming of locals, it's obvious why Krabi's at the top of travellers' must-visit destinations in Thailand.
1) Do the Four Island Tour
Krabi is one of the most relaxing places ever and once you get there you'll see exactly why. It can't help it, being home to 130 beautiful islands.
One of the most epic things about Krabi is that many of its isolated beaches are accessible only by boat!
Hop on a famous colourful long tail boat to reach some of Thailand's most secluded paradise islands and beaches on an island tour.
The most famous tour is called the Four Island Tour which takes you along the Krabi coastline to Railay Beach, Tub Island, Chicken Island, and Poda Island. Some tours also stop at Phra Nang Beach which has caves and cliffs.
You can book the island tour through many agencies, and they usually include pick up from your accommodation in Ao Nang or Krabi town.
The island tour is a full-day adventure, usually running from about 8am to 4pm. Tours range in price from 600-800 baht, depending on the quality of the vessel and buffet and the National Park fee usually isn't included (400/200 baht per adult/child).
You never know the quality you're going to get from these agencies though. If you want a guaranteed good experience, book online through the Klook website.
BONUS – Booking ahead of time ensures you won't miss out on the tour, and get the best price too! And just for NOMADasaurus readers, if you use the Klook discount code "NOMADS10" on the website when checking out, you'll get $10 off your first booking!
2) Make Friends on Koh Phi Phi
Koh Phi Phi probably rings a bell! It was made famous by Leonardo's stunning performance in the movie 'The Beach', so it's one of Thailand's most famous spots.
It's actually a small archipelago of six islands though, not just one! And no list of the top Krabi attractions would be complete without mentioning it.
Koh Phi Phi Leh is the second largest island and is home to just one beach – Maya Bay. This is the famed stretch of white sand that Leo hung out at!
Unfortunately, the beach closed indefinitely to tourists following environmental damages.
It's the main reason people used to visit the island – but it's also home to the Viking Cave.
The cave has some cool ancient paintings of Scandanavian drakkars, although no one knows exactly how ancient they are.
The caves are now used to demonstrate how to collect swift's nests. It's all very eclectic. If you fancy checking it out, it's up in the northeast of the island.
You can get there in half an hour on long-tail boat from Tonsai Bay which is the main pier for the islands.
If you want to make friends, get yourself to Koh Phi Phi Don. It's the only island in the little archipelago that people live on.
It's pretty mainstream now with many bars and clubs – let's just say there's plenty to do and many people to make friends with here!
Tonsai Village is the liveliest part which you can head to for a party! There's enough going on here to keep the biggest of party animals amused.
Long Beach is nearby, but a little more tranquil. If you want super laid back, then Phi Phi East coast is where you should head.
You can get to Koh Phi Phi by ferry or speedboat. The ferry takes about two hours from Phuket (Rassada Pier) and an hour and a half from Krabi (Klong Jirad Pier) or Koh Lanta.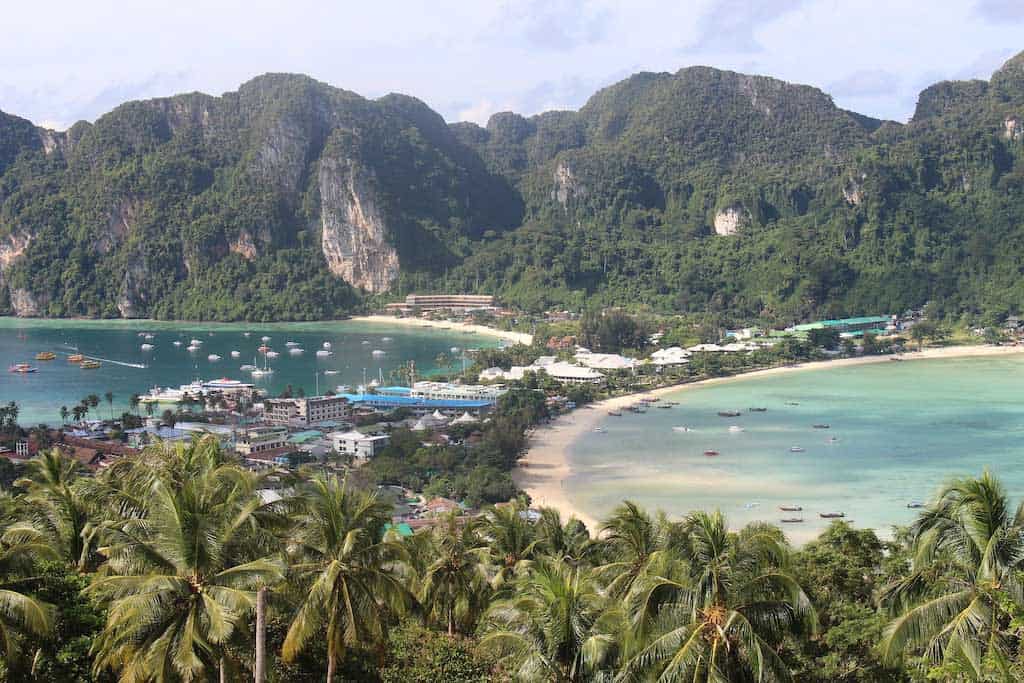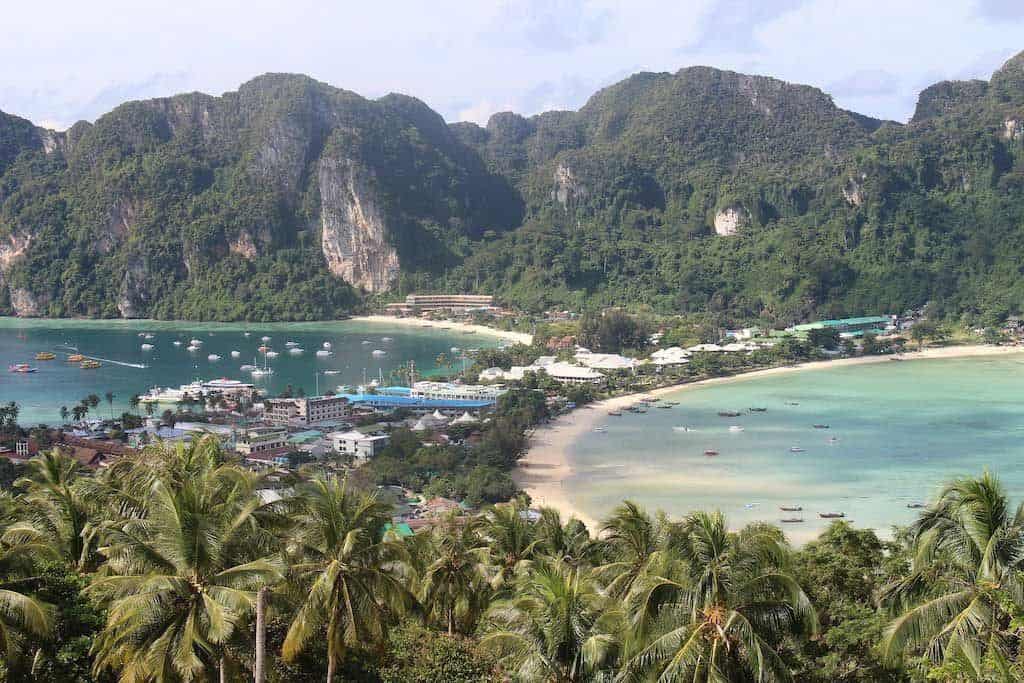 3) Be a Hippy and Chill Out on Koh Lanta
For a more laid back island getaway, head to Koh Lanta. It seems to attract a lot of backpackers, peace seekers, and solo travellers – and for good reason!
It's a lot bigger than Koh Phi Phi, so it has many more beaches and inland areas to explore. It's got waterfalls and a national park and something like 30km of sunbathing-worthy sand to hit up.
It's pretty hippy – comparable to Indonesia's Gili Air vs. Gili Trawangan kind of thing.
Koh Lanta has managed to avoid too much overdevelopment similar to the likes of Koh Samui, which makes it one of our top recommendations for places to visit in Krabi.
There are at least fewer of the skyrise mega-hotels and ugly condos, rather it's peppered with traditional bungalows.
Koh Lanta is actually one of our favourite places in Thailand to rent a bungalow and kick back for a week at a time! Don't miss it!
But it's still got plenty of places to wine and dine yourself. Fear not – Koh Lanta has lots of fun bars, restaurants, and spots to get souvenirs.
Hippie bars and picturesque sunsets are not in short stock here. Charm and convenience – Koh Lanta's got the lot.
The island is 27km long, so it's a good spot to rent a moped so you can whiz around and explore all the secluded beaches with some independence.
Long Beach is the longest beach on the island (it really does what it says on the tin)!
It's beautiful and next to all the action, where some of the coolest restaurants are.
Head south, and you'll hit Beautiful Beach and Relax Bay. Two awesome spots to do some serious chilling!
Check out Sala Dan and Lanta Old Town for some local culture. There are many teakwood shophouses towering over the water on stilts which have many lovely little cafes and shops.
You could spend weeks here without realising it's been more than a few days!
4) Get Lost in all the White Sand Beaches
Krabi is peppered with white sand beaches of the softest purest sand you'll find in Asia – and even the world!
If you want a base for beach-related adventures, Ao Nang is a place to start.
Ao Nang is one of the most popular places to go when you visit Krabi. It's busy and touristy but it's a start and it turns out lots of people love that vibe anyway! Ao Nang Beach itself is a popular spot in Krabi as well.
There are a ton of bars and restaurants and you can sign up for many tours and dive trips from Ao Nang.
Minutes away you can find Nopparat Thara beach and Railay Beach. You can only reach Krabi's gorgeous renowned Railay Beach by boat from Ao Nang Beach. Boats go every hour and only take 15 minutes.
Railay Beach has lovely serene neighbourhoods and glorious warm water. The jungle lined beaches attract all sorts of monkeys and rock climbers!
Phra Nang Beach is super remote with more famous limestone cliffs and caves. You can only reach Phra Nang Beach by long tail boat from Ao Nang.
Snorkel to discover some of Thailand's epic marine life or go scuba diving from one of the dive centres here. If you're into water sports, rent a kayak for some picturesque activities!
Koh Hong is another secluded beach reachable by boat from Ao Nang. The beautiful Koh Hong is part of Than Bok Khorani national park and is surrounded by forest.
If you're up for something more resort-y, head to Klong Muang.
No matter what beach vibe you're in the market for – there are a few to explore in the vicinity.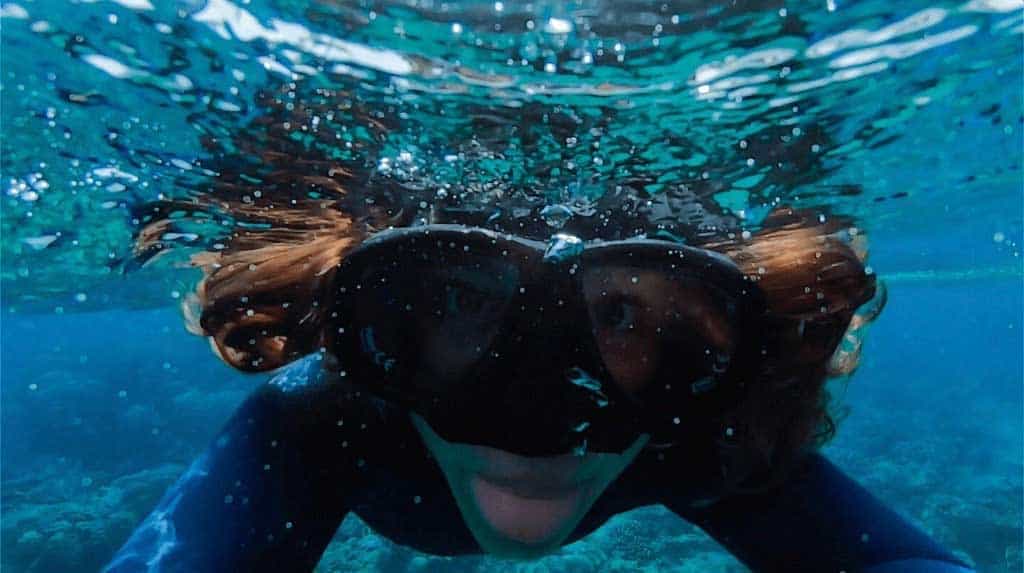 5) Blow Some Bubbles Scuba Diving at Ao Nang Islands
Whatever islands and beaches you go to, be sure to take a dip in the glorious Andaman Sea. Rent a snorkel and fins or try scuba diving in Thailand – it's famous for being one of the top things to do in Krabi for a reason!
The water is warm and it's as blue as can be. You could see some inspiring marine life too!
If you want to try your hand at scuba diving – you're in for a treat. Ao Nang Islands is one of the best places to give it a go. It's one of Krabi's most famous dive areas with awesome things to see.
It's great for beginners as well as advanced divers. In Koh Yawabon there's even an awesome cave system that experienced divers can explore.
You can go with a bunch of different dive shops. The price for two dives is usually between 2700-3200 baht.
Ao Nang Islands isn't the only place you should go and blow bubbles at though! Krabi is home to many awesome dive sites.
From Koh Lanta, you can get to Koh Haa Yai which has an epic underwater cave system.
There's one called The Cathedral which is 20 meters deep and a thrill to swim through. This isn't for the faint-hearted though – beginners beware.
In the My Koh Lanta Marine Park, you can go to Hin Daeng (AKA Red Rock) which is your best bet of getting to fly around with majestic manta rays! There's nothing more epic than seeing a manta for the first time. They're unbelievably huge and so graceful – it's a humbling experience.
If you want to swim with the friendliest sharks in the ocean, get in the water in Krabi. It's home to Leopard, Bamboo, and Blacktip reef sharks.
From Koh Phi Phi you can hop on a dive trip to Shark Point which is a must visit! There's also The King Cruise site which has a shallow wreck which means even beginners can go.
For the more adventurous out there, hop on a liveaboard dive trip to the Similan Islands!
There are four-day tours starting from Khao Lak – followed by epic diving in the most remote sites in Thailand. Cruises can be a little pricier, from nearer 11,000 baht, and they run from November to May.
Around Krabi, you could see schooling barracuda and big grouper fish. And of course, the usual colourful fish that frequent reefs, and maybe even lobster!
If you're big into scuba diving and a bit of a macro geek – you can also find nudibranchs, seahorses, shrimp and even ghost pipefish around these waters. Get in there!
For more great diving opportunities in Thailand be sure to check out diving in Koh Tao!
6) Go Rock Climbing as One of the Best Things to Do in Krabi
The natural beauty of Krabi is truly one of its most attractive features. The jagged soaring limestone islands stand dramatically out of the picture-perfect blue ocean. All lined with glorious white sand beaches.
There are sheer limestone cliffs and dramatic waterfalls. Krabi has a slice of nature for everyone to get their teeth into!
Climbers from all over the world are attracted to the quintessential geological features of Krabi's limestone peaks. The area has some of the world's top rock climbing.
The karsts are challenging and many people agree it's worth the trip to test yourself on Krabi's rock climbing spots!
Millennia of chemical erosion led to these idyllic islands – hop on a cruise to Koh Poda to see some secret spots.
Railay Beach is one of the best spots to go rock climbing in the world. From the beaches there are rock climbing routes for all experience levels.
Routes in other locations can be accessed via a walk through the jungle or by abseiling over the sea. Not a bad way to start a day of rock climbing.
You can find instructors, equipment rental and guides all over the area as rock climbing is very popular – there are plenty of adventure agencies where you can sign up.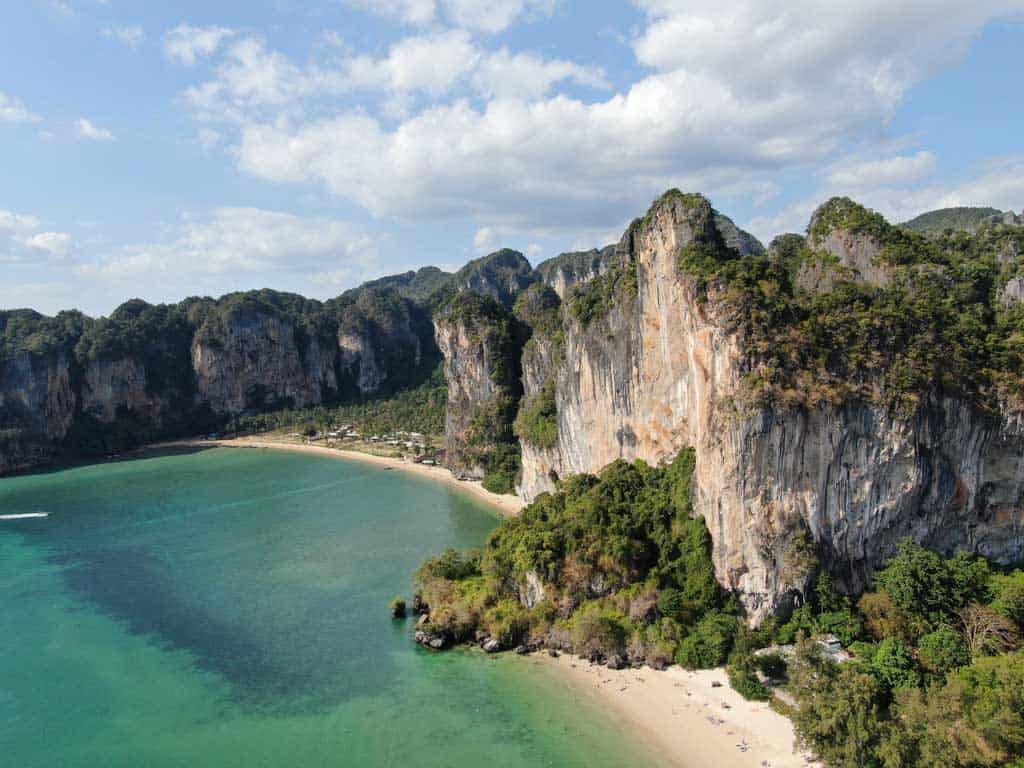 7) Get Outside with Mountain Biking, Horse Riding, Fishing, and Hiking
You can mountain bike to Huay Toh Waterfall and explore Thailand by horseback.
Hire a fishing boat to cruise around Krabi's islands, explore the jungle, or take a tour of the mangrove swamps.
There are hundreds of reasons to get outdoors in Krabi.
Grab a mountain bike from Krabi Mountain Biking on Chaofa road down by the river.
You can cruise around to Huay Toh Waterfall, the Tiger Cave Temple, the Emerald Pool and Hot Springs as well as a bunch of other temples and caves.
On Koh Lanta you can ride horses from Khlong Nin Beach and explore the gorgeous landscapes of Krabi Thailand from a different vantage point to normal.
There are horses available for beginners as well as advanced riders and those who want to get their thrills from a faster ride!
If you fancy a spot of fishing, you're in the right place. Deep-sea fishing in Krabi is renowned for a reason.
There's Tuna, Mackerel, Giant Trevally, and Barracuda, to name a few! These trips are usually reserved for the hardcore and will require stamina and skill – some of the fish are pretty big old things.
Thailand is famous for its gorgeous jungles – and it's definitely worth getting deep inside them and having a look around.
One awesome viewpoint is Khao Ngon Nak Viewpoint. You can hike up here on a pretty exciting trail. And the best thing about it, it's free!
There's a 4km trail up to a viewpoint worth climbing for. It's absolutely epic and something to behold for the photographers out there! On the way, you pass picturesque scenes too so keep your eyes peeled, always.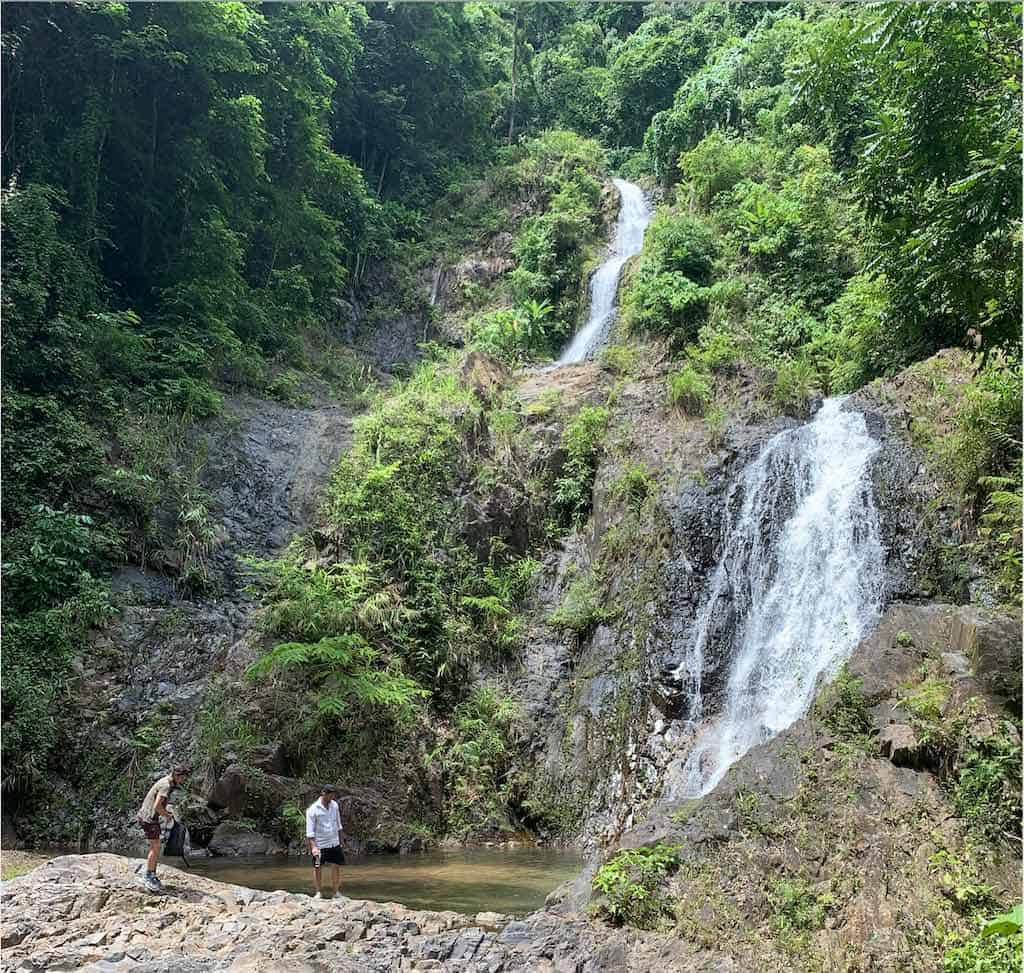 8) Explore the Area on ATVs
Explore all terrains on ATVs, or quad bikes. You can pick up a rental which is about 2000 baht per hour in Ao Nang, and charge around to explore the best things to do in Krabi!
A lot of the roads you can cruise around are standard roads but you can go through plantations too.
If you want to go off the beaten track, you can take a tour through Nai Sa with a guide. This gets you a bit more off-road and gives you a more authentic experience of the Thai countryside which is pretty epic.
Before you go, always check the condition of the quaddies, as it's not uncommon for them to be in poor condition if they've been driven to the ground by inexperienced drivers who wear down the gears and brakes.
It's always better to be safe than sorry. And helmets are for the win – just in case!
9) Back Yourself with a Bungee Jump
The Krabi Bungee Jump is the highest one in Thailand. So if you're an adrenaline junkie and don't have a fear of heights, back yourself!
It's 56 meters high which puts it in the ranks as fifth highest in Asia.
There's not just a bungee jump, but a catapult too. If jumping into oblivion doesn't tickle your senses quite enough, then skyrocket yourself into the air on that too.
It sounds absolutely bonkers but worry not – the staff are all well trained in safety and have a super experienced jumpmaster (what a cool job) guiding them.
The equipment is in great condition and maintained well so you're in good hands here!
This bungee jump is known as being equivalent to the ones you've probably heard about in New Zealand – the 'bungee jumping capital of the world'
It'll set you back about 1,600 baht per person. It's not cheap, but you wouldn't want it to be, given you're dropping from 56 meters high.
10) Slow Down in Krabi Town
Krabi's capital, inventively named Krabi Town, is quite beautiful in itself.
Krabi Town is a major hub for many travellers as it acts as a throughflow point to other islands and mainland beaches. But it's worth a mosey around!
Krabi Town is a mish-mash of fresh and funky bars and restaurants. The retro markets have some of the best local curries you can find.
There are even some cultural attractions that shouldn't be missed.
Best of all, it's surrounded by seductive mangrove forests, swamps, and rivers. Plus impressive limestone cliffs and of course, the dreamy turquoise sea.
Krabi Town is much less tacky compared with nearby Ao Nang. Although its traveller/backpacker area has expanded so it has many cafes, hostels, and fancy hotels.
Gentrification has certainly occurred here but Krabi town has kept its lovely locals and lively town aura.
Get a Thai massage, browse the shops, try a cooking class, or just wander around and get lost.
Hit it up in April during Thai New Year for a cultural adventure you won't forget! Songkran is a three-day festival that is unlike any other new year celebration in the world.
11) Get Some Retail Therapy at the Night Market
Krabi Town has a fab lively night market from 5-10pm Fridays, Saturdays, and Sundays.
Head to Thanon Khon Dern AKA the Walking Street to check out over 50 stalls selling everything from street food to clothes, and just about any products you can imagine.
Wander around and appreciate the beauty of locally made pearl jewellery and other souvenirs.
It would be rude not to sample some of the local cuisines from street vendors while you're at the market in Krabi Town.
You can get anything from grilled satay to barbecue fish and fried squid eggs.
There are many cakes and sweets AKA kanom in Thai which are definitely worth sampling through the night. The sticky rice and mango is to die for!
The prices here are cheaper than most markets in Krabi town. It's still worth bargaining though, and a smile goes a long way when it comes to that!
Considering it's such a small market, it brings in a pretty big, lively crowd which is a testament to its awesomeness. It's a great way to get an insight into life in southern Thailand.
To get the most out of your night market visit, consider booking a guided tour.
You might think it's a bit overkill, but having a local with you will allow you to get a way deeper understanding of how the markets work, and you can try some real local food that isn't just pad thai and satay chicken.
12) Climb to the Tiger Cave Temple
If you fancy some tropical temples then check out the Tiger Cave Temple in Krabi Town.
It's a few minutes drive from the town centre – be prepared to climb though!
At the top of 1,247 steps, you'll find an epic view and a golden Buddha nestled in a beautiful forest. It'll take what breath you have left away.
It's named Wat Tham Suea in Thai after the tiger paw prints which were once found in the temple.
The legend is that a tiger used to enter the cave while Abbot Luang Por Chamnean Srilasatheto was meditating, but the tiger did not harm him.
Don't worry – it doesn't seem like there are many tigers around there these days! The Tiger Cave Temple is now a famous meditation centre. Nuns and monks retreat here from all over Thailand.
You can get there via an arranged tour via an agent, or grab yourself a taxi or rent a moped and go on your own accord.
13) Party On in Ao Nang
As seems to be the case in Thailand, there's plenty of nightlife on offer in the Krabi Province! If you really want to party, there are DJs busting decks all night in Ao Nang Beach!
For the early evening, the Last Cafe has some delightful sandwiches and chilled beers.
Amy's Bar has got the tunes, bevvies, and snacks to keep you going all night.
There's also Ao Nang Centre Point – a huge three-story complex that has late-night dining, night markets and venues to keep you entertained late into the night.
14) Shrivel Up in the Hot Springs
Klong Thom Hot Springs are an hour from Krabi Town, and they're some of the best hot springs in the area. Find some serenity under the canopy of the rainforest and soak until you shrivel.
It's situated near the Khao Phra Bang Khram Nature Reserve and the Thung Teao Forest Natural Park – and is home to Mother Nature's self-made hot tubs, known to Thai locals as nam tok drawn.
The appealing hot water comes from thermal springs, heated by volcanic chambers deep underground. Thank you, world!
The Klong Thom hot springs are sort of bathtubs, naturally hollowed out in lovely smooth stone, and full to the brim with spring water at 35-42 degrees celsius. It's almost perfect!
There's even a cool river running not too far away, in case you fancy a refreshing cool down after the hot springs.
If you fancy something a bit less rustic, they've created some man-made pools because the site was becoming so popular. There are even changing facilities. Ideal!
To avoid crowds, hit it up before 10am or after 4pm. There's Krabi Hot Springs and Saline Hot Spring which is smaller and more local. It's only 90 baht to enter – so join in and bathe away.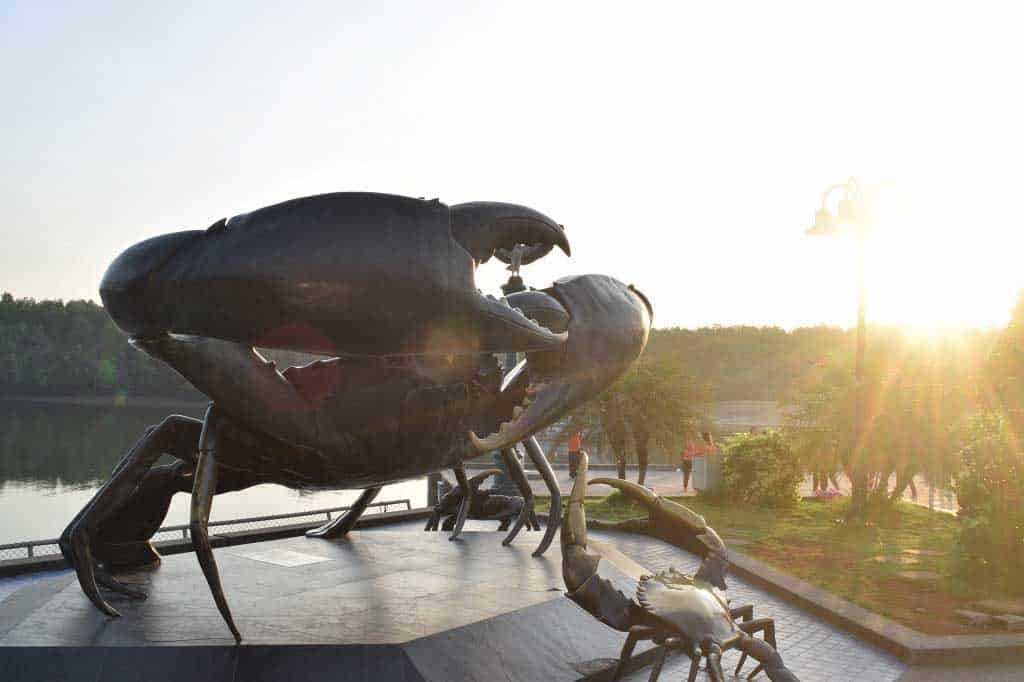 15) Bathe in the Emerald Pool
If you walk a kilometre from the Krabi Hot Springs you'll get to the Insta-perfect Emerald Pool. The water is clear as crystal and totally worth heading there early for!
If you appreciate nature and like a little hike on some decent trails, you'll be rewarded at the end with the stunning pool, which is a little hidden away in the jungle.
You can explore a whole network of trails through the Thung Teao Forest Natural Park to get to the pool. The longest trail is 1.2km with no climbing – so it's fairly accessible to most.
On the journey, you'll pass loads of streams, waterfalls, and mini pools. There are many gorgeous tropical trees and flora which will keep your eyes pleased for the whole walk, especially if you're a nature lover.
Entrance to the Khao Phra Bang Khram Nature Reserve and Emerald Pool is 200 baht. For both the hot springs and the pools, you can go on a guided tour, or rent mopeds and cruise around by yourself for some independent exploration.
Krabi Travel Guide
Now that you know all the great things to do in Krabi, here's our guide to help you get here.
How to Get to Krabi Thailand
It may seem like a tropical paradise in the middle of nowhere, but it's very easy to visit Krabi!
Air
Flying into Krabi is as easy as pie. Krabi International Airport is 15 kilometres from the town centre. International and domestic flights operate daily from major cities.
Four countries fly directly to Krabi: Singapore, Malaysia (Kuala Lumpur), Qatar (Doha) and many cities in China.
Within Thailand, you can fly from Koh Samui, Chiang Mai, and of course, Bangkok. You can book flights from all locations easily online!
Bus
Bussing around Krabi couldn't be easier. Hop on the bus from Bangkok at Borommaratchachonnani Road – it'll cost you about 620-970 baht for the ten or so hour journey.
Other main places you can bus from in Thailand are Trang (129 baht), Phuket (155 baht) Hat Yai (234 baht).
You don't usually need to book ahead unless it's a Thai public holiday. You can choose to get air-conditioned, deluxe and luxury coaches depending on your budget.
There are also tourist buses which can pick you up from your hostel/hotel. It's best to contact a local agency to arrange these.
When to Go to Krabi
You can visit Krabi all year round, but it's best to head over when humidity is at its lowest to avoid sweating through too many of your t-shirts!
There are three seasons when it comes down to it.
Peak season is from October to March when it's 'hot'.
It's hotter in the rainy low season from June to October.
The hottest time of year during their summer season is March to June.
During the low season, Krabi is perfect for backpackers! Accommodation can drop to a very affordable $5/night.
Although the price to pay is the chance of monsoon rains hitting hard for up to a week, and certainly no guarantee of sunbathing weather!
Humidity is high and temperatures usually hang around 25-30 degrees celsius. Many ferry routes are substantially less frequent but it's cheap as chips.
In the high season, prices jump and accommodation gets booked up. Perfect temperatures, blue skies, and ideal water conditions attract tourists from every corner of the world.
So it's best to plan as much as you can if you want to visit from October to March.
DISCLAIMER: Some of the links in this article are affiliate links, which means if you book accommodation, tours or buy a product, we will receive a small commission at no extra cost to you. These commissions help us keep creating more free travel content to help people plan their holidays and adventures. We only recommend the best accommodations, tours and products that ourselves or our fantastic editorial team have personally experienced, and regularly review these. Thanks for your support, kind friend!