Everything you need to know about travelling to Koh Mook, Thailand.
We've been lucky enough to spend almost a year travelling around Thailand, from the island paradises in the south to the mountains in the north, and it's honestly one of our favourite countries.
The diversity of the landscapes, the deliciousness of the food, and of course the warm smiles and kind nature of the local people all make it a place that keeps us wanting to return to again and again.
From Chiang Mai to Bangkok, Koh Lanta to Tonsai, everywhere we went we immediately fell in love with.
It's all too easy though to keep going back to the same places, which is why on our most recent trip we visited somewhere we'd never been to before – Koh Mook, Thailand.
Also known as Koh Muk, this stunning island paradise in the Andaman Sea is far less touristy than its neighbours such as Koh Phi Phi and Phuket, and that is what makes it so special.
With postcard-perfect beaches, dense jungle, limestone cliffs, and even caves to explore, it's the kind of place you come for a day and end up staying a week.
If you're wondering what to do, where to stay, and which restaurant to eat at, let our Koh Mook travel guide make your trip that much easier!
READ MORE: Don't miss our complete travel to Thailand guide.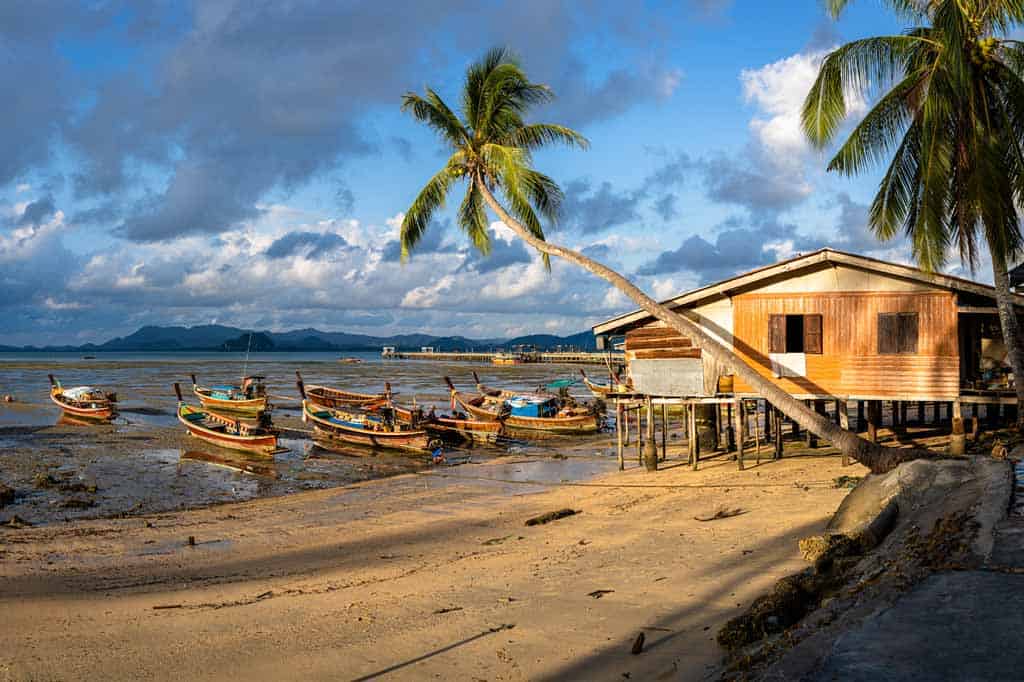 Top 10 Things to Do in Koh Mook, Thailand
For such a small island, there are quite a few awesome things to do in Koh Mook that will keep you entertained for a couple of days at least.
After countless visits to the country, this island has now become one of our favourite places to visit in Thailand.
You can be as active, or as chill, as you want here. Whether you're keen on exploring the famous Emerald Cave or Koh Kradan Island, or you'd prefer to kick back on the sand with a beer in your hand, here's our list of what to do in Koh Mook, Thailand.
Watch the Sunset at Charlie's Beach
The western side of the island has one gorgeous beach called Haad Farang, better known as Charlie's Beach, and it's a perfect spot to watch the sunset.
The beach is surrounded by jungle behind it and huge cliffs on either side, giving it a dramatic atmosphere.
There's a great restaurant on the left side of the beach that is a brilliant spot to grab a few beers and dinner as the sun sets, and the rocks beneath it are a lot of fun to climb around.
A few accommodation options had been built right on the beach but were eventually abandoned, however, there are some other places close by to Charlie's Beach if you prefer to stay on this side. Nature Hill is highly recommended.
It's 50THB per person in a moto taxi to get from the main side of the island to Charlie's Beach.
Explore Morakot Cave (Emerald Cave)
The biggest Koh Mook attraction, and the spot that put Koh Mook on the map for many tourists, is the stunning Morakot Cave, also known as Emerald Cave.
Only accessible by boat, you get to Emerald Cave by swimming through a narrow chamber in the sea at the bottom of a formidable cliff.
Once you navigate your way through Emerald Cave, the space opens up to reveal a lagoon at the bottom of an enormous sinkhole with a picturesque sandy beach.
It's the kind of scene you'd expect to find in a movie, and it really is a spectacular spot.
The popularity of Emerald Cave is massive though, and it is visited by hundreds of tourists a day on one of the famous '4 Islands' tours you can catch from other spots around Koh Mook.
As a result, the charm of Emerald Cave can be lost when you're battling to find space in the cave.
Want our tip for visiting Emerald Cave without the crowds though? Rent a longtail boat from Koh Mook and head over at sunrise before the tour groups arrive. You'll have it all to yourself!
Note – Access to Emerald Cave is only possible at low tide and in calm seas due to the danger of hitting rocks and roof inside the cave.
Go on a Boat Tour to Koh Kradan
As beautiful as Koh Mook is, there are a whole bunch of other epic islands very close by, and it'd be a shame to not grab a longtail boat and go see them.
One of the most stunning islands within an hour from Koh Mook is Koh Kradan, home to pristine white sand and swaying palm trees.
You can easily spend a few hours walking around Koh Kradan. Explore the beaches, go for a swim, and find a vendor selling coconuts or cold beer to quench your thirst.
It's possible to stay out on Koh Kradan, but there isn't a lot of infrastructure there so you'd have to be comfortable with having limited places to eat and stay.
We personally think that it's better to use Koh Mook as a base and rent a private tour out to Koh Kradan, perhaps also including Emerald Cave and maybe Koh Ngai in the mix.
Check Out the Fishing Village of Baan Koh Mook
What makes Koh Mook so special for visitors is that it hasn't lost its old town charm, and this is evident when you walk around Baan Koh Mook.
Walking around the traditional fishing village gives a fascinating insight into how the local Thai people live, away from the normal guesthouses and resorts that most tourists stay in.
The locals in Baan Koh Mook are really friendly, and as long as you are polite and show respect while walking around their village, they'll often have a chat with you and let you take photos.
Grab a Kayak and Go for a Paddle
There's no better way to kill an hour than by grabbing a kayak and going out for a paddle on a sunny day. It definitely is one of the best Koh Mook activities!
There are a number of places you can rent kayaks from, such as Sivalai Beach Resort for guests or in town near the pier.
If you're feeling really fit and hire a kayak for the day you can even keep paddling around the northeast side of the island past the pier, where you may just find some beaches all to yourself…
READ MORE: Check out our guide to the best things to do in Ao Nang.
Catch a Sunrise
There's nothing better than watching the sunrise over the sea, and with Thailand being known for having epic colours painted across the sky, you should make waking up for sunrise a priority.
With most of the accommodation being on the eastern side of the island (and within stumbling distance of the beach), there really isn't an excuse to not get up for at least one morning.
Rent a Bicycle and Go Exploring
The streets of Koh Mook are very quiet, making them perfect for exploring on a bicycle.
You could easily see most of Koh Mook in a few hours by renting a bike and riding around, and with so many picturesque spots you'll see why Koh Mook became one of our favourite Thai islands.
It's very safe, so chances are the only hazards you'll have to watch out for are stray dogs and chickens.
If you prefer to ride a scooter, you can rent one in town for 250THB a day. Just make sure you wear a helmet.
There are many interesting and unique things to see in Koh Mook, and there's no better way to do it than on two wheels.
Hike the Koh Mook Jungle Track
Not all of the best things to do in Koh Mook are found out to sea – some of them you need to wander through the jungle for!
Koh Mook has a number of hiking trails, with the most popular one leading to Sabai Beach.
The track is thick with trees and mosquitos, and the track can get muddy if it rains, but it's worth doing if you feel like burning some calories.
Along the way climb up to the viewpoint for some epic views over the island, and when you get to Sabai Beach you might be all on your own!
Snorkelling at Koh Ngai
With all of these stunning islands around the place, it's only normal to want to dive into the water and see what's beneath the surface.
There are a lot of good, and not-so-good, places to go snorkelling near Koh Mook, but the best spot we found was around Koh Ngai.
Here you'll find some reefs touching up against the limestone karsts, sandy bottom, lots of fish, and clear water.
If you didn't bring your own snorkelling gear most boats will include it when you book a tour.
Relax on the Beach
Last but not least on our list of what to do in Koh Mook is simply relax on the beach!
You've come all this way to hang out in a beautiful Thai paradise, and you deserve to kick back with a drink and relax.
There are a lot of spots to chill out, but Sivalai Beach has the whitest, cleanest sand. In particular, the southern part is the nicest for swimming too. It's one of the most beautiful places to visit in Koh Mook.
Koh Mook Travel Guide
In order to help you make the most of your time on the island, we've put together this Koh Mook travel guide filled with all the information you'll need.
From where to stay, where to eat, how to get there, and some extra tips, all you'll need to worry about is which Koh Mook tourist attractions you want to do!
Where to Stay in Koh Mook
For such a small island, there are a decent number of great Koh Mook accommodations for you to choose from.
It ranges from simple, budget-friendly hostels right up to one of the nicest resorts in the Andaman Sea, so you're guaranteed to find something that suits you.
Here are our tips for where to stay on Koh Mook Island.
Best Backpacker's Accommodation – Koh Mook Hostel
Travelling as a backpacker or on your own? Then the best place for you to rest your head at night is the Koh Mook Hostel.
It's only a short 10-minute walk to the famous Sivalai Beach, the rooms are bright and clean, and the entire property has free wifi.
Hard to beat it if you're travelling in Koh Mook on a budget.
Best Mid-Range Accommodation – Mook Ing Lay
For around USD$45 a night you can get something very comfortable in Koh Mook, and it's hard to beat Mook Ing Lay when it comes to value for money.
The property offers wonderful private bungalows that are fully sealed, meaning you won't get any bugs crawling into your room at night.
There's a great garden to hang out in, and it's right next to the pier and beach so the location is just about perfect.
Best Luxury Hotel – Sivalai Beach Resort
If you want to stay in the absolute best accommodation in Koh Mook, then you really only have one choice – Sivalai Beach Resort.
Sivalai Beach Resort is the iconic beachside resort that you've seen in all of the photos of Koh Mook.
It occupies the whole sandy tip of Sivalai Beach that juts out from town and has hands down the best ocean access of anywhere on the island.
The property is spectacular, with two huge pools to enjoy beneath towering palm trees. There's a tour agency on site, a spa for massages or treatments, and a massive restaurant.
The rooms themselves are simply gorgeous, tastefully decorated, and high quality.
The superior rooms are right on Sivalai Beach, so you can literally crawl out of bed, run out your door and be in the ocean in seconds.
This is where we stayed, and the crazy thing is that this amazing accommodation is actually quite affordable!
Where to Eat
Now that you know what to see in Koh Mook, it's important to scout out the best restaurants in the area.
There are quite a few nice spots to enjoy a meal in Koh Mook, and whether you're looking to spend a few dollars for a curry or $30+ for a delicious seafood platter, you'll find something to suit your tastes and budget.
Here's where we found to be the best places to eat in Koh Mook, Thailand.
Koh Mook City Centre Restaurant and Bar
This is a place so good we ate here twice! If you're looking for seafood, this is the best place in Koh Mook to grab it.
Every night they do a massive barbecue and put the day's catch out on display, so you can look and pick exactly what you want before they cook it up.
The Thai dishes are also great if you want to stick to something more casual like a curry.
The owners are wonderful people too, very friendly and accommodating.
The lady in particular can't speak very clearly due to a medical disability, but that doesn't stop her from cracking jokes and being a real character!
Address: Straight up from the pier on your right hand side, past the supermarket.
Happy Restaurant
Another great local restaurant, this family-run place serves delicious, classic Thai food with a smile.
Customers rave about the whole fried fish and the cozy atmosphere.
Address: 2 147/2 Ko Libong, Kantang District, Trang 92110, Thailand
Koyao Seafood
This place is over at Charlie's Beach on the far left. Walk up some slightly dodgy stairs and you'll be treated to amazing views over the beach.
They make some really delicious food here, and while we didn't try the seafood, we can attest to how damn good the massaman and Penang curries are!
How to Get to Koh Mook
Koh Mook is a little island in the Andaman Sea, a short boat ride from the mainland.
As such the only way to get here is of course by boat.
How to Get to Koh Mook from Trang
The easiest and quickest way to get to Koh Mook is to fly to Trang City and book a combined taxi and boat transfer to Kuan Thung Khu Pier, about 30 minutes away from town. It costs about 250 THB per person.
From there you'll meet the boat that will take you to Koh Muk.
Transfer to Koh Mook from Other Destinations
If you're not planning on spending any time in Trang, or will be coming to Koh Mook from another place such as Ao Nang, Koh Lanta, or Koh Lipe, you can organise a boat transfer.
The best thing to do is find a little tour agency in the town you're in and have them book it directly for you. You can also try your luck at the pier, but chances are the prices will be the same.
A speed boat is popular for further destinations, whereas longtail boat can get you to the closest spots around the island.
Koh Mook Travel Tips
We loved our 4 days on Koh Mook Island and picked up a few tips along the way that we want to share with you.
The island is predominantly Muslim. That means there isn't much nightlife in Koh Mook and it's a bit more conservative than other parts of southern Thailand. Show respect by always wearing a shirt and pants (no walking around in swimwear) when you leave the beach and head into town.
It's more expensive than the mainland. It's still very cheap by western standards, but do keep in mind that basic items like water, snacks, etc will cost more here.
The best time to visit is December to March. This is when the weather is mildest, but it's also when it's busiest. We travelled in May, and while it was steaming hot and humid during the days, we felt like we were some of the only tourists on the entire island.
In peak season book your accommodation ahead of time. Especially if you want to stay in one of the nicer resorts or high-quality budget hostels, as they will book up.
You can rent scooters and bicycles on Koh Mook island. It's the quickest and easiest way to get around. But if you prefer to let someone else do the driving (and give somebody a job for a few hours) you can rent moto taxis for very cheap all around the island.
As of 2019, there is now an ATM on the island! That means you don't have to stress if you forgot to bring enough cash when you visit Koh Mook. Credit cards only work in major resorts.
Disclaimer: Our visit to Koh Mook Island was made in partnership with Hug Thailand and the Tourism Authority of Thailand. All thoughts, opinions and sunset beers consumed at Charlie's Beach are, as always, our own.
DISCLAIMER: Some of the links in this article are affiliate links, which means if you book accommodation, tours or buy a product, we will receive a small commission at no extra cost to you. These commissions help us keep creating more free travel content to help people plan their holidays and adventures. We only recommend the best accommodations, tours and products that ourselves or our fantastic editorial team have personally experienced, and regularly review these. Thanks for your support, kind friend!