If you haven't thought about it already, here are 7 reasons why you need to visit Kamphaeng Phet in Thailand!
Thailand is one of those magnificent countries that has a multitude of attractions on offer.
Alluring beaches, delectable food, and culture! Lots and lots of culture!
The temples that can be explored around this enchanting country are nothing short of breathtaking.
Kamphaeng Phet Thailand – You Need to Go
One place that is routinely left off the typical backpacker's itinerary is Kamphaeng Phet, located between Bangkok and Chiang Mai.
It is home to the incredible Kamphaeng Phet Historical Park, as well as other ancient monuments and city walls, friendly locals, delicious food, and more.
We visited this quaint town and easily came up with 7 reasons why you should spend some time in Kamphaeng Phet!
Check out our brand new article on the best places to visit in Thailand!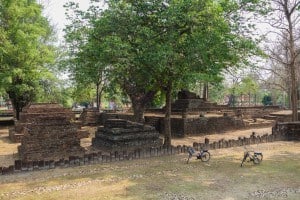 1. No Tourists!
Not just compared to the rest of Thailand we had visited, but just in general! The hostel we were staying in had two other people in it (and this was supposedly the most popular guesthouse in town according to a number of very high-profile websites and guide books).
We received friendly, curious stares from all the Thais at the night markets and on the streets. We believe many of the locals thought we were lost!
The historical park was empty except for a few Thai's exploring. We can count on one hand the number of "farangs" we saw in two days in this quiet town.
2. Kamphaeng Phet Historical Park
Declared a UNESCO World Heritage Site in 1991, the Kamphaeng Phet Historical Park is a fascinating archaeological site filled with ancient temples and ruins.
Out of all Kamphaeng Phet attractions, Kamphaeng Phet Historical Park is the biggest one.
It is separated into two sections: The first is situated within its ancient walls and surrounded by a moat; The second is outside the walls set in the forest.
The best way to explore Kamphaeng Phet Historical Park is by renting a bicycle, which you can do from Three J Guesthouse or directly from the ticket booth upon entering (30 baht for the day).
You are free to wander around the ruins of Kamphaeng Phet Historical Park at your leisure, and can climb on many of the temples. Just remember never to climb onto anything with a standing Buddha image.
Location: Nong Pling, Mueang Kamphaeng Phet District,
Opening hours: every day from 9 AM – 5 PM
Price: 100 Baht + 10/50 Baht for bicycle/car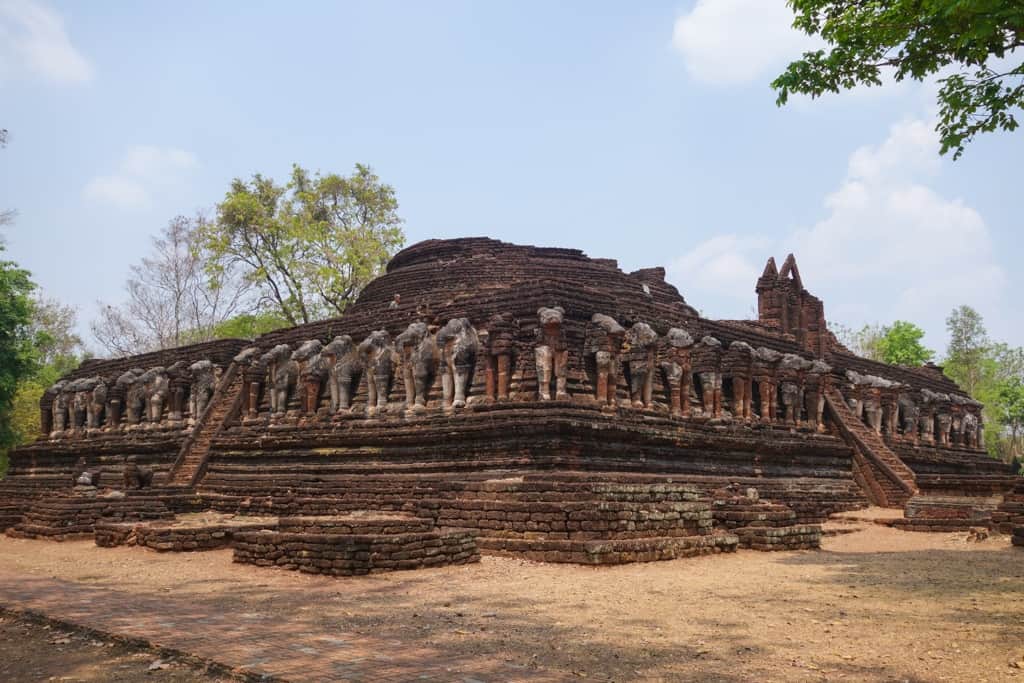 3. Hot Springs and National Parks
Not too far from town is the beautiful Phra Ruang Hot Springs, a set of natural hot pools that reputedly have therapeutic benefits for those who take the plunge into their steaming waters.
If you're wondering what to do in Kamphaeng Phet, make sure to visit the springs for a relaxing afternoon!
For the active and adventurous type, Khlong Lan and Mae Wong National Parks are a short drive away. Famous for their trekking opportunities and beautiful waterfalls, these make for a great day out to be at one with nature.
No public transport ventures to these attractions, so the best option is to rent a scooter or arrange transport from Three J Guesthouse.
4. The Night Markets
We've visited a lot of night markets in Thailand, and the one in Kamphaeng Phet really stands out for its amazing food selection.
While many of the markets you visit have the familiar food stands on motorbikes set up everywhere, this one has quite a few permanent setups with tables and chairs which almost give the feel of eating in an open-air diner; except you are surrounded by the typical hustle and bustle encountered in any market in Asia. The night markets are one of the most interesting places to visit in Kamphaeng Phet.
The prices are rock bottom and to add to the authenticity, the menus are only in Thai. Do what we did and just stand at a popular place until the chef brings out a dish that catches your eye and order one of those. Our first night we ended up with a giant plate of fried rice with vegetables for 30 baht ($1). Score!
5. It's Cheap
Those who are familiar with the South of Thailand will know the prices can be almost double those found in the North for just about anything. Bangkok is also relatively expensive in comparison to the North.
Kamphaeng Phet enjoys budget-friendly prices for most items. A crepe the size of my arm filled with caramelised onions and peanuts with a side of cucumber and chilis was 60 cents! A lovely room with a private bathroom in the funky Three J Guesthouse was $10.
Delicious coffees and teas from a modern cafe ran at $1 a piece. Hard to beat these prices! Even including a day at the temples, our total price for one day for two people was $30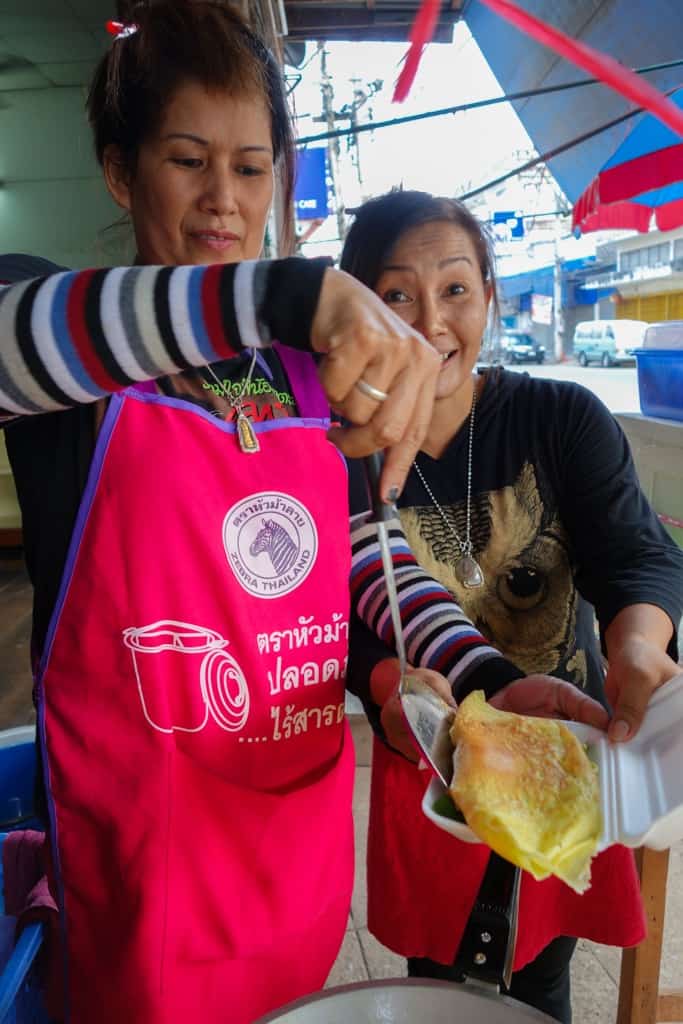 6. Friendly Locals
Thailand is known for its friendly locals, and this place was no exception! Actually, it was an exception. They were friendlier!
We arrived on a Sunday and everything was closed. However a sweet lady saw that we were looking at her sign for food and opened up just for us! When we went to tip her, she feigned being offended and refused our offer!
Adults and children alike were smiling and waving on their scooters as they rode past. All the fruit, drink and food we bought never fluctuated to the "farang" price which we've experienced everywhere else in the country. People seemed genuinely happy to see us. Made for a wonderful experience.
READ MORE: Here's everything you need to know about travelling in Thailand.
7. Great Location
Conveniently located between Bangkok and Chiang Mai, Kamphaeng Phet makes for an ideal stop off to break up the long bus ride.
It can be visited either on the way to Myanmar or to the North of Thailand and public transport in the form of songthaews, minivans and large buses are readily available to take you to most locations.
Because Bangkok to Chiang Mai is a super popular route, it's easy to stop off here on your way.
Kamphaeng Phet is the quintessential Thai town. History, culture, friendly locals, everything you could want!
While it might not have enough attractions to hold your attention for more than a few days, it is definitely worth adding a detour into your itinerary to explore this often-ignored gem.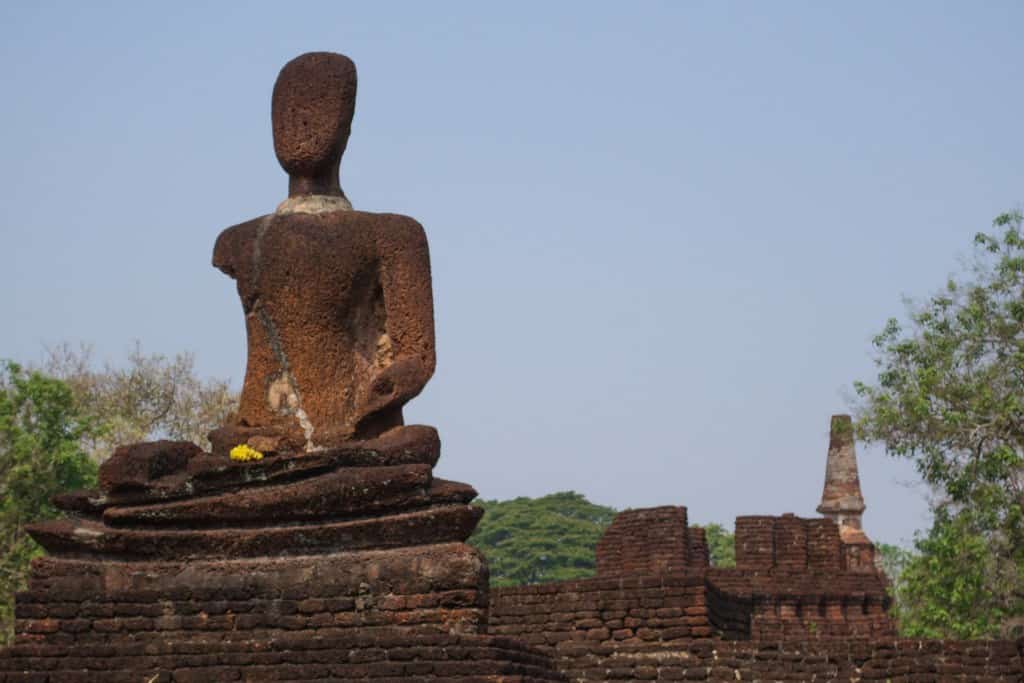 Thanks for reading our list of reasons to visit Kamphaeng Phet Thailand!
Want to save this for later? Pin It

DISCLAIMER: Some of the links in this article are affiliate links, which means if you book accommodation, tours or buy a product, we will receive a small commission at no extra cost to you. These commissions help us keep creating more free travel content to help people plan their holidays and adventures. We only recommend the best accommodations, tours and products that ourselves or our fantastic editorial team have personally experienced, and regularly review these. Thanks for your support, kind friend!