An epic list of all the best things to do in Koh Phangan, Thailand. Yes, there's more to the island than just the Full Moon Party!
Koh Phangan is a relatively small island in the Gulf of Thailand nestled in between Koh Tao and Koh Samui.
Yet it has everything you could wish for in a tropical island paradise: towering palm trees, white-sand beaches, coral reefs with exotic fish, and lush jungles filled with waterfalls all framed by the idyllic turquoise ocean.
But when most travellers think of Koh Phangan, they think of wild parties, neon paint and buckets full of alcohol.
Koh Phangan is home to the famous Full Moon Party. Travellers from all over the globe flock to this island to dance the night away with other tourists.
If you are a true party animal, you may just have the best night of your life at the Full Moon Party.
This beach party is absolutely epic and so much fun, but many people focus on this party scene too much and overlook all the other amazing parts of Koh Phangan.
The Best Things to do in Koh Phangan
With this list of the best things to do in Koh Phangan, I hope to shed some light on the other fun activities and natural attractions of the island.
So even if you don't drink and don't like partying, you can still have an incredible experience on this island.
You can snorkel, hike, kayak, scuba dive, and enjoy all the best parts of Thai culture like eating street food, exploring temples, and getting a Thai massage.
So whether you are interested in the Full Moon Party or not, Koh Phangan should not be missed on a trip to Thailand!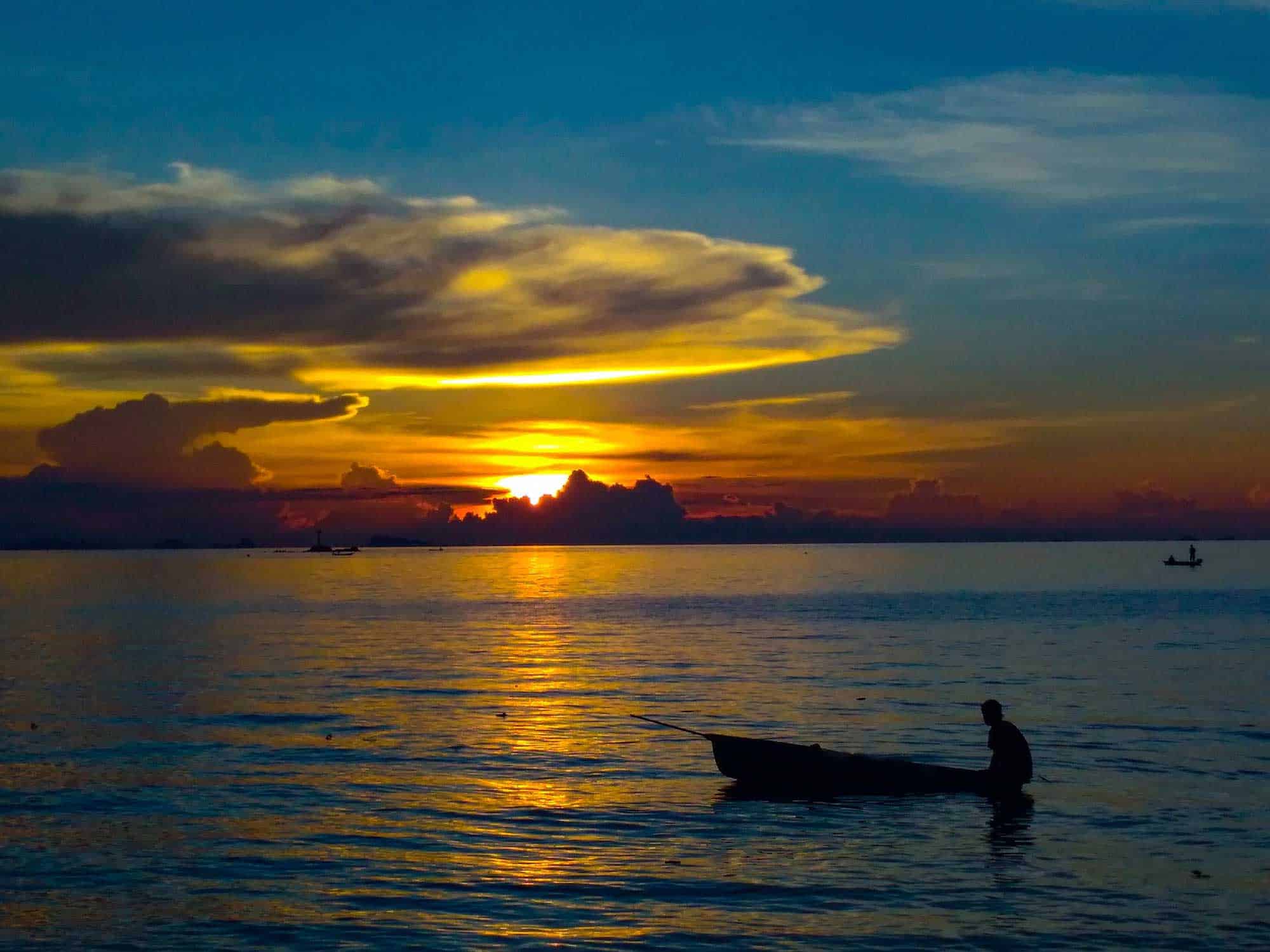 1. Hike to Bottle Beach
With a reputation as one of the best beaches and a top Koh Phangan attraction, Bottle Beach is a true gem of Thailand's gulf.
Located in the north of the island, the beach is pretty hard to get to but the one-hour trek through the jungle is a fun adventure.
Wear good walking shoes and plenty of bug spray, and you'll feel like you really earned your relaxing beach day once you arrive on the white sands of Bottle Beach.
The hike begins at Coconut Beach and is completely free!
READ MORE: Plan your trip to Thailand with our comprehensive travel guide!
2. Stay at Indigo Coral House and Learn About their Amazing Sustainability and Refugee Projects
There are so many incredible sustainability and conservation initiatives happening in Thailand right now, and one of the main focuses of my most recent trip to the Land of Smiles was to learn about some of them.
Koh Phangan has always been a hub for alternative thinking and eco-conscious travellers, and I was lucky enough to spend the day at place called Indigo Coral House to discover how they are giving back to their community.
Run by the passionate duo Fatimah and Matteo, the accommodations, living areas and workshops at Indigo Coral House have been built using sustainable bamboo, and the construction methods have been refined to minimise the amount of non-renewable resources needed.
Their goal is to show local builders that bamboo is not only a fantastic construction material, but can be used to make funky, high-quality and beautiful designs too.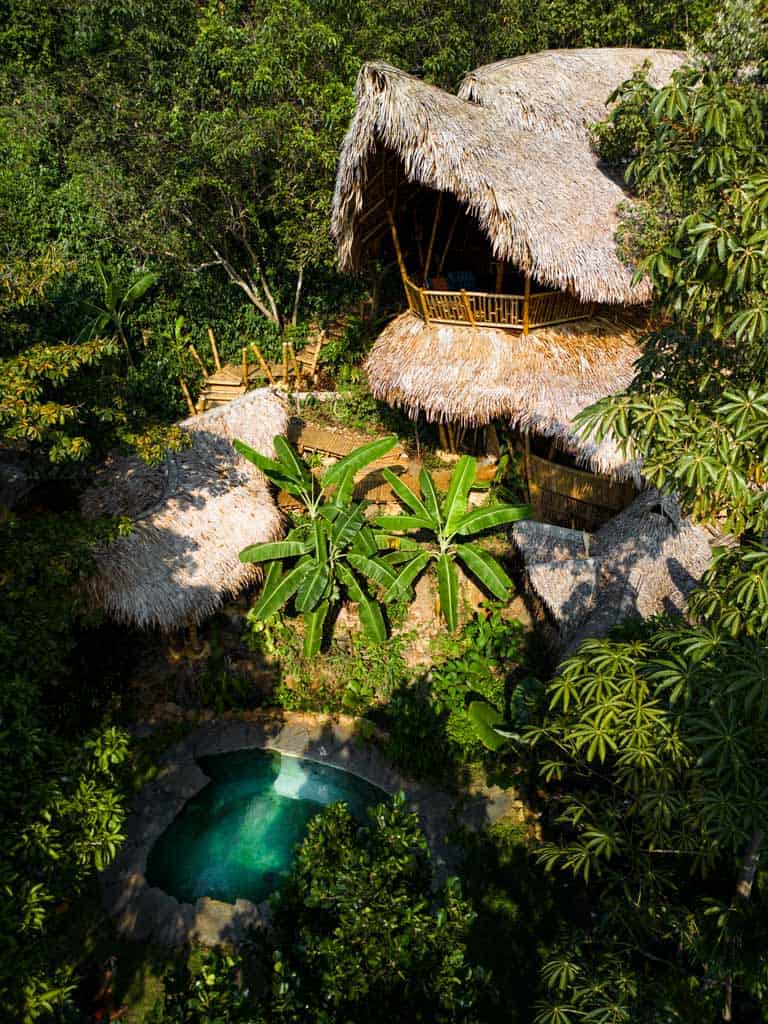 That's not all they do at Indigo Coral House though. It has also become a haven for Burmese refugees who flee over the border to escape the current turmoil.
Not only do Fatimah and Matteo offer a safe space for them to live, but they teach them art techniques such as leaf printing and weaving so they can create their own pieces and sell them at the markets to make an income.
I had the most amazing day at Indigo Coral House and felt so welcome by everybody who calls the place home.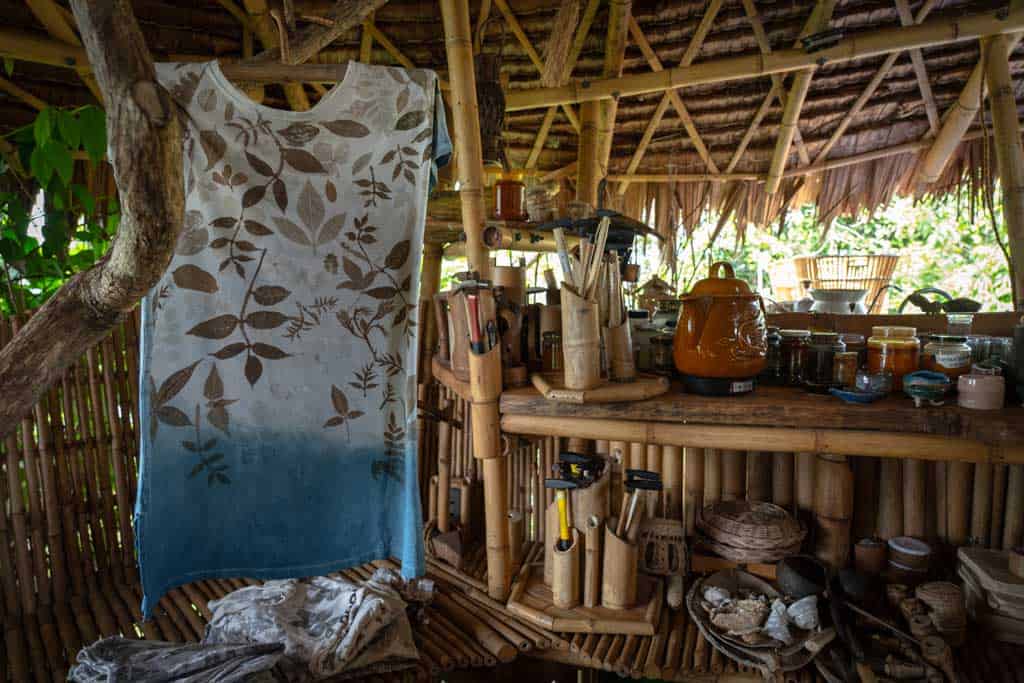 A special thank you to Soemoechit who taught me leaf printing, Phyu Phyu Moe who cooked up the most delectable Burmese vegetarian lunch for me, and of course Fatimah and Matteo who took time out of their day to show me all that they are doing.
You can visit Indigo Coral House yourself to do art and bamboo building workshops, leaf printing, learn how to compost or just stay in some of the stunning bamboo bungalows and villas. Highly recommend if you're coming to Koh Phangan!
Location: 8/65 moo 8 Koh Phangan Koh Phangan, Surat Thani 84280, Thailand
WhatsApp: +44 793 165 0719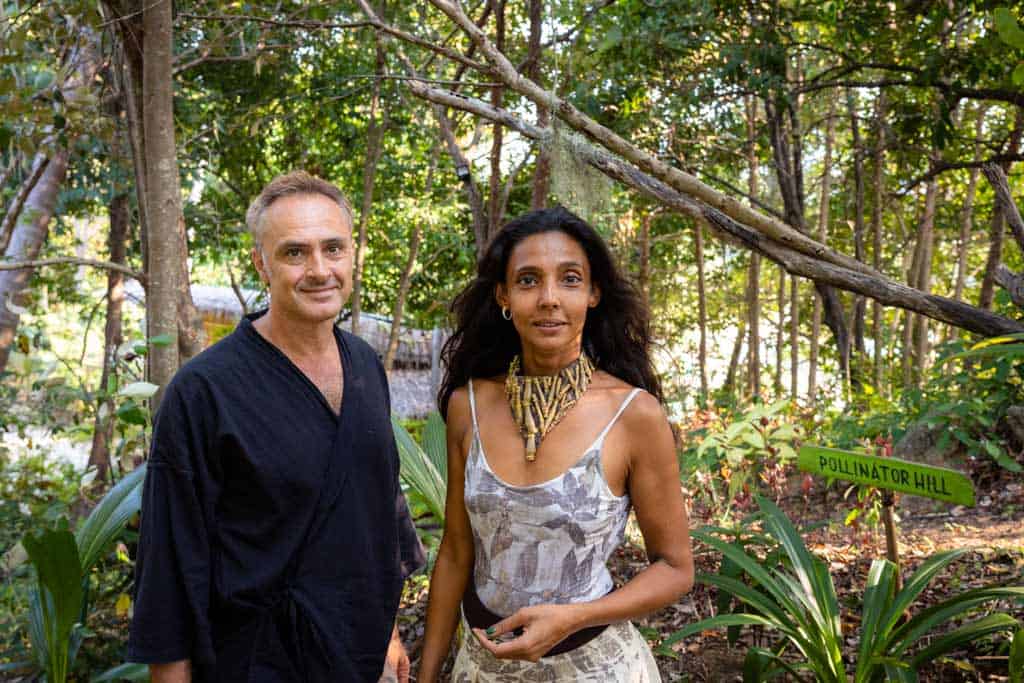 3. Get a Thai Massage
After spending a big day hiking around, diving and swimming, you might want to treat your body to a Thai massage.
Let the experienced local masseuses knead, twist, and smooth the kinks out of your muscles and you'll feel so refreshed afterward.
Thai massage is a highly revered traditional practice in the country, so you should definitely experience it at least once while travelling through Thailand.
This is a great activity in Koh Phangan for anyone looking to relax a little.
READ MORE: Extend your Thai adventures by jumping on the ferry and checking out what to do on Koh Tao!
4. Take a Day Trip to Ang Thong National Marine Park
This protected archipelago in the Gulf of Thailand is a stunning oasis of natural beauty.
Filled with hiking trails, limestone caves, towering cliffs, palm forests, coral reefs, sandy beaches, and much more, Ang Thong National Marine Park is a nature-lovers paradise.
You can only enter the marine park via a government-approved tour boat.
Luckily there are plenty of great tour companies that offer day trips from Koh Phangan to Ang Thong.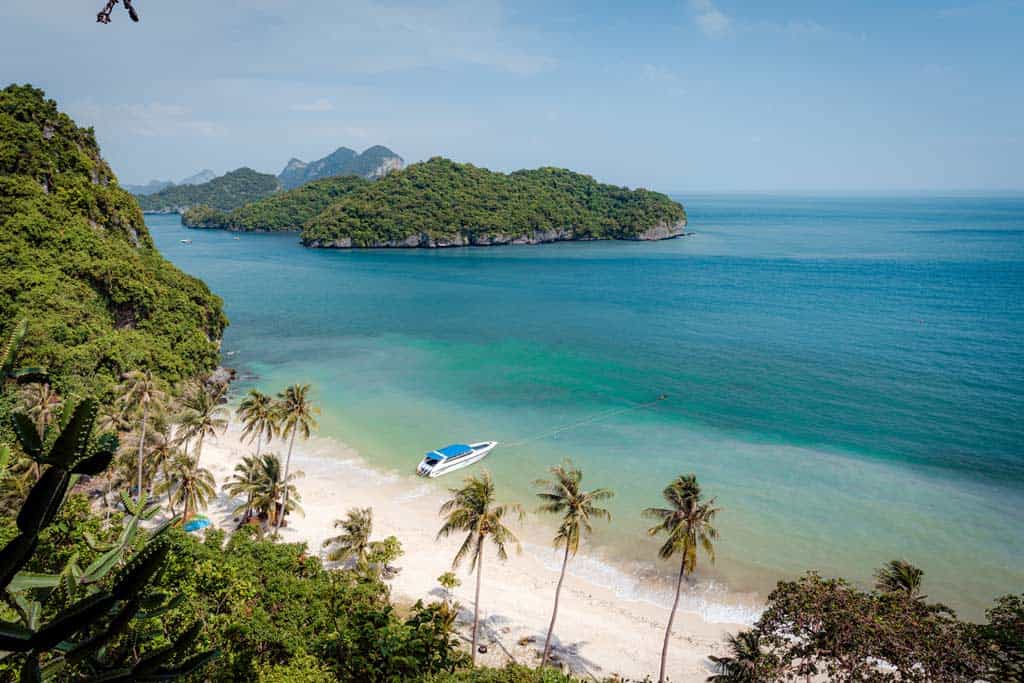 5. Visit Koh Ma
A trip to Koh Ma should definitely be on your list of Koh Phangan sightseeing.
This tiny island is actually separate from Koh Phangan, but is connected to the main island by a sand bar that is visible at low tide.
So head to the northwest of the island at low tide and you can walk along the sand bar to Koh Ma.
You can also enjoy sunbathing on the sand bar and swimming in the ocean to escape the heat.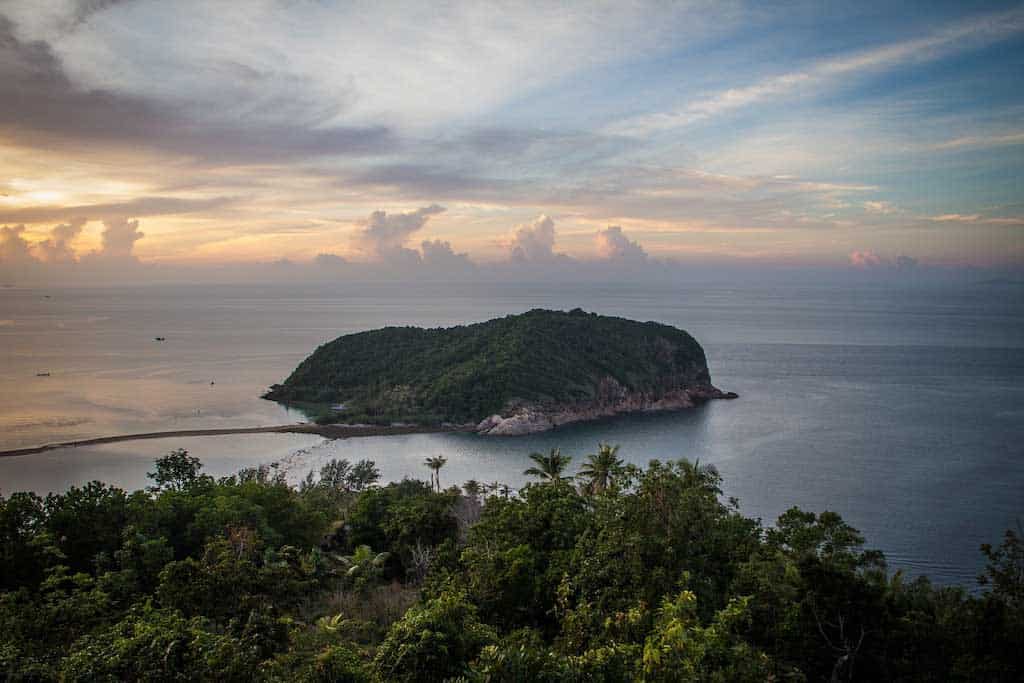 6. Hike Khao Ra Mountain
This 627-meter high mountain is one of the best Koh Phangan attractions.
Hiking to the top will provide you with some amazing views, and the whole journey takes about 2-3 hours round trip.
You can hike the trail in sturdy sneakers or hiking boots, and be sure to pack lots of water and sunscreen.
To avoid the mid-day heat, try to hike in the early morning or late afternoon.
Khao Ra is located near the north of the island and the hike is free.
READ MORE: Plan your best trip with these Thailand itineraries.
7. Watch the Sunset from a Rooftop Bar
There's something absolutely magical about watching the sunset from a tropical island.
Even better is watching an island sunset up high at a rooftop bar so you can enjoy an incredible panoramic view.
Koh Phangan has lots of rooftop bars and restaurants that make great vantage points for sunset. Here are a few of the best ones:
Secret Mountain: Open 10 am to 9 pm
Amsterdam Bar: Open 12 pm to 1 am
Three Sixty Bar: Open 10 am to 12 am
8. Go Scuba Diving
Scuba diving is definitely one of the best things to do in Koh Phangan, and the last time we visited proved exactly why!
The Gulf of Thailand is packed with gorgeous marine life, including tropical fish, manta rays, coral reefs, and more.
Among the best diving spots near the island are Samran Pinnacle, Hin Yippon, Koh Ma, and Ang Thong National Marine Park.
Sail Rock is arguably the best dive site in the entire Gulf of Thailand, so this is a great place to go and explore the waters.
The island has a few dive schools that can hook you up with gear or help you get your divers certification.
Personally however we recommend the absolute legends at H2O Diving in Thong Nai Pan.
Run by the incredible couple Alis and Lee, these guys are a PADI 5-Star Center and have been operating since 2003.
They use a modern and comfortable speed boat to get out to the dive sites, and this means they can actually time their trips to avoid when all the other companies go out.
For example, Sail Rock is quite far from Koh Phangan meaning all the local companies go out in the morning. For H2O however, they go out after lunch.
When I went out for my two dives with Lee, we were the only dive boat there. A pretty magical experience (check out my video below of what it was like).
The gear they use is new and well-maintained, the staff friendly and the service they provide is some of the most professional I've experienced from diving in over a dozen countries.
I highly, HIGHLY recommend scuba diving with Lee, Alis and the team at H2O if going out in Koh Phangan.
9. Chill out on Thong Nai Pan Beach
Of all the Koh Phangan attractions, the beaches are undoubtedly one of the best reasons to visit/
People travel from far and wide to stretch out on the velvety white sand and swim in the crystal-clear waters of the Thai islands, so make sure you squeeze plenty of beach days into your Thailand itinerary.
While visiting Koh Phangan, head to Thong Nai Pan for the ultimate beach day.
Soak in the sun or lie in the shade under a coconut palm. Splash in the water and collect seashells.
Take plenty of photos because this beach on Koh Phangan's northeast coast is truly beautiful.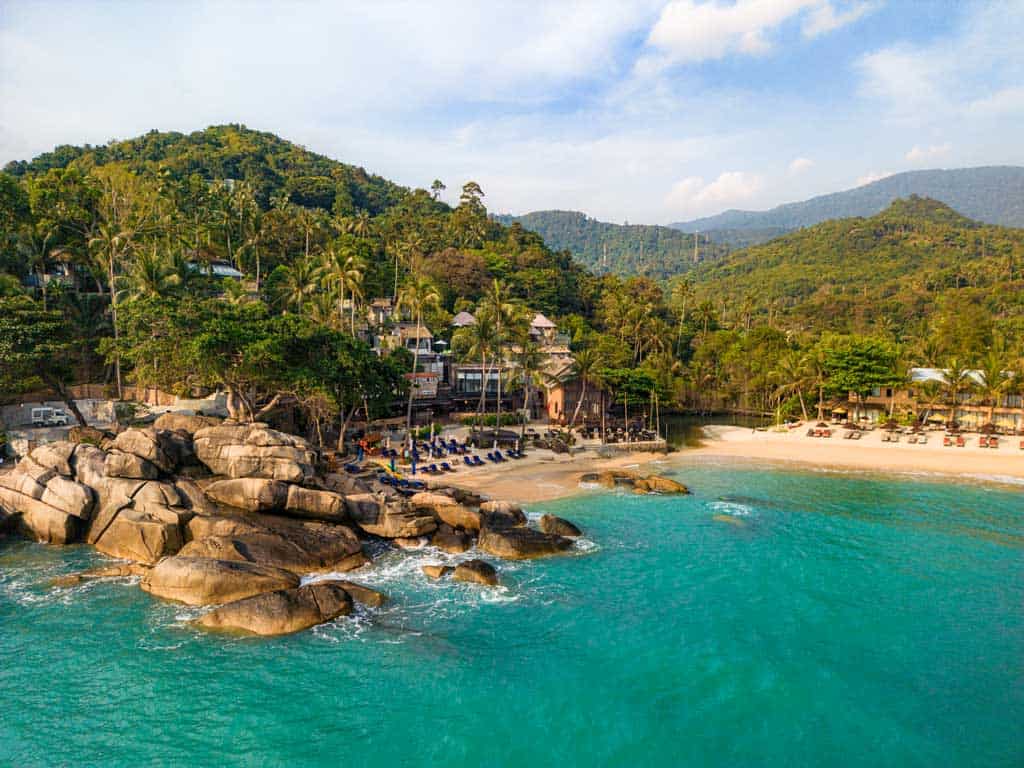 10. Visit Thong Sala's Street Markets
As the main hub of Koh Phangan, Thong Sala is a bustling town with plenty of fun things to do.
The street markets are the town's best attraction; tourists and locals both come together in the evenings to browse through the local goods and gorge on some delicious Thai food.
The Phantip Night Market opens every evening and has some of the best street food on the island.
Every Saturday, the main street of Thong Sala turns into a Walking Street Market, also known as the Thong Sala Night Market.
At Thong Sala Night Market, the streets become pedestrian-only as local vendors fill the road with their own stalls selling souvenirs, clothing, jewelry, and other homemade goods. There is also plenty of Thai food to eat!
11. Watch a Movie at an Outdoor Cinema
For a fun night in Koh Phangan, head to the Moonlight Cinema.
Located near the night market in Thong Sala, this open-air movie theater is full of comfy pillows and plays a wide variety of new and old films.
You can buy snacks and drinks at the theater as well. It's a highlight of many who visit Koh Phangan!
Location: 46 Moo 1, Chaloklum Rd. Thong Sala, Ko Phangan
Hours: 3 pm to 1 am (opens at 1 pm on weekends)
Cost: 150 Baht per ticket
12. Seek out Some Waterfalls
In addition to all the ocean scenery and white-sand beaches, some of the best things to see in Koh Phangan lie inland within the lush jungle.
The island is home to lots of waterfalls where you can go have a picnic, take photos, and swim in the fresh flowing water.
Phaeng Waterfall, Than Sadet Waterfall, and Paradise Waterfall are three of the most picturesque falls on the island.
If you just hop in a taxi or songtaew and tell the driver the name of the waterfall you want to visit, they'll know where to go.
READ MORE: Thinking of visiting other places in Thailand? Our new blog post will tell you the best spots to go!
13. Go Sea Kayaking
Cruising through the turquoise waters and soaking in all the natural beauty is one of the best things to do in Koh Phangan.
Many of the island's beaches have kayak rentals available, with the average price being about 150 Baht per hour.
Make sure you are reasonably fit and aware of the ocean currents before setting out on the water and don't kayak alone.
A popular place to kayak on the island is from Wok Tum to Koh Ma because the waters are generally calm here.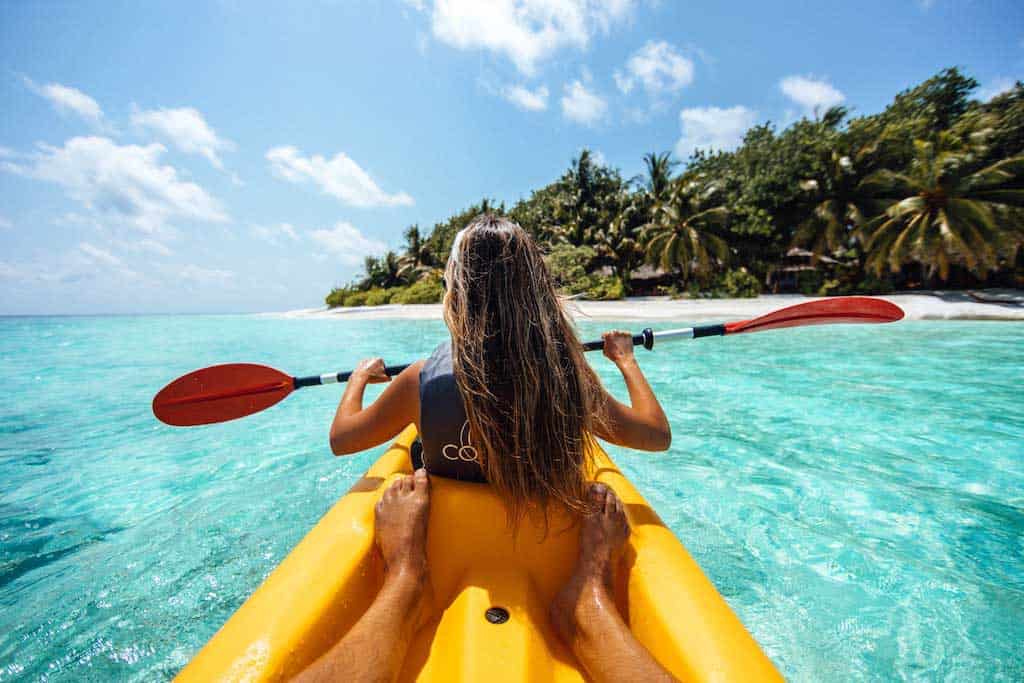 14. Take a Road Trip around the Island
If you want to see a lot of the island in a short amount of time, your best bet is to book a sightseeing tour.
There are a few tourism companies that offer either ATV or road trip adventures around the island, which is great if you don't have your own form of transport.
Your tour will take you to all the best spots on the island, including beaches, waterfalls, rooftop bars, and other amazing places that you might not be able to see on your own.
15. Dance the night away at the Full Moon Party
For any party animals out there looking for a classic Thailand backpacker experience, add the Full Moon Party to your bucket list.
Some travelers come to Koh Phangan solely for the Full Moon Party, as it is a famous phenomenon among young travelers.
This party includes lots of neon body paint, lots of cheap mixed drinks in plastic buckets, and lots of loud music, flashing lights, and dancing.
It's one of the best things to do in Koh Phangan if you like to party.
The party is held every full moon on Haad Rin Beach. There is a Sunrise and Sunset Beach on Haad Rin Beach, and the party is on Sunrise Beach.
Just keep in mind that lots of accommodations completely book up for the party, so book your bed as far in advance as you can!
Location: Haad Rin Nok Beach
Hours: Every full moon, all night long
Cost: 100 Baht entrance fee
16. OR party at the Half Moon Party
If you love the idea of the Full Moon Party, but you won't be in Koh Phangan during the actual full moon, have no fear!
The island also hosts a Half Moon Party at, you guessed it, every half-moon.
That means this party happens twice a month rather than just once, and it isn't as famous but it is still super fun.
The Half Moon Party happens in the jungle instead of on the beach, and there are tons of different stages and dance floors bumping different types of music.
Location: In the forest just north of Baan Tai
Hours: Every half-moon, all night long!
Cost: 2,400 Baht for one day (can book tickets online in advance)
17. Enjoy the Scenery from the Haad Rin Viewpoint
For a panoramic view on the south of the island, head to the Haad Rin Viewpoint.
The climb to the top only takes about 15 minutes, but in the humid, tropical heat it can be quite tiring so pack plenty of water.
The trail starts behind the Fairyland Resort on the southern tip of the island. From the top, you can enjoy views of the nearby beaches and you can even see Koh Samui in the distance.
READ MORE: Make the most of your trip to Thailand with these travel tips
18. Go Snorkelling
If you're not ready to commit to scuba diving, you can still explore Koh Phangan's flourishing underwater marine life by snorkelling.
Snorkelling is cheap and easy, so anyone can do it. If you don't have your own gear, you can rent a snorkel, mask, and flippers for roughly 100 Baht per hour.
One of the island's best locations for snorkelling is Mae Haad Beach and Haad Son along the north coast.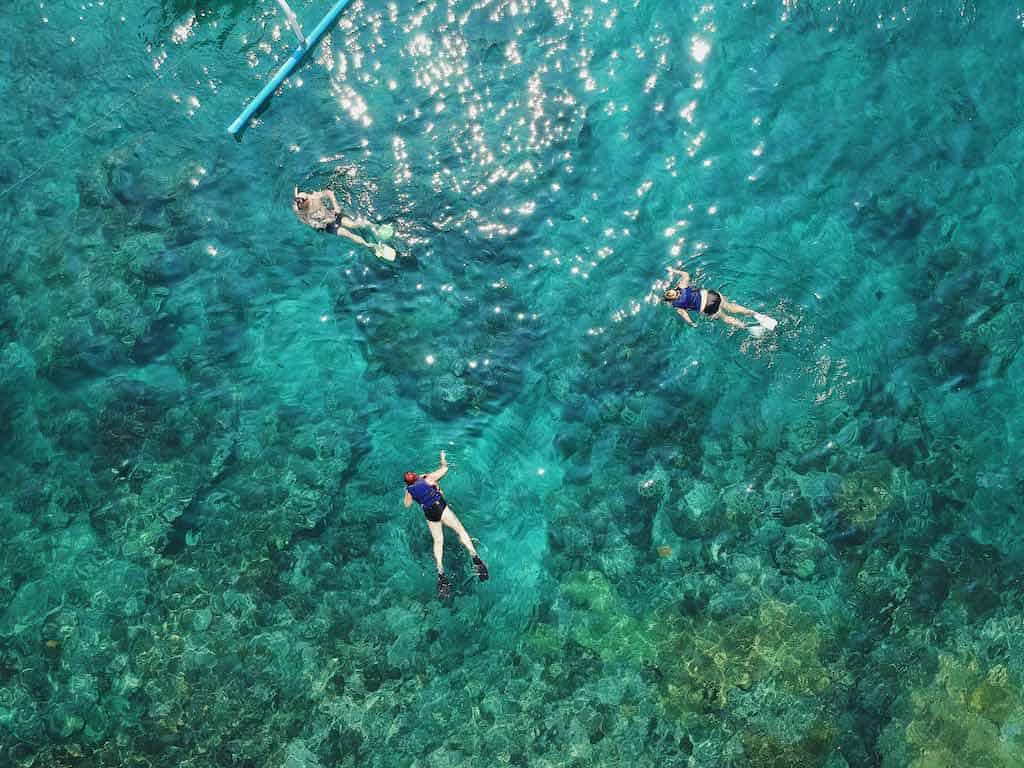 19. Visit the Temples
With so much natural beauty to see and partying to be done, it can be easy to forget about all the stunning temples on Koh Phangan!
But the temples are amazing representations of Thai culture and Buddhist architecture, so you should definitely try to see plenty of them.
Some of the island's most beautiful temples are Wat Nok, Wat Khao Tham, and Wat Pho (not to be confused with the famous Wat Pho in Bangkok).
20. Watch a Muay Thai Boxing Match
If you haven't yet been to see a Muay Thai Boxing Match in Thailand, now is your chance!
This fast-paced, mesmerizing sport is super popular in Thailand, and watching a match is a great way for tourists to catch a glimpse of the local Thai culture.
Koh Phangan is home to 7 Muay Thai Boxing stadiums that host matches every evening. Some of them even have training classes so you can learn the basics of the sport for yourself!
21. Rent a Motorbike
To explore Koh Phangan on your own schedule, rent a motorbike and enjoy all the mobility you need.
Before renting a motorbike, make sure you have travel insurance and a copy of your passport to give the rental company.
Also take lots of photos of the bike before you ride it, so the company can't blame any scratches or dings on you.
There are lots of motorbike rental companies around the island, and the average cost is around 150 Baht per day.
The most popular route to explore by motorbike is the west coast of the island.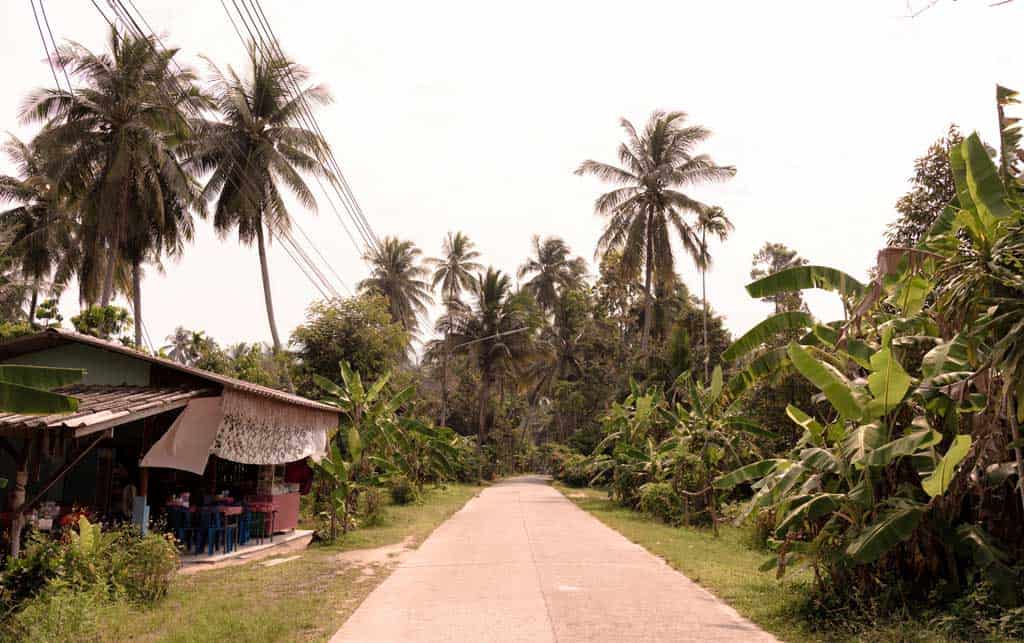 Koh Phangan Travel Guide
After taking note of all the best things to do in Koh Phangan, here are some recommendations for where to stay and what to eat.
Accommodation in Koh Phangan
Whether you're a budget backpacker who just wants to party, or an upscale traveller looking for the best quality beach resorts, Koh Phangan has it all.
Budget: Bodega Hostel
This hostel is loud, wild, crazy, and perfect for social butterflies and partiers in Koh Phangan.
It has over 1,000 great reviews on Hostelworld, and it is the best place to stay on the island for the moon parties and just for making friends and taking part in lots of fun, social activities.
Keep in mind that prices rise during the Full Moon Party, but the hostel is still cheaper than a hotel.
If you want a quieter atmosphere, there are plenty of other hostels on Hostelworld that aren't party hostels, just do a bit of browsing.
Mid Range: Samutra Residences
This new and affordable resort in Koh Phangan is perfect for those who want to experience a bit of luxury without spending a ton of money.
With a super friendly staff, new rooms and private bungalows, a beautiful garden and private pool, and located in a quiet area, this place exudes an aura of comfort and relaxation.
Luxury: Panviman Resort Koh Phangan
On my last visit to the island I had the chance to stay in the best luxury resort on Koh Phangan!
Tucked away at the quiet end of Phangan on Thong Nai Pan Beach, and a world away from the hectic Full Moon Party, Panviman Resort is beautiful accommodation is built up on a headland surrounded by jungle with amazing views over the Gulf of Thailand.
The food is next level, they have live music most nights in either their beachside or cliffside restaurant, the hotel staff can organise any tour or activity you want and they even do a floating breakfast!
Want to know the best part? Rooms start at just $110 a night! Proof that you don't need to kill the budget to enjoy a little bit of luxury in Thailand.
If you're planning a trip to this part of the country definitely check out Koh Phangan and Panviman Resorts.
What to Eat in Koh Phangan
Don't miss this amazing restaurants in Koh Phangan for your next visit!
Budget – Moonsoon's Restaurant
Located on the east coast near Bottle Beach, Moonsoon's Restaurant is a super laid-back local restaurant with delicious, cheap local food.
They have local and western food, all at cheap prices. People also rave about the friendly, English-speaking staff.
Mid-Range – Restaurant Sunshine
Restaurant Sunshine on the west coast of the island is a relaxed eatery serving all the classic Thai dishes.
It is moderately priced, the portion sizes are hefty, and the atmosphere is welcoming.
Luxury – Milky Bay Restaurant
Located on a pristine beach and stocked with fresh and delicious seafood, Milky Bay Restaurant is one of the top-rated places to eat on Koh Phangan.
The menu is extensive, so you can eat classic Thai food, pizza and pasta, or freshly-caught fish.
DISCLAIMER: Some of the links in this article are affiliate links, which means if you book accommodation, tours or buy a product, we will receive a small commission at no extra cost to you. These commissions help us keep creating more free travel content to help people plan their holidays and adventures. We only recommend the best accommodations, tours and products that ourselves or our fantastic editorial team have personally experienced, and regularly review these. Thanks for your support, kind friend!