Make the most of your time in this island paradise with our list of the best Koh Samui tours and day trips!
When you think of Koh Samui, you may believe it's all about beaches and kicking back at the swimming pool of 5-star resorts.
And of course yes, the beaches around Koh Samui are gorgeous, as are the infinite pools. But there is so much more to do here.
Koh Samui is Thailand's second-largest island, located in the Gulf of Thailand and is the queen in the trio of popular islands here, with the other two being Koh Phangan and Koh Tao.
The size of this idyllic island allows for a huge diversity in the lush landscapes here, from mountainous jungle in the centre to sprawling coconut plantations in the flats.
While it is a popular getaway for couples in Thailand thanks to its romantic appeal, for those of us who love adventure to fill the day there is an abundance of awesome Koh Samui day trips and tours to make the most of your time here.
Whether you want to chill on a white sand beach in Ang Thong Marine Park, learn about the cultural attractions of the local Thai population or find some other hidden gems, our guide to the top Koh Samui tours will point you in the right direction.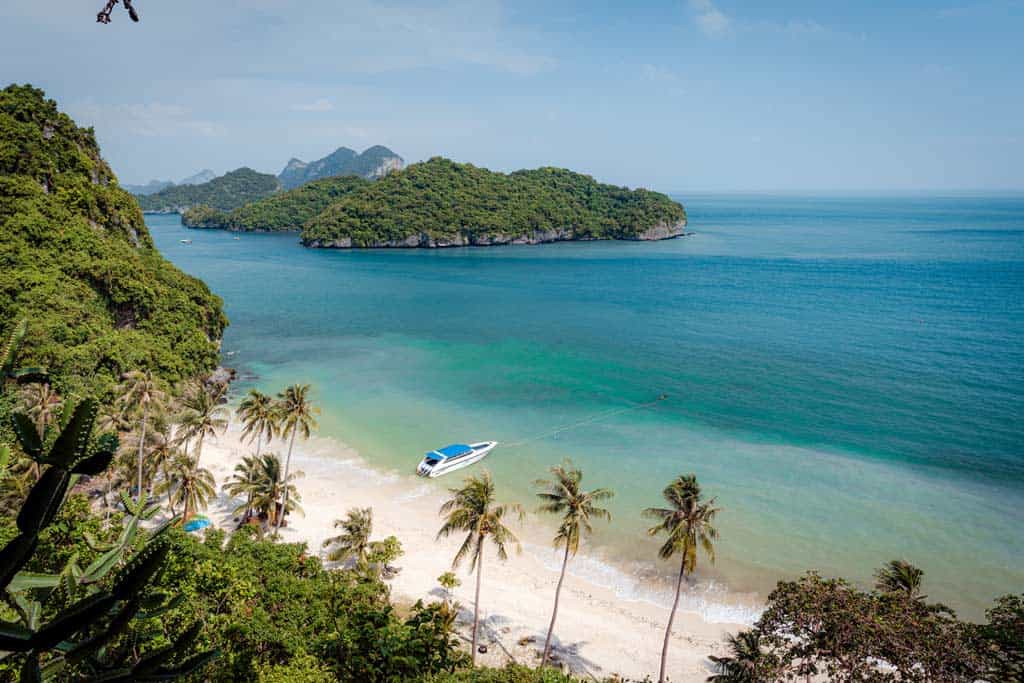 The Best Koh Samui Tours – From Islands to the Jungle
We highly recommend you have a read of our ultimate Koh Samui itinerary post for an idea of how to structure your trip here, and then pick and choose a great tour that matches your travel style.
No matter what you're looking for, you're sure to fall in love with Koh Samui's epic activities.
Here is our list of the best tours in Koh Samui.
Visit the Ang Thong National Marine Park from Koh Samui
The minute you start to make plans to leave your accommodation, the very first thing you should do is book a Koh Samui day trip to Ang Thong Marine Park.
Located just 30km east from Koh Samui, the Ang Thong Marine Park is a stunning archipelago of 42 islands, and a tour out to explore the park is one of the best adventures you can do while you're here.
A typical Koh Samui tour of Ang Thong Marine Park will allow you to explore some of the best islands to visit near Koh Samui and epic viewpoints in the archipelago, including Mae Koh Island, home to the stunning Emerald Lagoon.
There are a number of ways to get out there, all with local tour operators, but we personally recommend booking a trip that uses a speedboat rather than a longtail boat.
The reason is that you'll have a lot more time on the beautiful beaches and islands themselves, rather than in transport.
Once you've made the journey across the sea from Koh Samui, the first stop is usually Koh Wao Yai or Koh Tay Plow, where you'll get to snorkel in the crystal clear waters and coral reefs.
Your boat captain will then take you on a short sightseeing cruise around the archipelago before dropping the passengers off at Mae Koh Island for a short yet steep trek up to the viewpoint above Emerald Lagoon.
The landlocked Emerald Lake (also known as the Blue Lagoon) fills up from an underwater cave. You're not allowed to swim in it because it's a protected area, but it's still beautiful to see!
Next it's time to cruise onto the other side of the island and tackle what may just be the most difficult, yet rewarding, climb in the area – the Pha Jun Jaras Viewpoint.
Hundreds (or is it thousands?) of steps cut up the ridge of one of the highest points on the island, weaving through dense forest and intermittently broken up with lookouts along the way. The 500m length might not sound so bad, but you gain 250m in elevation.
As tough as it is, we highly recommend pushing on to the top, as the views you'll get are beyond sensational, looking down on the archipelago and out to the endless horizon.
Once you've snapped your shots from the top head back down, take a dip and if you still have energy jump in a sea kayak for a paddle around the beach.
By now you've likely worked up an appetite, and luckily lunch is just around the corner.
Your speedboat will motor along to Koh Phaluai in the Angthong Marine Park for an enormous spread of delicious food, served out in the open and surrounded by palm trees and hornbill birds.
The island is still inhabited by sea-gypsies who earn a living from fishing. You can either take a sea kayak around or just relax on the secluded beach, Son Pee Hong Beach.
On this island the locals protect the amazing hornbills, so they hang out without any fear. Such cool little birds.
After your meal, it's time to head back to Koh Samui, just in time for sunset drinks!
These full day tours include transport, an English-speaking guide the national park fee required for the shore excursion and your delicious lunch, but be sure to bring along extra snacks if you need, and sunscreen.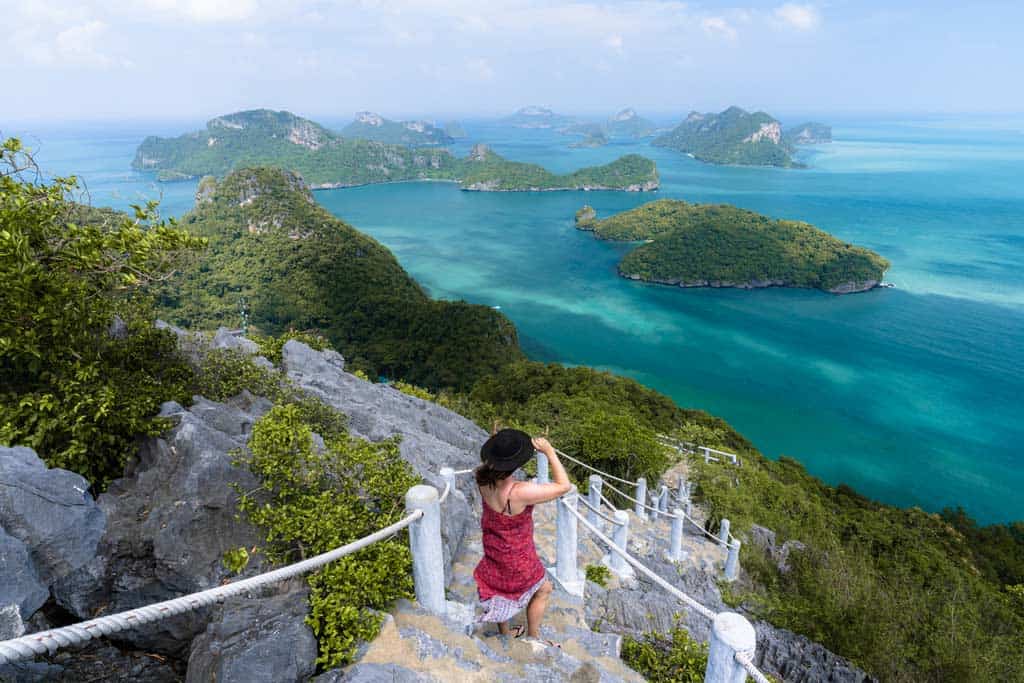 4WD Eco Jungle Safari Tour
Much to most people's surprise when they visit the island, one of the best Koh Samui tours isn't just about being out on the water.
One of our absolute favourites heads inland instead, exploring the vast interior of the mountainous paradise.
The 4WD Wild Jungle Safari Tour is an incredible adventure land tour that takes you to a side of Koh Samui that most visitors never see
Also known as the Eco Jungle Tour, we knew we really wanted to do this Koh Samui day trip before we booked our most recent adventures in Thailand, and it didn't disappoint.
Picked up from our hotel by our driver Mr Soot and fantastic local guide Nina, the plan was to explore a more local side of Samui Island filled with culture, landscapes and secret gardens.
We started the day off with a visit to some local temples in Koh Samui, including the Big Buddha Temple and Wat Plai Laem.
It's so important to learn about the country's culture, religion and people when you travel, and we were blown away at the intricacies and beauty of these temples.
Having a tour guide was well worth it, as Nina explained the subtle details in the architecture and how everything had a meaning and story behind it.
Next it was time to head into the mountains of Koh Samui, but before we gained too much elevation we stopped by a coconut plantation run by a local family.
The family are expert coconut harvesters (husking over 1000 coconuts in a single day's work!), and we had a chance to watch the masters in action, and even try our hand at husking our own coconut.
Climbing into the misty mountains of Koh Samui is an adventure in itself, and we were thankful we were travelling in a 4×4, as the road was extremely steep, muddy and rutted.
After a break at a high lookout, the driver pointed to the seats on the roof of the 4×4 and asked if we wanted to sit on top for an adrenaline-filled drive to the summit.
Of course we couldn't say no, so strapping in for the ride we hit the road, bouncing around, ducking under vines and laughing the whole way.
The rest of the day was filled with more visits to temples (including the highest one on Koh Samui), a delicious lunch at a local restaurant, and a wander around a rubber-tree farm.
One of the highlights was exploring the Buddha's Magic Garden, a private nature park built deep in the forest of Koh Samui.
After a stop off at Namuang Waterfall we saw the bizarre rock formations around the Grandfather and Grandmother Rocks before being dropped off back at the hotel.
It was an action-packed day, filled with a healthy mix of culture, nature and adventure. Definitely one of the best Koh Samui tours you can do on the island!
Koh Nang Yuan and Koh Tao Tour by Speedboat
If you haven't had enough of being out on the water, this is a great island tour if you want to see more of the stunning locations around Koh Samui.
A day trip out to Koh Nang Yuan and Koh Tao is an 8-hour adventure, so be prepared for an early start. It's worth rising for though!
This Koh Samui tour heads out to the gorgeous island of Koh Tao (Turtle Island) by speedboat, which is a true laidback paradise.
Once you arrive on Koh Tao (check out our full guide on what to do there if you have more time) you'll discover the spectacular coral reef at Hin Wong by going snorkelling, or one of the other bays nearby if conditions are right.
Snorkelling gear is supplied by the company, but you're also welcome to bring your own too.
After some time exploring the underwater world of Koh Tao, the tour will head to the sandbar beaches of Koh Nang Yuan.
This small island off of Koh Tao is known for its amazing snorkelling, diving and beautiful white sandy beaches.
The sandbar between Koh Tao and Koh Nang Yuan was formed by ocean currents pushing between the 3 small peaks, loading sand up to connect them all together.
If you're interested (and you should be), climb to the top of the Koh Nang Yuan viewpoint first. That way you'll get the sweaty hike out of the way, and can enjoy a cool, refreshing swim after.
READ MORE: Check out our ultimate travel guide to Thailand!
It takes about 15 minutes to get to the top and the view is lovely, being the most famous one in Koh Nang Yuan.
Keep in mind that even though it's one of the best Koh Samui day trips, it is a long day, so make sure you have at least a light breakfast before heading out, and take some seasickness tablets before departing if needed.
Pack sunscreen, your swimming suit, a hat, sarong or towel, and some footwear for the hike.
Most Koh Nang Yuan and Koh Tao tours include a Thai buffet lunch and water, and we highly recommend booking this particular one.
Once the trip ends you'll be transported from Koh Tao back to your hotel in Koh Samui.
Visit the Samui Elephant Sanctuary
The Samui Elephant Sanctuary was opened in 2018 by local conservationist Maew Suriya, and since its creation, the sanctuary has rescued 14 elephants from the tourist-trekking and riding industry around Thailand.
It's well-known by now that the elephant tourism industry in Southeast Asia has sadly resulted in the torture and deaths of countless animals, but thankfully a number of reputable sanctuaries have stepped in to protect these beautiful creatures.
Samui Elephant Sanctuary is one of the good ones, and here you can book in for a half day tour on Koh Samui to see the fantastic work they are doing and to learn about their rescued elephants.
Joining the morning or afternoon tour, you'll prepare nutritious snacks to feed the elephants, and observe them wandering around their secluded environment.
There is no riding or bathing of the elephants here. Instead the elephants live a happy life under the protection of their mahouts, who keep them safe and cared for.
Seeing an elephant in Thailand is on a lot of visitor's bucket lists, but please make sure you visit an ethical sanctuary like this one that doesn't offer elephant rides.
Read more about this and other responsible travel methods in our comprehensive guide to sustainable tourism in Thailand.
Join a Thai Cooking Class
This was one of the Koh Samui tours we would have loved to do, but unfortunately ran out of time. We were told about it by another traveller though and it sounds incredible!
We've done a few cooking classes around Thailand, specifically in Chiang Mai and Bangkok, and they are always a great day out.
Here on Koh Samui with this small group cooking school (limited to 6 people maximum) you learn about the traditional methods used to create some of the most popular Thai dishes, and you prepare everything in their well-equipped kitchen.
First you'll visit a local market in Koh Samui to tour around and select your ingredients. Then you head to the local home to dive into the experience.
This isn't about kicking back and watching the chef make the meals for you. Instead you choose from four traditional Thai dishes and are given hands-on instructions to make it all yourself under the friendly eye of a local professional.
You're sure to have lots of laughs as you cook up a storm, and you'll even finish off with a Thai dessert.
Hotel transfers, ingredients, cooking lessons with the expert chef and meals are included in this tour, and you'll be given a recipe book to take home with you too.
Bonus Trips
Those are our favourite Koh Samui tours, but there really is a lot more you can do if you have more time on the island.
Here are some other ideas to check out, from the famous Koh Phangan Full Moon Party to riding a jet ski or ATV around the area.
Jet Ski Rentals
Looking to zip around between the white sand beaches of Koh Samui in fashion? Why not rent a jet ski for a few hours?
ATV Safari
This adrenaline-fuelled day out is one of the most popular tours on Koh Samui.
Explore the interior of the island on an ATV, crossing streams, sliding around on dirt roads and checking out some of the best scenery away from the coast.
Head to Koh Phangan for the Full Moon Party
This one isn't really a day trip, as you need to spend the night on Koh Phangan. But if you like to dance, then why not do it at Thailand's most (in)famous party on Koh Phangan?
A short boat ride away from Koh Samui and Koh Tao is Koh Phangan, another stellar tropical island with some of the best landscapes in the country.
Koh Phangan is a perfect getaway for those that love wellness and yoga, which is why we went there. But it's also known for the huge raves that happen under the full moon.
Whether you want to party or just relax, Koh Phangan is an excellent stop before or after Koh Samui or Koh Tao.
Visit Some of the Other Islands
There are a lot of other magical islands and beaches to explore around Koh Samui, and you could easily spend a week checking them out.
One of the more popular islands nearby is Koh Tan (or Koh Taen). Part of the Koh Samui Archipelago, Koh Tan is a small and stunning island just 5km south of Koh Samui. It's also great for snorkeling.
Many day trip boat tours that visit Koh Tan also visit Koh Madsum, which is just a 10 minute boat ride from Ko Samui. Also known as the 'Pig Island', Koh Madsum (or Koh Mudsum), is a haven for snorkelling and swimming.
The sand on Koh Madsum is pure white, the water is refreshing and clear, and the island is home to a sanctuary of rescued pigs. It's one of the most interesting Koh Samui day trips!
DISCLAIMER: Some of the links in this article are affiliate links, which means if you book accommodation, tours or buy a product, we will receive a small commission at no extra cost to you. These commissions help us keep creating more free travel content to help people plan their holidays and adventures. We only recommend the best accommodations, tours and products that ourselves or our fantastic editorial team have personally experienced, and regularly review these. Thanks for your support, kind friend!