Our ultimate guide for where to stay in Phuket, including the best hotels in Patong Beach, Karon Beach, Kata Beach, and Phuket Town.
Phuket is a pretty vast island and offers a rich selection of accommodation so we've created a list to help you pick (based on your budget) where to stay in Phuket, Thailand.
Thailand has become one of the most popular destinations in Asia counting over 30 million visitors a year.
And one of the most visited parts is the island of Phuket.
A holiday to check out all the best things to do in Phuket is a guaranteed win for many reasons.
It's an all-year destination as the weather never gets too cold, boasting pearly white beaches and crystal waters, iconic viewpoints such as the popularly nicknamed James Bond Island, mouth-watering cuisine, and best of all affordable prices.
Phuket is an island packed with activities and you will never spend a dull day there.
So whether you want to go nightclubbing, get your tan on or explore the locals' culture – the island caters to everyone's tastes.
Depending on what you're most interested in, it's also smart to plan which area of the island is the best place to stay in Phuket. Each neighborhood offers something different!
Don't miss our ultimate guide on travelling to Thailand.
The Best Hotels – Where To Stay In Phuket
Depending on your budget, as well as your wishes, you can choose from a range of the best budget hostels, mid range hotels, and even world-class luxury hotels.
Some of them will cost less than a meal in your hometown, and some will require you to consider taking out a second mortgage.
Certain visitors prefer large, all-inclusive resorts and others are satisfied with something more basic, as long as it has a good location.
However, whatever it is that you're looking for, Phuket has options for everyone.
We'll organize the list based on the most popular areas to stay in Phuket. For example, Patong Beach is great for partying and sightseeing, whereas Karon Beach is better for beach days and family activities.
There are other nice areas to stay in Phuket that aren't in our list, such as Kamala Beach, Surin Beach, Bangtao Beach, or Mai Khao Beach. These places are slightly less popular, but we'll mention how to get to these beautiful beaches while staying elsewhere in Phuket.
Here's a list of the best hotels, both cheap and pricey, in the most famous places on the island. Enjoy our guide on where to stay in Phuket!
Best Central Neighbourhood – Patong
Patong is a lively beach town on Phuket island, known for its nightlife and beautiful coast. Even though families can visit as well, it is most popular among young people who aren't looking for a quiet vacation.
The center of Patong's nightlife is on Soi Bangla street. At night, it becomes a pedestrian zone filled with various types of entertainment.
Another type of fun activity is shopping. Each evening, the Patong Beach becomes a bazaar. If you prefer conventional methods of shopping, there are lots of shopping malls available.
It's also the most popular option for people trying to choose where to stay in Phuket, so there are lots of great options.
Patong Beach is central on the island, so it's a great location for visiting other stunning beaches like Kamala Beach and Surin Beach. It's just a 12 minute drive north of Patong Beach to Kamala Beach, and an 18 minute drive to Surin Beach.
Mai Khao Beach is another popular place to stay in Phuket, but it's all the way in the north of the island. It's a 45 minute drive north of Patong. Though Mai Khao Beach is beautiful, it's just a bit far from the rest of the Phuket attractions.
It's also just a 25 minute drive from Patong Beach to Bang Tao Beach, and there are lots of tour companies in Patong offering boat tours to nearby islands.
So if you're wondering where to stay in Phuket for beach hopping, Patong is the perfect central location for beach lovers.
READ MORE: Check out our complete 3 days in Phuket itinerary to make the most of your time in the city!
Budget – The Marina Phuket Hotel
The Marina Phuket Hotel is located 15 minutes away from the beach and some of Patong's most famous shopping centers.
Depending on your needs, you can choose between 4 different types of rooms.
Guests can stay at either the Marina Cabin, State, Quarter, or Captain room. All of them have balconies that overlook the city, cable TV, and soundproof walls.
Just like the name says, the whole hotel is marine themed. Everything from room decor to the deck-like rooftop bar will remind you of the ocean and the open sea.
If you feel like winding down after a long day, you can work up a sweat at the gym or visit the spa centre. Don't miss a chance to get a real, authentic Thai massage!
When it comes to food, the hotel's own Marine Restaurant will satisfy each visitor. The day starts with a buffet breakfast and ends with a classy dinner, with options from a variety of cuisines.
Mid-Range – Deevana Patong Resort & Spa
The Deevana Patong Resort and Spa is located in a beautiful tropical garden, so the rooms can either overlook the garden or the sea. The view is part of the spa experience, along with therapeutic massages and treatments.
If you choose to stay here, you can visit Patong beach daily, since it's only 5 minutes away.
There are two restaurants on the property – Dalah Restaurant and the Balcony.
They offer traditional Thai specialties, as well as lots of international dishes. However, if you'd like to relax and have a drink outside, make sure you stop by the Pools Bar.
Speaking of pools, the resort has two. Both the Deluxe Pool and the Garden Pool have children's sections and beautiful fountains inside them.
The rooms are spacious and bright and some even have private jacuzzis. You can opt for those that have king-sized beds and outdoor seating areas. All of them have flat-screen TVs and good air conditioning, so you will definitely have a pleasant stay.
Luxury – Amari Phuket
Your stay at the Amari will be a purely luxurious experience. The 5-star hotel is famous for its magnificent location and lavish service that will turn your stay into a hedonistic paradise.
The rooms are wonderfully decorated and equipped with every little thing you'll need for your stay. The most opulent ones have an ocean view, a multimedia hub, and rain showers.
If you choose to stay at the Club Ocean Suites, you'll have the privilege of accessing the Clubhouse. This private, idyllic area will have you enjoying the infinity pool while drinking a complimentary cocktail.
The Breeze Spa offers an abundance of calming traditional treatments, such as aromatherapy massages, facials, and body wraps. Guests are given the opportunity to experience an open-air massage since the spa has a breathtaking ocean and forest panorama.
Another interesting amenity is the possibility of learning to scuba dive with the Sea Bees diving school. They have a long history of cooperation with the hotel and even offer diving sessions in the hotel pool.
In only a couple of days, you could become a skilled diver!
Best Beachside Neighbourhood – Karon
Unlike Patong and its beach clubs and nighlife, Karon is perfect for those looking for some peace and quiet. Its main feature is the stunning white sand Karon Beach, which is one of the longest on the island.
Some parts of Karon Beach are great for those who would like to learn to dive or snorkel.
Other water sports are popular among tourists as well, such as paddle boarding or kayaking.
However, even just swimming in crystal-clear water is incredible enough.It's an overall quiet beach, so it's great for families and those looking to relax.
You can also hit the nearby Karon Temple Market, a top attraction when you visit Phuket.
Want another awesome beach to check out in Thailand? Head to Tonsai Beach.
Budget – The Palmery Resort
If you decide to stay at The Palmery Resort, expect clean rooms and kind staff at your service all day long.
The beautiful beach is within walking distance, but if you don't feel like walking, there's a free shuttle every hour that will take you there.
There are 3 categories of rooms: the Deluxe Pool View, the Deluxe Pool Access, and the Pool Access Suite.
If you pick one of the latter two, you will be able to access the pool directly from your room.
Basically, you can wake up and walk straight into the water to refresh yourself.
There's a buffet breakfast with a nice selection of food, while the Blue Latan Restaurant is there for other meals. For those who like to stay in shape, the Palmery Resort has a modern fitness center.
Mid-Range – Karon Beach Resort & Spa
Since it's located on a moderately raised hill, the Karon Beach Resort and Spa has much-needed privacy and a beautiful view. Don't worry, their tuk-tuks will transport you up and down if needed!
The resort consists of two wings – the Horizon Wing and the Club Wing.
However, the Club Wing is reserved only for those who are over 18. This section of the resort is more luxurious and it offers certain privileges, such as a private pool and jacuzzi.
The interior design of the rooms in the Horizon Wing is inspired by traditional Asian influences. All of them are comfortable and clean and each has a private balcony.
One of the advantages of The Horizon Wing is that it's perfect for those who are travelling with children.
The staff of the Jack and Jill Kids' Club will keep your kids safe and entertained.
In the meantime, you can relax in one of the two swimming pools or perhaps in the Sontaya Spa!
Luxury – Centara Grand Beach Resort
You won't worry about the time needed to get to the beach, since this resort is located directly on it.
Also, a large water park is part of the resort, with several swimming pools, cliff jumping platforms, and waterslides.
The hotel describes its architecture as Sino-Portuguese inspired, with impeccable design both on the outside and inside.
You can stay in either a suite or a villa. The rooms are all beautifully furnished and the balconies overlook the ocean and the lush gardens.
On the other hand. the villas offer more privacy and splendour. For example, the Royal Villa has a private plunge pool, two bedrooms, large living areas, and a jacuzzi.
Besides the 24-hour room service, you have the option of eating in one of the resort's luxurious restaurants. Two of them are located on the pool and the Cove Restaurant has a magnificent Asian food offer.
Whatever you choose, you can't go wrong if you pick this resort for where to stay in Phuket!
Best Family Neighbourhood – Kata Beach
Kata Beach is probably the most family-friendly place in Phuket. The beautiful sandy beach is one of its main attractions and best features.
This oasis far from the city noise and mess is ideal for relaxing holidays and vacations. Whether you choose to just sunbathe and swim, or you decide to take up some activities, you'll leave feeling revitalised.
While you're here, make sure you try traditional Thai cuisine. Kata Beach has it all, from super cheap street food to expensive restaurants!
You can easily drive to other stunning nearby beaches from Kata Beach, including Rawai Beach and Nai Harn Beach which are under 15 minutes away.
Nai Harn Beach is another popular place to stay in Phuket. But it's a bit farther away from the top Phuket attractions, so we'd recommend staying in Kata Beach over Nai Harn Beach when visiting Phuket.
So in our opinion, Kata Beach is the best area to stay in Phuket.
When you're finished with Phuket, check out all the amazing things to do in Ao Nang!
Budget – Kata Palm Resort & Spa
The Kata Palm Resort and Spa will show you the very best of Thai hospitality. The staff is polite and helpful and you will definitely feel more than welcome here.
One of the best features of Kata Palm is its two large swimming pools. Certain deluxe rooms even offer direct access to the pool from the room's balcony.
If you're looking for a bit more grandeur and space, you can choose to stay at the Deluxe Pool Access Villa.
Expert chefs cook for guests at the Angkor and Palm restaurants. You can try everything from Thai and Indian specialties to quality Western cuisine. If you'd like to spend more time outside, you can grab a drink at the Pool Bar.
An interesting way to spice up your vacation would be taking a Thai cooking class with the hotel's chefs.
If you're not into cooking, the Kata Palm offers a traditional Thai fruit carving class. This type of art might be appealing to you!
Mid-Range – Novotel Phuket Kata Avista Resort & Spa
This is another hilltop hotel with a stunning view and great service. It's perfect for those who would like to relax and unwind, as well as for those who want to be active.
It's located in a quiet spot, but the modern gym will satisfy all sports addicts!
All rooms are larger than standard hotel rooms. Even the smallest one has a balcony and the more exclusive ones have two. They also have an additional bathtub in the bedroom.
The Spa Centre offers some signature treatments and packages. Try some of the herbal massages, or perhaps the Royal Siam or Aqua Care package.
The centre also offers massages for your youngest, to improve their health and help them sleep better at night.
The main restaurant is called En Vogue and. besides many international dishes, its great feature is also the beautiful pool view.
The C2C Bar has an excellent selection of wines and cocktails. However, the best of both worlds is the Swim Up Pool Bar. Keep an eye on the regular promotions!
Luxury – Chanalai Flora Resort
The Chanalai Flora Resort offers an authentic Thai experience. All rooms are decorated in a unique, modern Thai style.
This resort is absolutely perfect for family vacations, although everyone is guaranteed to enjoy their stay!
The hotel has 2 swimming pools, along with a pool for children. During the day, kids can spend time in the Kid's Club, where they will be supervised by experts.
The big private balconies have an unforgettable view of the Andaman Sea and the hotel's garden. Each room has a 42-inch TV with Satellite channels and quality air conditioning.
The Al Fresco Terrace Restaurant is the ideal place for a summertime dinner, because of its appetising food and stunning environment.
The Pool bars are ideal for spending time with your children with a drink and a snack. Of course, even room service at the Chanalai isn't average.
The resort offers 60 dishes, a selection of wines and cocktails, and delicious desserts. It's easily one of the best luxury hotels in Kata Beach.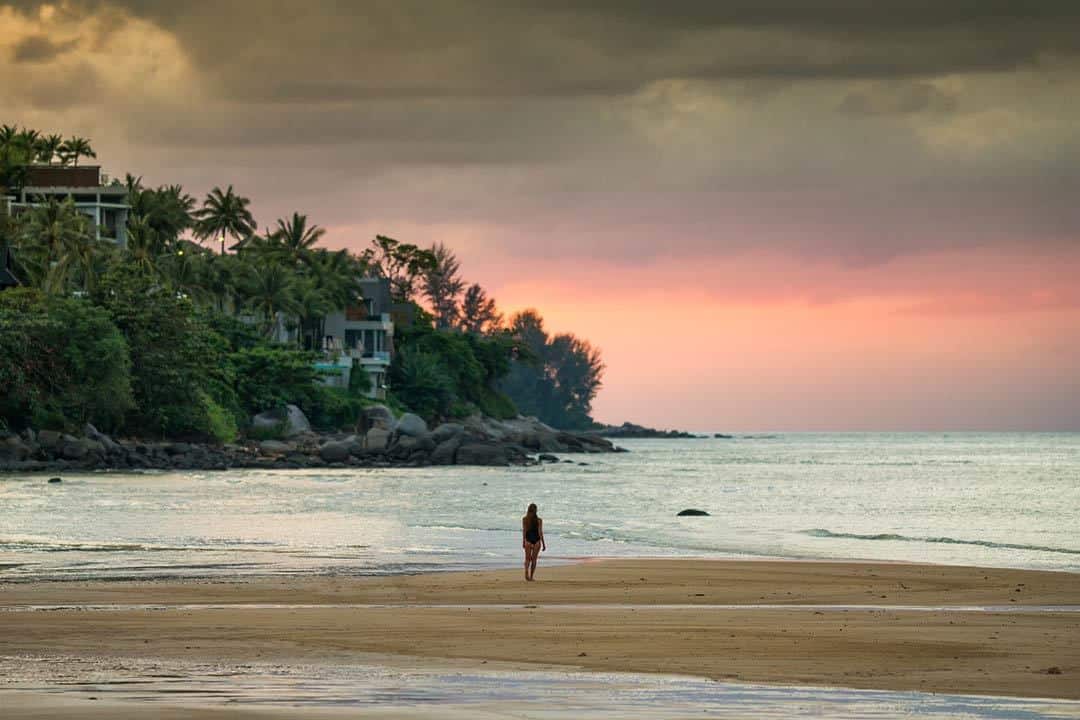 Best Local Neighbourhood – Phuket Town
Phuket Town is full of colourful history and architecture. There are plenty of things to see, do and try, but the beach is also one of its important features.
This is also where you'll find some of the best cheap hotels in Phuket, as well as stunning luxury hotels.
The Phuket Old Town is the most interesting part of the city. Phuket Town is one of the oldest in Thailand and some of the authentic buildings made in Sino-Portuguese style are still present there.
Make sure you visit some of the fantastic restaurants, museums, and temples in Phuket Town!
Budget – The Memory At On On Hotel
You might recognise this hotel from Leonardo Di Caprio's movie The Beach. It is almost 100 years old and it is particularly interesting because of its history.
It was built when tin mining was at its peak and Phuket was a prosperous town, much different from today.
The grandfather of the current owner was in the industry himself and he wanted to create a hotel for traders.
The outside of the hotel looks almost the same as the original, the only difference being the fresh paint job. All rooms are clean, renovated, and decorated with nice furniture and art.
The location of the hotel is great. You can easily access many cafes, restaurants, grocery stores, and tourist spots in Phuket Town. There are several options when it comes to rooms.
They vary from dormitories with shared bathrooms to rooms with private bathrooms and balconies.
If you're a fan of the movie, make sure you at least stop by the Memory At On On Hotel, even if you're staying somewhere else in Phuket Town. You won't regret it!
Mid-Range – Novotel Phuket Phokeethra
The Novotel chain is known for having incredible hotels all over the world, and here in Phuket Town is no exception.
Despite being a 5-star hotel, the prices here are amazing, and you can get a room for less than USD$100 a night.
All rooms are very clean and well furnished and many have private balconies.
There are over 180 different rooms and suites, so finding a spot for where to stay in Phuket won't be an issue.
There are a few different local restaurants to eat, and the panoramic Sky Lounge is a great place to unwind at the end of a big day of exploring in Phuket Town.
Definitely don't miss the food at the Amor restaurant!
This hotel is also within walking distance of the best attractions when you visit Phuket Town, such as the Sunday Walking Street Market and all the best museums.
Luxury – Westin Siray Bay Resort & Spa
The extraordinary resort is located on a hill right above Siray Bay in Phuket Town, with a stunning panoramic view of it.
If you're looking for the best place to stay in Phuket for couples, this is the one!
The 257 rooms, including 18 villas, exude luxury and provide unforgettable comfort to its guests. It's ideal for relaxing, but, most of all, it's great for active people.
The Westin has 3 infinity pools and it offers a variety of sports, such as kayaking, yoga, and beach volleyball. You can even learn to windsurf on the hotel's private beach or take some Thai boxing classes.
The hotel's very own RunWESTIN program was made with New Balance for all those who love running and nature. Grab one of their special maps and enjoy the scenery!
All rooms have ocean views and some have access to a shared plunge pool. The largest unit is the three-bedroom villa, with a rooftop garden and rainforest showers. Of course, Thai massages are a must!
It's one of the top luxury hotels in Phuket Town.
The Best Budget Hotel In Phuket – The Little Moon Residence
All those who want a nice place to stay in Phuket without spending a fortune will love this hotel. The Little Moon has spacious, clean rooms and friendly staff. For a very cheap price, what more could you ask for?
All rooms have air conditioning and balconies. The hotel's restaurant is called Le Balto and it's perfect for breakfast or a light meal throughout the day.
The 24-hour reception will be useful whenever you have a question or if you'd like some advice on what to visit first. They will do their best to satisfy your wishes and needs.
The location is great. You will stay in a quiet, relatively peaceful are, but the busiest streets are 15 minutes away. This is a great way of saving up on accommodation and spending more on experiences!
The Best Luxury Hotel In Phuket – Keemala Resort
If money isn't an issue when choosing where to stay in Phuket, you have to book Keemala Resort!
After reading our detailed Keemala Phuket review you'll understand why it's so incredible.
Unique architecture inspired by the four ancient clans of Phuket makes up this sprawling, rainforest retreat high up in the Kamala village.
Every villa has its own private pool, the restaurant serves up award-winning cuisine and the spa treatments are unreal.
You're guaranteed to fall in love with Keemala during your stay in Phuket, but with only a handful of villas available, you need to book ahead of time.
Disclaimer: Some of the links in this guide on where to stay in Phuket are affiliate links. That means if you use them to make a booking, we will receive a small commission at no extra charge to you. This helps us with the costs of running our website, and we'll be very thankful if you do use them.