Whether you're a history lover, culture enthusiast, foodie or party-goer, you're going to love this article on how to spend 3 days in Bangkok itinerary!
Bangkok became the capital of Thailand in 1782 when it was known as Siam.
Over the next 150 years, various dynasties began developing the city, building temples, complexes and establish public works.
After World War II, the population in Bangkok grew rapidly and tourism flourished as the city became a popular destination for US military personnel.
By the 1980s, the city had a well-established tourist sex trade and became known for its nightlife, clubs and go-go bars.
Bangkok has since been popularised for this and you may even remember it as one of the debaucherous locations in the Hangover sequel.
Despite this reputation, Bangkok is a thriving city and is one of the most vital tourist, financial, and commercial centres in Southeast Asia.
READ MORE: Check out our dedicated things to do in Bangkok post!
How to Spend a Perfect 3 Days in Bangkok Itinerary
The best thing about visiting a capital city is the variety of things it offers.
Exploring Bangkok brings about amazing street food, temples, nightlife, and of course, massages.
The best way to spend 3 days in Bangkok is simply to get a little taste of everything the city has to offer. Get ready to experience the best of Southeast Asia while visiting Bangkok!
Day 1
Your first day in Bangkok should be spent embracing the culture and exploring the ancient side of the city.
There are literally thousands of temples in Bangkok.
So rather than trying to visit them all, you should visit some of the most significant and grand sites such as the Grand Palace.
Do keep in mind that the temples have a strict dress code so you will need to wear shirts with sleeves, long pants or skirts and shoes. You won't be permitted with tank tops or shorts.
If you are wearing open shoes like sandals or thongs, be sure to bring socks. Don't stress though, most places have some extra clothes for you to borrow if needed.
READ MORE: Plan your trip to Thailand with our Thailand Travel Guide.
Morning: Grand Palace and Wat Phra Kaew
The Temple of Emerald Buddha, or Wat Phra Kaew, is considered the most important Buddhist temple in Thailand.
Buddhists from all over Asia come to the Emerald Buddha to pay respect.
The statue is carved from a single jade stone and the Emerald Buddha is in a meditating posture. It is located within the Grand Palace.
With the exception of the Thai King and the crown prince, no one is allowed to touch the statue.
The cloak around the statue is changed by the king three times a year, corresponding to the summer, winter and rainy seasons – a ritual performed to bring good fortune to the country.
The Grand Palace is the former home of the monarch and situated on the ground of the Wat Phra Kaew.
While the king no longer lives here, the Grand Palace is still used for important ceremonial occasions.
Opening hours: 8:30 am to 3:30 pm daily
Admission: 500 Baht
Address: Na Phra Lan Rd, Phra Borom Maha Ratchawang, Phra Nakhon, Bangkok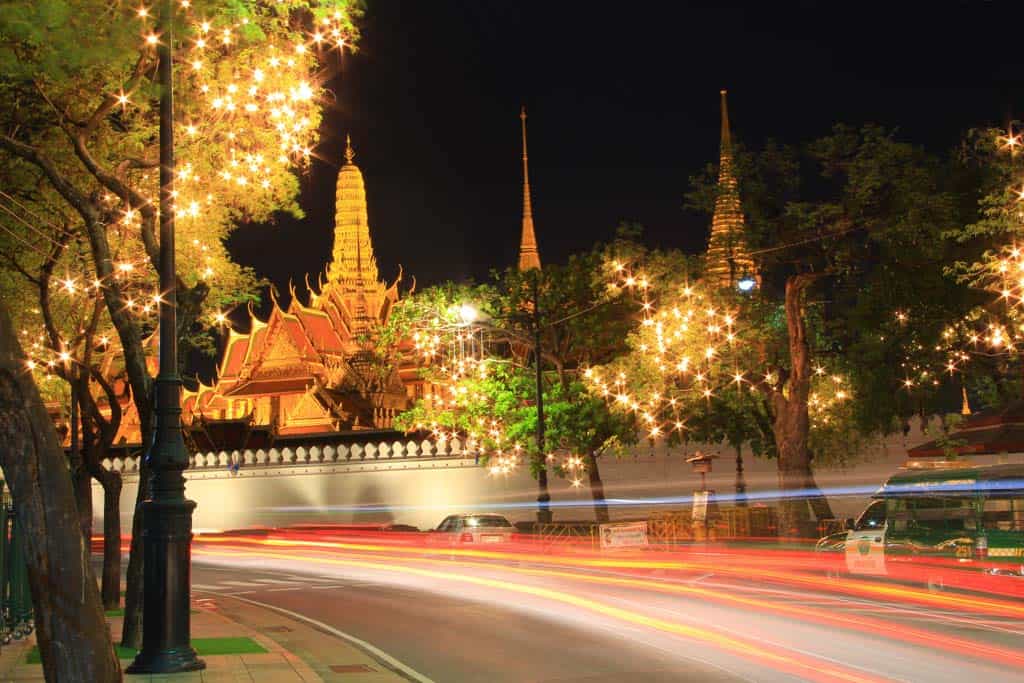 Wat Pho – Reclining Buddha
Wat Pho is only a 10-minute walk from Grand Palace.
On the way, you'll find many food stalls where you can try some delicious snacks if you're feeling peckish.
Also known as the Reclining Buddha, the impressive Wat Pho is covered in gold leaf and mother-of-pearl ornaments, is 46 metres long and 15 metres high.
The Wat Pho complex also contains four chapels with over 300 gilded Buddha images and a courtyard with Chinese statues and stupas decorated in ceramic pottery flowers and sparkling tiles.
Traditional Thai medicine and Thai massage is also taught at Wat Pho so this is your first opportunity to get a relaxing massage.
If you'd like a massage, you should book a spot when first entering the complex as there can often be a waiting list.
Opening hours: 8:00 am to 6 pm daily
Admission: 100 Baht
Address: 2 Sanam Chai Rd, Phra Borom Maha Ratchawang, Phra Nakhon, Bangkok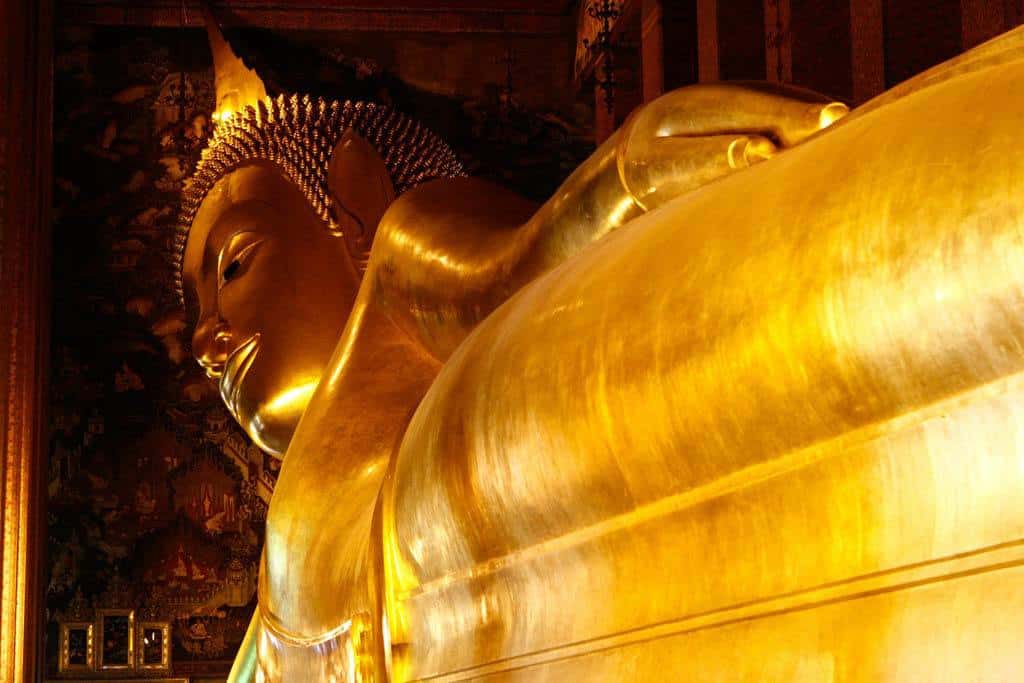 Midday – Lunch Near Wat Pho
Right outside the complex along the Chao Phraya River bank is a line of different restaurants.
We recommend eating at any of the restaurants here as they are all generally very good.
Afternoon – Wat Arun – Temple of Dawn
After lunch, hop on a ferry from No. 8 Tha Tien to Wat Arun pier (the ride is 3 Baht).
The temple's name is derived from the Hindu god, Aruna, often personified as the radiations of the rising sun.
The surface of Wat Arun reflects the first light of the morning and has steep piers reaching up to the sky.
In the middle of the temple is an 82-metre high Khmer-style tower where you can walk up the stairs and enjoy the view of Bangkok and the Chao Phraya River.
Opening hours: 8:00 am to 6:00 pm daily
Admission: 100 Baht
Address: 158 Thanon Wang Doem, Wat Arun, Bangkok Yai, Bangkok
If you prefer guided tours, you can book a walking tour that will take you through of all the temples mentioned above with detailed explanations to learn about each of them.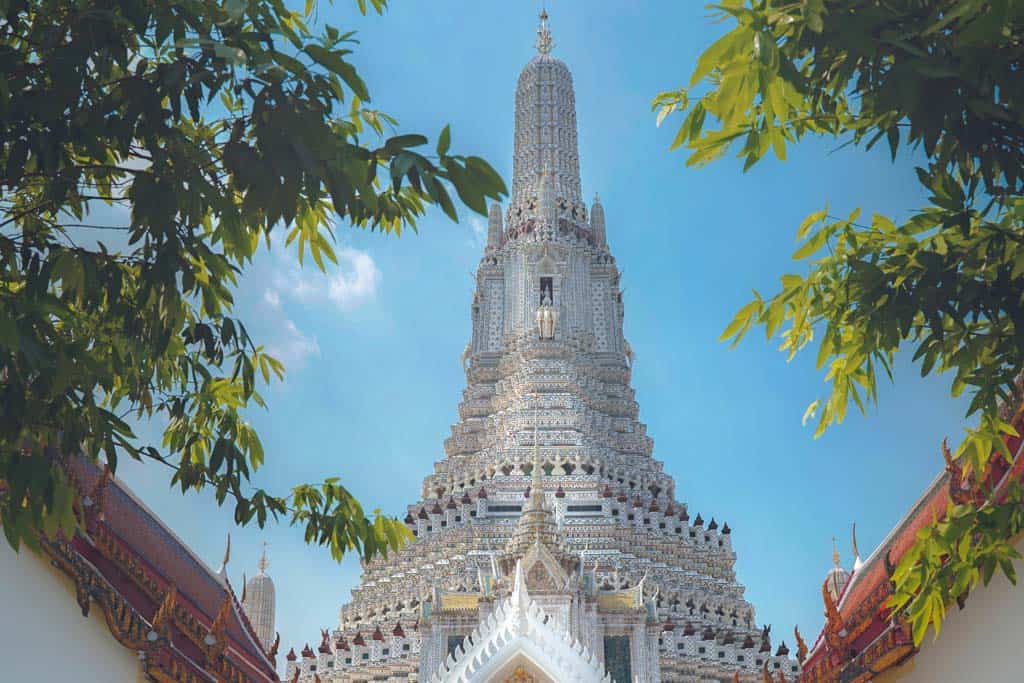 Explore Chinatown
Bangkok's vibrant Chinatown is a must-visit and is located back on the opposite side of the Chao Phraya River.
After your temple visits, hop on the ferry and get off at No. 5 Ratchawong Pier.
Also known as Yaowarat, Bangkok's Chinatown is one of the oldest parts of the city and represents the first resettlement of Chinese dating back to 1782,
Enjoy some late afternoon delights from the delicious street food vendors or meander through the maze of little alleyways and the bustling markets.
Check out our complete guide to Yaowarat Chinatown Bangkok.
Evening: Muay Thai & a Night Out
With 3 days in Bangkok, you have to check out Muay Thai. Muay Thai or Thai Boxing, is the national sport of Thailand and something for which Thais are very proud.
Dating back hundreds of years, Muay Thai is said to have been one of the eight disciplines that Thai men needed to master and was used in the Army.
While boxing only uses two points of contact (the fists), Muay Thai fighters use their elbows, legs, shins and feet just as much.
Bangkok is home to two major stadiums that host Muay Thai events, Rajadamnern Boxing Stadium and Lumpinee Stadium.
The two stadiums operate on alternate days so Rajadamnern Studium hosts on Monday, Wednesday and Friday while Lumpinee hosts fights on Tuesday and Thursday.
Both stadiums hold fights on Saturday.
The first fight usually commences at 6 pm with the main fights later in the evening (but usually take place around the middle).
You'll notice fighters making their way to the ring wearing the traditional Mongkon headband, a sacred item given to the fighter by his trainer that is commonly blessed by monks.
Be sure to book tickets ahead of time to avoid selling out. If you're keen to give Muay Thai a try, there are plenty of gyms that offer classes whether you're a complete beginner or experienced in boxing.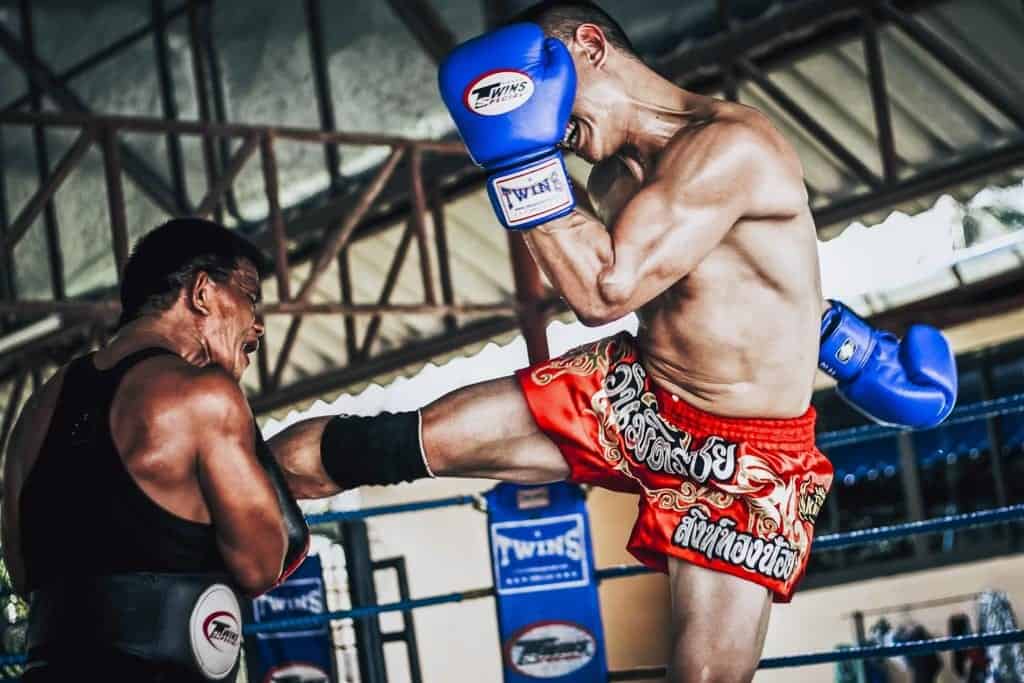 Night – Party in Khao San Road
After the boxing event, it's time to burn off some of that adrenalin built up from watching the matches.
Head to Khao San Road for some drinks and a bit of a wild time (if that's what you're into).
You'll find many street-side restaurants and bars where you can enjoy a Chang beer or head into any of the Khao San Road clubs if they fancy you.
Don't forget to leave some gas in the tank for tomorrow! It's all too easy to get carried away by the nightlife of the legendary Khao San Road.
READ MORE: Consider adding these activities to your list of things to do in Phuket!
Day 2
After an extremely eventful first day, you should take it slow and have an easy morning doing something chill like hang by the pool.
Morning – Lumphini Park
To continue your lazy morning, head to Lumphini Park, Bangkok's largest park that feels like a deep breath of fresh air.
The park is enjoyed by both locals and visitors as it's a nice escape from the usual crowded streets of Bangkok and is also very well maintained.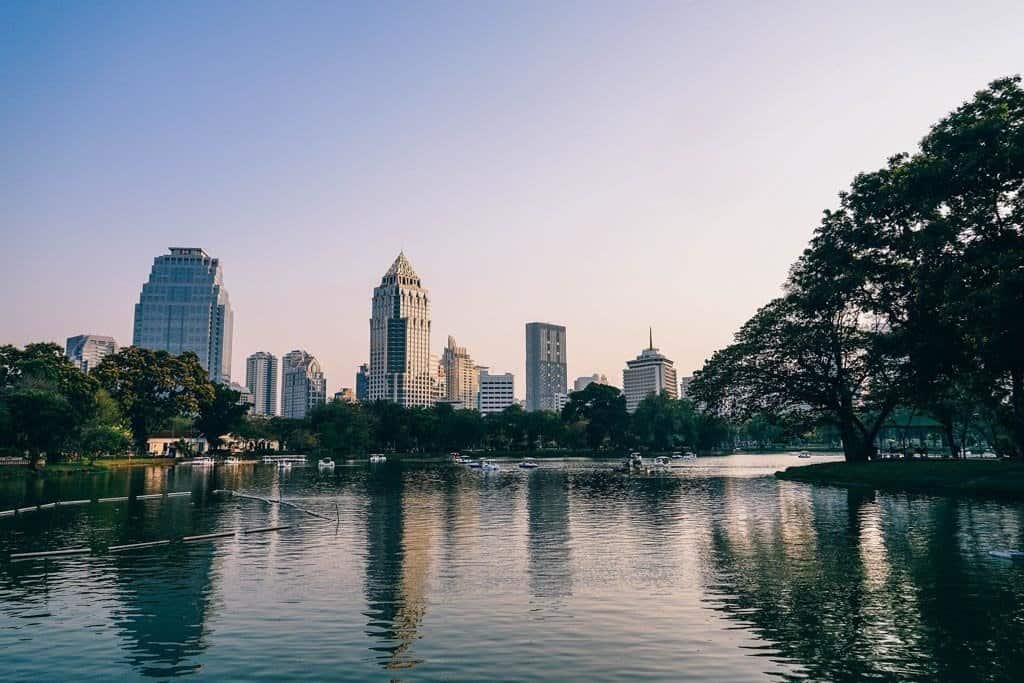 Midday – Chatuchak Weekend Market
If your 3 days in Bangkok happens to crossover on a weekend, a visit Chatuchak Weekend Market can't be missed.
You could easily spend a few hours here getting lost in the place.
The market is accessibly by public transport and is the perfect place to do any shopping and to pick up some souvenirs.
The range of merchandise is extensive and you can find clothes, art, shoes, home decor items and more.
Many of the shops operate on a fixed price policy and won't give in to haggling but it's always worth a shot as some places are more agreeable.
There is also a great selection of street food in the markets so come hungry for pad thai or spring rolls.
Bring cash!!
Opening hours: 6:00 pm to Midnight on Friday; 9:00 am to 6:00 pm on Saturday and Sunday.
Admission: FREE
Address: Kamphaeng Phet 2 Rd, Chatuchak, Bangkok
Afternoon – Museum of Contemporary Art (MOCA)
You may not expect contemporary art to come out of Thailand but this is a world-class contemporary art museum with a focus on Thai artists.
The museum showcases and exhibits works of art collected over the past three decades by Boonchai Bencharongkul, whose passion for art runs deep.
In the 20,000 square metres of white space, some 800 works selected from Bencharongkul's private collection are exhibited.
The range of artworks is incredible and for anyone who appreciates and enjoys contemporary art, this can't and shouldn't be missed.
Opening hours: 10:00 am to 6:00 pm daily. Closed Monday.
Admission: 180 Baht
Address: 499 Kamphaeng Phet 6 Rd, Chatuchak, Bangkok
Sunset – Skywalk King Power MahaNakhon
Opened in December 2016, this mixed-use skyscraper features an unconventional appearance with a spiral cut into the side of the building.
The building is located in Bangkok's central business district and is 78 storeys high.
The Skywalk is one of Bangkok's premium attractions and is located at the top of the building where you will find Thailand's highest observation deck at 314 metres with panoramic views of the city.
This view at sunset is simply stunning.
Those who are afraid of heights may want to give this a miss as it's definitely not for the faint-hearted.
Entrance tickets for the Skywalk should be booked in advance online.
Opening hours: 10:00 am to 7:00 pm daily.
Admission: 836 Baht
Address: 114 Naradhiwat Rajanagarindra Rd, Silom, Bang Rak, Bangkok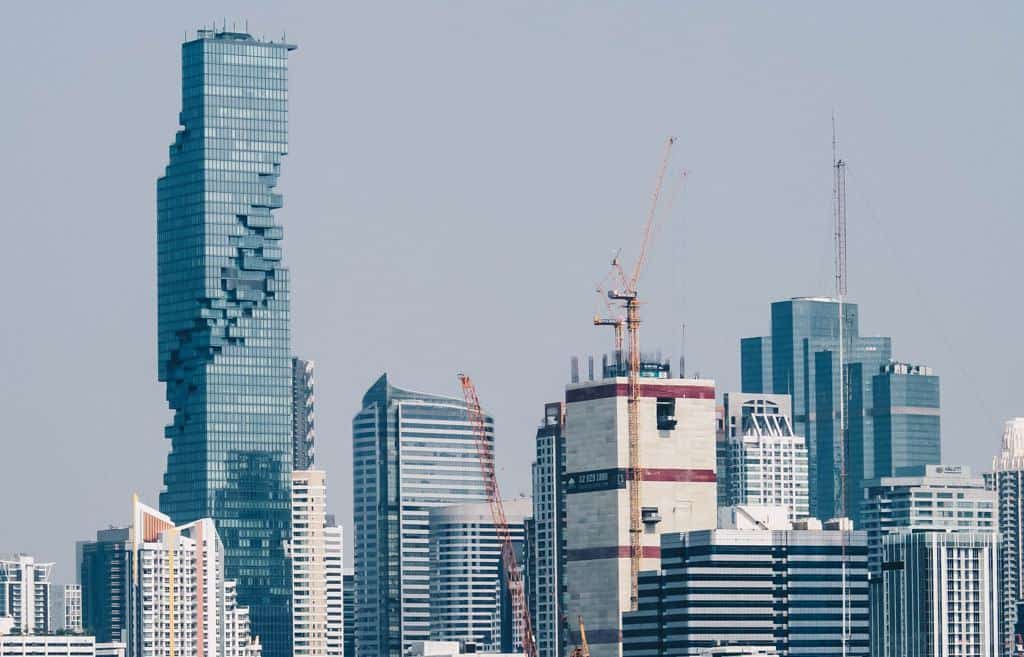 Evening – Asiatique: the Riverfront
After enjoying the sunset view on your skywalk, head to Asiatique for dinner along the riverfront.
Asiatique is located at an old international trade port that is now a huge replica warehouse complex with over 1,500 boutiques and 40 restaurants.
Here, you'll find a mix of a night bazaar and a mall – an awesome experience for anyone who loves to shop.
There is usually entertainment on most nights from ladyboy cabarets to Thai puppet shows.
You can also get a great view of the skyline from the Ferris wheel!
Opening hours: 3 pm to Midnight daily.
Admission: FREE
Address: 2194 Charoenkrung Road, Wat Phraya Krai, Bang Kho Laem, Bangkok
READ MORE: Check out these other great places to visit in Thailand!
Day 3: Go Out with a Bang
Start the day off with a visit to a Floating Market before pampering yourself and finishing your 3 days in Bangkok itinerary with a lovely bike adventure and fireflies.
Morning – Floating Market
Located 1.5 hours from Bangkok, the Damnoen Saduak Floating Market is sure to be a highlight attraction.
The market is located in Ratchaburi Province. Once there, you can find a driver on a longtail boat to navigate you along the narrow canals of the market.
At the market, you'll see a colourful display of various fresh products such as fruits and vegetables as well as prepared dishes – all for sale from boats.
Here, you can try the different produce and pick up some lunch along the canal. Be sure to try some mango sticky rice, boat noodles or coconut ice cream!
You can book an awesome half-day tour of the floating market here, which is what I recommend doing.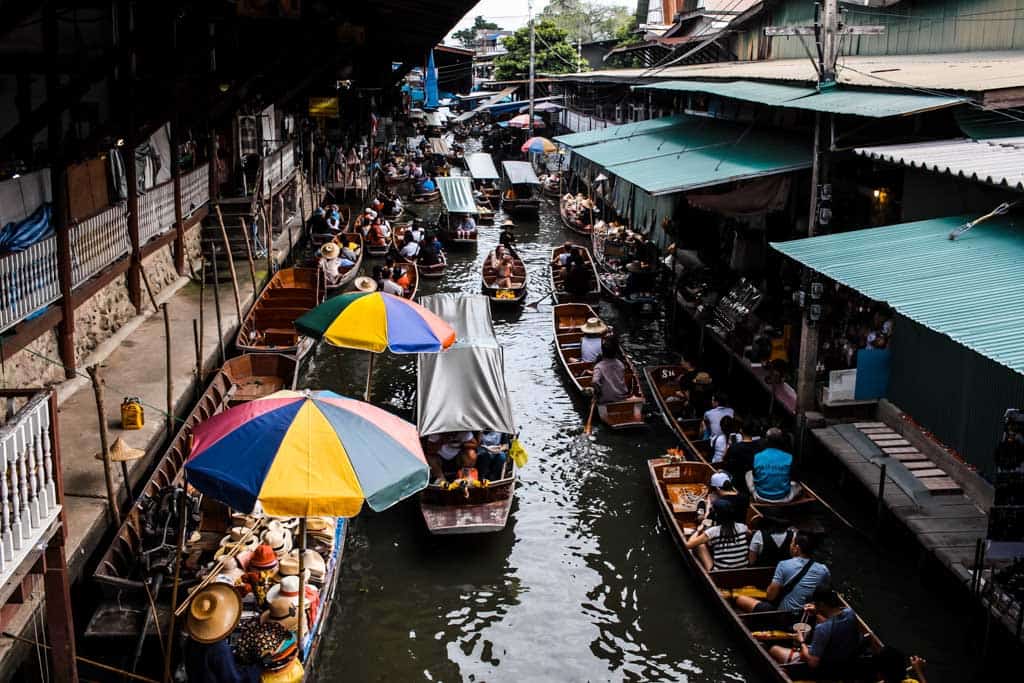 Afternoon – Spoil Yourself With A Massage
It's finally time to spoil yourself a little after a pretty full-on few days. Thai massages are typically stronger massages that combines acupressure and stretching.
You can easily find safe and clean massage places around the area and we'd rely on Google reviews to confirm this if you're unsure.
Check out Myth Massage, a beautiful and reasonably priced spa blending rustic decor with modern elements.
For those who want a bit more luxury, head to The Oriental Spa where you can find sophisticated pampering with a range of treatments from around the world.
Late Afternoon – Watch Dancing Fireflies on a Bicycle Tour
Typically not included in any itinerary for 3 days in Bangkok, this tour is a little different to many others out there and guaranteed to be a memorable experience.
Bamboo Bicycle Tours produce their own comfortable and high-quality bikes made from bamboo.
You'll start with a relaxed, bamboo bicycle adventure taking you through alleys, local neighbourhoods, along the riverbank, and through the jungle.
Along the riverbank, you'll stop for a delicious Thai dinner while enjoying the views of the city across the water.
Afterwards, the tour continues as the guide takes you to where fireflies light up the sky for an incredible encounter. The best time to spot fireflies is between May and December.
Bangkok Travel Guide
Now that you know how to spend your 3 days in Bangkok, here are some additional travel advice and tips for the area!
When to Visit Bangkok
Being the hub that it is, it's hard to find a time to visit Bangkok without crowds.
However, some periods get busier than others such as in mid-April when Songkran (Thai New Year) takes place and the city goes into an epic celebration.
April through June are also Bangkok's hottest months and can be fairly unpleasant.
With Thailand's monsoon season in September and October, the best time to visit Bangkok is around late November or early December when the rain has cleared and temperatures are still quite cool.
At this time, the Christmas holiday crowds still haven't arrived so you still have some relief from the big crowds.
If you don't mind the wet, visiting in September and October will mean cooler temperatures, fewer crowds, and better rates on airfares and accommodation.
Getting Around Bangkok
To get around a city the size of Bangkok means navigating a few different transport options. The city has the BTS Skytrain, MRT Subway, buses, taxi, motorbike taxis, tuk-tuks, songthaews, and rideshares.
Everything is fairly easy to navigate and Google Maps displays public transport options so you can easily plan ahead.
Public transport is generally the quickest and cheapest option to get around.
For rideshare, Thailand uses Grab as there is no Uber there.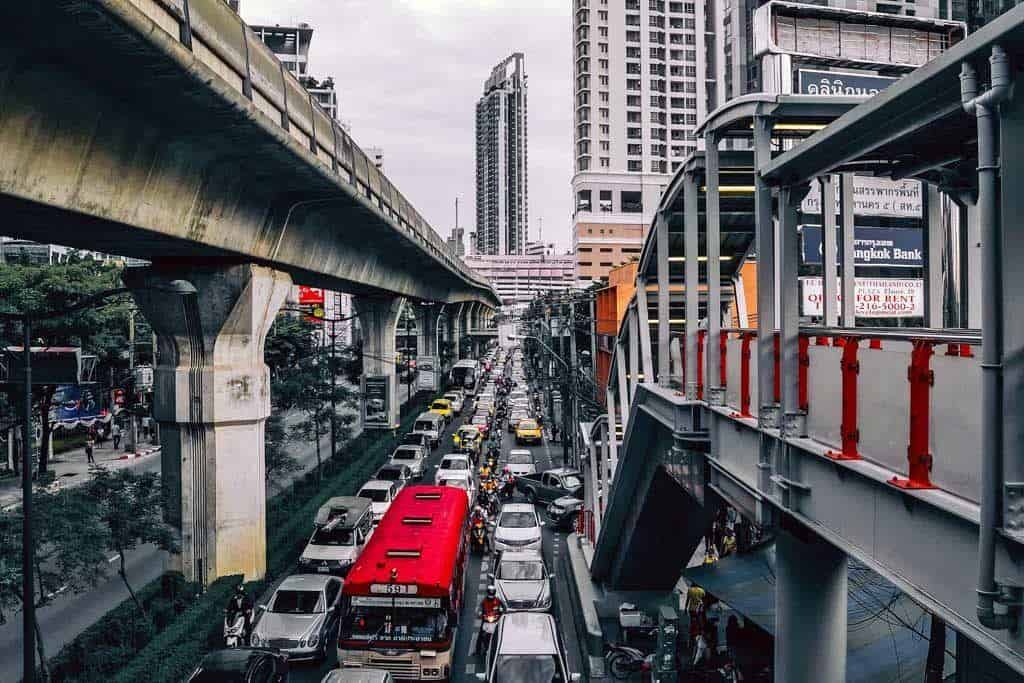 Where to Stay in Bangkok
You can find any style of accommodation in Bangkok, from cheap backpacker hostels to full-blown luxury hotels.
Being a city well connected by public transport, it's vital for visitors to stay in areas that have easy and convenient access.
If you're in Bangkok for 3 days, there are a few different areas we recommend staying in depending on what kind of vibe you're after.
Khao San needs no introductions and well known among backpackers and party-goers. With an epic nightlife scene, cheap street food stalls and plenty of hostel options, Khao San is amidst all the action and where you want to be to have a good time.
For travellers wanting to stay a little closer to historical sites and enjoy views over the river in a fancier hotel, the Bangkok Riverside is an idyllic location. This is where most 5-star hotels are situated.
Sukhumvit is Bangkok's most stylish and cosmo neighbourhood, laced with rooftop bars, great shopping and plenty of international dining options. The area is popular among expats and is a popular area of bars and nightclubs.
Another great base is Silom, Bangkok's business district area which has convenient access to public transport, is where Lumphini Park is located and has a variety of delicious Thai restaurants in the area. A couple of streets in the area also have go-go bar shows and parties that go on all night long!
The Best Hostel in Bangkok – Siamaze Hostel
Located on Ratchadapisek Road in the business/residential area of Bangkok, Siamaze Hostel has convenient access through the Suthisan MRT station within a 10-minute walk.
For travellers who want to get away from the craziness of Khaosarn Road, this is the place to stay if you still want easily connected transport to the old town.
The hostel offers complimentary self-serve breakfast, has a cozy lobby and lounge area to relax at the end of a long day, free wifi, laundry facilities and a kitchen to use (not that you should be doing your own cooking if you're in Bangkok, come on!)
Best Budget Accommodation for Couples – Vera Nidhra Bed & Breakfast
This chic boutique hotel has 10 rooms with 4 different designs – all very modern and stylish and resembles a B&B more than a typical hotel.
The hotel is charming with attentive and friendly staff who want to ensure that it feels cozy and homely. Rooms have comfortable beds, private bathrooms, a TV and wifi.
Located in a local neighbourhood in Bangkok, you'll be living amongst locals in the city whilst still being a 5-minute walk from Krungthonbury BTS station and one station away from Central Pier.
Best Mid-Range Hotel in Bangkok – Rembrandt Hotel & Suites Bangkok
This hotel offers everything for a comfortable stay in Bangkok without all the bells and whistles.
Rembrandt is a large and classy hotel within walking distance of Asoke (BTS) and Sukhumvit (MRT) public transport stations and located in the trendy Sukhumvit area.
While the rooms could do with a bit of sprucing up styling-wise, it's a step up from other basic mid-range hotel options and provides excellent value for money.
The buffet breakfast is an incredible variety of Thai, Western, Indian, Japanese and Chinese cuisines. The hotel also has several restaurants and bars with stunning views over the city.
Guests can expect high levels of customer service, great food and a clean and comfortable stay.
Best Luxury Hotel in Bangkok – Eastin Grand Hotel Sathorn
One of the premier hotels in Bangkok, Eastin Grand Hotel is located in the Sathorn business district and is the only hotel with its own direct access to the BTS Sky Train system.
The luxuriously appointed rooms and tastefully decorated, spacious and feature all of the amenities you'd expect in a high-end hotel.
The hotel also features a swimming pool (that can get pretty busy), a 24-hour fitness centre, a restaurant, bar and lounge and babysitting services. Some rooms offer access to an executive lounge which offers a buffet from 5:30 pm – 7:30 pm which includes cocktails.
Best Restaurants in Bangkok
Being the hub that it is, Bangkok is home to an endless list of wonderful restaurants.
You won't be short of local, fusion or international cuisines here.
Whether you're after some cheap and tasty pad thai or a teppanyaki experience, Bangkok has it all.
Budget – The Family
The Family serves delicious home-made Thai food for excellent prices without compromising on quality.
With a simple menu and vegan options, this casual restaurant aims to keep a chill vibe while always serving up awesome dishes.
Mid-range – The Oasis – All Day Dining
The Oasis – All Day Dining offers a fantastic array of dining options for breakfast, lunch, and dinner and is open from 6 am to 11:30 pm daily.
Here you'll find a great selection of seafood, international and Asian cuisines.
The restaurant also promises to serve the best brunch in Bangkok on Sundays so there's only one way to find out!
High-End – The Silk Road
For a high end dining experience, head over to the Silk Road.
This upscale Asian fusion restaurant is known for its incredible dim sum and cozy atmosphere. It's a great place to eat during your Bangkok itinerary.
DISCLAIMER: Some of the links in this article are affiliate links, which means if you book accommodation, tours or buy a product, we will receive a small commission at no extra cost to you. These commissions help us keep creating more free travel content to help people plan their holidays and adventures. We only recommend the best accommodations, tours and products that ourselves or our fantastic editorial team have personally experienced, and regularly review these. Thanks for your support, kind friend!