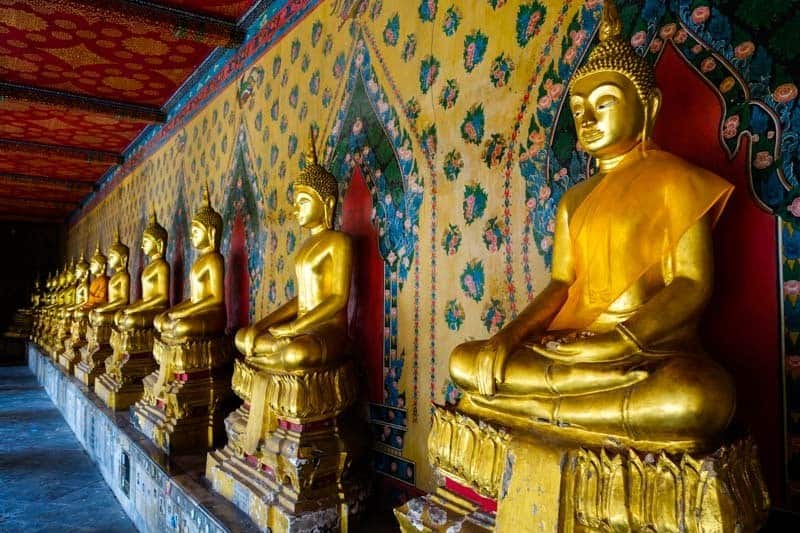 This article was put together in collaboration with Expedia.com
Golden palaces shimmer under a tropical sun with street food vendors selling tasty dishes for only a few baht. Entranced with a fascinating culture that is truly unique, while boasting one of the most infamous nightlife scenes around.
Both modern and ancient, and always interesting, there is no other place on earth quite like Bangkok.
The capital of Thailand has become one of the most popular gateways to Asia, with over 13 million "farangs" visiting the bustling city every year.
Located on the Chao Phraya River, this city is full of stunning sights, delicious Thai street food, glittering temples, and an exciting nightlife.
Check out our brand new article on the best places to visit in Thailand!
The Best Things to Do in Bangkok, Thailand
No trip to Southeast Asia is complete without at least a few days spent exploring the sights. When you visit Bangkok, there is so much to do here that embodies the typical Thai culture.
Get a Thai Massage, eat delicious Thai food, see Muay Thai boxing, visit a floating market, and explore downtown Bangkok.
With so many amazing options for accommodation in Bangkok to make your stay memorable, Bangkok is sure to become one of your favourite cities.
Here is a list of the 10 best things to do in Bangkok.
Check out our brand new article on the best things to do in Chiang Mai!
Wat Pho
Also known as the "Temple of the Reclining Buddha", Wat Pho was originally built in the 17th century and has been restored and altered by numerous kings since its construction.
Today Wat Pho is spread out over 20 acres and houses over one thousand Buddha images. By far the most famous (and impressive) structure is the Reclining Buddha, which is an enormous 46m long and 15m high.
Adorned in gold leaf and mother-of-pearl inlays, it is a sight that will stay with you forever. It's one of the most unique things to see in Bangkok as well as Thailand.
Address: 2 Sanam Chai Rd, Phra Borom Maha Ratchawang, Phra Nakhon
Opening hours: every day from 8 AM – 6 PM
Price: 100 baht
READ MORE: Here's everything you need to know about travelling in Thailand.
Khao San Road
Alex Garland described Khao San Road as the "centre of the backpacking universe" in his iconic novel The Beach, and after spending a few minutes on the bustling street it is easy to see why.
Travel agents, cheap accommodation, street food, and popular bars line Khao San Road, with travellers wandering up and down in either a boozy haze, or in constant awe of their surroundings.
You can also find places to get a traditional Thai massage or see Muay Thai boxing, or just wander around and indulge in all the best street food.
Tattoos, fried insects, peddlers, buckets, you could never get bored on this 1km stretch of chaos. Whether you love it or hate it, soaking up the atmosphere on Khao San Road is still one of the best things to do in Bangkok.
Grand Palace
From 1782 right through to 1925, the Grand Palace was the official residence for the Kings of Siam, and today it is the most celebrated of all Bangkok attractions.
Located on the banks of the Chao Phraya River and surrounded by four towering walls, the Grand Palace is a sprawling complex boasting a collection of temples, offices, courtyards, gardens, and halls.
Don't miss out on Wat Phra Kaew (Temple of the Emerald Buddha), which is the most sacred temple in the entire country.
Allow at least a few hours to properly explore the Grand Palace, and make sure you have plenty of space on your camera for photos!
Address: Na Phra Lan Rd, Phra Borom Maha Ratchawang, Phra Nakhon
Opening hours: every day from 8:30 AM – 3:30 PM
Price: 500 baht
Lumpini Park
When the hustle and bustle of Bangkok is getting to be too much, head to Lumpini Park – the 142-acre green space in the middle of the city.
Locals and foreigners alike roam around the grounds, soaking up the serenity that is hard to find anywhere else in Bangkok.
Whether you want to take a boat ride on the large artificial lake, run a few laps through the trees or join in on a dance fitness class, you will always find some great way to pass the time in Lumpini Park.
If you wish to spend some time relaxing in nature, then Lumpini park is one of the places to visit.
Address: Rama 4 Road | Wangmai, Pathumwan
Opening hours: every day from 4:30 AM – 10 PM
Wat Arun
Standing 70m tall over the Chao Phraya River opposite Wat Pho, Wat Arun is completely unique compared to the other ancient architecture found in Bangkok.
Built in the 17th century, one of the best highlights of the "Temple of the Dawn" is being able to climb its steep spires for unparalleled views of the city.
The structures are made with intricate craftsmanship and are lit up brightly when night falls.
A true architectural masterpiece, it's considered a Bangkok must see!
Address: 158 Thanon Wang Doem, Wat Arun, Bangkok Yai
Opening hours: every day from 8 AM – 6 PM
Price: 100 baht
Experiencing The Nightlife
There is a lot to see and do in the Thai capital, but no Bangkok sightseeing would be complete without at least one night out on the town!
While Bangkok does host a huge number of go-go bars and strip clubs in pockets like Soi Cowboy, Patpong, and Nana Plaza, there is a lot more to the scene than just ping pong shows.
All over the city are chilled pubs, pumping nightclubs, boutique cocktail lounges, and rooftop bars. If live music is your thing then head to Iron Fairies on Thong Lor.
If you're more into eating than drinking or dancing, consider booking a midnight food tour by tuk tuk! Whiz around the city after dark with your local guide and taste all the best eats and street food in the city.
Chatuchak Weekend Market
If you are looking to buy some souvenirs or eat more street food, then Bangkok is the place to do it; and there is no better shopping than at the Chatuchak Weekend Market.
With over 8000 stalls spread out on 35 acres, Chatuchak Market is the largest market in the entire country.
Everything is separated into 27 sections to help with navigating the sprawling complex, but half the fun is just getting lost in the narrow alleyways. Be sure to brush up on your negotiating skills, and always keep an eye on your belongings.
It's one of the most popular Bangkok tourist attractions, everyone loves a bargain.
Address: Kamphaeng Phet Road, Lat Yao, Chatuchak
Opening hours: Wednesday – Thursday from 6 AM – 6 PM (Plant section only), Friday from 6 PM – 12 AM (Wholesale section), Saturday – Sunday from 9 AM – 6 PM (Whole market)
Vimanmek Mansion
Close to the Dusit Zoo is one of Bangkok's most special attractions. The Vimanmek Mansion is the former royal palace of King Rama V and is the largest golden teakwood mansion in the entire world.
Built in 1900, the Vimanmek Mansion is a marvellous museum complete with antique furniture, memorabilia, paintings, and old photographs.
You must dress appropriately when visiting the mansion.
If you're interested in Thai art and history, you can also visit the Jim Thompson House. Only about 6km away from the Vimanmek Mansion, the Jim Thompson House houses the art collection of the American man who started the Thai silk industry, Jim Thompson.
Address: 5/1 Ratchawithi Rd, Dusit, Dusit District
Opening times: every day from 8:30 AM – 4:30 PM
Price: 100 baht
Forensic Museum
Not for the squeamish, the Forensic Museum in Bangkok is one of the creepiest places in the entire city.
Here you can cast your eyes on preserved specimens of babies born with genetic disorders, fetuses, corpses of people who have been murdered or died in accidents and other such grotesque examples.
This is not the kind of thing that would entice everyone, but if you are looking for a truly unique thing to do in Bangkok, or just want to gross yourself out for the day, then the Forensic Museum is the place to do it.
Address: 2, Wang Lang Road, Siriraj, Bangkok Noi, Siriraj Hospital
Opening hours: Wednesday – Monday from 10 AM – 5 PM (Closed Tuesdays)
Price: 200 baht
Floating Markets
It's not just the streets that are a hive of activity – In Bangkok even the rivers and canals are full of life!
The floating markets around Bangkok have become a bit of a tourist attraction in recent years, but this doesn't make the experience any less worthwhile.
Fruits, vegetables, spices, and ready-to-eat street food is all sold by smiling Thai ladies rowing narrow boats, surrounded by teakwood houses.
Some of the best floating markets such as Lam Phaya, Amphawa, and Damnoen Saduan are actually a bit outside of the city, so take local transport, rent a driver or book a tour to visit them.
Visit the local weekend markets with Klook for a full day of bartering at a floating market and trying to decide which quirky souvenirs to bring home with you!
Looking for accommodation in Bangkok?
DISCLAIMER: Some of the links in this article are affiliate links, which means if you book accommodation, tours or buy a product, we will receive a small commission at no extra cost to you. These commissions help us keep creating more free travel content to help people plan their holidays and adventures. We only recommend the best accommodations, tours and products that ourselves or our fantastic editorial team have personally experienced, and regularly review these. Thanks for your support, kind friend!