Trying to figure out the best places to visit in Australia can be a daunting task. Luckily for you, I've done the travel and exploring to make your decisions easy.
The country is huge, and lots of its amazing attractions are widely spread out across the continent.
This article is part of our comprehensive travel guide to Australia, which you can read here.
Australia has six states and two territories, each offering a vast number of unique tourist attractions for travellers to enjoy.
Top Places to Visit in Australia
So when planning a trip to explore the top Australian holiday destinations, you may want to pick one state or coast in which to start. Then either explore that state fully or hop on a few domestic flights to see some other parts of the country.
Better yet, rent a car or campervan and go on a road trip!
Hopefully, this article on where to go in Australia will inspire some of you to explore one, two, or all eight of this country's incredible regions.
So here are the best places to visit in Australia.
The best way to get around is to rent a car and explore on your own! We recommend Rental Cars, which has the largest range of vehicles for the best value on the market.
1) Melbourne
Many travellers (and Australians) will say that Melbourne is their favourite city.
As the capital of Victoria, Melbourne is one of the colder cities in Australia because it is located so far south.
But what it lacks in warmth and sunshine it makes up for in art, culture, cuisine, architecture, and entertainment.
Melbourne is known for its trendy cafes, art galleries, nightlife, and a wide variety of restaurants.
You can spend your time sipping high-quality coffee, searching for colourful street art, and enjoying cocktails from a rooftop bar overlooking the city skyline.
READ MORE: Check out the perfect 3 day Melbourne itinerary.
2) Karajini National Park
Located in Western Australia, Karajini National Park is perfect for adventurous travellers and really is one of the best places to travel in Australia.
This massive area of wilderness is packed to the brim with natural beauty and outdoor activities.
Go swimming in Fern Pool, photograph Fortescue Falls, hike Mount Bruce or try and spot some indigenous wildlife.
The park is most famous for its gorges and canyons, whose swirling rock patterns are incredibly photogenic.
Some of the most popular gorges in Karajini National Park include Hamersley Gorge, Joffre Gorge, Hancock Gorge, Weano Gorge and Dales Gorge.
3) Ningaloo Reef
Near the town of Exmouth in Western Australia is Ningaloo Reef, one of the best places to see whale sharks in the world.
Every year these massive but gentle creatures gather around Ningaloo Reef to feed, and travellers can book a tour to go snorkelling and swimming alongside them.
This is one of the best places to visit in Australia for lovers of marine life.
You can fly here, but we recommend travelling to the reef by going on a Perth to Exmouth road trip.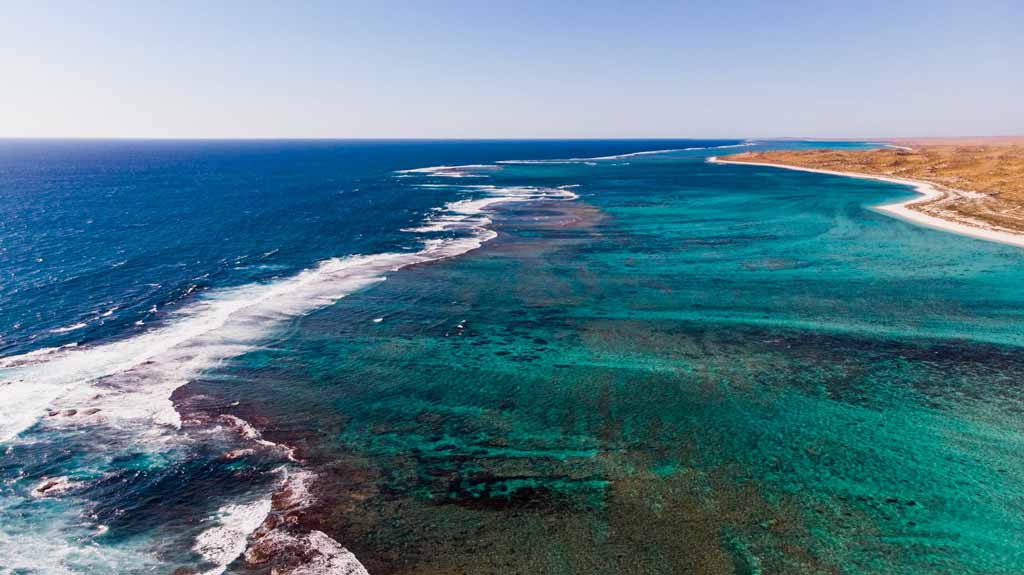 4) The Whitsundays
For those who often daydream about a perfect island paradise, the Whitsundays is one of the most beautiful places in Australia.
Located on the east coast of Queensland and encompassing over 70 islands, the Whitsundays islands have stunning beaches and rich marine life.
Most of the islands are uninhabited, and most visitors choose to stay in Airlie Beach, the main tourist town of the Whitsundays.
Airlie Beach, along with Whitehaven Beach and the beaches of Hamilton Island, boasts some of the best views in the area.
Sparkling white sand, palm trees, and turquoise water make up most of the scenery, and the wildlife of the Great Barrier Reef fills the surrounding oceans.
Popular activities in the Whitsundays include snorkelling or diving in the reef, sailing around the islands, or taking a helicopter ride over the famous heart-shaped reef and enjoying an aerial view.
5) Darwin
The capital of the Northern Territory, Darwin is a city filled with history.
Darwin is home to a few great museums and galleries, including the fascinating Museum and Art Gallery of the Northern Territory which showcases art and technology from the Pacific.
It only takes a couple of days to explore the city of Darwin, and most travellers use the city as a gateway to visiting nearby places like Litchfield National Park and Kakadu National Park.
6) The Snowy Mountains
Australia is not famous for its skiing and snowboarding, but the Snowy Mountains are one of the best places to go for those who want to try out some winter sports.
Stretching across southern New South Wales and northeastern Victoria, the Snowy Mountains are full of jagged peaks, local wildlife, and a few top-notch ski resorts.
This is the highest mountain range in mainland Australia, and it is home to the country's tallest mountain, Mount Kosciuszko.
During the summer months of December, January, and February, travellers come to Kosciuszko National Park for hiking and wildlife-spotting.
During the winter months of June, July, and August, the mountains fill up with fresh snow and provide perfect slopes for skiing and snowboarding.
The most popular ski resort is Thredbo, located at the foot of Mount Kosciuszko.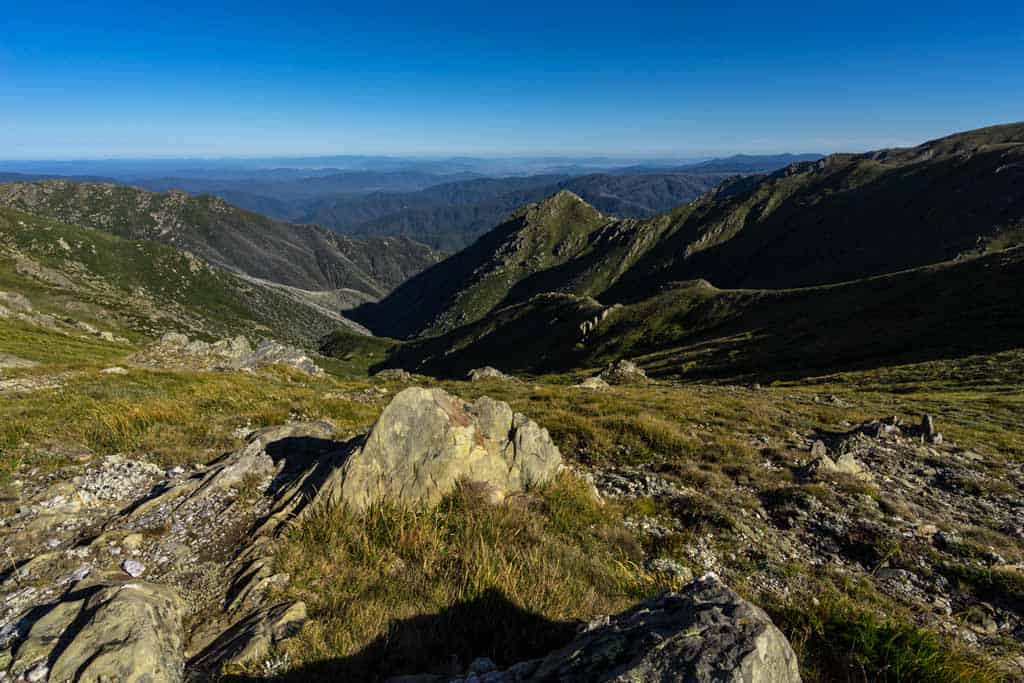 7) Sydney
If you're wondering where to go in Australia, chances are you will begin your journey in Sydney.
Sydney is the biggest travel hub in the country, and home to many of the top tourist attractions in Australia.
The downtown area is full of skyscrapers and traffic, so the real magic lies near the water.
Sydney Harbour is iconic, and landmarks such as the Sydney Opera House, the Botanic Gardens, and the Sydney Harbour Bridge are not to be missed.
Take the ferry from Circular Quay up to Manly and enjoy the gorgeous Sydney beaches, or take the bus out east to the popular Bondi Beach, Coogee, and Bronte.
READ MORE: Plan to have at least 1 awesome day in Sydney when exploring the best places to visit in Australia!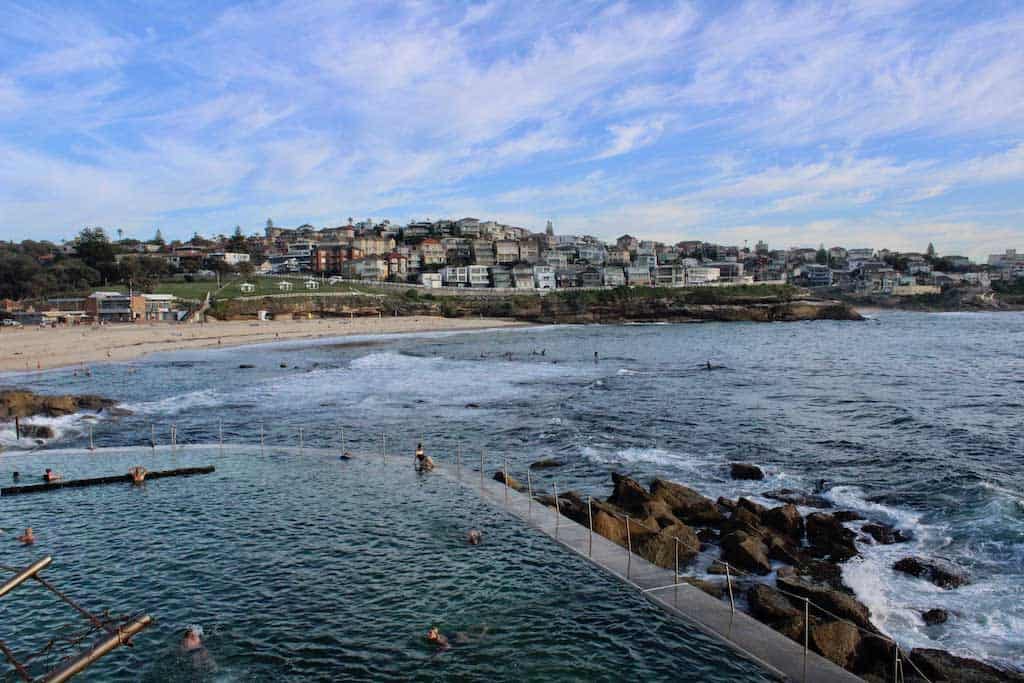 8) Esperance
To find that picturesque combination of turquoise water and white sand while searching for the best places in Australia, head to Esperance.
This coastal town has plenty of stunning beaches, including West Beach, Blue Haven Beach, Lovers Beach, and Fourth Beach.
For more natural beauty, head to Cape Le Grand National Park to find fields of wildflowers, secluded beaches, and lots of native Australian wildlife.
Other attractions in the area include Lake Hillier, the famous pink lake, and the Recherche Archipelago where you can find adorable seals and sea lions living peacefully.
READ MORE: Be sure to add these great things to do in Esperance to your Australia itinerary!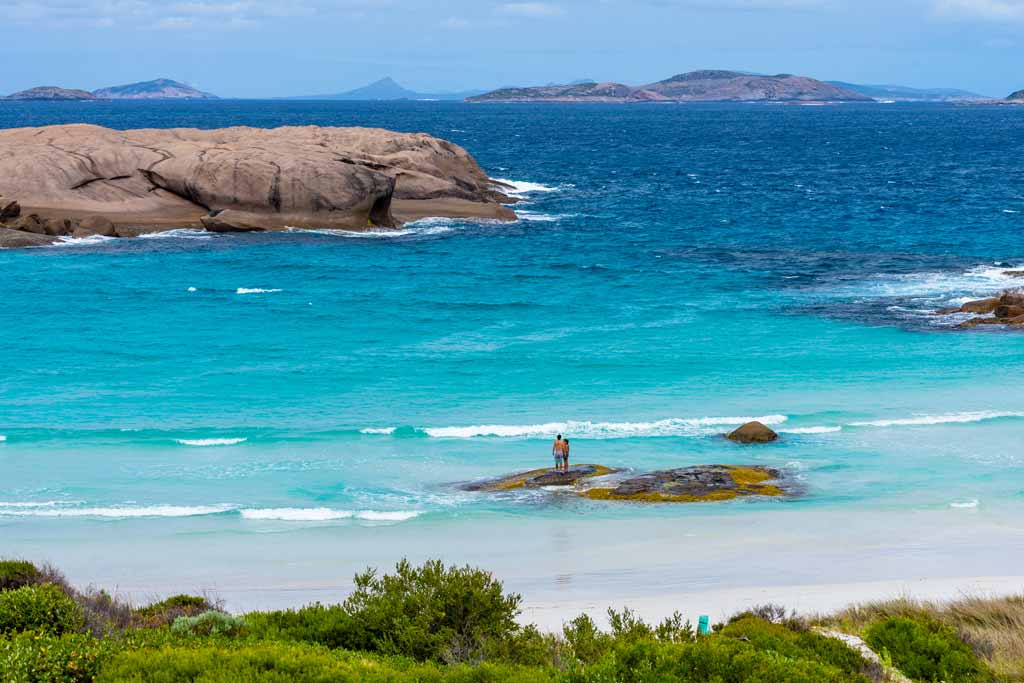 9) The Daintree Rainforest
If you find yourself venturing up to tropical north Queensland, try to make a stop in the Daintree Rainforest.
This is easily one of the best places to see in Australia.
It is the oldest tropical rainforest in the world, and exploring this corner of the country truly feels like stepping back in time.
Between the giant palms, jungle vines, tropical fruits, messy mangroves, deserted beaches, massive trees, and interesting wildlife, the Daintree Rainforest can feel like another planet.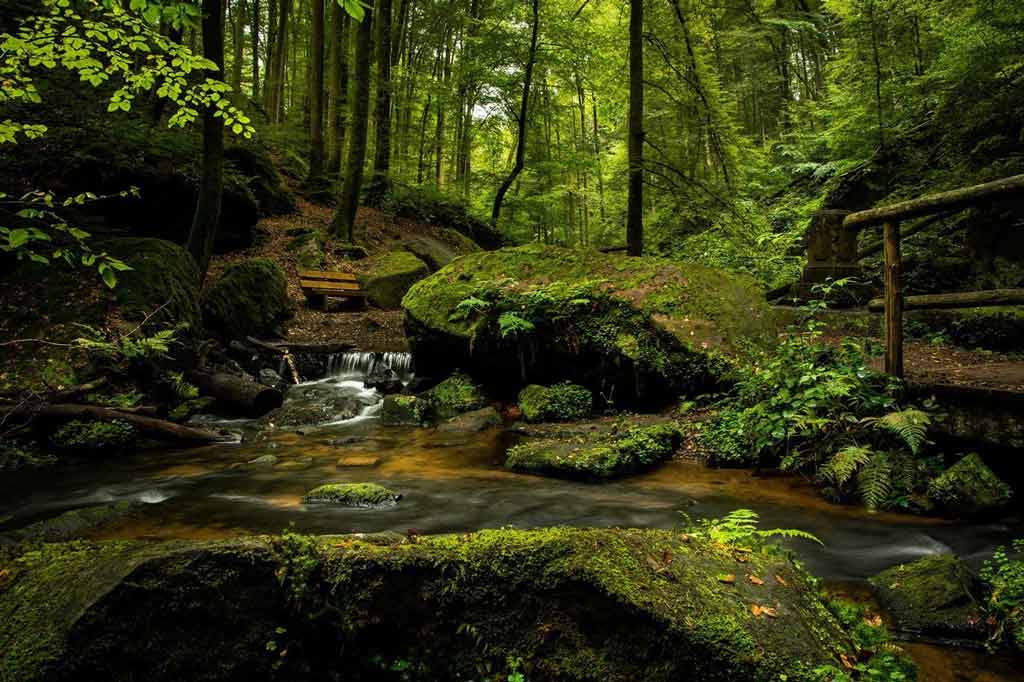 10) Tasmania
The island off the southeast coast of Australia, known as Tasmania (check out all the epic things to do in this article), is arguably one of the most beautiful and wild places to visit in Australia.
Tasmania is most well known for its clean, fresh air, its flavorful local produce, its abundance of national parks and nature reserves, and its overall gorgeous natural beauty.
The Bay of Fires, Cradle Mountain and the granite peaks of Freycinet National Park are among the most popular natural sights among travellers.
There are plenty of hiking opportunities in Tasmania for fitness enthusiasts, including the challenging and scenic 6 Day Overland Track.
The capital city of Hobart is also a lovely place to visit. It is full of world-class restaurants using local produce and dairy products, as well as plenty of museums that showcase the rich history and artistic talent of the island.
READ MORE: Use our 2-week Tasmania itinerary to plan your visit!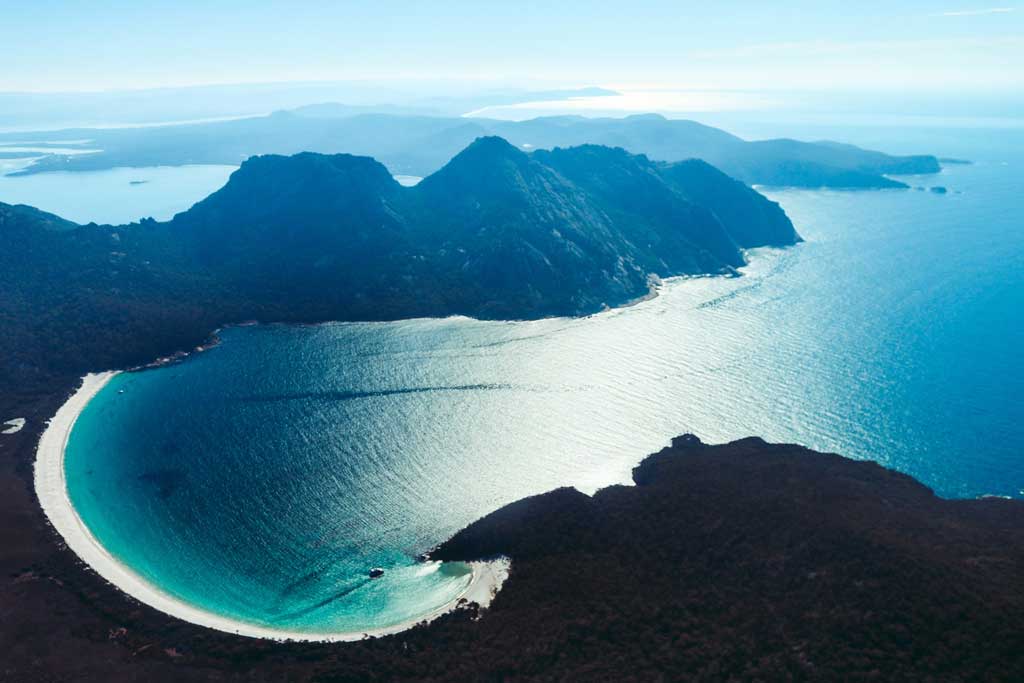 11) The Southern Highlands
Just a few hours southwest from Sydney lies the Southern Highlands, a luscious area of rural New South Wales.
The Southern Highlands are full of rolling green hills, dense forests, hiking trails, and majestic waterfalls.
After exploring in the wilderness, you can stop by one of the many adorable local towns like Bowral or Robertson to grab a classic Australian pie or browse through an antique shop.
READ MORE: Check out our epic Australia itinerary blog post for information on how to make the most of a couple of weeks in the country.
12) Jervis Bay
If you head about 140 km south of Sydney you'll find Jervis Bay, a small but stunning corner of NSW.
The bay is home to a few small villages, and lush forests weave their way in between the civilisation.
There are some great bushwalks and hikes in Booderee National Park in Jervis Bay, though the area's highlight is definitely the beaches.
For the best views, hike along the White Sands Coastal Track. This easy walking trail through the bush brings you to several beaches with velvety sand and refreshing, calm clear waters for swimming.
Along this trail, you'll find Hyams Beach, which some claim has the whitest sand in the world.
READ MORE: Check out our list of the best things to do in Jervis Bay!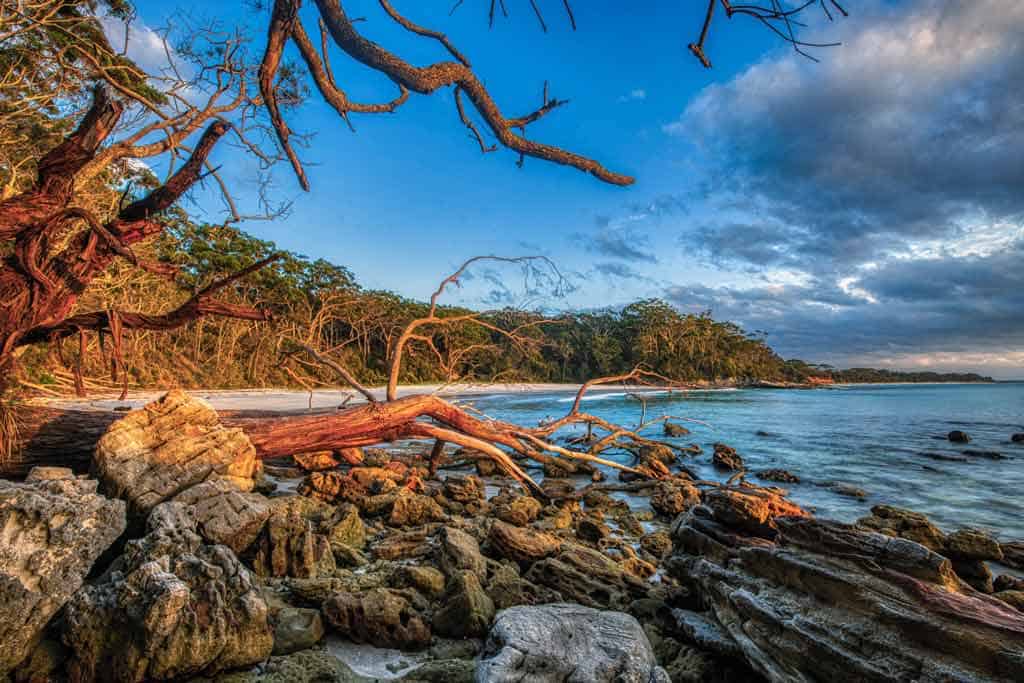 13) Adelaide
As the capital city of South Australia, Adelaide is a great place to visit for culture and cuisine.
Though not as huge as Sydney or Melbourne, Adelaide has plenty of museums, art galleries, festivals, shops, restaurants, and cafes to entertain any traveller.
Popular places to visit include the Adelaide Botanic Gardens, the Adelaide Central Market, and Cleland Conservation Park for walking trails and waterfalls.
The city's biggest event is the Adelaide Festival, which occurs every year in March and bursts with art and culture.
Adelaide is also home to many of the country's best vineyards and wineries in nearby Barossa Valley, so doing a wine-tasting and vineyard tour is one of the area's best attractions.
READ MORE: Check out our Adelaide city guide for great things to do!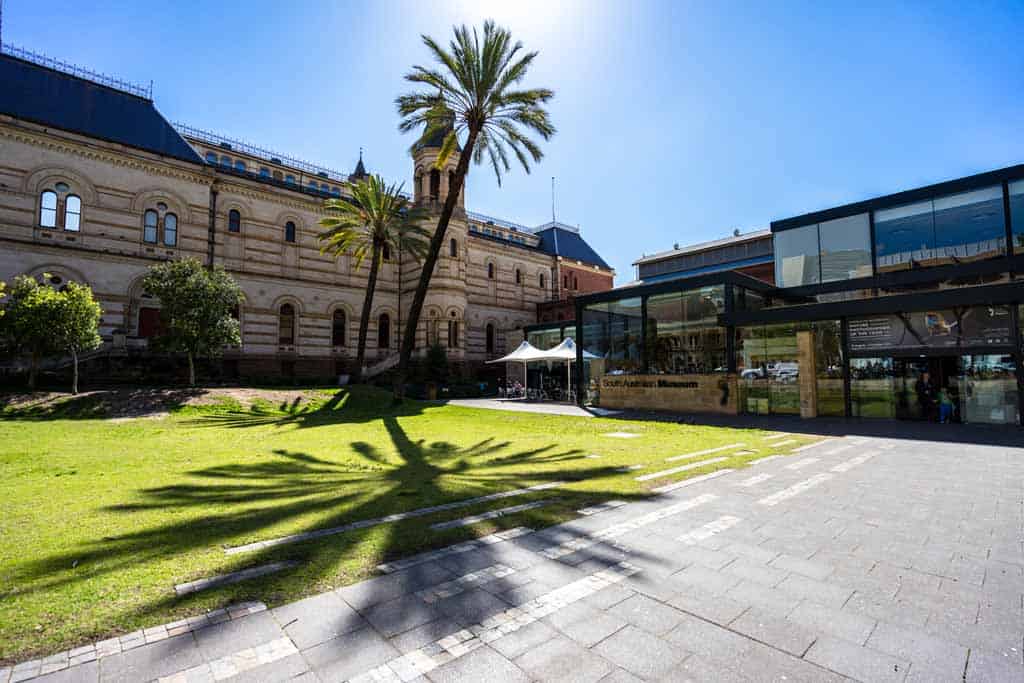 14) The Great Barrier Reef
The Great Barrier Reef is by far the top of the bucket list of places to visit in Australia for most travellers.
It is the largest coral reef system on the planet and is home to hundreds of islands and diverse marine life.
Located off the coast of Queensland in the Coral Sea, the Great Barrier Reef is easily accessed from places like Cairns, Airlie Beach, Port Douglas, or Cape Tribulation.
Snorkelling or scuba diving is the best way to get up close to the reef and observe marine life with your own eyes.
The best time to visit the Great Barrier Reef is between June and October when the rainfall decreases and water visibility increases.
This is winter-time in Australia, so up in Queensland, the temperatures drop to a comfortable level as well.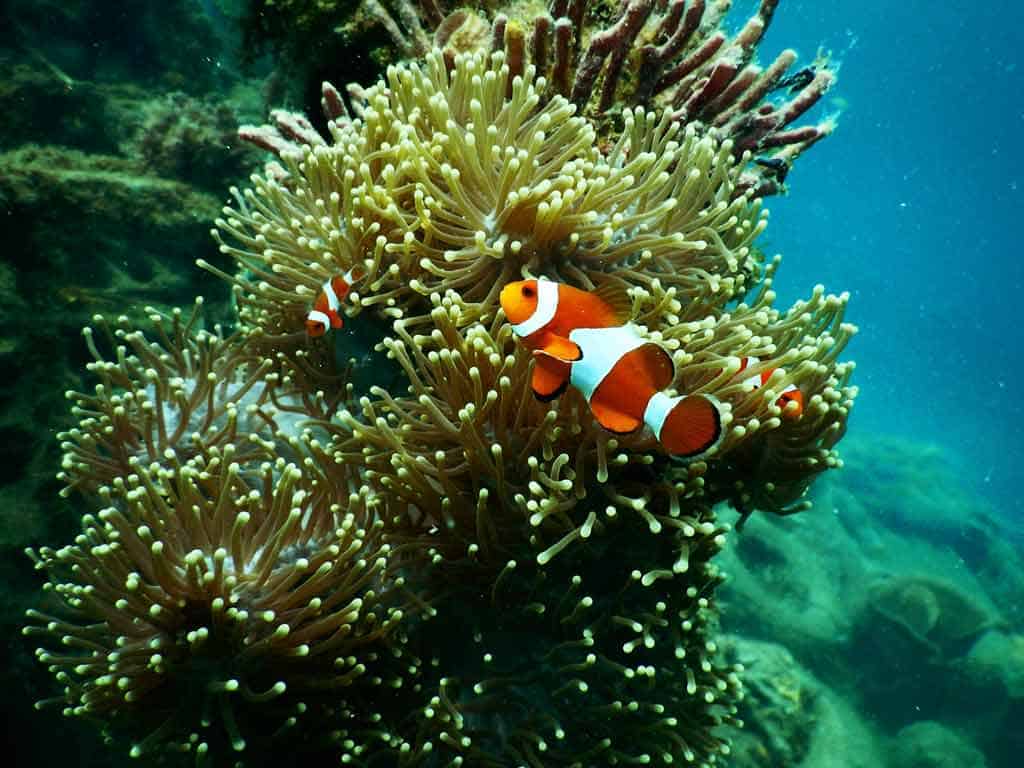 15) Noosa
As far as Australia destinations go, Noosa is a dream.
This little slice of paradise is located on the coast of Queensland and is full of pristine beaches, national parks, and classy, expensive shops and restaurants.
Noosa Heads National Park is where all the best scenery is, including hiking trails, peaceful picnic grounds, and amazing beaches like Tea Tree Bay.
Longboarders also flock to Noosa for the right-hand point breaks that create perfect, rippling waves. This is a great place to learn how to surf!
READ MORE: Plan your trip to Noosa and add these great activities to your itinerary!
16) Kakadu National Park
As the country's largest national park, Kakadu is an incredible place to include for best holiday destinations in Australia.
Nature lovers will never tire of exploring all that Kakadu National Park has to offer.
From crocodile-spotting in Yellow Water to swimming in Jim Jim Falls, to witnessing ancient Aboriginal rock paintings in Ubirr, to hiking and camping in the bush, there are plenty of amazing things to do here.
Located in the Northern Territory, Kakadu National Park is also a UNESCO World Heritage Site.
17) Broome
Set on the bright blue waters of the Indian Ocean, Broome is a small resort town in the Kimberley Region of Western Australia.
For 'grey nomads', this is one of the best places to holiday in Australia.
Fun activities to do in Broome include visiting a local pearling farm, bird-watching near the Broome Bird Observatory, and searching for dinosaur tracks at Gantheaume Point.
Cable Beach is the most famous beach in Broome. At 22 km long, Cable Beach is covered in soft white sand, and perfect for watching the sunset or riding camels.
Just be sure to avoid swimming in the ocean during the rainy season, from November to May, because dangerous jellyfish are common during these months.
READ MORE: Add these great things to do when you visit Broome!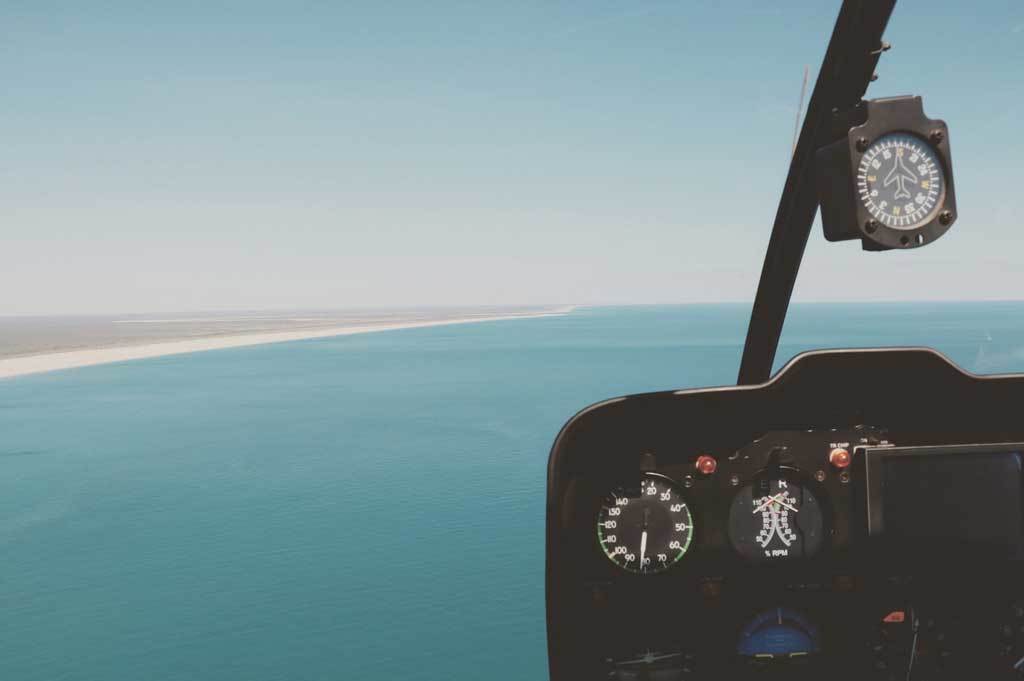 18) Uluru
Also known as Ayer's Rock, Uluru is one of the most interesting and unique places to visit in Australia and a UNESCO World Heritage Site.
This huge red rock in the middle of the desert is made of sandstone and is sacred to indigenous Australians.
The closest town is Alice Springs, which is a 7-hour drive away, so Uluru is quite a journey to get to.
But if you are road-tripping through the Outback or travelling cross-country through the Northern Territory, you should definitely try to stop by Uluru-Kata Tjuta National Park for a night and watch the sunrise or sunset over the sacred rock.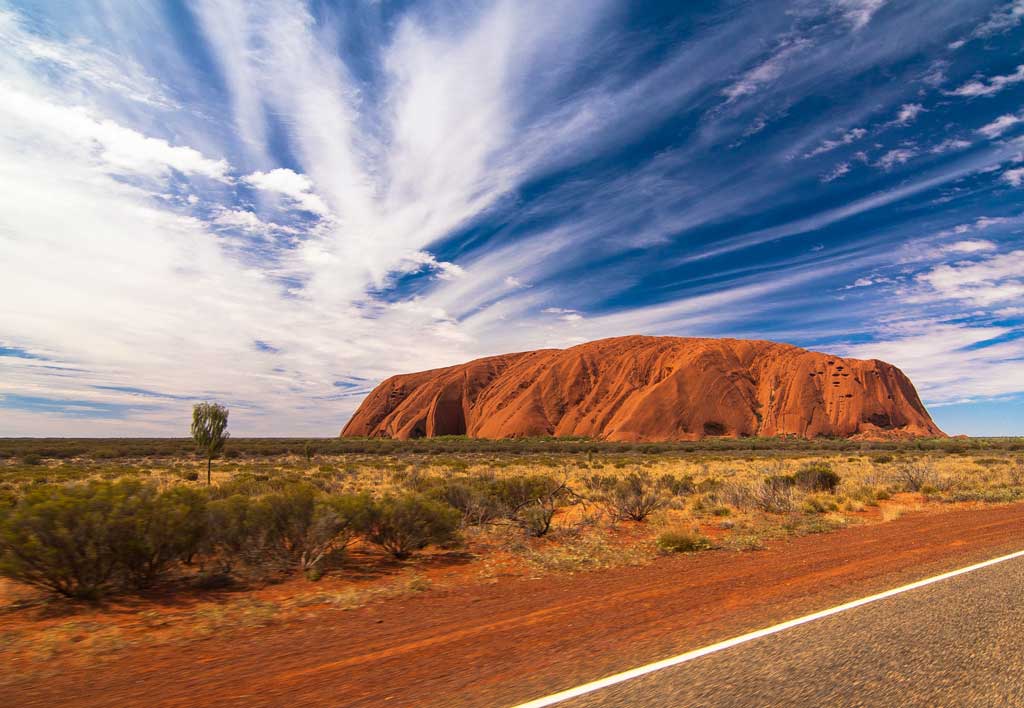 19) The Gold Coast
Located on the south coast of Queensland, the Gold Coast is a popular city to include in an Australia list of best places to visit.
It is rare to find so many skyscrapers and so many beautiful sandy beaches right next to each other, so travellers can enjoy the vibrant city life and the relaxing beach life at the same time.
The Gold Coast has a few fun theme parks, and it is just a short train ride away from other charming beach towns like Burleigh Heads and Surfer's Paradise.
The city is also a great gateway for visiting Lamington National Park, a vast area of mountains, valleys, and forests.
READ MORE: Check out all the great activities to do in The Gold Coast!
20) The Blue Mountains
If you want to experience real wilderness, this is one of the easiest and best places to visit in Australia.
The Blue Mountains (don't miss our epic guide on what to do in that link) are just a one-hour train ride away from Sydney, making them a super convenient location for travellers arriving in the city.
Full of great, spacious valleys, rugged cliffs, and towering waterfalls, the Blue Mountains are majestic and feel truly wild sometimes.
There are a few quaint towns set amidst the forest, like Katoomba and Blackheath, that have all the Australian attractions for tourists you could ever need.
21) Margaret River
This small town in Western Australia is most famous for its wineries.
Margaret River and its surrounding areas produce some of Australia's best wine, and there are plenty of vineyard tours and wine tasting opportunities.
Other things to do in Margaret River include whale watching during the winter months, hiking along the coast, exploring the limestone cliffs and caves of Leeuwin-Naturaliste National Park, or surfing, kayaking, and paddleboarding in the ocean.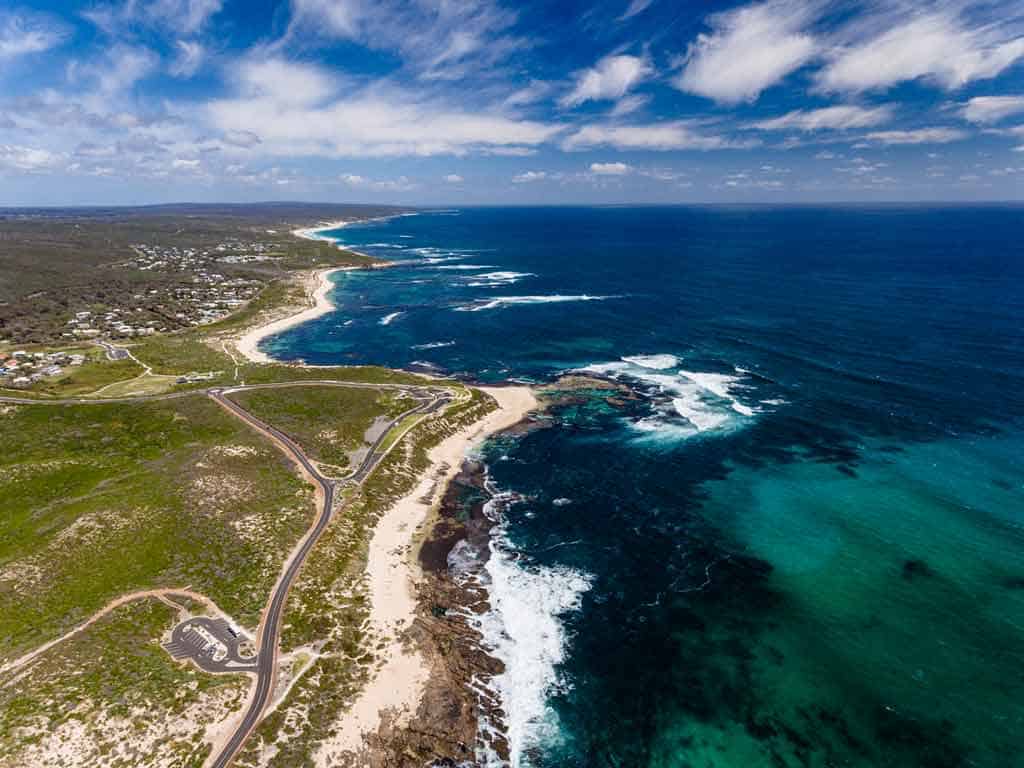 22) Wilson's Promontory
While travelling through Victoria, head to Wilson's Promontory to enjoy some quality time with nature.
This small peninsula on the southeast corner of Australia is full of lovely beaches and hiking trails through the bush.
Tidal River Campground is the main hub of the area, and from here you have easy access to some of the best walks, viewpoints, and beaches of Wilson's Promontory.
Hike from Picnic Bay to Whisky Bay, walk the sands of Squeaky Beach, and enjoy the incredible view from the peak of Mount Oberon.
23) Kangaroo Island
Kangaroo Island is full of striking natural beauty and plenty of interesting wildlife, making it one of the best places to go in Australia.
Located off the coast of South Australia, Kangaroo Island is an amazing day trip from Adelaide or elsewhere in the state.
Here, you can find kangaroos, wallabies, koalas, and other classic Australian animals as well as native birds, sea lions, seals, and even penguins.
Flinders Chase National Park in the west of the island boasts unique and rugged rock formations, including the famous Admirals Arch.
READ MORE: Here are more great things to do on Kangaroo Island!
24) Byron Bay
For many backpackers, Byron Bay sits at the top of the bucket list for an Australia trip.
Full of hostels, cafes, bars, art galleries, thrift shops, and more, the town of Byron Bay has a little something for everyone.
The natural beauty of Byron Bay still manages to outshine the touristy atmosphere, making the area peaceful and beautiful.
Hike through the bush up to the Cape Byron Lighthouse, surf with the locals at The Pass, or swim in the waves at Wategos Beach.
25) Perth
Another one of the best places to visit in Australia is Perth, the capital of Western Australia.
Because it is the biggest city in the state, many travellers fly into Perth before heading out to other attractions like Esperance, Broome, or Margaret River.
But it is worth spending some time in the city to soak in the culture.
Perth's best attractions include the Kings Park and Botanic Gardens, the Fremantle Prison, Coogee Beach, and the Swan Valley wineries. Don't miss hanging out at the best beaches either.
You can also head to the top of the massive Bell Tower for a panoramic view of the city, or take a day trip to Rottnest Island to spot some quokkas.
READ MORE: Plan your trip to Perth with our city guide!
26) Brisbane
Brisbane, the capital of Queensland, makes a wonderful addition to a trip around Australia.
Full of interesting museums, cool landmarks and monuments, spacious parks and gardens, and plenty of great food, Brisbane is sure to entertain any traveller who stops by.
Highlights of Brisbane include strolling along the South Bank, which fills up with street markets and twinkling lights at night and heading up to Mount Coot-tha, which provides an excellent panoramic view over the city.
READ MORE: Add these great day trips from Brisbane to your itinerary!
27) K'gari (Fraser Island)
Located off the coast of Queensland, K'gari (formerly known as Fraser Island) is a great destination for camping, exploring nature, and swimming in some extremely beautiful spots.
Lake Mckenzie is one of the most scenic spots on K'gari, as is the Indian Head Viewpoint and the striped cliffs of the Cathedrals.
The easiest and most convenient way to visit the island is by doing a day trip from Hervey Bay or Brisbane, or you can bring your own camping gear and stay the night on the world's largest sand island.
28) The Great Ocean Road
For anyone who wants to see breathtaking coastal scenery, and maybe catch a glimpse of a koala in its natural habitat, head to the Great Ocean Road.
This 243-km strip of coastline in southern Victoria is packed with gorgeous beaches, charming towns, and dense forests, making it firmly on the list of best places to visit in Australia.
Some of the most famous landmarks on the road include the Twelve Apostles, Loch Ard Gorge, London Bridge, and the Bay of Islands, all of which include intriguing jagged rock formations. Port Campbell National Park is another highlight of the route.
You can see the Great Ocean Road on a tour from Melbourne, or you can rent your own car, pack camping gear, and camp at one of the many campgrounds along the route.
READ MORE: Explore the area with this epic Great Ocean Road drive itinerary!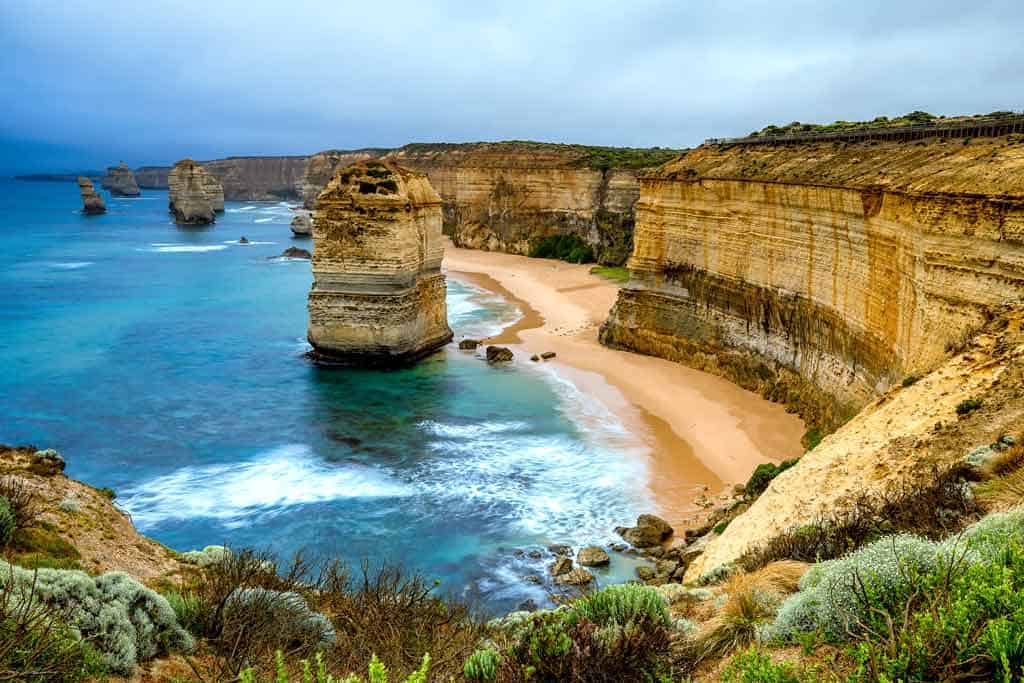 29) Cairns
As the gateway to northern Queensland, Cairns is full of backpackers and fun things to do.
Many people just stop in Cairns for a night or two on their way to see the Great Barrier Reef or the Daintree Rainforest, but it is worth spending a little time in the city to soak everything in.
Visit Rusty's Fruit Market for some fresh and cheap tropical fruits, party at one of the many backpacker hostels at night, or sunbathe at the big man-made beach known as the Lagoon.
During the summer months, you can't swim in the ocean in tropical north Queensland because there may be crocodiles and jellyfish!
READ MORE: Check out these awesome things to do in Cairns!
30) The Murray River Region
Australia's longest river stretches for 2508km through New South Wales, Victoria and South Australia, and going on a road trip along it takes you to some of the country's most unique cultural towns.
The Murray River twists through mountains and valleys, sprawling farmland and forests, and is home to a whole variety of businesses and activities.
If you love wine, you'll be heaven as the vineyards are some of the best in Australia. There's also a lot of outdoor adventures to enjoy, like paddleboarding and kayaking.
DISCLAIMER: Some of the links in this article are affiliate links, which means if you book accommodation, tours or buy a product, we will receive a small commission at no extra cost to you. These commissions help us keep creating more free travel content to help people plan their holidays and adventures. We only recommend the best accommodations, tours and products that ourselves or our fantastic editorial team have personally experienced, and regularly review these. Thanks for your support, kind friend!