Whether you're into culture, food or nature, there's no shortage of awesome things to do in Trang, Thailand!
Located in the south of Thailand, home to towering limestone karsts and white sand beaches, is the stunning Trang province.
For those looking to get off the beaten path in one of the world's most touristed nations, Trang, Thailand offers a multitude of incredible attractions and activities without the crowds.
The main hub in the province is Trang City, an interesting town filled with delicious food, curious artwork, and a heavy Chinese influence.
Most people that come through Trang City use it as a launching point to get out to the nearby islands of Koh Mook(Koh Muk), Koh Kradan, and Koh Ngai.
And while those islands are indeed gorgeous, it's worth spending at least one day here to experience an authentic Thai city that hasn't been spoilt by tourism.
Split into two sections, Trang City and Trang Old Town, you'll find an eclectic culture where Buddhists, Catholics, and Muslims live in harmony, celebrating life and food with pride.
Locals are proud of their heritage and feel a distinct connection with the nearby sea.
Dugongs live in the Andaman Sea right next to Trang province, and residents happily display their fondness for these captivating creatures through paintings, statues, and monuments all around the city.
What really sets Trang apart from the rest of the country though is its unique cuisine. Thais from all around the nation visit Trang on holiday purely to sample their delicious versions of seafood, dim sums, and pastries.
It's a truly wonderful place, and well worth a stopover when looking for unique places to visit in Thailand.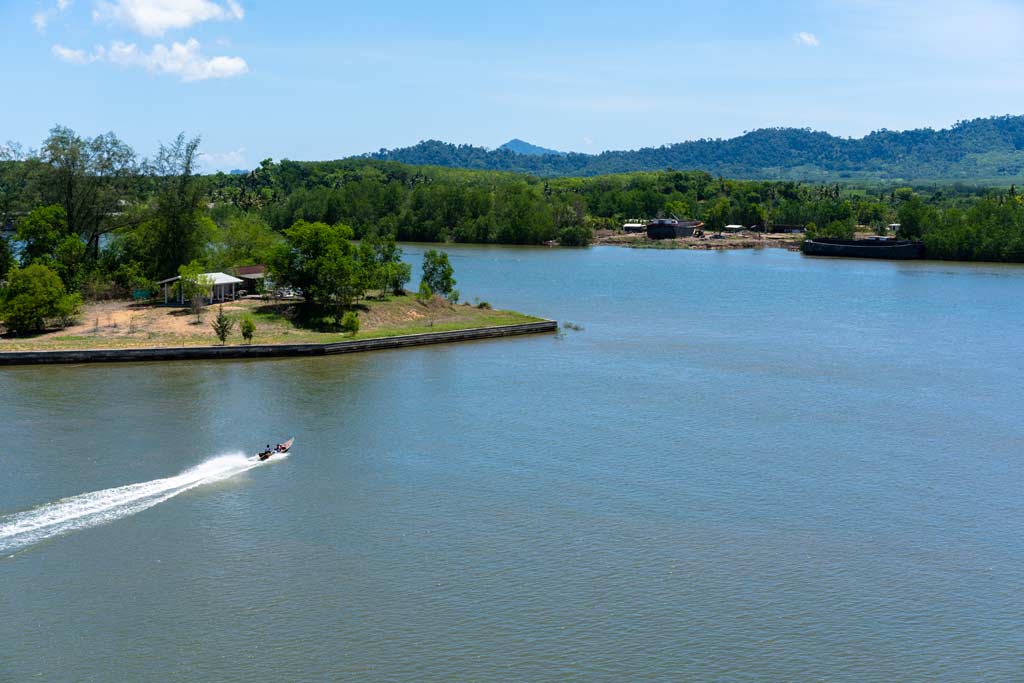 Things to Do in Trang City
Despite being a city, it's fairly easy to navigate, and you can tackle most of the top things to do in Trang in a day.
The best way to explore the town is to rent a scooter and self-drive, or hire a taxi or tuk tuk and make the most of having a local guide.
If you really apply yourself you can do most of the Trang attractions below without too much hassle in 24 hours, and still have time to eat to your heart's content!
Here's our list of what to do in Trang province, starting in the city.
READ MORE: Check out our ultimate guide for travelling in Thailand.
Wat Tantayapirom Phra Aram Luang
The first thing you should do when visiting Trang City is check out the beautiful Wat Tantayapirom Phra Aram Luang.
This Buddhist complex is more than 200 years old, and with its towering white pagoda and gold-leaf decorated temples, it's a peaceful place to wander around.
Buddhism is the predominant religion in Thailand, and the temples are a real sight to behold.
This one in Trang, while not being the biggest in the country, has all the elements you'd find in some of the most esteemed temples.
It won't take long to explore, but you can easily spend 20 minutes wandering around, checking out the pagoda, and if you're lucky you might even have the chance to chat with a monk.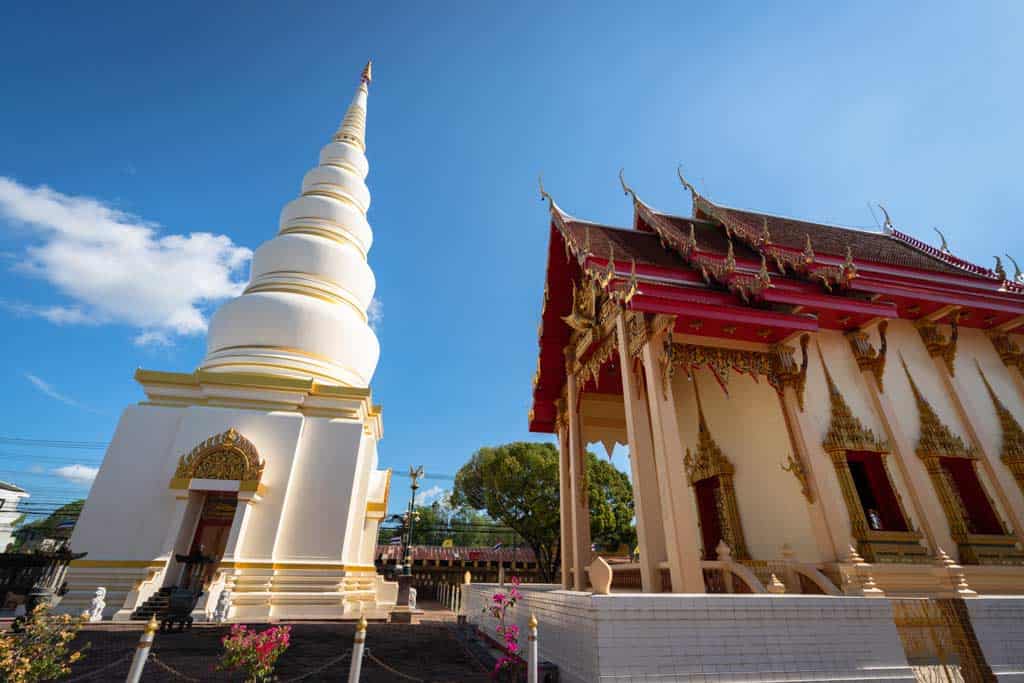 Trang Christian Church
Thailand is a country of Buddhist temples, and if you spend any amount of time here you'll end up seeing dozens of them.
But when you're searching for the top things to do in Trang you can mix it up a bit and instead check out a Christian church, something you won't often see in many cities.
The Trang Christian Church was built in 1915, and while there's a new Presbyterian church constructed on the same property now, the original is still standing strong.
Get there on a Sunday for a chance to see a mass conducted in Thai.
Address: 24 Huai Yot Road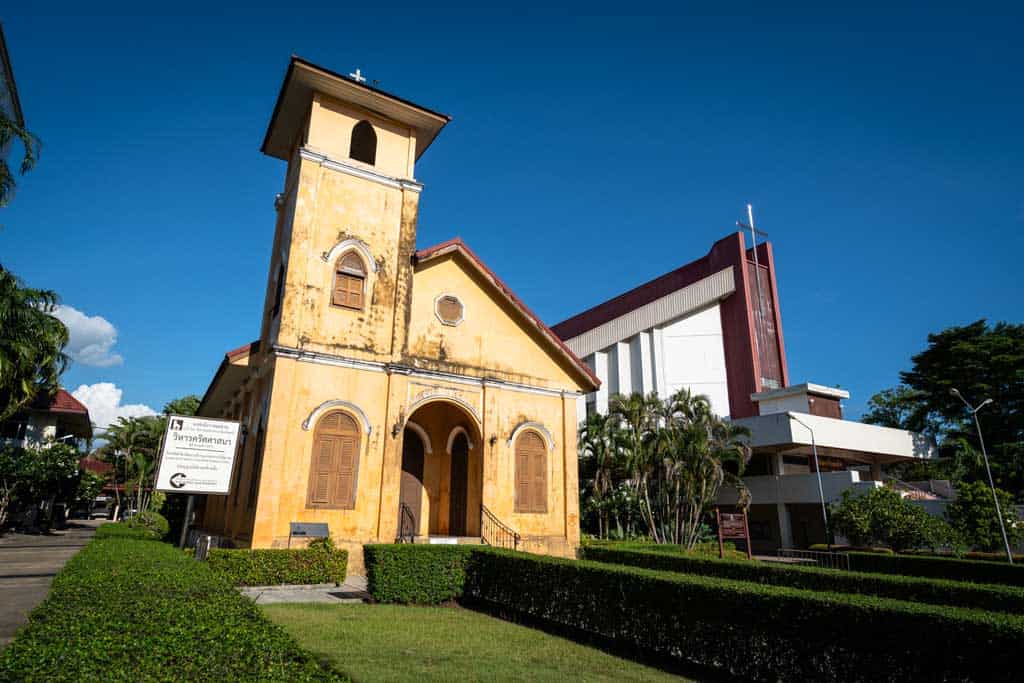 Kew Ong Ear, the Chinese Shrine
Rounding out the trifecta of attractive monuments in Trang is the Kew Ong Ear Chinese shrine.
You'll really notice the Chinese influence throughout Trang as you travel about, and visiting the Kew Ong Ear shine gives a deeper insight into this culture.
In the centre of the complex you'll find a small pagoda for offerings, and at the end is the big temple.
The interior is spectacular, filled with gorgeous red ornaments, and it reminded us a lot of some of the monasteries we came across when travelling around Tibet.
As a note, you can't take photos inside the temple, and you have to leave your shoes at the door.
It's within walking distance from downtown, and there's a small entrance fee to pay.
Address: 169 Taklang Rd. Thap Thiang Subdistrict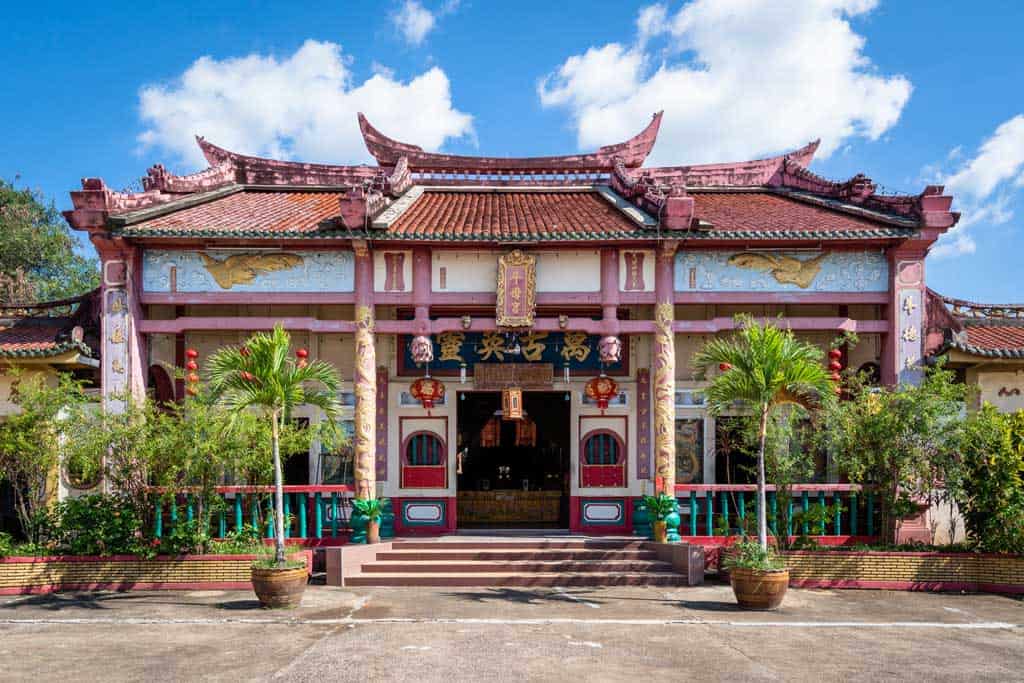 Trang Central Park
If you're looking for something to do that is relaxing and very local, head down to the huge Trang Central Park and join the Thai couples, families, and friends that make the most of this green space.
This park is a great place to escape the traffic noise of downtown, with a man-made lake in the centre with a bridge spanning it to a small island.
The lake is filled with fish, and local ladies sell food pellets for very cheap in case you want to feed them.
Judging by the amount of people that are standing on the bridge feeding the fish, it's definitely one of the top Trang activities.
Ride in a Frog Head Tuk Tuk
You can't come to Thailand without riding in tuk tuk at some point. These awesome little motor-scooters zip around the country and are one of the main modes of transport for millions of people every day.
Down in Trang though they do tuk tuks differently.
Here you'll find what is affectionately known as 'frog head' tuk tuks, and one look at the front of them and you'll understand why.
Originally imported from Japan in the 1950s, these vintage tuk tuks used to be found all over the country.
As the years went on they were replaced with the newer models most tourists know, but here in Trang (and also in Ayutthaya) they proudly lived on.
You can hire one of these tuk tuks for short rides or for a city tour. It's a great way to explore of the best Trang tourist attractions in a short time.
Drivers are often found hanging around outside the train station.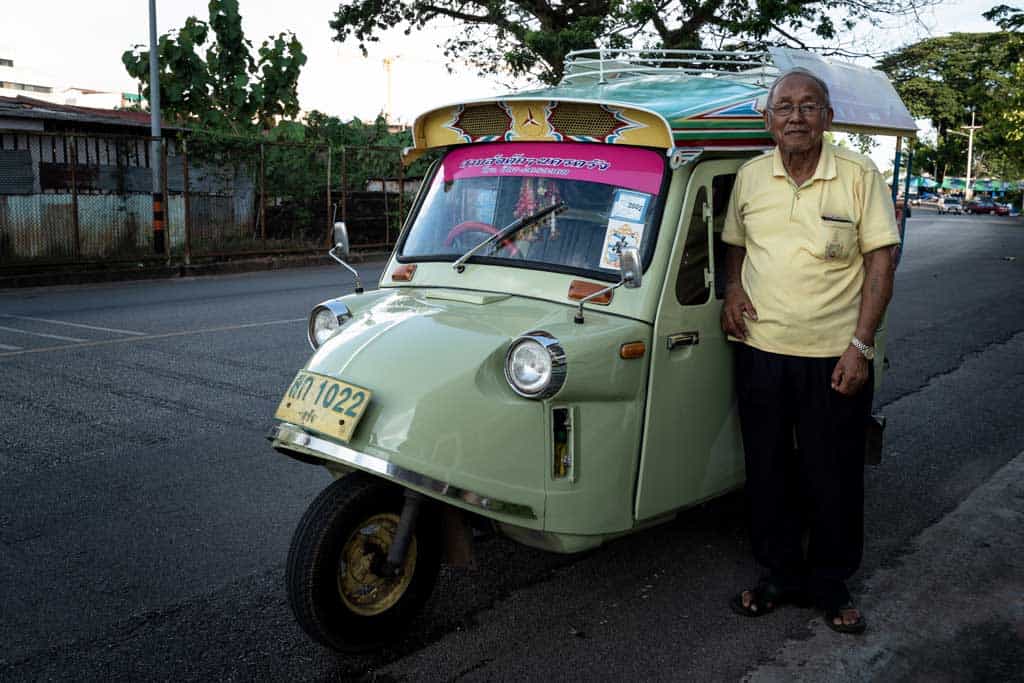 Get Some Cakes from Pia Soi 9
Trang is known for its food (which you'll hear more about below when it comes to breakfast), and one of the most loved tastes you can find here are the Chinese pastries from Pia Soi 9.
This bakery has been around for decades and is the go-to spot for locals to grab delicious snacks.
The specialty here is pia stuffed with taro and a salted egg, but you can get a variety of different flavours.
Buy yourself a box to travel around with. They're delicious!
Address: Huai Yod 9
Opening hours: every day from 6 AM – 5:30 PM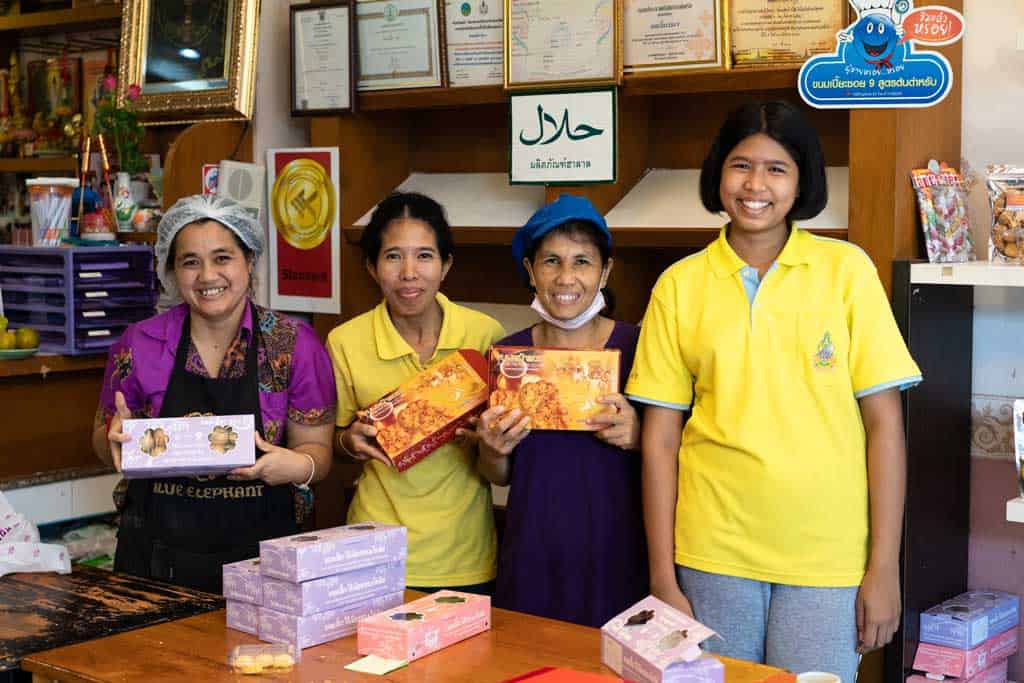 Governor's Park
Another one of Trang's awesome little parks that is worth stopping by is the Governor's Park, actually called Phraya Ratsadanu Pradit Mahisorn Phakdi Monument.
There are a bunch of kitschy art sculptures scattered around the park, and a large memorial fountain in the centre.
It's located about 1km east from the dugong roundabout on the main road.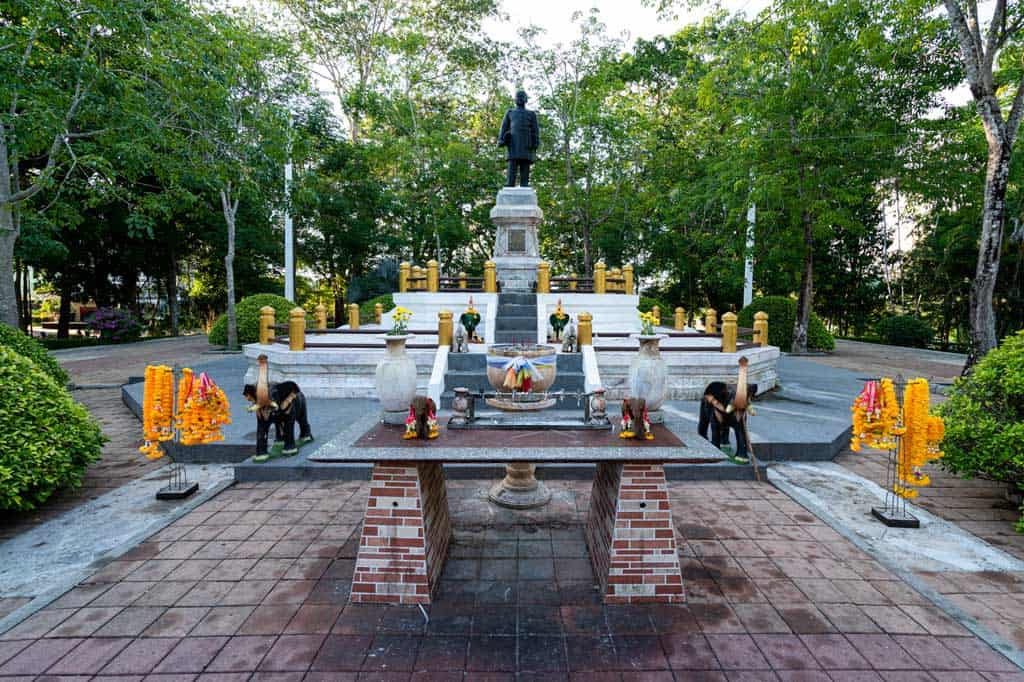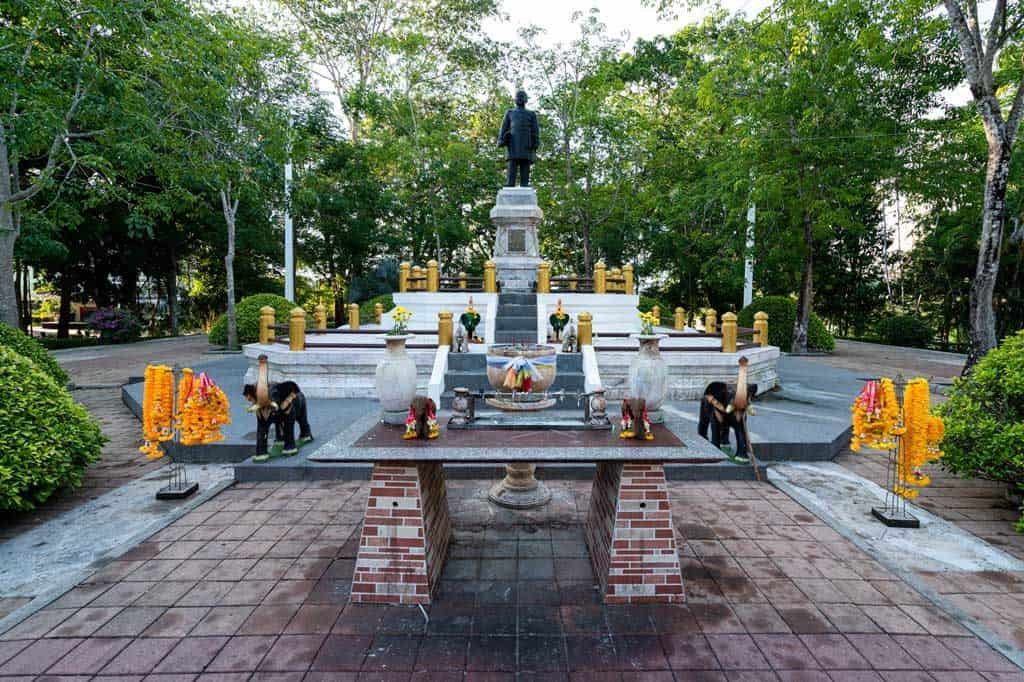 Eat a Trang Breakfast
If there's one thing that the Trang province is best known for, it's probably breakfast.
This isn't just a meal though. It's an experience.
Leaning heavily on the Chinese influence, a Trang breakfast consists of dozens of different types of dumplings or dim sums, steamed as you order and served up piping hot.
Once you grab your table you're presented with some delicious appetisers such as fried pork to start the meal.
Then you walk up to the counter where there is an enormous selection of dim sums on display in bamboo containers.
You point out the ones you want, and the chefs throw them over boiling water, steaming them to perfection. Once they're ready the waiters will bring them to your table.
We're not normally big-breakfast kind of people, but you know what they say – "When in Trang…"
We headed off to one of the main restaurants in Trang for breakfast and joined the crowds waiting to get their dim sums.
The food was, for the most part, absolutely delectable, and we felt like we were just constantly stuffing our faces.
Some of the dim sums were more of an acquired taste, but we enjoyed trying something different.
Ask at your hotel or hostel where the best place to get a Trang breakfast is.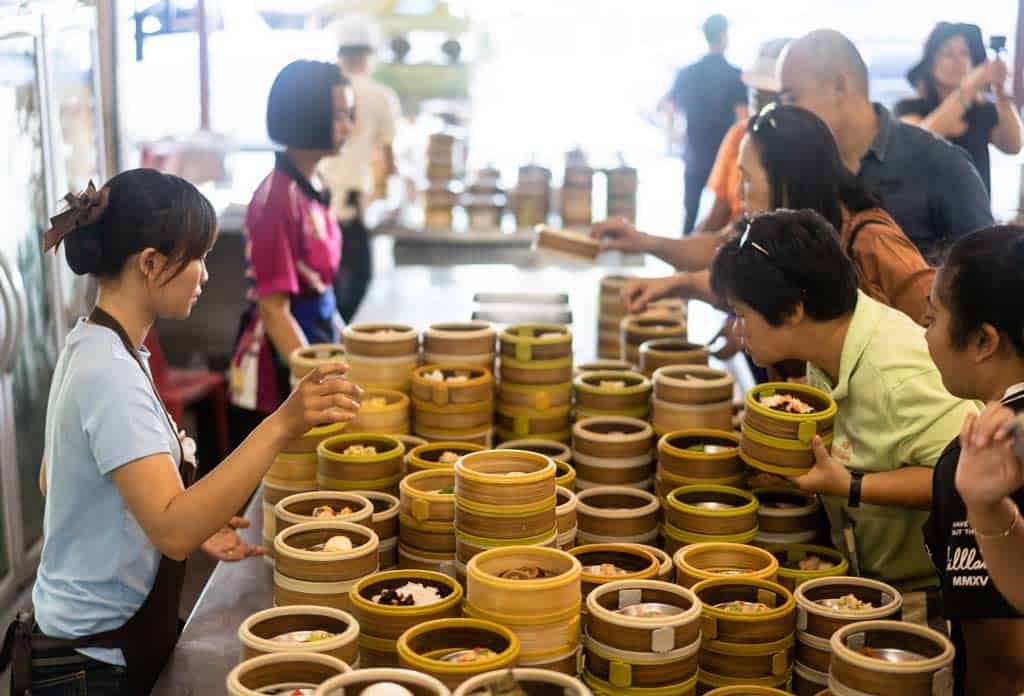 Walk Around the Local Markets
If you want a real local experience, then you need to head to the local markets and get lost in the labyrinth of narrow alleyways and twisting streets.
The street markets in Trang are a hive of activity, and you can find just about anything you'd want if you spend enough time in them.
With the Chinese influence of Trang you'll also find plenty of unique decorations and 'good luck' handicrafts that local people use to place around their house or give as offerings.
For dinner definitely head to the night markets, found in various spots all around the city.
The food is varied and delectable (look out for a mushroom soup from this couple), and the local vendors are always happy to see a foreigner trying their dishes.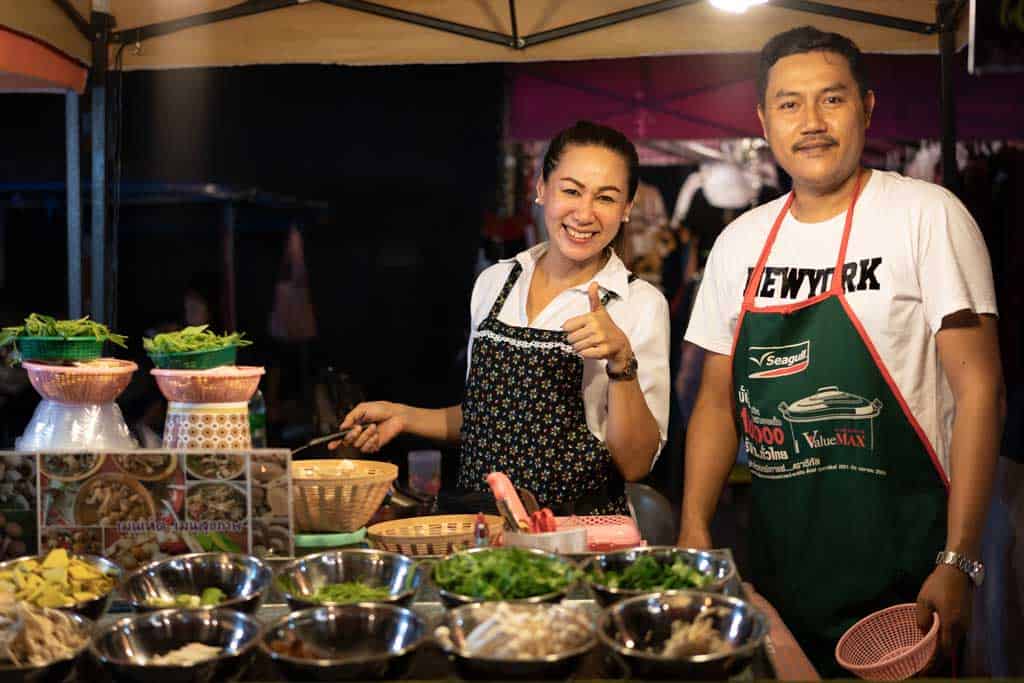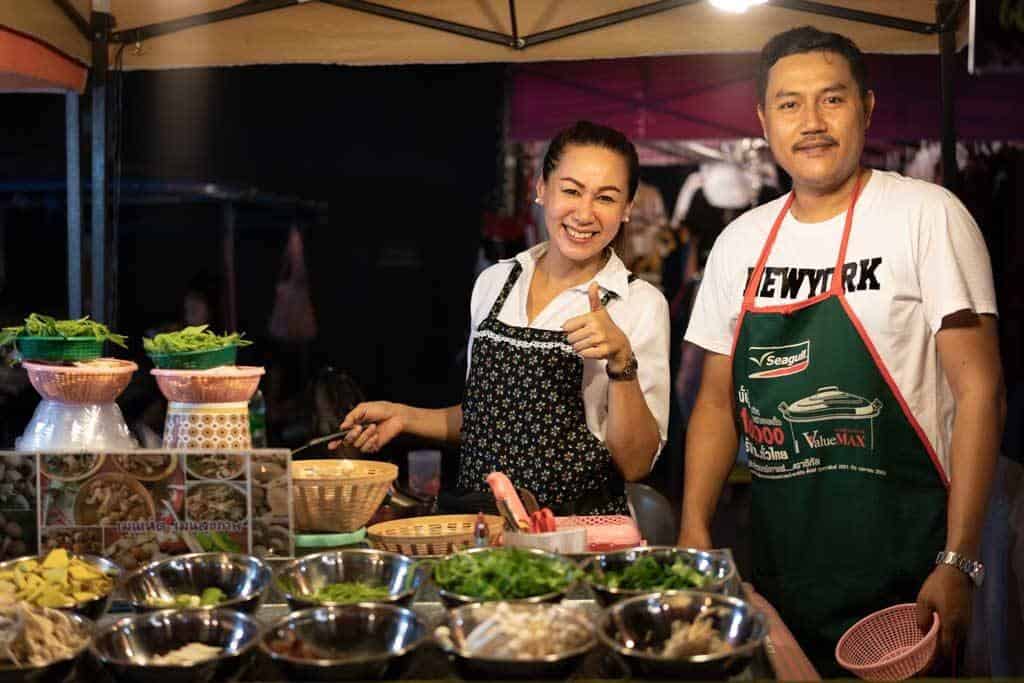 Treetop Walk at Thung Khai Botanical Gardens
If you want to get out of the city and explore a bit of nature, then one of the best things to do in Trang, Thailand is visit the Thung Khai Botanical Gardens.
A short tuk tuk or scooter ride from downtown, the Thung Khai Botanical Gardens are filled with picturesque forests and walking paths, making it a great day trip from Trang.
The real highlight of a trip to the gardens though is the elevated canopy walks.
A series of suspension bridges allows visitors to walk near the tops of the trees, so if you're scared of heights it'll definitely give you a bit of a thrill.
There's also a small library and museum onsite, giving information about many of the rare species of flowers and plants that can be found in the gardens.
These beautiful gardens are a Trang must-see!
Address: Botanic Garden Thung Khai, Yan Ta Khao District
Opening hours: every day from 8 AM – 4:30 PM
Price: 20 baht
READ MORE: Travelling elsewhere in the south? Check out our guide to the best things to do in Ao Nang.
Thailand's First Rubber Tree
It's not so much a major attraction as it is a curious one, but with its location right next to the dugong roundabout (below), you may as well check out what is claimed to be Thailand's first rubber tree.
Rubber trees were introduced into Thailand at the end of the 19th century, and it kickstarted an industry that now sees the country being the second largest producer of rubber after Indonesia.
According to legend, and the little sign that's at the base, this rubber tree was the first one brought into the country.
Stop by, grab a quick selfie, then head to the last of the things to do in Trang province!
See the Dugong Roundabout
The mascot of the Trang Sea is the dugong, and you'll find statues, paintings, and references to this majestic creature all over the city.
The grandest, and most unusual, of these monuments, is found right in the heart of Trang City, at the Dugong Roundabout.
This huge art piece is a multi-level fountain in the middle of a busy intersection and depicts not only dugongs but also horses and angels on the structure.
It's pretty unique, so make sure you grab a picture before you take off to the next destination, Trang Old Town.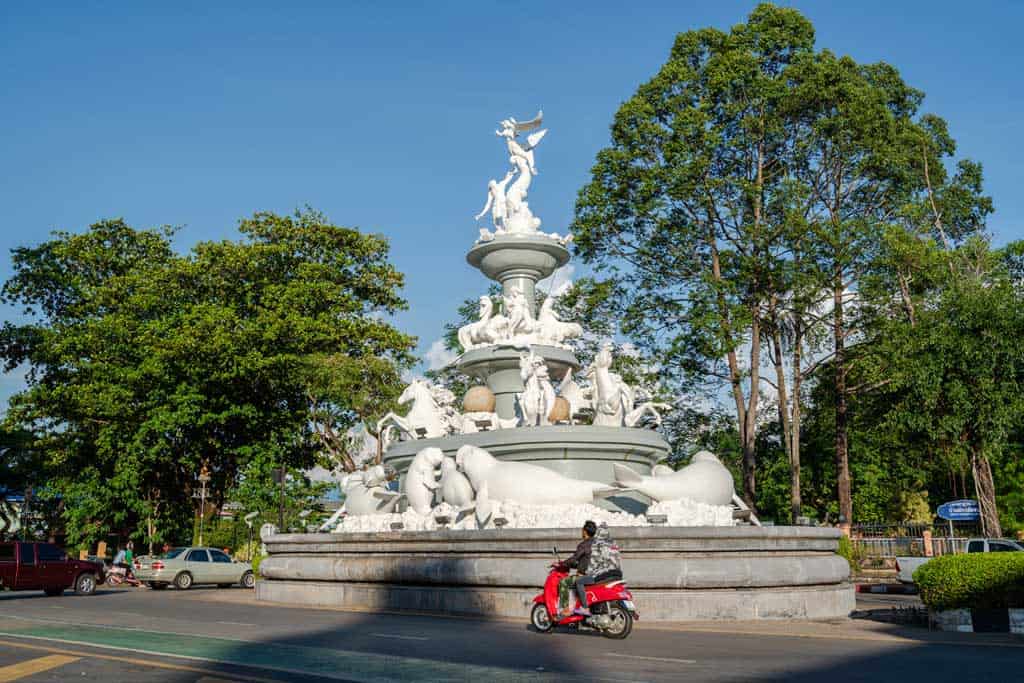 What to Do in Trang Old Town (Kantang)
Trang City is the busiest hub in the Trang Province, but the Old Town, also known as Kantang, located a short drive away on the coast is the most charming.
Once you've finished hanging out in the city head to the old town for a few more great Trang points of interest.
The Trang Museum
The first attraction on our list of what to do in Trang Old Town is the interesting museum located on the main street.
The museum has a collection of exhibits and photographs dedicated to the history of fishing and Chinese influence in the city over the years.
There's basic information in English, and entrance to the museum is completely free.
If you wish to learn a bit more about its citizens, this museum must be included on your list of places to visit in Trang.
Address: 1 Kaipitak Rd
Opening hours: every day from 8 AM – 4PM (closed on Mondays)
Price: Free of charge
Go Up To The Lighthouse
Once you're finished with the museum ask the friendly curators to let you up to the lighthouse that rises above the building.
Following a twisting staircase, you reach the top and are greeted with lovely views of the Old Town's streets, coastline, and rivers that stretch out to the sea.
It's some of the best things to see in the Trang Province, and if you time it for the late afternoon you'll get some stunning golden light.
Eat Seafood
Seeing as you're by the coast, it'd be a shame to not try some of the great seafood Thailand is known for!
Most of the restaurants in the Trang Old Town specialise in a variety of fish dishes, and the best thing is you know they've been caught fresh.
A common meal is to order a whole fish, fried with a variety of seasonings, and served with rice and salad.
But if you're feeling up for it, do what we did and just point to whatever looks good on the menu, or point to dishes the locals are eating.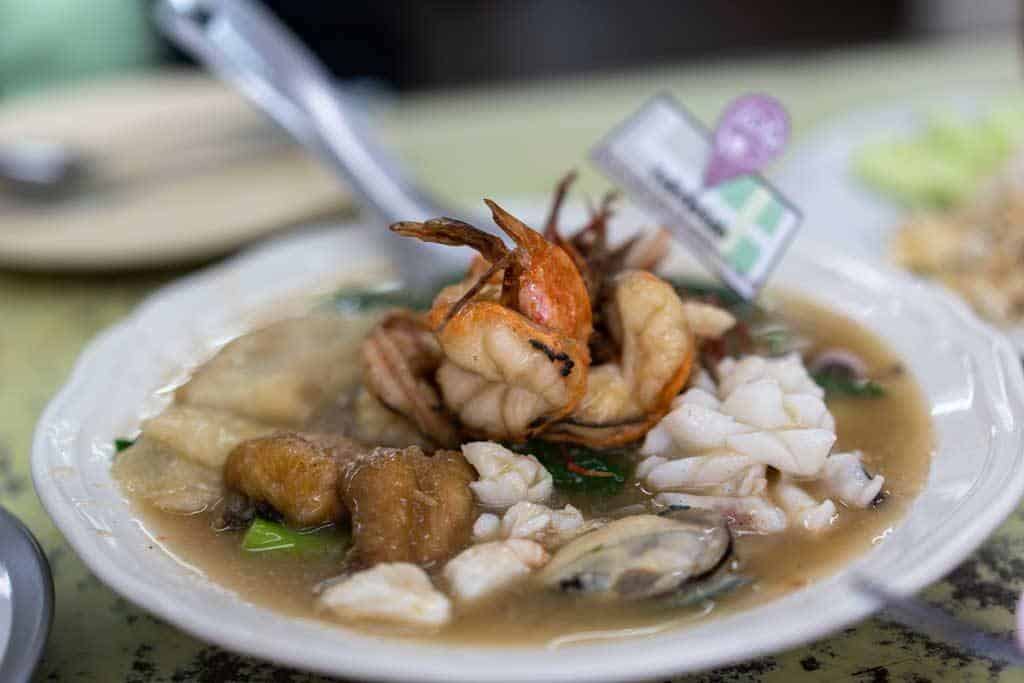 Check Out the Street Art
While it might not be as vibrant as Penang, just a bit further south in Malaysia, Trang province has been building a bit of a reputation for having some great street art.
Around the old town, you'll find alleyways covered with graffiti and paintings, depicting various animals and cultural figures.
Naturally, the dugong is a popular character to spot, and if you spend a bit of time walking around you'll find plenty of beautiful examples.
See the Golden Dugong
Right next to the museum is the Old Town's most famous resident, the golden dugong.
This large statue pays homage to the elusive sea creatures that call the waters around Trang home. It's one of the most iconic sights in the Trang Province.
Wander the Streets
Trang Old Town is much more relaxed and quiet compared to the city, making it a great place to simply walk around.
If you walk up and down the main road you'll find plenty of interesting stores selling all kinds of trinkets and homewares.
While you probably won't be looking to pick up some new pots and pans, the locals are very friendly and are happy to have a chat.
The alleyways are great as well, and this is where you'll find a lot of street art.
Old Train Station
The train station in the Old Town is one of the oldest in the country still kept in its original design.
The timber station was built with intricate decorations, and throughout the decades they've still been preserved to this day.
You can catch the train all the way to Bangkok from here, so if you don't feel like flying north, you can opt to take the slow, scenic route back.
Other Things To Do In The Trang Province
Our guide covers the best things to do in Trang itself, meaning the City and Old Town. But many travelers are in Trang for the purpose of exploring the rest of the Trang Province.
The province includes the islands mentioned previously, including Koh Mook, Koh Lanta, Koh Lipe, and Koh Kradan.
On Koh Mook, you can find the famous Morakot Cave (Emerald Cave). Morakot Cave is an impressive sea cave on the west coast of Koh Mook. The only entrance to Morakot Cave is by swimming/snorkeling underneath the water and cliffs.
The water in the cave is a bright turqoise, hence the nickname Emerald Cave.
Another incredible cave in the province is Tham Le Khao Kob, also known as Dragon Cave. Located about 33 km north of Trang city, this cave is said to feel like you're inside a Dragon's Belly.
There are also some stunning beaches in Trang. Of course the islands are full of picturesque beaches, but there are some great place to visit on the mainland as well such as Pak Meng Beach.
Pak Meng Beach is about 38km from Trang City. Head here for a day of lounging on the sand, swimming in the sea, and shopping along Pak Meng Pier.
Trang Travel Guide
To help you plan your travels to Trang province, we've put together this guide with some general information to allow you to get the most out of your trip.
Where to Stay in Trang, Thailand
Being a city, there are plenty of great places to stay in Trang, with accommodation to suit any budget.
Best Backpacker Hostel in Trang Thailand – Sleeper House
Located very close to the centre of town, Sleeper House is a great place for backpackers to stay in Trang.
There's a mix of dorms and private rooms, with a nice social area and wifi throughout.
Every single room has air conditioning, which is an absolute must if you're travelling in the wet season.
They also don't have a curfew and all guests are given access cards to get in and out, so if you feel like having a big night, you don't have to worry about being locked out!
Best Mid-Range Accommodation in Trang Thailand – Maison de Cheer
This is where we stayed during our trip to Trang, and we really liked it.
The large Maison de Cheer hotel is perfectly located close to the main train station in town, and within walking distance to some great night markets.
The rooms are enormous, with powerful air conditioning and great wifi. The beds are comfortable, and the bathrooms are modern and clean.
Breakfast is also included in the mornings.
Best Luxury Hotel in Trang Thailand – Rua Rasada Hotel
If you prefer your accommodation to be luxurious with all the bells and whistles, your best option in Trang is the Rua Rasada Hotel and Convention Centre.
The property has a huge pool, which will be a welcome relief on those hot Trang days, amazing restaurants on-site, and a massive conference centre for business meetings.
The rooms are wonderful, with free wifi, comfortable beds, and sitting areas, and there's even room service available if you don't feel like heading out.
For being the best luxury hotel in Trang, the prices are also very reasonable. You can get a room for under USD$100 a night!
How to Get to Trang, Thailand
There are a couple of options for getting to Trang, Thailand, depending on where you're coming from.
Flying
Trang, Thailand has a number of flights arriving and departing every day, with only one destination – Bangkok's Don Mueang airport.
The carriers are Nok Air, Air Asia, and Lion Air.
Boat
The ferry terminal is about 30 minutes from Trang city centre, which in turn is easily accessible by taxi or shuttle bus.
Some of the boat destinations include Koh Lipe, Koh Mook (Koh Muk), and Koh Kradan.
Train
The train station in Trang, Thailand is connected to the mainline with Bangkok in the north.
It's also possible to travel to Kuala Lumpur in Malaysia by train, although you have to change at the border.
Bus
Minivans travel from Trang to most major destinations up the coast, including Koh Lanta, Krabi, and Phuket.
DISCLAIMER: Some of the links in this article are affiliate links, which means if you book accommodation, tours or buy a product, we will receive a small commission at no extra cost to you. These commissions help us keep creating more free travel content to help people plan their holidays and adventures. We only recommend the best accommodations, tours and products that ourselves or our fantastic editorial team have personally experienced, and regularly review these. Thanks for your support, kind friend!