If you're looking for the best things to do on Koh Yao Noi, where to stay, where to eat and why you need to visit this gorgeous island in southern Thailand, then our ultimate travel guide to visiting Koh Yao Noi will help you make the most of your trip!
With 1430 islands scattered around Thailand, you could easily spend a lifetime travelling around trying to see them all as part of an ultimate island-hopping adventure.
Well we have one more to add to your never-ending list of places to visit in Thailand…
Koh Yao Noi is a palm-speckled oasis in the Phang Nga Bay, just a 45-minute speedboat ride away from Phuket.
The quieter version of its bigger sister Koh Yao Yai to the south and a world away from its bustling neighbour Koh Phi Phi, Koh Yao Noi is the place to be if you love relaxing in local communities with stunning ocean backdrops and more than a handful of incredible restaurants and bars to while away the hours.
Having spent countless months exploring the islands of Southern Thailand, we have grown to love the more chilled spots that still maintain that authentic atmosphere.
On our most recent trip to Thailand we headed straight from Phuket International Airport to Koh Yaoi Noi for a few nights of seaside bliss, and it quickly turned into one of our favourite Thai destinations.
In this travel guide we're going to dive into everything you need to know about visiting Koh Yao Noi, from what to do, where to stay, how to get here, and more.
Ready to book your trip? Let's get into it…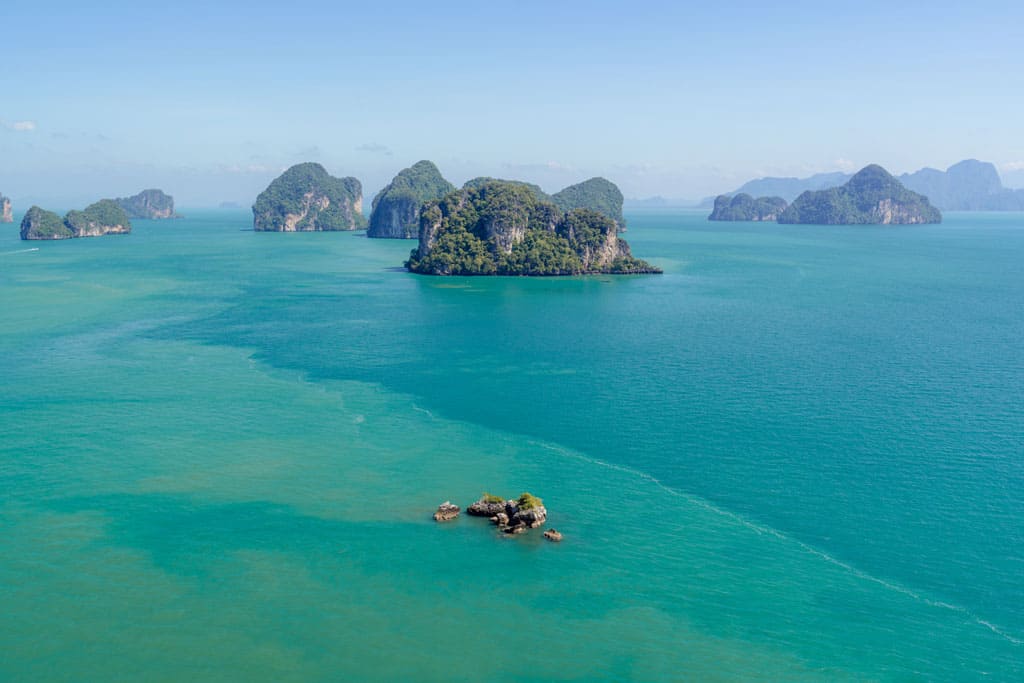 Top 12 Things to Do on Koh Yao Noi, Thailand
Both of the Koh Yao Islands are incredible. Koh Yao Yai is much busier and exciting, but we love the relaxing and authentic vibe of Koh Yao Noi.
For such a laidback island, there are a lot of incredible things to do on Koh Yao Noi.
Whether you love diving or beach-hopping, connecting with locals or simply kicking back by the pool with a cocktail in hand, you're sure to find plenty of activities to keep you busy.
Here are some of our favourite things to do in Koh Yao Noi.
READ MORE: Don't miss our complete guide to travelling in Thailand!
1) Go on a Boat Tour Out to the Surrounding Islands
The Phang Nga Bay is home to a spectacular archipelago of limestone islands, so book in for an island-hopping tour and head on out to see them up close.
You'll find a number of tour operators organising day trips out to Kong Hong, Koh Lao Lading and Koh Pakbia, three of the most stunning nearby islands.
Jumping on a boat tour is a great way to see the Koh Yao Islands and get a proper understanding of just what makes Phang Nga Bay so beautiful.
The first stop is Koh Hong, or Hong Island, home to a sensational crescent-shaped beach and a 360-degree viewpoint which gives you great views.
You do need to climb up a number of steep steps to get to the top, but trust us – it's worth the effort!
Next is the lagoon of Koh Hong. This lagoon is hidden behind the limestone cliffs and can only be entered through a narrow entrance in the rock at high tide.
It is busy in there but is lovely to see.
Next you'll pull up at Koh Lao Lading for a picnic lunch right on the beach, and if you're lucky like us, you'll have the entire place to yourself.
The last stop is Koh Pakbia, a peaceful island with a lovely beach to swim at.
Do be aware of your belongings though as there are cheeky monkeys on the island that like to help themselves to whatever snacks or items tourists may have laying around unattended.
Every boat tour is different. Some may include a visit to Koh Lanta, Koh Chang, or Koh Nok. All are popular nearby islands, so discuss with your tour operator which islands you'd like to visit on your tour and they'll help you book the right one.
You can book a Koh Yao Noi island-hopping tour, either joining a group or as a private trip, through your accommodation or at any of the little tour agencies in the villages.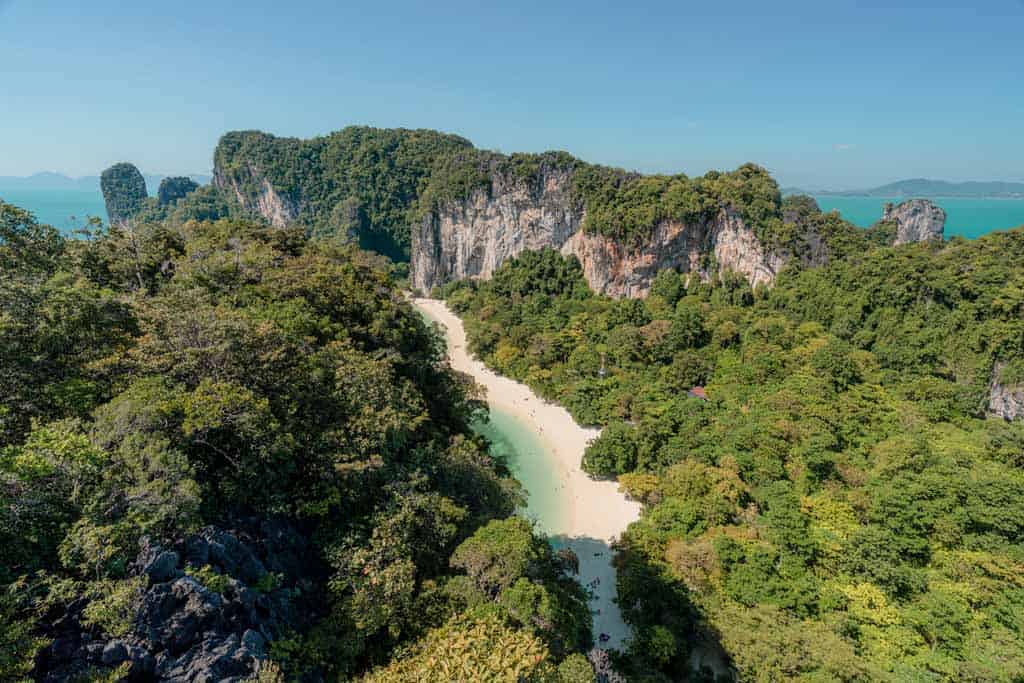 2) Get Up for Sunrise
One of the best ways to start your day here on Koh Yao Noi is to wake up early and watch the sunrise.
Head over to the east side of the island, grab yourself a coffee, and be mesmerised at the limestone cliffs illuminating in the distance as a new day starts.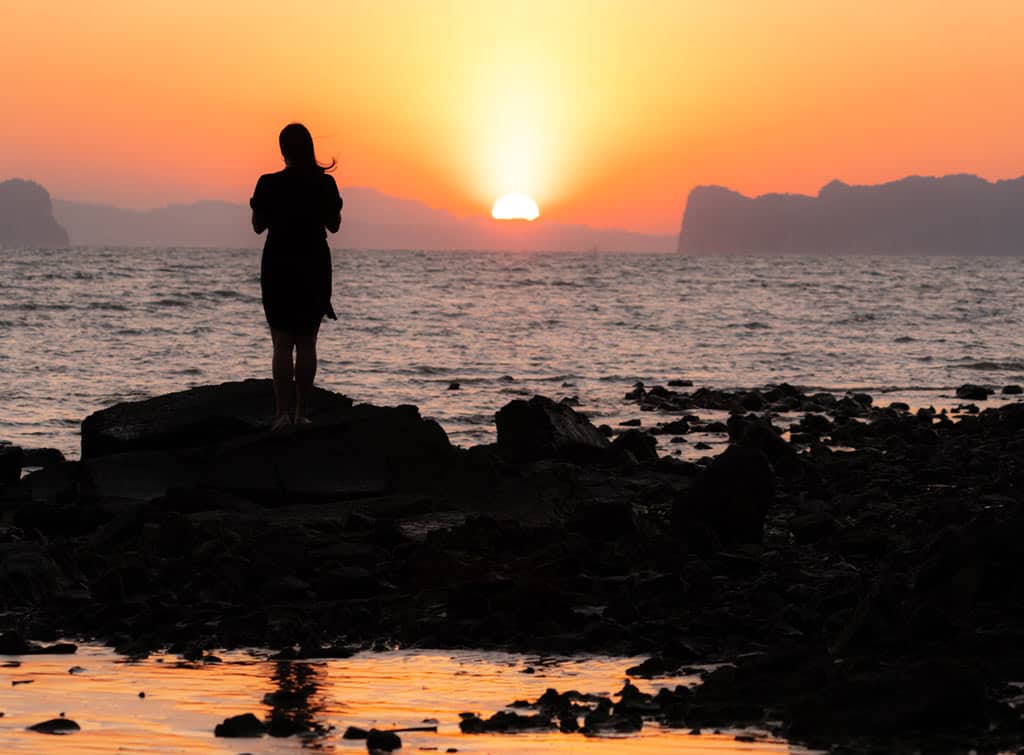 3) Ride Around Koh Yao Noi
The best way to explore Koh Yao Noi is by hiring a scooter and cruising around on your own time.
There is a ring road that circles the island with a few little side roads you can take and do more exploring.
You can rent a scooter starting at 200 Thai Baht for the day. You can pick up a map from your hotel for some highlights of places to see along the way, or simply pick a direction and start riding.
Along the way you will see rows of farms, little fishing villages, some buffalo, lots of great beaches, local townships and you may even meet some friendly locals.
If you do rent a scooter, make sure you grab a helmet too, and double-check that your travel insurance covers motorcycle riding.
We recommend World Nomads travel insurance.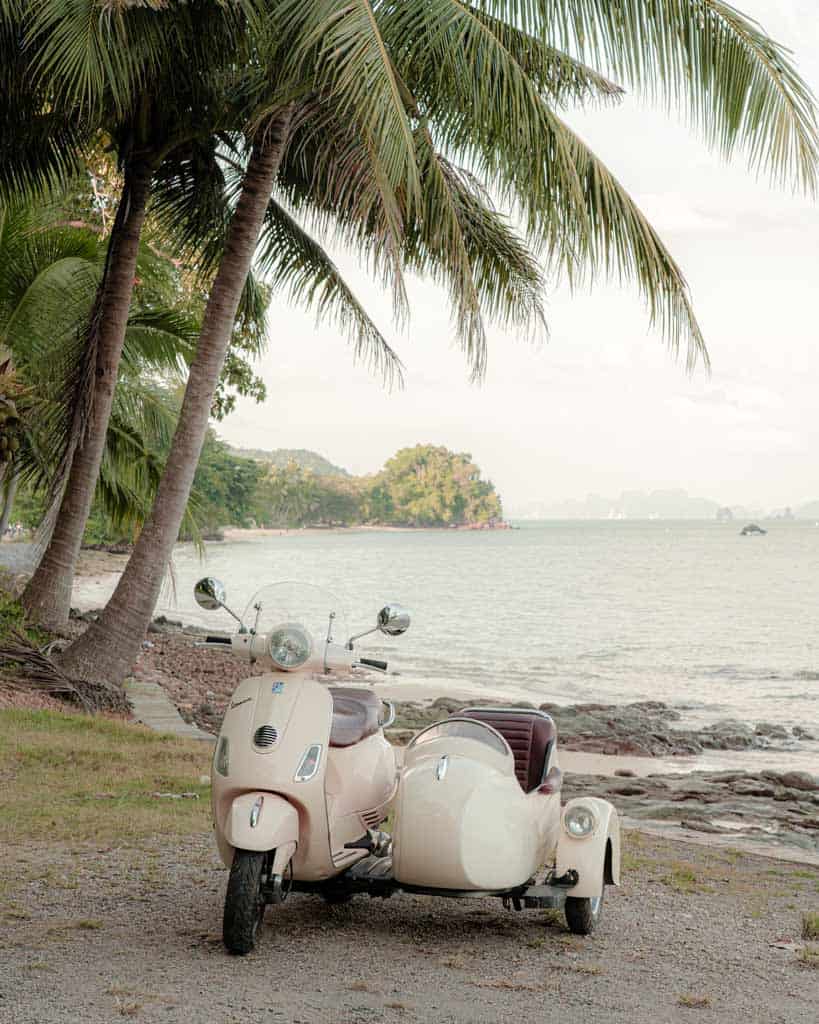 4) Kayaking & Sightseeing at James Bond Island
The most iconic spot in all of Phang Nga Bay is the awe-inspiring James Bond Island.
This rock gained international fame in the James Bond movie, "The Man with the Golden Gun", and movie aficionados and island lovers have been flocking here ever since.
To the locals the island is known as Khao Phing Kan, which means Nail Island in the Thai language, and as soon as you see it you'll understand why.
Rising impossibly out of the sea like a 40m-high pinnacle, James Bond Island is a geological marvel, and well worth seeing if you're staying on Koh Yao Noi.
You can book a full-day tour out to Khao Phing Kan through any of the accommodations or tour agencies on the Koh Yao Islands.
Joining one of these tours allows you to go kayaking out and around James Bond Island, as well as stopping off and explore caves, beautiful lagoons and surreal isolated beaches and bays.
The ocean waters are stunning with their glistening, turquoise colours. You can also visit the sea gypsies village of Koh Panji.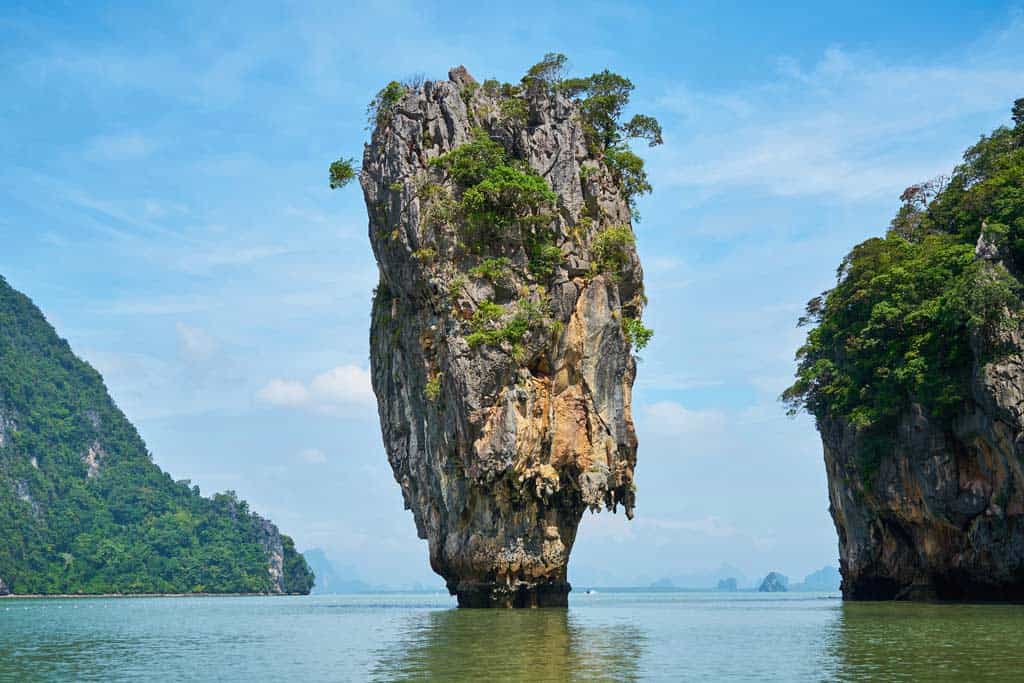 5) Visit the Sea Gypsies
While you're out exploring the waters of Phang Nga Bay, make a trip to see the Moken people, or Sea Gypsies, of Koh Panji.
These are local people who live in floating houses out on the water, surviving off what the ocean gives them, with little changing for their population in decades.
Men are out fishing on their boats, women are sitting around shucking clams and children are playing amongst themselves.
Visiting the Moken is an interesting experience, but it can feel a bit touristy. Still it's a fascinating insight into a traditional way of living that most people are unaware exists.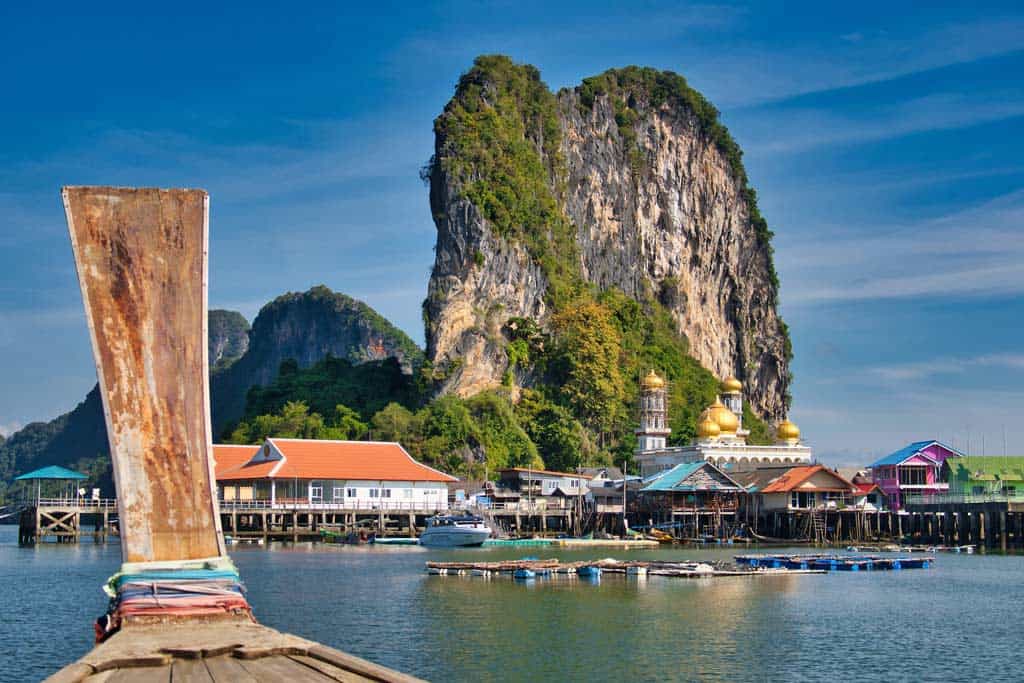 6) Check out the Fishing Villages in Koh Yao Noi
Koh Yao Noi doesn't have any big towns or CBDs. Instead, you'll find a number of fishing villages scattered around the island.
The people that live on Koh Yao Noi make a living from fishing, farming, and growing rubber trees, so it's a very authentic and traditional lifestyle, which reflects in their homes.
READ MORE: Want to know another one of our favourite Thai islands? Check out our complete travel guide to Koh Mook!
If you are interested in seeing the fishing villages at their most active, you can visit them early in the mornings when the locals are getting ready to start their day.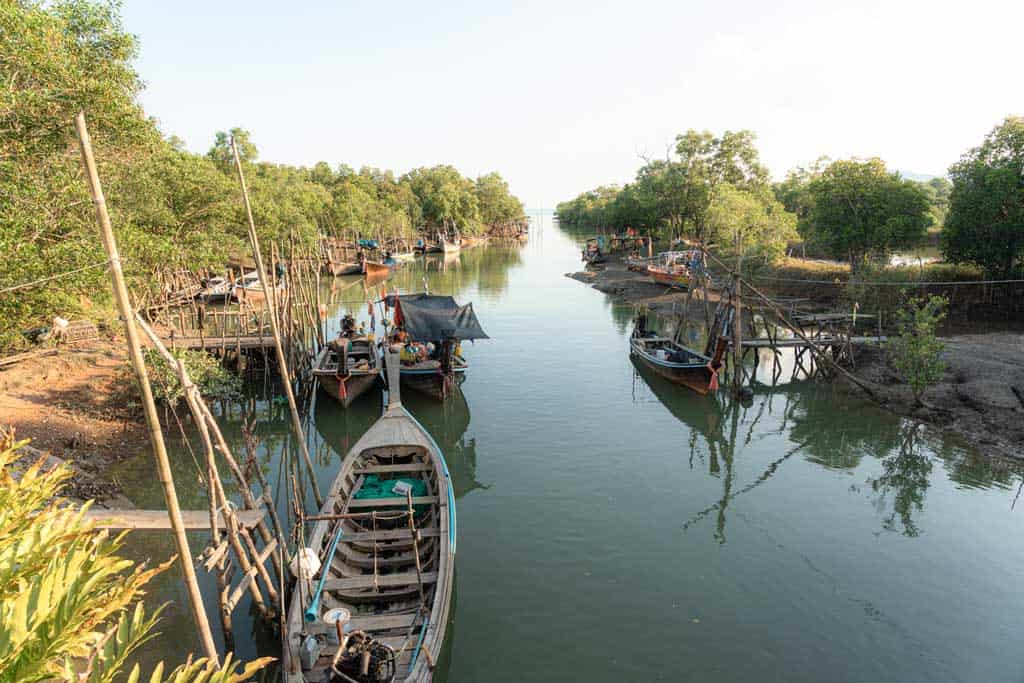 7) Relax on the Beach on Koh Yao Noi
Koh Yao Noi has some gorgeous beaches, so make sure you set aside an afternoon (or even a few days) to throw down a towel and chill out on the sand.
As Koh Yao Noi is fairly quiet it's not hard to find a stretch of beach all to yourself.
We stopped by quite a few during our trip, and one of our favourite things to do on Koh Yao Noi was to grab a coconut from one of the local stalls near the beach and spend an hour swimming and hanging out.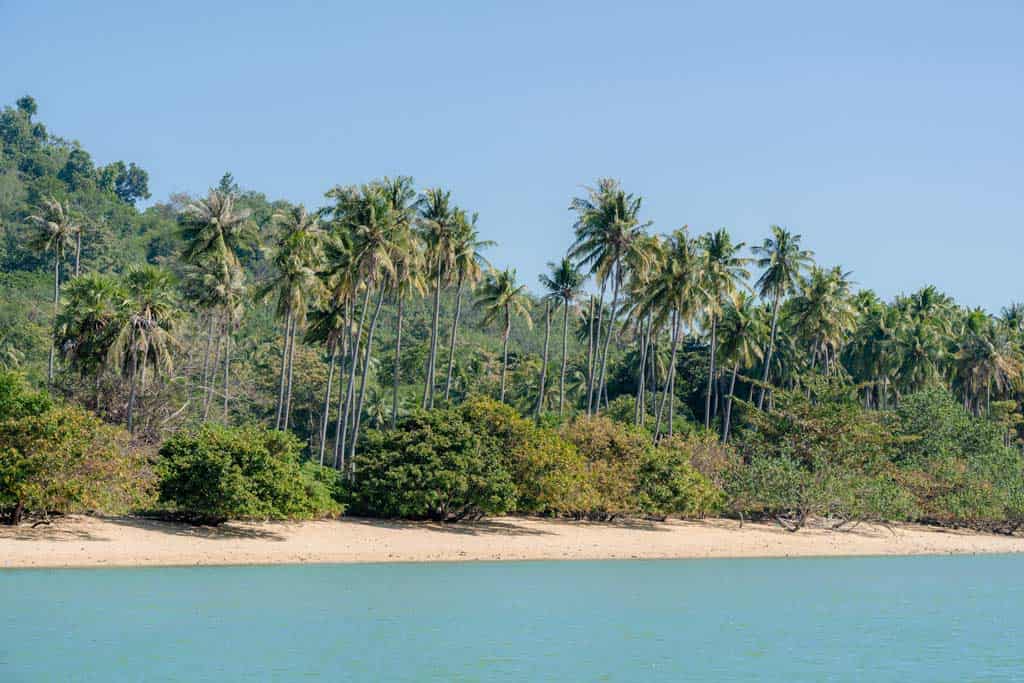 8) Do a Yoga Class or Join a Retreat on Koh Yao Noi
There are a number of yoga studios on Koh Yao Noi that are open to drop-ins.
What better way to start the day (other than watching the sunrise) is to stretch the body with some yoga moves?
Island Yoga is the most popular studio on the island, and offers yoga classes, meditation and even extended retreat stays.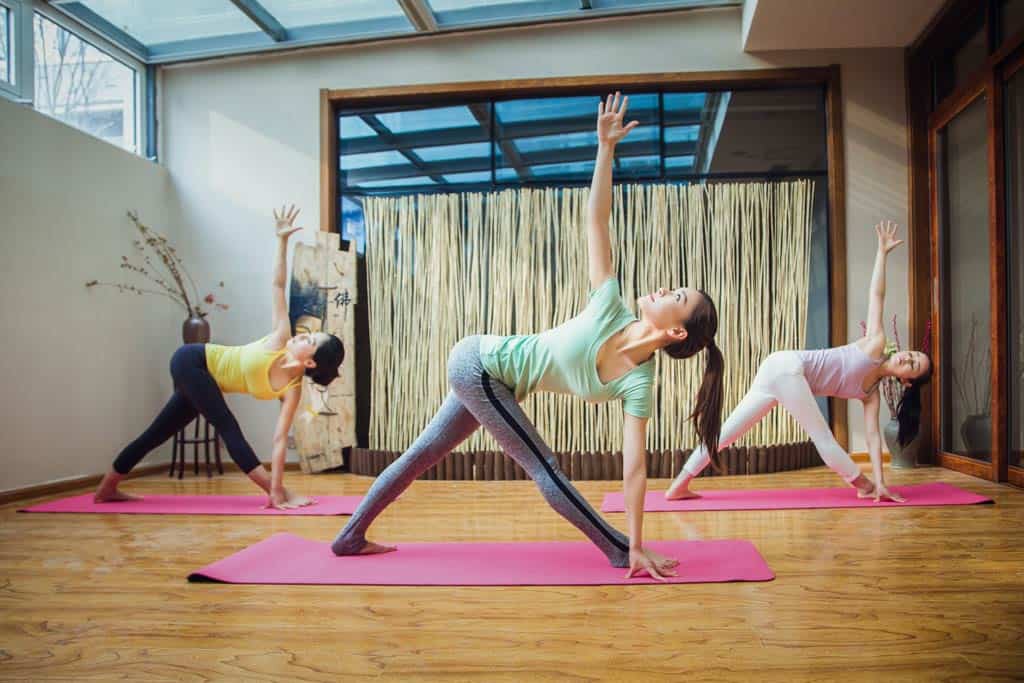 9) Sign up for a Muay Thai School on Koh Yao Noi
If you want to work on your fitness, joining a Muay Thai class or retreat will get the calories burning, sweat pouring, and cardio levels soaring.
As one of the best self-defence martial arts, Muay Thai is not only a great way to learn how to protect yourself but also to shred kilos quickly due to the intense training regime.
Check out KYN Phoenix Muay Thai for all your Thai kickboxing needs.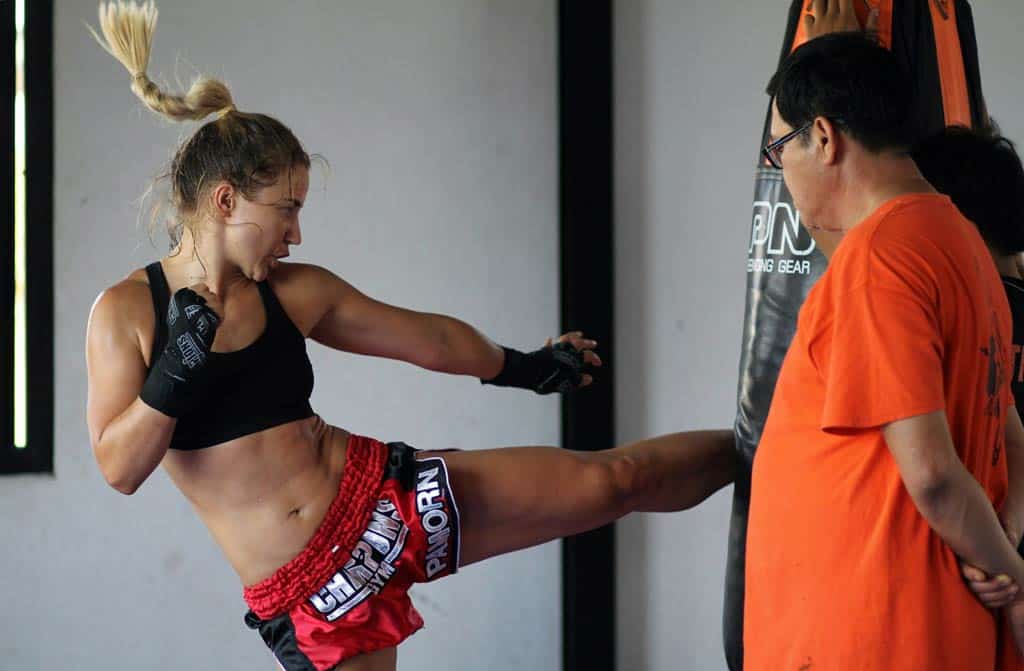 10) Drop into Cafe Kantary for Coffee and a Treat
When a place claims to have the best coffee on the island, you know you better put them to the test.
Luckily Cafe Kantary deliver on the goods, and they serve up a delicious brew that will get caffeine-addicted travellers buzzing for more.
Located right next to Cape Kudu Hotel, Cafe Kantary also serves up fantastic sweets, including pastries, cakes and ice creams.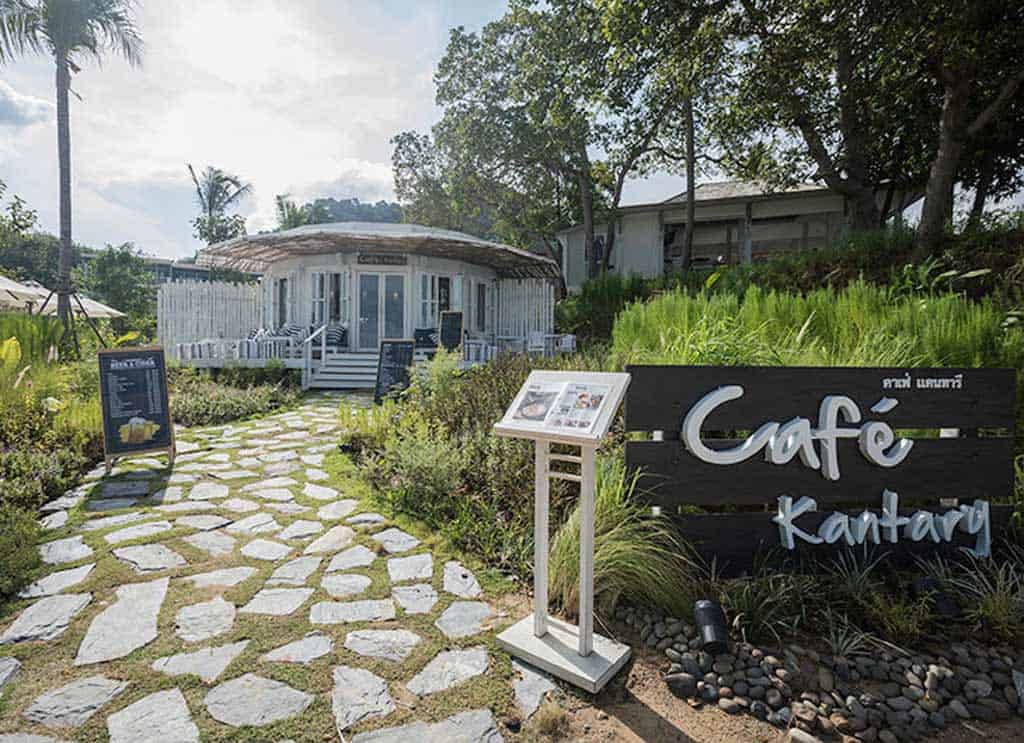 11) See What's Happening Over on Koh Yao Yai
Koh Yao Noi's bigger sister, Koh Yao Yai, is just a short boat ride away to the south and is well worth exploring for a day.
The beaches on Koh Yao Yai are the island's main attraction, especially in the north at Laem Had Beach, so make sure you've packed your swimmers.
While you're over there grab yourself a kayak for some paddling, a snorkel set to see what you can find underwater or just wander around the coastal villages and interior plantations.
There are regular ferries to Koh Yao Yai from Koh Yao Noi. Stop by Manoh Pier to see when the next one is going.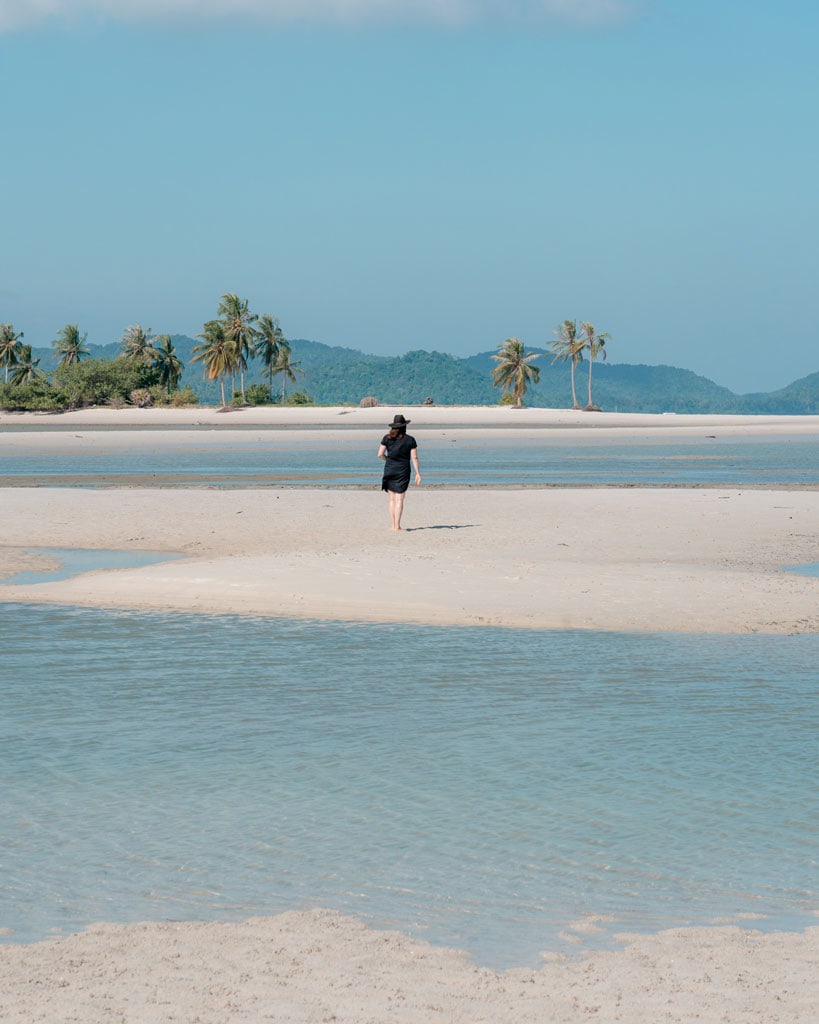 12) Go Scuba Diving in Phang Nga
If you love scuba diving and you happen to be in Koh Yao Noi from November to May, do yourself a favour and book in for a few fun dives at some of the incredible sites around Phang Nga Bay.
Companies like Similan Scuba KYN run great trips for learners and experienced divers to Shark Point, King Cruiser Wreck and a number of other locations.
Not qualified? No problem! Sign up for an open-water course or introduction to scuba while you're on the island.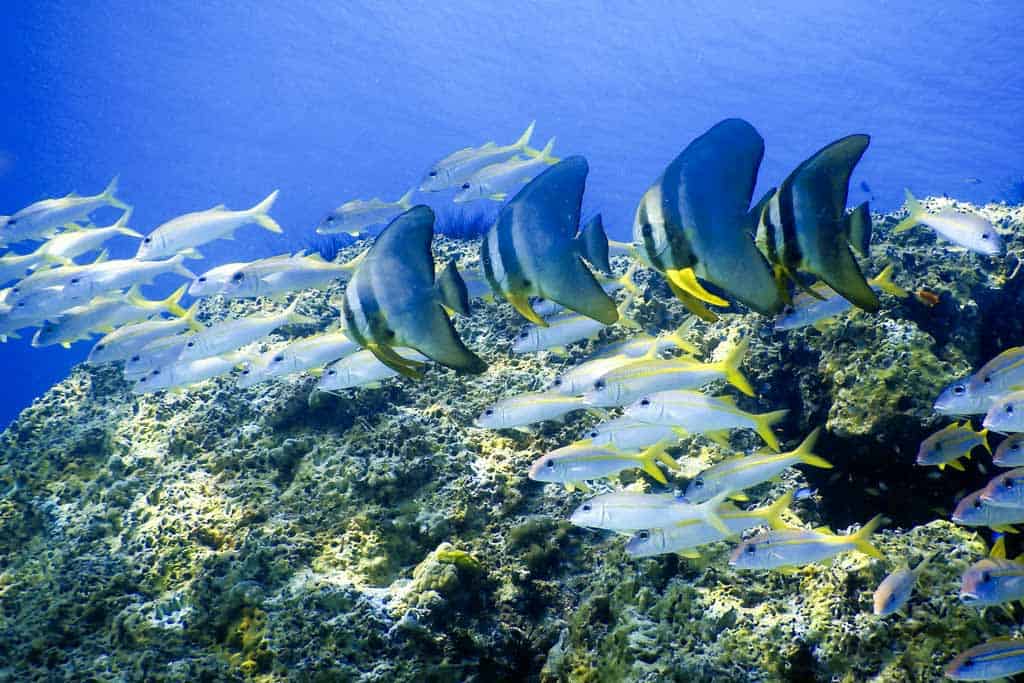 Our Epic Travel Guide to Koh Yao Noi, Phang Nga
Now that you know what to do on Koh Yao Noi, we're going to share all the general travel information you'll need to make your visit here simple and enjoyable.
READ MORE: Check out our top recommendations for the best things to do in Thailand!
About the Koh Yao Islands – Koh Yao Noi and Koh Yao Yai
There are two islands near each other, Koh Yao Yai and Koh Yao Noi. The last word on the name is the size of the island; in Thai, Yai means large and noi means small.
Koh Yao Yai is more developed, with Koh Yao Noi being a bit more relaxed. Visit Koh Yao Yai for more amenities and entertainment options.
But why not visit both Koh Yao Yai and Koh Yao Noi if you have the time?
Where is Koh Yao Noi?
Koh Yao Noi is located in the Phang Nga Bay of southern Thailand, part of the Andaman Sea and 45 minutes east of Phuket by speedboat.
How to Get to Koh Yao Noi
Getting to Koh Yao Noi is very easy. There is a speed boat ferry that leaves from Bang Rong Pier in Phuket and heads over to Tha Manok Peir on Koh Yao Noi.
From there you can hire a local songthaew (passenger vehicle) to get to your hotel or arrange a pick up with your accommodation.
From Krabi, head to the Nopparat Thara Ferry Pier or the Ta Len Pier where you can catch either a public speed boat ferry or a longtail to Bangrong Pier.
The speed boats go roughly every hour and cost 300 Thai Baht per person.
Is Koh Yao Noi Worth Visiting?
Absolutely! We think this Thai island paradise in the Andaman Sea is one that visitors should not miss.
The vibe on this island is relaxed and surreal. It is easy to access and gives a very different experience to busier Phuket.
There's a lot to see and do here, and if you're looking for a perfect Thai island getaway, then definitely consider a trip over to Koh Yao Noi.
We recommend exploring the island on your own for a few days, but if you're short on time you can book a guided tour from Krabi.
This tour on Klook visits Koh Yao Noi, Hong Island, and the James Bond Island as a day trip from Krabi.
Where to Eat in Koh Yao Noi
For such a small island there is a surprising amount of great restaurants to try, especially if you love Thai food!
Most of them can be found on the southern peninsula between Manoh Pier and Kong Jark Beach.
Check out Kaya Restaurant, Koh Yao Bistro by Chef Aon, Garden Cafe, Faye's Kitchen, and Sawasdee Restaurant.
Another amazing place to eat is the Hornbill Restaurant, found inside the Cape Kudu Hotel.
Their food is divine and they offer a varied, fresh mix of Thai and Western specialties.
Where to Stay in Koh Yao Noi
Whether you're travelling on a budget or looking to splurge, you'll find some wonderful accommodation on Koh Yao Noi.
For a cheap place to stay on Koh Yao Noi book into Tha Khao Bay View.
Prefer a mid-range hotel? Paradise KohYao is the top pick for here.
But if you want to experience not just the best hotel on Koh Yao Noi, but also arguably one of the best in Phang Nga, then you cannot miss Cape Kudu Hotel!
The Best Luxury Hotel on Koh Yao Noi – Cape Kudu Hotel
Situated on the east coast and just a short ride away from Manoh Pier, Cape Kudu Hotel is redefining boutique luxury on the Thai islands.
Part of the phenomenal Cape & Kantary Hotels brand, Cape Kudu offers guests a range of spacious villas, many of which include their own private plunge pools.
The Long Island Bar serves up delicious cocktails right by the pool, and their Hornbill Restaurant dishes up meals that are arguably the best on Koh Yao Noi.
We personally stayed here on our most recent visit and absolutely loved our time here.
If you want to know more about this accommodation, check out our extensive Cape Kudu Hotel review.
Koh Yao Noi Travel Tips
There is an ATM on the island so don't worry if you need to get cash out.
When renting a scooter never leave your passport with the rental company. Ask your hotel to photocopy your passport and take that with you. You will need to leave a deposit though so make sure you have that in cash.
You can book island-hopping tours at your accommodation or at one of the little tour agencies found all around Koh Yao Noi.
The best time to visit Koh Yao Yai and Koh Yao Noi is between December and April when the weather is milder and there's less rain. It is also the busiest time of year though so make sure you book ahead.
DISCLAIMER: Our visit to Koh Yao Noi was made in partnership with the Tourism Authority of Thailand. All thoughts, opinions and hours spent relaxing on the beaches are, as always, our own.