Make the most of your time in the Land of Smiles with our expert guide to the best things to do in Thailand, South East Asia!
Whether you've been to Thailand or not, you probably know how beautiful it is just from photos and travel guides.
Longtail boats resting atop white sand, limestone cliffs towering above a turquoise sea, glittering temples protruding from a rich green forest.
These sights are enough to make you book a flight to Thailand right on the spot.
But once you arrive, you may be wondering what to do in Thailand. Now that you've made it to this picturesque southeast Asian country, how do you make the most of your time?
There are so many incredible activities in Thailand that cater to all types of travellers.
There's rock-climbing and cliff-jumping for the thrill-seekers, meditation retreats and temple tours for the spiritual travellers, cooking classes and night markets for the foodies and scuba diving and sea kayaking for the ocean enthusiasts.
The Best Things to Do in Thailand
Thailand is such a diverse country packed with a thriving sense of culture, and you may find yourself on sensory overload at times.
But Thailand truly has so much to offer, so pick what activities appeal to you the most and make sure you fit them into your schedule.
From riding a motorbike around Northern Thailand, to touring a national park, to visiting a floating market or hitting up the Full Moon Party, here are 35 of the best things to do in Thailand!
READ MORE: Plan your trip to Thailand with our comprehensive Thailand Travel Guide!
1) Scuba Diving in the Andaman Sea and Gulf of Thailand
Underneath the warm turquoise waters of the Andaman Sea and the Gulf of Thailand lies a magical world of marine life.
Scuba diving in Thailand allows you to see it all up close, from colourful coral reefs to exotic fish to other sea creatures like turtles, sharks, and rays.
Some of the best places to scuba dive in Thailand are the islands of Koh Tao, Koh Phi Phi, Koh Samui, Koh Yao Noi and Koh Lipe.
If you are an experienced diver and want a really unique experience, definitely think about doing a liveaboard. Thailand is one of the best, and most affordable, places to do one.
Visiting the Gulf for your diving? Don't miss our guide on the top things to do on Koh Tao.
2) Motorbike Along the Mae Hong Son Loop
Renting a motorbike and zipping along country roads is a liberating way to explore northern Thailand.
The Mae Hong Son Loop is the best place to do this, as the roads are not very crowded and the green mountainous scenery is breathtaking.
A popular place to begin the loop is in Chiang Mai, and some towns you may pass through on the way include Pai, Mae Sariang, and Mae Hong Son.
Try to do the loop during the dry season to avoid too much rain, and be sure to stop off at some of the best waterfalls, caves, and villages in northern Thailand.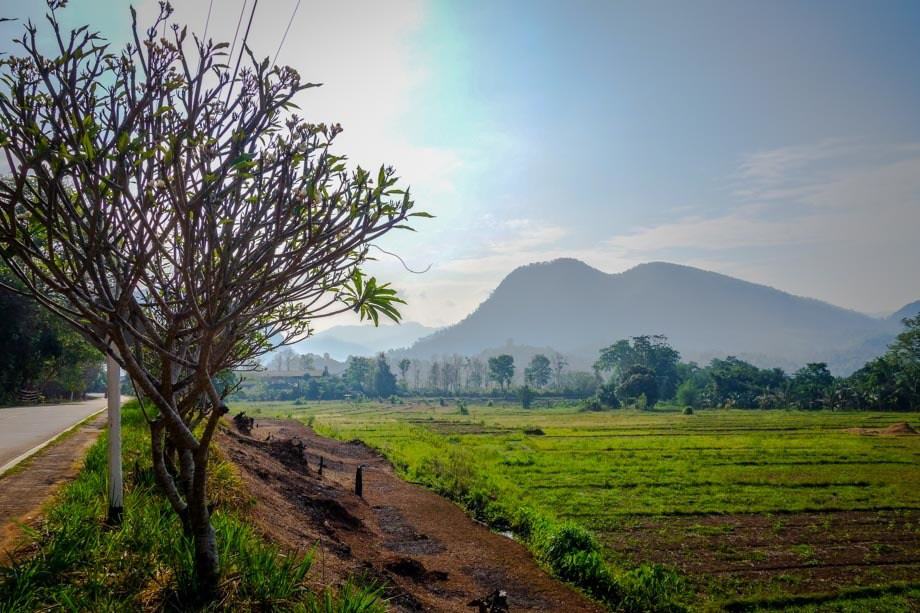 3) Get a Drink at Sky Bar in Bangkok
Visiting the Sky Bar in Bangkok is one of the coolest activities in Thailand.
As the tallest open bar in Thailand, and one of the tallest in the whole world, getting a drink at Sky Bar is surreal and almost futuristic.
The bar sits on the 63rd floor of an 820-foot skyscraper and is open daily from 5 pm until 12 am.
4) Island Hopping in the South
Thailand has over 17,000 islands, and it would be a shame not to see at least a few of them.
Big islands like Phuket and Koh Samui have their own airports, so they are easily accessible from the mainland.
Venture even farther away to witness some of the rugged tropical scenery of Thailand's smaller islands.
You might see coconut palm forests, monkeys, limestone cliffs, picturesque bays, coral reefs, small local communities, and other hidden gems scattered throughout the ocean.
You can either venture out on your own in local boats or book an island-hopping tour; either way you are bound to see some spectacular views.
Heading out to James Bond Island is one of the most popular island tours you can do, so definitely add that to your South East Asia bucket list.
5) Admire the White Temple
There are too many stunning temples in Thailand to list, but the White Temple in Chiang Rai is easily one of the most impressive.
Known as Wat Rong Khun in Thai, this exquisite Buddhist temple is adorned with incredible detail that is all painted white.
The image of the captivating building reflects in the surrounding pools, making it a gorgeous scene for photos.
The temple is open every day from 8 am to 5 pm.
6) Hike to the Phi Phi Viewpoint
For one of the best views in Thailand, climb to the viewpoint on the island of Koh Phi Phi.
The hike only takes about 30 minutes and costs 50 Baht, and the panoramic view of the mountainous island, the palm forests, and the surrounding ocean will stick in your memory forever.
7) Explore a Night Market
One of the best Thailand attractions to see is a night market.
Different locations all over the country host their own night markets, where you can shop for cheap souvenirs, eat delicious street food, and enjoy local entertainment.
There are countless night markets all over Thailand, but the Sunday night walking street market in Chiang Mai is one of the biggest and best ones.
8) Take a Thai Cooking Class
After indulging in all the best Thai food, take your food experience even further and learn how to cook it yourself.
Taking a cooking class is definitely one of the best things to do in Thailand for food-lovers as it gives you a hands-on experience with the fresh ingredients and traditional cooking methods of the delicious Thai cuisine.
After working hard in the kitchen, you get to eat all the amazing Thai food you've cooked, so arrive on an empty stomach!
Book a Cooking Class in Chiang Mai

Book a Cooking Class in Bangkok

Book a Cooking Class in Phuket
9) Get a Thai Massage Anywhere
Thai massage is an ancient healing tradition that is different from your typical massage.
The experienced local masseuses knead, twist, and bend your body into unique positions that help increase blood flow and strengthen the muscles.
Getting a Thai massage makes you feel rejuvenated and energized, and it is definitely something you should experience in Thailand.
You can even get a Thai massage in a temple at Wat Pho in Bangkok, or get a massage from women ex-prisoners in Chiang Mai.
READ MORE: Be sure to add these places to visit to your Thailand itinerary!
10) Ride the Thai-Burma Railway
In the west of Thailand, the historic town of Kanchanaburi is home to the Thai-Burma Railway.
Also known as the Death Railway because of the World War II prisoners and labourers who built it, the railways stretches over cliffs, riverbanks, and farmland to connect Thailand with Myanmar (formerly known as Burma).
Taking a slow journey on this train is one of the best things to do in Thailand for travellers who want to get off the beaten path and see a side of the country that most tourists don't.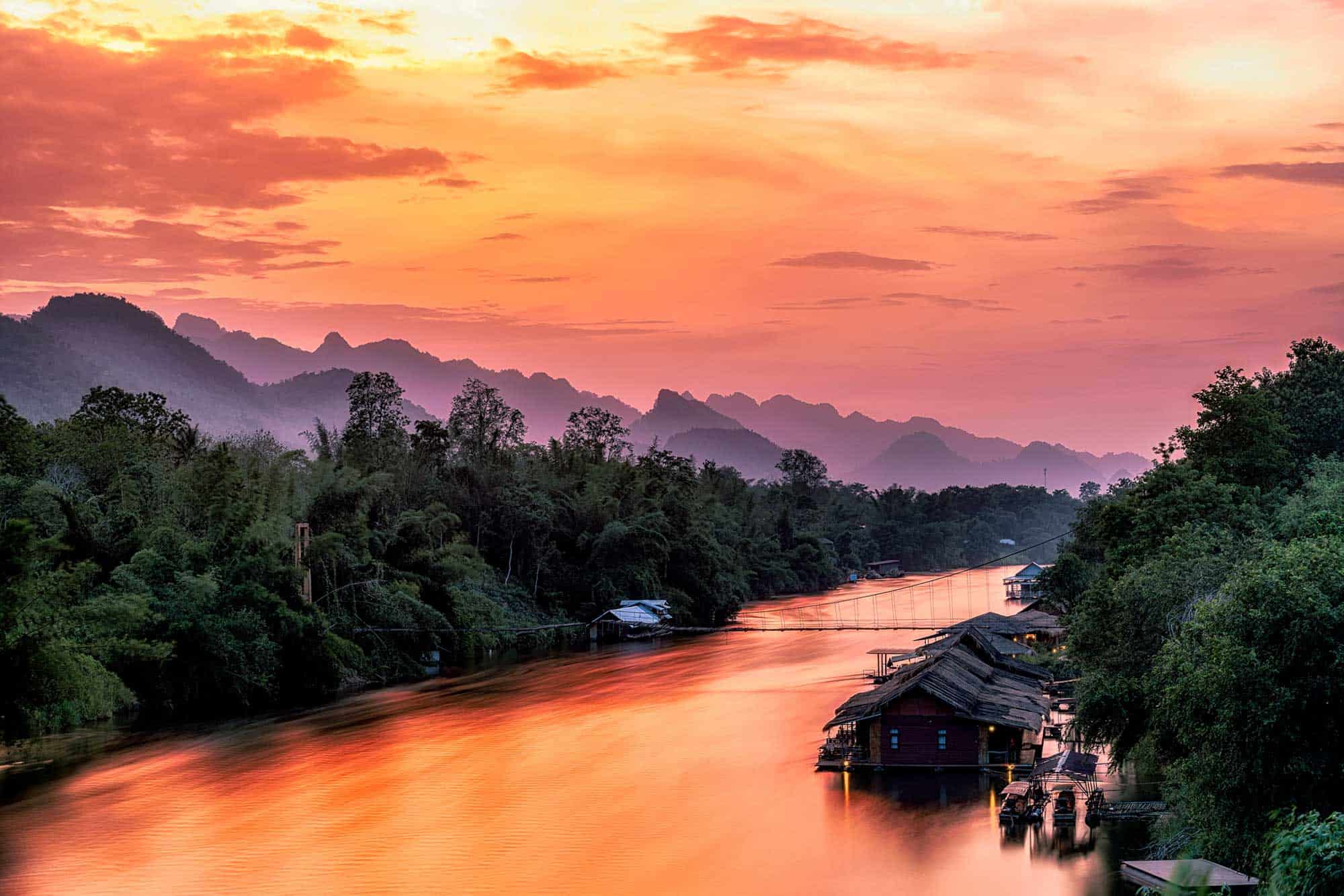 11) Go Rock Climbing in Krabi
Thailand's massive limestone cliffs aren't just perfect for photo opportunities, they are also perfect for rock climbing.
The Krabi area has some of the best rock climbing in all of southeast Asia, particularly in Ao Nang, Railay, and Tonsai.
There are plenty of climbing schools so you can take beginner classes if you're not an experienced climber and you just want to try something new.
12) Book a Meditation / Yoga Retreat
For those wanting to have a spiritual experience, or for those who just want to slow down and connect more, Thailand is an amazing place to do a retreat of some sort.
Whether it be a meditation course, a yoga retreat, or a general health and wellness getaway, the tranquil natural surroundings and friendly, educated local teachers of Thailand provide the perfect setting for anyone wanting to branch out from their normal routine.
Even if you just book a one-day course or a simple yoga class, putting the body and mind outside their comfort zones can help you grow as a person and gain a new perspective on life.
13) Sea Kayaking in the Marine Parks
With so much incredible island scenery and marine life, you'll want to experience the ocean in as many ways as possible while travelling through Thailand.
Sea kayaking is a fun and easy way to get out on the water and explore the islands.
Most island hotels and tour companies offer hourly kayak rentals, and some amazing places to kayak in Thailand are Koh Mook and Ang Thong National Marine Park near Koh Samui.
14) Watch a Muay Thai Boxing Match
The national sport of Thailand is Muay Thai Boxing, a fast-paced combat sport that is fascinating to watch.
Most major cities around the country have nightly boxing matches. So buy a ticket to a Muay Thai fight, grab a drink and settle in to watch the quick and talented local athletes duke it out in the ring.
To really immerse yourself in the Thai culture, you can even take Muay Thai lessons and learn the basics from a certified trainer.
15) Get a Sak Yant Tattoo
If you are passionate about tattoos, especially ones that reflect your cultural experiences abroad, an incredible way to commemorate your time in Thailand is to get a Sak Yant tattoo.
These sacred tattoos are designed and executed by a Sak Yant master, most of which are also monks.
The ink is made using natural local ingredients, and the whole process of getting the tattoo is quite spiritual.
You can read about the whole process of getting a Sak Yant tattoo in Chiang Mai here.
16) Visit a National Park
Thailand is home to some incredible national parks. These are amazing places for exploring Thailand's wilderness and wildlife.
One of the best is Khao Yai National Park in central Thailand. As the country's first national park, there is so much natural beauty to see in Khao Yai National Park.
The entire national park covers over 2,000 square km of ground, and there are lots of incredible waterfalls, hiking trails, forests, and mountains. Khao Yai National Park is also a UNESCO World Heritage Site.
Other notable national parks to visit include Erawan National Park, Khao Sok National Park, and Ang Thong National Marine Park.
17) Take a Street Food Tour
The street food in Thailand is diverse and delicious, particularly in the massive and multicultural city of Bangkok.
Yaowarat is the city's "Chinatown," and the mixing of cuisines between the local Thais and the Chinese migrants creates a fusion of incredible street food.
Navigating the street food can be confusing if you're a picky eater and if you don't speak the language, so you may want to book a street food tour with an English-speaking guide to help you with this culinary adventure. Either way, make sure you eat street food often in Thailand!
18) Witness a Fire Show on the Islands
While experiencing the crazy nightlife on the island of Koh Phi Phi, you have to witness one of the local fire shows.
Most nights around 10pm, experienced performers put on mesmerizing shows using fire-tipped batons that gleam against the night sky.
Just head down to the beach and ask everyone where the next fire show is and you're sure to find one that blows your mind!
READ MORE: When planning your trip, check out these great Thailand itineraries!
19) Experience the Multiculturalism of Trang
Thailand is full of tourist attractions, but you should try to venture out of the popular areas at least once to get a feel for the real Thailand.
Trang is a city in southern Thailand that is split into two parts: the more modern Trang City and the traditional Trang Old Town.
On both sides of the city, you'll find an enticing mix of cultures, nationalities, and religions that reflect in the cuisine, the art, and the architecture of the area.
Be sure to taste lots of local food and check out the museums, the street art, the local markets, and the shrines, churches, and temples to absorb all the multiculturalism of Trang.
20) Visit the Ancient Capital of Ayutthaya
Back when Thailand was known as the Kingdom of Siam, Ayutthaya was its capital.
This powerful ancient city was ruined during a conflict with another Asian kingdom, but you can still see the majestic remains of the towering temples. Nowadays, the ancient city is a UNESCO World Heritage Site, and is a popular day trip frmo Bangkok.
Visiting Ayutthaya is one of the top things to do in Thailand, and booking a tour ensures that you'll learn all the interesting history of the former capital.
21) Eat Pad Thai
Most people have probably tried pad thai at least once in their lives, but eating it in Thailand is a whole different experience.
The experienced locals toss fresh noodles, bean sprouts, egg, spring onion, fish sauce, oyster sauce, and tofu, chicken or shrimp together in a hot wok until the dish is cooked to perfection.
After paying the equivalent of a few dollars for this delicious meal, you can top your pad thai with crushed peanuts and fresh chilli before digging in.
I promise you, it will taste so much more authentic than your local Thai restaurant at home. Whether you're in Chiang Mai, Bangkok, or a small town, pad thai is bound to be there.
22) Dance all Night at the Full Moon Party
The island of Koh Pha Ngan is famous for its Full Moon parties, which are basically all-night dance parties held on the beach once a month during the Full Moon.
Painting your body in neon colours, drinking cocktails out of plastic buckets, and dancing until the sun comes up is a classic backpacker experience in Thailand.
Koh Pha Ngan also hosts Half-Moon parties that are still super fun but aren't as big as the Full-Moon parties.
23) See the Big Buddha of Phuket
While visiting Phuket, Thailand's biggest island, you have to head up to the Big Buddha for the best view.
Standing at 45 meters tall atop Nakkerd Hill, the gigantic Buddha is made of pristine white Burmese marble and appears to be watching over the island.
The Big Buddha is one of Phuket's best attractions, so don't miss it!
24) Attend a Ladyboy Show
The local men who dress up as fabulous women and roam the streets of Thailand, known as ladyboys, are a beloved part of Thai culture.
In every major city around the country, ladyboys often put on magnificent shows for tourists to enjoy.
Chiang Mai in particular hosts an amazing Ladyboy Cabaret, where the local performers don glittering outfits, lip-sync or sing to popular songs, dance their hearts out, and absolutely dazzle the crowd with their charisma and their stage presence.
READ MORE: Make sure you know these travel tips when visiting Thailand!
25) Go to the Floating Market in Bangkok
A popular way to sell local goods in Thailand is at floating markets.
Thais fill their longtail boats with fresh produce, spices, food, handicrafts, or other trinkets and drift along a river or canal, selling their products to people in other boats or on the sidewalk next to the water.
Damnoen Saduak Floating Market is Thailand's biggest and most popular floating market, though there are others such as the Amphawa Floating Market.
These floating markets are located just outside Bangkok, so you can easily visit them on a day trip from the city.
26) Soak in some Hot Springs
There's no better way to relax, renew and revive a jet-lagged body than soaking in warm, mineral-rich thermal water.
Kamphaeng Phet is a town in central Thailand, located between Bangkok and Chiang Mai, which has a beautiful natural hot spring.
Known as the Phra Ruang Hot Springs, these hot thermal waters have lots of health benefits and make for a soothing and enjoyable addition to a trip through Thailand.
27) Walk Along The Bridge Over River Kwai
When visiting Kanchanaburi, you'll find that the Bridge on the River Kwai is the town's most famous attraction.
It was built during World War II, and was the only steel bridge in Thailand at the time, as the rest were timber.
So make sure you walk across this iconic bridge before riding Kanchanaburi's other famous attraction, the Thai-Burma Railway.
28) Visit the Golden Triangle
The Golden Triangle is the point where the borders of Thailand, Laos, and Myanmar meet.
The Mekong River and the Ruak River both intersect here as well, and the landscape is full of hill tribes, green forests, and a sense of tranquillity.
This area used to be the centre of the opium trade but nowadays is just a beautiful and interesting tourist attraction.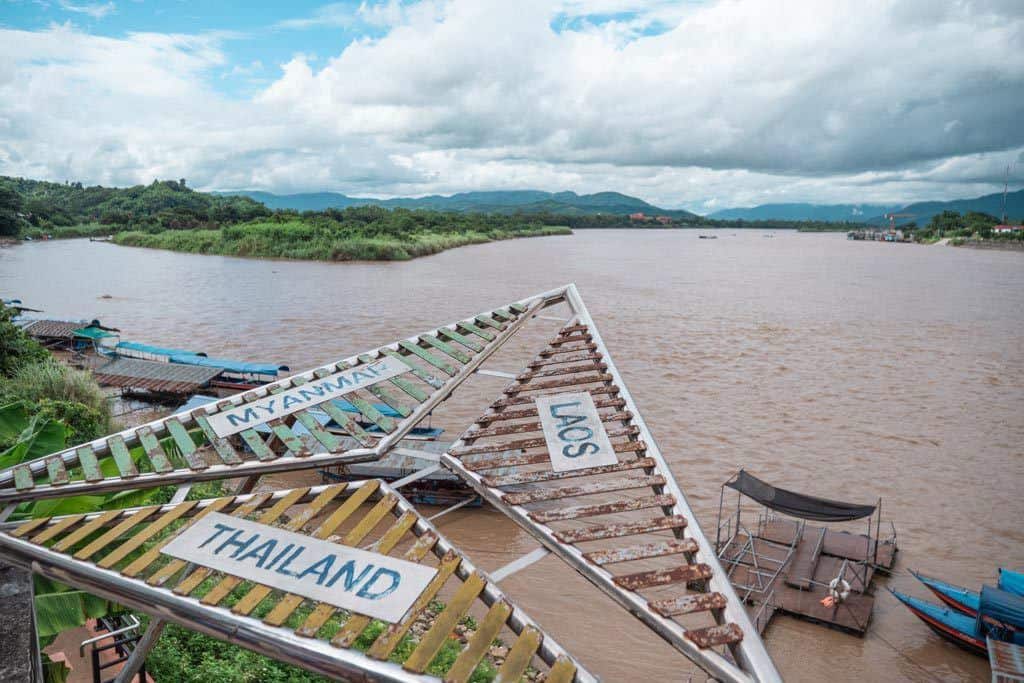 29) Stay in a Luxury Island Resort
If you've ever dreamt of treating yourself to a luxury hotel on the beach, where you can drink cocktails by the pool and watch the sunrise or sunset from your king-sized bed, Thailand is the place to make this dream come true.
Five-star accommodation in Thailand is very affordable, especially compared to many other countries in the world.
So you can easily treat yourself to a fancy island resort for a night or two without going completely broke.
30) Take a Temple Tour
Thailand is crawling with temples, and for those who want a deeper insight into the history, culture, and traditions associated with certain temples, you can take a guided tour to learn from the local experts.
Thailand's most famous temples have guided tours available, and most tours often offer lunch, transfers, and other fun cultural activities.
For example, you can book a tour that takes you to Chiang Rai's most magnificent temples, including the White Temple, the Blue Temple, and the Black House.
You could also book a temple tour of Doi Suthep, one of the most sacred temples in Chiang Mai.
31) Visit the Grand Palace
In terms of sightseeing, visiting the Grand Palace in Bangkok is definitely one of the best things to see in Thailand.
The massive Grand Palace complex is home to the palace that used to house the King of Siam, as well as numerous temples and monuments.
Every inch of the Grand Palace is adorned with some sort of glittering, coloured decoration, and it is a truly stunning sight to see.
So even though it is a very touristy attraction, it is well worth it.
32) Visit an Elephant Sanctuary
Many travelers visit Thailand with the hopes of seeing elephants.
Luckily, Asian Elephants do live in Thailand, and you can see them in their natural habitats with local organizations such as Elephant Nature Park.
The key thing to remember, however, is to only visit places that put the wellbeing of the animals above everything else.
Never visit places that exploit the elephants, and never visit places that allow riding elephants.
But if you want to spend the day observing elephants, places like Elephant Nature Park near Chiang Mai is an ethical place to see these magestic giants.
33) Get Your Heat Pumping with some Cliff Diving
For the adrenaline-seekers looking for some wild things to do in Thailand, go cliff-jumping on the island of Koh Phi Phi.
There are some amazing spots for cliff-jumping on this picturesque island where you can fly off rugged limestone cliffs and into the turquoise sea.
Just make sure you ask your hostel staff, your local friends, and even the local rock-climbing shop about where to jump so you stay safe.
34) Check out the Bangkok Airplane Graveyard
In eastern Bangkok, you'll find the strange yet fascinating Thailand attraction known as the Airplane Graveyard.
Old airplanes that have been put out of commission are scattered all around this empty block of land, as are some random airplane pieces like broken wings and ruined cabins.
Though Thailand is filled with ancient ruins and temples, it is pretty cool to see some ruins of the modern era while visiting Bangkok.
35) Stay in a Floating Raft House
Floating on the River Kwai in the town of Kanchanaburi, there are a bunch of charming bamboo houses that travelers can stay in for a unique accommodation experience.
Each little house is connected to the land by a small bridge, so the accommodation is very quiet and peaceful.
Staying in a floating raft house allows you to enjoy the lush jungle and mountains so you feel like you are one with the environment.
DISCLAIMER: Some of the links in this article are affiliate links, which means if you book accommodation, tours or buy a product, we will receive a small commission at no extra cost to you. These commissions help us keep creating more free travel content to help people plan their holidays and adventures. We only recommend the best accommodations, tours and products that ourselves or our fantastic editorial team have personally experienced, and regularly review these. Thanks for your support, kind friend!