The ultimate list of all the best things to do in Koh Phi Phi Island, Thailand.
The islands of Koh Phi Phi are very popular among tourists in Thailand, but with good reason.
The natural scenery here is nothing short of jaw-dropping.
Everything you'd expect to see on a postcard from a tropical island paradise, like soft white sand, brilliant turquoise water, and lush green palm forests, you can find all over the Phi Phi Islands.
Koh Phi Phi is actually an archipelago of six different islands.
The only inhabited island is Koh Phi Phi Don. This is the biggest island out of the six and it is still no bigger than 10 square kilometres.
Travellers can only stay on Koh Phi Phi Don, and there are tons of hostels, resorts, restaurants, bars, and tourist attractions.
The island is so small that you can walk everywhere, and you can visit the other islands by kayak, long tail boat or speed boat.
Koh Phi Phi Leh is the second largest island and is home to great snorkelling sites and picturesque beaches and lagoons.
The other four Koh Phi Phi islands, Bida Nok, Bida Nai, Koh Young (Mosquito Island) and Ko Mai Phai (Bamboo Island), are made up of mainly limestone cliffs, tropical jungle, and a few beaches.
From scuba diving at Shark Point, to taking a boat tour to Maya Bay, to snorkeling around Mosquito Island or Bamboo Island, there is a wealth of activities waiting for you on Phi Phi Island.
Now that you know a bit more about the place, it's time to jump into this list of what to do in Phi Phi Island!
READ MORE: Plan your trip to Thailand with our comprehensive Thailand Travel Guide.
The Best Things to Do in Koh Phi Phi Island
With six different islands loaded with natural beauty, there are so many fun activities in the Koh Phi Phi Islands of Thailand.
You can enjoy water sports, photography, and exploration on the uninhabited islands, and indulge in wild parties and delicious food on the inhabited island.
Though the islands are small, there are so many things to do in the Phi Phi islands of Thailand that you should spend at least 2-3 days here.
After listing the best things to do in the Phi Phi Islands, we'll mention a few recommendations for places to stay and places to eat in Koh Phi Phi Don.
READ MORE: Check out our guide to the best things to doinn Phuket while you're in the area!
1) Hike to the Koh Phi Phi Viewpoint
Koh Phi Phi Don is shaped like a dumbbell, and you can enjoy a perfect aerial view of the island's curves from the Koh Phi Phi Viewpoint.
Most of the civilisation lies in the middle strip of the island, whereas the edges, or where the weights would go if we're still using the dumbbell analogy, is covered in mountains and palm forests.
It takes about 20-40 minutes to hike up the stairs to the viewpoint, depending on your fitness level.
From the top, you get the most incredible view of Tonsai Bay's deep blue waters and Loh Dalam Bay's light teal waters with Tonsai Village dividing the two.
This is by far one of the top things to do in Phi Phi Island!
Location: Head west from Tonsai Village and follow the signs for the "Viewpoint"
Hours: Open all day, every day. Best to go earlier in the morning to beat the crowds and to have better lighting for photos.
Cost: 30 Baht
2) Take a Boat Tour to Koh Phi Phi Leh and Maya Bay
Though most of your time will be spent on Koh Phi Phi Don, you definitely don't want to miss out on the beautiful scenery of Koh Phi Phi Leh.
The best way to see this island is by speedboat so you can catch all the best sights in a shorter time frame.
A boat tour is one of the top things to do in the Phi Phi Islands, and you can easily find affordable half-day or full-day tours.
Most tours bring you to all the highlights of Koh Phi Phi Leh including the famous Maya Bay which was shown in "The Beach", the film starring Leonardo Di Caprio.
In addition to Maya Bay, Koh Phi Phi boat tours will also take you to the best places for snorkelling and cliff jumping.
(2022 Update: Maya Bay has been temporarily closed for a couple of years due to overtourism. After a brief reopening period, Maya Bay has been closed again so Thai authorities can check the impact of tourists on the beach. Maya Bay is meant to be closed for just 2 months starting on August 1 2022, so just check local websites to see tha status of Maya Bay!)
3) Indulge in the Nightlife
The nightlife on Koh Phi Phi Don is known for being a bit wild.
But if you're looking for a fun night out that includes drinking, eating, playing games, dancing and socializing, then experiencing the nightlife is one of the best Phi Phi Island activities.
Jordan's Irish Pub or Indie Sports Bar are great for grabbing a casual beer and watching a sports game. Whereas Stockholm Syndrome is a loud, vibrant nightclub that is fun for dancing.
Kong Siam Bar has live music and a chill vibe, whereas Carlito's Beach Bar and Nightclub is one of the island's oldest and most beloved party spots.
But there are countless other places to party on Koh Phi Phi Don, so all you have to do is wander around, follow the music, and order yourself a famous Thailand drink bucket and you're sure to have an epic night after checking out the best things to do in Koh Phi Phi Island!
4) Check Out Tonsai Village Market
To buy some cheap produce and mingle with locals when looking for things to do in Koh Phi Phi Island, visit the Tonsai Village Market next to Tonsai Bay.
There are very few tourists here, but there are lots of food stalls and tables selling fresh produce and seafood.
Try to visit earlier in the day when the food is freshest, and indulge in a few fruit smoothies, meat and fish skewers, and local desserts.
Location: Right in the centre of Tonsai Village
Hours: 11 am to 1 pm
READ MORE: Explore more of Thailand with these top places to visit!
5) Go Diving
Koh Phi Phi's natural beauty extends beyond just the surface; the underwater marine life is exotic, colourful, and amazing to witness.
Scuba diving is one of the best things to do in the Phi Phi Islands because there is so much life in the underwear ecosystems that swimming amongst it all is an incredible privilege.
The best time to go diving in Koh Phi Phi Island is from January to April.
This is the dry season so the weather is hot, the rainfall is minimal and the water is super clear.
June through October are the rainiest months on Koh Phi Phi and the underwater visibility isn't great, so you'll have a better diving experience outside this time frame.
Some of the best diving locations in the area are the King Cruiser Wreck, Anemone Reef, and Shark Point.
If you aren't already a certified diver, you can take a scuba diving course in Koh Phi Phi to learn the basics.
6) Witness Some of the Most Beautiful Beaches You'll Ever See
Koh Phi Phi's beaches are simply gorgeous.
Every single one looks like your dream tropical vacation, but better.
Loh Dalum Beach is one of the most stunning beaches on Koh Phi Phi Don, and it is located right in the middle of the island so it is easy to access.
When the tide is low you can walk out extremely far on Loh Dalum Beach, and when the tide is high you can float in the warm, shallow turquoise ocean.
There are two other amazing beaches that can only be reached by boat: Ao Poh Beach and Laem Tong Beach.
They are both on Koh Phi Phi Don, but they are very isolated so you'll have to catch a long tail boat to get there.
Because of their remote location, these beaches are very quiet and peaceful.
Other notable beaches to check out on Koh Phi Phi Don include Ao Toh Ko and Long Beach. Tonsai Beach in Tonsai Bay is a bit crowded, but still worth checking out.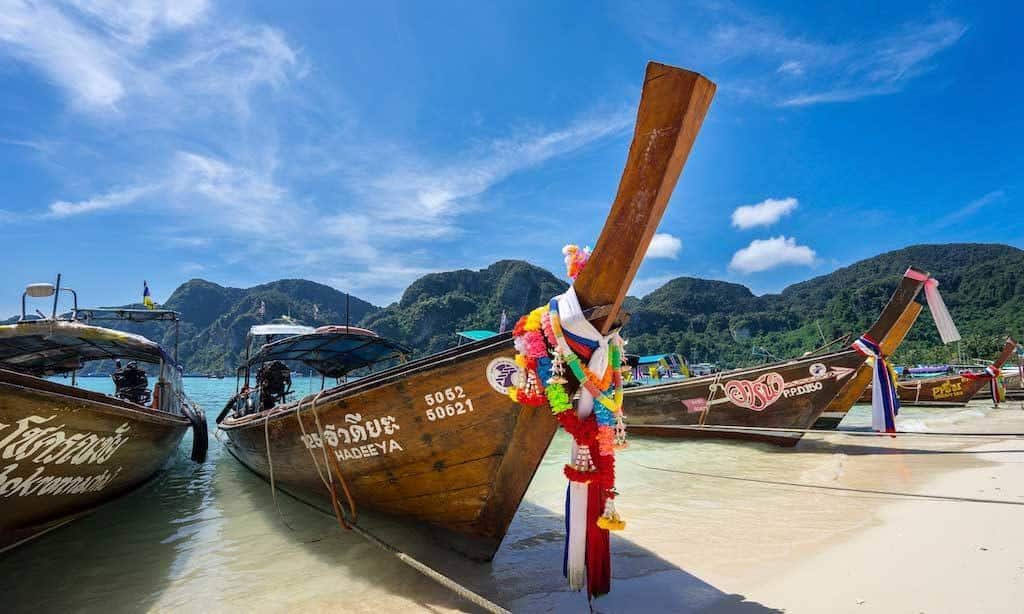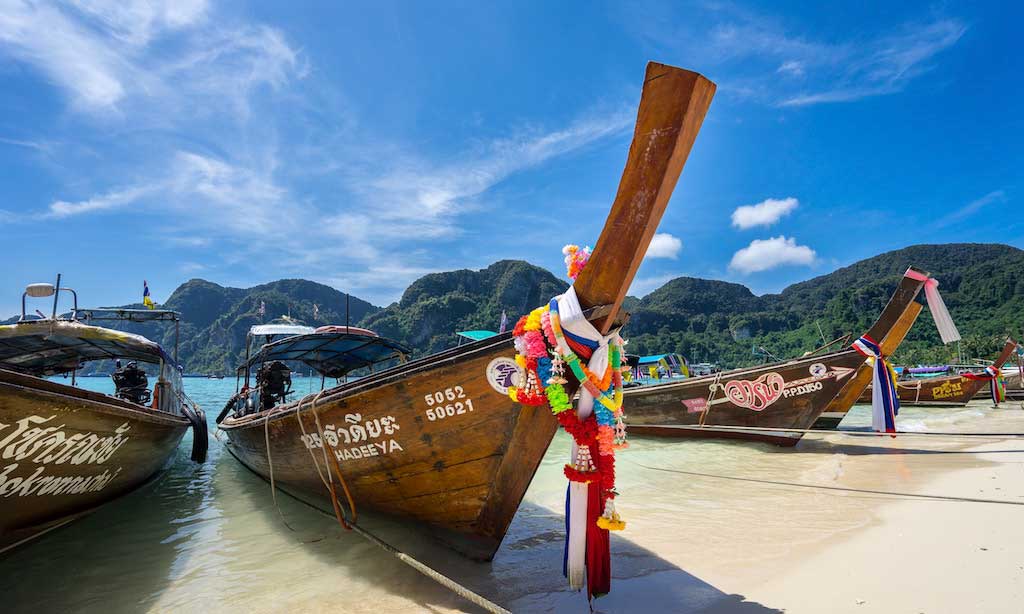 7) Browse Through the Shops
Tonsai Village is the main centre of civilisation on Koh Phi Phi Island.
The narrow little streets are full of cute shops in addition to all the restaurants, bars and clubs.
Some shops are traditional and sell local souvenirs and trinkets, but most of the shops are fashion-oriented.
You'll find lots of bathing suits, sandals, dresses, hats, sunglasses, and other summer clothes in all different styles and everything is quite cheap.
There are a few high-end stores with better quality clothes and accessories as well.
So if you planned on buying any clothes or bathing suits as souvenirs in Thailand, Koh Phi Phi Island is a great place to do it.
8) Let Loose at a Pool Party
The parties on Koh Phi Phi Island don't stop when the sun comes up; they keep going all day long!
There are so many energetic backpackers and tourists on Koh Phi Phi Don that the local hotels often throw pool parties during the day.
So if you're a true party animal, you may find the local pool parties to be some of the best Phi Phi island attractions.
Most pool parties include DJ's and drinking games in addition to the usual craziness, and most of them are free to enter as well.
Ibiza Pool Party is one of the most frequented bashes on the island, and PP Princess Pool Party is a traveller favourite as well.
No list of things to do in Phi Phi Island would be complete without a night or two out partying.
READ MORE: Plan to enjoy these top things to do in Bangkok.
9) Watch the Sunset From the Beach
No tropical vacation would be complete with witnessing a colourful island sunset over the ocean.
Grab a blanket or towel, some snacks and drinks, and head to the beach to watch the natural colours dance in the sky and reflect in the water.
Some of the best beaches for watching the sunset on Koh Phi Phi Don are Long Beach, Long Beach, Laem Tong Beach, and Nui Bay Beach.
You could also get a drink at a beachfront bar during sunset, or book a boat tour that includes seeing the sunset from the water.
10) Go Snorkelling
You don't have to commit to a day of scuba diving to experience the underwater beauty of Koh Phi Phi Island.
For those who don't have the time, money, or desire to scuba dive, snorkelling is a quick, cheap and easy activity to do while visiting Koh Phi Phi.
Many would say the Phi Phi islands have some of the best snorkelling in Thailand, so definitely either buy or rent some gear and go exploring.
Secret Beach, Ao Toh Ko, and Phak Nam Bay are three great snorkelling locations around Koh Phi Phi Don.
To take your experience to the next level, you can book a tour to go snorkelling with reef sharks or you can snorkel at night in hopes of seeing some bioluminescent plankton.
No matter where and how you choose to snorkel, this is easily one of the best things to do in the Phi Phi Islands so definitely give it a go.
11) Visit Bamboo Island or Mosquito Island
Only 5 km away from Koh Phi Phi Don is Bamboo Island, a tropical island paradise with the expected soft white sand, turquoise waters and lots of bamboo trees.
Known as Koh Phai to the locals, Bamboo Island has no infrastructure so your best bet is to just take a day trip here and bring your own snacks and drinks.
You can rent tents here if you'd like to camp overnight and watch the sunrise in the morning.
But if you're short on time, just catch a long tail boat from Koh Phi Phi Don to Bamboo Island, and spend a few hours here snorkelling and relaxing.
Mosquito Island is just 3km of the northern tip of Koh Phi Phi Island. Mosquito Island is, unfortunately, named because there are lots of mosquitos at night.
But people love coming to Mosquito Island during the day for snorkeling. Mosquito Island is right next to Bamboo Island, so you can hit up both in one trip.
12) Watch a Fire Show on the Beach
As if Koh Phi Phi's party scene wasn't crazy enough, there are fire shows on the island almost every single night.
Trained locals love to show off their skills on the beach at night with a fascinating fire show, so definitely check one out if you're enjoying a night of partying.
Some of the most popular fire shows on the island are at Slinky Beach Bar, Carlito's Beach Bar and Nightclub, and Sunflower Beach Bar & Restaurant.
If you're curious about what to do in Phi Phi Island, most fire shows start around 10 pm.
13) Relax at Loh Moo Dee Bay
Many would consider Loh Moo Dee Bay to be one of the island's most beautiful beaches, so it is definitely one of the best things to see on Phi Phi Island.
The beach is 500 meters long and free from lots of tourists so you can have an incredibly relaxing day here.
The water is crystal clear and shallow so this is a great place to bring kids, and there are some nice snorkelling spots around the bay.
READ MORE: Add these activities to your list of things to do in Koh Samui.
14) Take a Thai Cooking Class
If you are passionate about food, taking a Thai cooking class can be one of the most fun and informative things to do in the Phi Phi Islands.
The most popular class to take on Koh Phi Phi Don is this Thai Cooking School in Tonsai Village.
During this class you can learn about the ingredients and techniques that go into the world-famous Thai cuisine and you can taste all the delicious food you make.
You can take classes starting at 1 pm.
Location: 125/40 Moo 7, Phi Phi Island
Hours: The restaurant is open from 11 am to 9 pm every day.
15) Visit the Bida Islands
Koh Bida Nok and Koh Bida Nai are the two southernmost islands in the Phi Phi archipelago known as the Bida islands.
They are just limestone rock formations that jut out of the sea, so you can't actually land here because there are no beaches.
The Bida Islands are a great place for diving, so if you want to venture here one day to explore the marine life you'll have an incredible time.
It is also cool to just pass by the islands in a boat or kayak to check out the interesting landscape.
READ MORE: Visit one of our other favourite islands in Southern Thailand, Koh Yao Noi!
16) Go Kayaking
A super fun way to experience Koh Phi Phi Island is by kayak.
Imagine slicing through the turquoise water, witnessing exotic fish swimming beneath you and massive cliffs and jungles towering above you.
Lots of travellers recommend kayaking about 50 minutes to Monkey Beach. It's named Monkey Beach because you can see lots of monkeys hanging out on the white sand.
You can choose to either book a tour that includes kayaking, or renting a kayak and going out on your own.
Most beachfront hotels and tour companies rent kayaks for roughly 100 baht per hour, but you'll have to ask around to find the best price.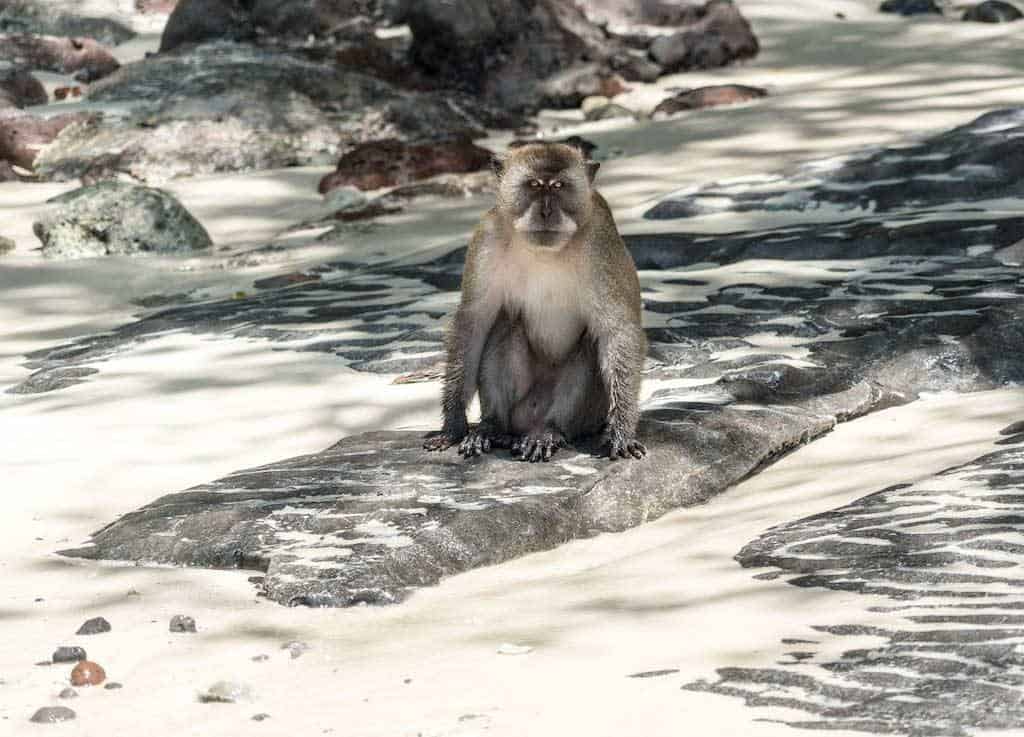 17) Watch a Muay Thai Boxing Match
Muay Thai Boxing can be found all over Thailand, even on the tiny little island of Koh Phi Phi Don.
Reggae Bar is a fun establishment that has multiple bars, music and dancing, pool tables, and a boxing ring.
Muay Thai Boxing matches are held in the bar every night, and after the professional athletes spar the audience members can give it a try and box each other.
If you want to try boxing yourself, try to be safe and avoid drinking too much before you get in the ring.
Location: 125/55 Ao Nang, Mueang Krabi District, Koh Phi Phi Don
Hours: 6 pm to 1 am, fights start at 8 pm every night
Cost: Free but you should buy at least one drink from the bar
18) Muster Up the Courage to Go Cliff Jumping
If you're an adrenaline junkie, there are lots of places to cliff-jump amidst the towering cliffs of Koh Phi Phi Island.
Some island boat tours include cliff-jumping, but if you aren't doing a tour you can still seek out some jumping spots.
Never go alone or without a guide, to avoid any unnecessary risks.
Inquire at Cat's Climbing Shop about where to go and how to hire a guide who can help you cliff-jump the right way.
Location: 125/165, Moo 7 Ao Nang, Muang, Krabi 81000, Thailand
READ MORE: Be sure to check out these awesome things to do in Chiang Mai.
Koh Phi Phi Travel Guide
Now that you know what to do on Koh Phi Phi Island, we want to help you make your other plans as well by sharing the best accommodations and places to eat in the city.
Accommodations in Koh Phi Phi
Now that you know all the best things to do in the Phi Phi Islands of Thailand, you should probably book a place to stay.
Because you can only stay on Koh Phi Phi Don, all the accommodation options will be in the same area of this tiny island.
Budget: Voyager's Hostel
For travellers on a budget who want to have a great time in Koh Phi Phi, Voyager's Hostel is a fun and affordable place to stay.
Located just 10 minutes away from the main pier, you can enjoy air-conditioning, free wifi, safety boxes for your valuables, clean dorm beds, and a super friendly staff.
Mid-Range: P.P. Erawan Palms Resort
Only 40 meters away from Laem Tong Beach is P.P. Erawan Palms Resort.
Here you can indulge in a room with classy wooden decor and a touch of modernity, without breaking the bank.
This resort has air-conditioned rooms with balconies, minibars, and private bathrooms, and there is also a restaurant, spa and pool available for guests.
Luxury: Phi Phi Island Village Beach Resort
For a truly luxurious stay on Koh Phi Phi, stay at this beautiful resort.
In addition to high-quality rooms and attentive staff, you can enjoy an infinity pool with a bar, a fitness canter, a restaurant, and a spa offering Thai massages.
The location is central but still quiet enough that you can feel like you have some privacy.
What to Eat in Koh Phi Phi
Because Koh Phi Phi is quite touristy, there is no shortage of restaurants, cafes, and bars.
There is a lot of international food here, like European, American and Italian, but you'll find the Thai food to be much more affordable and more authentic.
In addition to the Tonsai Village market, you can find lots of fresh seafood and Thai classics in the restaurants of Koh Phi Phi Don.
Budget – Pa Noi Thai Food
The best place to eat on a budget in Koh Phi Phi is the family-run restaurant, Pa Noi Thai food.
They cook cheap and authentic Thai meals here, and the family who owns the place is warm and welcoming.
Mid-Range – Acqua Restaurant Phi Phi
Acqua Restaurant Phi Phi is a moderately-priced restaurant with a wide range of classic Modern Thai dishes as well as European food.
They are famous for their tapas and they are open for breakfast, lunch and dinner.
Luxury – Tonsai Seafood
For a fancy meal with beachfront views, visit Tonsai Seafood Restaurant.
There is no better place to sample the best of the island's seafood. It's all caught fresh from the sea and seasoned to perfection with Thai spices and flavors.
DISCLAIMER: Some of the links in this article are affiliate links, which means if you book accommodation, tours or buy a product, we will receive a small commission at no extra cost to you. These commissions help us keep creating more free travel content to help people plan their holidays and adventures. We only recommend the best accommodations, tours and products that ourselves or our fantastic editorial team have personally experienced, and regularly review these. Thanks for your support, kind friend!