Read on to discover the 10 best day trips from Bangkok that allow you to escape the city and see more of Thailand!
Bangkok undoubtedly has a place on every traveller's Thailand itinerary.
It is the capital city and the most populated place in the country and has two major international airports that connect tourists from all over the world.
Bangkok is vibrant and exciting, with its thriving entertainment scene and nightlife and its gorgeous temples and attractions.
Once you've seen the best part of Bangkok you may be keen to move on and explore more of Thailand.
Rather than constantly being on the move and sleeping in a new bed every night, it can be more convenient and even more affordable to just stay in Bangkok for a few extra days and take some day trips out of the city.
There are lots of day trips out of Bangkok that allow you to see a new part of Thailand and then return to Bangkok later in the same day.
Whether you book one of the many Bangkok day tours, or just venture out on your own and take public transport, there are plenty of opportunities for exploring the areas surrounding the city.
The great part about Bangkok day trips is the journey there and back usually won't take more than a few hours.
So you can chill out and relax on public transport or your tour bus before and after your day of exploring.
Best Day Trips from Bangkok
Here is a list of the 10 best day trips from Bangkok. From islands, floating markets, and vineyards on the Chao Phraya River, to temples, historic villages and more, there is lots to see outside the city!
1) Ayutthaya
This ancient capital of the Kingdom of Siam is easily one of the best day trips from Bangkok.
The country of Thailand used to be the Kingdom of Siam, and its capital city was Ayutthaya until 1767.
Nowadays, the ruined yet still standing city is a UNESCO World Heritage Site where tourists can come and see the remnants of this once powerful kingdom.
Throughout the grounds, you can find stone ruins of palaces, temples, and Buddha statues.
The biggest and most popular temples to visit are Wat Na Phra Mane, Wat Lokayasutharam and Wat Mahathat. Be sure to look for the mysterious head of Buddha nestled in the tree roots outside Wat Mahathat.
Ayutthaya is packed with things to see and the area is quite spread out, so you may want to hire a tuk-tuk to drive you around for a few hours. It costs roughly 1,000 Baht for the day.
If you want to save money and you're feeling active, you can rent a bicycle for only 40 Baht for the day and cycle through the ancient city.
Getting There:
The easiest way to reach Ayutthaya from Bangkok by public transport is by taking the train. The journey takes just over 2 hours.
Another option is booking a guided tour so you can learn more about the significance of the UNESCO World Heritage Site and enjoy comfortable private transport.
We recommend this tour on Klook.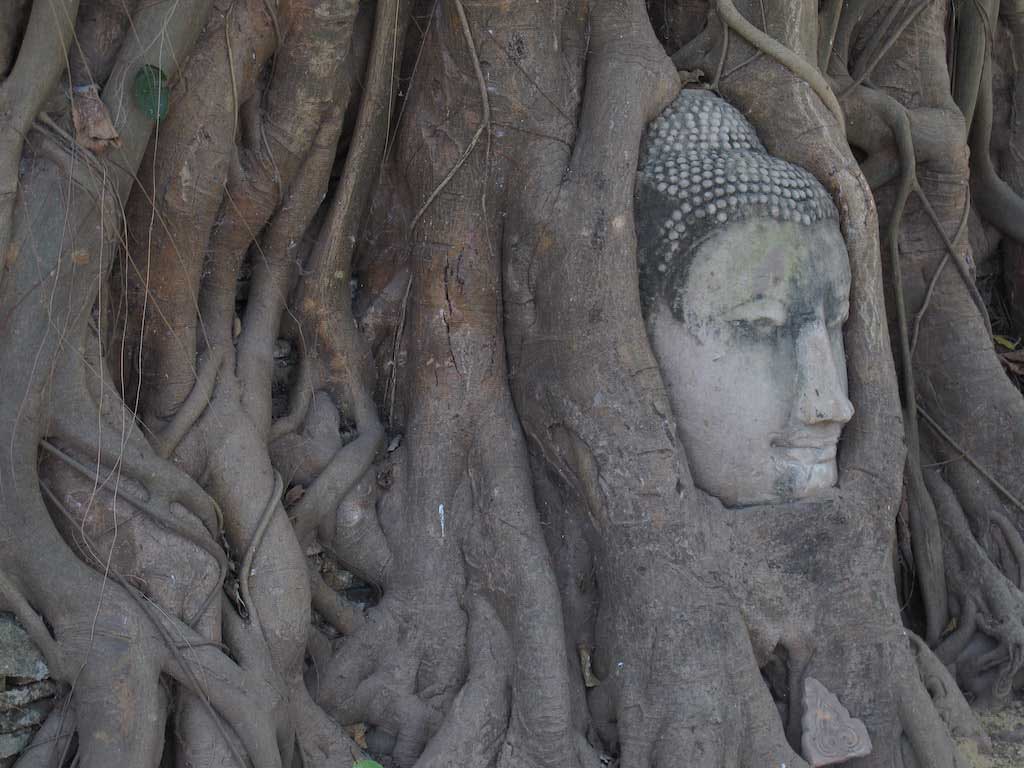 2) Erawan National Park
This national park founded in 1975 is a hidden gem of Thailand.
Not many people know about it, but it is overflowing with natural beauty and is one of the best day trips out of Bangkok, especially if you book it as a tour.
The main attraction of the park is Erawan Falls, a gorgeous, 7-tier waterfall with sapphire natural pools at the base.
You can swim in the pools, climb up the walking trails surrounding the waterfall, and bring a picnic (although you're not allowed to bring food past the 2nd tier of the waterfall).
Other attractions in Erawan National Park include Ta Duang Cave which is filled with ancient rock paintings and Tha Thung Na Village where you can see incredible traditional pottery.
The entrance fee to the park is 300 Baht. You can rent a bicycle to cruise around the park if you wish, and it only costs 20 Baht per day.
Getting There:
The best way to get to Erawan National Park from Bangkok is by minivan.
It costs around 300 Baht and takes 4 hours, so the journey is long but if you're truly looking for some spectacular natural beauty, the journey is worth it.
Or you can take the easier, more efficient way, and book yourself in for a guided tour from the city. This tour combines the park with the River Kwai in Kanchanaburi as well.
READ MORE: Play your trip to Thailand with our comprehensive Thailand Travel Guide.
3) Damnoen Saduak Floating Market
Another top day trip from Bangkok is the Damnoen Saduak Floating Market.
Located in the Ratchaburi Province, about 1.5 hours away from Bangkok, this is one of the most famous floating markets in Thailand.
The Damnoen Saduak Floating Market is a sensory roller coaster, with local vendors floating in their long tail boats decked out in colourful traditional garments and selling a multitude of different products.
Some of the most common things sold at the floating market are local food dishes and produce, flowers, trinkets, and souvenirs.
Because Damnoen Saduak Floating Market is so famous, it is very touristy and can get crowded.
If you can, arrive super early in the morning to beat the crowds and see more of the authentic side of the floating market before the locals start catering to the tourists.
If you're really interested in this type of day trip, you could also visit Amphawa Floating Market. It's only a 15 minute drive from Damnoen Saduak Floating Market to Amphawa Floating Market, so you can easily visit the two in one day.
Getting There:
The cheapest way to reach Damnoen Saduak Floating Market is by taking a public bus from the Southern Bus Terminal in Bangkok. The buses leave every 40 minutes starting at 6 am and the journey costs 50 Baht.
Public buses will drop you off about 1 km away from the Damnoen Saduak Floating Market, so you'll need to hire a boat to get to your destination.
If you'd prefer to book a tour that takes you directly to the market and guides you to the best places, that is an option as well!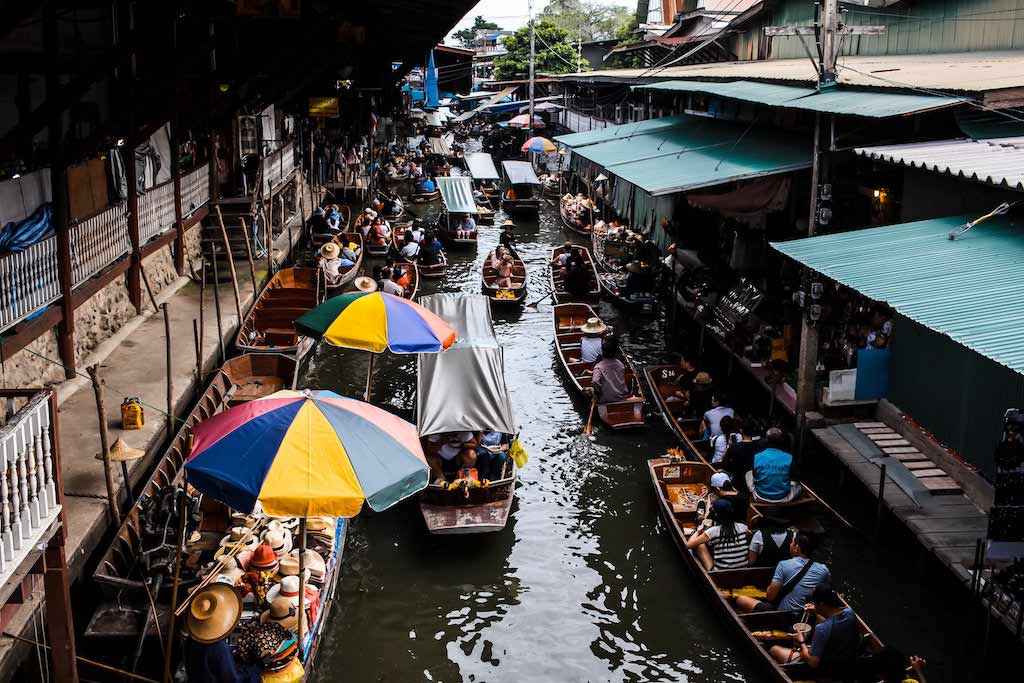 4) Kanchanaburi
Another one of the best day trips from Thailand is Kanchanaburi. This quaint Thai town is not very touristy compared to Bangkok, so it's a great way to see the local way of life.
This town is most famous for two things: The Bridge on the River Kwai and the Death Railway. Both landmarks were created during World War II, and the town is home to other notable monuments from the war.
The Thai Burma Railway, also known as the Death Railway, was built by Prisoners of War and laborers of the Japanese army who were occupying Thailand.
A popular thing to do in Kanchanaburi is riding the slow train journey of the Death Railway and seeing the countryside.
The Bridge on the River Kwai is a steel bridge that was also built by war prisoners during World War II. Walk across the famous bridge and snap some photos, as it's one of the town's most well-known landmarks.
Kanchanaburi also has numerous museums and temples to check out. It's a cool place to learn about history and local culture.
Getting There:
You can easily travel to Kanchanaburi from Bangkok by train, minibus, or or taxi. The journey is about 2 hours.
You can also book a guided tour with Klook which is pretty affordable and takes you to all the highlights.
5) Wat Saman Rattanaram
If you're interested in eastern religions and are fascinated by Thailand's temples, this is an awesome Bangkok day trip to take.
Wat Saman Rattanaram is home to the largest reclining Ganesh statue in all of Thailand.
Ganesh is a Hindu deity in the form of an elephant, and in this particular statue standing at 16 meters tall and 22 meters long, Ganesh is painted bright pink.
This site is a significant reminder of the relationship between Hindu and Buddhist faiths in Thailand.
Though the deity is Hindu, the temple complex surrounding the statue is full of street markets and shops selling both Hindu and Buddhist relics and trinkets.
Getting There:
To reach Wat Saman Rattanaram from Bangkok, you can take a two-hour minibus from the Bangkok Eastern Bus Terminal to the town of Chachoengsao which costs about 18 Baht.
There is a pickup from Chachoengsao to the actual temple. Find more info here.
READ MORE: Start planning your trip to Bangkok with this perfect 3-day itinerary!
6) Pattaya
If you are craving some sunshine, sand, and sea but don't have time to visit the Thai islands, you can always take a day trip from Bangkok to the seaside city of Pattaya.
This is probably the closest beach town to Bangkok, so it's an easy ocean getaway.
Pattaya used to be a tiny fishing village, but recently it's been overrun with tourism and is now filled with hotels, bars, and restaurants.
But Jomtien Beach is still as beautiful as ever, and there are two gorgeous temples that remain preserved in their traditional state: Wat Phra Yai Temple and the Sanctuary of Truth.
Book your entry ticket to the Sanctuary of Truth on Klook!
Getting There:
It is very easy to reach Pattaya from Bangkok by public transport on a day trip.
The journey is about 1.5 hours and costs around 100 Baht, and there are lots of different public buses leaving Bangkok every two hours.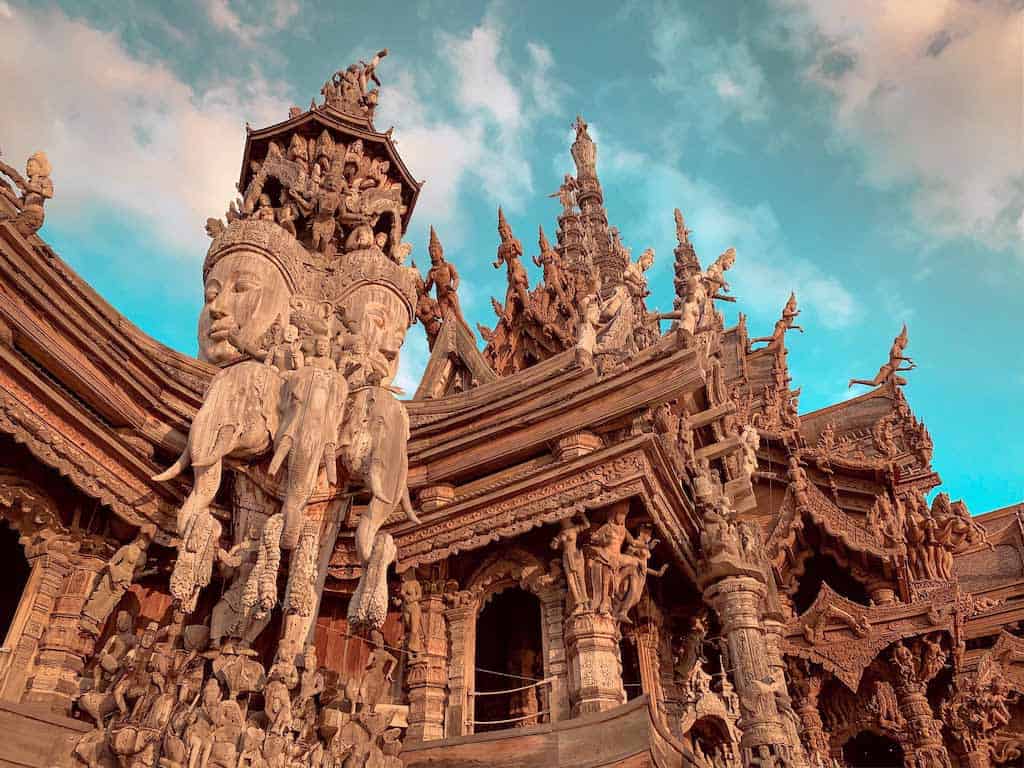 7) Floating Vineyards
Most people probably wouldn't think to visit a winery or a vineyard in Southeast Asia. But there are actually a few great ones that make for lovely day trips from Bangkok.
In Samut Sakhon on the Chao Phraya River Delta you can find the "Floating Vineyards", which are just normal vineyards that appear to be floating on water because the irrigation canals in between each row of grapes are super deep.
The soil is very fertile and receives lots of rainfall, especially during monsoon season, so the vineyard has to be carefully maintained to ensure the crops don't collapse into the water.
But the canopies of grapevines hanging over the canals are such a cool sight to see. And locals harvest the grapes by floating down the canals on wooden boats and picking the grapes by hand.
The best time to visit the floating vineyard is between November April as that's when the harvest season is.
Getting There:
Samut Sakhon is 60 kilometres southwest of Bangkok, and you can get there by minibus, taxi, or train.
READ MORE: Looking for ideas on what to do in Bangkok? Our epic blog post will tell you everything you need to know!
8) Khao Yai National Park
To escape the crowded city and immerse yourself in nature, visit Khao Yai National Park.
Like Erawan National Park, the journey from Bangkok takes about 4 hours. But if you're a true wilderness-lover, you won't regret the long hours on the bus.
As Thailand's first national park, Khao Yai National Park was established in 1962 and reaches all the way to the Cambodian border.
The park is full of forests and grasslands that are home to many animals including elephants, monkeys, bears, and more.
Some of the best activities in the Khao Yai National Park include hiking or biking along the many trails, rafting on the Khun Dan Prakan Chon Chan River, and hiking to some magnificent waterfalls.
Wang Ta Kari Waterfall and Haew Narok Waterfall are two particularly scenic waterfalls to visit.
Getting There:
You can reach Khao Yai National Park from Bangkok by public bus or by train. The bus costs around 150-200 Baht, and the train can be anywhere between 100 and 1,000 Baht depending on the class of ticket you get.
You can also book a 1-Day, 2-Day, or 3-Day tour to Khao Yai National Park with a local guide on Klook.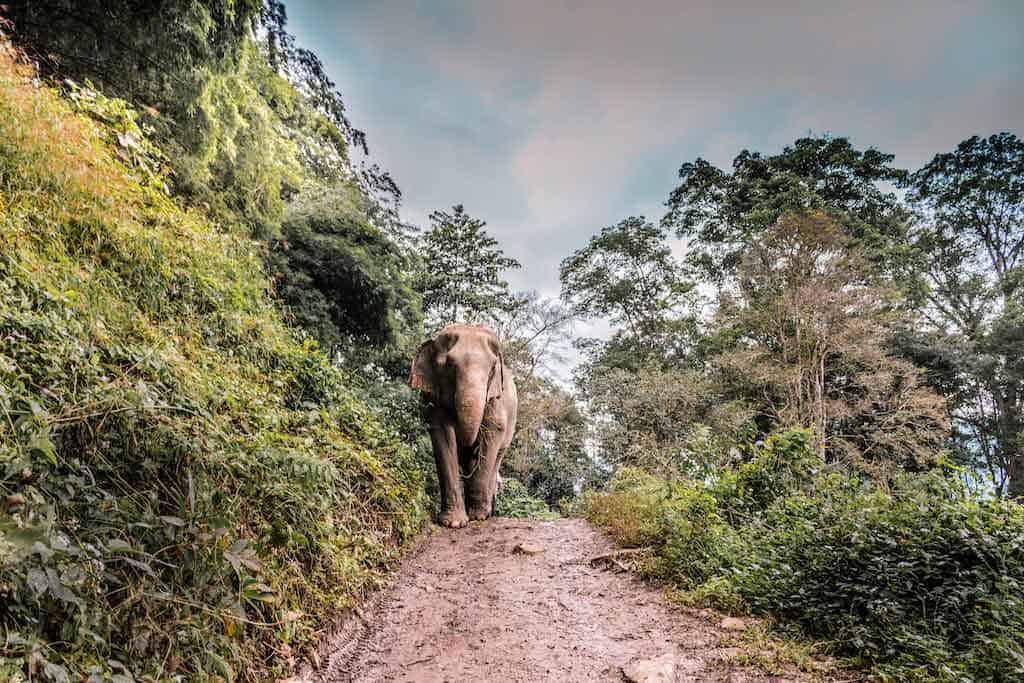 9) The Ancient City of Mueang Boran
For an interesting day trip from Bangkok packed with history and culture, head south to the province of Samut Prakan to see the ancient city of Mueang Boran.
This collection of buildings is like a giant, outdoor museum full of monuments and opportunities to learn about Thai history, religion, and architecture.
You can tour the ruined temples and palaces of the ancient city and admire the statues around the area that show different yoga poses.
Lots of famous and historic Thai buildings that have been destroyed over time have been rebuilt here to showcase their original design, so it's a lovely look into Thailand's past.
You can also visit the Erawan Museum to see traditional Thai art and furniture and a huge three-headed elephant statue, or stroll through the King Rama IX Park and relax by the lake.
To get around the park a bit more quickly, you can also rent a bicycle or take a tram tour.
Getting There:
The entrance fee to the ancient city is 500 Baht, and it is close enough to Bangkok that the easiest way to get there is to just take a taxi from the city.
READ MORE: Be sure to add these activities to your list of things to do in Thailand!
10) Koh Kret Island
This man-made island in the Chao Phraya River in Nonthaburi Province is a culturally enriching Bangkok day trip.
The traditionally isolated indigenous Mon people of the area continue their unique customs and traditions here, and tourists have the privilege of witnessing this special culture.
One of the Mon people's most treasured art forms is their pottery, usually made using unglazed terra-cotta and engraved with impressive designs and details.
You can visit the Kwan Aman Pottery Museum to admire a massive collection of Mon ceramics, or maybe catch a glimpse of the native Mon people still crafting their pottery near the river.
Another highlight of Koh Kret Island is Wat Paramaiyikawat. This Buddhist temple is home to a golden stupa that is 200 years old and supposedly holds relics of the Buddha.
Getting There:
To reach the island from Bangkok, you can take a 15-minute taxi ride for 200 Baht, or a 30-minute public bus ride for 20 Baht to reach the town of Nonthaburi. From there, a long tail boat ticket to Koh Kret Island costs 100 Baht.
Or if you want to skip the hassle of public transport, you can always book a day tour to the island!
DISCLAIMER: Some of the links in this article are affiliate links, which means if you book accommodation, tours or buy a product, we will receive a small commission at no extra cost to you. These commissions help us keep creating more free travel content to help people plan their holidays and adventures. We only recommend the best accommodations, tours and products that ourselves or our fantastic editorial team have personally experienced, and regularly review these. Thanks for your support, kind friend!