When you're looking for the best things to do in Chiang Mai, Thailand, you can't go past these top 12 attractions and activities. You'll be amazed at all the choices for what to do in Chiang Mai!
From the world-class beaches in the South to the mountain forests in the North, Thailand really does have something for everyone.
While Bangkok is its bustling capital, the north is the heart of culture and creativity, and there are hundreds of things to do in Chiang Mai.
See the best things in Chiang Mai, such as the temples of Wat Phra That Doi Suthep and Wat Chedi Luang or visit a national park such as Doi Inthanon or Doi Suthep-Pui.
Stay busy with Chiang Mai's busy markets and street food in the old city, relax with meditation or a Thai massage, or even take a day trip to Chiang Rai or to some of the most beautiful landscapes in Thailand.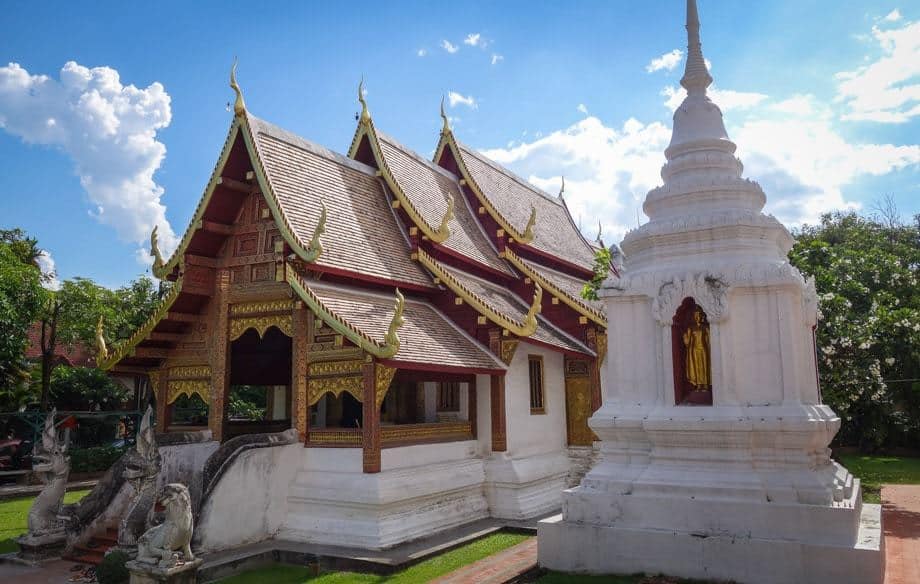 The Best Things to Do in Chiang Mai!
You could easily spend a month (or more) in Northern Thailand, making Chiang Mai a base for exploration.
With the best restaurant and cafe scene in the country, excellent nightlife, a strong Buddhist presence, and enough activities to fill a calendar year, there is definitely no shortage of things to do in Chiang Mai, Thailand!
It really is the cultural capital of Thailand, and no doubt you'll fall in love with it on your next visit. Best of all it's very affordable compared to the south of the country.
There are so many places to visit in Chiang Mai, and every day we found more and more to do! If you want to know what to do in Chiang Mai, have a read of this article and come visit the city for yourself!
2020 Update – We actually found ourselves based in Chiang Mai for 2.5 months after our first two visits, and really loved our time there and have added some of our favourite new Chiang Mai attractions to this guide.
READ MORE: When planning to visit Thailand be sure to use our comprehensive Travel Guide to Thailand!
1) Visit Elephant Nature Park
Unfortunately, Thailand has a history of animal abuse to help boost its tourism economy. Activities such as riding an elephant or visiting the sedated tigers in many of the temples only add to this cruelty and should be avoided at all costs.
But in Chiang Mai, there is one sanctuary that is committed to education and rehabilitation. Elephant Nature Park is a rescue centre for elephants that have been abused by the tourism industry over the decades.
Here you can either visit the elephants in their natural environment or volunteer at Elephant Nature Park to help out around the sanctuary.
Riding elephants are prohibited; instead, the focus is on treating and protecting these beautiful creatures. Definitely one of the best things to do in Chiang Mai.
Elephant Nature Park is also the most expensive option for visiting elephants in Chiang Mai, but that's because they are the absolute best company in town.
Address: Kuet Chang, Mae Taeng District
Opening hours: every day from 7 AM – 5PM
Price: 2,500 THB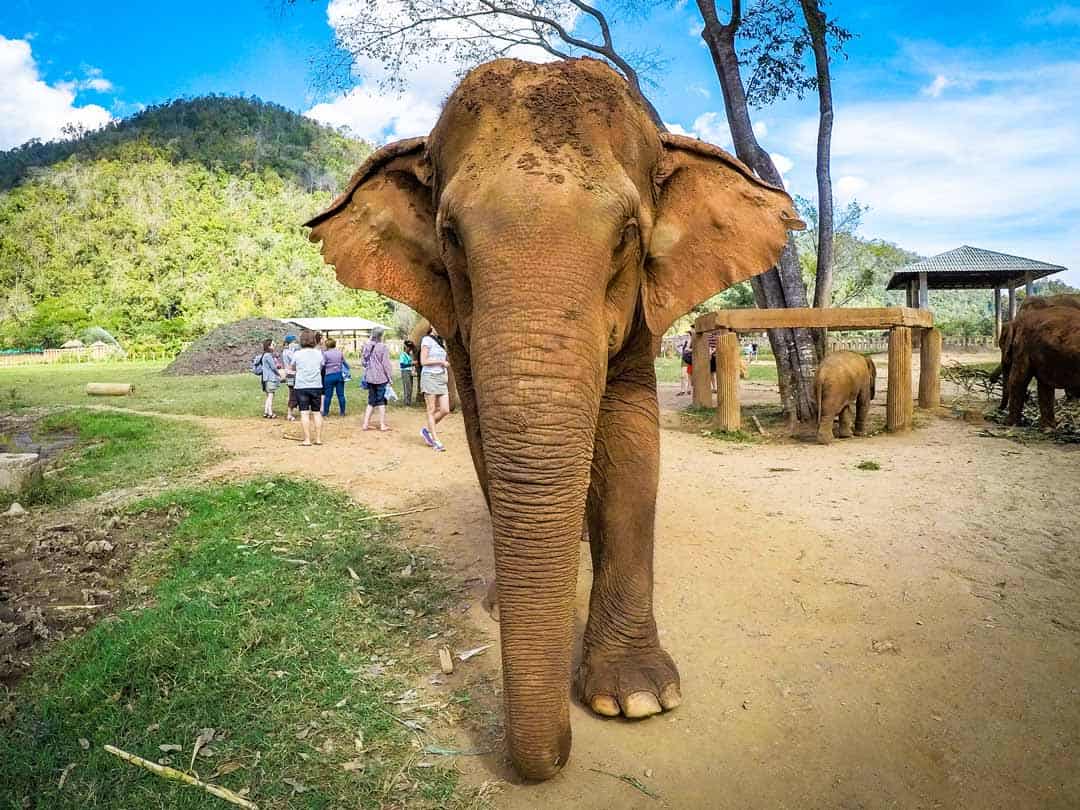 2) Enjoy the Cafe Scene
Ok, we admit it – we're suckers for a city with a great cafe scene. And in Thailand few places offer the kind of coffee-hopping joys that Chiang Mai does.
Because we work online, we love a good cafe with tasty coffee, a comfortable setting, funky music and fast wifi.
After a huge morning seeking out all the Chiang Mai attractions, we'd often find ourselves in one of the quirky cafes to while away the afternoon hours.
Our favourites were Good Morning Chiang Mai and Bird's Nest Cafe, but you could spend weeks bouncing from place to place and never get sick of it.
The cafes really are the bomb and one of the best things to do in Chiang Mai.
3) Ride the Mae Hong Son Loop
Ok, this isn't exactly in Chiang Mai, but no trip to Northern Thailand would be complete without renting a scooter or motorbike and riding this incredible four-day loop.
Starting from Chiang Mai, you complete a circuit, spending nights in Mae Sariang, Mae Hong Son and seeking out the beauty in Pai, before returning back to the city.
It is known to be one of the best motorbike loops in Southeast Asia, and after we spent 10 months riding two motorbikes 15'000km around the region, we can honestly agree that it is well worth doing.
There's a lot to see and do along the way, and first up is the sensational mountain scenery. Make sure your travel cameras are charged because it's seriously going to blow your mind.
There's also a lot of cool detours you can take that will take you up to some unique hill tribes. The people up there are very friendly and welcoming, but make sure you are dressed modestly and show them respect.
And if the temperature is getting the better of you, there's plenty of gorgeous waterfalls to stop off at and take a quick dip.
The Mae Hong Son Loop is probably up there with Chiang Rai as being one of the best trips from Chiang Mai. Many travelers hit up Chiang Rai afterwards, but save time for the Mae Hong Son Loop, you certainly won't regret it!
(Seriously, don't be one of those digital nomads or backpackers who spend all their time in the city and never leaves.)
Read our complete guide on riding the Mae Hong Son Loop.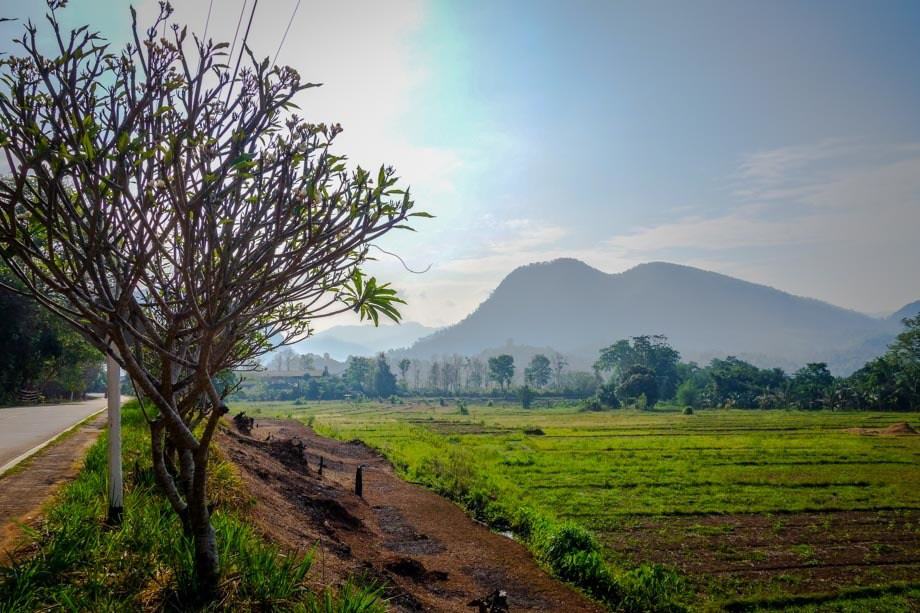 4) Spend Time With A Local
We've been lucky enough to spend months backpacking Thailand, and one thing we never tire of is the welcoming and generous culture of the Thai people.
When you're in the country you will no doubt have countless incredible interactions that will help convince you Thailand may just be the best country in the world.
If you're in the city and on a limited schedule, there are plenty of things to do with locals in Chiang Mai, such as trekking and cooking classes.
Our absolute favourite experience with locals is a Thai cooking class. We did this one and absolutely loved it.
READ MORE: Check out our brand new 3-days in Chiang Mai itinerary guide!
5) Explore The Buddhist Temples
Chiang Mai is full of amazing Buddhist temples, known as 'wats', and the majority of them are open to visitors. While Wat Phra That Doi Suthep is probably the most beautiful, the ones in the city should not be missed either.
Even if you consider yourself spiritual, the temples are a Chiang Mai must-see!
Definitely check out Wat Phra Singh, Wat Pan Tao, Wat Chedi Luang, and Wat Umong. One of the real unique things to do in Chiang Mai is to attend a monk chat.
Basically, this is where you can visit a temple and talk to the monks about Buddhism, life in the temples, or just about anything you can think of.
They are often very excited to practice their English, so it is mutually beneficial. Check out the posters plastered around the temples to see when the regular monk chats are on.
The monks might even give you some more tips on what to do in Chiang Mai!
6) Hill Tribe Trekking in the Surrounding Mountains
A lot of people who visit Thailand start in the Southern islands, which are undoubtedly beautiful, but can lack a bit of culture and authenticity.
It is no wonder then that when people arrive in Chiang Mai, they are often craving to learn about the history and ethnic development of the country.
The jungles in the Chiang Mai province are a trekker's paradise, filled with waterfalls, valleys, mountains and, perhaps more interestingly, various hill tribes.
Just make sure you sign up for your treks with a reputable and responsible tour operator, where the majority of the money will go to the local people of northern Thailand.
Avoid visiting the Karen long neck tribes.
These minority people have been forced to continue their paralysing traditions, at the insistence of the government, to keep growing the booming tourism economy.
This one trekking at Doi Suthep Mountain is really cool (booked with Klook).
7) Wander the Sunday Walking Street Markets
Every Sunday night the centre of the Old City is closed to traffic, and food vendors, craftspeople and artists take over with their unique and bargain-priced street markets.
The night street markets are among the most popular Chiang Mai tourist attractions.
It's a wonderful evening out, and you'll find locals and tourists alike wandering around, checking out the items for sale and just enjoying themselves.
If you're looking to buy any souvenirs or trinkets this is the place to do it. You'll find all kinds of things here, from traditional to contemporary, and usually at very good prices.
Or if you would rather spend your money on something different, you can get foot massages for only a few dollars, and literally stuff yourself silly with all the delicious local food that is scattered all over the markets.
Definitely one of the better things to do in Chiang Mai at night. The Saturday Night Market is also just as great!
Hot tip – don't eat lunch on a Sunday, because you're going to fill yourself up at the walking street markets for dinner!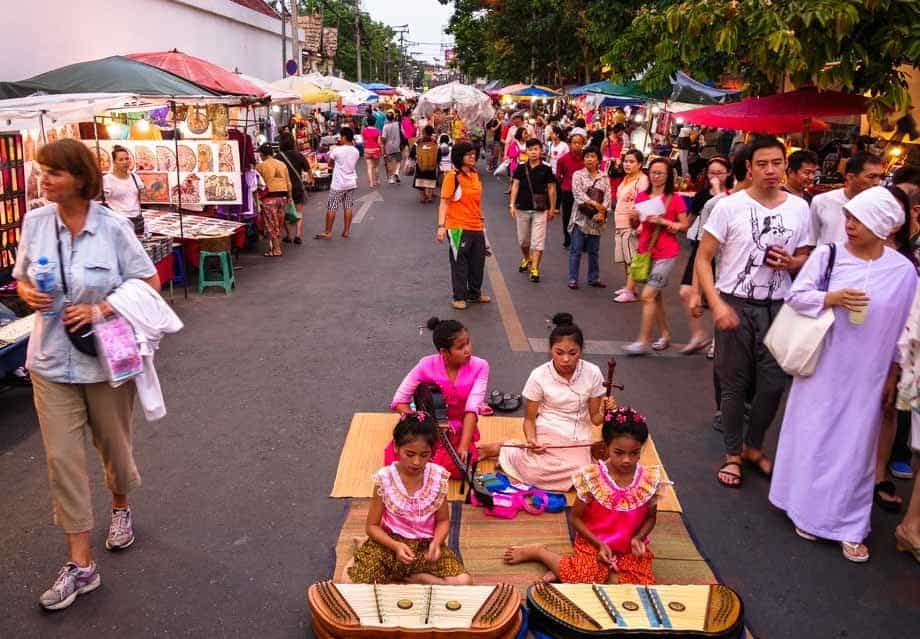 8) Do a Meditation Course at Wat Doi Suthep
Chiang Mai is full of ways to get in touch with your inner self, but perhaps the most famous one is the Doi Suthep Vipassana Meditation Centre. Situated on top of Suthep Mountain, this temple receives thousands of visitors every single day.
For those that want to stay longer and learn more about this life-changing method of meditation, the monks open their doors and provide courses that range from 3-28 days.
Speaking is forbidden during your time in the temple, and all your energies are focused on breathing and clearing your mind of thoughts and troubles.
Courses are run on donations. Alesha completed a 7-day course in 2014 and absolutely loved it.
Click here to find out more about her Vipassana meditation course in Chiang Mai.
Address: Suthep Rd, Muang
Opening hours: every day from 8:30 AM – 4:30 PM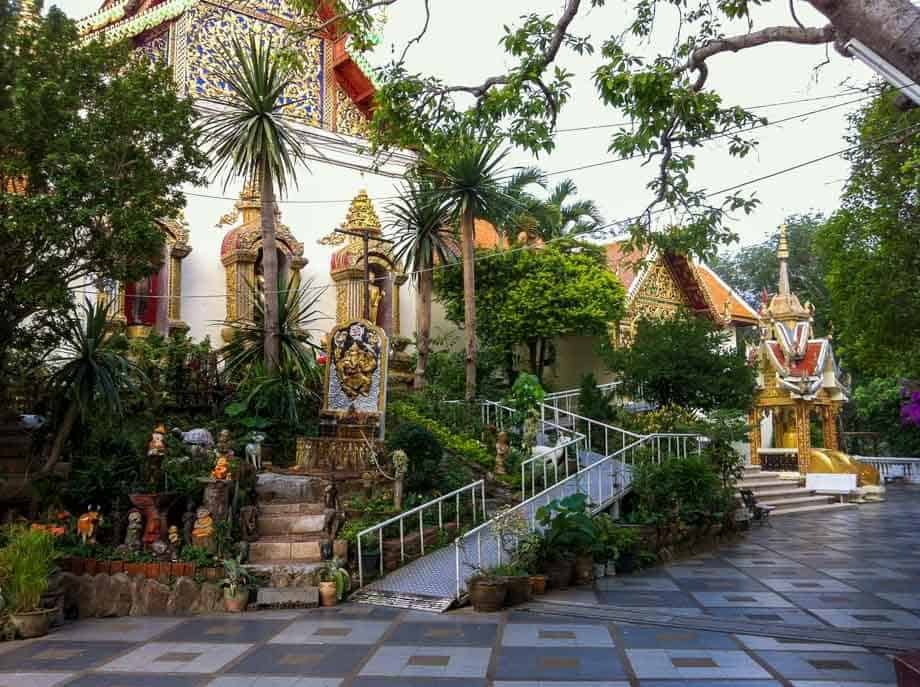 READ MORE: Be sure to check out all of the great things to do in Krabi!
9) Get a Thai Massage at the Chiang Mai Women's Correctional Institution
That's right – get a Thai massage at the women's prison. Before you turn your nose up at this idea, it is important to realise that this is actually a wonderful and hugely beneficial enterprise.
The women in this correctional facility are all serving short sentences for minor offences, and this is a way for them to learn a new skill to help them migrate back into society.
There's a cafe and crafts store on site, and the massages and spa facilities are very reasonably priced (expect 180 Baht for a massage). One of the strangest, but more interesting, things to do in Chiang Mai.
Address: 100 Rajchavithi Road Sriphum subdistrict
Opening hours: Monday – Friday from 8 AM – 4:30 PM, Saturday – Sunday from 9 AM – 4:30 PM
Price: around 180 THB
10) Cliff Diving at the Hang Dong Rock Quarry
If jumping off of high things into water sounds like your idea of fun (it is for us), then make sure you head out to the Hang Dong Rock Quarry in northern Thailand.
Originally used as a mine to clear out limestone, the quarry has now filled with water that glows a vibrant turquoise green. The massive pool is deep enough to launch from the highest cliffs, some of them up to 12m high.
If you would rather take a dip without taking the dive, there are plenty of spots you can just swim out.
It can be hard to find, so hiring a scooter or songthaew is the best way to get there. The spot is also sometimes called Chiang Mai Grand Canyon.
11) Get A Sak Yant From a Monk
If you're done with Chiang Mai sightseeing and you'd like to commemorate your northern Thailand adventure – get a sak yant.
If you've ever wanted to get a bamboo tattoo, then Chiang Mai is the place to do it. Luckily there's an incredible way to have this experience too.
A sak yant is a traditional, sacred tattoo in the Buddhist religion that is performed by an Ajarn, or tattoo master.
These Ajarns are often Buddhist monks, and the sak yants given are ancient script and designs that offer protection and strength to the person wearing it.
Getting a sak yant is often something many travellers want to do on their trip around Thailand, but finding a clean and hygienic place to do it can be tough.
Not wanting to risk infection, we signed up for a sak yant tour with Where Sidewalks End and even had an English-speaking guide to help translate the entire experience for us with the monk.
It was one of the real highlights of our time in Chiang Mai, and if you're interested in doing this yourself, we highly recommend it.
Check out our detailed article about our experience getting a sak yant in Chiang Mai.
12) Go Shopping at the Night Bazaar
The night bazaar in Chiang Mai is an absolute must for anyone who wants to dive into the myriad options for gifts and trinkets from Chiang Mai as well as various practical items for travellers.
Hundreds of vendors begin setting up their stalls around 6 PM. But the night bazaar doesn't start kicking off until an hour or so later.
If you're not in the mood to buy anything, there is plenty to see in just walking around the night bazaar.
Plus there are lots of places where you can pick up something to eat or drink. Thai street food is among the best in the world!
Chiang Mai Travel Guide
Organising a trip includes so much research and planning – it can be a bit tiring. To save you the hassle and time, we created a list to help you find accommodation options regardless of your budget situation.
The Chiang Mai International Airport is also just 20 minutes from the center of town, so transport to your accommodation should be quick and easy. If you're wondering where to stay in Chiang Mai while visiting northern Thailand, read on!
Where to Stay in Chiang Mai
Chiang Mai has a huge number of accommodation options to match every budget, from backpacker hostels and tiny guesthouses to 5-star luxury resorts.
We stayed in a few places while visiting Chiang Mai, and they were all very decent. If you are a backpacker, check out the options on Hostel World.
If you are a couple or would prefer something a bit higher-end, Booking.com has a huge selection of accommodations.
Which Neighbourhood in Chiang Mai?
If you're wondering where to stay in Chiang Mai, it's important to choose the right neighbourhood to stay in.
While a lot of ex-pats and digital nomads choose the popular Nimmanhaemin area for its abundance of cafes, bars and restaurants, the truth is it's a bit far away from the tourist attractions.
If you're a backpacker you'll want to stay near the Old City, which is the most picturesque and is walking distance to most of the Chiang Mai points of interest.
However high-quality hotels are quite limited in the Old City, so you'll have to venture further afield. Don't worry though – you're never too far from anything in Chiang Mai, and tuk-tuks and motorbike rentals are very cheap ways to get around.
Best Backpacker's Hostel in Chiang Mai
There's an overwhelming number of awesome hostels in Chiang Mai, and it can be daunting trying to narrow it down to just one.
But the hostel with the most good reviews is Hostel Lullaby. With over 1,000 positive traveler reviews, and a 9.7 out of 10 rating on Hostelworld, this is easily a top pick.
Travelers love that it's centrally located in the Old City and social, yet not super loud like a party hostel.
Best Mid-Range Accommodation in Chiang Mai
There's no shortage of mid-range accommodation in Chiang Mai, but one of our favourites is the Sakorn Residence and Hotel.
It's just outside of the Old City, so it's a quieter place to rest your head and it really has a stunning setup.
There's a pool, huge, bright and clean rooms, a great restaurant and friendly staff. It really has just about everything you would want for a stay in the city.
Best Luxury Hotel in Chiang Mai – 137 Pillars
If money isn't an option and you really want to splurge out on the most brilliant accommodation in Chiang Mai, then you need to check out the beautiful and historic 137 Pillars.
We stayed here on our most recent visit to Chiang Mai and absolutely fell in love with it.
It is arguably the best 5-star hotel in the city, and when you see it for yourself you'll understand why. The suites surround private courtyards, and there are art galleries and delicious cafes and restaurants on-site.
The history of the place is unrivalled, and the service provided is seriously next level. The rooms feature deep, ancient teak timbers and huge 4-post beds like you'd see in the movies.
Seriously, if you want to live in pure luxury in Chiang Mai, this is the place to do it.
DISCLAIMER: Some of the links in this article are affiliate links, which means if you book accommodation, tours or buy a product, we will receive a small commission at no extra cost to you. These commissions help us keep creating more free travel content to help people plan their holidays and adventures. We only recommend the best accommodations, tours and products that ourselves or our fantastic editorial team have personally experienced, and regularly review these. Thanks for your support, kind friend!