Whether it's your first or fifth time in Thailand, this is going to be the best 3 days in Phuket itinerary you come across!
Picture rainforests, stunning white-sand beaches, and big limestone cliffs and caves surrounding an island in the middle of a crystal blue sea.
Welcome to Phuket, Thailand's largest island that's roughly the same size as Singapore!
From the country's capital of Bangkok, Phuket is only an hour away by plane and with its own airport, most major Asian cities have flights coming into the island.
For many backpackers travelling through South East Asia twenty to thirty years ago, Phuket was a little hidden paradise.
In 2000, it became popularised because of the film "The Beach" that showcased Phi Phi Island, one of the smaller islands just off Phuket.
Travellers began to visit Phuket just to see the infamous "island from The Beach".
This isn't what keeps people coming back though.
All of the things to do in Phuket offer something for everyone – from budget backpackers wanting to party hard, to adventurers looking for some epic outdoor activities to those who just need a luxury getaway for a few days.
The island has many seaside resorts, spas, restaurants, nightclubs, bars, activities and of course, beaches. You can even visit the famous James Bond island nearby.
Phuket island is particularly special because of the hundreds of islands surrounding it, many of them uninhabited and surrounded by some of the most spectacular coral reefs in the world.
READ MORE: Check out our awesome travelling in Thailand guide!
How to Spend a Perfect 3 Days in Phuket Itinerary
To make the most of your 3 days in Phuket itinerary, you will want to immerse yourself in Thai culture and visit some temples, try delicious new food, stroll through night markets, enjoy the nightlife and throw yourself into some awesome outdoor activities.
This perfect mix of activities will give you a great idea about what the island has to offer and will definitely keep you coming back for more.
READ MORE: Here's our guide to the best spots to visit in Thailand!
Day 1
The best way to spend your Phuket itinerary is to get a mix of everything: nature, adventure, relaxation, shopping, and nightlife.
Thailand is a safe place to try some new things so this is the place to embrace some activities you haven't tried before.
For your first day in Thailand, we recommend staying in the Karon area and exploring everything close by.
Morning: Big Buddha and Wat Chalong
To kick off your morning, get up early to beat the crowds to a couple of infamous sightseeing spots.
Wear shoes that can be removed easily, bring a scarf or sarong to cover exposed shoulders and wear bottoms longer than your knees.
You may have seen a giant Buddha out of your window and some point upon your arrival.
Phra Phutta Ming Mongkol Akenakiri (which literally means the Buddha gloriously honourable top of the hill of Naka) or The Great Buddha of Phuket is a seated Buddha statue that sits atop Nakkerd Hill.
The Buddha was originally constructed in 2004 and is Thailand's third-tallest statue at 45 metres tall and 25.5 metres wide.
Made of concrete and covered with Burmese white marble, the Buddha depicts Guatama in a sitting position facing Ao Chalong Bay.
Seeing Phuket island in 3 days means separating our wet and dry activities.
On your first day, get up early to beat the crowds and head to Big Buddha and Wat Chalong.
This 45-metre giant white marble statue of the Buddha is Phuket's most popular landmark.
Perched atop a hill, it affords beautiful views of Chalong Bay
Wat Chalong is the biggest and the most famous temple in Phuket.
Most travellers who come to Phuket island enjoy visiting this serene and colourful place of worship.
Opening hours: 6:00 am to 6:30 pm daily
Admission: FREE but donations appreciated
Address: 70 Moo 6 Chaofa Rd, Tambon Chalong, Muang Chang Wat Phuket 83130, Thailand
Afternoon: Kata Noi Beach
After lunch, head to Kata Noi Beach, a picturesque and peaceful little bay along Phuket's west coast.
It is considered one of the best beaches on the island and located just south of the main Kata Beach.
With soft sand and blue water, the beach is quite protected, providing ideal swimming conditions for all abilities.
The rocks along either end of the bay offer great stalking but the rest of the bay is almost completely rock-free so it's perfect for surfing from May to October.
Kata Noi is also home to some luxurious resorts and restaurants so is a good spot to stay for those wanting a getaway.
Be sure to bring your towel and spend a couple of hours getting some vitamin D!
Other stunning beaches in Phuket include Bang Tao Beach and Surin Beach.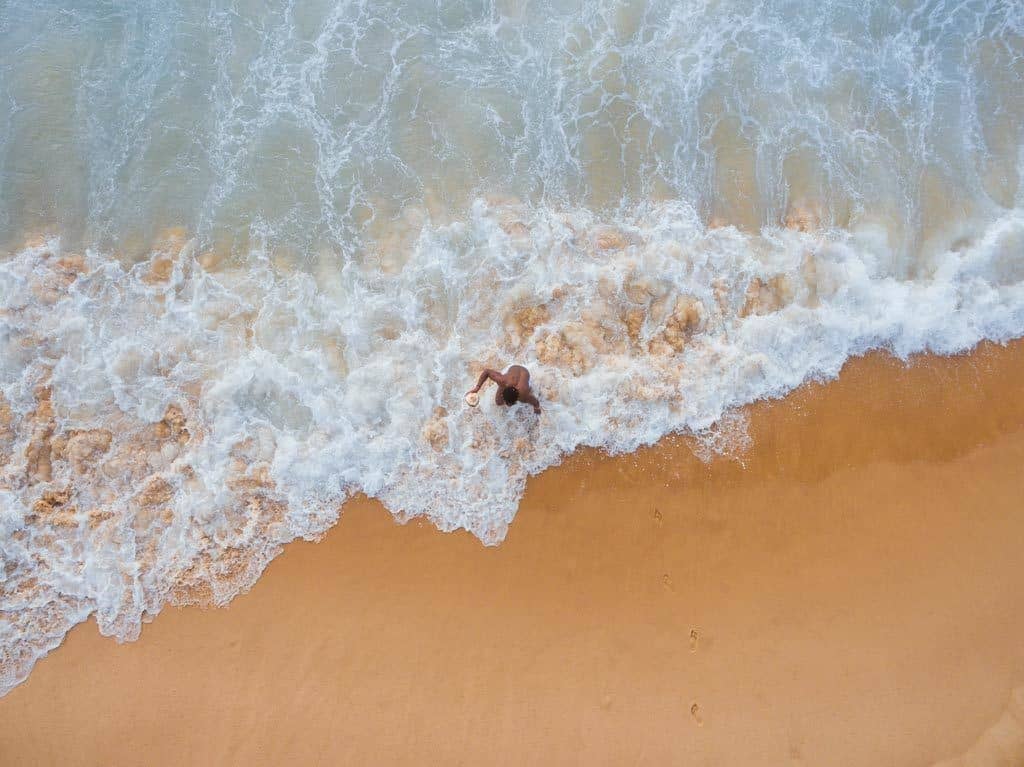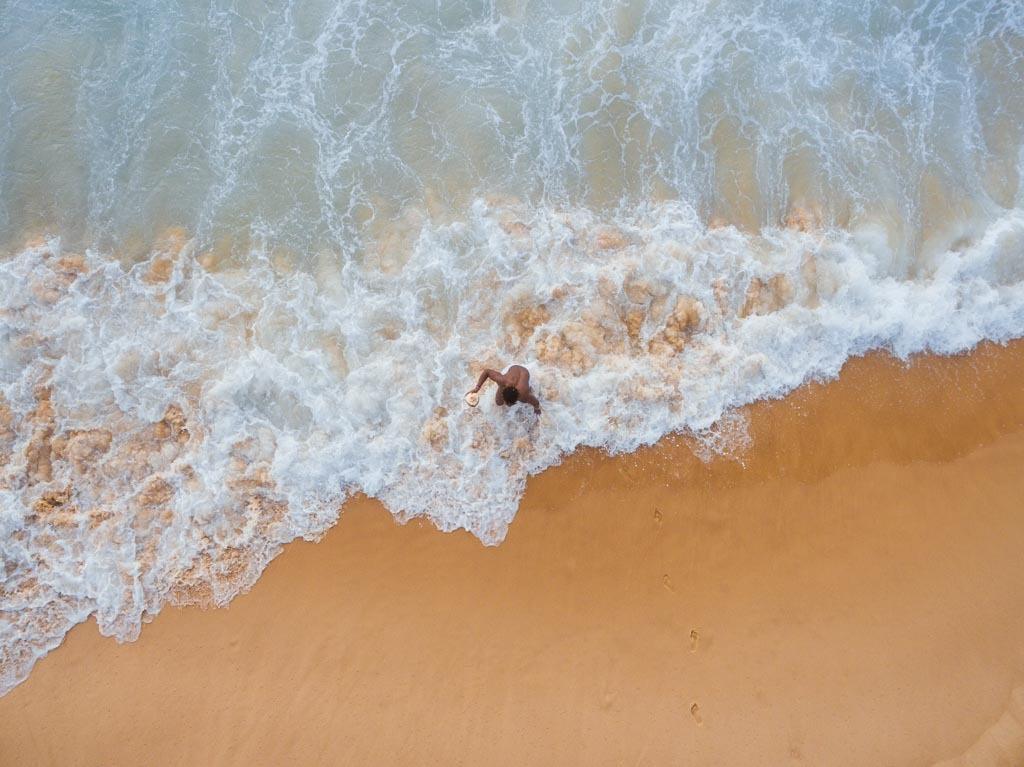 Sunset: Karon View Point
After relaxing on the beach, head up to Karon View Point, one of the more popular viewpoints in Phuket.
Located between Nai Harn and Kata Noi beaches, you can take in views of the Andaman Sea, Kata Noi, Kata Yai and Karon Beach from here.
Featuring everything great about Phuket, this iconic vista shows off the island's crystal blue sea, soft waves, white sand beaches and the luscious green hills.
Don't forget your camera! This is an epic spot on any Phuket itinerary.
READ MORE: Don't forget to check out all these Chiang Mai attractions on your next trip to Thailand!
Evening: Karon Temple & Karon Market
To finish off your day of culture in your Phuket itinerary, visit Wat Karon which is located in Karon centre.
The temple was founded in 1895 and has a three-story building that hosts dormitories for monks, prayer hall and a large kitchen.
On Tuesdays and Fridays, the compound hosts Karon Temple Market, a popular night market full of delicious street food, souvenir items, Singha (the local beer) shirts and plenty of buzz!
Market hours: Every Tuesday and Friday, 4 pm – 9 pm
Admission: FREE
Address: Wat Karon on Patak Road, Central Karon, Phuket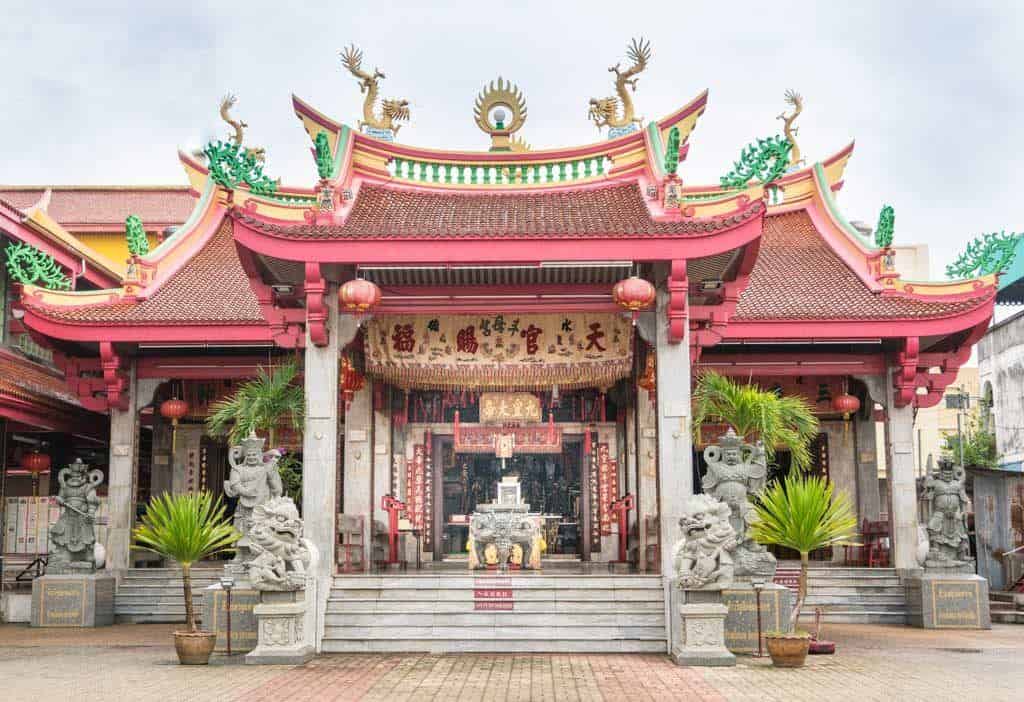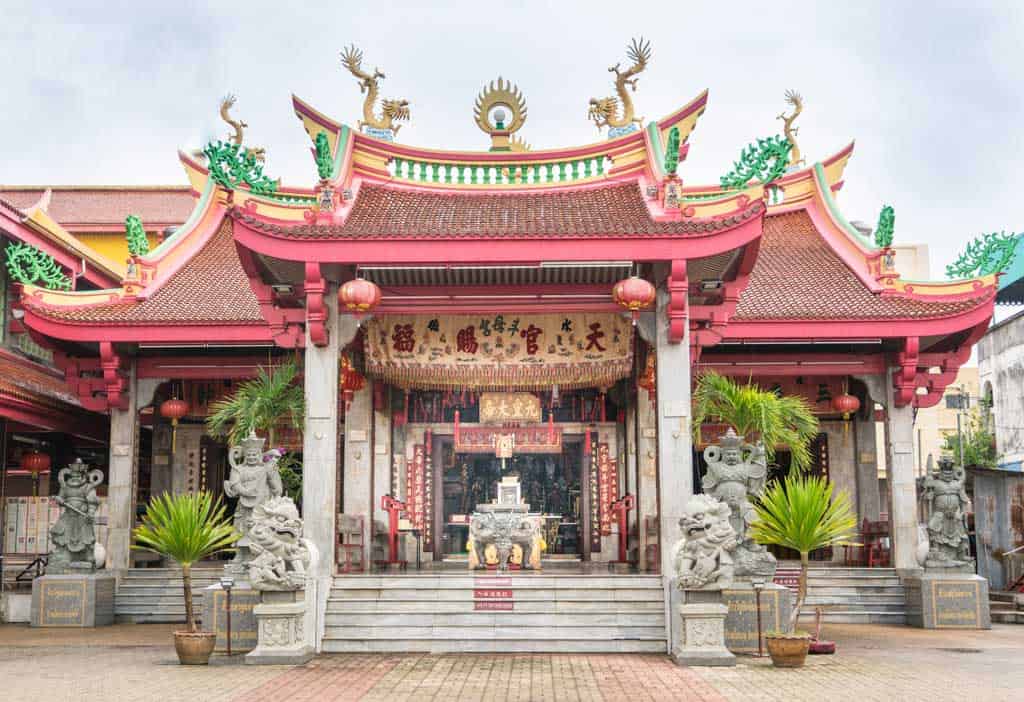 Day 2
Hope you're ready for day 2 on this Phuket itinerary, because it's going to be a fun one!
Morning and afternoon: Island Hopping and Snorkelling
Island hopping is a must for any itinerary for 3 days in Phuket and the best way to do it is to get yourself on a tour.
There are different island clusters to explore and various operators will usually offer more or less of the same packages.
The popular areas and islands to visit are Phi Phi Island (where The Beach was filmed), Phang Nga Bay (James Bond Island), Similan Island, Racha Island and Coral Island.
Most tours will make three to four stops to give you time to enjoy each of the islands.
Our favourite is Similan Island because of the beautiful coral reef and snorkelling opportunities. (Book your tour to Similian Island here.)
Opt for the speedboat option as the seas can sometimes be rough and this will reduce seasickness as well as speed up on your travel time to give you more time in the water.
Island hopping tours will usually finish in the afternoon.
You're likely to be pretty tired by the end of it so take a nap before enjoying some activities in the evening.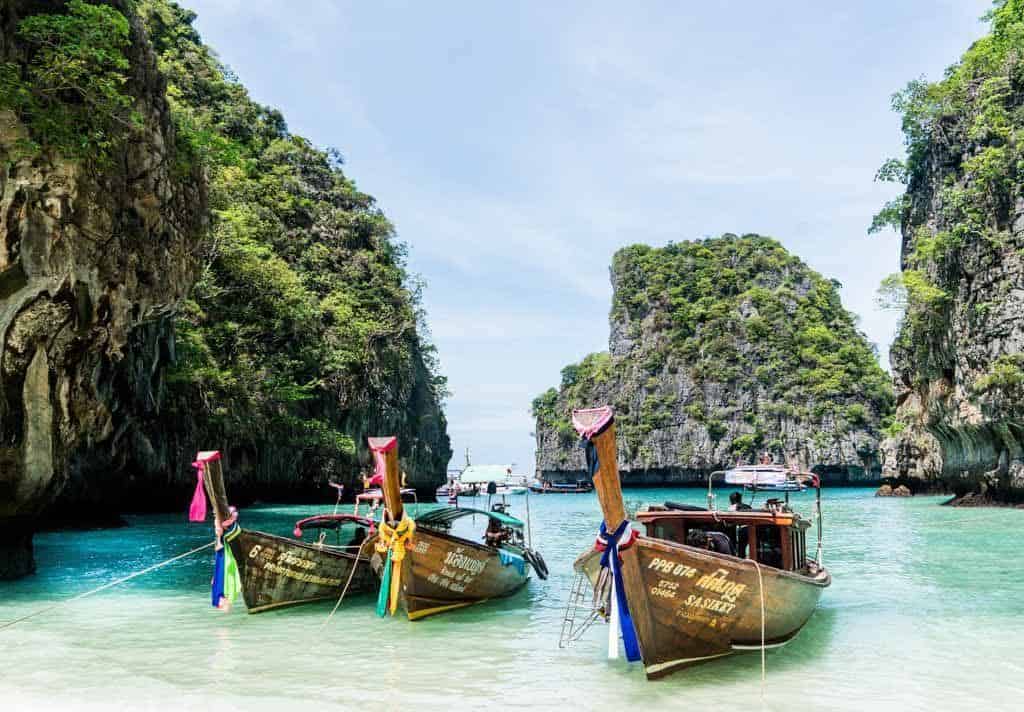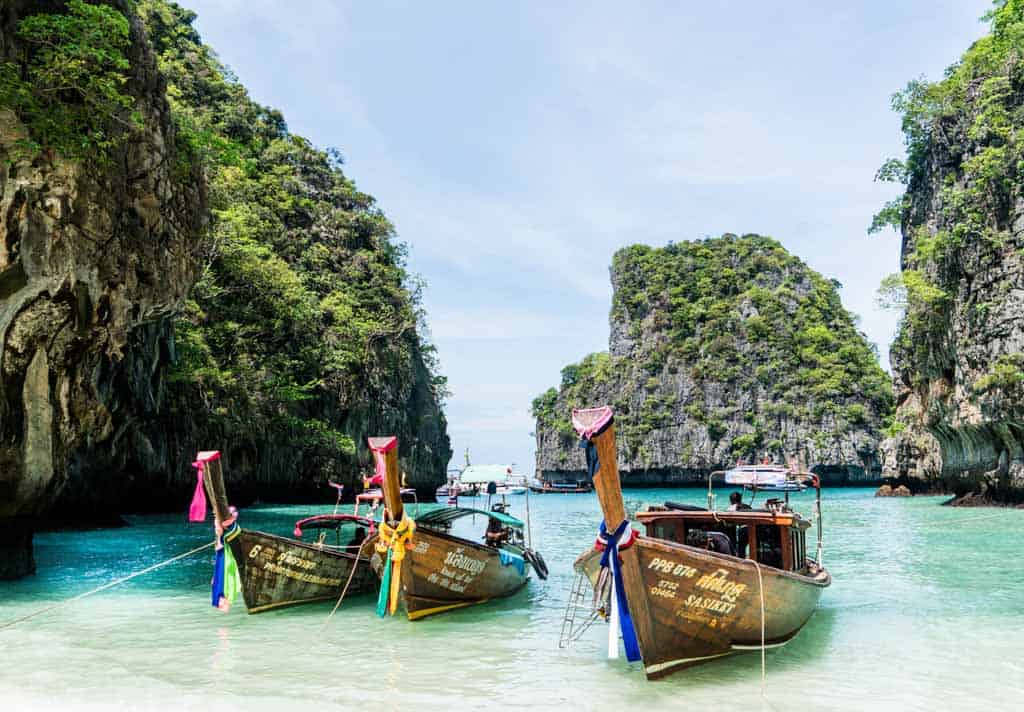 Evening: Chillva Market
This night market is the trendiest on the island with hipster vibes, upcycled colourful shipping containers and an awesome selection of retail shops, food and other bespoke items.
While it's not the largest market in Phuket, it's definitely the one most worth visiting.
If you're here from Thursday to Saturday, you'll enjoy the market at its full potential when all the smaller stalls also set up.
Opening hours: Container shops only are open daily 4 pm to 10 pm
Full market: Thursday to Saturday, 5 pm to 11 pm
Address: 141/2 Yaowarat Road, Phuket Town
Day 3
After a huge couple of days, you probably want to spend a bit of time relaxing and chilling before ending your 3 days in Phuket with a bang.
We're heading over to the east side of the island and kickstarting the day in Phuket Old Town.
Morning: Cooking Class
You're likely to be hooked on Thai food after this trip so if cooking is your thing and you're keen to learn about Thailand's cuisine, sign up for a cooking class.
The morning class begins at 9:30 am and comes with a trip to the nearby market where you learn about local ingredients and how they are used in Thai cooking.
The chef will then demonstrate and explain the steps involved in the dishes you'll prepare. In the half-day class, you will cook 4 or 5 dishes, enjoy the fruits of your labour (aka lunch) and finish up by 1:30 pm.
Reserve your spot today by booking online at Get Your Guide.
Cost: around 3,000 Baht for a half-day class
Address: Phra Pitak Chinpracha Mansion, 96 Krabi Road, Phuket Old Town, Phuket 83000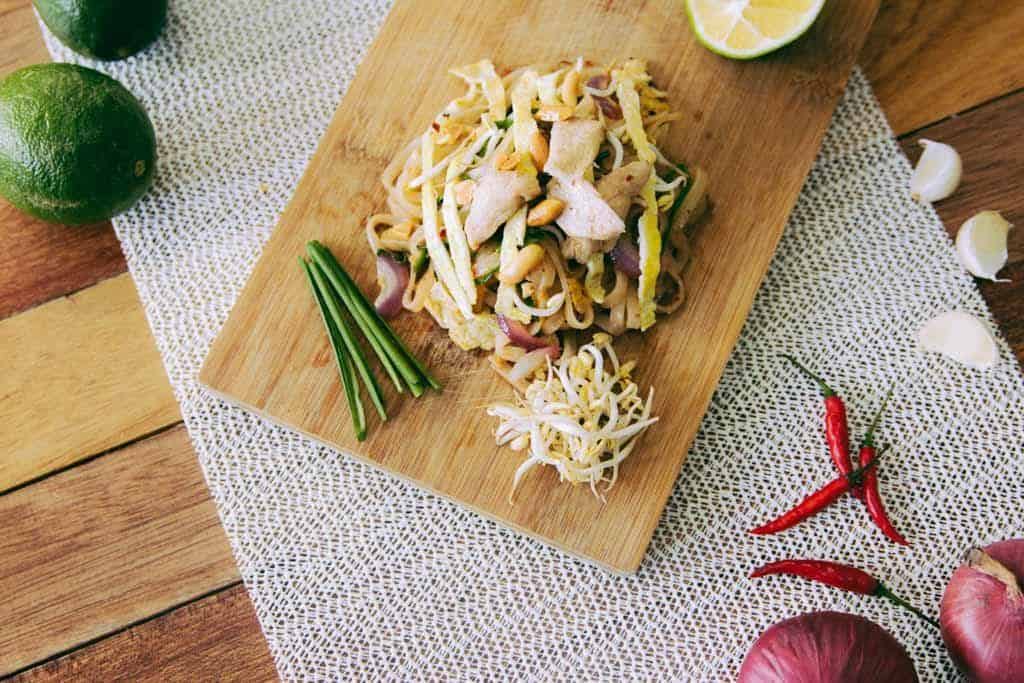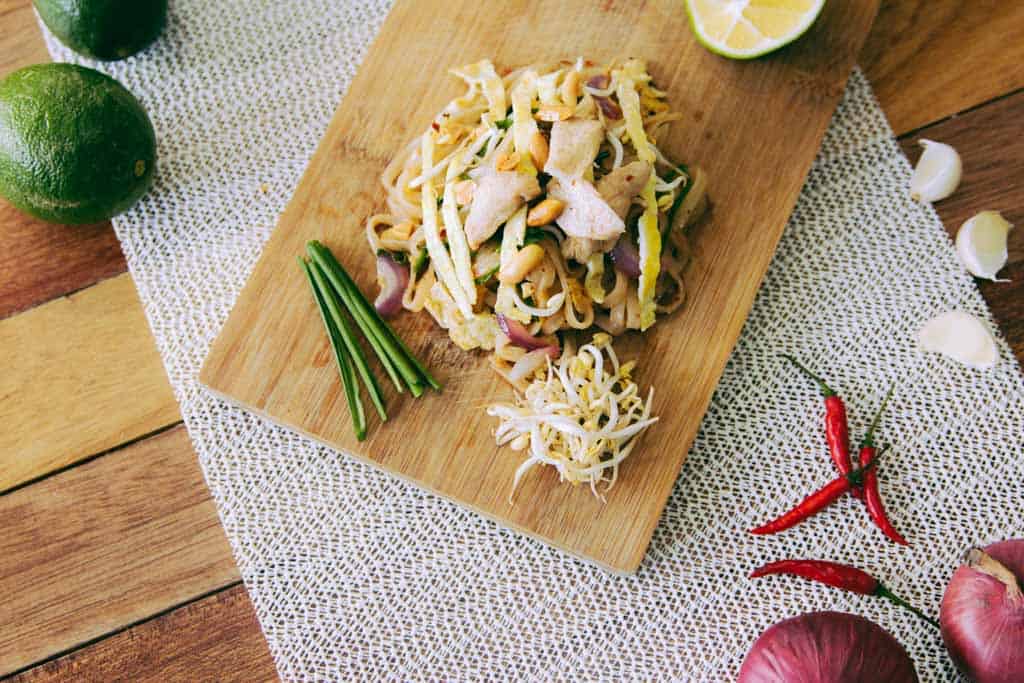 After lunch: Old Phuket Town
Once you've finished up at the Blue Elephant, take an hour to enjoy some sightseeing around Old Phuket Town.
The town is full of shrines, temples, old 'shophouses', cafes, tiny printing stores, private and public museums and even a small ex-red light district.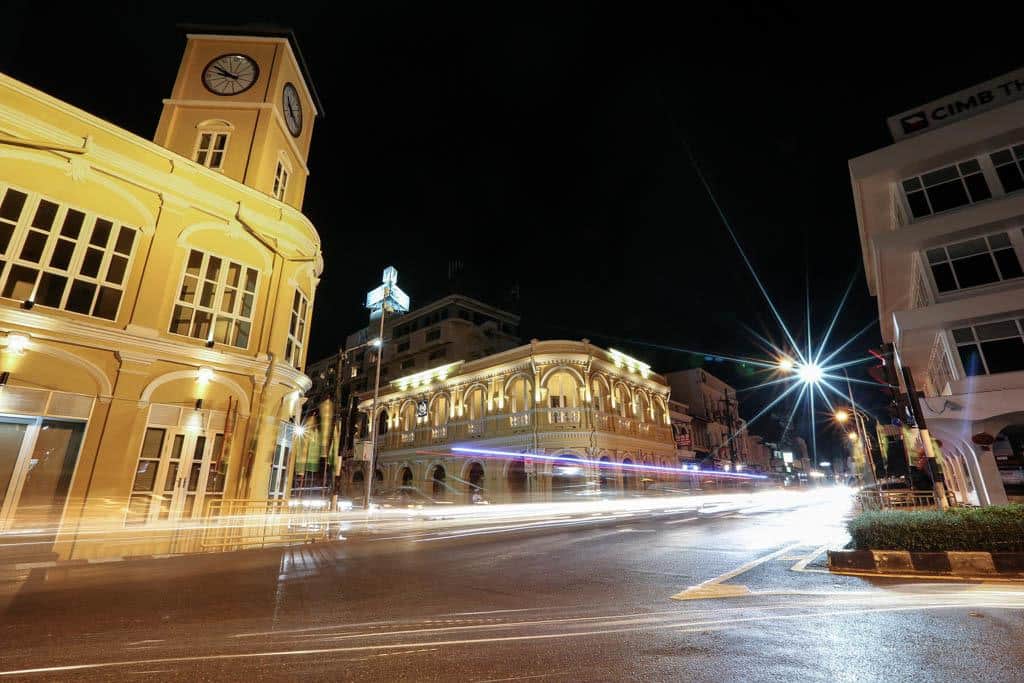 Afternoon: Chalong Bay Rum Distillery
The Distillery offers 30-minute guided tours that include a tasting session and a Chalong Bay Mojito at every hour from 2 pm to 6 pm.
The tour takes you through a behind-the-scenes look at the rum is crafted.
Alternatively, if you'd rather bring some cool cocktail recipes back home, join the cocktail workshops that take place every day. Be sure to book ahead on the website!
In the 2-hour experience, you'll learn how to make 3 cocktails (and taste them of course!), enjoy one tapas, and do a guided distillery visit to learn about what goes on in making rum.
Admission: 450 Baht for a guided tour, 1700 Baht for a cocktail workshop
Address: 14/2 Moo 2 Soi Palai 2 T. Chalong A. Muang, Phuket 83130
Hours: Every day 11am – 6pm
Website: https://www.chalongbayrum.com/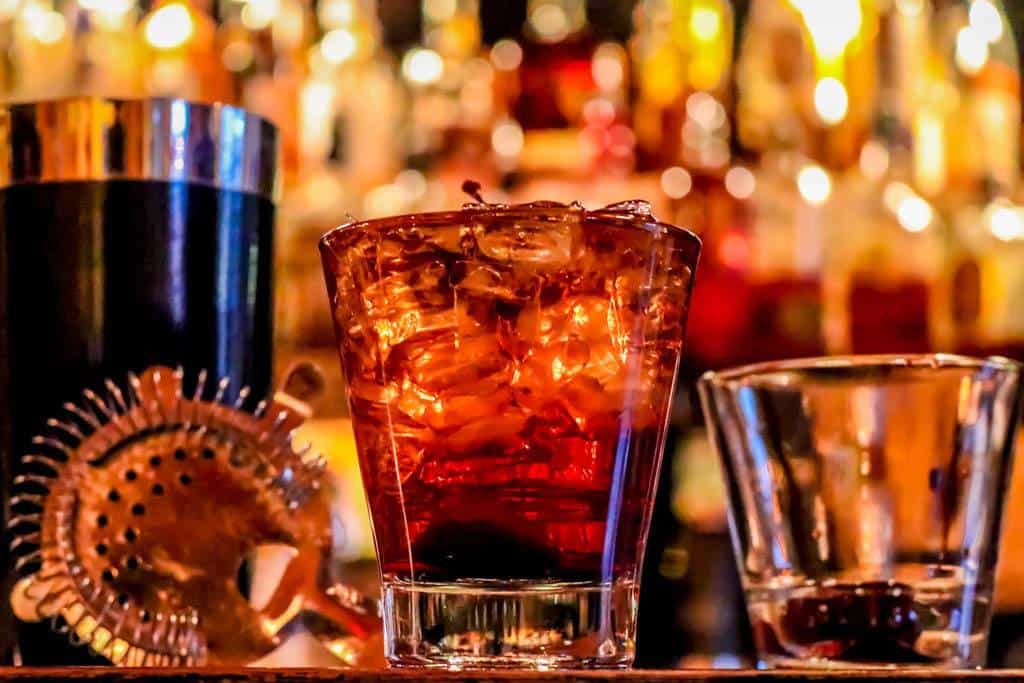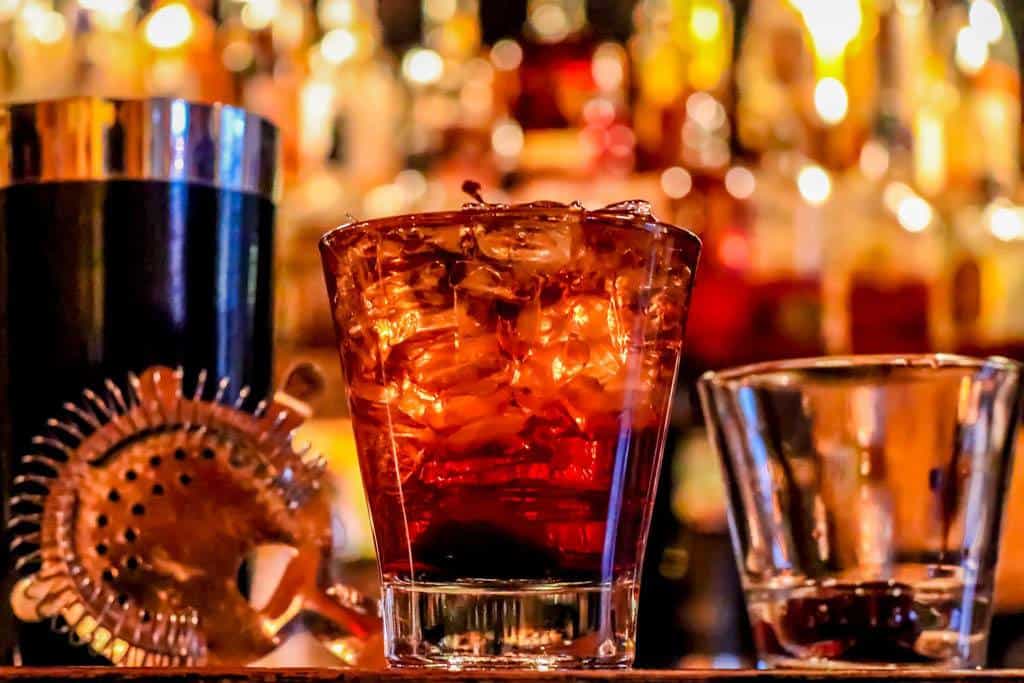 Evening: Simon Cabaret Show
You've likely heard of Thailand's famed kathoey ('ladyboy') dancers.
If you're interested in witnessing a spectacular performance, the Simon Cabaret Show is the perfect addition to your Phuket 3 day itinerary.
The show first opened in 1991 and features an extravagant show with costumes, incredible set designs and performances.
You'll watch modern and traditional acts from across the globe.
The show takes approximately one hour, is family-friendly and children are welcome.
Photos are not allowed during the show but you can hang around after the show to take photos with the artists.
Show Times: 7:30 pm and 9:30 pm
Address: 8 Sirirach Road, Patong Beach, Kathu, Phuket 83150 Thailand
Late: Bangala Road
The infamous Bangala Road (also known as Patong Walking street) comes to life as the sun goes down.
It is the heart of the Phuket nightlife and is a street that stretches from the beach to Rat-U-Thit Road, near Jungceylon Shopping Mall that turns into a pedestrian walking street at 6 pm.
As the evening progresses on, the street slowly becomes busier and you can expect dense crowds after 10 or 11 pm.
The street becomes a 400 metre stretch of neon lights, rowdy tourists, loud music, dancing and plenty of cheap beer.
Most bars are outdoors or open-fronted so be prepared an exotic blend of beats.
You'll find yourself being pulled into to look at drink menus left, right and centre to get you into bars.
You'll also be approached by plenty of touts offering cheap tickets to ping pong shows and go-go bars.
Just remember that these touts usually don't work directly with the venues so you might be getting ripped off!
After the Simon Cabaret Show, head to Bangala Road for a memorable night out.
Enjoy some drinks and let loose on your last night in Phuket. Don't get too wild or you'll be spending a fourth day in Phuket!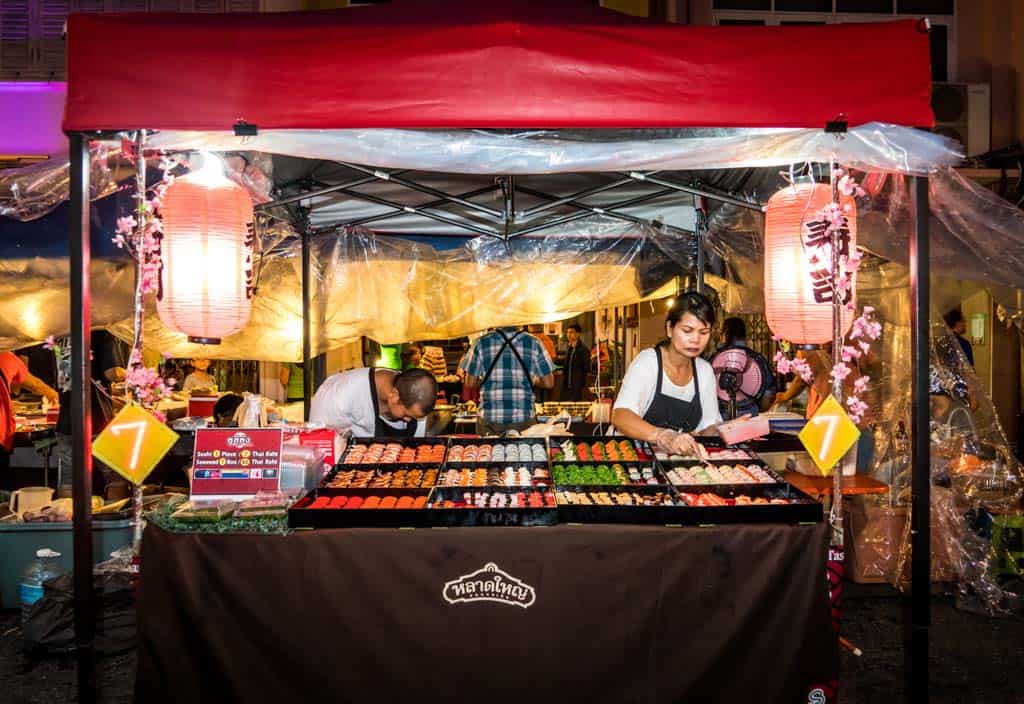 Phuket Itinerary Travel Guide
Now that you know how to spend your 1, 2 or 3 days in Phuket, let me share with you some more travel advice and tips for the area!
When to Visit Phuket
The best time to visit Phuket for sunny beach weather is from December to March in the dry season.
This is when you'll find the most sun and the least amount of rain.
December and January are the very best time weather-wise. But because of this, they are also high-season months which means more crowds and expenses.
The best months for diving in Phuket is from November to April.
But November and December are known as the months that typically have the best visibility.
Seas become more rough from May through October, making conditions harder to travel to and dive in for inexperienced divers.
Low season in Phuket is the rainy season from mid-May to October.
This is when you'll find the best deals on airfares and accommodation and a lower number of tourists.
However, the trade-off is often heavy rainfall, and beaches that aren't swimmable.
There are definitely some warm and sunny days still so if water activities aren't your thing, visiting during this time isn't a bad idea.
We recommend travelling in November or March to early-May when it is a little less crowded, the weather is still awesome, the diving is great and you can score some pretty good deals if you book in advance.
Getting Around Phuket
There are a few different transportation options for getting around Phuket depending on your distances and comfort.
If you're looking for long-distance buses and trains, the best website for booking these ahead of time for the best prices is 12Go.asia.
Tuk-tuks
For short distances, tuk-tuks are a convenient (and fun) way to get around.
Their small size makes them pretty uncomfortable but are worth at least one trip if you're in Phuket island.
Though they used to be one of the cheapest options for getting around, there's a bit of a tourist tax given their popularity.
Short distances will cost around 100 Baht.
Be sure to confirm the destination and agree on a price before getting inside and setting off. Bartering skills always come in handy here.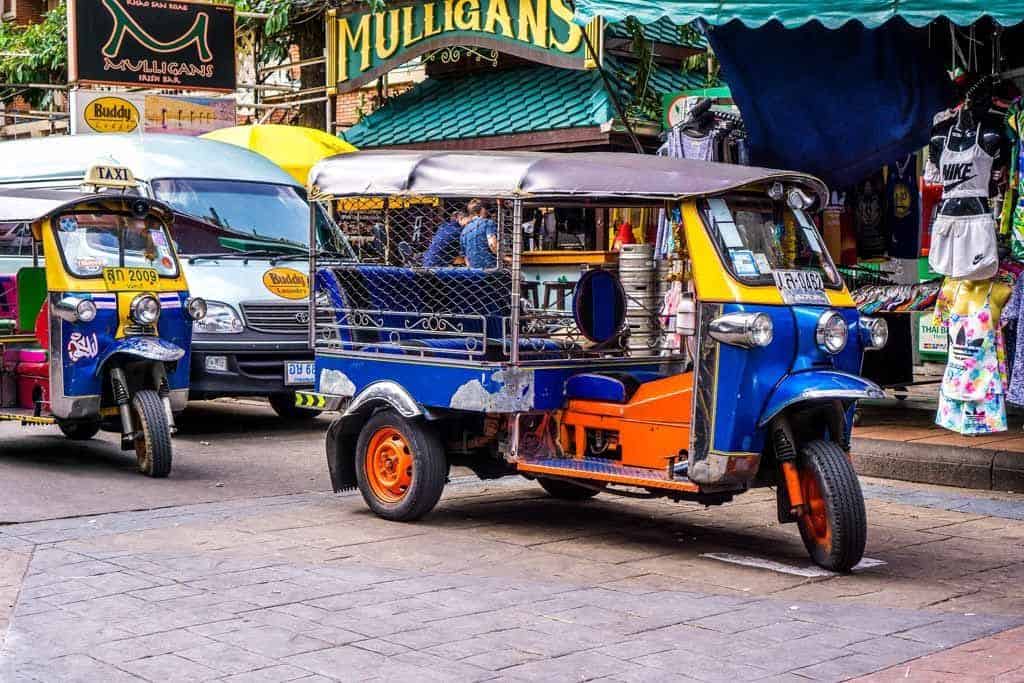 Taxis or GrabTaxi App
Metered taxis can also be quite expensive but are still usually cheaper than tuk-tuks.
You can also use the GrabTaxi App so that you can see exactly what you're paying before committing to the ride.
Hiring a scooter/motorbike
Oh, the infamous South-East Asia scooter rental adventure!
Like most travellers, you've probably heard some kind of horror story relating to scooter or motorbike rentals in Asia.
For those who are properly licensed to ride, hiring a scooter or motorbike is an efficient and cheap way of going around Phuket island.
You're not beholden to any schedules, don't have to worry about getting wifi to look up distances and decide prices and you have the freedom to go wherever and whenever you want.
The flipside to that is that you need to be extremely careful and well-informed before doing so.
You should ensure that you are properly licensed to drive the class of scooter or motorbike, have an international driver's license and have adequate travel insurance that will cover you (read the terms, contact the company and check all the details).
You should also be comfortable driving in a foreign country.
Generally, there are few options for hire ranging from small 50cc scooters to bigger motorbikes.
You'll find rental shops all around the main areas and expect rentals to be around 250 Baht per day.
Be aware that there is a blatant disregard for any traffic regulations so keep safe distances, pay attention to what the local's are doing (and generally, follow that) and be extra cautious during the raining season when roads are slippery.
Public bus
The local bus connects Phuket Old Town with the island's main beach resorts.
Buses run regularly from 7:00 am to 6:00 pm and destinations are written in English on the outside of the bus.
Since there are no designated bus stops, if you head to the main part of town, one will come along eventually.
In Patong, you can catch a bus along the beach road outside the tourist police box.
If you're in Phuket town, head for the market on Ranong Road.
The buses are painted bright blue so they're hard to miss.
Trips across the island (from Phuket Town to Patong for example) will only set you back 15-20 Baht.
Buses can be slow due to their routes and the number of stops they make so if you're in a rush, avoid the bus!
Where to Stay in Phuket
To make the most of your 3 perfect days in Phuket, it's important to stay in the right area that'll offer the types of vibes, atmosphere and services you're after.
There are many different beaches around the island along with its own main resort area.
READ MORE: Here's our complete guide on where to stay in Phuket!
Patong is the main resort town on the island.
Located on the west coast, it is best known for Bangla Road which has the highest concentration of bars and clubs in Phuket.
The area is surrounded by a large number of hotels, resorts and party hostels.
If you are after somewhere close to Patong but a little less wild, stay in Kamala instead.
Kamala has some smaller guesthouse and hotel options on the beach and is situated 10km north of Patong.
Kata Beach is generally an all-rounder location but is particularly popular among surfers and divers with its long stretch of beach and some beautiful coral reef to explore.
There's a bit of nightlife here but is much tamer than Bangla Road in Patong.
If you love little markets, a splash of luxury as well as some time in the water, Karon Beach is the ideal place to stay.
It is the third-longest beach in Phuket and has many resort options while still keeping it pretty chill with surrounding nature.
Sometimes called 'Patong's little sister', Karon is perfect for those who want nightlife, shopping and other attractions without being bombarded with it 24/7.
Finally, if this is purely a relaxation or romantic getaway, Mai Khao Beach is Phuket's longest beach at 11km and offers a deserted coast set amongst pine, tropical almonds and palm trees.
Mai Khao is isolated and far from most of the action.
Come here to escape to luxury resorts in a remote location away from everyone and everything.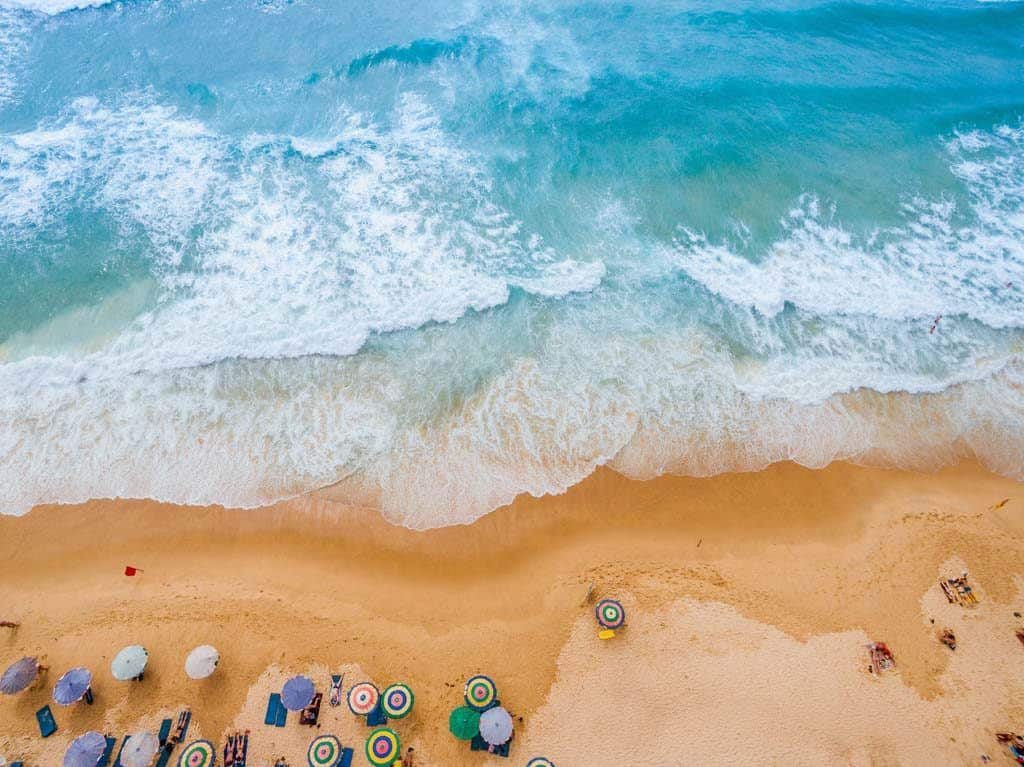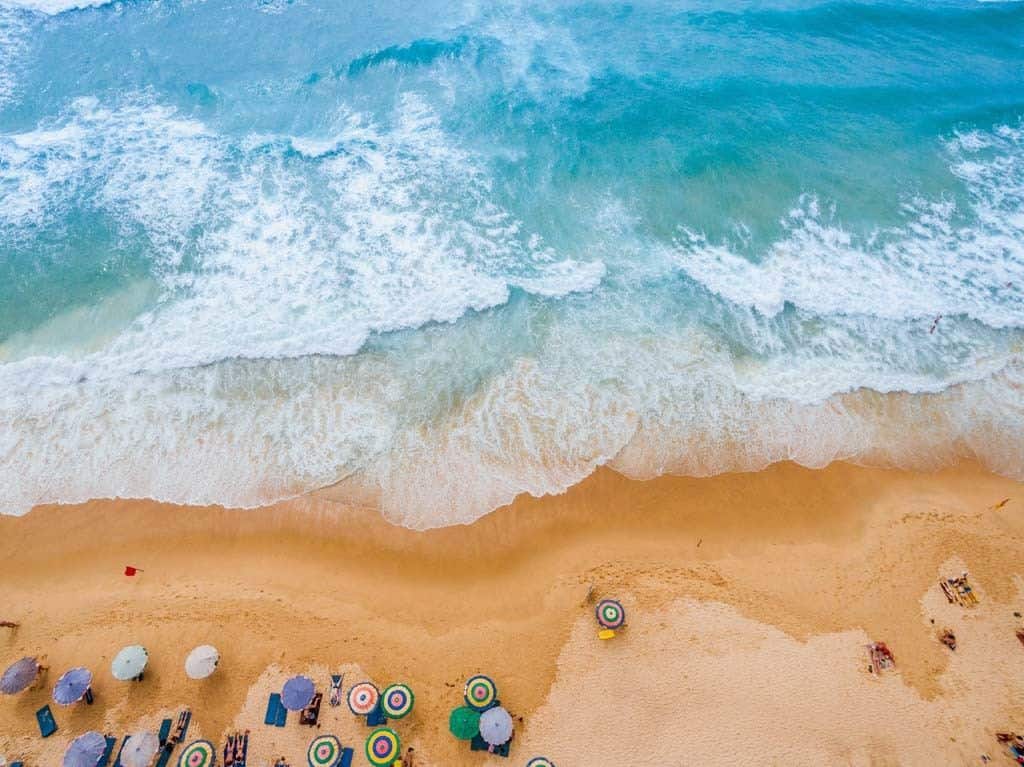 The Best Hostel in Phuket – Lub D Phuket Patong
This is one of the top rated hostels in Phuket, with over 1600 positive reviews and a 9.3/10 on Hostelworld.
Staff love working here and will make you feel at home. The space is clean and modern, and it's social without being a crazy party hostel.
Dorm rooms are clean, basic, tight and cosy with individual curtains for privacy and comfortable beds. It's also just a 3 minute walk from Patong Beach! An ideal place for budget travelers during their Phuket itinerary.
Best Budget Accommodation for Couples in Phuket – Aspery Hotel in Patong
The Aspery Hotel offers clean, spacious and comfortable rooms for very affordable prices.
At the cost of a couple of beds in a hostel, you can stay at this great budget hotel that is located in the heart of Patong.
It's uncomplicated and provides all of the basics such as air-conditioning (a must for Thailand), wifi, private rooms with bathrooms and even an outdoor pool on the rooftop.
Best Budget Accommodation for Couples in Karon- Allstar Guesthouse
Couples wanting to stay outside of Patong should consider staying in Karon at Allstar Guesthouse.
This guesthouse is family-owned and has twelve rooms.
Tonny, the host, is very helpful and friendly and wants to ensure that guests have a good time.
The guesthouse is kept extremely clean and it is centrally located for the beach to the main city centre. It's only 300 metres from Karon Beach and 150 metres to the main city centre!
Rooms are spacious, basic and comfortable and have everything you need for a budget-friendly price.
Best Mid-Range Hotel in Phuket – The Marina Phuket Hotel
This hotel is of exceptional quality for its price range and will feel like a little bit of luxury for those on a mid-range budget.
Only a 15-minute walk away from Bangala road, you will be close to all the action while still enjoying some amenities like a rooftop pool, sunbeds to relax on and a delicious breakfast buffet.
Be sure to head up to the pool to catch a spectacular sunset.
The spacious and comfortable rooms are brightly lit with ocean-themed styling throughout.
The hotel is clean and staff are very helpful. There's not much more to ask for!
Best Luxury Hotel in Phuket – Keemala
If you're wondering how to tour Phuket in 3 days while balancing some luxury time, then Keemala Resort is the place for you!
Located on the west coast above Kamala Village, Keemala has some of the most spectacular design architecture you'll find at any hotel in Phuket.
Every villa has its own private pool, and the grounds are superbly kept amongst the rainforest.
You'll find spa treatments, activities and some award-winning cuisine right here on the property too.
Warning though, you might be tempted to spend your entire 3 days here and not leave at all!
Alternative Best Luxury Hotel in Phuket – Chanalai Garden Resort in Kata Beach
If you're looking at staying a little further away from the noise, Chanalai Garden Resort is only a 2 minutes' walk from Kata Beach and around 40 minutes drive away from Patong.
Featuring two outdoor pools, two pool bars, a fitness centre and two restaurants on-site, this hotel is a great mid-range option for anyone wanting a little getaway.
Rooms are decorated in a modern Thai style and equipped with a TV, fully-stocked mini-bar, air conditioning, clean and spacious rooms, a bathtub and a private balcony overlooking the sea of the resort's garden.
Families with kids will also enjoy the Kid's Club with plenty of toys to play with.
If you book far enough in advance, you can score some pretty great deals and get rooms for around 50% off.
Best Restaurants in Phuket
There's a good reason that most people will tell you Thai food is some of the best in Asia.
Based around a few staple ingredients and simple spices, the myriad of dishes from curries to noodles to soups all have one thing common – flavour.
While a lot of dishes contain chicken or seafood, it's easy for vegetarians to have meat excluded or to substitute tofu instead.
Nothing really beats walking along the street, taking in the mouth-watering scents from a local stand and just pointing at whatever it is that's cooking.
If you're looking for a few dine-in options though, here are our recommendations for where to eat in Phuket.
Budget
For some delicious and good value for money local Thai cuisine, head to Butterfly Restaurant and try some of their Thai curry, barbequed fish and pad thai. Main dishes are only a few dollars each so it's a huge hit among travellers.
Mid-range
For the perfect balance between affordability and high-quality food, visit Suay and try Celebrity Chef Tammasak's creative twist on Thai cuisine.
Known for his bold balance of flavours, Suay offers a range of delicious Asian dishes that will definitely impress.
Suay has two locations, one in Phuket Town and the other in Cherngtalay.
High-End
With so many quality high-end restaurants in Phuket, it's impossible to only make one recommendation.
Dee Plee offers a stunning setting on the beach and exceptional fusion Thai food. For fine dining, it isn't too expensive and offers a la carte or set menu options.
The chef uses herbs and spices from the spice garden at the resort and selects ethically sourced products. Dee Plee is located at Anantara Layan Phuket Resort in the Thalang area, around 25km north of Patong.
If you're wanting to try. something other than Thai food, Siam Supper Club describes its menu as a throwback to "a time when a meal was a meal".
With a combination of delicious flavours, you'll find steaks, fresh seafood, pasta and pizzas that focus on taste and presentation.
Accompanied with award-winning wines, this is definitely a place you want to visit if you have the chance.
DISCLAIMER: Some of the links in this article are affiliate links, which means if you book accommodation, tours or buy a product, we will receive a small commission at no extra cost to you. These commissions help us keep creating more free travel content to help people plan their holidays and adventures. We only recommend the best accommodations, tours and products that ourselves or our fantastic editorial team have personally experienced, and regularly review these. Thanks for your support, kind friend!