If you're planning a trip to Thailand, be sure to consider this awesome three days in Krabi itinerary.
Krabi is a coastal town located on the west coast of Thailand that is surrounded by craggy limestone hills and pristine islands. It has a spot on the bucket list of countless travellers.
Vibrant bustling streets in Ao Nang Beach and the gorgeous view of Railay Beach, dining by the river in Chao Fah Night Market, dipping in Emerald Pool, panoramic view of Krabi city – it's not exaggerating to say that Krabi truly has something for everyone.
Did I mention the Krabi island hopping tours? There are plenty of those to go around!
The Perfect Krabi Itinerary for Every Traveller
If you're planning a trip to Krabi, Thailand, here is the perfect 3 days in Krabi itinerary to ease up your travel planning!
We'll include island tours in the Andaman Sea, the famous Railay Beach, Krabi night market, hikes through the jungle, views over the stunning Krabi province, and more. There is so much to do when you visit Krabi!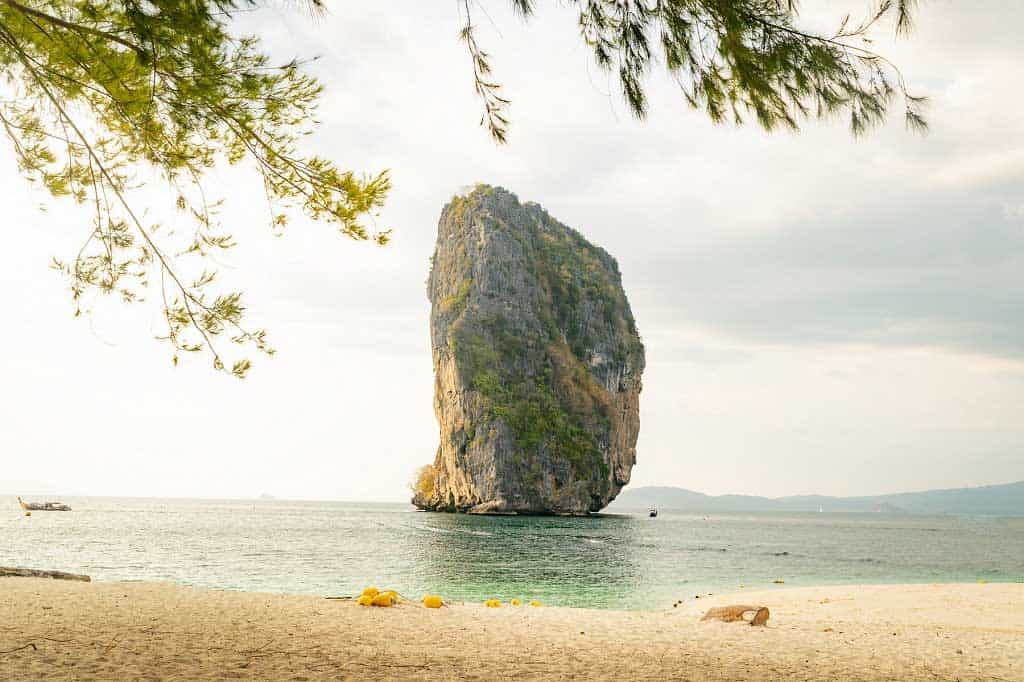 Day 1 – Hikes and Nightlife
Let's get the first morning of your Krabi itinerary started with some hiking. You'll end the day exploring Ao Nang, a vibrant town for nightlife.
Hiking in Khao Ngon Nak Viewpoint
What's a better way to start your trip in a new city than enjoying the panoramic view over the surrounding wilderness after an exhausting hike?
Everyone has their way of fighting the fatigue of flying. In my case, I always prefer hiking, which guarantees a good night's sleep at the end of the day.
The hike to Khao Ngon Nak Viewpoint is not a difficult one, but it does take some time – around 2-3 hours for a return trip.
And the next stop on our Krabi itinerary is on the way back from Khao Ngon Nak Viewpoint, so plan for a long day out.
There are plenty of free motorcycle parking lots at the entrance in front of the luxurious resorts. Don't ride past the gate, if not, you'll be charged a parking fee for a distance of 5 minutes' walk.
There is no entrance fee to this hike, but the ranger at the counter will repeatedly remind you to tip them before and after you do the hike.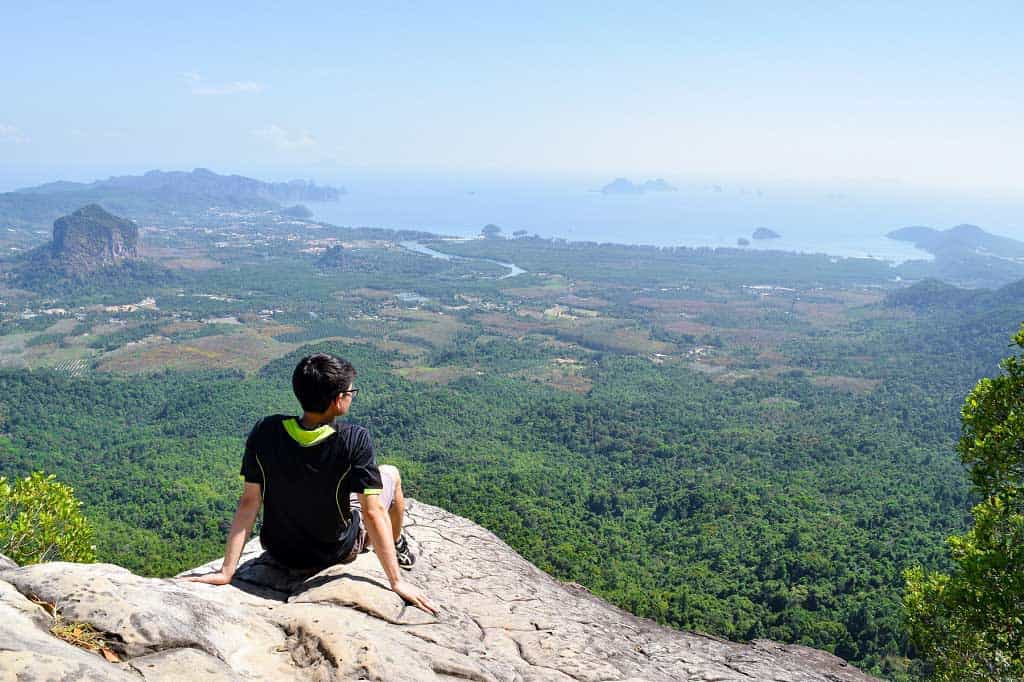 Like other hikes, there are steep and plain parts on the trail. For some steeper parts, they've built staircases to make your hike easier.
It's all dirt trail on the hike, and wearing a sandal is no doubt a bad idea. The dense jungle blocks off any winds that could be cooling you off, so make sure you bring plenty of water to hydrate yourself!
When you're approaching the peak, there are signboards pointing to a waterfall and a lake. You may want to avoid these as they are not all that attractive.
At the peak, you'll be rewarded with a breathtaking view at a few hundred meters above sea level. Just make sure you don't stand on the dangerous cliffs barred off from visitors.
Never risk your life for a photo, just enjoy the view from the vantage point.
If you have the time, stop at Tubkaek Beach, located right just after leaving Khao Ngon Nak Viewpoint. This is a very quiet, long beach with amazing views on the limestone hills budding from the sea surface in distance.
READ MORE: Plan your trip to Thailand with our comprehensive Thailand Travel Guide! Click here to check it out.
Shell Cemetery (Susan Hoi)
The Krabi Shell Cemetery is located 17 kilometres from Krabi town centre, which makes a great detour on your way back from the Khao Ngon Nak Viewpoint. That's if you're staying in Krabi town.
The road leading to the entrance of Susan Hoi is intercepted at the main road connecting Ao Nang Beach and Krabi Town.
With the shell fossils dating back to 25-40 million years, it's a great place for those who're interested. But if you're not into these things, you'll probably want to pass on this attraction and head straight back into Krabi town.
The entrance fee to Susan Hoi is 200 Baht per entry.
On your way to the next point, don't forget to grab some snacks or drinks from the Family Mart or 7-Eleven. They're spread out across the town like mushrooms, you find them literally everywhere.
Pay a Visit to Wat Kaew Korawaram
Wat Kaew Korawaram is absolutely the most elegant temple in Krabi. Located right inside Krabi town centre, the temple is easily accessible to visitors staying near the pier.
The staircases leading to the temple from the main road are decorated with naga sculptures, giving it a classic Thailand Buddhist temple appearance.
Upon reaching the temple, you'll notice several dozens of information boards depicting the stories of Buddha – the birth of Buddha, how Buddha achieved enlightenment, and more.
The only downside is that some of the details and explanations are in the Thai language only.
While you're there, take a moment and appreciate the architecture of the majestic temple. The entrance to Wat Kaew Korawaram is free of charge!
Sunset & Nightlife in Ao Nang Beach
Now we're talking about one of the most popular beaches in Thailand – Ao Nang Beach. This well-trodden beach is often the spot to be for sunset views.
And despite the crowds, there's no reason to miss Ao Nang on your Krabi itinerary.
On your way to Ao Nang Beach, you'll pass by dozens of vibrant stores before reaching the parking lot.
While the beach is always filled during evening hours, it's totally possible to find a spot for yourself on the massive stretch of beach.
Head into the bustling streets and alleys of Ao Nang when the sun goes down as this is when the nightlife begins.
Hundreds of restaurants serve cuisines from all around the world on the wide budget range. Need cheap eats? Head over to the night market.
Bars, pubs, and souvenir stores are spread throughout Ao Nang, so you'll surely enjoy your night there!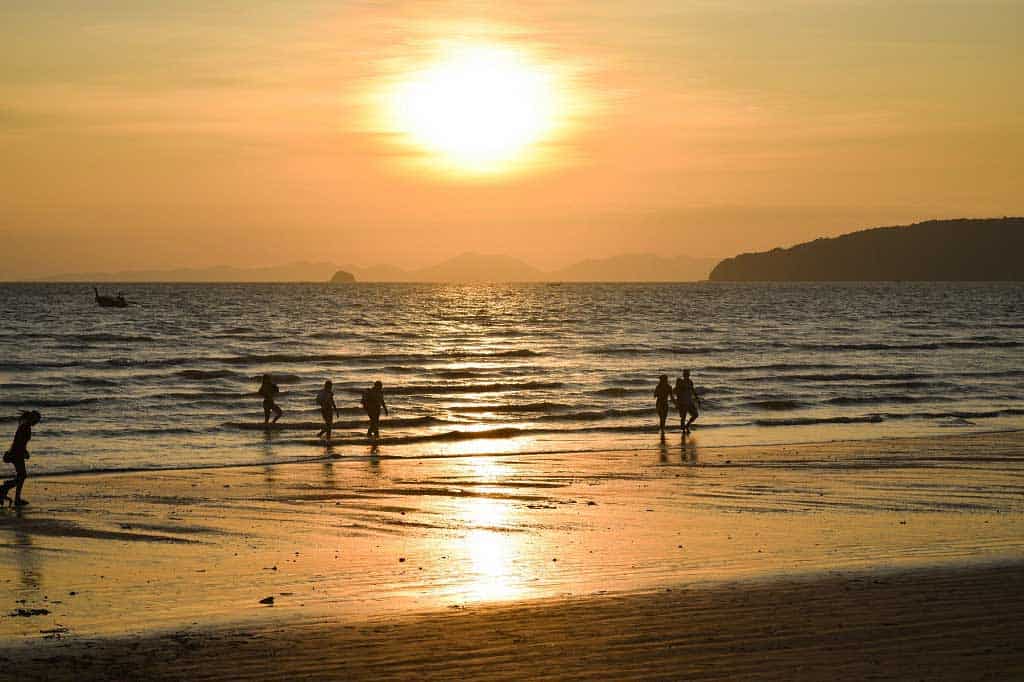 Day 2 – Island Hopping
After a fun night in Ao Nang, get ready for an epic day. Your second day in your Krabi itinerary will be an unforgettable one.
Today, we're going island-hopping! You'll get to see some gorgeous islands, and even pay a visit to the infamous Railay Beach.
Walking Along the Pier
Walking along the Krabi pier is a great way to start your day. Facing east, you could catch the sunrise from the mangrove forest on the opposite side.
The famous crab sculptures and several decorations were placed along the pier and every morning, it welcomes dozens of morning runners.
On your way back to your hotel, grab a sandwich from the Family Mart nearby or quickly stop at a cafe or restaurant of your choice in the area.
It's going to be a busy day so load up on coffee and grab that bite to eat and let's get started!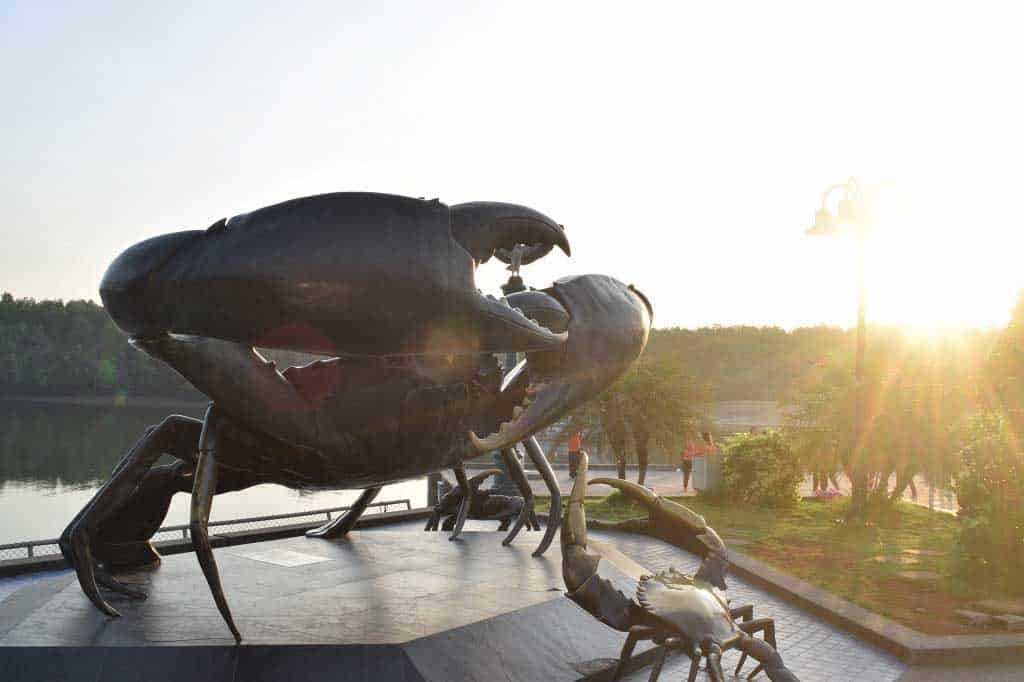 Go For an Island-Hopping Tour
A trip to Krabi wouldn't be complete without an island-hopping tour. This very coast is surrounded by dozens of breathtaking uninhabited islands, crystal-clear waters and limestone hills.
It's extremely easy to book a tour in Krabi. The easiest way would be booking with your accommodation manager, which usually has some discounts.
Most tours you will find will either be for 4 islands or 7 islands.
While I was staying in Baan To Guesthouse in Krabi, I went on the 7 Islands Sunset Tour for 900 Baht (discounted from 1,500 Baht).
There are also different tours like the 4 Islands Tour (which is more well-known to visitors), kayaking tours, rainforest discovery tour, and more.
There is honestly not much difference between the 7 Islands and 4 Islands tours.
BONUS – Booking ahead of time ensures you won't miss out on the tour, and get the best price too! And just for NOMADasaurus readers, if you use the Klook discount code "NOMADS10" on the website when checking out, you'll get $10 off your first booking!
Both are going to provide you with a full-day tour. The 4 islands tours will allow you to spend more time on each island. But you get to see more on the 7 islands tour.
It's all up to you whether you want to spend more time racing around between the different islands or relaxing on the beach!
For the 7 Islands Sunset Tour you can expect an itinerary similar to this:
The tuk-tuk will pick you up at 12 pm and bring you to Ao Nam Mao Pier. There, you will register yourself and collect the snorkelling mask.
You'll then be directed onboard the longtail boat to start your day.
Throughout the day you will be visiting Tup Island, Thap Island, Chicken Island, Poda Island, Ma Tang Ming Island, Si Island, Phra Nang Beach, and Railay Beach (which technically isn't an island).
You will get to walk between Tup Island and Thap Island, which is connected by the shallow beach on foot. You'll also get to snorkel with the fish near Chicken Island, chill on Poda Island, visit Phra Nang Cave Beach and finally feast on a buffet dinner while watching the sunset in Railay Beach.
Railay Beach is one of Thailand's most famous. Framed by limestone cliffs and dense jungle, Railay Beach is popular among rock climbers and photographers.
For some tours on your Krabi itinerary, you may also get to go night snorkelling to see the phytoplankton before heading back for the fire show at the pier at around 8 pm.
Sounds cool, right!? Book a 4-Island tour here!
An alternative option is booking a day tour to Koh Phi Phi. This is a great day trip, as it includes all the highlights like Viking Cave, Monkey Beach, and Maya Bay.
We would recommend spending a few days in Koh Phi Phi and taking your time seeing Maya Bay and the town center. But if you're short on time and you'd rather visit the island as a day trip from Krabi, you can do that.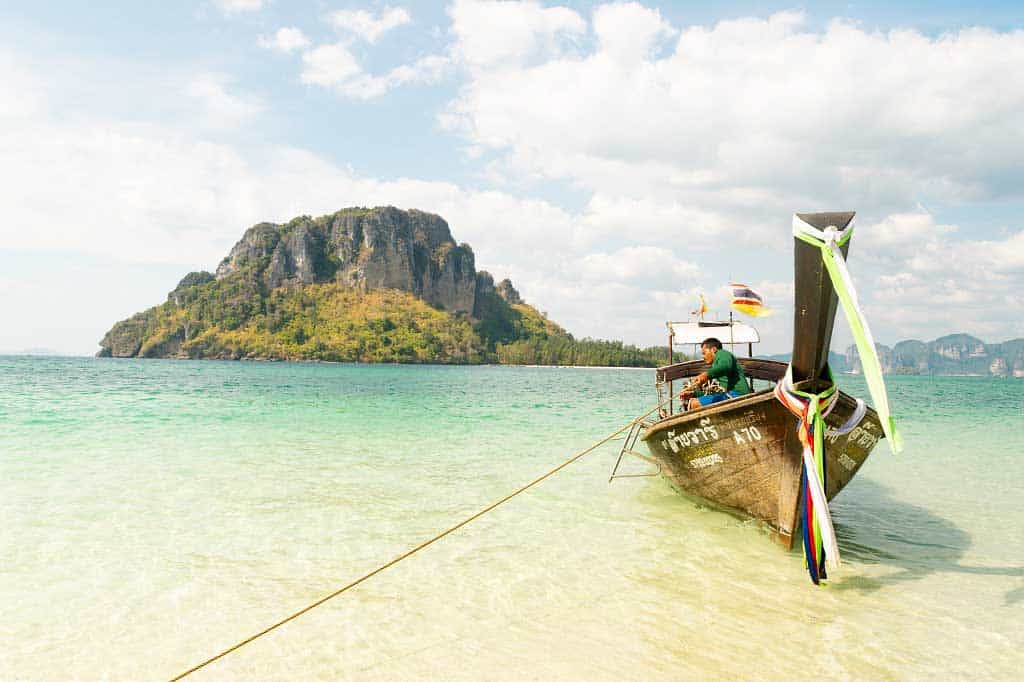 Have a Drink in a Bar in Krabi Town
After returning back to the Krabi province after a busy day exploring the islands you will find the nightlife is starting to pick up.
Krabi is home to countless bars, swarmed by foreign visitors every night to spend the last few hours of the day. If you're staying in Ao Nang Beach, then, of course, you should spend the night there.
I never visited all of the bars in Krabi Town, but there's one particular bar that I highly recommend – Booze Bar. The staff were friendly, they have live music, lovely vibes, all you could ask for in a perfect bar.
READ MORE: Be sure to spend some time visiting Koh Phi Phi after your Krabi itinerary
Day 3 – Caves and the Emerald Pool
Most of the accommodations in Krabi do include breakfast in your stay, but if they don't, they probably have a café to fill your morning tummy.
Today, we're gonna rent a motorcycle to have fun around the outskirts of Krabi. If it's not your thing, it's pretty easy to get a tuk-tuk in Krabi to get to wherever you want!
You can also save a bunch of time by booking today's activities as part of an all-inclusive tour! Perfect if you'd rather not run the risk of riding a motorcycle without insurance or a license when you visit Krabi.
Hiking in Wat Tham Sua or Tiger Cave Temple
You might want to know that this is way more physically demanding compared to Khao Ngon Nak Viewpoint.
I'm not trying to scare you. But trust me, you'll be thanking yourself after reaching the top, enjoying the magnificent view of the temple sitting upon the ragged limestone hill.
At the base, there are several attractions like an artificial waterfall, cafeteria, and temples.
But the main attraction lies on the top connected by the 1,200-step staircases (Note: due to its physical demand this is not for all travellers.)
Visiting in the morning is a better idea as the weather is usually cooler and the sunlight isn't as harsh as the scorching tropical sun in the afternoon.
It takes around 20-40 minutes to get to the temple on top.
If you're worried about dehydration, bring a water bottle with you. But note that there is a water station at the temple on top to refill your bottle.
You'll have to take off your shoes to visit around the temple, and you could easily spend 30 minutes up there on the view alone.
Also, be extra careful of the aggressive monkeys. Don't touch them, and don't go near a mom with babies. And definitely don't feed them.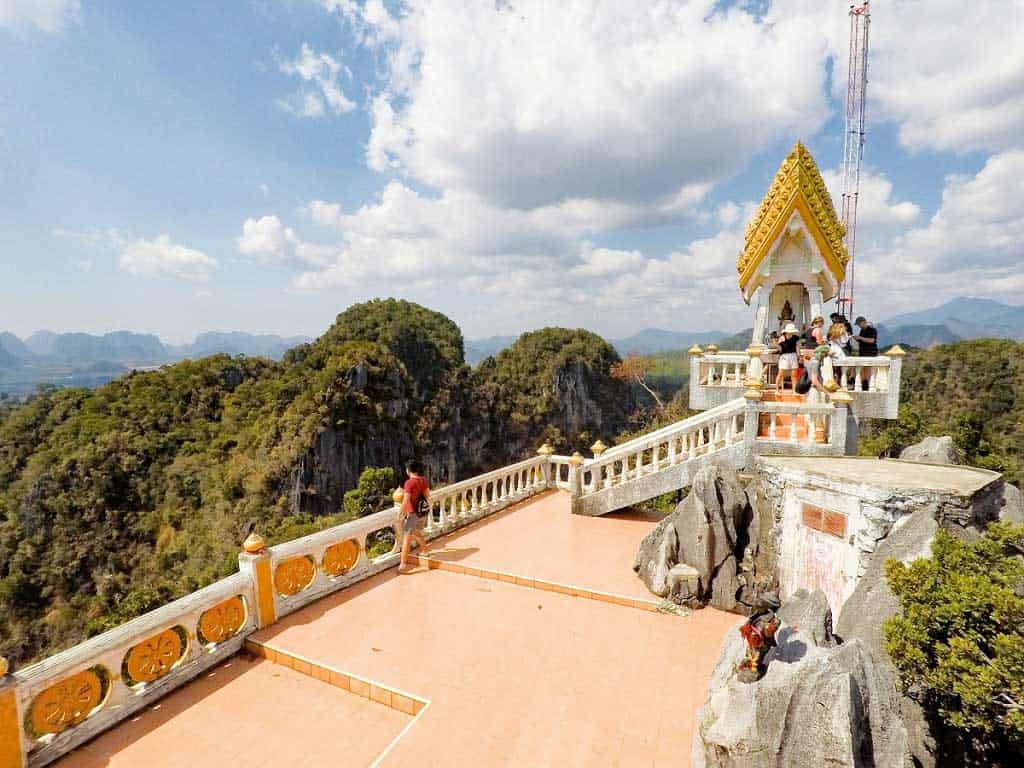 Ride to Emerald Pool in Krabi
Over the years, Emerald Pool has become one of the must-visits in Krabi for no other reasons than it's simply wonderful. Minerals in the water make the colour absolutely spectacular!
Located inside Thung Teao Forest Natural Park, there are several hiking trails surrounding the emerald pool too. But for now, let's go straight for the pool.
Due to the tourist crowds, it's wiser to pay this attraction a visit in the morning. So, it's all up to you if you want to interchange this with Tiger Cave Temple.
With an entrance fee of 200 Baht, you are allowed to soak yourself in the crystal pond for as long as you want. The entrance closes at 4.30 pm.
Dip into Klong Thom Hot Springs in Krabi
Next up, Klong Thom Hot Springs is located near Emerald Pool, so I highly recommend you arrange both of these attractions on the same day on your Krabi itinerary.
The hot spring itself is extremely small and difficult to accommodate the number of visitors daily.
So, the authorities have decided to build an artificial pool near the hot spring and drain part of the water there for more people to enjoy.
The artificial pool is located before the authentic hot spring. So, if you're visiting in the non-peak hours you could possibly enjoy the hot springs surrounded by gigantic tree roots.
It's advised that you shouldn't soak yourself in the hot springs for more than 20 minutes at a time.
The entrance fee to Klong Thom Hot Springs is 160 Baht, plus 10 Baht for your motorbike parking.
Dinner in Chao Fah Night Market
Chao Fah Night Market is one of the most enjoyable night markets in all of Thailand. Hundreds of tables and chairs are arranged by the pier, fenced by dozens of hawker stalls.
You can go over all the menus of every stall, but you won't notice much difference other than the design. Choose the one you like, and order whatever you want, and they'll arrange a seat for you.
There are milkshake stalls there, which I recommend. (Krabi has much better milkshakes compared to Phi Phi Islands and Phuket, honestly.)
The highlights here are, of course, seafood, since Krabi is a coastal town. And they're surprisingly affordable here too. You can get a big plate of clams for under 200 Baht!
You could also choose to attend the Blue Dragon Cabaret show, which is one of the more popular and most famous attractions in all of Thailand.
There are other Ladyboy shows throughout Thailand but this is worth a watch on the last of your 3 days in Krabi itinerary.
READ MORE: Check out these great things to do when you are in nearby Phuket!
Krabi Thailand City Guide
Now that you have a pretty good idea about what you're going to do with your 3 days in Krabi itinerary, let's help you travel to and around Krabi and find the best accommodation and food!
Getting to Krabi, Thailand
If Krabi is your first destination in Thailand, then there's good news – there is an international airport in Krabi.
Inside the Krabi Airport, you'll have to choose between taking the shared van or private transfer to your accommodation.
In my case, I took the shared van, which is surprisingly comfortable with leather seats and a well air-conditioned interior.
It took around 30 minutes to reach our hostel, and yes, they drop you right at the doorstep. The price? Only 90 Baht!
In some cases where you're travelling in Phuket first, then consider taking the shared van from the bus terminals to Krabi. There are two bus terminals in Phuket.
It takes 3 hours to reach Krabi by bus. The only downside is that the bus terminal is rather far from most accommodations.
You might need a cab to get to your hotel, or you could walk, which I did! The shared van costs 140 Baht.
What if you're staying in Ao Nang? Well, it's pretty similar.
From the airport, catch the shared van to Ao Nang, which costs slightly more at 110 Baht. From Phuket, just tell the receptionist that you're going to Ao Nang. It's pretty straightforward as Ao Nang and Krabi are so close.
Getting Around in Krabi
For travellers, the most popular place to stay would be near the Chao Fah Park Pier. There are plenty of shops, marts, hostels, and hotels – and of course, night markets.
Since there are not that many attractions inside Krabi Town, renting a motorcycle is the easiest way to visit the nearest attractions like the Emerald Pool, Ao Nang, Khao Ngon Nak Viewpoint, and more.
Renting a motorcycle when you visit Krabi is almost effortless and is reasonably priced at around 200-250 Baht per day.
This price excludes petrol, which is pretty cheap as well. Chances are, you can rent a motorcycle from your hotel or hostel.
If a motorcycle is not your thing, then your options would be either private cabs, tours or GrabCar.
Tours are pretty common when you visit Krabi due to its popularity among Chinese, Russian and Korean tourists. So booking a tour is trouble-free.
Where to Stay in Krabi – Baan To Guesthouse
Baan To Guesthouse definitely has one of the most strategic locations for those who visit Krabi. Within a 5-minutes' walk, you'll get to Chao Fah Night Market, the pier, and plenty of amazing cafes and restaurants, like 89 Café.
I highly recommend this café, even though it's a little pricey, the foods are top-notch and will never disappoint you.
They have one of the cheapest prices for double rooms in Krabi, and the on-site restaurant is perfect for breakfast. The host was extremely friendly as well, and we gladly rented her motorcycle for 250 Baht per day.
The rooms were basic, a little bit warm, so I suggest getting an air-conditioned room.
Wrapping it your Krabi Itinerary
I hope you enjoyed reading this 3 days Krabi itinerary. Krabi Thailand is a wonderland for those who love nightlife. But it's also perfect for those who enjoy travelling at a slower pace.
In short, Krabi Thailand as something for everyone. Three days in Krabi are enough for most people to take in the essential attractions.
But if you're opting to stay longer, Krabi is a great spot to sit back and relax!